Nexthomegeneration.com – Room lighting is important to be added because it gives a lot of effects on our home. We can't have a beautiful impression if our room feels dark. There are many beautiful designs that we can choose as long as it is related to the concept. We should choose the best type to avoid ruining our home style. Color selection is also necessary to be considered because we should adjust to our ceiling shape and style. Neutral colors are suitable to create a Scandinavian style and make it look stunning.
Generally, pendant lights and chandeliers are often to use in people houses because it has many designs that are suitable to be installed. We can apply a perfect Scandinavian style if we have beautiful lighting. Today, we will give you Scandinavian pendant light and chandelier recommendations.
Pendant lamps have warm light that doesn't enough to make all parts of a room feel bright. We still need a ceiling light if we want to brighten all of the parts in the room but to beautify it we should install a pendant lamp. There are many designs, shapes, and colors you can easily choose by knowing our recommendations.
Black Retro Pendant Light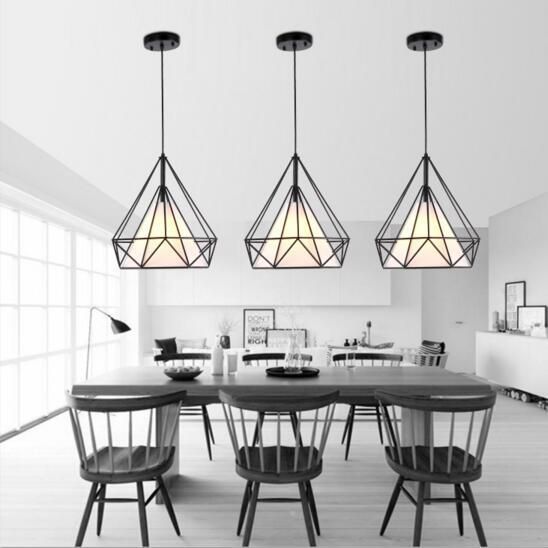 For people who want to apply a retro concept, it will not be complete if you don't add a black birdcage pendant light. It has a unique shape with warm yellow lights that can make our room beautiful. It can be combined with white flooring and a black dining table set to create a harmonious concept. White walls are also can make our Scandinavian room looks attractive and won't look monotonous. This concept is suitable to be applied in the Scandinavian dining room.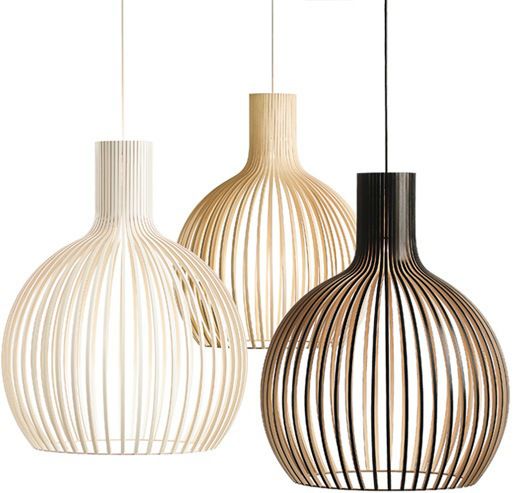 For those of you who love a contemporary design, this lamp is suitable for you. It has a unique shape with brown and beige colors that we can choose as long as it suits our concept. It can be installed in a Scandinavian home office to create a cozy impression and it can be combined with ceiling lamps.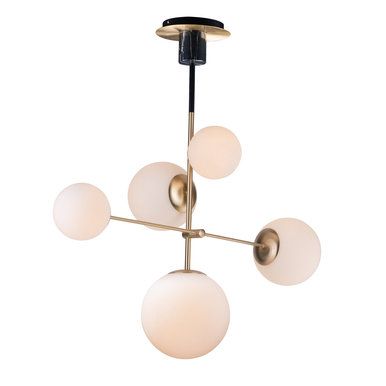 If we want to have a unique shape, a Scandinavian large mod globe pendant light is the best choice to be chosen. We can install it in the Scandinavian living room to make an elegant and luxurious concept at the same time.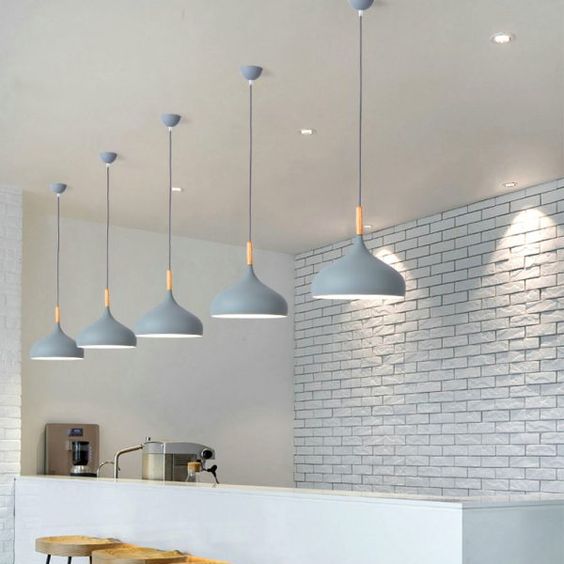 Sometimes we feel confused about how to make a Scandinavian kitchen style look beautiful. Actually, it is easy if we know the suitable furniture and lighting. We should choose a fascinating lamp with suitable color that won't make it look tacky. We recommend installing a Scandinavian pastel color pendant light because it has a stunning impression. It can be combined with soft blue walls and wooden chairs to create a different atmosphere from other houses.
Natural Design Rattan Pendant Lamp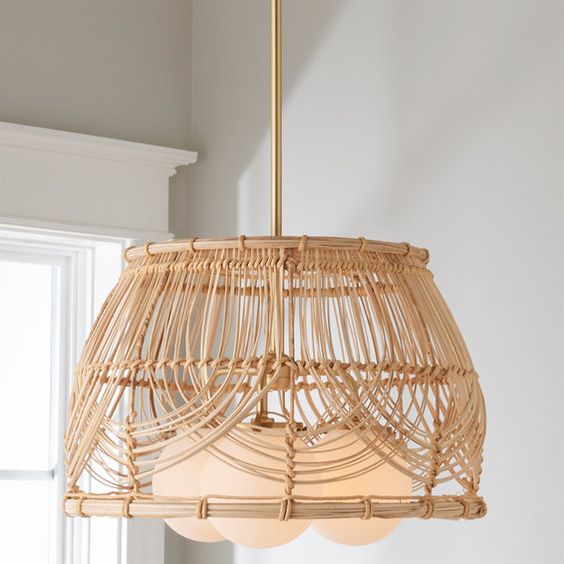 Rattan materials are always chosen to create a perfect Scandinavian design because it has a natural impression that won't be found in others. It also has a unique shape that makes our room look stunning. Yellow light from this lamp also makes us feel bright and warm at the same time. It can be combined with DIY Scandinavian decorations because both of them have a natural design.
Ceramic Pastel Color Pendant Light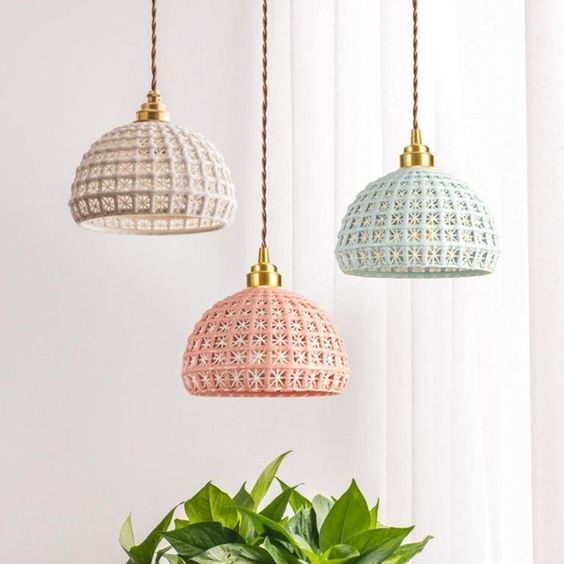 White walls are suitable for soft color pendant lights because it is related to each other. We can install a woven ceramic pendant light because it has a preferred design and shape that can create a stronger Scandinavian accent. If we know about the best Scandinavian curtain fabric, we can choose the perfect type and color to be combined with this lamp. It can make our room have an amazing combination in furniture selection.
Beautifying a home is necessary to do as a homeowner and we should choose the best lighting to create a stunning impression. Although ceiling lights are enough to make it bright, we can make it prettier by installing a chandelier that doesn't install anything. There are many chandelier designs that we can choose as long as it is related to our concept. It also has many materials that should be careful while choosing it. This time, we will give you some recommendations which might help you.
Crystal Chandelier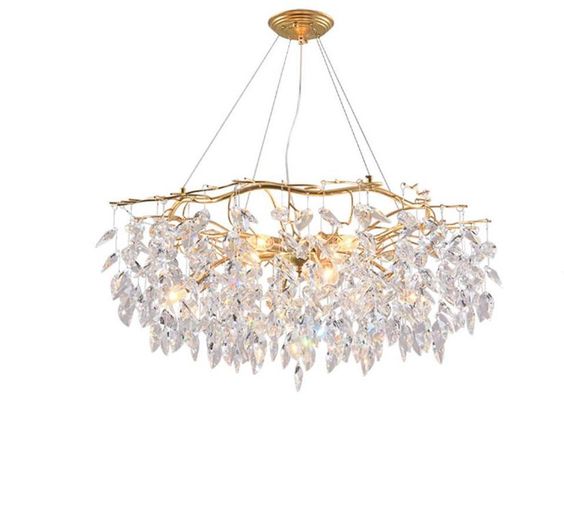 An elegant impression can be applied in the Scandinavian interior design by installing a crystal chandelier. It looks fascinating with a luxurious light accent that is very suitable to be added together with Scandinavian garden plants in our home. It has a unique shape with a fascinating gold color which makes us can apply a victorian interior design.
Luxurious Crystal Bouquet Chandelier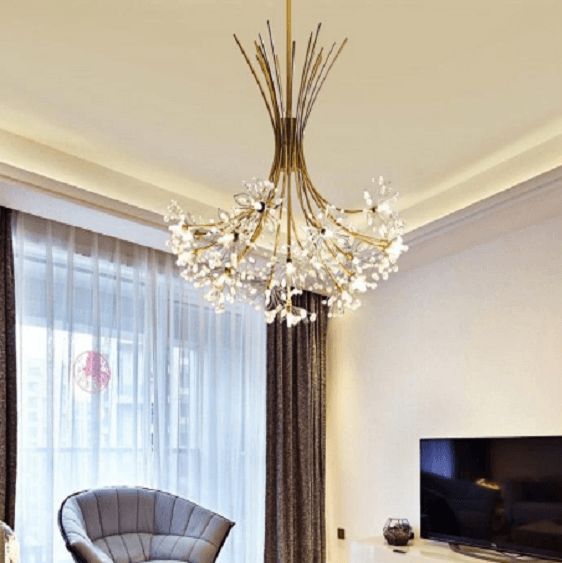 Sometimes we want to have an unmonotonous chandelier shape and want to apply a feminine and luxurious concept at the same time. We recommend installing a crystal bouquet chandelier in our home because it has a flower shape that is fascinating and different from others. It is suitable for any Scandinavian flooring type because it doesn't ruin our concept.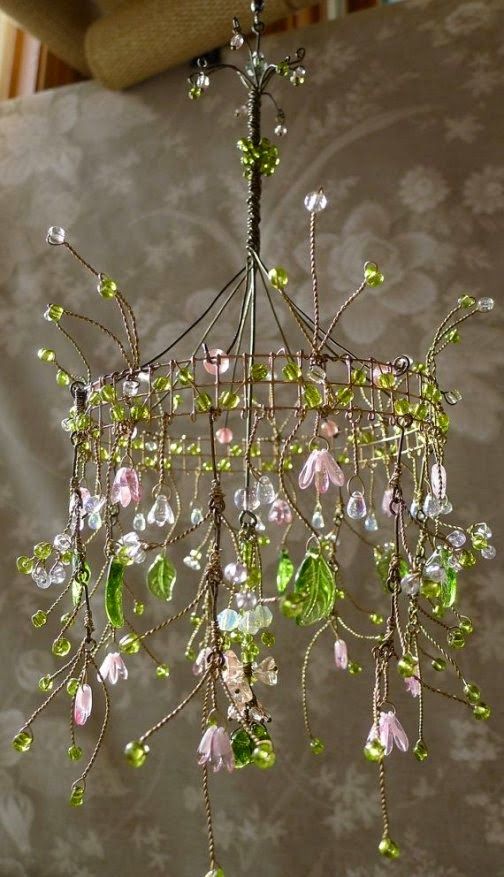 Some people might want to have a chandelier that can be installed anywhere that's why a Scandinavian flower and leave chandelier shape is suitable for us. It is preferred to make your Scandinavian exterior look beautiful. It has a pink flower with green leaves crystal shape that makes it look natural and simple but elegant at the same time.
It has an aesthetic white color that is preferred for a Scandinavian interior design. We can install it to make our room feel bright or only as a decoration. It looks elegant because is made from glass that can create beautiful light.
Conclusion
Choosing the right lighting type for a Scandinavian design is easy because we only consider the design that will be preferred to our style. It is important to be installed because we can't have a perfect design without having lighting. If you have some ideas about home design, you can write for us on this blog.