Nexthomegeneration.com – Sometimes we want to have a different atmosphere to avoid stress while working. It is better to work in our home to make us more comfortable than work outside, right? However, how to make a beautiful home office? There are many interior designs that we can choose as long as it is suitable for our concept. For people who love clean impression and doesn't want to feel complicated while applying it, we should consider an interior design that will be applied. A Scandinavian style is very beautiful to be applied for you who want to have a home office for the first time. The design is not complicated to be applied and it is suitable for those of you who love wide impressions. We also don't need much furniture and we can choose based on only what we need.
There is various furniture like table and chair which we can add. We should choose it carefully to create a fascinating impression. If we want to have an aesthetic room, we should add suitable furniture and decoration to avoid making it look tacky. It should have a beautiful design and have the best function to make it feel comfortable to use for work. This time, we will give you some Scandinavian home office ideas and furniture recommendations.
Scandinavian Home Office Ideas
Tired of the office atmosphere? Try to apply for a Scandinavian home office to help you relaxed while working. We can more focus if we have a cozy room with a fresh impression at the same time. To create it, we should know about Scandinavian characteristic style to make us feel easy while choosing furniture or decoration. Some people might feel confused to apply the design because we don't know yet what the first thing should be done. Don't worry because we can easily apply it if we find some ideas that will be suitable for it. Today, we will give you a Scandinavian home office that inspire you to create a stunning look.
Simple Scandinavian Home Office
Books are beautiful things if we arrange them properly because they can be made into decorations. We only need to buy a white bookshelf to make our Scandinavian home office looks fascinating. We can combine it with a computer desk in the same color to create a harmonious concept in color selection. Applying wooden vinyl tiles is very beautiful since their concept are closed to each other. The best chair recommendation is wooden materials with white cushions. If we have a large space in our home, it is better to build a home office in our Scandinavian bedroom style to make us feel cozy.
Decorating It With Book And Other Decorations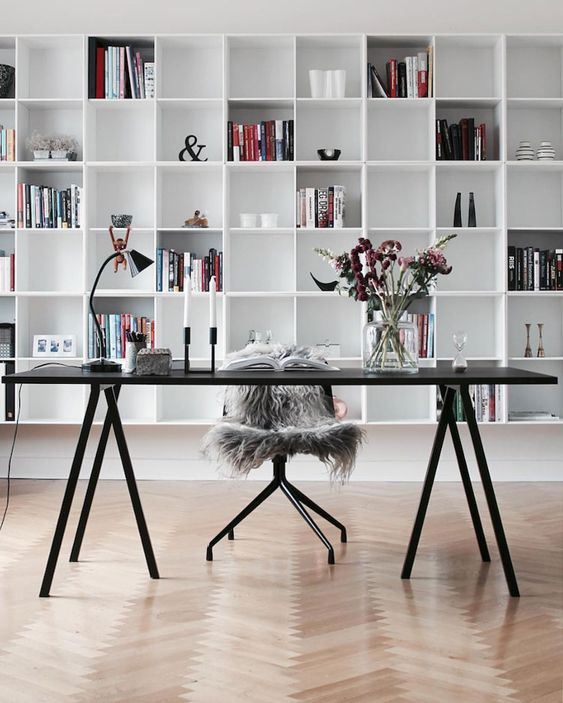 Wooden tiles are very popular in Scandinavian interior design because they can create the best combination of furniture and decoration that we will add later. A black table with a fluffy light grey chair is suitable to be combined because the color is related to each other. To make it beautiful, we should install a white bookshelf behind the chair. We can store our books and other decorations to create a stunning impression in our home office to help us easily on finding something. Don't forget to add a table lamp and a pink flower vase to make us comfortable. Actually, the bookshelf doesn't only can be added to the home office but is also aesthetic if we add it in the Scandinavian living room.
Beautiful Decorations On White Shelf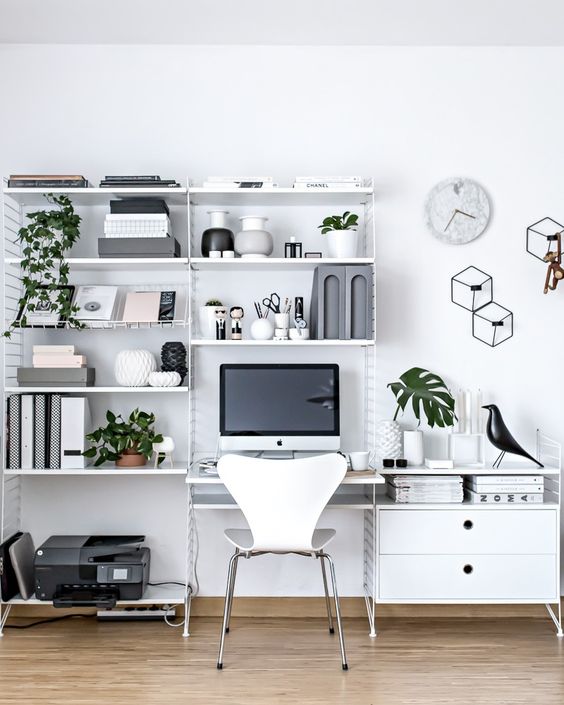 White is a suitable color for a Scandinavian design and it has a clean impression then it can be combined with many concepts. If we don't want to choose the wrong things that will be added to our home office, white furniture is the best recommendation. A white drawer with a computer table creates a beautiful look. We should choose a suitable chair to make us comfortable. A wall shelf is very beautiful if we add it to the home office where we can store anything that we want. Plants, books, printers, and even stationery can be placed on the shelf. It also can be made as room decorations at the same time. For those of you who feel hungry fast, it is more convenient to make a home office near a Scandinavian kitchen style.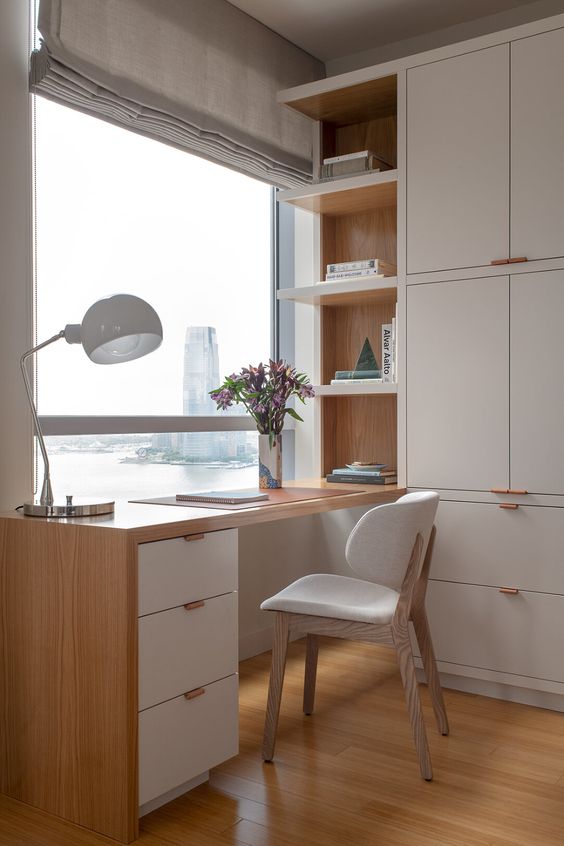 A wooden white office desk is preferred to be added in a small room and the price is also cheap for people who are on a budget. Installing a window is important to make it feel wider than doesn't have it at all. It also makes our room feel bright even we don't use a lamp at the noon. The office desk is also suitable to be added near a Scandinavian dining room to make us feel easy to take food.
Suitable Furniture Recommendation
To create a perfect design, we should choose suitable furniture to create a perfect interior design that will make our home office look stunning. We should avoid using some colors such as red, dark purple, and pink Fuschia. They have a bright impression and are not suitable for the Scandinavian style. We should choose neutral colors like white, light brown, beige, light grey, and others. This time we will give you suitable furniture recommendations.
Aesthetic White Rectangular Writing Table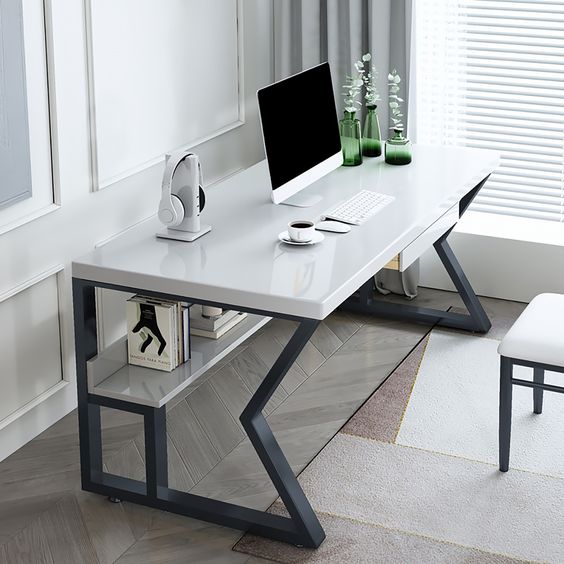 Sometimes we should write something while working even actually we use a laptop or computer. A comfortable table is important to make us doesn't feel cramped while working or anything that we do in our home office. We recommend choosing a white rectangular writing table. It has a simple design and doesn't too big for people who have a small space.
Creating Feminine Concept By Using A Pink Office Chair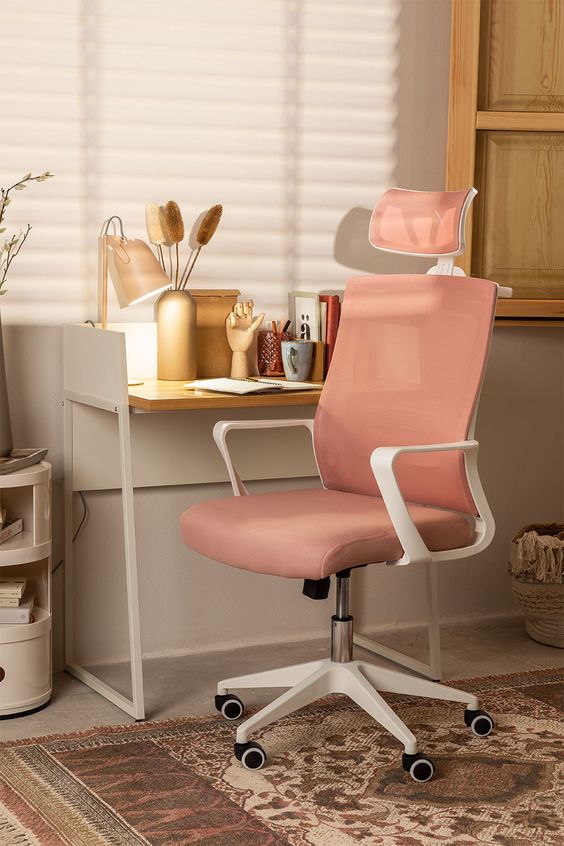 Scandinavian design tends to have an aesthetic impression but actually, it can be combined with a feminine concept. We should choose furniture and decoration that is related to the concept. Color selection should be our attention to make it look fascinating and won't look ugly. Soft pink, white, light purple, and other soft colors are suitable to make our home office have a feminine concept. We recommend choosing a pink office chair to create a comfortable impression.
Conclusion
A home office is a solution for people who feel bored with their office atmosphere in the company. However, we can't apply many interior designs to create it because it can give an effect on our activity. A Scandinavian interior design is the best recommendation to be applied because it has a simple impression and doesn't look tacky. It has a modern accent that is suitable to be applied in this era.