1. Overview of natural stone design
Natural stone is one of the materials used as home finishing to give a natural and elegant impression. Not surprisingly, many developers use a touch of natural stone for the exterior of the houses they sell. Their goal in designing the house exterior with natural stone is to launch minimalist residential units with relatively economical prices but still look luxurious.
As the name implies, natural stone has a stone base and is decorated as beautifully as possible so that it is easier for you to install it as needed, such as for walls, ceramics, and house fences.
Therefore, if you are looking for a dream dwelling with a minimalist interior and exterior, you can look at the natural and minimalist house design. In addition, to showing the impression of a solid house exterior, natural stone can also radiate beauty and elegance through the appearance of the house exterior.
But before installing it you must understand the type of natural stone. Such as marble, granite, andesite, brush coral, Kalimantan stone, and temple stone. Each of these types has its uniqueness, advantages, and different uses, whether for the facade or the house interior. For that, let's discuss some natural stone house design inspirations and then can make amaze your eyes.
2. Natural stone design ideas and inspiration
If you are looking for inspiration for the house interior and exterior design of a natural stone house, let's review the appearance directly below. As you know, many people do not realize that the application of natural stone for housing can give a natural and soothing impression.
In addition, natural stone designed for the house exterior can bring a different feel to the dwelling. Then, the installation of natural stone on the walls of the house can strengthen the aesthetics and contrast, so the house looks more beautiful and charming. But keep in mind the use of natural stone for exterior and interior walls are different, depending on the types.
In addition, natural stone on the exterior must be resistant to extreme weather, while for the interior is no need to consider the weather. Therefore, if you want to build an attractive modern house, you can take inspiration from the pictures of natural stone houses below. But before choosing the design inspiration, you need to understand the types of natural stone first,
3. Natural stone designs can be used for other rooms
As we know, the exterior of the house design can make it aesthetic. Therefore, you can try to take the theme of some outdoor designs. As far as we know, the house exterior house design may have its characteristics. Then you must know, natural stone does not have to be designed in a closed room but can also be designed in other rooms to make it feel like being in the wild. For that, let's discuss the designs one by one below. Welcome to our review!
Retro style natural stone house design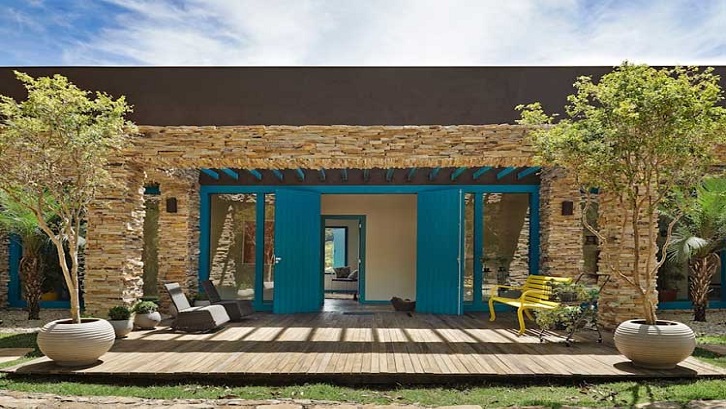 Utilizing natural stone as a house wall has become a common thing and is often found. But that does not mean the beauty and uniqueness of the natural stone are invisible. The presence of natural stone on the walls of the house or fence still provides stunning beauty. That way, your exterior house looks more valuable with an attractive natural stone design.
We know that natural stone does not only provide visual beauty benefits. More than that, this material is a very strong and durable material for house construction. Using this material as a wall, it will make the house more sturdy and resistant to various weather changes. Then, for
your house design to look more beautiful
, try presenting a retro style with attractive door and window paint colors. Then, add garden chairs and tables, flower pots, wall lamps, and ornamental plants in front of your house. That way, your home design will look retro.
Natural stone design for a minimalist type house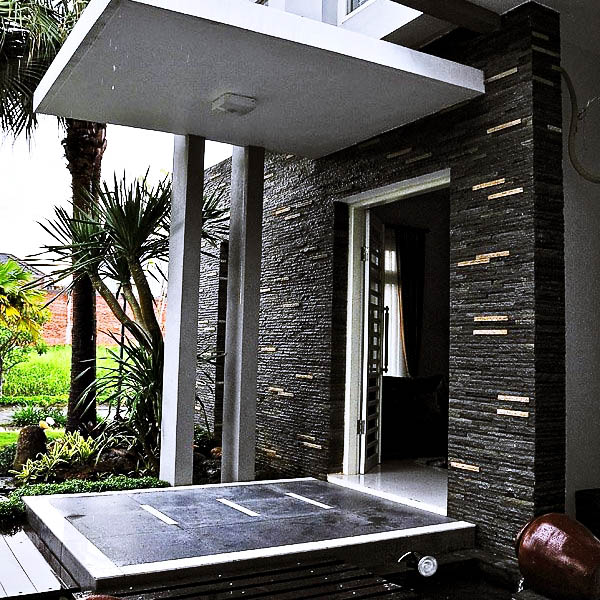 The next house's exterior design is shades of dark natural stone. Especially for the concept of a stylish house like this, the natural stone used should be semi-formal, elegant, and sturdy. The goal is to make this minimalist house look more sturdy and majestic. Black and gray colors can make the design of the house look elegant. However, in order not to look monotonous, design the garden around it to make it look green.
Minimalist facade with natural stone and concrete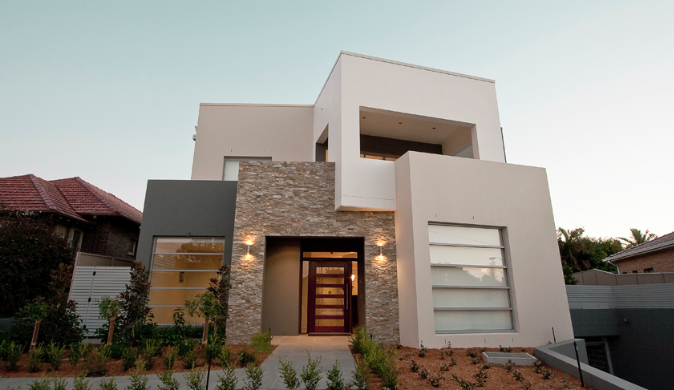 You must have always seen a house like this in a housing complex. This look is often seen in minimalist-designed houses inspired by the Scandinavian style. By using natural stone in one part and then covering the other with concrete, the facade of the house above looks beautiful and not monotonous.
Another important element that plays a role in this combination is the use of minimalist house paint, with contrasting colors on the house exterior. To look more attractive, you can add wall lights and ornamental plants in front of your house. That way, the exterior design of your home will look aesthetically pleasing.
Natural stone house with wooden fence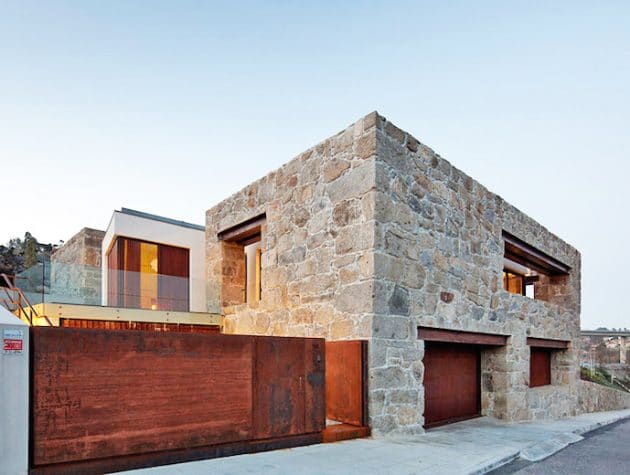 The exterior design of a magnificent house is always the attention of everyone who passes in front of it. By using natural stone like this picture, you can beautify the exterior walls of your house, garden, and fence. The charm of natural stone like this looks more artistic and beautiful. Then, the placement of natural stones and the right stone pattern displays a cool natural atmosphere. In addition, the advantages of this natural stone highlight the characteristics of being strong and resistant to weather changes and are very suitable to be used as a combination of house fences.
Therefore, many people are interested in having a house with a solid facade like this. Not only shows the impression of being safe but also highlights the impression of minimalism. In addition, a wooden fence design and natural stone can make it aesthetically pleasing.
Natural stone house with a large garden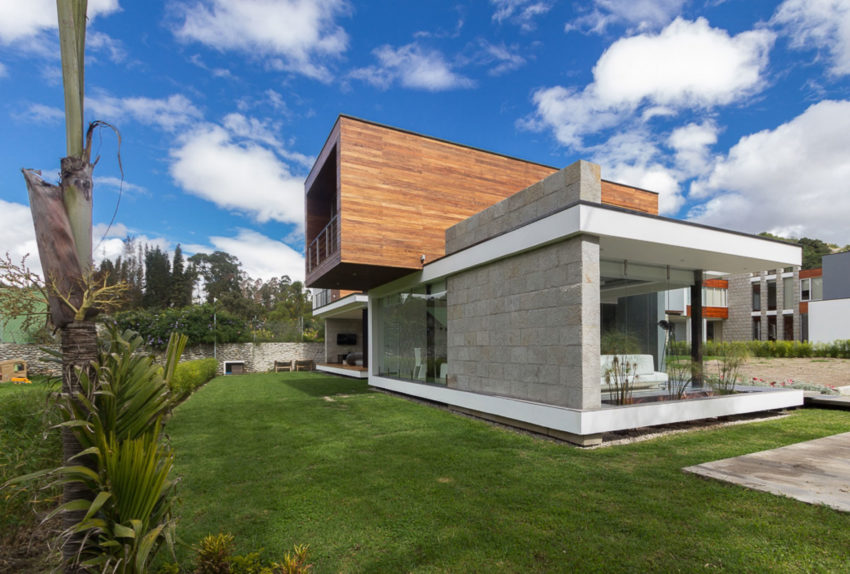 For those who are looking for inspiration for a beautiful backyard garden, you can use the design above as your inspiration. Natural stone walls are the main focus of the house in the design of the surrounding garden. This natural stone color arrangement is perfect for a minimalist home model. With an area of ​​land in front of this house, you can combine the garden with this natural stone. That way, the exterior of your home design will look amazing.
Minimalist house with natural stone partition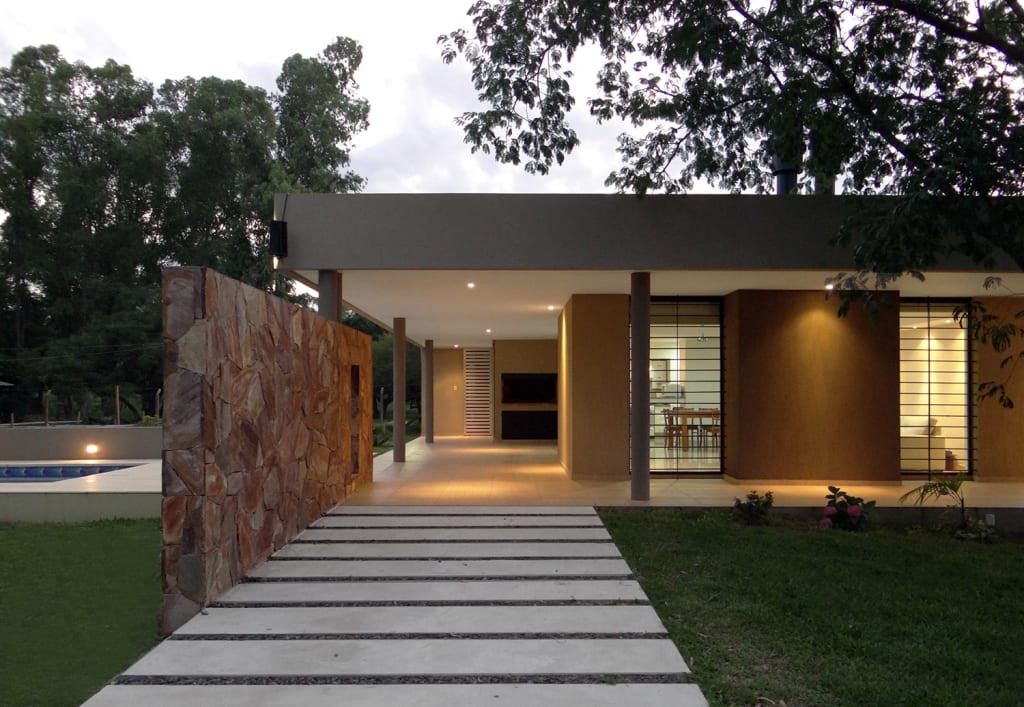 Walls made of natural stone are one of the best design ways to separate the path into the house from the surrounding garden. As you can see, this wall can be made of large granite stones. Not only beautiful, but granite is also stronger than other natural stones. Many homeowners use designs like this using granite as natural stone. The purpose is as a partition to limit the front yard with door access. With this arrangement, the exterior of your house will look neater.
House with natural stone pillars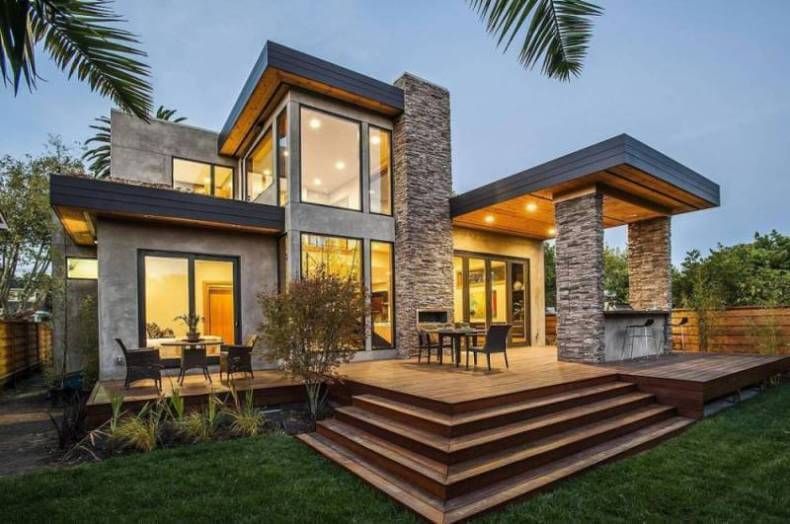 The exterior design of this natural stone house looks elegant. With the inspiration of natural stone as a pillar or pillar supporting the front of the house, it makes the exterior of this house look magnificent. These natural stone pillars can expand the ceiling of the house's front porch while protecting the area from the sun's rays.
Then, to make it look more beautiful, they added a beautiful spotlight design, added patio chairs, and a table to relax and enjoy coffee in the afternoon. What makes it more interesting is the big glass window design. So that sunlight can easily enter. That way, the house design looks luxurious and pleasing to the eye.
Black natural stone in the foyer of the house
Natural stone walls or floors are also very suitable for use in the foyer. The foyer itself is the connecting part between the entrance and the inside of the house. Especially for this design, the foyer made of natural stone is used as an intermediary between the house interior and the balcony of a minimalist-level house.
As you can see, the natural stone above makes for a smooth transition from the foyer to the balcony. This method is considered very effective and adds a modern impression to the house. Besides looking elegant, natural stone is also very practical because it is easy to clean. In addition, natural stone with black color looks more majestic and sturdy. Moreover, add with beautiful hanging decorative lights can make the house look more modern.
Terrace with bright natural stone shades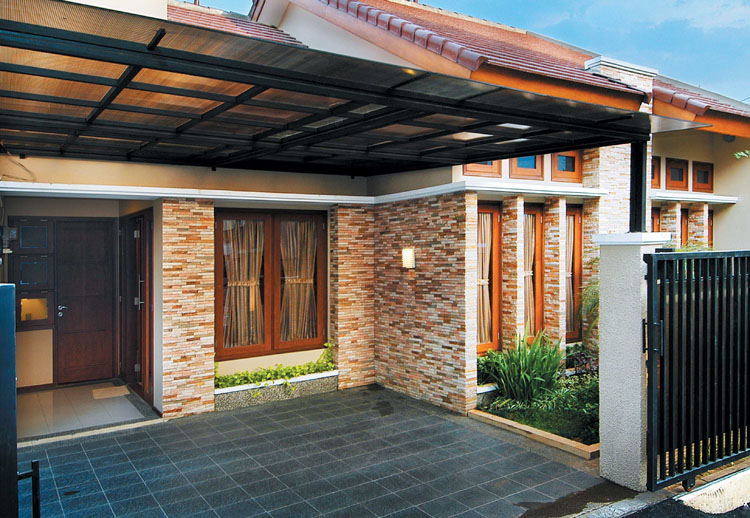 Terrace wall designs with natural stone can make your home look natural. In addition, you can create an atmosphere at home that looks cooler because of its natural design as shown in the photo above. The type of natural stone applied to this wall is different from the floor but the combination of this material looks harmonious. In addition, it looks unique and effective to avoid the impression of monotony in the dwelling.
To look more attractive, use decorative lights on natural stone walls because they can create an aesthetic impression. With an arrangement like this, the design of your terrace will seem warmer and more comfortable. Then, don't forget to make the garden look greener.
Minimalist outdoor kitchen with natural stone
Outdoor kitchens with natural stone are usually the favorite design of many people. With a design like this, you don't bother looking for a natural restaurant atmosphere with your family. You can enjoy a meal with your family in this place while chatting. Especially if you have a minimalist type of house with a modern feel, it definitely looks more aesthetic. Kitchen cabinet designs made of natural stone are also easier to maintain than similar furniture made of wood.
As far as we know, natural stone is a solid material that is easy to clean, where the color and shape are not easy to change. Then, to look more beautiful, add antique pendant lights, bar stools, and attractive kitchen accessories. That way, you and your family will feel more comfortable in this outdoor kitchen design.
Natural bathroom natural stone design
A boring atmosphere must always be experienced by everyone because the atmosphere is felt just like that, where people are always looking for a different atmosphere. But If you are bored with the atmosphere of the bathroom in the house, you can make a bathroom outside. But don't forget, you must keep your privacy and not to be seen from the outside.
Then to make it more comfortable to enjoy your bath, you can install a shower, and arrange your bath area with natural stone and coral so it can make an attractive. Don't forget to add plants to make it feel cooler and natural. With this design, you will get the natural atmosphere you want. Happy decorating!
4. Conclusion
As you know, the role of natural stone is more important and closely related. Natural stone is a building material that is generally used in the final finishing process during construction. Natural stone has an attractive appearance and is the main reason people use it as a home decoration to make it look beautiful, aesthetic, luxurious, and fun. Therefore, we hope that the design examples above can be an inspiration for those of you who want to renovate and build a house. Happy decorating!