Nexthomegeneration.com – A living room is the first room that our guests enter when visiting our home. That's why is important to decorate it and create a beautiful impression from the interior design. There are many styles that can be applied as long as it is related to our home concept. If you love an aesthetic with a simple impression at the same time, a Scandinavian interior design is suitable for you. We should apply it because it can make our home beautiful even using a little bit of furniture and decorations. We can apply this design to create an aesthetic and cozy impression for those of you who are on a budget. A Scandinavian characteristic should be to pay attention to applying a perfect design.
This style is inspired by Scandinavian countries which have simple home designs with a little bit of furniture usage. It tends to prioritize the function than the design or shape which looks stunning. The design always uses neutral colors such as black, white, beige, brown, etc. However, how if we feel complicated while applying it? This time, we will give you some ideas for beautifying a living room by applying a Scandinavian design. Hopefully, we might help you to apply this stunning interior style.
Scandinavian Living Room Design Ideas
For people who the first time decorating their living room, a Scandinavian interior design is suitable for them. We can also find the room ideas to make us feel complicated and create a beautiful style. This time, we will give you Scandinavian living room design ideas.
Simple Black And Grey Scandinavian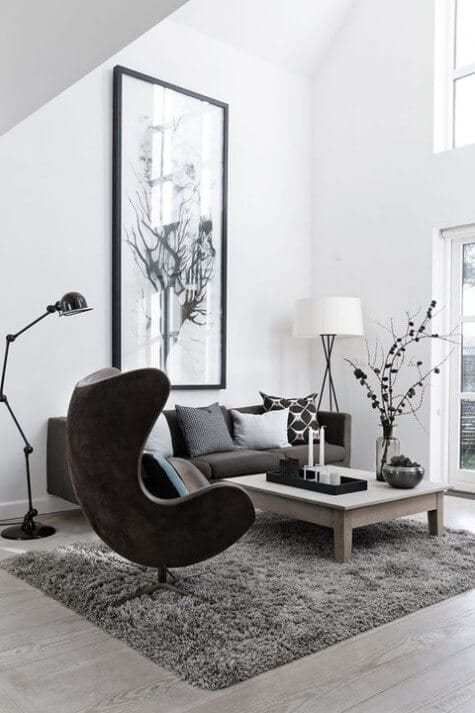 We should paint our wall with white color to create a simple and bright impression. Choosing a black wingchair is the best recommendation to create a cozy feeling. A fluffy carpet can be added as a pedestal on the wooden flooring to make a warm atmosphere. To apply a stronger Scandinavian design, we should add a wooden table because it is very preferred to create a natural style. If we want to have a dark concept, we should choose a black sofa with some pillows. The best recommendation choosing a floor lamp to make our living room feel bright. A black and white picture is preferred to be attached to the wall as a decoration.
Cozy Aesthetic Scandinavian Living Room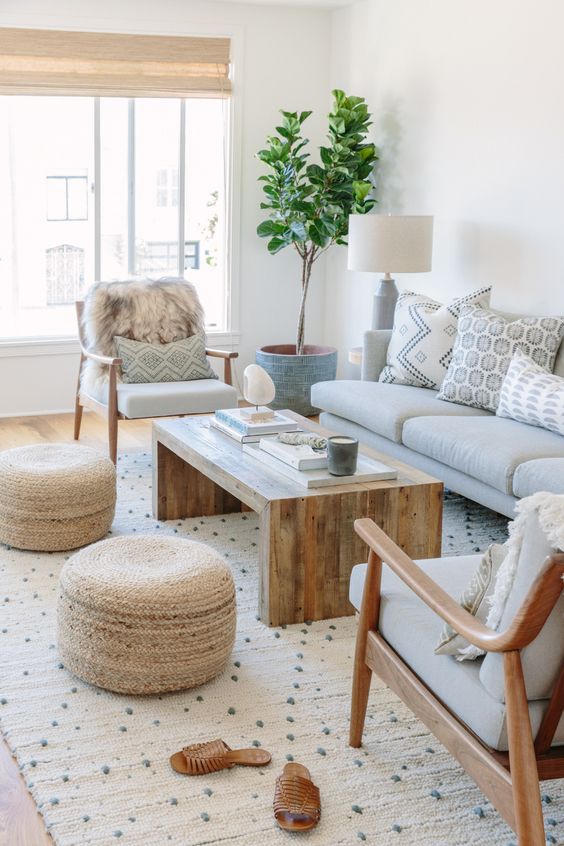 Rattan materials have a natural accent and make our living room have a comfortable impression. Actually, a Scandinavian style always uses wooden furniture to make a stronger accent. Moreover, if it has a beautiful and natural design at the same time where it has long durability which makes us can save our expenses. A grey sofa with simple pattern pillows is suitable for making the living room have a harmonious concept in furniture selection. Rattan cushions are suitable to make us cozier to sit than choosing any material.
Simple Scandinavian Style With Little Bit Of Furniture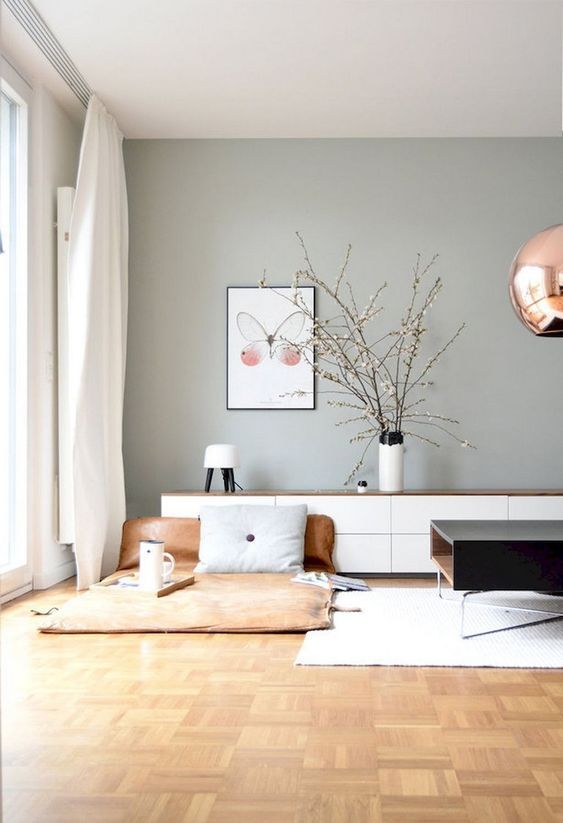 Wooden vinyl tiles are suitable to be applied in the Scandinavian living room to create a harmonious concept. It is also suitable for people who are on a budget because of having a natural brown color. A white cabinet is preferred to store our things to create a neat impression and make us easy if want to find it. A simple butterfly picture can be attached to the light grey wall to make a fascinating look. If we want to place something on the floor, a white fluffy rug can be used as a pedestal. To make it prettier, we should install a white curtain as a window decoration.
Light Grey Furniture And Curtains Create An Aesthetic Concept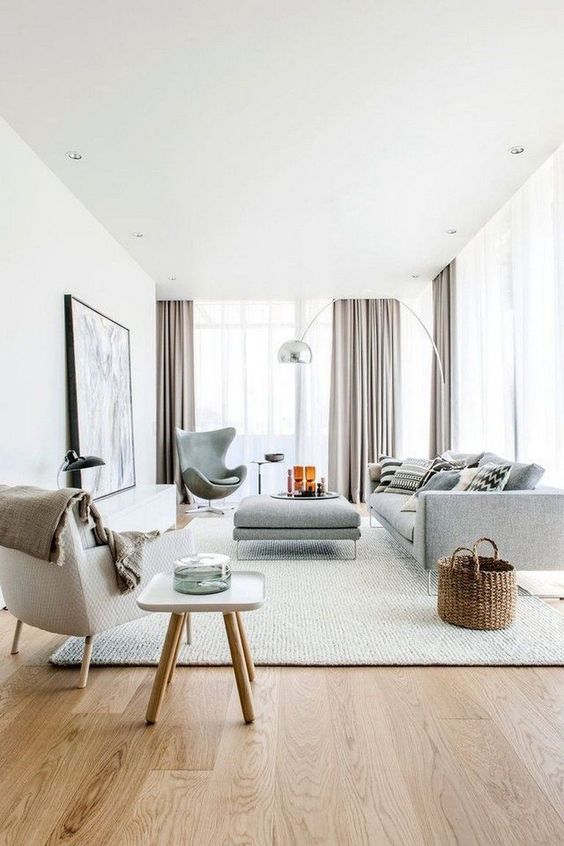 The Scandinavian characteristic has many windows which can make sunlight come to create natural light. That's why installing them is necessary to do to create a warm and bright atmosphere. We should install curtains to make a beautiful aesthetic impression of our living room. A light grey curtain is suitable because it makes our living room have a harmonious design and concept. A white carpet can give a stronger Scandinavian accent because it is related to the design characteristic. Light grey sofas and table is preferred to make our living room looks harmonious.
Scandinavian Home Wooden Accent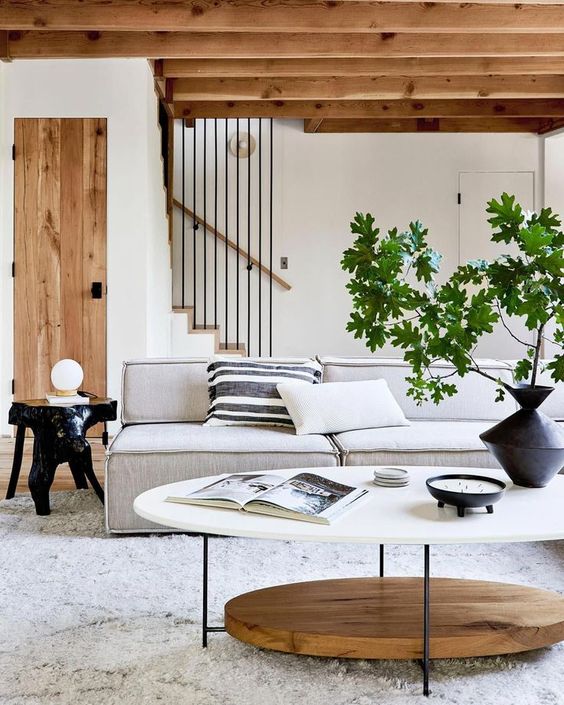 A wooden ceiling room that is combined with the same furniture material creates a beautiful and cozy impression at the same time. We can also add a white fluffy carpet as a pedestal to make us feel warm and comfortable while staying in it. A plant with a black pot can be added as a decoration to beautify our living room and makes a fresh impression. If we are looking for a sofa, we recommend choosing a light grey color which is suitable for people who want to apply a Scandinavian interior design. A white coffee table with a wooden material accent is preferred to create a stronger style. A harmonious concept can be applied if we pay attention to color selection.
Neutral Colors Sofa Recommendation
Scandinavian interior design barely uses too bright colors of furniture or decorations and tends to have neutral colors to create an aesthetic concept. That's why many people decorate their Scandinavian home with white, beige, brown, light grey, and others because it is a characteristic of the design. If we want to make a cozy and beautiful living room, we should choose furniture that can make us comfortable while staying. We recommend you to choose a sofa because it has many designs, shapes, and colors that we can choose as long as it is suitable for our living room. This time, we will give you neutral colors sofa recommendations!
Dark Grey For A Scandinavian Living Room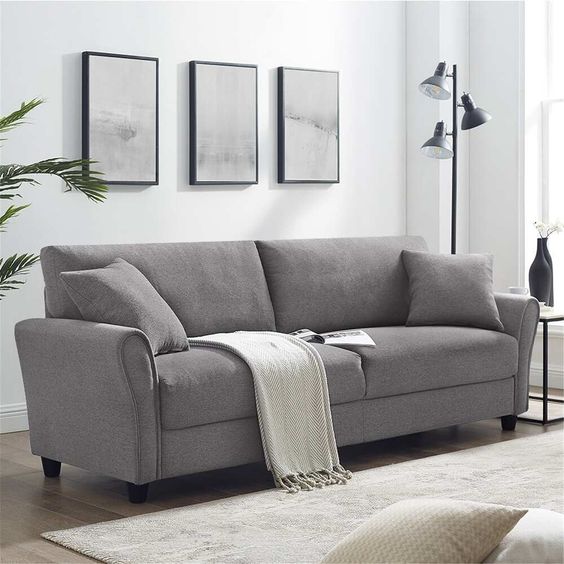 The first recommendation is to choose a dark grey sofa because it is one of the neutral colors that is often used in a Scandinavian living room. It can be combined with many furniture or decorations like white carpet or floor lamps. A white wall with vinyl flooring is also preferred to make this sofa look beautiful.
Shiny Accent Dark Brown Color Sofa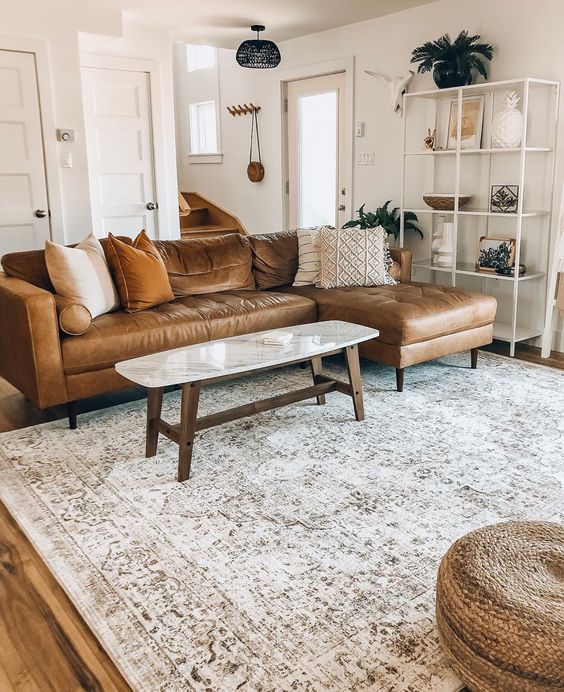 For people who love brown colors, this sofa is suitable for you because it has a shiny accent that can make our living room feel cozy. We can add it if we want to choose brown colors sofa. It can be combined with a white rustic carpet design and a rattan cushion. A white self is also preferred to be added to create a neat impression and to store our decoration or other important things.
Scandinavian Mustard Yellow Color Sofa Recommendation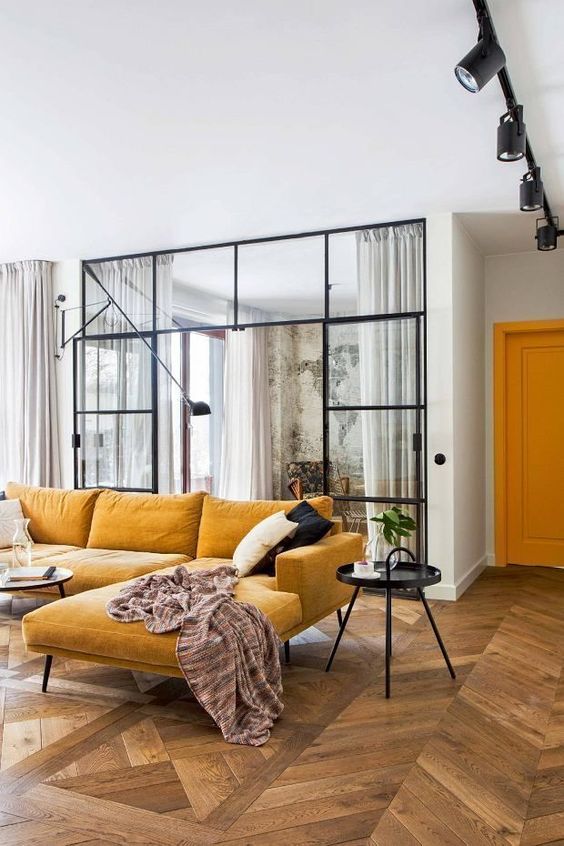 Do you love a yellow color and want to add it to your Scandinavian living room? If yes, we recommend choosing a mustard yellow sofa to create a bright impression. It has a simple design that will be suitable in the Scandinavian style. It also doesn't look tacky and can create a harmonious concept in furniture selection. The flooring type which is suitable to be combined with it is wooden flooring. By using them, we can have a unique and stronger Scandinavian interior design.
Dark Green Color Scandinavian Single Sofa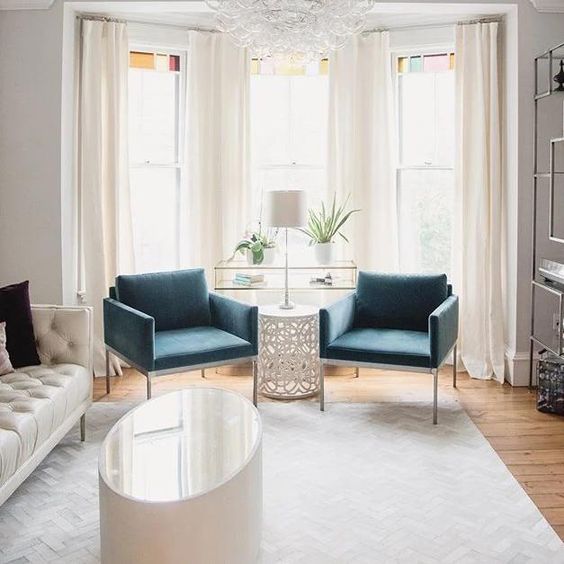 Beige curtains are preferred to be installed to create a natural concept in the Scandinavian living room design. By adding a beige oval table, sofa, and white carpet your living room can look prettier than using other furniture colors. To make us comfortable, we should add two dark green single sofas because they also can create a harmonious concept in furniture selection. It has neutral colors that will be suitable to be combined with others.
Conclusion
Some people might want to have a simple and modern living room. It means a Scandinavian interior design is suitable to be applied because it has a unique and aesthetic style that will be suitable for you. By knowing the characteristic, design ideas, and some sofa recommendations, hopefully, you can create a fascinating living room.