Nexthomegeneration.com – Flooring is important to be installed because it is a pedestal for our home and we can't apply the best design if we don't know a suitable type. In the previous article about Scandinavian interior characteristic design, we certainly know the suitable thing that should be added if we apply the style. Flooring material types is very important to know because it gives many effects to our design. We should know some advantages and disadvantages to avoid making a mistake while choosing it. There are many Scandinavian flooring material types that we can choose as long as it is related to our concept. Today, we will give you some information about it.
5 Best Scandinavian Flooring Types With Advantages And Disadvantages
Best flooring types are important to create the best interior design and make our home looks fascinating than doesn't pay attention to it at all. 5 best Scandinavian flooring from us might help you to make your home look attractive and won't look monotonous. We can also feel comfortable if we choose the right flooring type because it gives many effects on our home. Today, we will give you some recommendations about it. We also give you some information about some advantages and disadvantages of flooring materials. It might help you to choose the right types.
Simple Natural Scandinavian Flooring Types
Laminate wooden flooring type is made from the highest quality wood powder or high-density fiberboard (HDF). It is the highest type of sawdust that has high density among other types. There are many advantages if we apply laminate flooring and it should be considered to be chosen. To make it easy to choose, we will give you information about it.
The Advantages Of Laminate Flooring
Warm and comfortable. The characteristic of laminate flooring is almost identical to solid wooden tiles. It makes us can walk comfortably even we can sleep on it without needing a pedestal. It is suitable to be applied in the Scandinavian bedroom to make us feel cozy and can sleep anywhere that we want.
Quick and easy to be applied. Do you ever feel complicated and bored while applying flooring tiles? If you ever, the laminate type is very preferred for you because it doesn't take many times to apply. Even we don't need two days to make our home beautiful by applying it.
Temporarily. Sometimes we feel bored if we use something for a long time but laminate tiles are a solution for you. It can be removed and we change with other tiles as we want. It is also preferred to be applied in the Scandinavian living room because we certainly often change the interior to make a new impression.
Affordable price. Compared with solid wooden tiles, wooden laminate flooring is affordable for people on a budget.
Disadvantages Of Wooden Laminate Flooring
Monotonous pattern. Although it has many patterns that we can choose, actually, it is different from wooden solid types that have many beautiful natural patterns. The laminate flooring doesn't have various pretty patterns and tends to have a monotonous style.
Doesn't have long durability. Laminate flooring tiles are suitable for a Scandinavian design because it has a natural style and tends to have an affordable price. We should be ready to change it regularly because we can't use it for a long time. It doesn't have long durability and make us should take care of it and change it properly.
Cannot be fixed. Generally, if we apply wooden solid tiles, we can make them look better even we use them for a long time. However, we can't make the laminate flooring looks new again because if we use it for a long time, we should replace it with new tiles.
Easy to get scratch.  We should avoid moving our furniture by shifting it because it can ruin our laminated flooring.
Vinyl Tiles Flooring Recommendations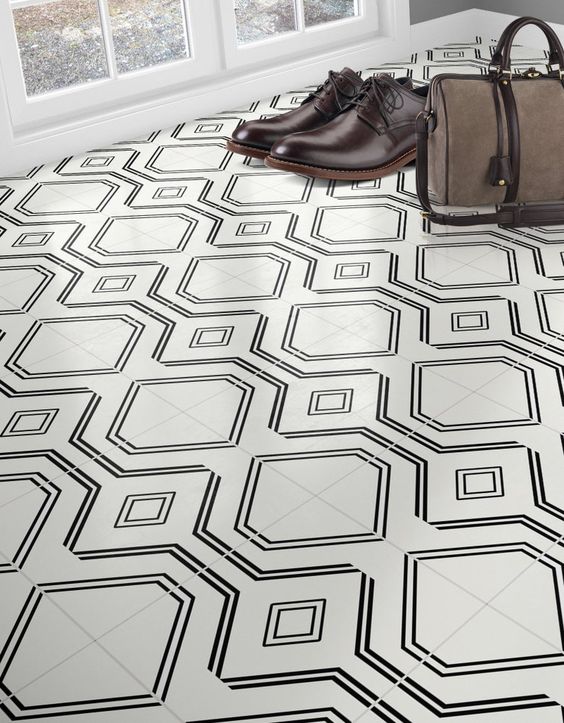 If we want to choose vinyl tiles pattern, white and black color combination is the best type to be chosen for Scandinavian design. Vinyl tiles are coated with synthetic material to help us having beautiful patterns even applying basic tiles. It is made from polyvinyl chloride (PVC) and it is famous for its soft texture and is easy to be applied. There are advantages and disadvantages that we can get by applying them. This time we will give you information about it.
Vinyl Flooring Advantages
Affordable price. If we want to apply a Scandinavian dining room, we should choose vinyl tiles. It has affordable prices with many patterns that can create a beautiful and unique impression for your home.
Having a good quality. Although the price is very affordable, it has good quality and is not inferior to other flooring types.
Long durability. If we want to save our expenses and keep our flooring tiles for a long time, choosing vinyl tiles is very preferred for us. They are also waterproof and don't ruin even exposed to various dirt. We can feel comfortable because they are easy to clean and only need to swab them properly.
Look aesthetic. Scandinavian vinyl tiles won't make our home look monotonous because it has many patterns that we can choose as long as it is related to our concept.
Disadvantages Of Vinyl Tiles
Synthetic Materials. Some of them have votatile organic compounds (VOC) that if spread in the air, can be dangerous for us. We should have enough circulation to take care of our health.
It is not suitable to apply outside. Different from the interior, the exterior needs long durability and waterproof tiles then a vinyl type is not preferred to be applied outside.
Easily faded. The color of vinyl tiles doesn't have long durability and easily faded then we should change it with new tiles. It makes us can't save our expenses then that's why we have to take care of it by cleaning it properly.
Scandinavian Solid Wooden Tiles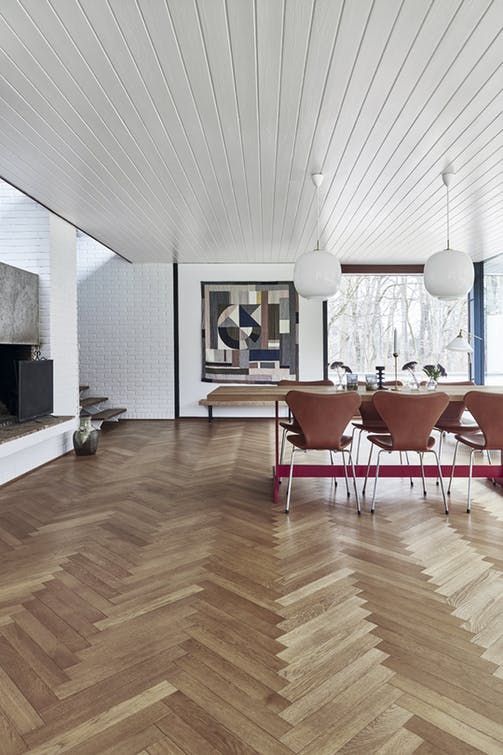 Scandinavian solid wooden tiles are the best recommendation to make our home have a stronger design. We should choose them to create a beautiful and natural impression at the same time. It can be combined with a white ceiling where a beautiful pendant lamp or chandelier can be installed to create a fascinating look. There are some advantages and disadvantages that we can get and now we will give you some information about it.
Solid Wooden Tiles Advantages
Long durability. It is because solid wooden tiles are made from original wooden trees without being mixed with other materials. It can be used for a long time even in many years.
We can make it looks new. Even though we have used it for a long time and the color must have faded, we can use a special liquid to make it looks new again.
Having many wooden types. The next advantages of solid wooden tiles are we can choose many quality and types of them as long as it is suitable to our taste.
Make our home have good quality. By applying it, we can increase our home selling price then it is good for investment.
Solid Wooden Tiles Disadvantages
Having high price. There are many people who love solid wooden tiles but can't buy them because the price is high. That's why they are not suitable if our budget is limited.
Complicated to take care. It is complicated to make our solid wooden tiles have a better looking because we should paint them every 3 years.
Prone to scratches. We should be careful if we want to move our furniture because it can ruin our beautiful flooring.
Aesthetic Scandinavian White Oak Tiles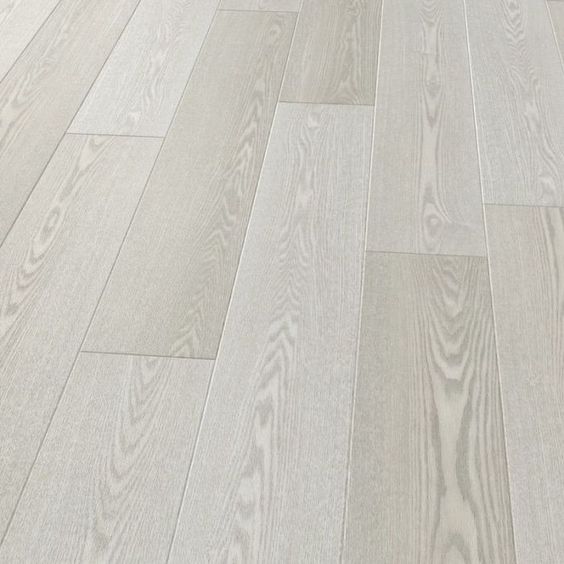 Oakwood is produced from the oak tree and call as genus Quercus. This plant can only grow in cold regions such as America, Asia, Europe, and Northern Africa. There are many trees that grow there where they can be used for various needs. Oak wooden materials are hard and strong at the same time then they are suitable to be applied for Scandinavian interior style. It has long durability and can't ruin from termites attacks. If we want to apply it, we should paint it with white color or if we love natural impression, we can make it have natural accent without painting.
Pine Flooring Tiles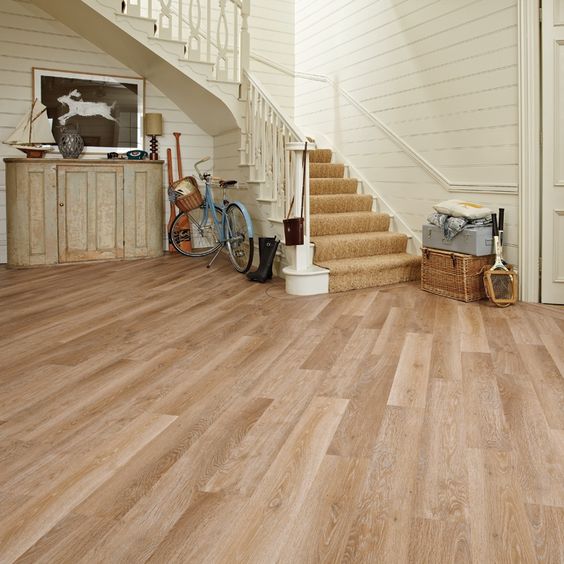 This one is eco-friendly and has a low price then wooden flooring tiles are suitable for people who are on a budget and also make our home look attractive. If we don't want to buy solid wooden tiles because they are expensive, we recommend choosing Scandinavian pine flooring.
Conclusion
Scandinavian interior design is easy to be applied as long as we know some information about it. We should know the suitable flooring to create a beautiful concept. Besides that, we also need to know about its material. We should choose them based on our needs.