Nexthomegeneration.com – Because of the beauty of a tropical atmosphere, it is popular in this era. There are many people applying it to create a warm and fresh impression that only can be found in this design. Different from others, it tends to have dark green color from some plants decorations and sometimes a wallpaper can be applied to create a stronger concept. For those of you who feel bored with your home, we can apply a tropical design to create a different atmosphere. It can make you feel like in a different country because it looks unique and fresh. Today we will give you some tips to apply a tropical interior design to make a fresh room.
Applying the style is not only to add some plants to our house but we should know furniture and decorations that will be suitable for our concept. Some ornamental plant types will create a beautiful impression on our home. However, if we don't know about it, it will feel complicated to apply a tropical interior design. Some information that can be found on the internet or ask people can help us to make a beautiful look.
9 Tips To Apply A Tropical Interior Design
Sometimes it is complicated to apply a Tropical interior design especially for people who apply it for the first time. We might make a mistake while applying it and it can create an ugly impression on our home. Actually, it is easy to apply tropical interior design but we should know the characteristics and suitable colors that can create a perfect style. However, by knowing some tips from us, we guarantee you will enjoy applying the design in your home.
Pay Attention To Every Detail
Nature and tropical atmosphere can be an inspiration to create an amazing tropical interior design. Flora and fauna patterns should be added to give a stronger accent so we can feel comfortable while staying. Furniture that has beautiful materials with unique fabric is our recommendation to apply a harmonious concept. Besides it, a wallpaper with wide leaves pattern should be applied because it has a fascinating impression and looks unique at the same time. Bright colors are the best recommendation because the style tends to have them in furniture and decorations usage.
Using Suitable Colors
Tropical interior design style provides a lot of dark colors and patterns to the room decoration. However, for those of you who do not love them, we can still have a fresh tropical style by applying soft colors that are still related to the accent. Choosing suitable colors for a tropical design can give a stronger style. Some colors that can be applied such as yellow, blue, and green. They can make a cheerful impression that will make a beautiful tropical atmosphere. By mixing some colors, it can create a colorful combination and give a different atmosphere that won't look monotonous.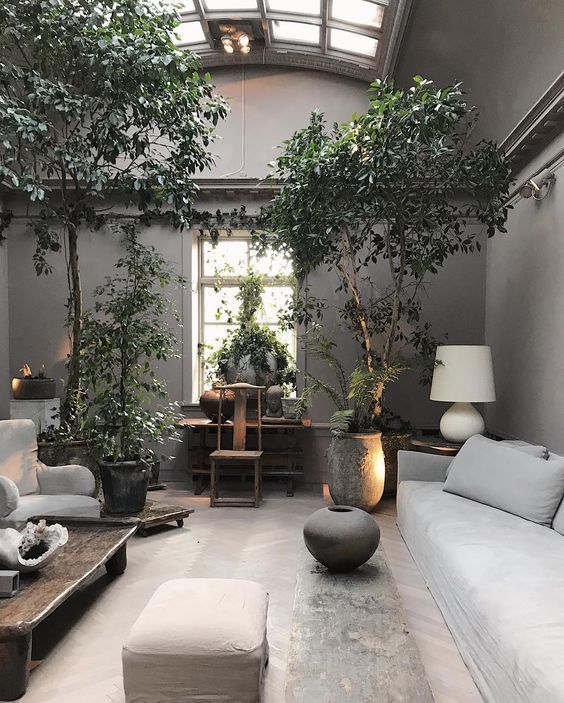 Adding Some Plants
We can have a nature accent which can only be obtained by adding some plants in the tropical interior design. They can save our expenses because they are enough to beautify our home's interior style. If you love animals, we can add a bird to the tropical interior room. It can create a beautiful look and a unique impression that can make our home different from others. When choosing suitable plants for a tropical interior design, we should consider selecting bright colors and anthurium types. They are easy to find and can add a cheerful atmosphere to our home. A lily flower can be chosen to make your home have a harmonious concept in color selection. It has soft white color and is suitable to be combined with tropical furniture.
Creates A Charming Impression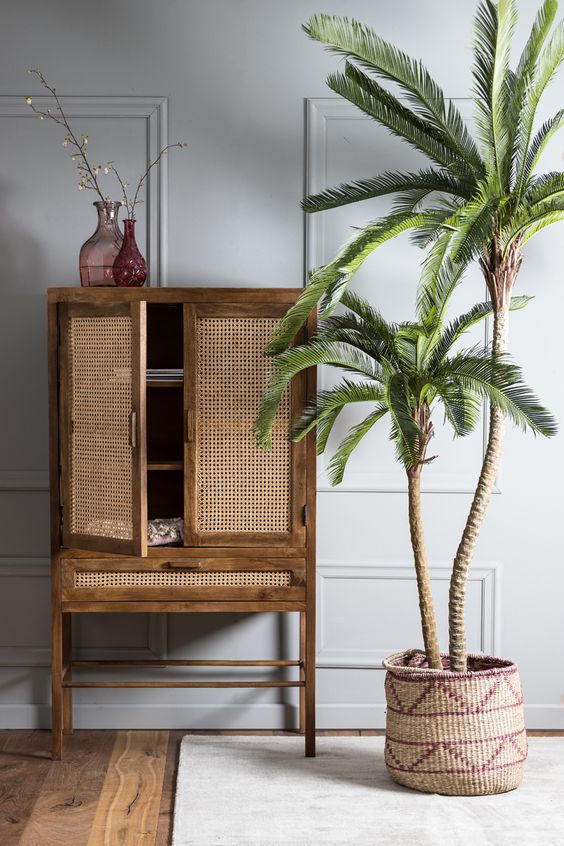 Dark brown wooden furniture can be prettier if we add it in the tropical interior design than other styles. We can combine it with a palm tree or tropical pattern fabric to create an amazing impression. Shiny accent from it makes us feel cozy while staying in the home and won't look monotonous.
Applying A Monochrome Concept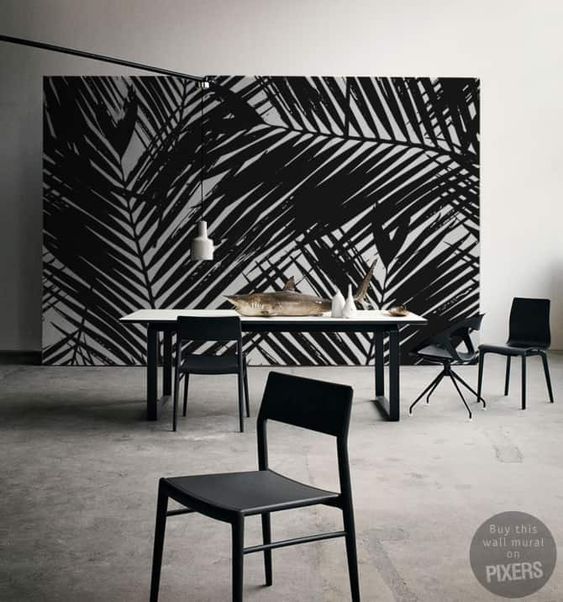 If we don't like bright impressions, a monochrome concept is a solution for us and we can apply it in the tropical style. Although the style tends to have warm color and barely uses a dark concept, we can still have a monochrome concept. It can be combined with white and black wallpaper or anything that has a little bit bright impression.
Choosing Perfect Decorations
To make our design feel complete, some perfect decorations for a tropical interior design should be added to our room. A fruit ornament like pineapple or apple can be added to the table. A flamingo statue with a warm light can create a stunning impression in our home. We should add a bowl with some flowers in the dining room to make it look attractive. By adding some decorations, we can create an unmonotonous concept.
Combining With Minimalist Concept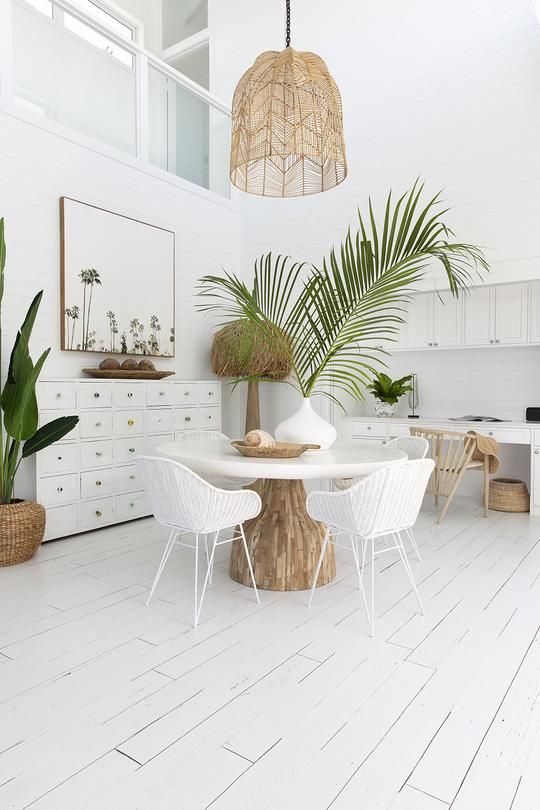 Even though there are no limits to combine tropical interior style with other designs, we should choose a suitable concept. We recommend combining a minimalist concept with a tropical interior style to create a stunning impression. For those of you who love a modern look with simple decorations, a minimalist tropical design is suitable for us. White wooden tiles are preferred to be applied to make our home prettier than using other floorings.
Utilizing Natural Lighting
A room with many windows is the best concept to be applied a tropical design because the style tends to utilize natural lighting from the sun. We can create a beautiful shiny room without installing many lamps. It is also good for us who love the bright and cozy rooms so we can confident to show our home interior to many people.
Choosing Colorful Table Decorations
A table is necessary to be added if we want to have an attractive room because we can decorate it with various decorations. Choosing suitable and related things to tropical style is our recommendation because it won't look monotonous. Small animal statues and flowers are the best things that can be added to the table.
Tips To Make Our Home Feel Fresh
Sometimes, our home has a stuffy feeling that makes us can't feel comfortable staying. That's why it is important to keep our home have a fresh atmosphere to prevent making us sick or can't enjoy our time in a home. This time we will give you some tips to make your home feel fresh.
Make a plan. What areas in your home get the least amount of attention? Wherever that is, we have to start to make it fresh for the first time. Creating a plan before cleaning our home is the best way to get the best result. Making a list of things that you need, to help you focus on what to be done. We recommend walking around your home to know what supplies you'll need to clean particular areas before you start.
Organize your old stuff. Recycling old magazines and papers that you might have lying around will help to create fresh air. Looking through your drawers and don't forget to organize those too that might still save some old things. Fresh home tips are necessary to know to make us feel comfortable while staying in the home.
Add some green things. Green decorations or plants are the best things that can be added to our home if we want to have a fresh home.
Keeping your floor clean. It is important to clean our flooring tiles because they will have dust that will make our home doesn't feel fresh. We have to clean it often to prevent making it look dirty. Tips to create a fresh home can be done if we love a cozy atmosphere.
Conclusion
Home design is necessary to be decorated because it gives a lot of effects to our interior style. We should pay attention to furniture, decorations, and colors selection to create an amazing tropical concept. We can also combine it with various designs that it won't make our home look monotonous. Tropical interior design tips from us will help you to prevent ruining the concept. If you have some ideas about interior design or anything related to home decorations, you might want to write for us in this blog.