Nexthomegeneration.com – DIY or do it by yourself is a solution for people who want to have beautiful things but can't buy them. Actually, there are many decorations that we can make as long as we know how to make them. However, sometimes people think that making something by ourselves is complicated where it should be easy. The materials that we will use are not complicated to find because we only need simple things. We can make the decoration alone or with our family. We can feel cozy to spend our time without going outside and also save our expenses because we don't buy expensive decorations.
Generally, making DIY decorations make us proud and confident to be displayed in our home because they are certainly suitable for our taste. Some people might feel easy to make a DIY but it is complicated to think about what things that we can make. How to choose the ingredients that we need. Don't worry about it because today we will give you some information about how to make DIY decorations. Now, let's get to the list.
7 DIY Scandinavian Decorations For People Who Are On A Budget
A Scandinavian characteristic design doesn't have many decorations but it doesn't mean we don't need them to make our room look beautiful. We should add fewer decorations to create an unmonotonous concept. Aesthetic and cozy impressions can be applied if we add some decorations to our room. We can make it by ourselves if we are on a budget but for people who don't want to feel complicated, we will give you step by step on how to make them.
Maple Leaves Decorations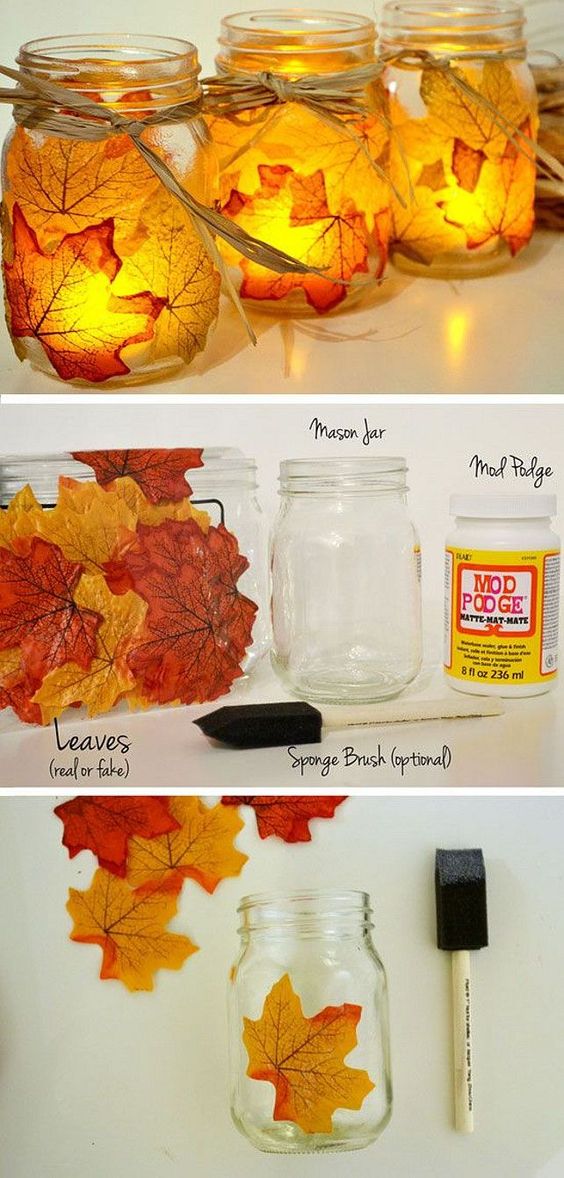 Ingredients
Maple leaves (Fake or Real)
Sponge brush
Mason jar
Mod podge
Fairy lights or LED tea lights
Ribbon
How To Make It
The first step that we should do is to spread the mod podge using a sponge brush to the mason jar inside.
Attach the maple leaves one by one to the jar.
We can add fairy lights or led tea lights inside the jar
To make it pretty, we should tight the ribbon on the mason jar neck.
Mason jar decorations are ready to use to make your room beautiful. It is suitable to be added in a Scandinavian bedroom style.
Flower Light Bulbs Decorations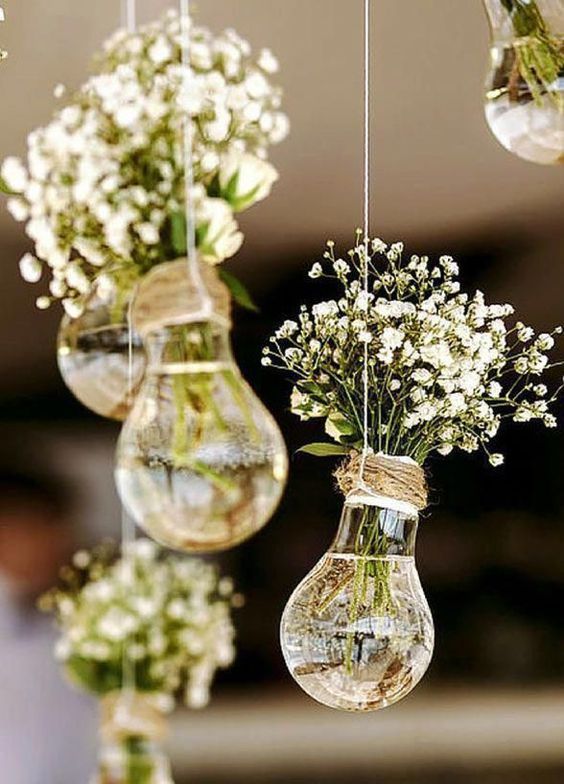 For people who have unused light bulbs and don't know how to utilize them, we recommend you create an aesthetic and beautiful decoration. However, how to make it? Let's check this out!
Ingredients
Light bulbs
Sewing thread
Twisted burlap
White flowers
A little bit of white fabric
Water
glue
scissors
How To Make It?
Take off the bulb cover and spread glue to the removed part.
Cover it with a little bit of white fabric that has been cut by using scissors.
Wrapping the part that has been covered with white fabric by using the twisted burlap.
Adding water to the light bulb and don't forget to add a white flower.
Tie the sewing thread to the light bulb and hang it in our room.
White And Black Painting Color Combination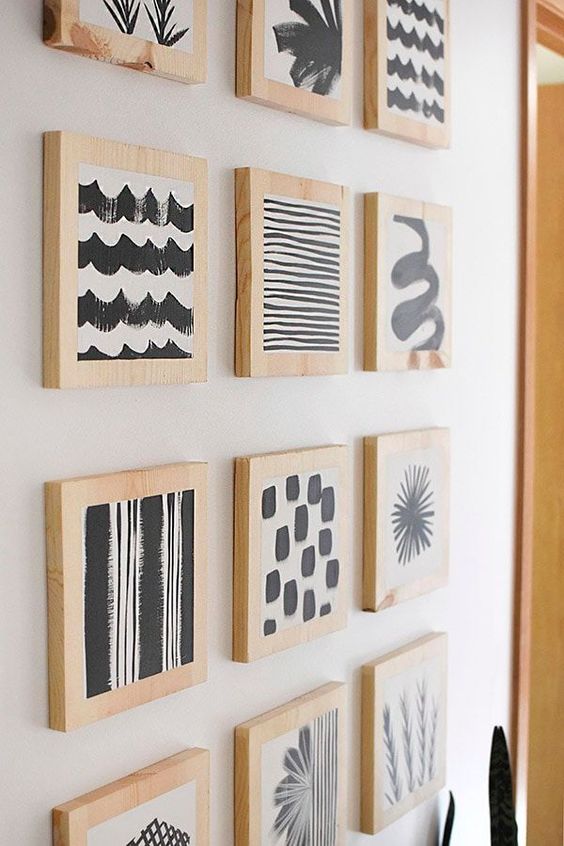 Simple decorations that can be attached to the wall are aesthetic paintings. We only need square wood and wood paint. White and black color  the best choice to make this painting because it is related to the Scandinavian design. Making a unique pattern by using wood paint to create an attractive impression. It is suitable to be attached in the Scandinavian living room.
Popsicle Triangle Wall Shelf
Do you like an ice cream? For people who love it, they certainly have a wooden popsicle and we usually throw it in the trash. However, we can utilize it as a stunning decoration, and also it is eco-friendly. This time, we will tell you how to make it.
Ingredients
Glue gun
Wooden popsicle stick
Knife
How To Make It?
Cutting the ends of the popsicle stick by using a knife.
Sticking them to each other until having a triangle shape and a suitable height.
Making three triangle shapes and sticking them by using a glue gun until having the shape like the picture above.
Our popsicle wall shelf is done!
We can use it to add something that we want like a mini cactus or any decoration. It can be added to the Scandinavian dining room to make it won't look monotonous.
Plastic Spoon Flower Vase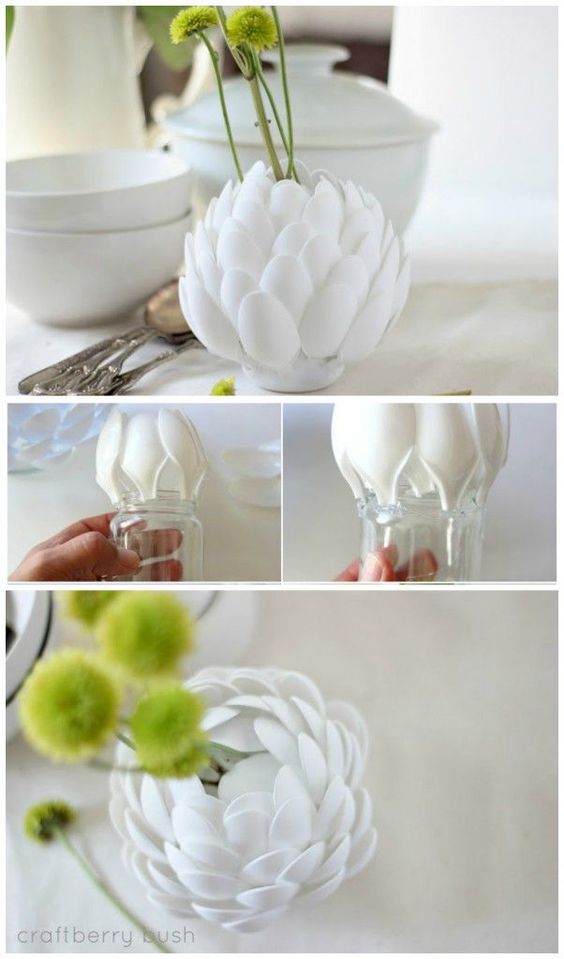 Bored with monotonous vases? If you feel it, we recommend choosing plastic spoon vases that can make our home look stunning and have a stronger Scandinavian design. Making it is not complicated and we will tell you to make the plastic spoon vase.
Ingredients :
Small or big jar (You can choose between plastic or glass materials)
10 – 20 plastic spoons (Depending on the jar size)
Glue gun
Scissors or knife
How To Make It?
Cutting the spoon tip one by one using scissors or a knife.
Attaching spoon tip to the jar by using glue gun one by one until having a flower shape like the picture above.
Adding some flowers and plastic spoon vases is ready to use to beautify your Scandinavian kitchen cabinet or other rooms in your house.
Beautiful Soft Colors Mirror Button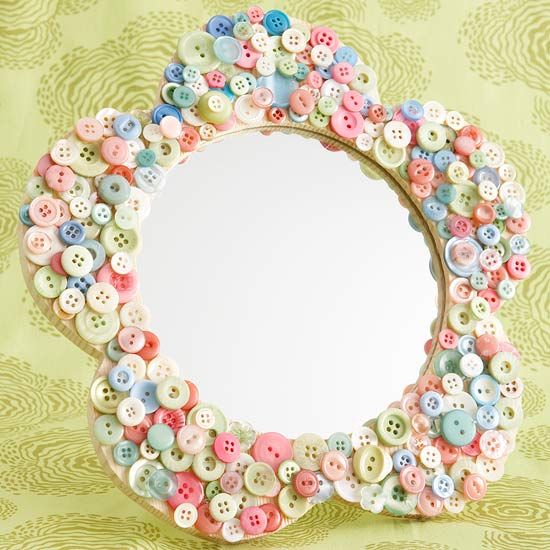 For people who have many buttons in their home and don't know utilizing them, we can beautify our mirror. We should attach them to the mirror to create a beautiful impression. We only need to attach some colorful buttons to the mirror and voila! Your mirror has a stunning look than before. It can be attached to the Scandinavian home office wall to create an aesthetic impression. It is also pretty if we choose the right type of Scandinavian curtain fabric.
Scandinavian Christmas DIY Mason Jars Decorations
We only need Epsom salt, a mason jar, glitter powder, and glue. The first step that we should do is to spread glue to the jar and cover it with Epsom salt and glitter powder. Beautifying it with ribbon or twisted burlap then attach Christmas decorations to make it fascinating. If we have stunning Scandinavian flooring types, our home will look beautiful.
Conclusion
DIY Scandinavian decorations are suitable for people who are on a budget and want to have beautiful things that suit their taste. We should pay attention to materials and how to make it to avoid making a mistake while creating fascinating decorations.