Nexthomegeneration.com – For some people, creating a warm and comfortable impression is important to perfect their dream house. We should pay attention to furniture and decorations which we will buy it later. It can't be carelessly to choose it. The wrong choice can turn our home looks ugly. A warm impression can be made by using furniture and decorations. We should choose the right roof, wall, and flooring type. Shabby chic interior design is suitable to be applied because tends to have a warm and beautiful impression at the same time. To make it warmer, vinyl and laminate flooring are preferred to be applied in our home.
Some people might think vinyl and laminate flooring have similarities both in materials and design. However, it has different materials and effects where it is important to know about it. Actually, how to apply a shabby chic interior design? The answer is we should choose the best furniture with soft colors, attractive decorations with many shapes and designs, also walls, roofs, and flooring should be considered. Today, we will give you shabby chic vinyl and laminate flooring information and recommendations.
What Is the Difference Between Vinyl and Laminate Flooring?
The ability of each flooring type is to stand up against moisture depending on its materials. Vinyl type is made of synthetic so it can be applied anywhere. Laminate tiles are a little bit sensitive to moisture so that's why it can't be applied in some rooms like bathrooms or anywhere which have water. Vinyl flooring doesn't have wood materials although it has a wooden design while the laminates have it.
The Similarities Of Vinyl And Laminate Flooring
Easy to be applied: Some tiles are complicated to be applied, and sometimes we need to call a professional person. This is the special characteristic of vinyl and laminate flooring. We can apply them together without feeling complicated. We can do it by ourselves without other's help.
Maintenance: Vinyl and laminate flooring are easy to clean. We should only use a vacuum cleaner or broom to sweep it.
Eco-friendly: Both flooring types have environmentally friendly for purchasing. If you want to have "go green" furniture, both of them can be the best choice.
Cost: Sometimes, laminate flooring is found at a lower price. Both laminate and vinyl are cheap and suitable for those on a budget. They are considered two of the most budget-friendly flooring options.
Shabby Chic Vinyl Tiles Recommendations
Are you look for beautiful vinyl flooring for your house? This time we are going to give you some suggestions. The recommendations tend to their pattern, neither the types nor quality. So, this can help you choose a beautiful pattern of vinyl tiles that we guarantee is suitable for shabby chic interior design.
Shabby Chic Light Brown Vinyl Flooring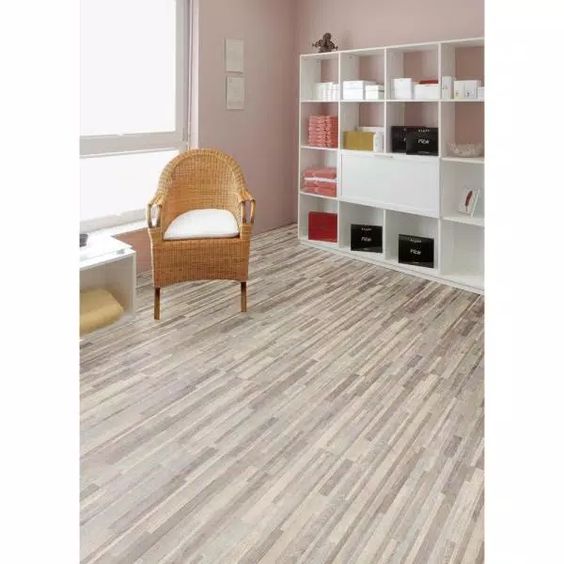 A natural impression is always be made in the shabby chic interior design. We can apply it in the living room to create a cheerful impression of home style. It has a simple pattern with light brown color which is suitable for the design. It can also be applied anywhere as long as it is related to the concept. We can add a decorative rug accent as a pedestal while sitting on this floor.
Shabby Chic Blue Pattern Flooring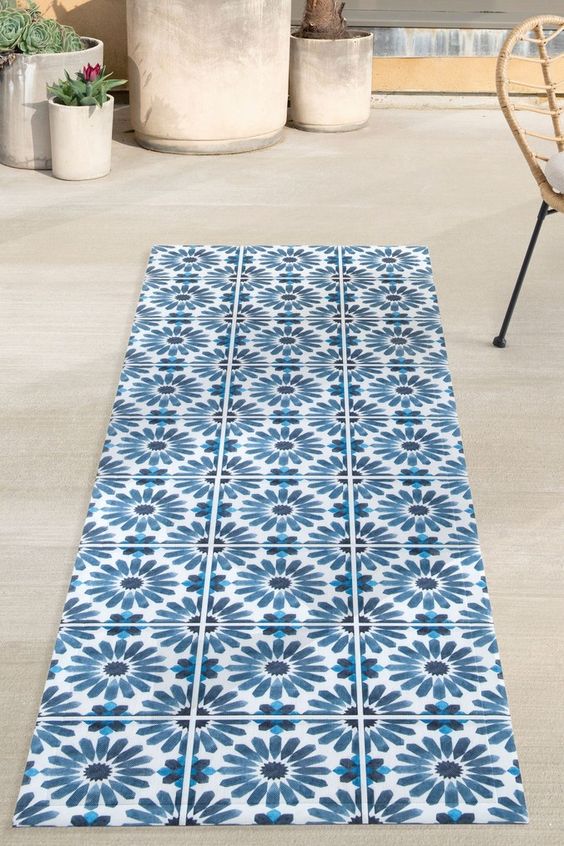 Blue color is famous for its fresh and bright impression. It can be combined with shabby chic large clocks as wall decorations. It has a beautiful flower pattern which is preferred for people who love a feminine accent. The best recommendation to apply it to a shabby chic kitchen is to create a warm impression. We can also save our expenses if choosing a vinyl tile for our home flooring.
Wooden Accent Shabby Chic Vinyl Flooring
The most appropriate flooring type for a shabby chic design is a wooden materials accent. If a wooden tile is expensive, vinyl flooring is the best choice for us. It has a natural accent which is very preferred for people who want to have a nature concept. If we have attractive flooring, shabby chic mirror frames are the best decorations to add to our home.
Shabby Chic Dark Color Combination Pattern Vinyl Flooring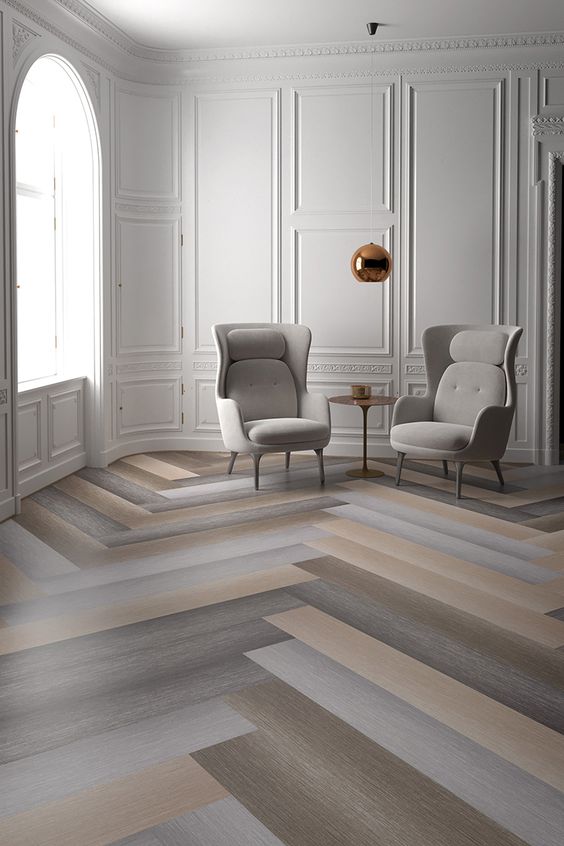 Vinyl flooring with a dark color combination is a perfect design to be combined with white textured walls. Beautiful and luxurious accents make our home have an attractive concept. If this flooring design is applied in the dining room, a shabby chic tablecloth is suitable to be added.
Shabby Chic Laminate Flooring Recommendations
Laminate flooring has a wooden material but doesn't have long durability because it doesn't waterproof. However, it looks natural and warmer if we apply it in our shabby chic home. This time we will give you vinyl flooring recommendations.
Shabby Chic Dark Colors Laminate Flooring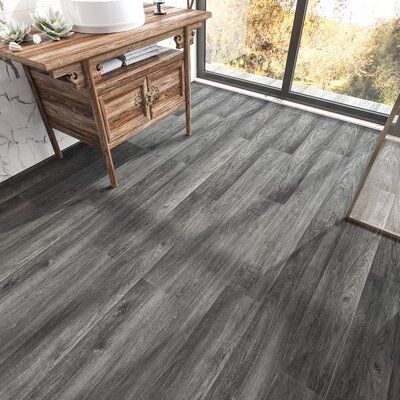 Dark grey shabby chic laminate flooring is a beautiful tile to be applied to create a vintage and minimalist interior design at the same time. If it has darker colors and we don't want to make our house feel dark, a DIY shabby chic curtain with bright colors can be installed. It can create a variation in home decorations and won't look monotonous.
Dark Colors Shabby Chic Laminate Flooring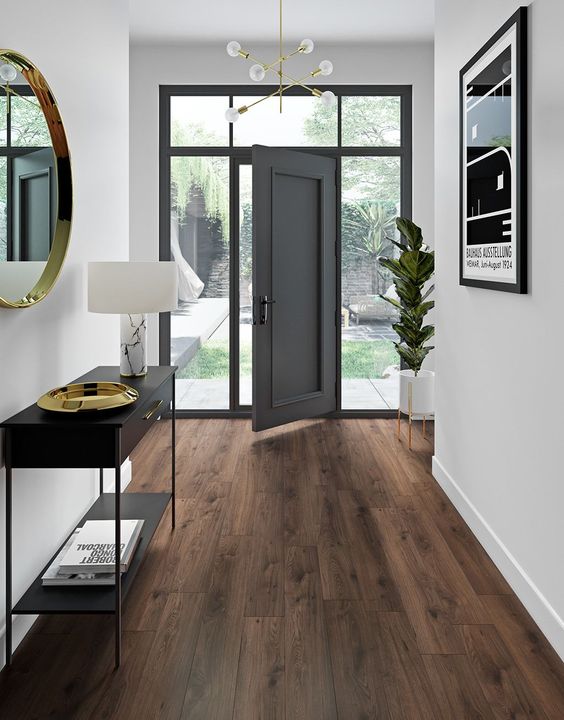 If the dark grey is not suitable for your home concept, we can apply a dark brown wooden accent laminate flooring. It has wooden materials which can make us feel warm while staying in our home. This atmosphere can be only created by using laminate flooring because it has natural ingredients than vinyl tiles.
Conclusion
To create a warm atmosphere, we don't only add a heater or any electronic thing to make our house warmer. Furniture and decorations selection is important to pay attention because it gives a lot of effect to us. By applying the right flooring, it can make us more comfortable while staying in our home with family or alone.