Nexthomegeneration.com – Cheerful impression brings a happy feeling for people who see it or have this concept in their home. It also can relieve our stress and make us always feel charmed even in a hard situation. Believe it or not, this concept can make us more comfortable and relaxed while staying in the room. Shabby chic interior ideas are suitable designs to apply if we want to create a cheerful concept. By using it, we can make our kids more want to spend their time in the home than outside. However, how to create it in our house? A cheerful concept can be made by using something which has a colorful impression. We can choose colorful shabby chic accessories, furniture, and decoration that we want to add. We have to use soft colors but in different colors in each of the accessories that we use. Today, we will give you some information to create a cheerful impression from colorful shabby chic living room accessories.
Colorful Shabby Chic Living Room Accessories
How to decor your home with a shabby chic design? Of course, we need furniture, decoration, and accessories. To create a cheerful impression in our house, we should add colorful things that can make our home look full of color and have a positive vibe. However, there are many people who are still confused about how to choose suitable accessories for their home. Don't worry about it, because we will give you some recommendations about colorful shabby chic living room accessories. It can be added to our shabby chic dining room because it has a beautiful design. We make sure if you use our recommendations, your living room will look cheerful and beautiful at the same time!
Christmas Apothecary Candle Jars Accessories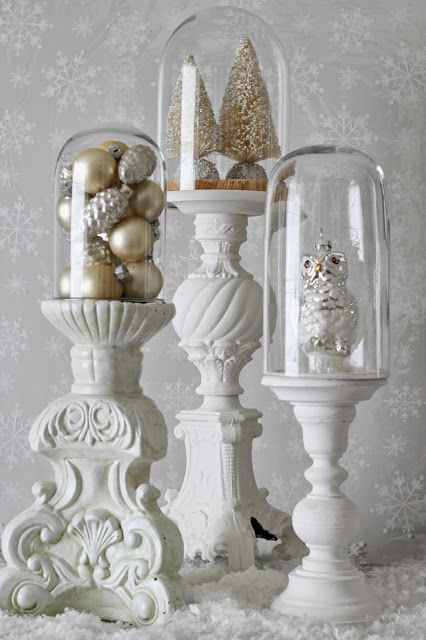 In the living room, we certainly do many activities. We can watch television, talk with our family, or even stay in it without doing anything. Have you ever imagine we stay in a beautiful living room that has pretty furniture, decoration, and accessories? If you ever, we should add Christmas apothecary candle jars as our accessories. It has a vintage design with a classic shape and white color. It also has many gold balls and a little statue that can make our living room looks chic. We can add it to the table in our living room and combine it with another accessory that we will recommend to you after it.
Rusty Basket With Many Colorful Flowers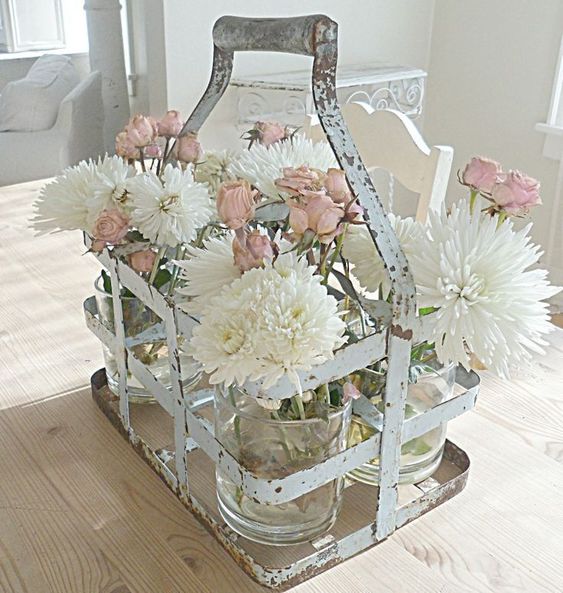 The next recommendation from us is a rusty basket with colorful flowers. We can get a flower from outside or use an ornamental flower. We should add many flowers with different colors because it is the main character of this accessory. If we add the same color of flowers, it can make us doesn't have a colorful concept. Besides can make our home looks beautiful, we can also make it have a good smell especially in our living room.
Butterfly Shape Wall Hook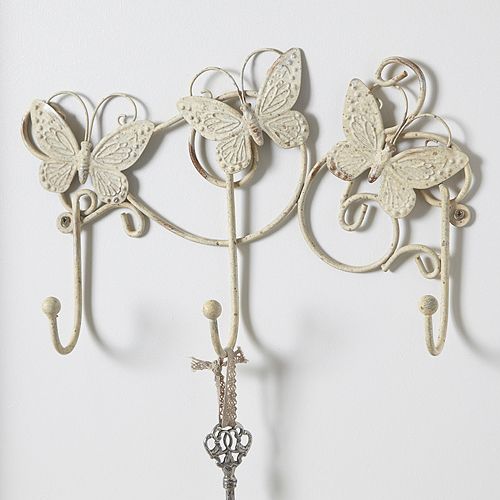 If people come to their living room after working or from anywhere, sometimes we need something to hang our jacket, umbrella or anything that we bring from it. We recommend you attach a beige wall hook to the wall to make it easy when we want to hang something. We can also make our home have a stronger concept of a shabby chic style because it has a shabby design and looks feminine by its butterfly shape. Anything can be added to it if we don't want to put our stuff in it.
Sweet Purple Flower In Vintage Vases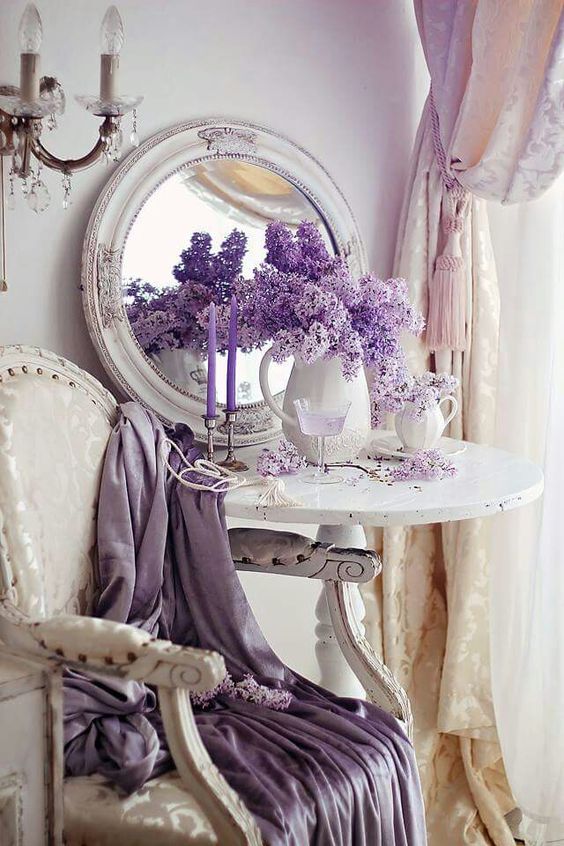 A beautiful room can be created by adding our next accessories recommendation. We should add a purple flower in the white vintage vases to make our room beautiful and feel cheerful. It can be combined with another accessory as long as it has a different color to each other. If we don't like purple color, we can add other flowers which have soft colors like pink, white, light yellow, or beige. A stronger feminine accent can be made by adding a vintage or shabby chair where it can be combined with a mirror.
Little Cup And Bowl In Different Soft Colors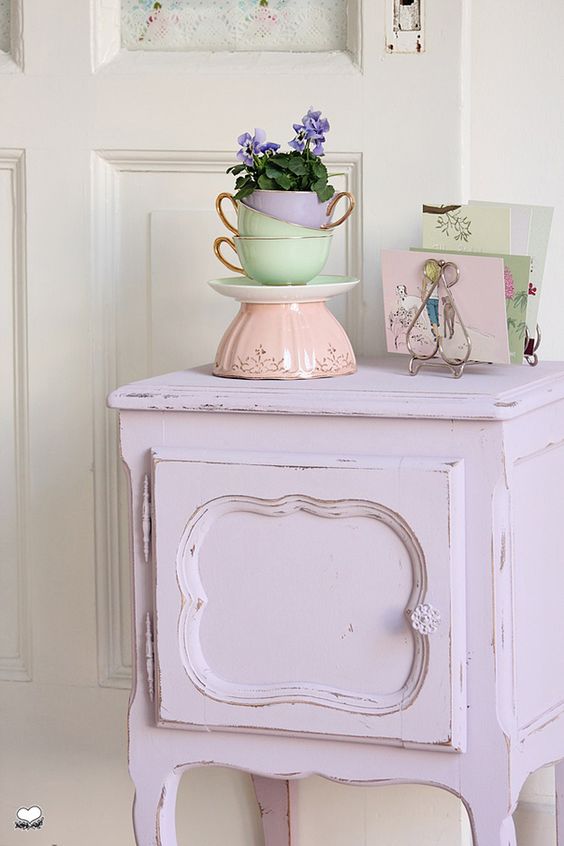 Do you see a drawer in the picture above? If you see it, actually it is not our recommendation because it is not an accessory. We suggest you to put a little bowl and cup in different soft colors. We can use our kitchen accessories to make beautiful decorations in our shabby chic living room. Make sure we use different colors to each other to create a perfect colorful concept. It can be added to the drawer or table in our home if we don't have space to add it.
Why Should We Create A Colorful Concept?
Actually, the colorful concept is very suitable to apply if we have kids in our home. For people who are still single or don't have it in their house, it also has advantages too! It can make us happier, relieve our stress, more comfortable to stay in our living room and make us more confident to invite a guest to our home. However, we will give you some information about the advantages that our kids can get if we apply a colorful shabby chic interior design.
Color is a media visual enchantment for our child's development. It can make our kids can distinguish colors and recognize objects around them.
Media communication for child's feelings. It can interpret the feelings of the child's heart such as happy and sad, and provide emotional benefits.
Playing media for child growth. Generally, kids will happier if they can play with many colors. We can make them know many colors by playing with them.
Child growth can be increased if we have a colorful design in our house. It can make our kids have a good life because they will happier with a cheerful impression in our house.
We can make our kids and family more comfortable. Sometimes, some kids can't spend their time only in their home. If we want to make them more comfortable, we should apply a colorful shabby chic style in our home.
Conclusion
Some people want to have a feminine concept in their room because it can make us feel more girly and suits our taste. However, sometimes we want to create a cheerful impression in our home and a shabby chic interior design is suitable to be applied. By using our accessories recommendations, we make sure you will have a cheerful and beautiful home at the same time.