Nexthomegeneration.com – Shabby chic interior design is a style that describes an atmosphere which has a soft impression and looks feminine. We can make our home looks beautiful even if we use shabby furniture. What makes it look beautiful? Shabby chic style has a unique impression because we will use different furniture and decorations. When another design uses new things to decorate its home, this design tends to use old furniture and decorations to make it look astonishing. We can also make them by ourselves or utilize our old things to make them look new by using paint color or anything that we want.
French country has a unique characteristic in its fashion and home interior. We will always feel fascinated by their style in any sector. This country is also famous for its soft and feminine concepts. This time, we will give you some information to create feminine french country accents by applying shabby chic decorating ideas.
The Characteristics Of Shabby Chic Interior Design
Nowadays, shabby chic interior design has been popular in many countries. There are many people which want to have a pretty home interior. If we have a beautiful home, we can feel proud and more confident to accept a guest to our home. It also makes us feel more comfortable while staying in our house. To create a perfect interior look in our house, we should know more about the design that we will apply. Because we can't make a shabby chic dining room or anything that we want to make it have beautiful look, without knowing it. This time, we will tell you some characteristics of shabby chic interior design.
Using Soft Colors To Create A Feminine Accent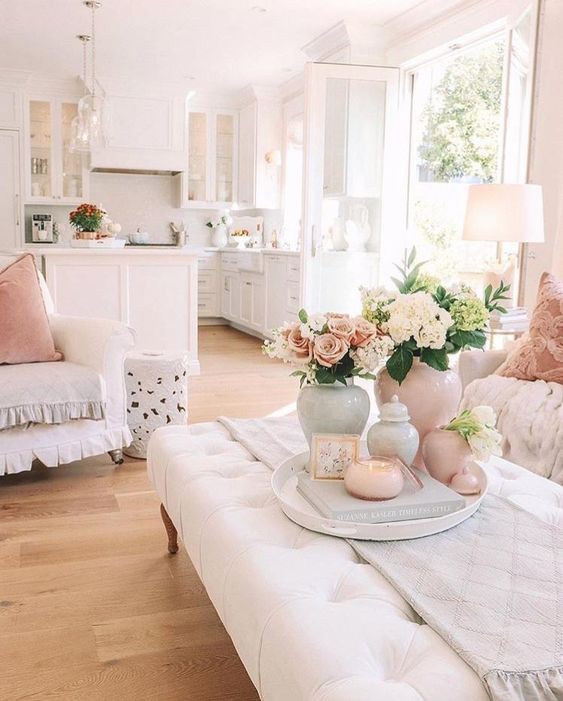 The first characteristic of the shabby chic design always uses soft colors on its walls, furniture, and decorations. That's why it has a strong feminine concept because soft colors are related to it. What is it? soft pink, light blue, baby pink, pastel colors, and white is the type which we can call it as soft colors. It has a warm impression and looks natural if we apply them in our home. It is also preferred for people who want to create a vintage accent. We can also make improvisation in our color selection if we apply a shabby chic design.
Having Antique, Unique, And Rare Furniture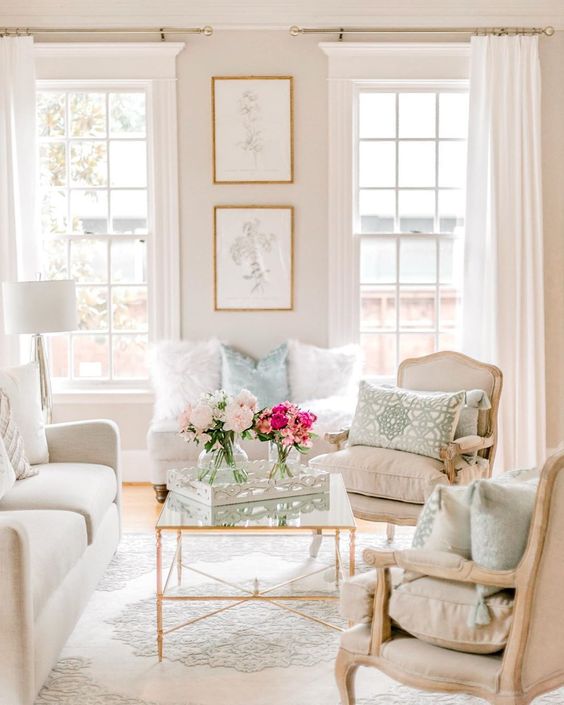 Furniture that looks shabby and looks like old things can be added to a shabby chic design to create a rare and unique impression in our room. If it looks worn and shabby, we can create a stronger design. If we arrange it properly, we can have an artistic value in our home. We can use old chairs, tables, shabby cupboards, or anything that we can utilize again. Don't worry and afraid to use it because it will make our home looks prettier and attractive.
Plants Decoration To Beautify Our Home
To create a stronger feminine accent, we should add a plant decoration like an ornamental plant or anything as long as related to its concept. We can also add a rose, jasmine, or tulip to make our home have a pretty color selection and looks more feminine. Other plants can be added to it if we don't want to use our decoration recommendations.
Beautiful Pattern Fabric With Lace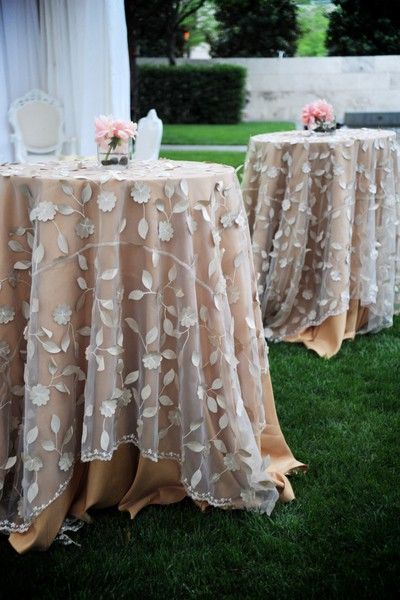 A soft impression is a characteristic of it and we can add it. We should know how to apply shabby chic design if we are still confused about it. After knowing it, we can understand the things that we should add to our room. If you want to cover a table, window, and anything, we recommend using a fabric that has lace. It can make our window or table prettier and feel more feminine. A natural impression can be made by adding green colors to furniture and decoration. It also has a simple design and looks fascinating if we use it.
Using Antique, Unique, Attractive, And Vintage Accessories
Accessories that are suitable to add in the shabby chic design style should have a unique shape, vintage impression, and look outdated. We can use antique things such as a photo frame, mirror with a vintage pattern and looks old, where it can be combined with anything which looks old and shabby. Do you have old things? Some people have an old phone, book, or anything which actually we can utilize for decoration.
Very Influential Antique Touch
Furniture that uses in a shabby chic style has its own characteristic. Generally, to find it in another interior design is quite complicated. We should add furniture that looks shabby, old, or vintage. We don't always buy it and we can use old furniture which we have or we can make it by ourselves. Sandpaper can be used for creating a shabby accent in our furniture or we can paint many colors on one piece of it which we have.
Shabby Chic Decorating Ideas
If you are looking for an interior design that has casual look and doesn't complicate to apply, it means shabby chic is the answer for you. Actually, it doesn't have its own rules and we can free to combine vintage furniture or decorations in our home. This time, we will give you some shabby chic decorating ideas.
Vintage Drawer And Mirror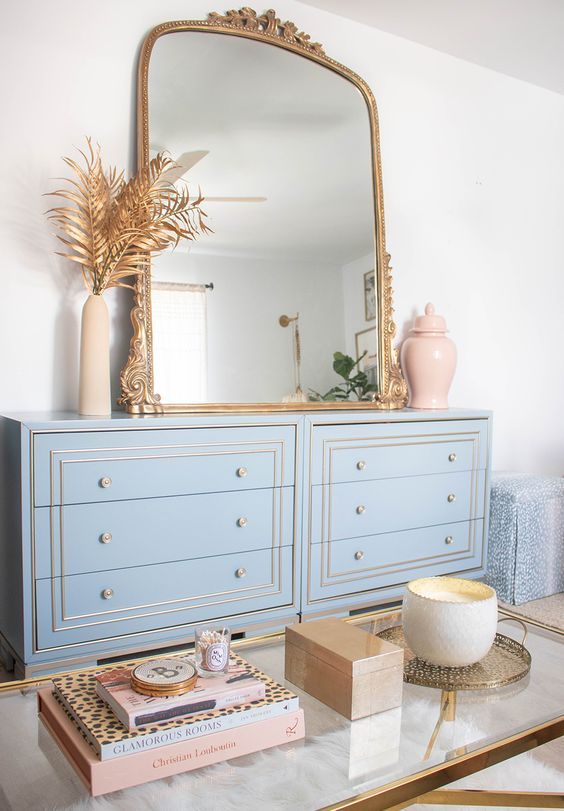 For a sophisticated take on shabby chic, a drawer with light blue and a gold accent on it is very suitable to be added to our home. To avoid the look becoming too flat, we should add a vintage mirror in a big size and don't forget to add some decoration like the picture above. We can also add a glass table with a fluffy accent in it with gold colors accent.
Unique And Vintage Accent Furniture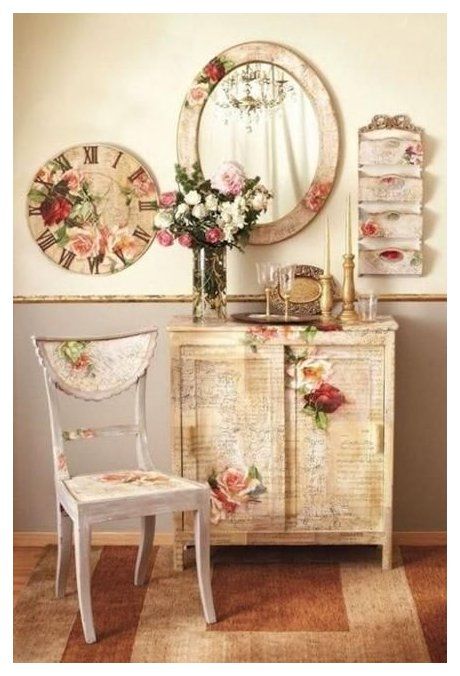 We can make our home looks beautiful and unique if we use vintage and unique furniture in the home. Old clocks, chairs, and tables can be added to our room if we want to have a stronger design. Shabby furniture looks unique and fascinating that some people can feel confuse about using it. However, we can have a variation in our furniture selection by using it. To make it look prettier, we should add decorations like flowers to the vases.
Rusty But Unique Furniture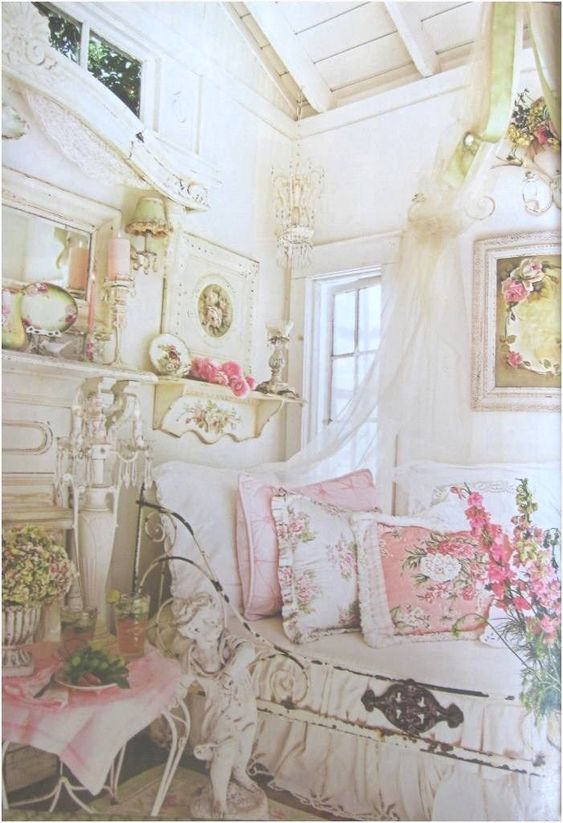 Do you have rusty furniture and don't want to throw it away? We recommend you utilize it as your furniture again. Why? Because it still can use in the shabby chic interior design. We can add it to our home and it can create uniqueness and it won't look monotonous. By adding it, a stunning and feminine impression can be created even we don't buy new furniture. It is very suitable for you who are on a budget.
Conclusion
Actually, shabby chic is a design that gives you a sweet impression and feminine concept by using vintage furniture in your house. We can apply it as long as we can pay attention to furniture and decoration selection. By using our ideas, we can make sure you will get a beautiful, stunning, and feminine impression of your house!