Nexthomegeneration.com – In the modern era gothic interior design creates a dramatic concept and tends to have a striking impression. Generally, the colors that often use to apply it is red ruby, blue, dark green, and purple. Sometimes some people use dark brown and black to create a stronger gothic accent. Gold color also suitable to be added for making a bright impression in our interior style. This design also makes our home luxurious from beautiful rugs usage. Although it tends to have black color everywhere, actually we should use other colors to create a fascinating look. By using them, our home won't look monotonous and darker. Today, let's get to know about contemporary modern gothic interior design!
Contemporary Modern Gothic Interior Design Element
Before applying the design to our home, we should know some elements to avoid us making mistakes while applying it. Don't worry because now we will give you some information about it.
Window Decorations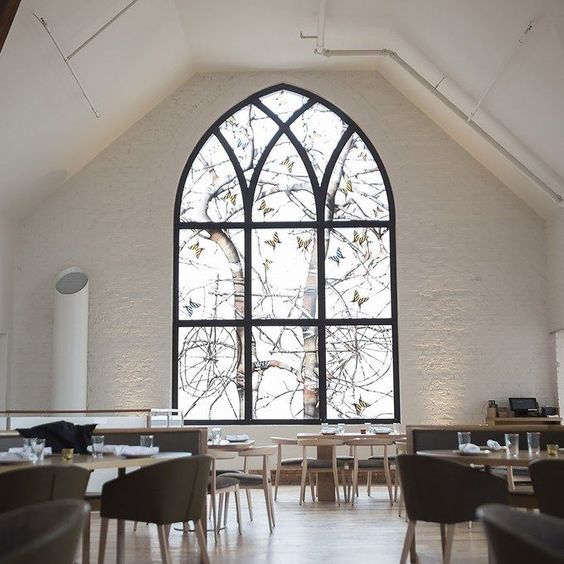 An important element in our gothic interior design is window decorations. Curtains should be added to make it look beautiful. Velvet, brocade, and silk curtain fabric is our recommendation to cover contemporary modern gothic windows. The color of the curtain should be our attention that a red, blue, black, or dark brown color is a must.
Hard Wooden Furniture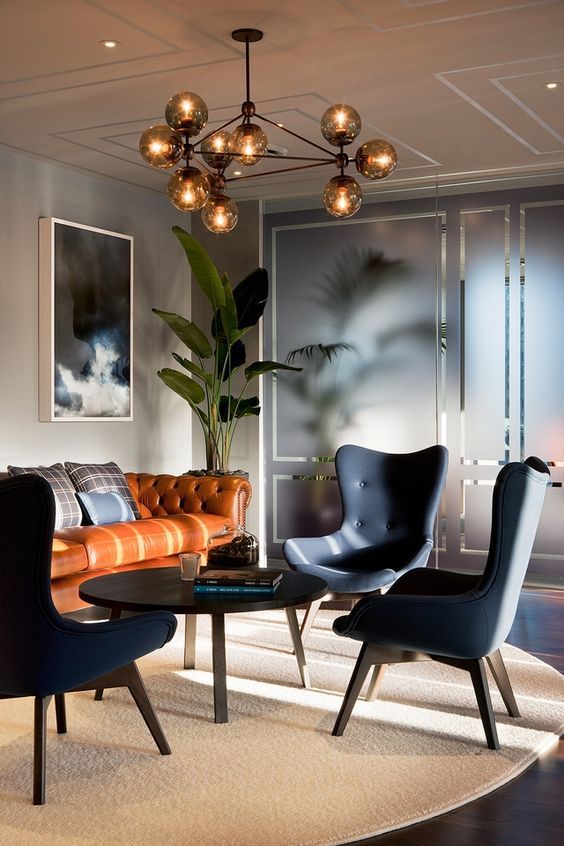 Wrought iron and hard wooden furniture materials are the characteristics of contemporary gothic interior design. The Bedhead frame and chair should have a pointed curve which is a characteristic of this style. Iron furniture which always added is a chandelier with dark color. We can also combine it with bright color furniture to make a variation and create a different concept.
Unique Decorations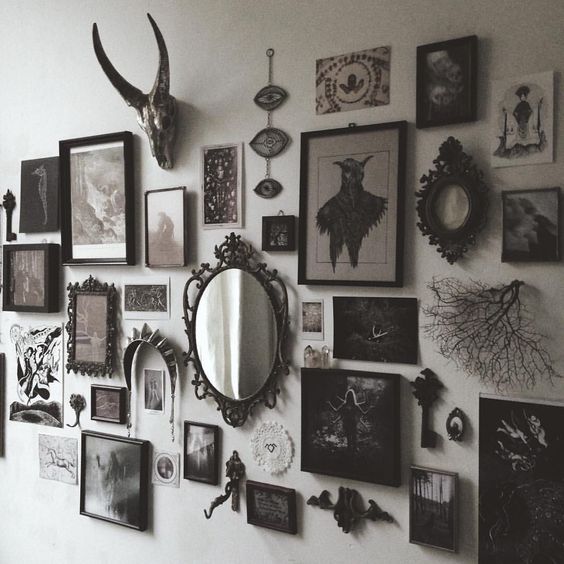 If we want to apply a contemporary modern gothic interior style, we should add some unique decorations like in the picture above. The black weird shape is a characteristic of the design. A wall lamp can be installed to make our home doesn't have a dark concept. It can make us comfortable and suitable for our kids. If you have kids, don't forget to choose the right picture to avoid making them scary.
Making A Wider Impression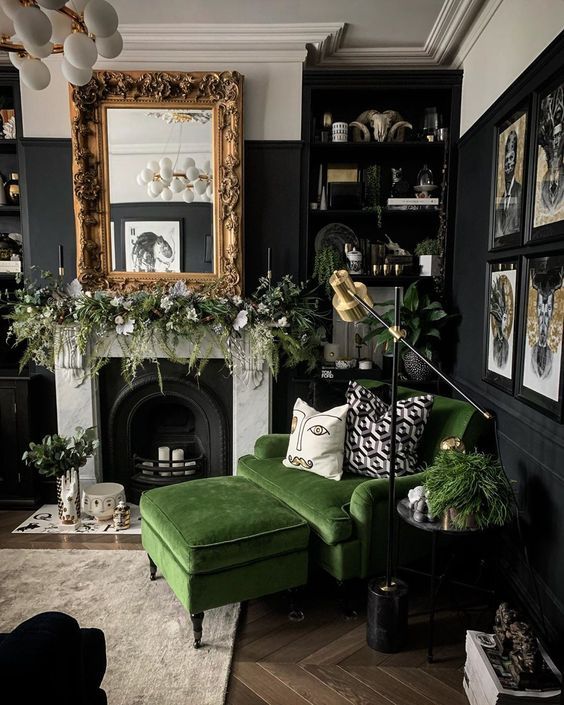 A small room might not suitable for some people because it makes us stressed and crowded. We can make it feel wider by using some furniture which has enough size and doesn't bigger than space. Modern gothic style design is preferred for people who want to have a luxurious and elegant impression. It can be implemented by using dark color furniture and decorations.
The Difference Between Contemporary And Modern Style
If we take a glance to modern and contemporary style, it looks like same and doesn't have the difference. Even though it is different, we can make the perfect combination. Don't worry, because now we will give you the information.
Contemporary interior design refers to the styles and trends of today where it is the same characteristic as modern interior style. The difference is the contemporary tends to have the latest technology in furniture or decorations usage. It is also always up to date about interior design trends. Then, how about modern style? It tends to have neutral colors like white and beige with minimize decoration usage and has an open-up flooring with a wider space accent. It also doesn't use other colors and looks like a minimalist concept. However, we can still combine both of them and create an unmonotonous interior style.
In furniture usage, contemporary design always uses polished metal materials and iron which look so sophisticated. Generally, a modern interior style uses wooden materials and some minimalist sofa style and coffee table where it tends to have a simple style.
Contemporary Modern Gothic Interior Design Ideas
How about modern gothic characteristic information from us? Hopefully, it might help you to create a beautiful combination of modern and contemporary gothic style design. Now, to make it easier on applying it, we will give you some ideas about this combination. It has beautiful look and we guarantee your home will look prettier if you apply it. Let's get to the list!
Dark Color Concept Of Contemporary Modern Gothic
Textured walls always give an elegant and luxurious accent to our home and look beautiful. We can apply it to have a stronger design of contemporary modern interior design. By using some vintage pictures as decorations, a fascinating look can be created. To make it prettier, a light grey carpet can be added. Don't forget to add a glass coffee table with a gold color accent to make us more pleasant while staying. The white flower in the marble vases can make your room attractive and brighter. Window decorations are also important then that's why a long curtain should be installed to cover it.
Marble Materials With Many Chandeliers In Dining Room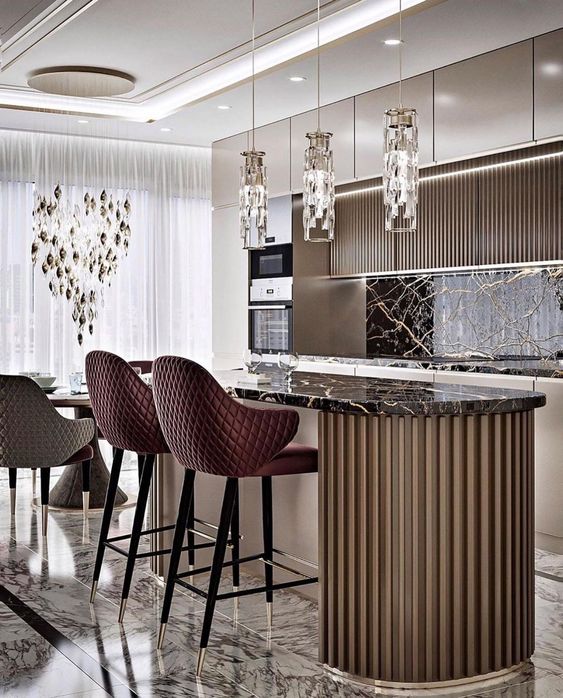 By using some chandeliers in our dining room, it can provide the best value to our home design. It also makes our gothic style brighter and more attractive than don't use at all. To create a luxurious impression, the best recommendation is to apply marble tiles for flooring. It can prettier by adding a marble kitchen corner with velvet bar chairs. To create a brighter impression, besides chandeliers a ceiling lamp should be installed.
Dark Impression Gothic Living Room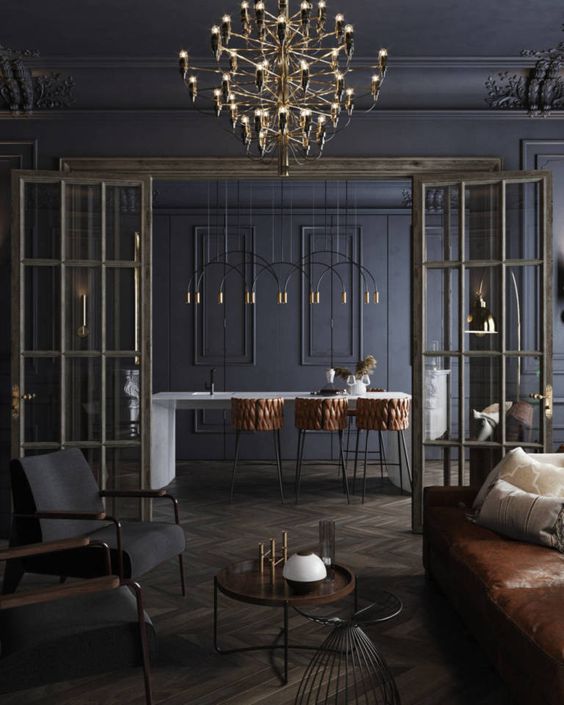 Gold chandeliers are beautiful and won't look monotonous to be installed in our living room. To create a harmonious accent in furniture selection, two little tables can be added. A brown big sofa with grey chairs can make us pleasant while staying with family or spending time alone. We recommend creating doors as a room divider between your living room with a dining room. It can give a wider impression even actually it has small space.
Light Grey Color Makes Brighter Impression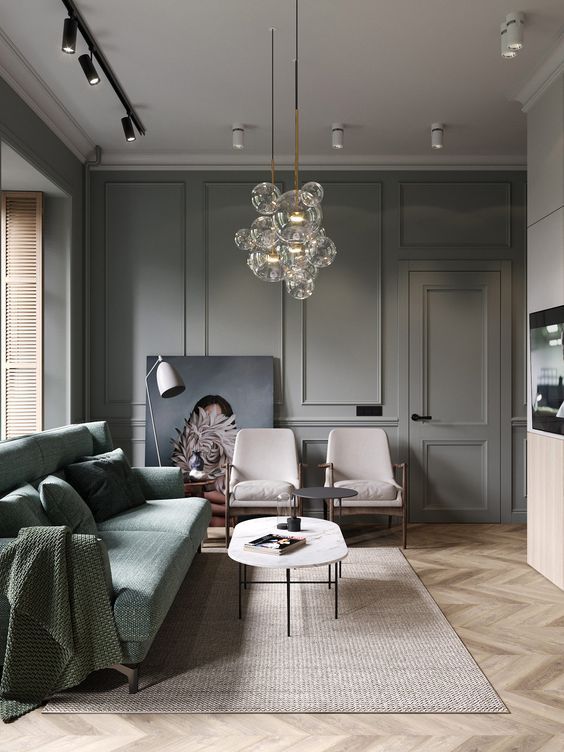 Do you think applying a gothic design will make your home feel dark? Actually, it also has a brighter impression depends on what concept we apply. For people who want to create a brighter concept, we recommend choosing light grey textured walls where it is combined with light brown flooring. A white color ceiling room and big window can also make it won't look monotonous. A green sofa is suitable to be added to give a variation in color selection.
Conclusion
Contemporary modern gothic interior design is suitable for people who want to have a different concept from others. It looks unique and luxurious at the same time and won't look tacky. To apply it, we should pay attention to characteristic and element to avoid us making a mistake. Probably, our information and ideas might help you.