Overview of the futuristic design interior
If you have a beautiful home office design, you must be good at arranging it to make it look more attractive. Not all offices must be provided in multi-story buildings. So for those of you who want to use your home as an office, you can choose a futuristic design as the best design for your office. This way will make your employees feel comfortable. Therefore, a cozy interior design is an important thing to make. More than just looking luxurious and elegant, the interior must match the concept of the office and of course, it must be functional. The goal is for existing employees to feel at home in it.
One example of a house that presents a beautiful interior design is a contemporary modern house that is used as an office for business activity. By using an interior set that is designed and installed according to its function, you will feel the feel of an office as if you were in a luxurious high-rise building. For that, let's look at the review for the ideas and home office design below!
Idea and design
There are several ways to arrange and design your home to be a beautiful and comfortable office. One of them is choosing the right design. The futuristic design is the right design choice for you to implement in your home. This design looks elegant and comfortable. The arrangement of furniture and the color of the interior of the room also looks very appropriate and attractive. For that, we share ideas with you to review some of the futuristic designs below. Hopefully, this design is useful for your office. Happy decorating!
The combination of design with a modern style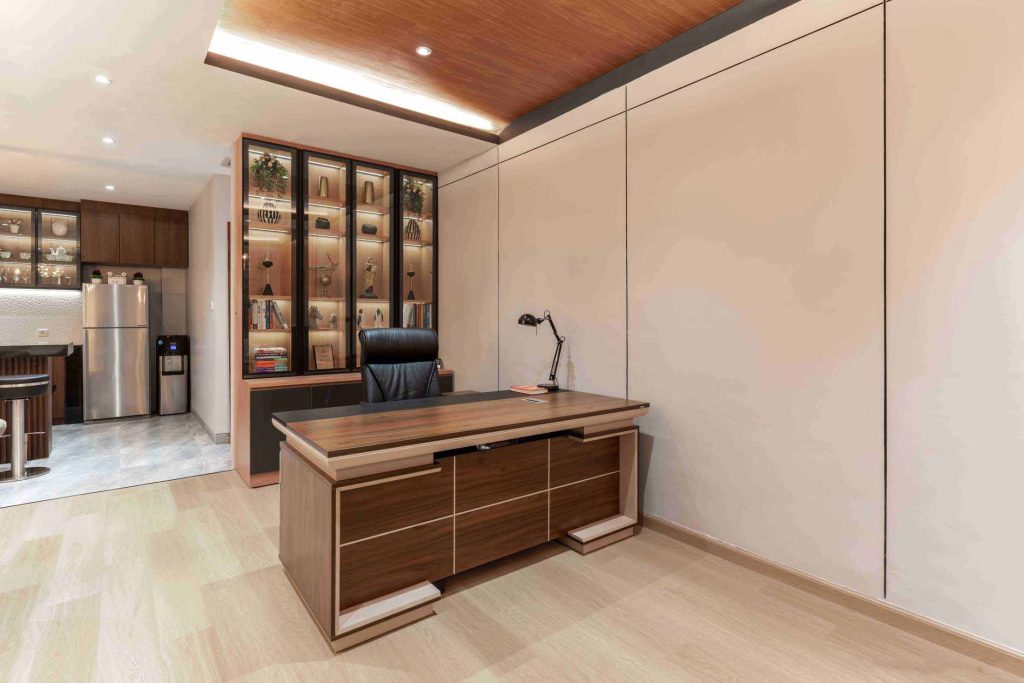 Overall, the design of this office space combines modern and contemporary interiors. These two designs are often equated, even though they actually contain different elements.
Contemporary design itself refers to things that are contemporary. That is the elements that appear are something that is currently trending. Meanwhile, modern design refers to the design style that was popular in the mid-1900s. Meanwhile, its characteristics include the use of expansive neutral colors, as well as clean-looking lines. With this arrangement, your office space design will look neat and attractive.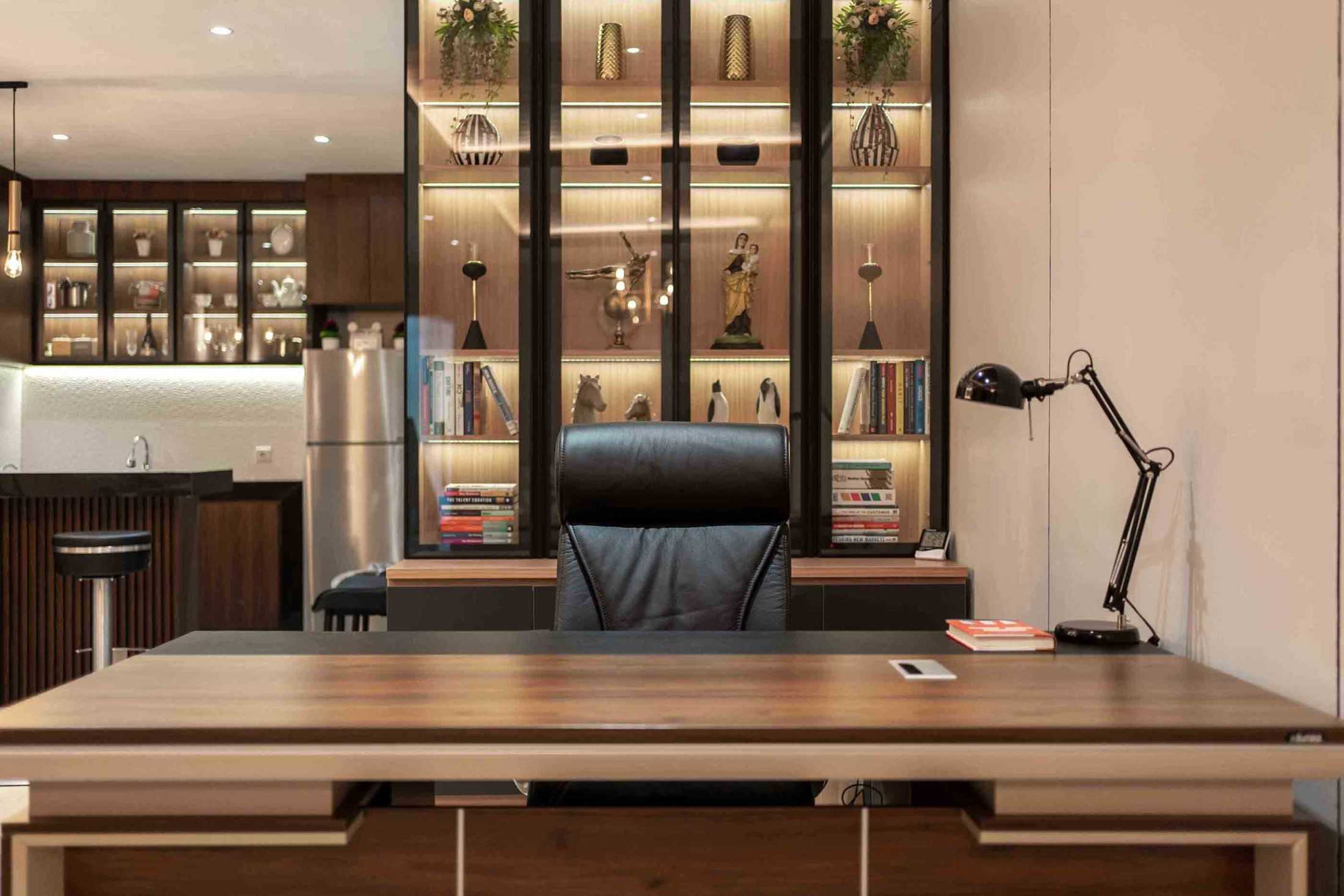 If you arrange modern designs, they are generally tied to a pattern. Meanwhile, contemporary styles tend to be flexible. Combining these two styles makes it easy for Furniture to design interiors that fit the building concept. Without making them lose space for expression with fresh ideas. That way, your workspace design will look elegant. Then, your work atmosphere will also be comfortable.
Design with basic colors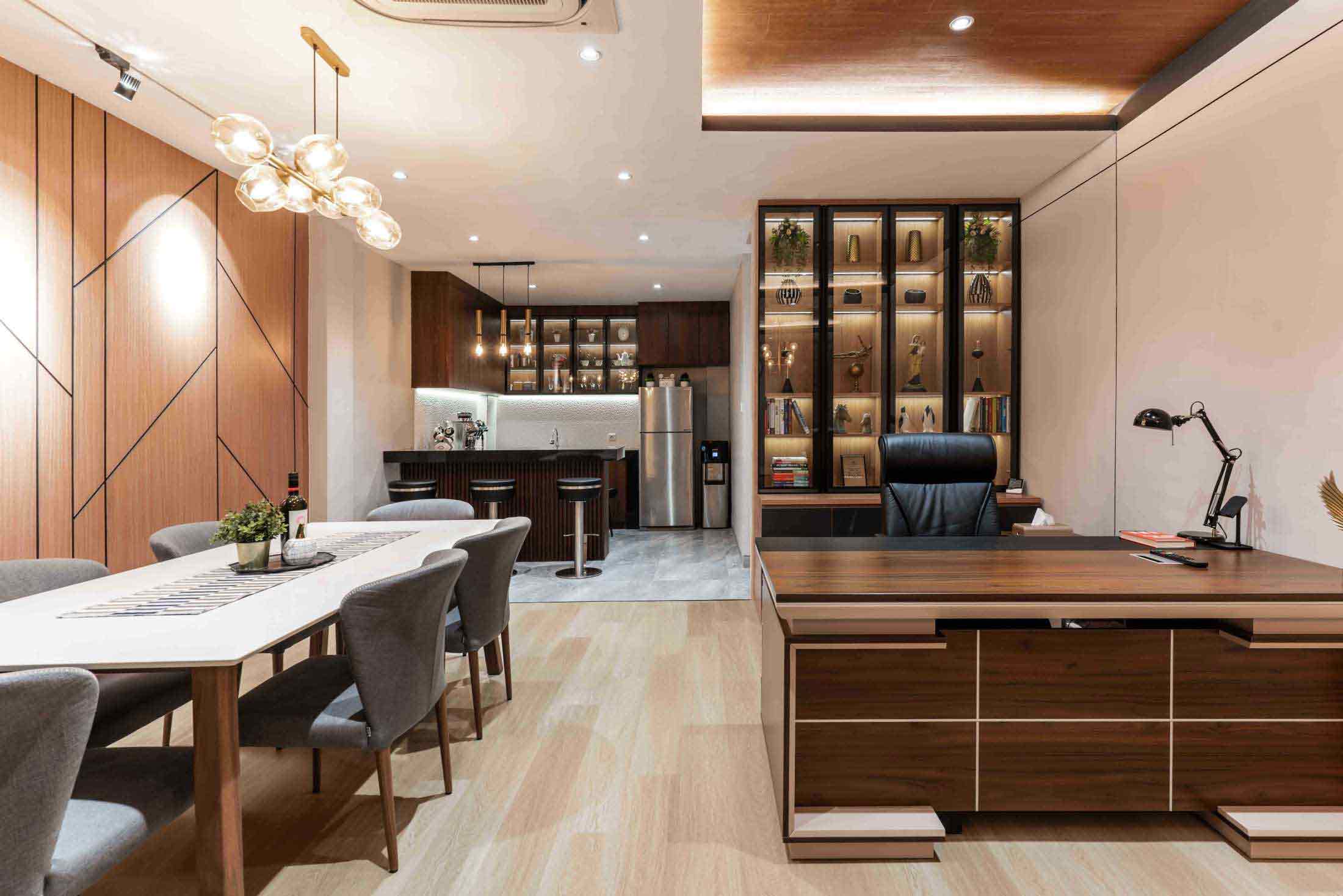 Basic colors for some people may look monotonous. However, actually, the use of this color is also the key to creating a modern home interior design that looks elegant. In this project which is named Contemporary Interior Set, Furniture chooses to present minimalist palettes.
This can be seen from the dominance of the warm wood-colored material. In addition, the color of the stone also appears in the floor and wall coating materials, such as marble and other natural stone materials. The rest, of the colors used, are still relatively neutral. To make the room look more attractive, you can adjust the color of the furniture, such as work desks, meeting tables, wall document shelves, and bar tables with colors that match the interior of the room. That way, the interior of your room design will look aesthetic.
Private office space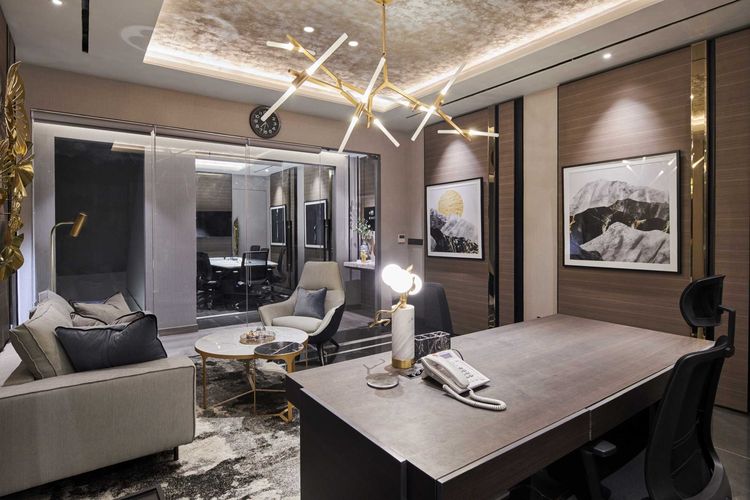 Even though it bears the title of a private office space, its design does not display the monotonous design that many people imagine. The modern, contemporary, and luxurious impression inside really looks attractive and makes you feel at home. Plus, a modern and elegant office design will certainly represent the company's image in the eyes of colleagues and business stakeholders. Designing an office or workspace is no longer just creating space for employees to sit and complete tasks. But creating a comfortable interior space design will increase the productivity of the occupants.
Texture and selection of accessories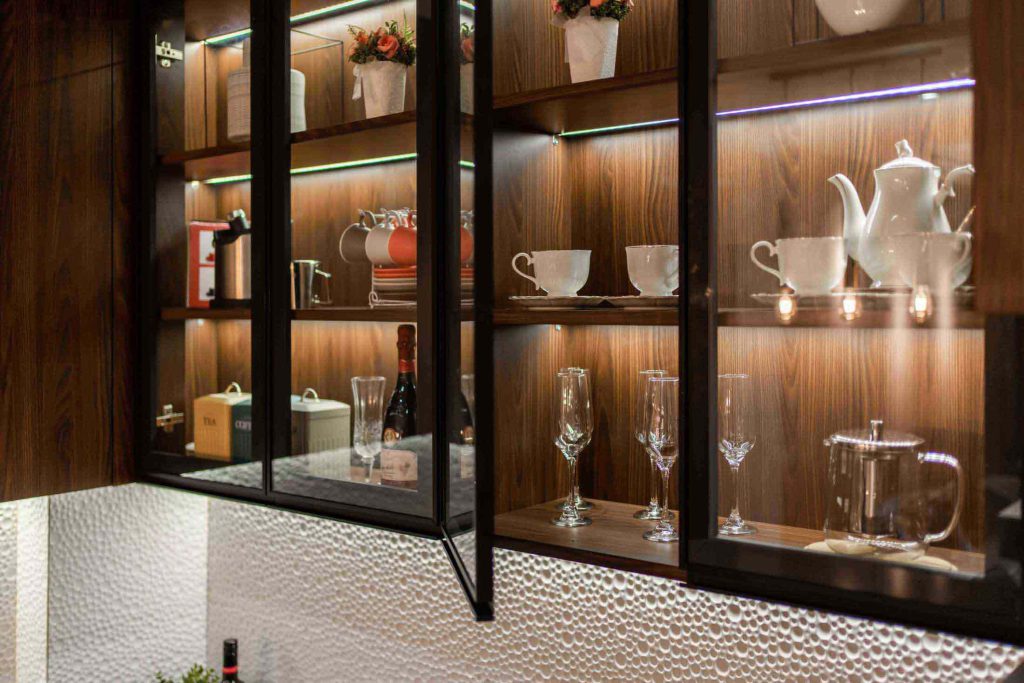 To design the interior of the room, even though they both present basic colors, this contemporary modern house still has different characteristics. To keep the design rich, Furniture uses several wood textures and varying color gradations. This wood texture plays an important role in beautifying the concept of a contemporary luxury home.
Not only that, the additional components of other items such as refrigerators, faucets, and coffee machines that are silver in color, also provide an increasingly rich touch. In some parts of the room, you can put unique displays. Both are those that are mounted on the wall or those that are simply placed on a shelf with other homeowners' collection items. With this arrangement, the interior of your room will look elegant.
Lighting is the key to beauty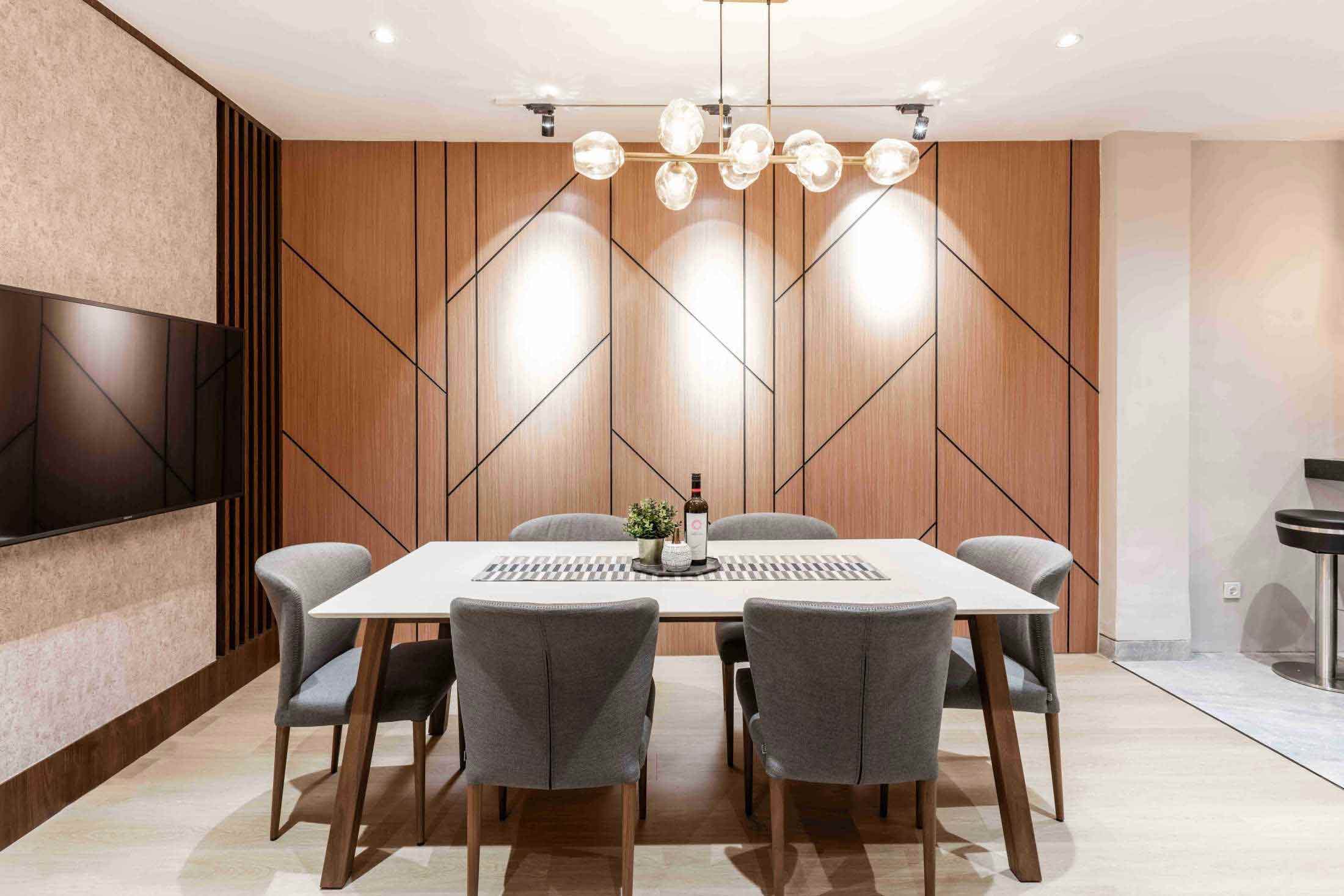 I don't think it's an exaggeration if we call lighting an important key in this home design. Installing the main lights and additional lights can make the room look cool. The lights on the shelves, for example, help the homeowner's unique collection of items to be displayed properly.
Likewise with the chandeliers, both in the kitchen and dining room. All of them combine to create the best atmosphere for the home office. In this way, it will make the employees inside feel more comfortable and excited to work.
Main waiting room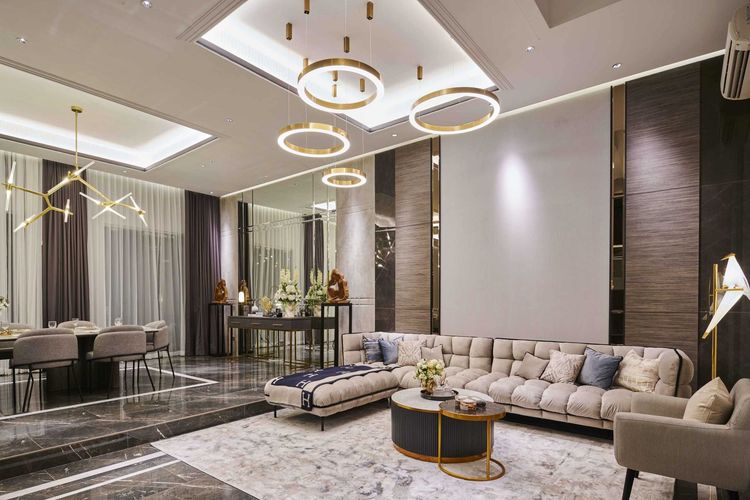 As you know, contemporary interior design styles and modern interior design styles have a lot in common. Especially when viewed from the point of view of a layman, the appearance can be considered the same and similar. However, if you pay attention, contemporary interior design styles and modern interior styles have quite significant differences.
Contemporary interior design, which refers to current styles and trends, in some ways can accommodate the characteristics that are brought to modern interior design. While modern interior design itself only refers to one particular design style that is developed and used in a certain period.
As you can see in the picture above, the contemporary design style has the characteristics and characteristics of the appearance of a room that is clean, and tidy, and tends to have minimal decorations or decorations. Then, the decoration displayed is also a combination of various designs. In this way, the appearance of the room will look artistic.
Eclectic design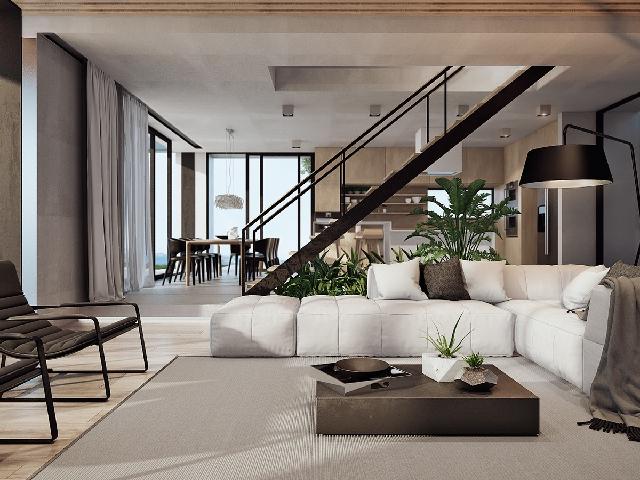 The use of natural materials or materials is also another characteristic of modern design. Wood, leather, and linen as well as furniture made of plastic are the dominant elements, which are combined with the use of materials made of metal and polished metal. Staining often uses neutral colors, especially white, with exposed flooring.
Meanwhile, contemporary design style refers more to the current or contemporary era. Trends that are currently developing and popular, such as trends in furniture models, color trends, or even the latest technological innovations, and so on. Characteristics can be seen in contemporary designs. you can see in the picture above. Contemporary interior design styles borrow a lot and incorporate distinctive elements and elements from different models and design styles, including modern design styles.
Functional room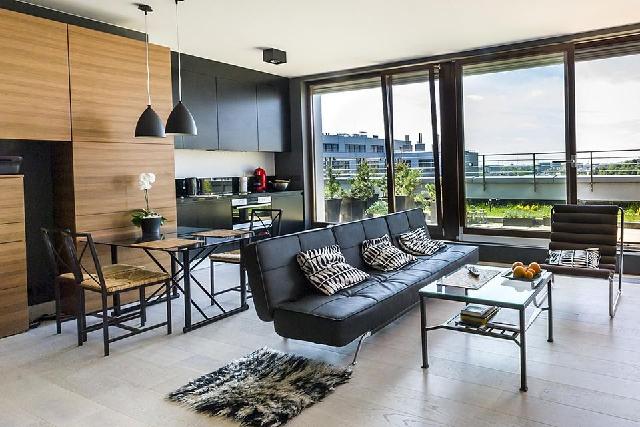 Contemporary design doesn't mean the kind of style that is designed and developed today. Contemporary interior is a current trend that is used by several designers and stylists to create an atmosphere that represents the present.
The hallmark of furniture with neat and clean lines in modern interior design can be an important element and element in contemporary design. In the next decade or maybe two decades, the appearance of contemporary interior design styles will also adopt industrial designs such as the presence of unique black chandeliers, furniture with iron frames, and antique knick-knacks. With a combination of several designs, a contemporary room interior design will look aesthetically pleasing.
Luxurious meeting room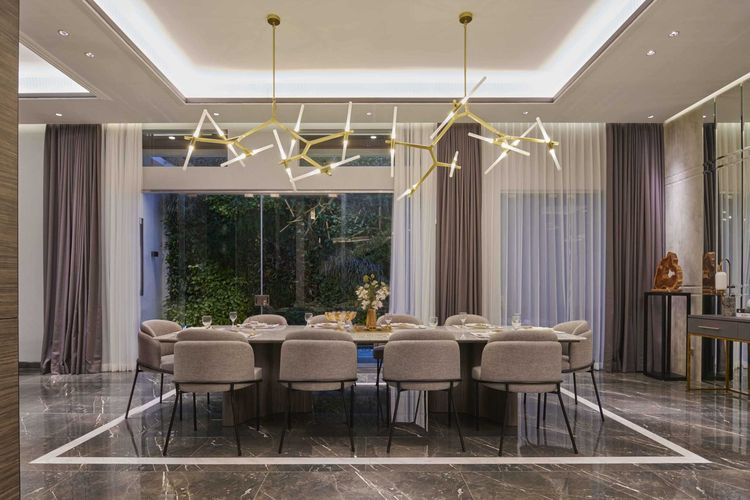 As you know, the main attraction of contemporary design in today's homes is the open-plan design concept. This concept allows a house with a limited area to seem spacious because of the loss of a permanent partition that limits space. Even in this luxury house, you can immediately see the various functions of the rooms combined into one, starting from the dining room, and family room, to the kitchen. That way, the interior of your room will feel comfortable.
Comfortable and memorable meeting room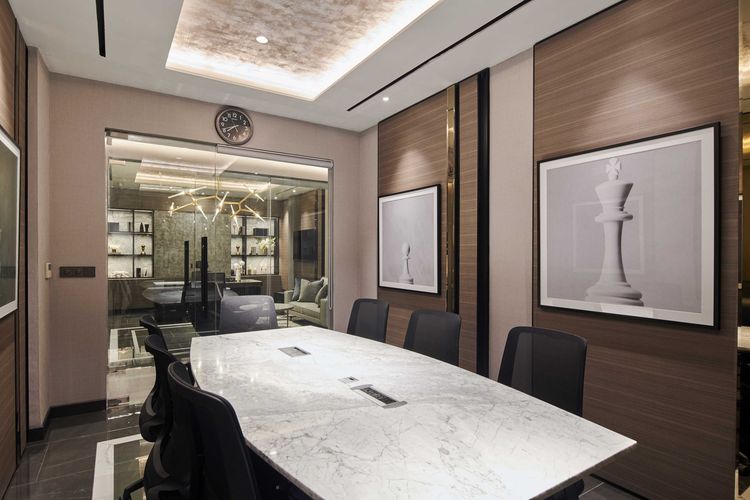 For you to know, for some companies, the meeting moment is an important time when employees express their ideas. Because of its important role, this office also provides super comfortable meeting rooms for its employees. Not only equipped with high-quality sleek furniture, but some wall hangings also make the atmosphere more artistic and trigger the creativity of the residents. Therefore, the selection of furniture is also made up-to-date. So that the appearance of the meeting room is more impressive. That way, the atmosphere in the meeting room will be more comfortable.
Attractive contemporary workspace design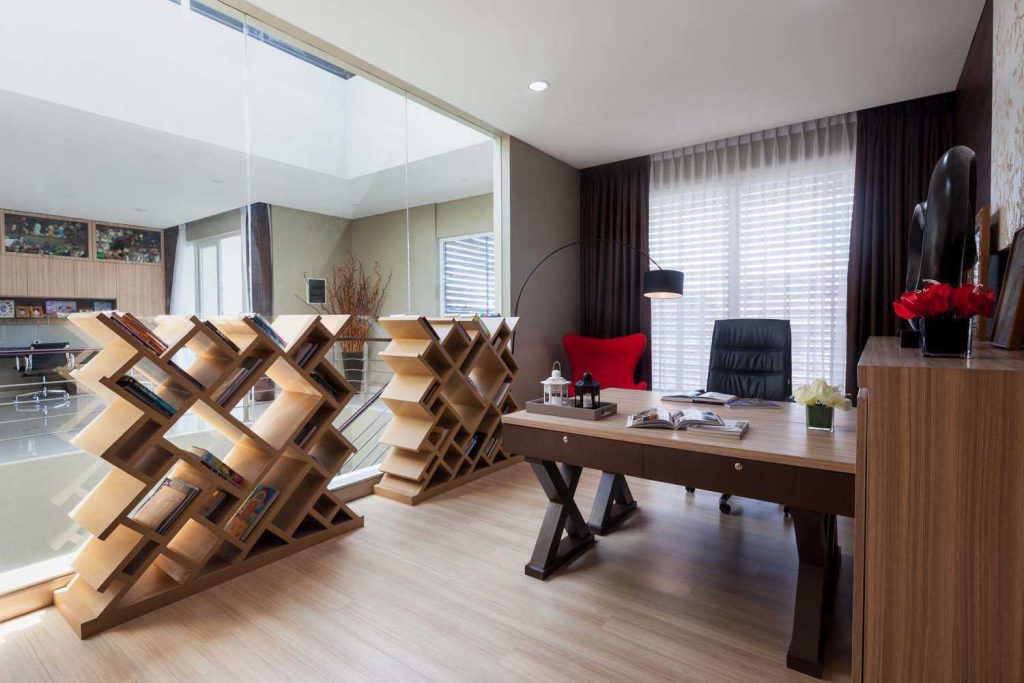 You can browse a variety of contemporary workspace designs to suit your taste. To get the best inspiration, you can see some of the designs we present. If you are considering building or renovating your dream contemporary workspace, you can consult directly with architects and interior designers to help you make it happen. Like the picture above, you can make it according to your taste. That way, your work atmosphere will be more comfortable.
Conclusion
Those are some room designs in home offices that we can recommend. We hope that this design can be an inspiration for you as well as make your home office interior look attractive with a contemporary design. Hopefully, our review above will be useful for you and trigger enthusiasm for work for you and your employees. Then, you can increase the work productivity of your company. Happy decorating!