1. Overview of shabby chic bedrooms
One design that exudes a graceful and enchanting impression is Shabby Chic. This design is synonymous with a style that combines pastel colors, floral prints, lacy fabrics, and classic objects. Shabby Chic often creates a feminine and aesthetic vintage design look, so it is perfect for a girls' bedroom. So, here are some ideas and inspirations for Shabby Chic designs to make your bedroom look more elegant.
The shabby chic style brings a soft and feminine feel to the room. This design is perfect for creating a romantic atmosphere with a very strong aesthetic and artsy impression. Shabby chic is also synonymous with soft pastel colors.
2. Ideas and inspiration
Several interior themes can create an impression that tends to be feminine, such as Victorian, romantic, and country. These themes are a favorite of womenfolk, including the shabby chic theme which is now increasingly in demand. Each piece has characteristics that set it apart from other themes. Its characteristics are indeed quite specific and detailed, especially in terms of decorative accessories. In addition, Shabby chic is an interior design style that gives a soft and feminine feel to a room. For that, we share ideas and inspiration to review this design. Hopefully, the reviews below suit your taste. Welcome to our review!
Adopt a classic color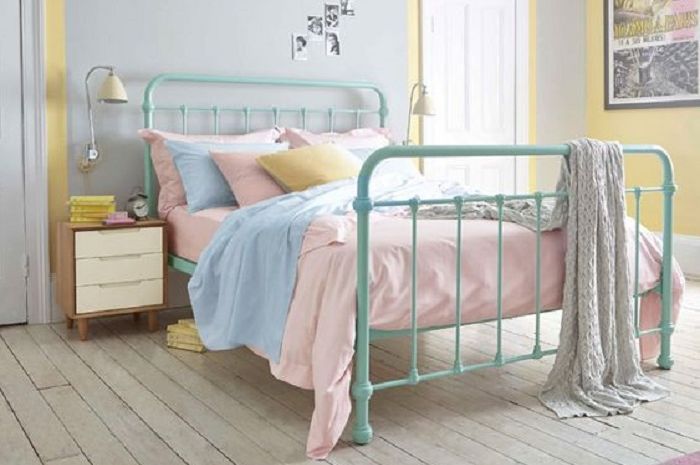 If you apply a bright and cheerful color to the room, you need to reduce the color tone towards a whiter and softer one. Pink, light blue, white, cream, peach, and ivory are colors that can be used to beautify a bedroom. The shape of the furniture adopts a classic style with indentations on the legs or backrest. The appearance is usually more modern without carvings and is light blue in color. Then, to make it look more attractive, this bedroom has equipped with a night light mounted on the left and right walls of the bed, a wooden nightstand, and soft patterned pillows. That way, your "shabby chic" bedroom design will look elegant and charming.
Different colors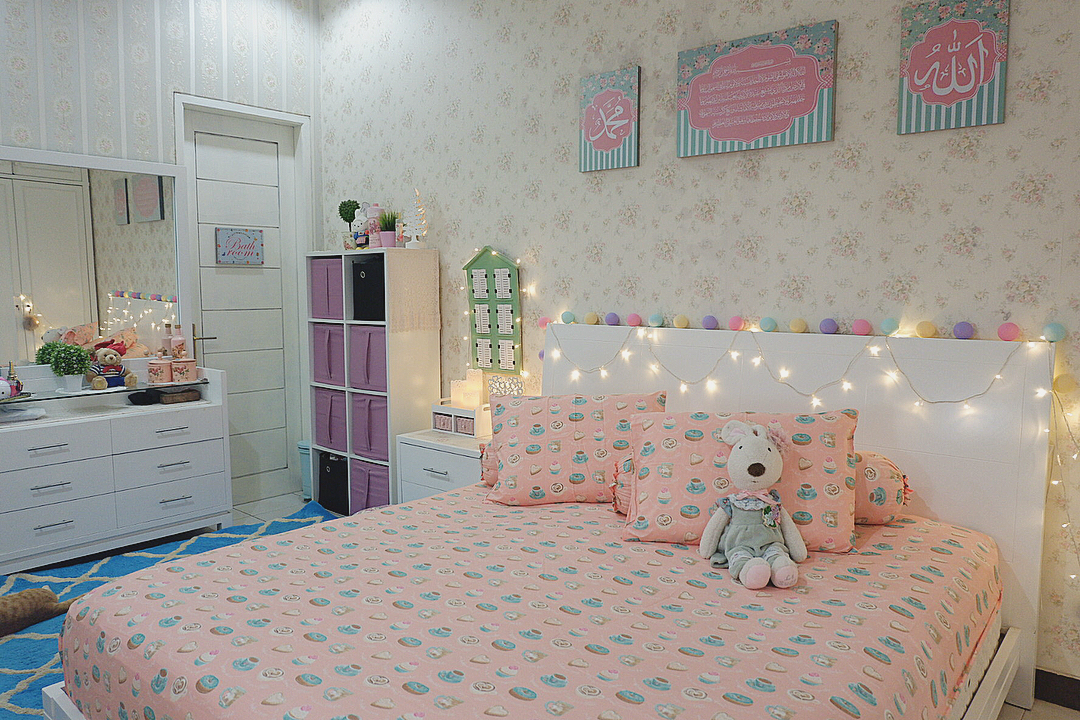 If you have a spacious bedroom, apply the "shabby chic" style because the room will be more flexible. You can play several colors with different tone levels. Pay attention to the color of the wall paint, the color of the bed backrest, and the color of the wooden shelves and buffet in this bedroom. All of the furniture uses matching colors with different tone levels. Some are younger and some are older or thick. To add to the contrast, you can use striking colors matching the pillows, bolsters, and bed covers. With this arrangement, your bedroom design will feel comfortable.
Favorite color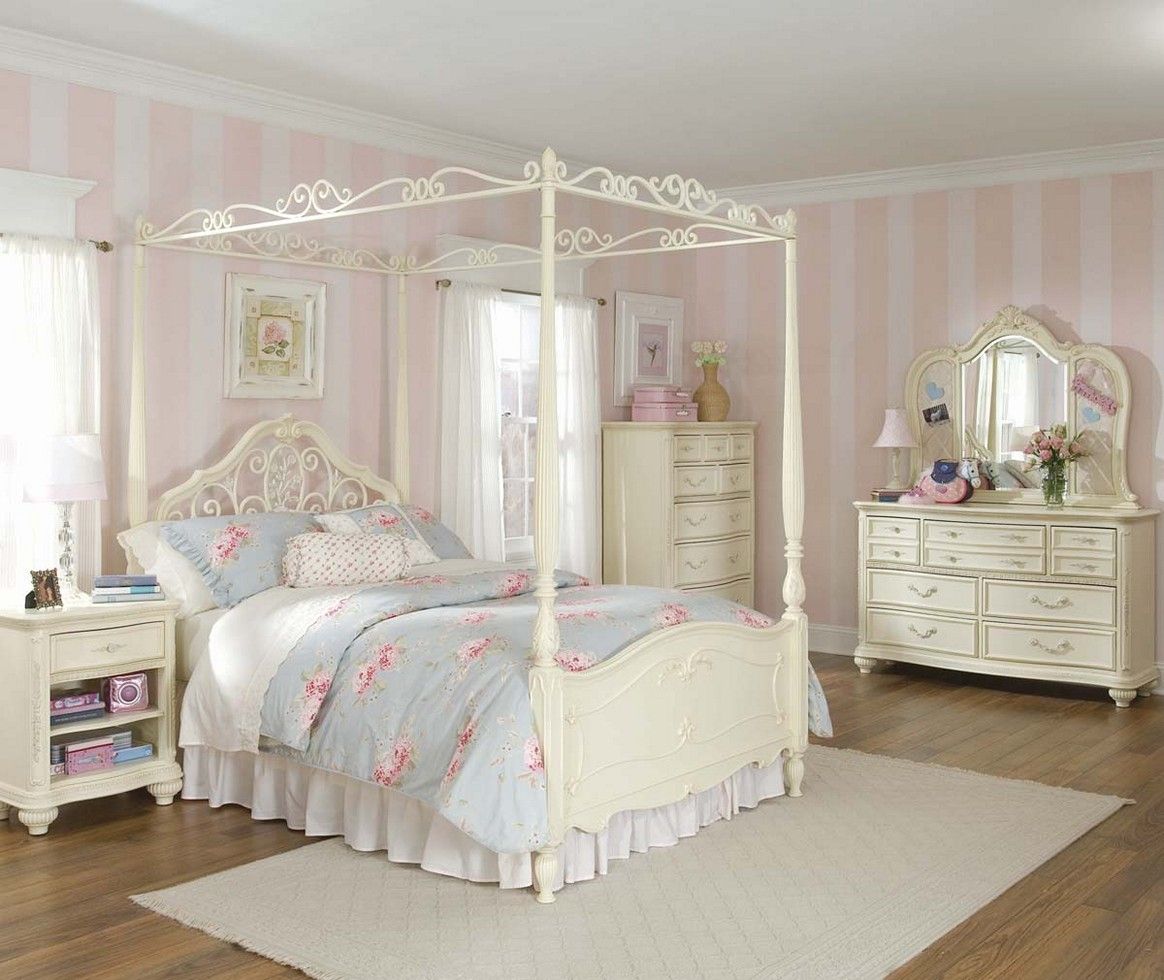 If you don't like the plain appearance, you can play with your favorite character motif. Use wall stickers or wallpaper to make your bedroom walls look patterned. Alternatively, you can use brightly patterned carpets or rugs. Then, design the bedroom floor with a wood motif.
In addition, you can also add wall accessories such as frames, Tumblr lights, or cute pillow hangers. Use wall stickers or wallpaper to make your bedroom walls look patterned. So it looks more attractive. For the bed, you can use white with a bright color bedcover. That way, your bedroom design will feel comfortable.
A bedroom in muted pink tones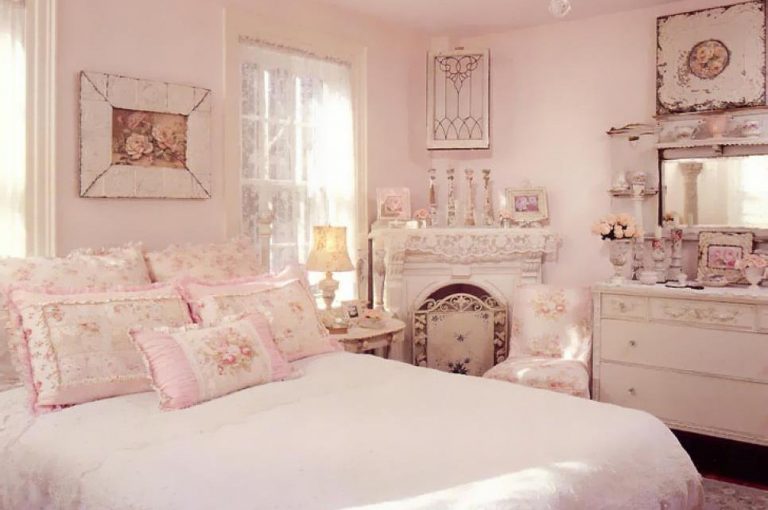 As you can see in the sweet design of this one bedroom, the soft colors can make anyone who sleeps here enjoy a relaxing rest. Apart from choosing the right color, you also need to choose a bed cover made of cotton. Apart from the high quality and durable materials, it is guaranteed that your sleep will get better in this room! To make it look more attractive, you can complete this bedroom with a buffet for storing clothes, wall hangings, soft foam beds, and beautiful patterned sofa cushions. With this arrangement, your bedroom design will make your sleep more sound.
It gets cuter with a pastel purple wallpaper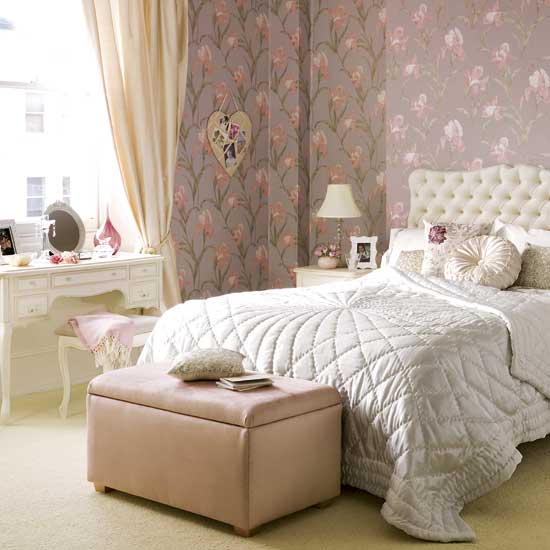 If you live in an apartment, placing the bed next to the window is the right choice because when the sun appears in the morning, its rays will penetrate through the window and wake you up from a good night's sleep. In addition, it can make the atmosphere in the room bright and healthy.
With the above, you can say welcome to the morning sun. Then, you will be greeted with a chic room decoration with charming purple wallpaper. To complete the bedroom to make it look sweet, you can add decorative lamps, nightstands, attractive knick-knacks, and dressers. Then, choose a minimalist bed that matches the color of your dresser. To make it look more harmonious.
The girls' room is dominated by pink and blue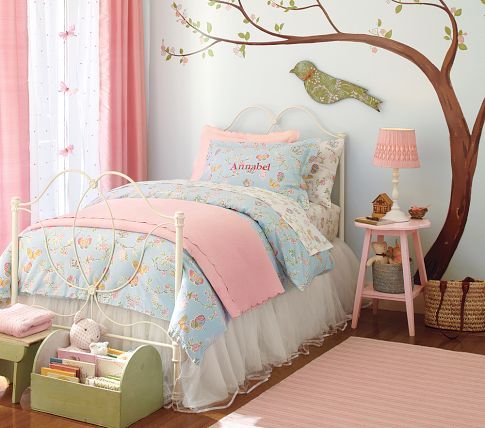 If your girl is just a teenager, you must understand the times of upheaval in his mind, whether he is still a child or an adult. This feeling is also included in his taste when choosing a bedroom design. For that, why not just mix up an adorable design, but far from being tacky like the picture above? These bedroom ideas and inspirations look neat and attractive. The right wallpaper, matching bedding, cute pillows and bed covers, and a bright floor rug. With this arrangement, your child's bedroom will look beautiful and elegant.
Comfortable bed with white curtains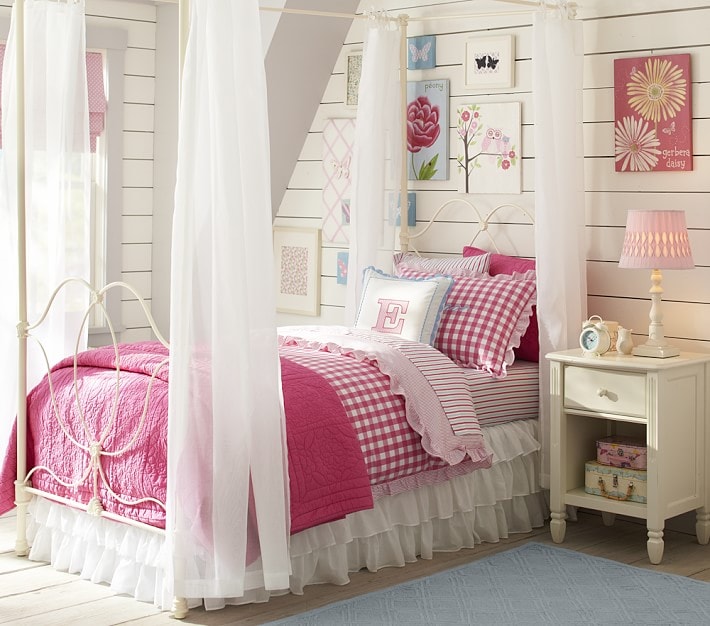 Having a beautiful and comfortable bedroom is the dream of all girls. The combination of pink and white creates a charming and eye-catching variety. Not all elements have to be filled with floral motifs, you can also choose plaid motifs such as sheets that fit nicely on the bed. You can add white curtains to the bed to make it even prettier. It looks very charming. Then, decorate the walls with paintings. Then, to make it look more attractive, complete it with portable decorative lights, nightstands, floor rugs, and patterned pillows. With this arrangement, your daughter's bedroom design will look aesthetic and charming.
Feminine bedroom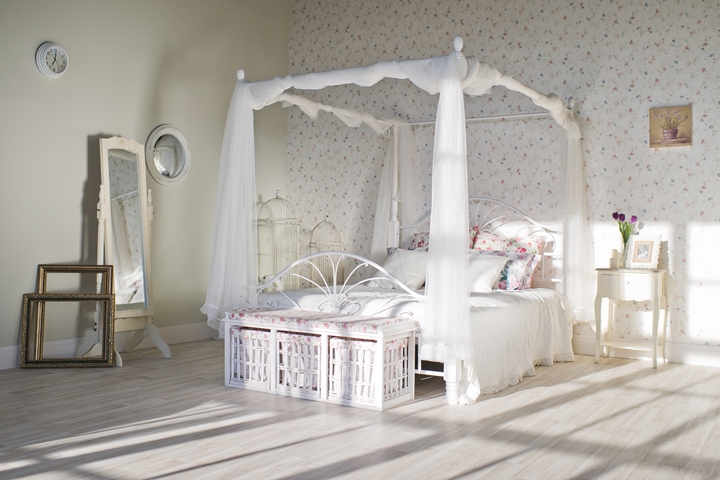 Shabby chic is an interior style that stands out more with a mix of masculine and feminine impressions. As in the bedroom interior style above. This bedroom has different characteristics compared to other interior styles. Therefore, a bedroom that elevates this style will more fully embrace the sentimental side of the homeowner to create a stylish, comfortable, and pleasant atmosphere. Bringing this style is a good step when decorating a small bedroom. With this arrangement, you and your partner will be more intimate.
Stick to one color tone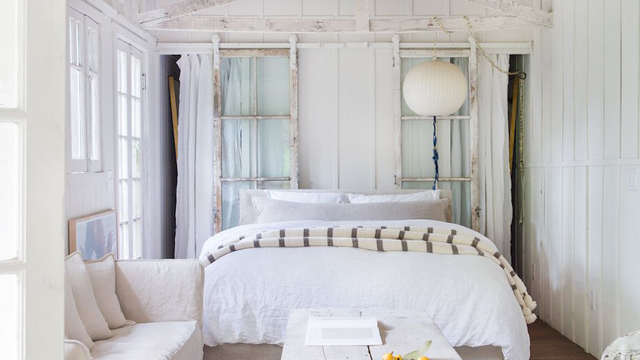 Designing a bedroom to make it look neat and sweet must be adjusted to the design that you will apply. To suit your taste, mix shabby chic and contemporary styles in one color tone. The selection of white and light blue colors is the best choice to create a cohesive and classic whole into one. Then, add a sofa for you to relax, antique decorative lamps, and interesting knick-knacks. So that your bedroom looks beautiful, choose a minimalist bed size according to your needs, and tidy it up with a white bed cover, and a beautiful blanket. With this arrangement, your bedroom design will look more attractive.
Design with a vintage atmosphere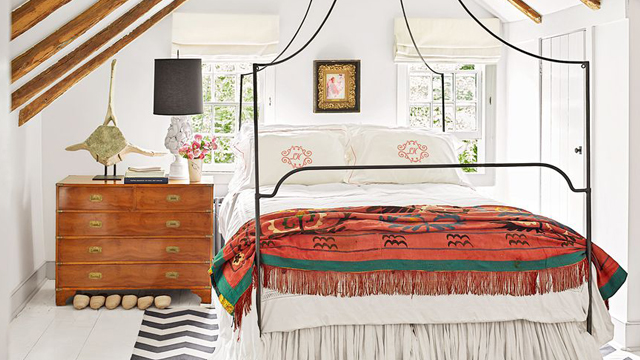 As you can see in the image above, vintage furniture and decorations are practically made for fans of the shabby style. This method is done to make the bedroom look more antique but still look more attractive. Put a contemporary, vintage-inspired bedroom frame such as one made of iron to give it a deeper impression of a romantic drama. Then mix it with an old-fashioned wooden buffet, patterned floor carpets, and colorful bed covers. In order not to look monotonous, decorate the room with wall paintings, decorative lights, and interesting knick-knacks. With this arrangement, your bedroom will look vintage.
Design in bohemian style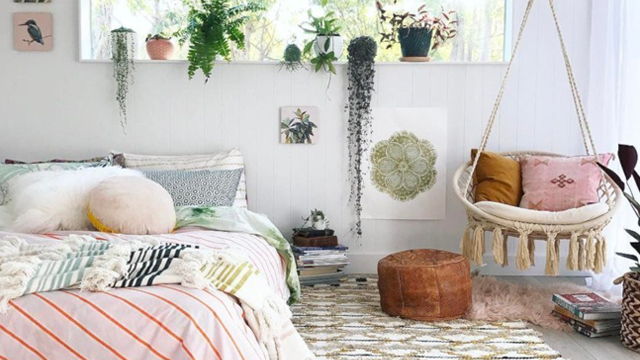 If you want to bring the impression of a wild traveler in a shabby chic style, this is not difficult. The perfect balance between bohemian, modern, and shabby designs can be applied to one with the selection of balanced and appropriate accessories. To look harmonious, you must be able to choose a plan that suits your bedroom team. Choose a minimalist bed according to your taste, patterned floor rugs, antique accessories, attractive knick-knacks, and decorative plants that benefit your health. That way, the atmosphere in your bedroom will be warmer.
Teen room design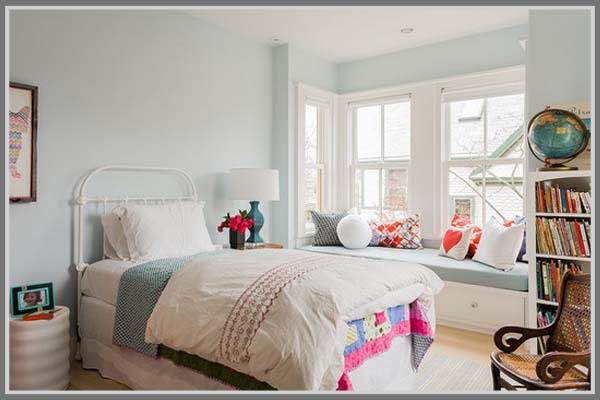 If you want to get a beautiful contemporary teenage bedroom design, try Considering a shabby chic interior style. As you know, the desire to have attractive and comfortable bedroom decor is the dream of many teenagers.
In addition to the modern minimalist design, there are a number of interior style choices that are suitable for use in bedroom inspiration, such as shabby chic nuances that will make a teenage girl's bedroom design look aesthetic. Shabby chic is a design style that depicts a soft impression and looks elegant. In addition, this room decoration inspiration emphasizes the use of vintage furniture and also the application of floral motifs. Therefore, this design is much liked by women.
Arrange a narrow bedroom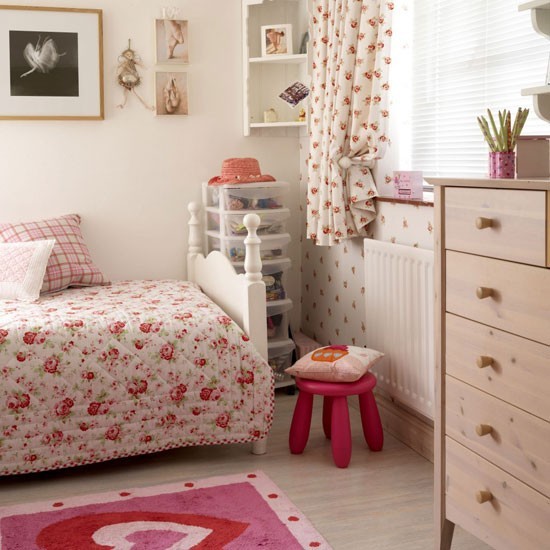 To overcome the narrow room space, we must be smart in decorating it. This is an important issue because a narrow room, plus the wrong arrangement of items, it will make the room look messy. This condition is often experienced by many people because they don't know how to arrange a narrow space so that it disturbs the view of the room and you don't feel uncomfortable.
As you know, a narrow room will also affect your body movements while in the room. Coupled with the use of various home furniture that makes your room narrower. Therefore, you should not put a lot of furniture in your room. In this way, your bedroom design will look spacious and aesthetic.
Design with green plants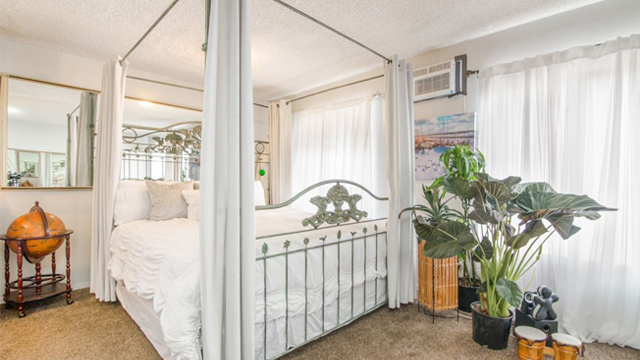 As you know, green plants always have their own way of making a room shine even more with leaves and their amazing functions. Put a green plant in one corner of the bedroom, that way it will better support the various folds of cloth that are identical to the shabby style. To make it look artistic and aesthetic, choose a beautiful and unique bed. Design as a whole with bright colors. Then, add antique knick-knacks so it doesn't look monotonous. That way, your bedroom will look cool.
Design by utilizing the wall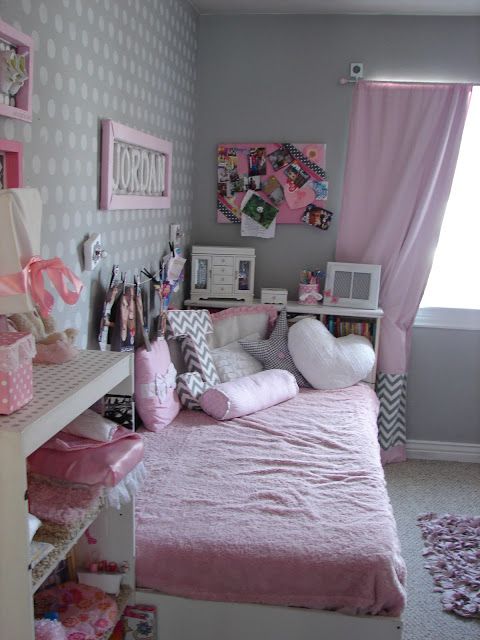 One way to overcome the problem of narrow bedroom space is to use walls with attractive decorations. The use of shelves that can be attached to the wall or commonly known as floating shelves can help you store items such as books, makeup, and accessories. So that they look neat. Making this floating shelf does not need to cost a lot or buy it. You can make it using a thick board accompanied by the support so that the board does not fall easily.
However, the most important thing is what design you want to make. As you can see, the room above fits perfectly into the shabby chic design. This design prioritizes decoration rather than playing with furniture. That way you will be more flexible to move.
A complete pink theme girls' room game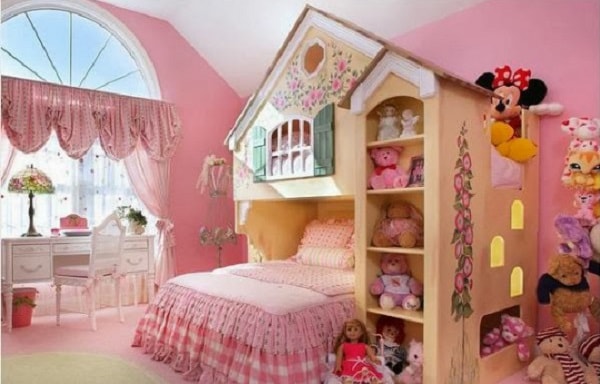 This one child's bedroom theme can be chosen for girls who like everything pink. Especially if he likes princess figures and often sees beds with mosquito nets. As you can see, dolls are games that they enjoy besides other dolls that exist. Of course, she will feel at home in the room and feel like a princess like in fairy tales or Disney movies. By completing the room facilities, your daughter will feel comfortable and feel at home playing inside. To make it look more attractive, also complete other games such as houses that are attached to beds, study tables, chairs, shelves for storing dolls, and decorative lights.
Beautiful room for baby girl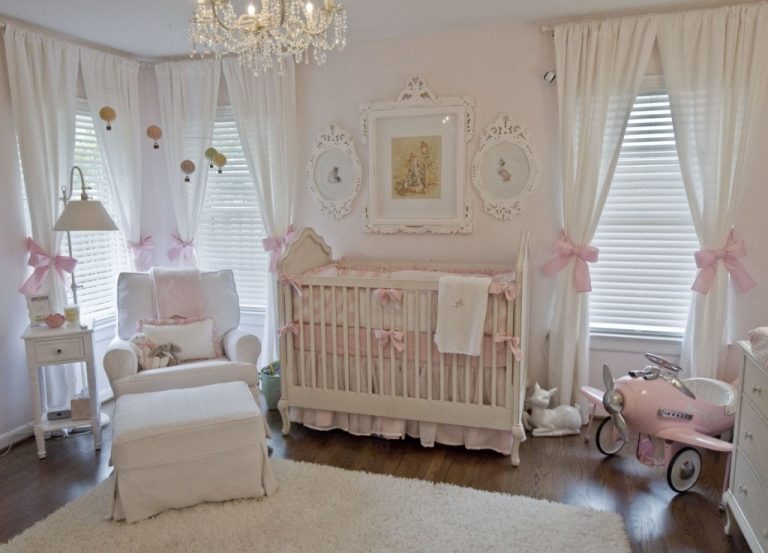 If you have a beautiful and tiny baby, a nursery with a comfortable bed is everything. As you know, if the bedroom is not comfortable, your little one can cry at night and wake up the whole house! Therefore, choose a soft bed and the right size for your baby. After finding the right cot, you can choose a decor that is also comfortable for your baby. Add beautiful decorations to make the atmosphere of the room look more attractive. For lighting, you can use standing decorative lamps with lighting that is not too bright. For those of you who are planning to arrange a baby room, the design above is suitable for you to apply to a beautiful and sweet baby girl!
3. Conclusion
Those are some of the shabby chic style bedroom inspirations that we can recommend. As you can see above, this bedroom design looks comfortable and charming. If you are happy with our review above, you can choose the best design, then apply it to your residence. That way, your bedroom design will look elegant, comfortable, neat, and attractive. Then, your family's sleep will be more restful and quality. Happy decorating!