1. A glimpse of rustic design
A country house is a comfortable place to rest when you are tired of a city feel. No wonder many are interested in building it. A country house far from the noise of the city sounds like a pleasant place to rest. The fresh air and calm atmosphere make many people interested in taking a break.
People who live in cities tend to build houses in rural areas as a place to relax and have a vacation when they are tired. Some even plan to make the country house a place to live in old age. However, country houses tend to have designs that are traditional or outdated. For this reason, many then renovate existing houses in rural areas. So, if you are one of those who are renovating a country house, first consider the concept of a country house below.
2. Country house concept
The concept of a country house that gives off a natural and nostalgic impression of the past is indeed not being looked at by many people. However, there are some families who deliberately build a typical house with an old village-style house design. The result is truly unique and beautiful, this country-style house with a nostalgic feel of the old days captivates and is hard to forget. Therefore, we share ideas with you to review country house designs as below. Welcome to our review!
Second-floor design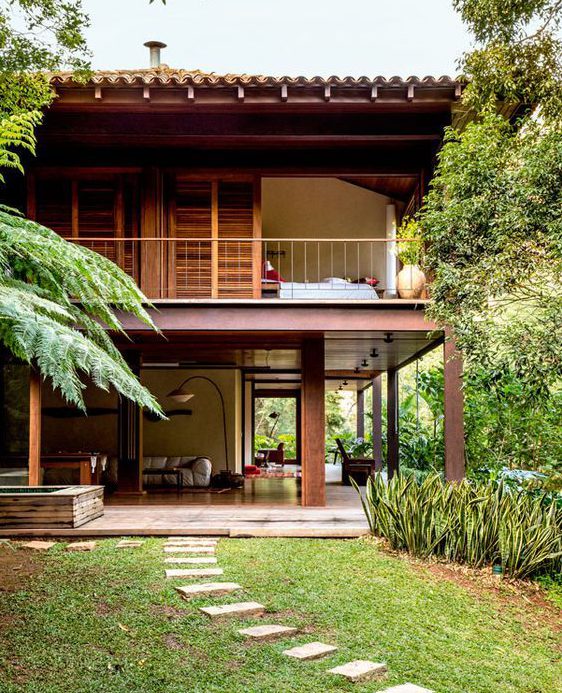 Making a two-story house building with wood, besides making the house look beautiful, wood also gives a natural impression to the house. The wood material can also give a warm impression to your home. Wood is also known as a solid material for homes, but it can give a modern impression. Therefore, use your minimalist home design with wood. Apart from that, you can also combine it with stones to make it look majestic and sturdy. With such an arrangement, the exterior design of your home will be pleasing to the eye.
Artistic village house design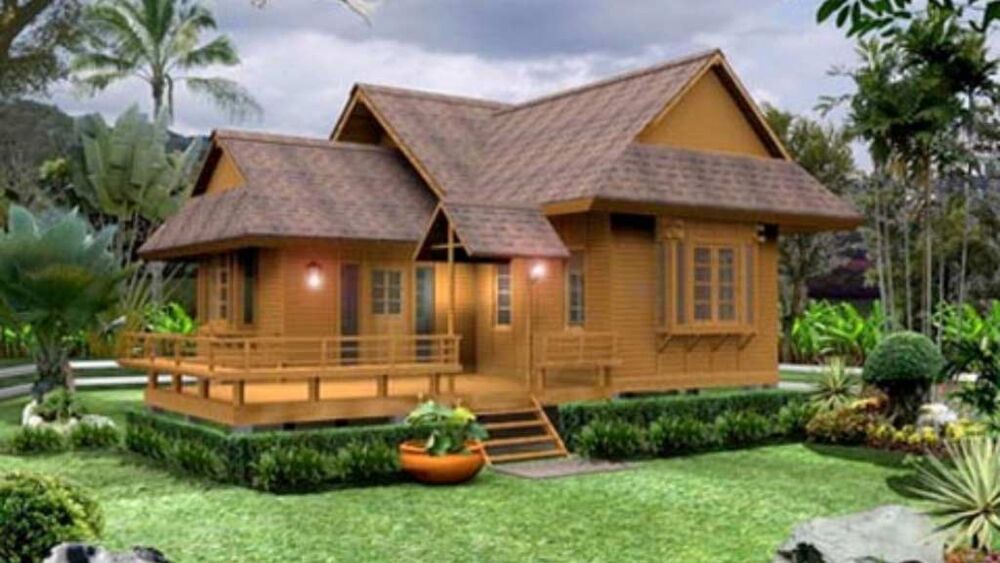 Finding a house with a rural concept in the middle of the city is a unique thing. You can start with a 100 m2 building, with a Joglo concept and a large yard, a rural atmosphere greets every visitor as soon as they enter the gate.
Even though it seems old-fashioned and simple, the unique design is able to enchant every guest who comes by bringing nostalgia to the past. The hallmark of this country-style house is the unique and sturdy Joglo roof. As you can see, the terrace of the house is spacious and beautiful where the whole family and guests can chat intimately. The floor of the house is made of rigid or we can call it parakeet. You can also add a natural and old-fashioned impression to the walls of a house designed from wood.
On the roof of the house, you can use special quality bamboo and then arrange it so that it replaces the function of the usual ceiling. The Javanese used to call this roof a braid. That way, your home design looks classic.
Traditional style house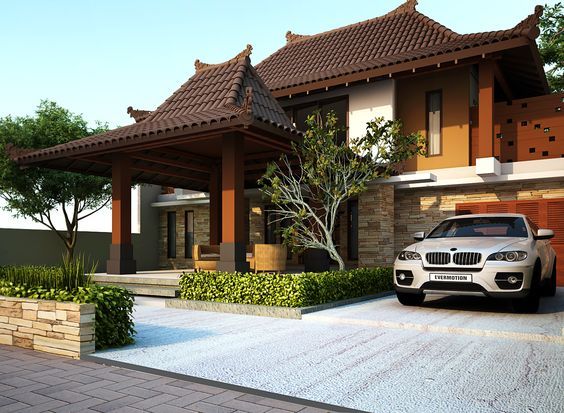 You can find many of these model houses in various regions of Indonesia, especially in cities. You can mix the warmth of this traditional house with modern elements. By designing a type of house like this picture, you have given a warm yet elegant impression. Then, to make it look more attractive, add some plants in front of your home page so that your home also looks fresher and more pleasing to the eye. With this arrangement, your home design will look beautiful.
House on stilts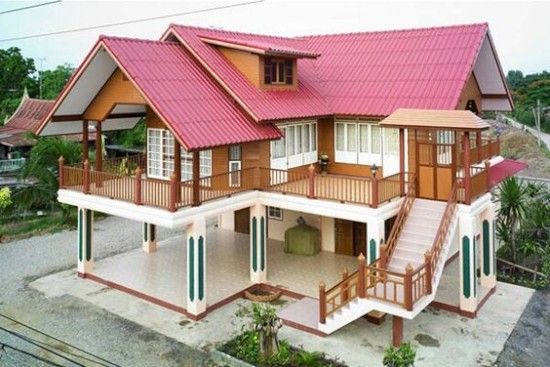 Generally, many house models in the area are designed as stilt house models. A design like this is able to provide its own comfort for the occupants. Therefore, you can choose this home model if you want to feel the feel of your hometown. Moreover, this model house is very synonymous with houses in the village with a warm and intimate feel. To make it look more attractive, you can design a house using wooden fences, bright colors, and wooden floors. Then, design the garden in front of the house to make it look more attractive.
Cottage house design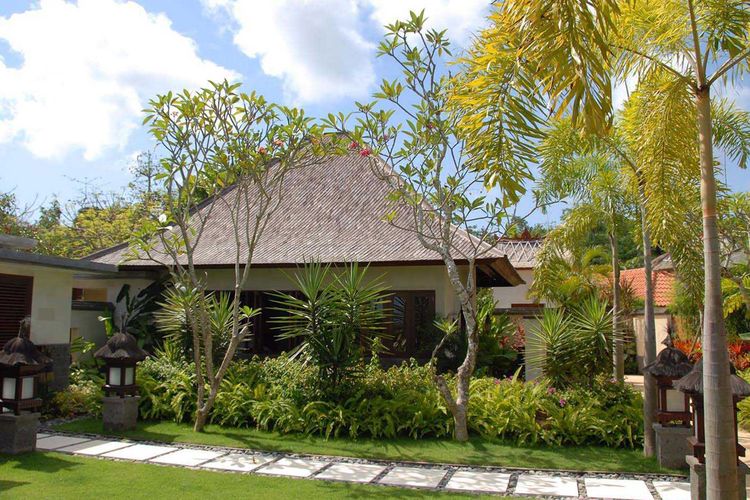 Having a rural house with a cottage concept is everyone's dream. With a design like this, you no longer need to look for hotel lodging. The most important thing is to design the interior of your home to look aesthetically pleasing. As you know, the concept of a house that can provide comfort for its residents is a concept that is adapted to the tastes of its inhabitants. Therefore, the style of the house must also emphasize the functionality of the front of the house. Apart from that, you can add some furniture to relax at the front of the house, such as tables and chairs, or even swings. Then, add a beautiful flower garden to make it feel cool.
House with exposed brick design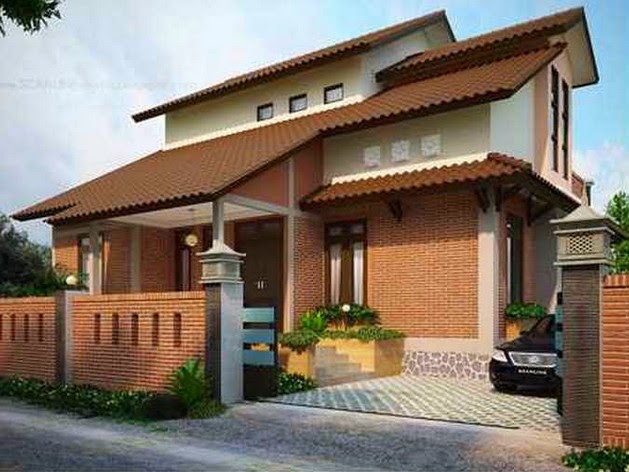 We know that memories can be felt by the occupants of the house if you also add local patterns to the house, for example, you can add paintings or objects typical of a certain area to make an impression of local wisdom. But for a house design like the one above, you can decorate the exterior of your house with exposed brick, natural stone, and classic decorative lights. To make it look more beautiful, you can add flower pots made of exposed brick. With a design like this, the exterior of your home design will look aesthetically pleasing.
House in the village with a large yard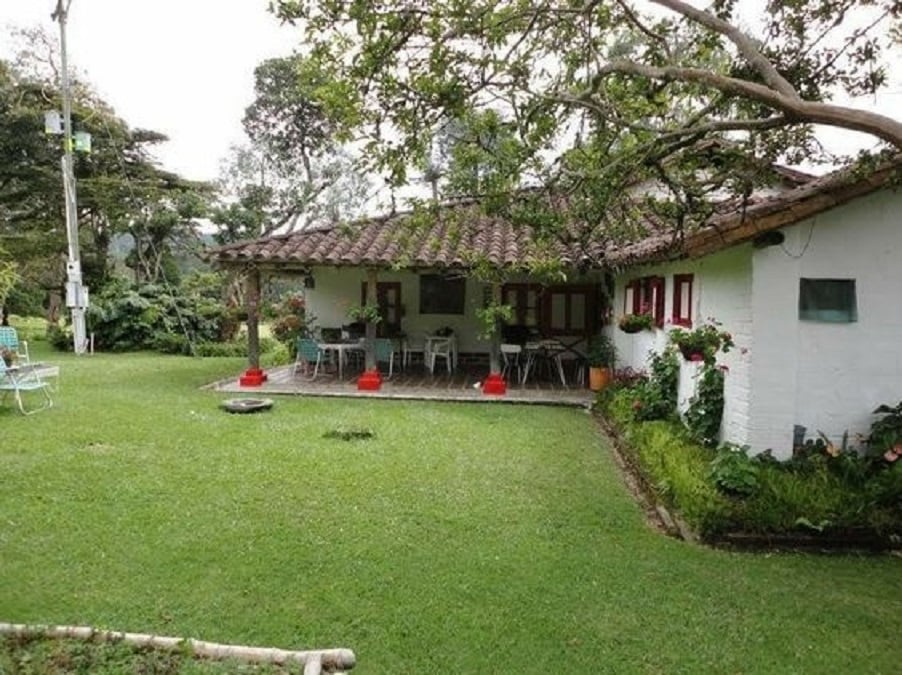 If a simple house in the village always has a large yard. This is normal because the land is still spacious. However, if you can't arrange it properly, the house will not look attractive. Therefore, the design of the terrace in front of the house has made with furniture, such as patio tables and chairs can make this village house look attractive and fun. Moreover, planted with green grass that is well cared for. You will be more comfortable and happy because you can play with your big family. Then, most house designs like this are used as resting places such as in mountainous areas. That way, your vacation time with your family is not wasted.
Rumah Sederhana yang Dikelilingi Kebun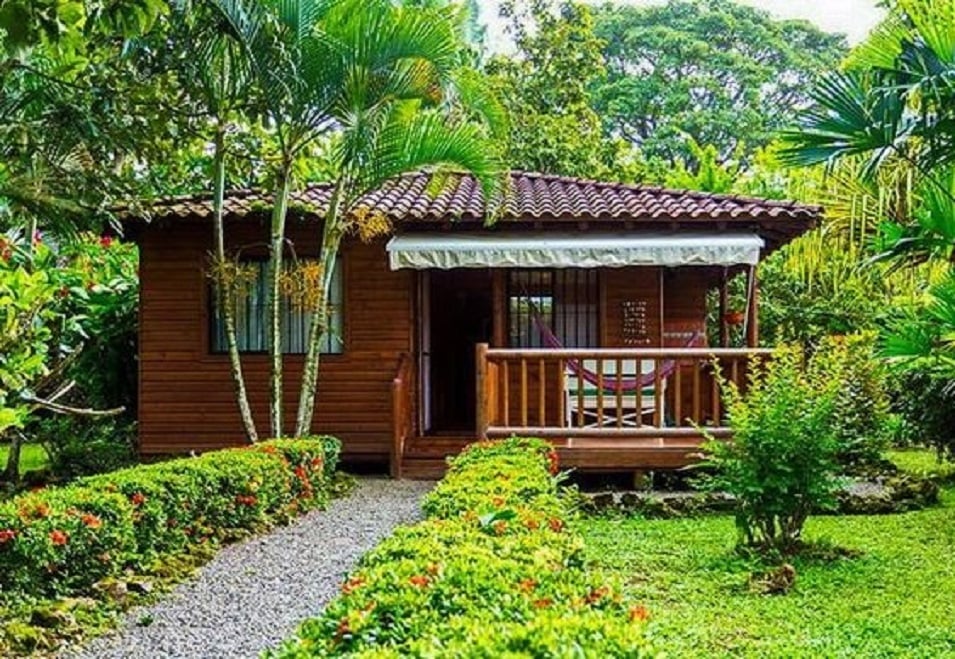 If you often go to the village, you will always see that the houses in the village usually do not only have a yard but also a garden filled with vegetables, fruit, and medicinal plants. This way, you can pick vegetables or fruit if you want to eat them yourself. So you don't have to buy them at the supermarket.
As you can see, the houses in this village are not big but have been designed from wood. So that the model looks pleasing to the eye. Then, to make it look more attractive, a terrace has been made at the front of the house and makes the homeowner relax, equipped with a terrace bench. Then, to get to the exit made a path with gravel. While the left and right of the road are planted with flowers. With this arrangement, this house design looks beautiful and natural.
A village house with a pyramid roof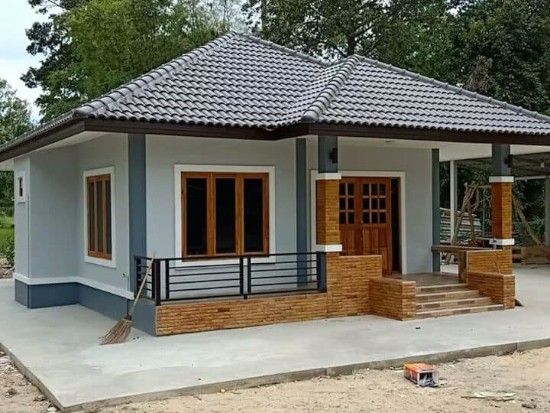 If you have ever traveled by car and passed through villages in Central Java, Yogyakarta, or East Java. You will look at the house in the village there using a pyramid roof. Or you have grandparents who live in one of the provinces above, so you will find a similar house in the village. Many houses in villages in one of these provinces use pyramid roofs compared to gable roofs. The gable roof is triangular when viewed from the front of the house, while the pyramid roof covers the entire roof. This lima san roof comes from a variation of the roof of the Joglo house which is a traditional Javanese house. With this roof, the appearance of the house remains attractive and unique.
Rustic but modern design house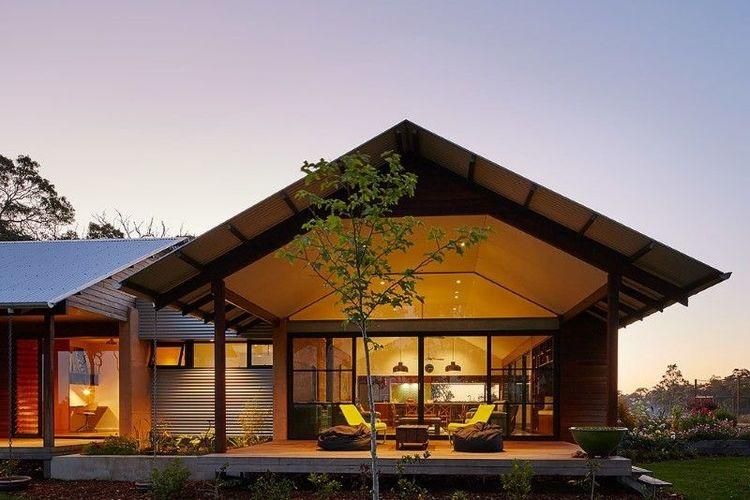 Rustic nuances don't necessarily always feature classic homes. The house in the countryside is still a favorite place for many people to live. We see many houses in the countryside with luxurious designs. So not only is a natural atmosphere cool and beautiful, but the atmosphere inside the house also gives a thicker sense of kinship. If you are currently looking for the feel of a country house, you can use the picture above as your inspiration. So you don't need to worry, you can combine rustic elements with the latest designs. So that your home design looks modern.
Beautiful village house design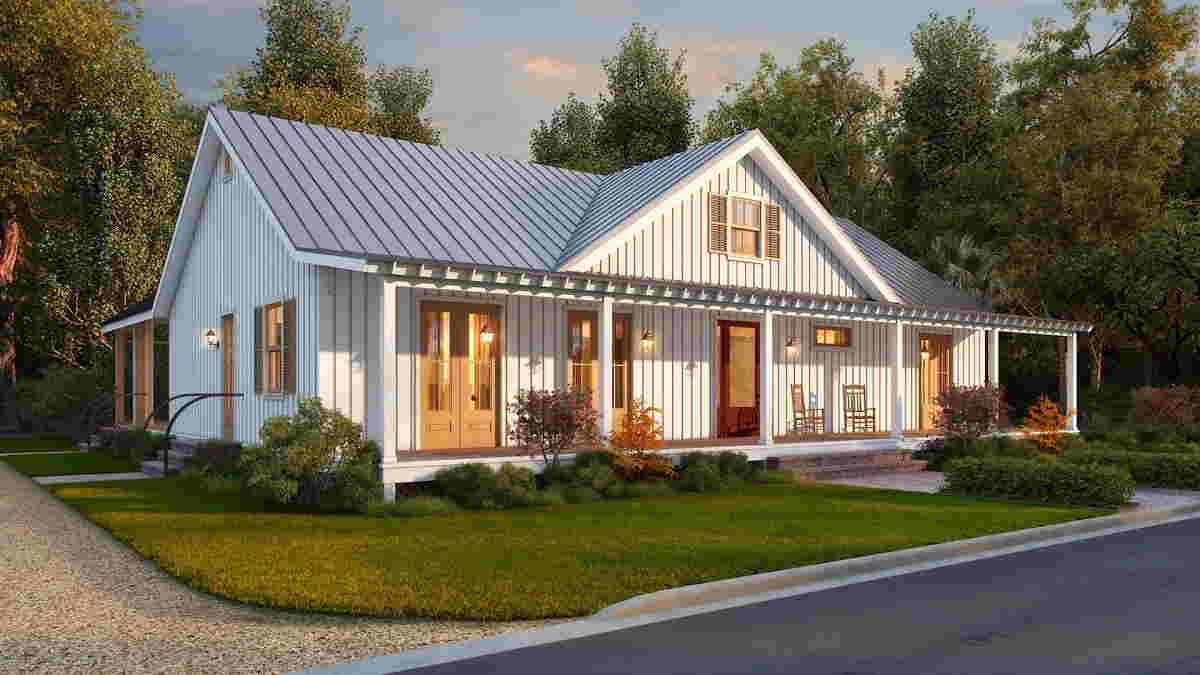 Almost everyone feels that living in urban areas can be boring and increase stress for some people. The atmosphere is too crowded, noisy, and full of pollution. It's no wonder that many people aspire to have a house in the village when they retire. Because the atmosphere in the village is so beautiful and calm. Moreover, residential land in rural areas is still widely available at affordable prices.
It is not impossible that they can build simple but luxurious houses in the village. Something that is quite difficult to realize in the middle of a metropolitan city you can make in the countryside. Are you interested in having a house in a village that has a simple model but still looks charming? Then, let's build a house in the countryside to make you and your partner happy.
Simple traditional house with glass windows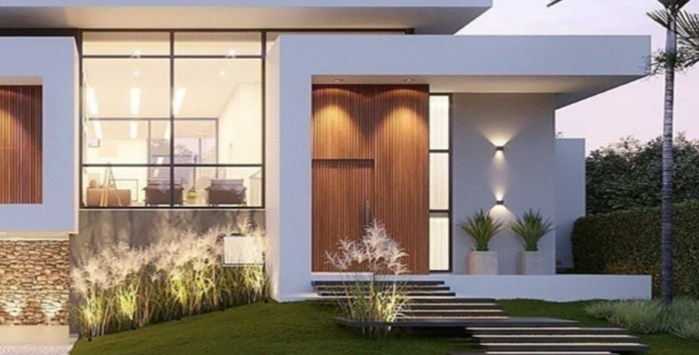 When you design a simple but luxurious house design in the village, it can make people who see it amazed. You can create a charming design if you can give the building a traditional value. Like this home design idea that looks modern and traditional.
Modern nuances are presented through glass windows which are intended to utilize sunlight as lighting. On the other hand, there is a facade wall that uses stone walls and wooden doors. Because the land is still quite large, you can make a garden so it feels green and makes you fresh looking at it.
Symmetrical simple but luxurious design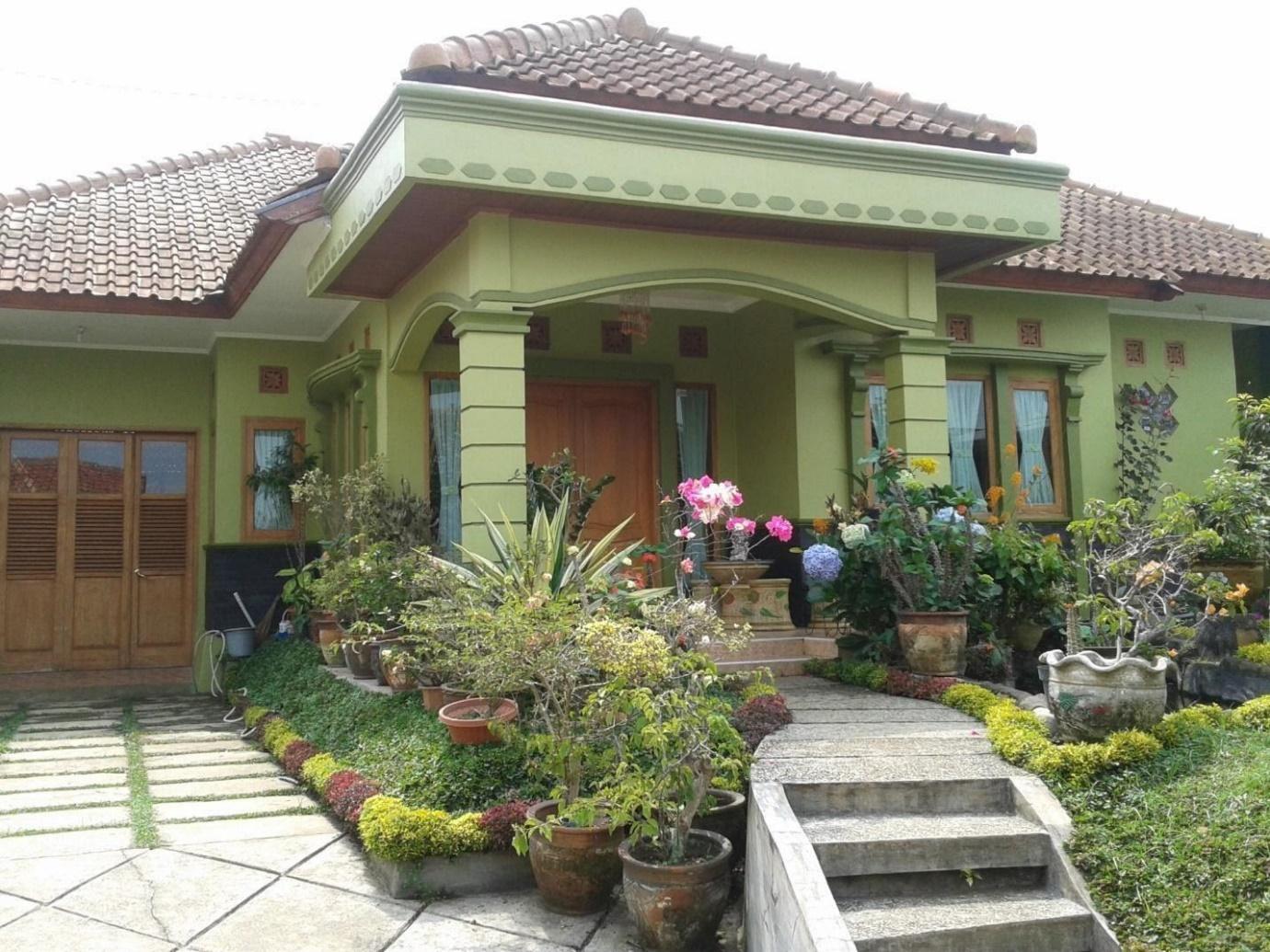 A simple but luxurious house in the village will look neater with a symmetrical design. The terrace area and entrance are in the middle of the building. The design of this simple but charming village house is even more complete with a symmetrical arrangement of lounge chairs and bushes. Use concrete as pillar accents and roof terraces for a more majestic impression and one with nature. The building itself consists of only one floor with high ceilings. Thus, air circulation becomes smoother and makes your home more beautiful and healthy.
Simple house with natural stone design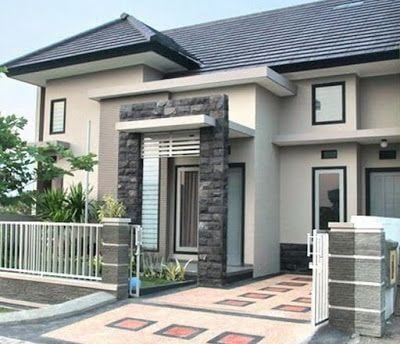 If you want to have a simple but luxurious house in a European-style village, you can Make a facade using natural stones in bright colors. The atmosphere is instantly cooler and more natural. The use of natural stone walls in facades is not only aesthetic but also able to absorb heat from the outside and has a high level of durability. To make it look more attractive, you can make a garden in front of the house. Then decorate the terrace of this simple and luxurious house with flowers in pots. That way, the exterior atmosphere of your home will feel comfortable.
Extra spacious plus fish pond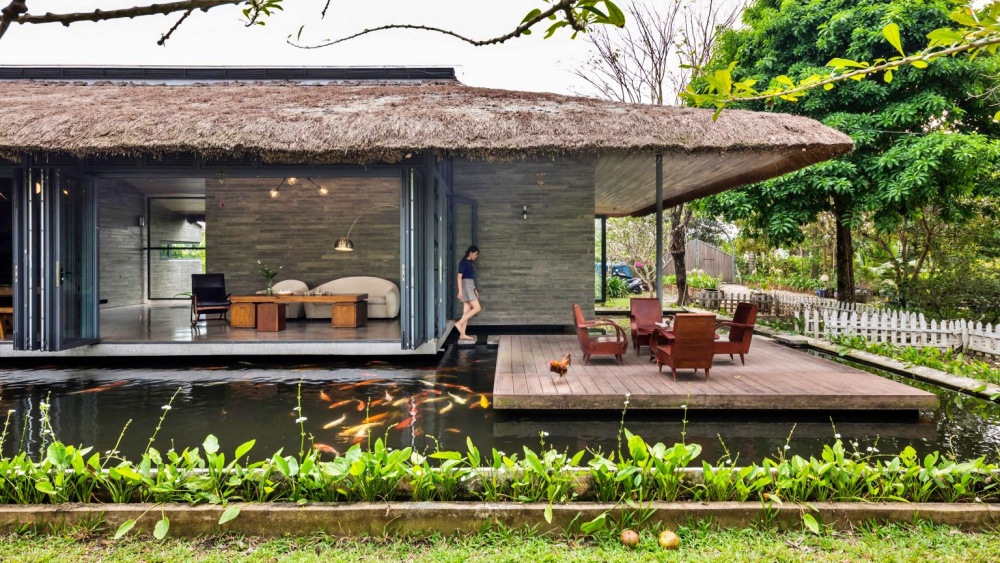 When you look at the building shape, these simple but luxurious houses in this village look normal. The roof is steep, typical of houses in tropical countries. Nothing seems superfluous. This simple and luxurious home design is most suitable for large areas of land. So, you can also add a fish pond, a terrace for relaxing, and an outdoor dining room for the family. Meanwhile, the rest of the land can be used as a farming area. With this arrangement, the atmosphere in the family will be more intimate.
A house with an aesthetic feel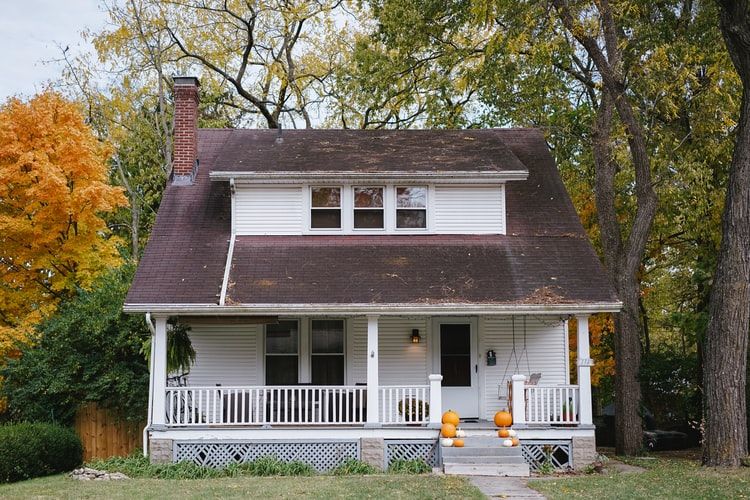 Having your own home is everyone's dream. Not only for shelter, but the house is the most comfortable place to rest. You must be happy when you come home because you can unwind by enjoying a cup of tea in a beautiful yard.
However, for those who live in urban areas, having a comfortable and beautiful home is increasingly difficult to achieve. The high price of housing and the limited land, force those who have a mediocre income to live in cramped rented houses. Don't think about beautiful scenery, because the majority of what you see is the wall of the house or the roof of the neighbor's house. Therefore, to realize your dream home, you can build a house in a rural area. In this way, your home design will look beautiful and aesthetic.
Victorian design European house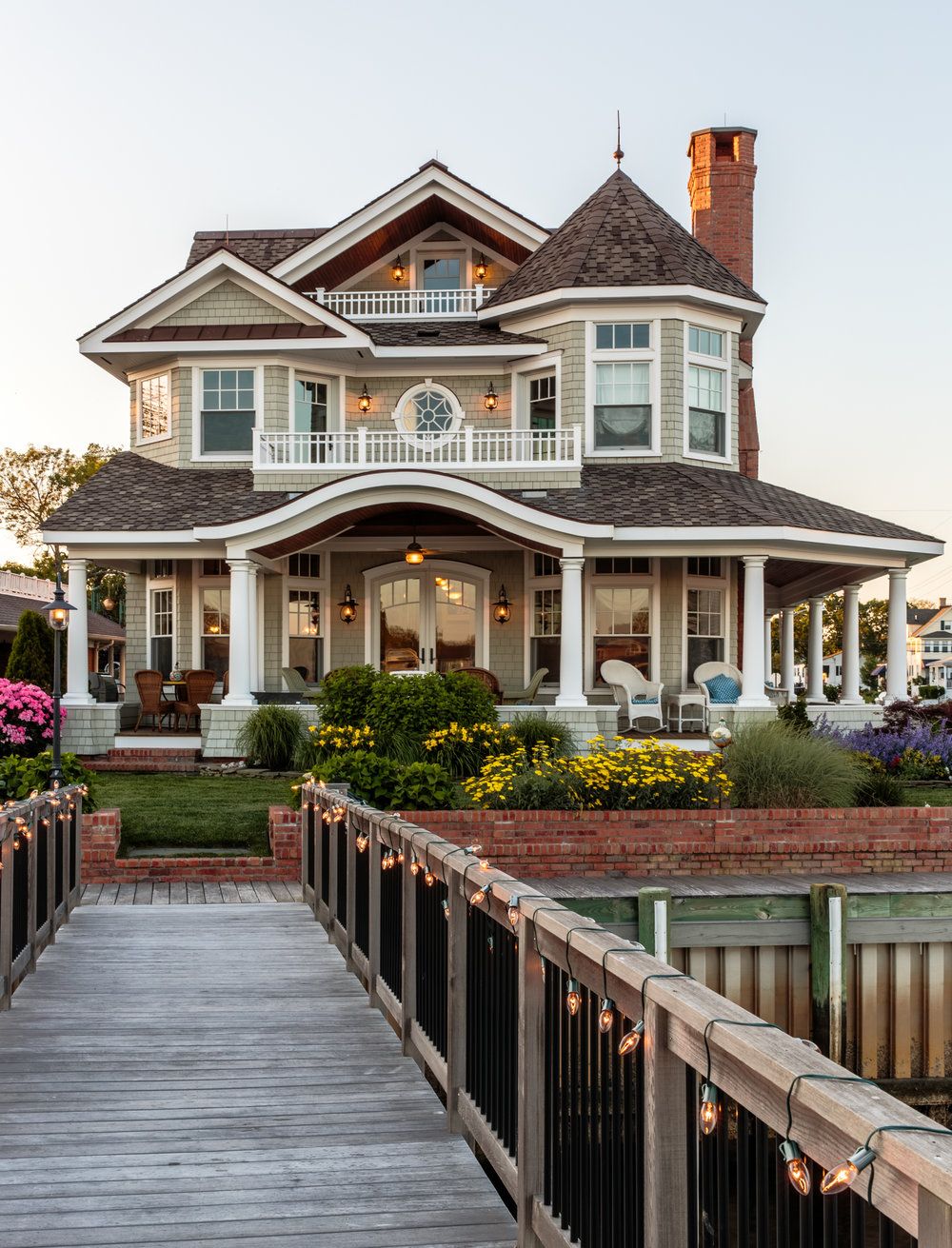 This home design looks luxurious in a Victorian style. Then, it becomes a design that cannot be missed. The Victorian architectural style first appeared during Queen Victoria's reign, in the mid-19th century. Then, until now, this design is still being built in many rural areas.
Designs that prioritize high artistic value are usually seen by the use of stone and wood materials in each of the interior and exterior parts. Residential roofs appear more asymmetrical and unique coupled with elaborate decorations. Therefore, the design of this European model house grew from the influence of Gothic design.
3. Conclusion
Those are some village house designs that we can recommend. Hopefully, this design can be an inspiration for you as well as make the exterior of your house look charming with a rustic and contemporary look. Hopefully, our review above is useful for you and an inspiration for those of you who want to build a house in the countryside. Then, you can gather with your extended family. Happy decorating!