Nexthomegeneration.com – An industrial design that has a unique beauty that will be different from others. It is preferred for people who love a natural impression because of having textures that won't make our home look monotonous. Moreover, it is easy to be applied if we know industrial characteristics before applying them. It helps us to prevent making a mistake while implementing the style.
Applying it to the interior certainly will create a stunning impression but actually, it also can be applied to an exterior. Today, we will give you some industrial backyard design ideas. Generally, there are many people who have a backyard, and sometimes it is complicated to be decorated. They only add some flowers or ornamental plants without any decoration because it is easy to do. We recommend making a garden and add stunning furniture with some industrial plant pot to create a relaxing place in our home.
Industrial Backyard Design Ideas
Industrial design ideas from us are easy to be applied because we will explain them with simple words and choosing styles that will be easy to be implemented. Moreover, the industrial style has unique characteristics and natural texture with a little bit of decoration that doesn't make you feel complicated while applying it. This time, let's get to the list!
Cozy Industrial Backyard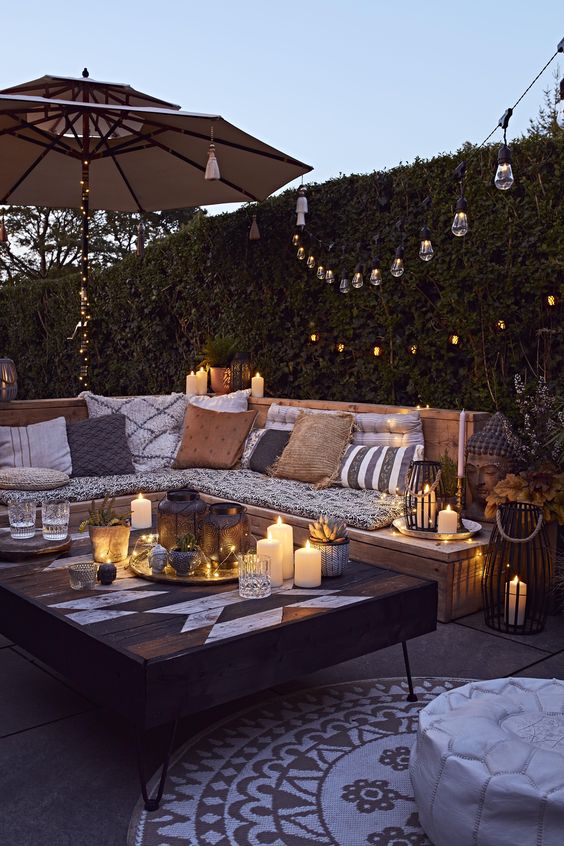 If you have a space with a terrace, you can liven up the atmosphere by adding a big and long sofa. After adding it, we have to make it feel warm by using a round rug as a pedestal. However, we should choose a unique or unmonotonous pattern to make it won't feel bored. A round soft cushion is perfect to be used because of having a comfortable texture and makes us feel relax.
Industrial Backyard With Wall Textures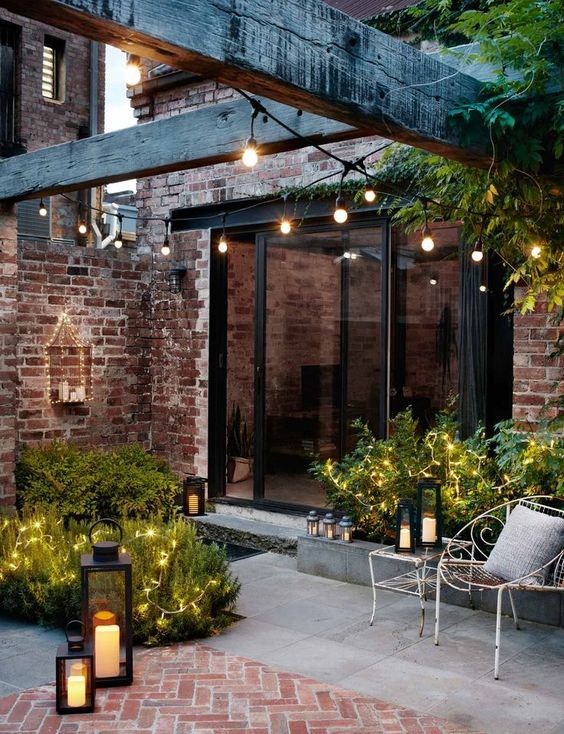 If we want to apply a strong industrial accent, we should apply wall textures by using brick materials that will create an unfinished look. Natural red from them can make our backyard have a unique impression that will be different from others. However, besides brick, we can also use others such as concretes, ceramics, and stones. Instead of the exterior, we have to apply it in the small industrial living room to make it won't look monotonous.
Light Blubs Change The Backyard Atmosphere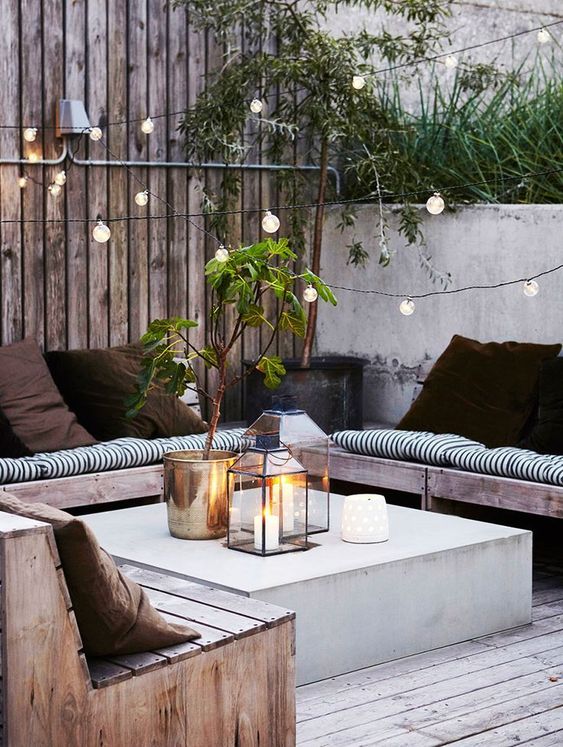 Installing yellow light bulbs in our backyard will create an aesthetic look that also makes us feel warm while spending time. A white oak laminated flooring should be applied to create an industrial theme. Combining it with wooden chairs to create a comfortable feeling and make it look harmonious. We have to choose industrial lighting styles and add them to the square wooden table. Don't forget to add some pillows that be covered with dark color pillowcases. It can also be added to the industrial-chic bedroom to create a suitable concept between interior and exterior.
Dark Colors Create An Elegant Industrial Look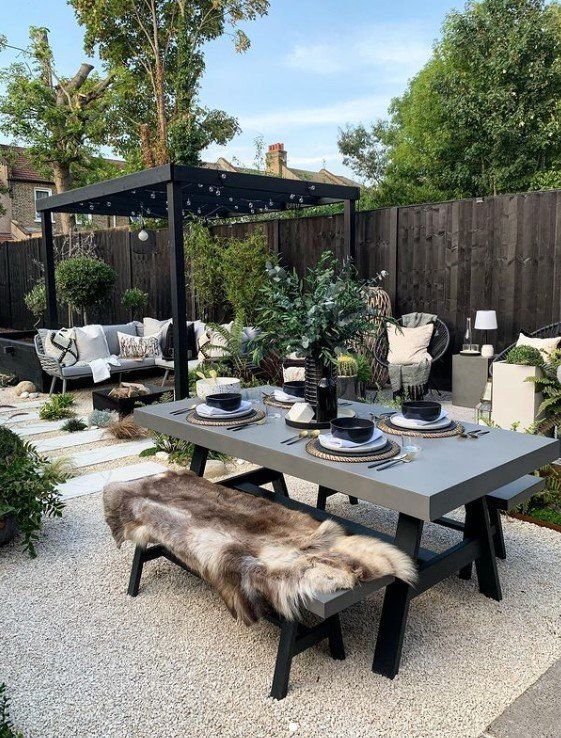 Light grey and black are often to be chosen to create an elegant accent in every design that we want to apply. Generally, it is always combined with white or beige color that will create a stunning, elegant, and aesthetic look at the same time. Spreading white pebbles on the ground will make our backyard have a neat look than growing grass. Some dining tables and dining benches can be added and used for holding parties or only dinner with family. If we want it to look cozier, we can apply a Scandinavian industrial dining room than only apply one design.
Outdoor Plant Recommendations
Designing our backyard doesn't feel complete without adding some plants which have flowers or only a basic type. For those of you who are feel confused to choose them, we will give you plants recommendation for outdoor that will be suitable for your industrial backyard.
Mandevilla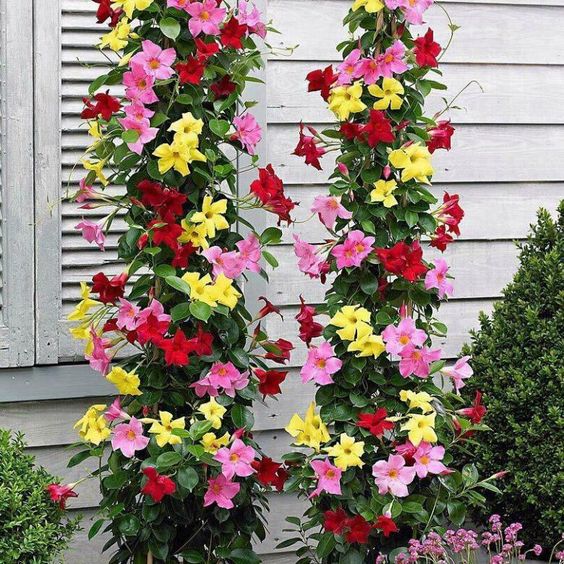 Mandevilla is gorgeous while blooming because it has many bright colors that will make your backyard look beautiful. It can bloom all season with good maintenance and is very suitable to be added outdoor. Monochrome colors should be applied in the industrial style so it will be the best type to choose to make it won't look monotonous.
Marigolds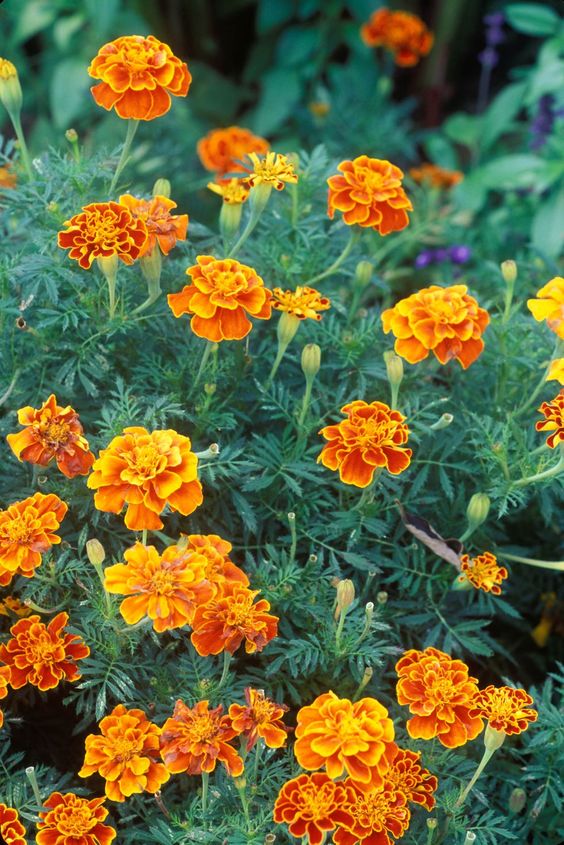 Marigolds have bright color flowers includes yellow and orange that can be combined with industrial colors characteristics. However, it has new varieties in creamy white that will look unique and beautiful. We have to give it enough sunlight to make it grow better. We recommend growing it if you want to apply our industrial backyard ideas.
Lavender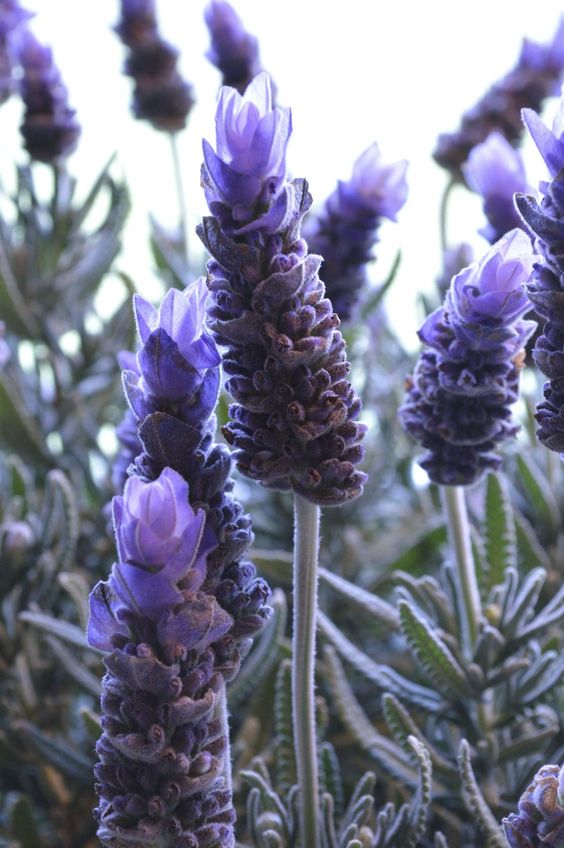 It has beautiful purple spikes with silvery foliage so it will be suitable to be added to the industrial backyard concept. For those of you who love relaxing scents, lavender is the best outdoor plant type that we can choose. Its colors don't look tacky or too bright and preferred to be combined with the dark concept of industrial accent.
Fuschia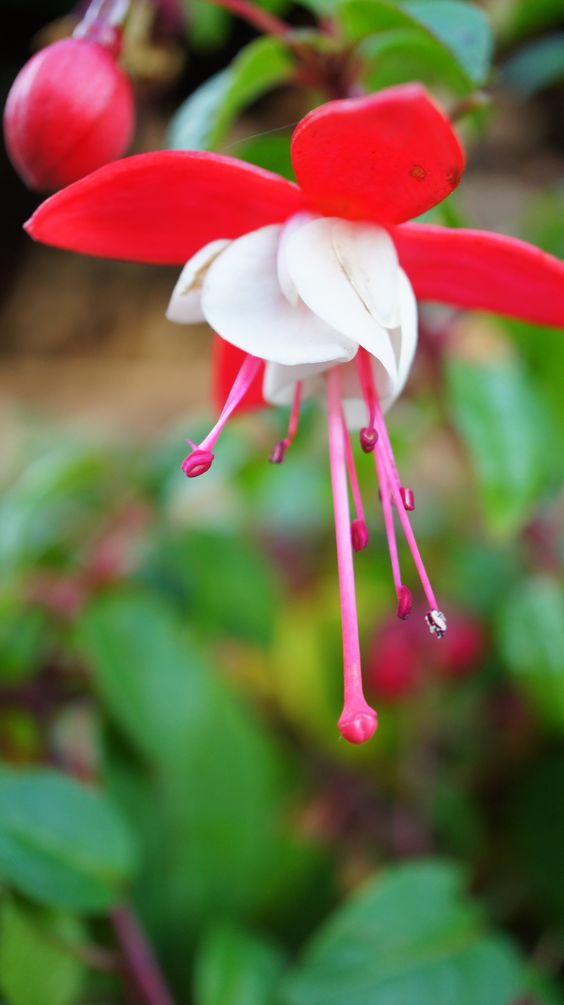 Fuchsia has a unique shape that looks like a bell with bright colors which will liven up the atmosphere. This stunning annual comes in saturated tones of red, purple, white, and pink.
Ornamental Grass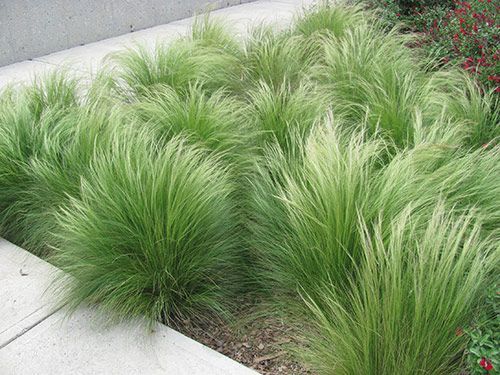 Some people certainly have a terrace, patio, or lawn in their backyard so we have to make it look fresh. Growing ornamental grass can make it look stunning without adding many decorations or furniture. It is also preferred to be added to the industrial style because of having neutral colors.
Industrial Garden Furniture Recommendations
A beautiful impression can be made if we add suitable things that won't ruin our exterior design. Industrial garden furniture designs tend to have a neutral look and are made from natural materials but some of them are made from metal. Sometimes, we feel confused to choose the right furniture that won't make our garden looks uncomfortable. However, this time we will give you some recommendations.
Industrial Metal Single Sofa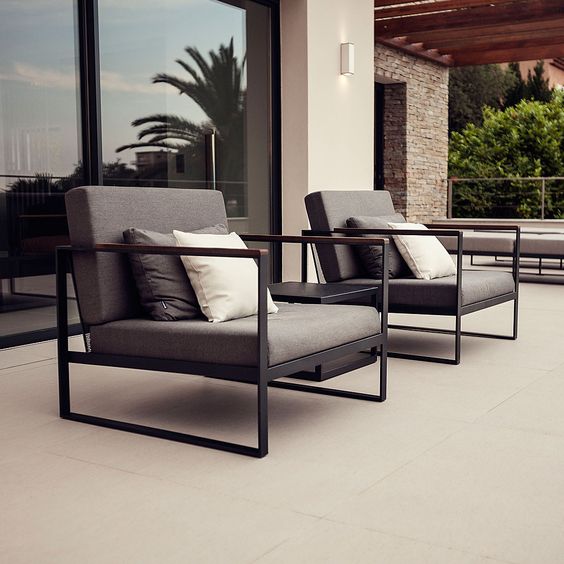 Metal single sofa with a light grey cushion is preferred to be added to our backyard if we have a terrace. We can combine it with beige ceramic tiles to create a harmonious accent in furniture selection. Besides it, we have to add industrial rectangle coffee tables if you want to have more spaces to add many things.
Industrial Rattan Chair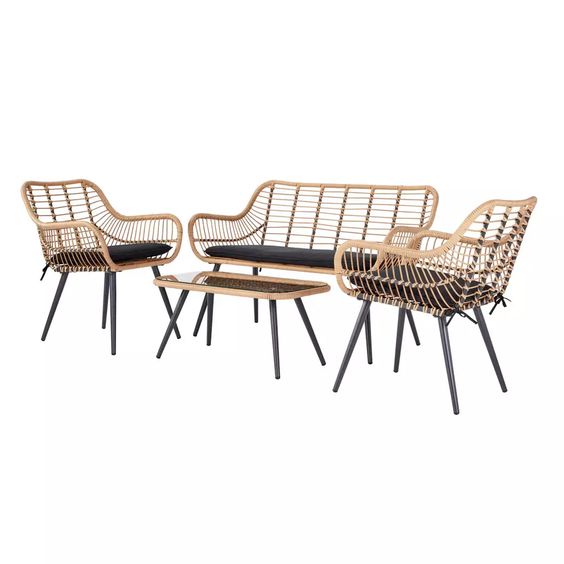 Rattan materials are water resistant that won't ruin even we add them outdoor so that's why it is a suitable industrial backyard theme. It has a natural impression and also has neutral colors that will be able to be suitable to be combined monochrome concept.
Industrial Big Sofa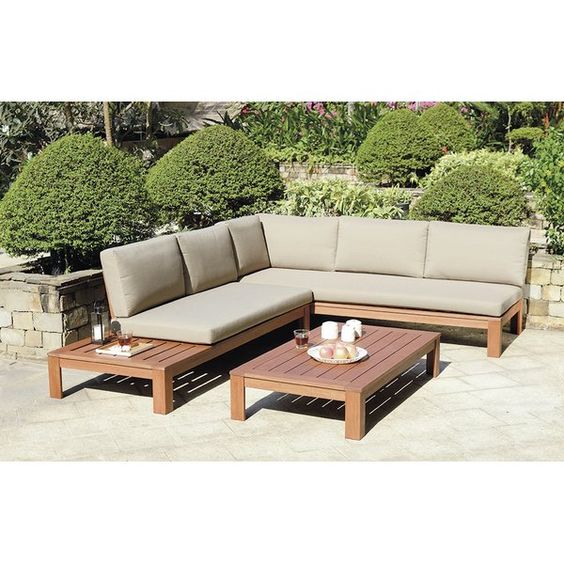 Adding a big sofa is the best furniture recommendation that should be chosen for everyone who has a big family in their home. It can make us spending time with many people at the same time without feeling narrow while sitting. The sofa is also preferred to be used in the Scandinavian industrial home office.
Blue Plastic Industrial Furniture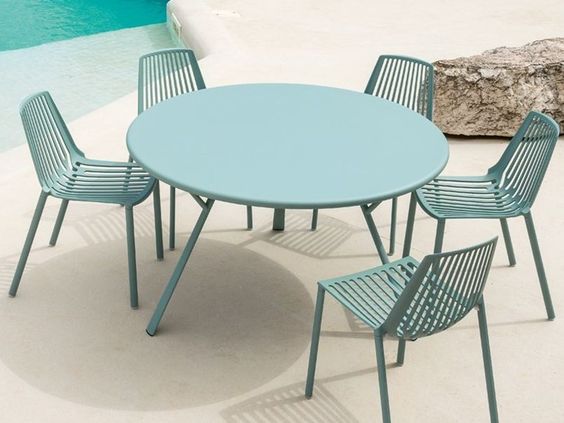 Plastic materials are the best type that we can add for our backyard because it is waterproof and strong from weather change. It also has many bright colors that we can choose as long as it is related to the concept.
Industrial Outdoor Plant Pot Recommendations
A backyard without a lawn can make us feel complicated because we can't grow some plants to beautify it. This time, we will give you a solution by giving some plant pot recommendations for an industrial design.
Metal Industrial Hanging Pot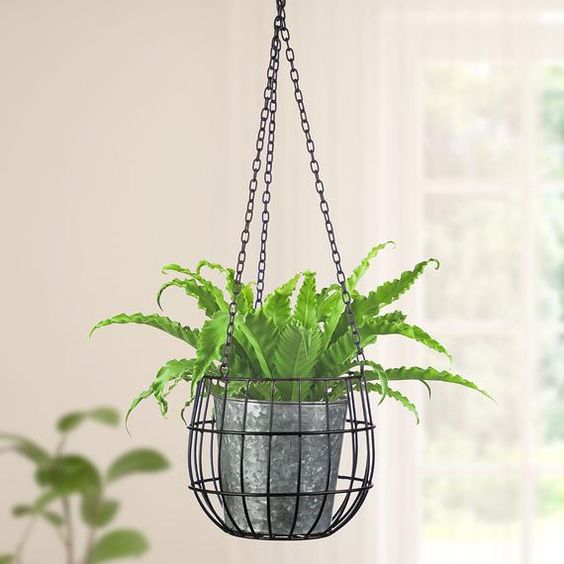 Metal materials have stunning black color and also are often used in an industrial backyard design. For people who have a small space, it is suitable because can save our space but still beautifying our home exterior.
Industrial Plant Pot Stands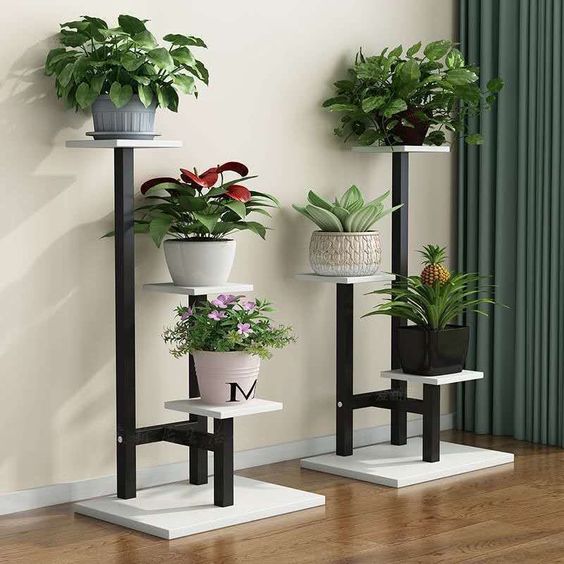 Beautifying a home exterior is a must for people who love gardening in their houses. We have to choose the right furniture and decorations to prevent making an ugly impression. However, a pot is one of the things that can create beautiful exterior designs. Besides it, we recommend using a standing outdoor plant pot to make a backyard have more space.
Shiny Gold Outdoor Plant Pot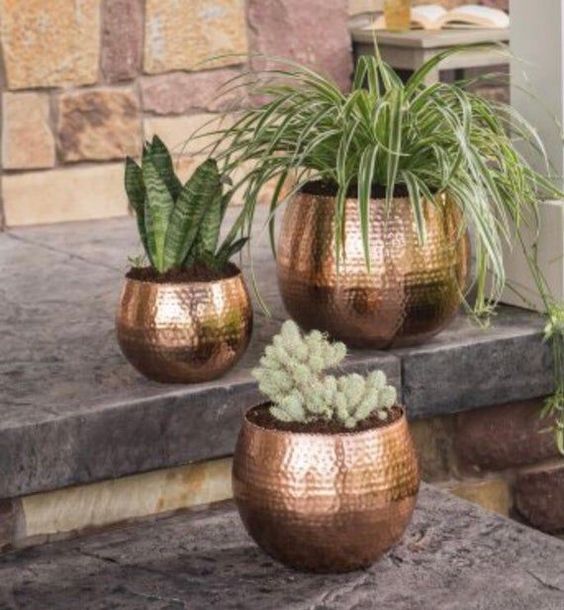 Shiny gold outdoor plant pots look luxurious and balance with industrial color palettes. It is also preferred to be added in an industrial kitchen because of having suitable shapes and designs for an interior or exterior.
Light Grey Stone Outdoor Plant Pot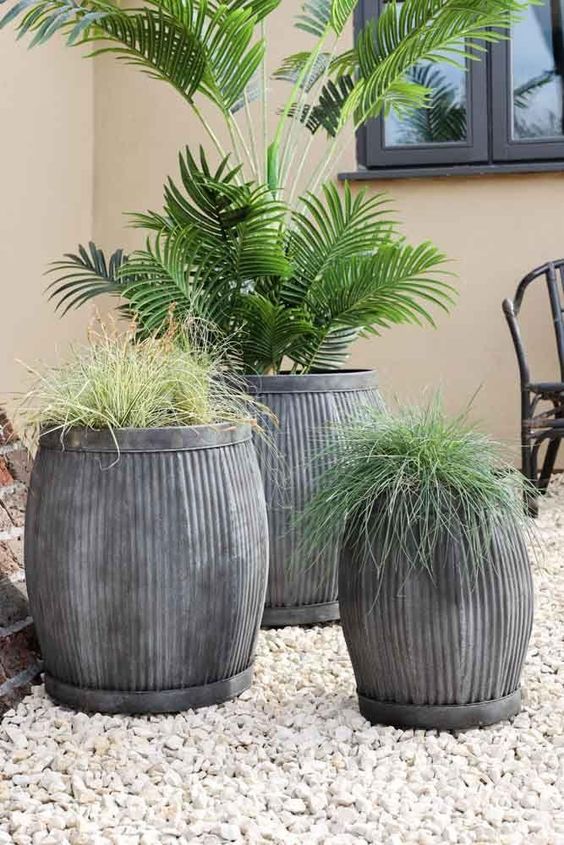 A natural accent in our backyard can be applied by adding a light grey stone plant pot. We can grow anything that we want as long as the plant has enough size for it. The pot type is suitable for you who are looking for simple but unique outdoor pot recommendations.
Conclusion
Industrial design for a backyard is our recommendation because it is easy to be applied and has a simple impression that doesn't need complicated furniture or decorations. We have to choose the best garden furniture recommendations for an industrial design. Outdoor plant pot recommendations from us are necessary to be chosen. We should pay attention to our backyard because it is one of the important spaces in our home exterior. If you have other ideas, recommendations, tips, etc, you can write for us and share your brilliant article!