Nexthomegeneration.com – Interior design combination is popular in this day because it has the beauty of two styles at the same time. This one has some common trends, neutral tones, beautiful mixed texture, and good functionality. This combination calls as "scandi-industrial" that is so popular and many people apply it in their houses. It appreciates the beauty of natural and raw materials without using ornamental things. We have to decorate our eating space because it is an important room that is often used for eating with family, friends, or business colleagues. A Scandinavian industrial combination for a dining room is our recommendation for your home.
Design combinations can be created if we want to have a different look in our home. It can't look pretty if we don't add some dining table sets and a chandelier. Crystal materials will make it have an elegant and luxurious impression at the same time. It also creates a bright atmosphere that looks very beautiful because of having a warm light accent. An industrial dining table and crystal chandelier is the best recommendation to be added in the Scandinavian industrial dining room combination style.
What Is A Scandinavian Design?
Scandinavian style is a prominent design that has influenced everything from architecture and interior design. It comes from in the early 20th century in Nordic countries such as Sweden, Denmark, Finland, Norway, and Iceland. During the 1950s, it became known around the world. The design is popular for its minimalism and functionality so it offers a considered solution for simple living.
How To Combine A Scandinavian With Industrial?
If we want to combine Scandinavian with industrial style, we have to blend designs in one room then it should have a dominant and supporting concept. A balanced mix will make our dining room have a beautiful combination. Both of them are related to each other so it is easy to be combined and applied to our room. The example of this design combination has a Scandinavian style in the furniture selection. Industrial themed is applied in a wall design, paint color, and decorations.
Scandinavian Industrial Dining Room Interior Design
Scandinavian design is known for its warmth, functionality, clean lines, and simple elegance. It also has natural, simple minimalism, neutral tones, and white walls that make it looks very simple but beautiful at the same time. An industrial style is also known as "the warehouse look" is from old factories that turned into loft dwellings. It mixed materials textured such as wood, metal, and concrete so it will create an unfinished look. If we apply a Scandinavian industrial interior design combination for the room, we can have a beautiful impression. This time, we will give you some dining room ideas that we guarantee you will be amazed if applying them.
Simple Scandinavian Industrial Dining Room Design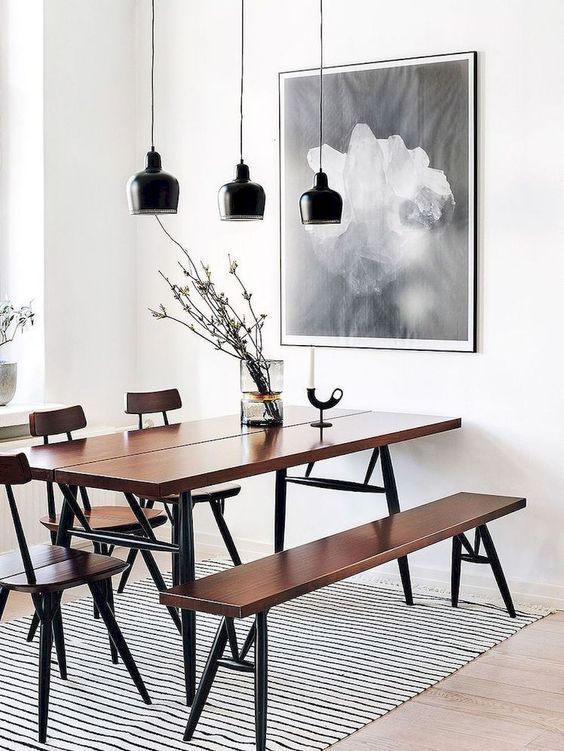 By adding a blue and white stripes pattern give us a cheerful impression that will blend with dark furniture that we will add later. A brown dining table set is preferred to be added to create a simple and natural accent at the same time. To make it feel bright, we can install some industrial black pendant lamps styles. To make a perfect Scandinavian industrial combination, we have to add a monochrome picture that can be attached to the wall. A dining room style combination is the best choice to be applied because of having a relaxing impression and makes it look different from other concepts.
Wall Textured In The Style Combination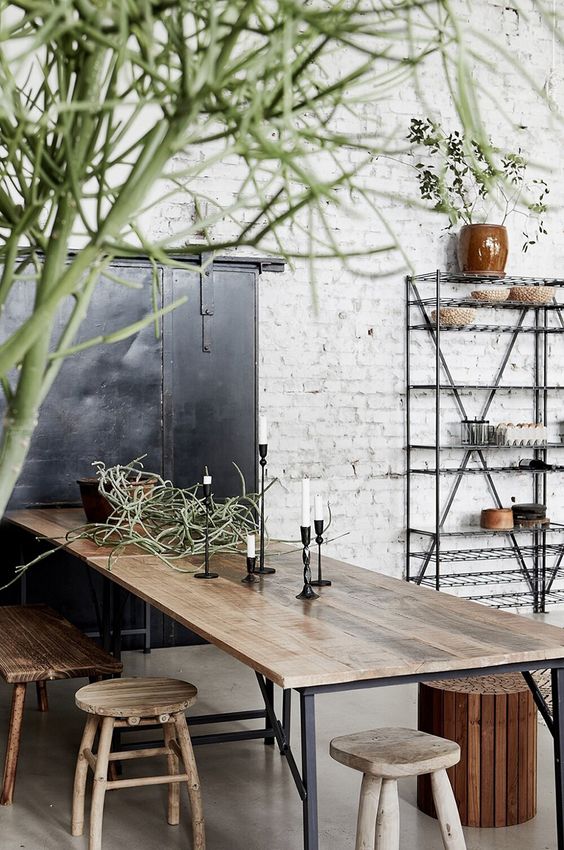 For those of you who want to apply a unique impression in their dining rooms, a white wall textured can be applied. It doesn't need many decorations because of having a beautiful natural impression. A black metal shelf material can be added as a space to replace something that we want to save. We have to choose a light brown wooden dining table with dining bar chairs type to create a strong industrial style.
Elegant Scandinavian Industrial Dining Room Combination Style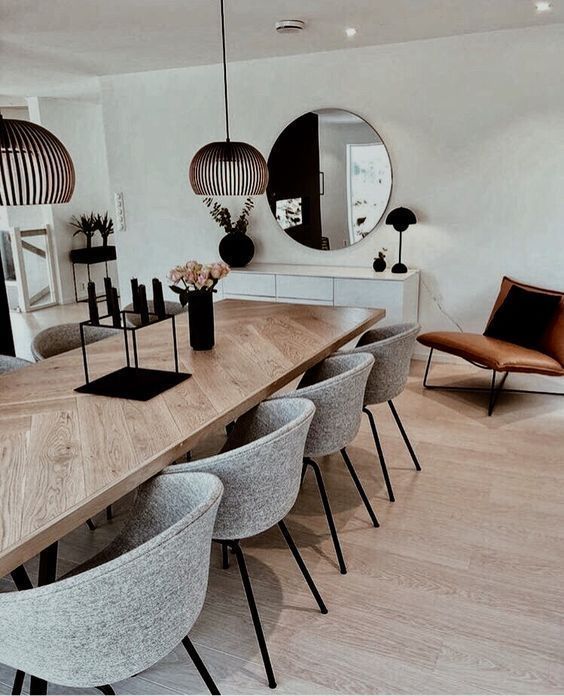 Applying wooden vinyl tiles is the best recommendation from us to create a beautiful Scandinavian industrial design. An elegant impression can also be created by adding some light grey soft dining chair materials. It can be combined with a rectangular wooden dining table because an elegant dining room concept always has it in the furniture selection. Some industrial pendant lamps can be hung to make our dining table looks bright. If we want to add some decorations, a mirror round mirror can be attached to the wall. This concept is preferred for people who are looking for unique dining room design ideas.
Orange Wall Brick Wall In Scandinavian Industrial Combination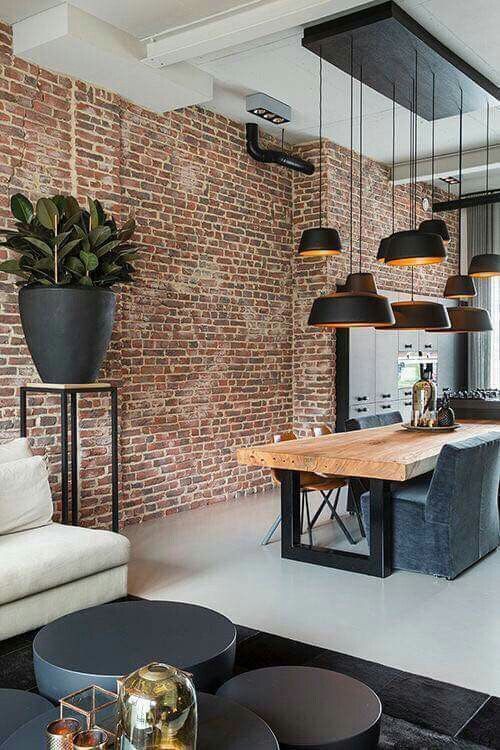 If we know industrial characteristics, a wall textured is one of them because of having an unfinished look. Some dark pendant lamps are also should be hung to make it feel bright and comfortable. Some furniture recommendations from us are dark blue sofas with a wooden dining table. It will create a strong industrial and Scandinavian accent. It also makes the dining room looks elegant and won't look monotonous.
Neutral Color Scandinavian Industrial Concept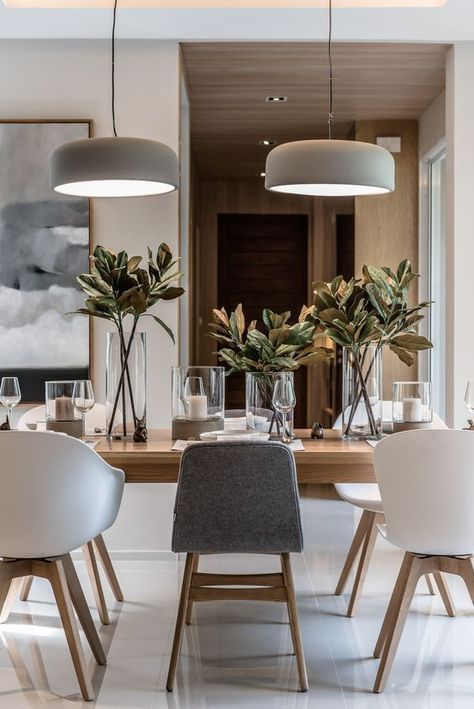 Do you know neutral colors? It is a basic type that can be combined with others and have a warm look. If we apply a Scandinavian industrial concept, we will often use them to create a perfect style combination for a dining room. Some Eames dining chairs with different colors can create a beautiful look. To liven up the atmosphere, we can add plants on the vases as decorations.
Industrial Dining Table Recommendations
The main character in a dining room interior design is a dining table set. We have to adjust to the style that we will apply to prevent ruining our concept. Dining table recommendations from us can help you to choose the best and suitable type that can be added to the industrial room.
Industrial Round Wooden Dining Table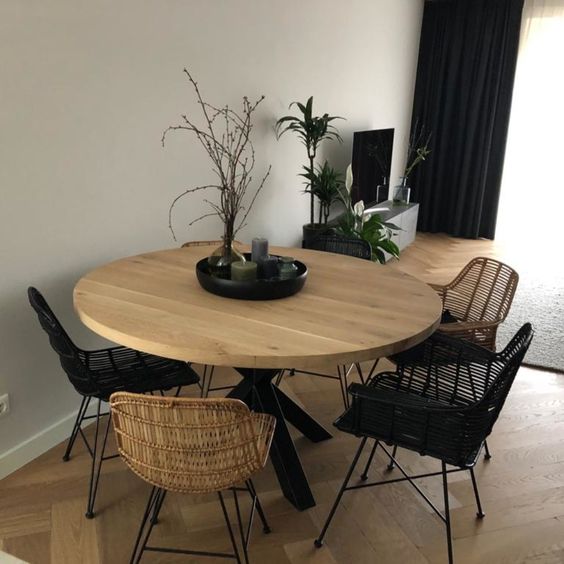 A wooden material has a neutral impression with beautiful color that will be suitable to be added in the industrial dining room. To create a strong design accent, we have to combine it with some rattan dining chairs because of having a comfortable design.
High Wooden Dining Table Recommendation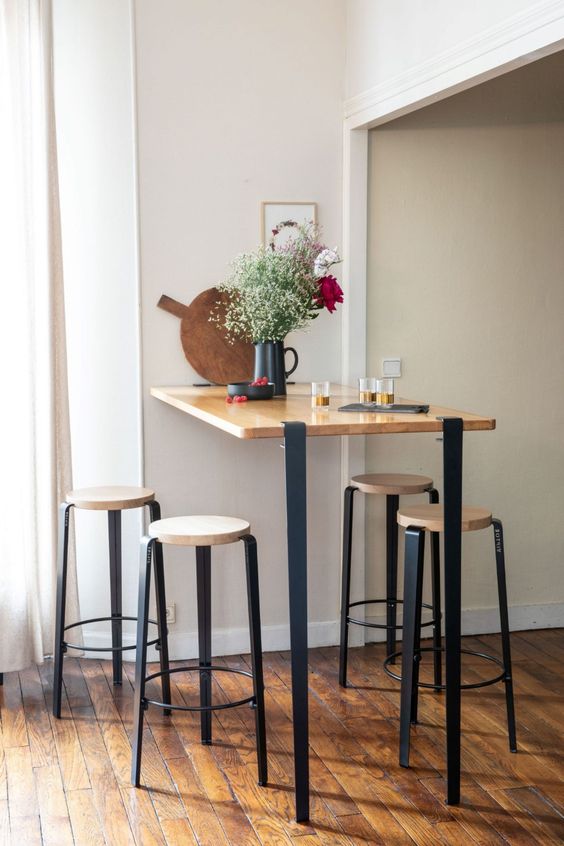 For those of you who want to have a unique style of dining table, we recommend adding a high design that can be combined with bar dining chairs style. Black and light brown are should be chosen to make a suitable combination with our industrial design.
A Wooden Dining Table With Dining Bench Industrial Style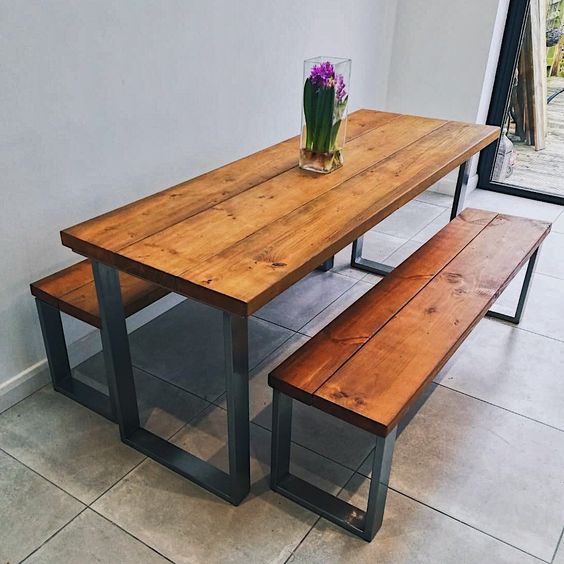 A wooden dining table looks very natural because it has a natural color from wooden materials. We have to choose a rectangular shape if we want to have an industrial style in our dining room. It is suitable to be added together with two dining benches to make it look unique and beautiful at the same time.
Industrial Crystal Chandelier Recommendations
A crystal chandelier for your industrial dining room is the best type that we should choose to create a bright and beautiful impression at the same time. Chandelier recommendations from us will have an industrial style to create a suitable look for your home interior design.
Luxurious Crystal Chandelier Style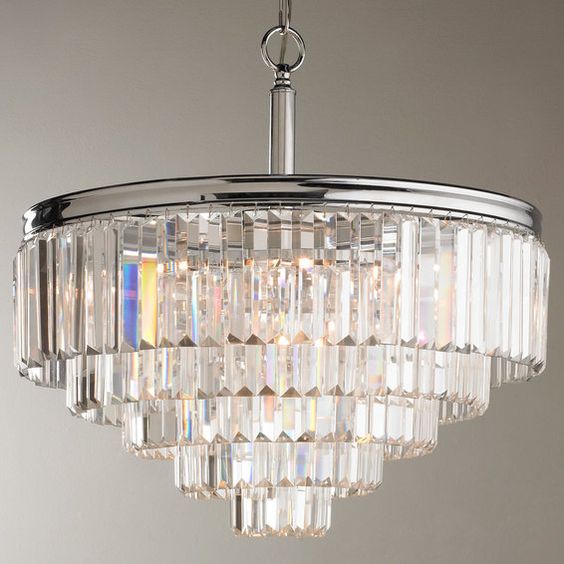 We can get a luxurious style by installing this chandelier in our dining room. It has beautiful light reflection and creates an elegant impression at the same time. An industrial chandelier doesn't have dark colors and we can make a combination by adding some bright colors decoration or furniture. It is suitable to be installed in the small industrial living room because of having a suitable style and shape.
Metal Black Crystal Chandelier Style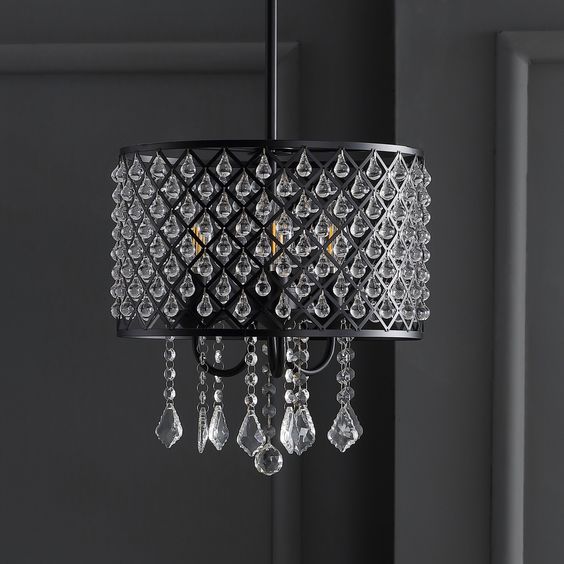 Dark colors are the perfect concept for people who want to apply an industrial design. We recommend installing a black metal crystal chandelier for an industrial dining room because of having a suitable shape and design that will create a stunning impression.
Black Crystal Industrial Chandelier Design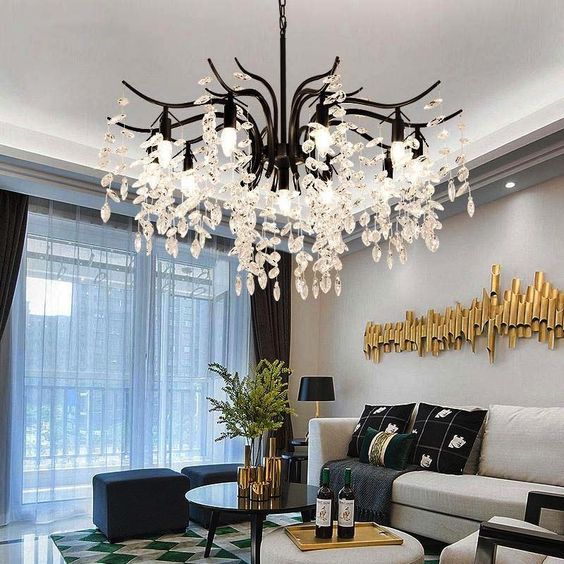 A black crystal chandelier design has an elegant look and is unique at the same time. The shape looks like a twig with beautiful white flowers. We can install it in our home to create a stunning impression. We have to make our industrial chic bedroom feel comfortable by installing it because of having a beautiful shape and light.
Conclusion
Scandinavian industrial dining room ideas are easy to apply as long as we pay attention to furniture and decoration selection. A color combination with a chandelier and dining table is necessary to choose because gives various effects to our interior display. If you have other ideas, recommendations, and tips about home design, you can write for us to share your brilliant content!