Nexthomegeneration.com – An industrial design refers to the artistic and design solution or handicraft production that determines the appearance of the product. It is provided with a legal design if it is original if its essential characteristics determine the creative nature of products. Significant features of the design are shape, configuration, ornament, and color combination. The industrial interior is defined by the architectural elements within a space. It has unfinished look and provides a casual look that creates a relaxing atmosphere. By keeping our room practical and uncluttered so it is welcoming and laidback. Recycled materials such as glass, iron, and aluminum are processed in such a way that they can be used as attractive interior elements in this industrial style.
For those of you who want to apply it, we can apply a white concept in an industrial design to create a beautiful impression. This color is always used and combined with minimalist interior style. Design combinations can make our home have a comfortable atmosphere and stunning look at the same time. Today, we will give you some tips to combine the design so it will prevent making a mistake while applying the style.
What Is Industrial Design?
When we think of industrial design, we might think of raw, unpretentious, and edgy. There are some restaurants that apply it to their building concept because it looks beautiful and suitable for all ages. However, it also can be applied in the small space to create a comfortable room atmosphere that will make us create a fascinating home interior design. In light of the industrial styles, this interior design is experimental by using wilder concepts and match the right concept.
History Of Industrial Design
In 1760-1840 the industrial revolution began in Britain that introduces a shift to powered special-purpose machinery, factories, and mass production. This design is a largely 20th-century phenomenon. The first designer who is often considered to be a German architect is Peter Behrens who was heavily influenced by the 19th-century English designer and Poet William Morris and by the art movement with who is Morris was closely associated.
Industrial Design Characteristic
An industrial style relies on incorporating building materials such as exposed rafters, reclaimed wood, iron, brick, and concrete. If we apply it, we should have an open floorplan like the factories which might we often see. We have to make a room that has a blend of clean straight lines and curved ages. The design can also flexibility to personalize an industrial style. It makes the style look allows for more personalization as far as decor goes. Today to help you to apply the industrial design, we will give you some characteristics that might make you feel easy to create a beautiful room decoration.
Color Palette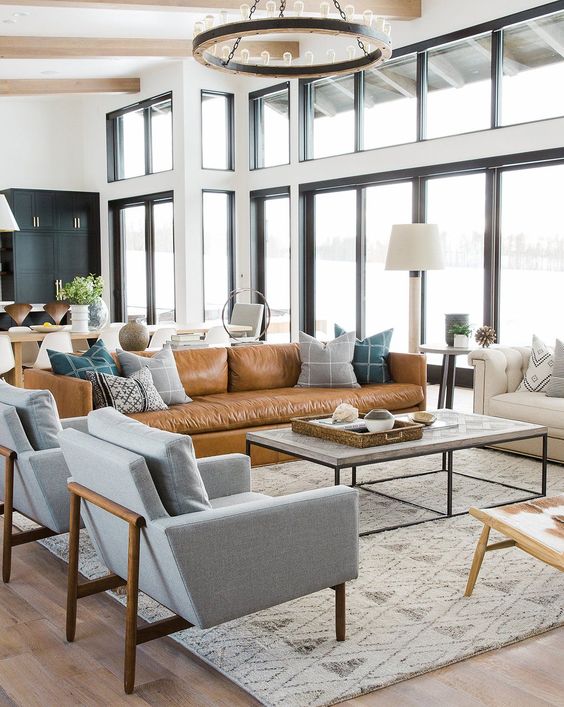 The main colors that we will be used for applying an industrial design are neutral colors or monochrome to create a stunning style. Grey tones with white or black are a design characteristic of an industrial room. If we want to make an improvisation, we can use accent colors though typically barely to be used. We have to add some bright accents to create an unmonotonous concept like beige or gold to create an aesthetic look. We recommend using iron, steel, chrome, copper, or brass finishes because it is preferred for this style.
Decorations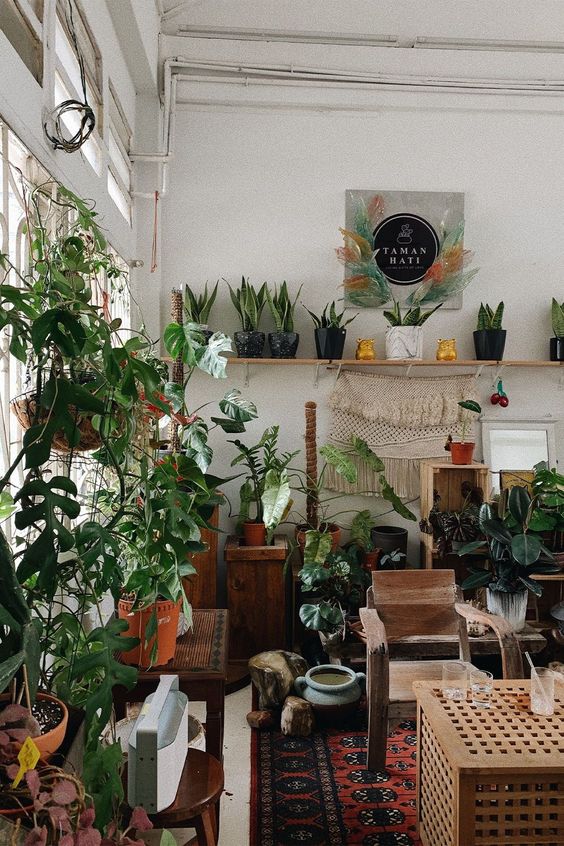 Beautifying our industrial home by adding some plants as decorations will make your atmosphere feel fun and won't look monotonous. Furniture materials also give many effects to our room impression because it is necessary elements that should be our attention. Wood, iron, or steel is preferred to be used in the design. A coffee table with caster, old metal locker, and wire basket is our recommendation that you can choose as long as it is related to our concept. If we want to add a lamp and make our wall looks fascinating, a vintage photo frame with a floor lamp is the best thing that can be added.
White Minimalist Industrial Room Decoration
A characteristic of industrial design that is suitable for your white minimalist room decoration is the best combination that can be applied. The color can also create a beautiful impression and won't ruin our concept. A simple accent from minimalist style and stunning look that brings from an industrial design will create a gorgeous home interior concept. It is a perfect combination that is very popular in this day. This time, we will give you some ideas that might help you to make a beautiful home.
White Minimalist Industrial Dining Room Decoration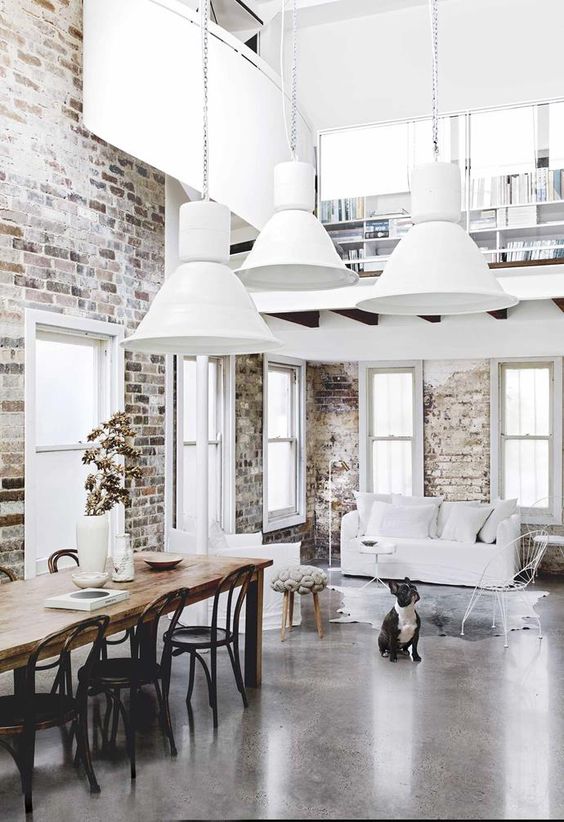 Installing some white pendant lamps can create beautiful lighting and make our dining room have a stunning impression. We should paint our wall by using a white color painting to make a minimalist concept. Don't forget to add a sofa to make it look harmonious in furniture selection. A wooden dining table set is very suitable to be added in the minimalist industrial room decoration because of having a natural style. Brick can be installed to make a wall in our home. It gives a unique texture and creates a strong industrial style at the same time.
White Minimalist Industrial Living Room Decoration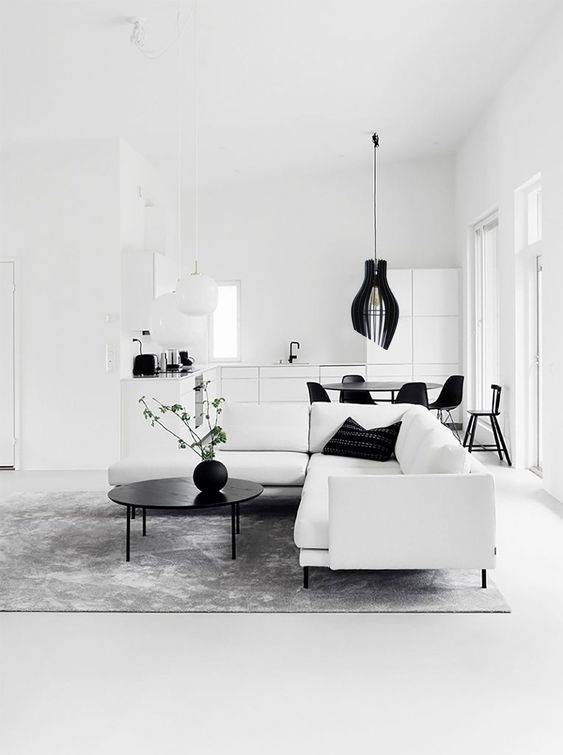 White and black are beautiful to be added in one room like in the picture above. Adding white sofas and combine them with a black round table can create a stunning look of monochrome accent. If we want to add a beautiful carpet, a light grey color is suitable to make them look harmonious to each other. We can add nothing to the wall if we want to create a strong minimalist accent on our room design combination. However, if we want to have a unique impression, we can add a white decoration like pictures or ornamental plants.
White Elegant Minimalist Industrial Decoration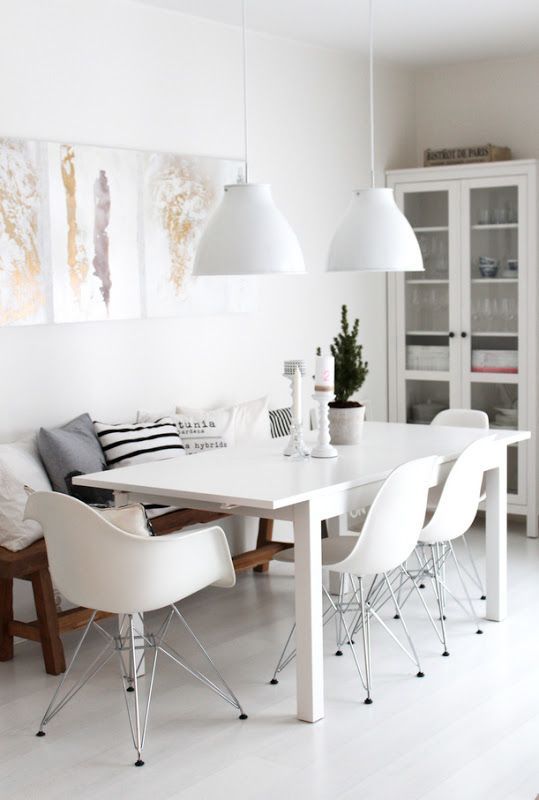 Applying a white laminated flooring tile can give an elegant look to our white minimalist industrial home design. White dining chairs with a sofa can be combined and added to one room to make a unique living room. Two pendant lamps should be installed to make it feel bright at the night and don't forget to attach some pictures to the wall. Industrial characteristics have a bright color as decorations so that's why we have to choose beige, gold, or yellow color picture. A white cupboard can be added to our room to replace glass or plate.
White Aesthetic Minimalist Industrial Bedroom Style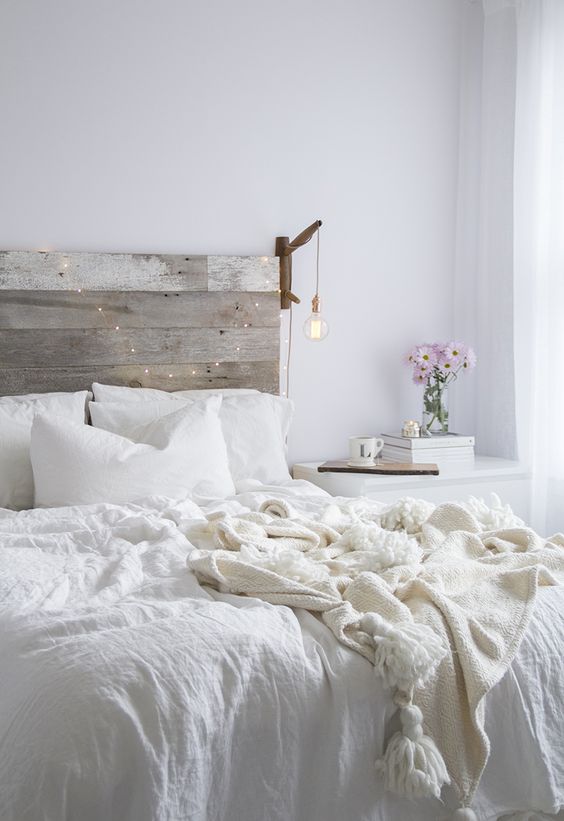 A white minimalist industrial bedroom style creates an aesthetic accent if we apply it to the bedroom. We can add a white bed cover and beige blanket to make it look harmonious in color selection. A fairy light can be installed to create a bright atmosphere so it will be fascinating because it has warm lighting. We have to add a white side table with a flower on it to give a colorful accent and make it won't look monotonous.
Tips To Combine Minimalist And Industrial Design
Combining bright and dark colors with a minimalist accent to make it look aesthetic but still have an industrial concept.
Furniture style in the minimalist and industrial design combination should have a sleek, clean, and comfortable concept.
Adding some plants and metal materials in the chandelier, chairs, or tables usage can create an unmonotonous look.
We have to create an elegant and sophisticated look in our room decoration.
A unique look should be made by adding some vintage or monochrome picture concept to the wall as decorations.
Conclusion
Applying industrial design for your white minimalist industrial room decoration is the best choice to create an aesthetic accent in our home design. We have to pay attention to furniture and design characteristics to prevent making a mistake while implementing the style. Don't forget to know some tips to combine them that will help you to create a comfortable room. If you have some tips, ideas, and recommendations, please write for us to share your amazing writing.