Nexthomegeneration.com – Designing a studio apartment requires creative and practical thinking. However, it might feel complicated for those of you who have a small space because we can't be free to decorate our room. We have to add a little bit of decoration to maximize our space. Choosing a suitable interior design can prevent making an ugly impression on our apartment.
Generally, an apartment always has a sofa and coffee table as furniture because of having many designs. There are many shapes, and colors that we can choose as long as it is related to the room concept. Today we will give you some apartment design ideas with Scandinavian industrial sofa and rectangle coffee table recommendations.
What Is Studio Apartment?
A studio apartment is a small home that has a room, living room, kitchen, dining room, and bathroom in one space. Some of it has a small size that doesn't have a living room so that's why there are many people add some sofas near a bed. Most people use it when they were students because the price is affordable.
The Difference Of Apartments And Studio Apartments
The difference is an apartment could have 1 bedroom separated from the living room and kitchen area where a studio apartment has a self-contained space. It merges in one space with a separate bathroom.
First of all, when you want to design your apartment you have to think about what you want to get from our home display. We can do everything as long as it is related to the concept that we will apply. For those of you who need a cozy apartment that will make you focus to study, it means we should apply a Scandinavian industrial design that has a beautiful shelf book with a study table. It is similar for you who want to have a comfortable working space. Scandinavian industrial for your studio apartment is the right choice because has a warm and pleasant atmosphere. Today we will give you some designs that will make your industrial Scandinavian apartment looks pretty.
Cozy White Studio Apartment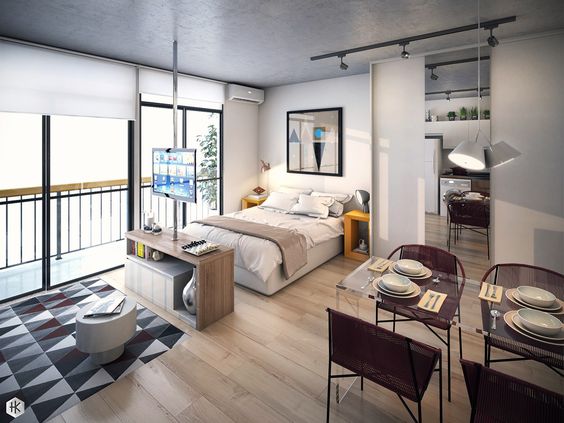 By applying white color for a wall and bed, we can have a cozy feeling. A wooden light brown laminated flooring is the best choice to create a natural impression of Scandinavian design. A Black and light grey carpet and metal dining table set should be added to create an industrial accent. We can have a television by adding it to the wooden table or hang it to the wall or anything that we want to hang. It is important to know industrial design characteristics to create a perfect interior style.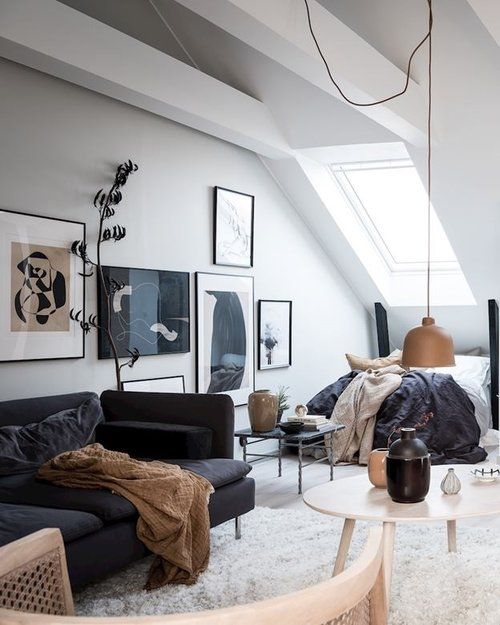 Adding a white fluffy carpet can give a cozy feeling to our studio apartment. If we want to have a Scandinavian industrial design, we should add a black sofa and round wooden table because it is perfect to be added in one space. Some aesthetic pictures can be attached to the wall to make it won't look monotonous. Don't forget to cover our bed with a white bed cover as always to make us feel comfortable and complete it by adding a black blanket. It will make us have an elegant living room and bedroom design at the same time.
Light Brown And Grey Combination Studio Apartment Concept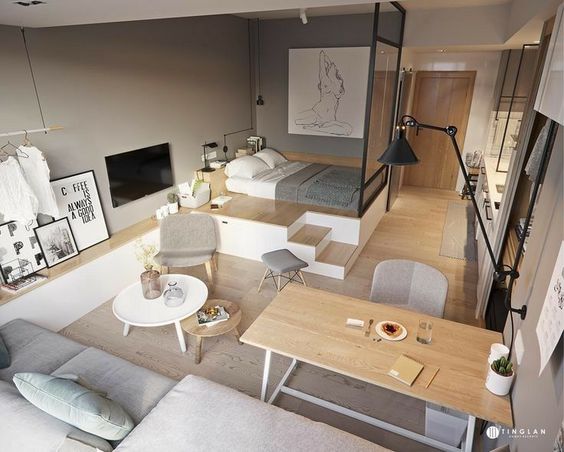 A light brown and grey combination is the perfect look that we can apply in the Scandinavian industrial apartment design. We can add some light grey sofas then use a light brown wooden table to create a beautiful look. A white picture can be attached to the grey wall that will make it have an aesthetic impression. Even though we will have a kitchen near a bed. We can still have a beautiful look by applying the right design.
Metal Black Furniture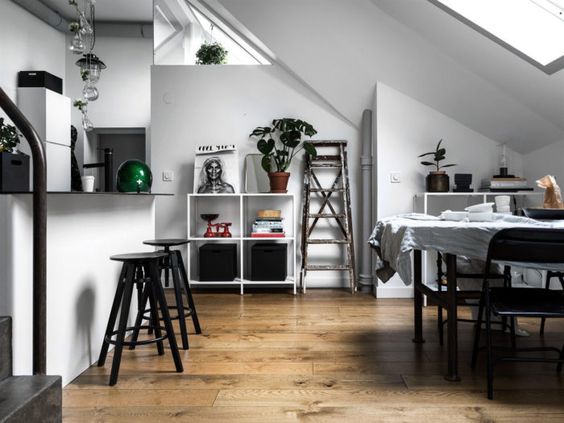 Metal materials are always found in the industrial apartment theme to create a strong accent. We could add some black dining chairs to create a comfortable feel. Some shabby decorations are suitable to be added to give a Scandinavian design to our apartment-style. The material is also preferred if we want to use it in the chic bedroom style.
Stunning Convenient Studio Apartment Style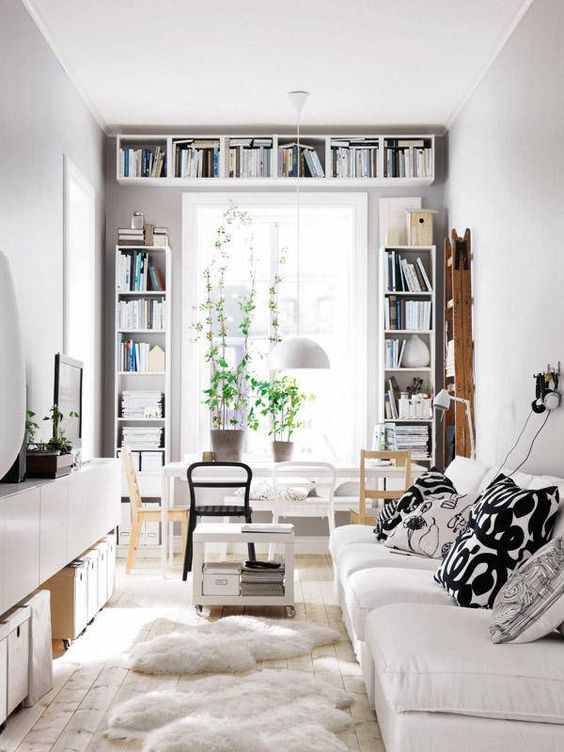 To save our space in the apartment, we should make a shelf on the wall where we could replace something that we want to save. It also makes a neat impression that will not create a crowded impression. A Scandinavian industrial dining room can be applied by adding a white table set near the bookshelf to create a cozy theme.
A Scandinavian and industrial sofa style is a must item for people who want to have a living room in their studio apartments. We should choose the right type, color, material, and design to prevent ruining our style. This time we will give you some recommendations to help you have a cozy living.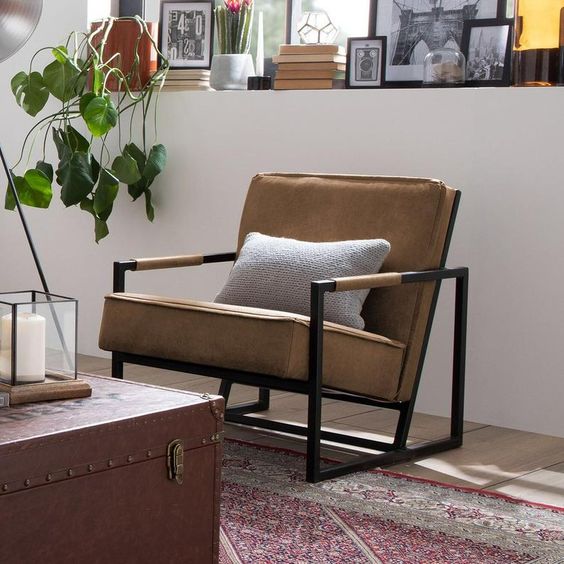 We certainly know that a studio apartment has a small size than a basic type so we have to choose a single sofa to save our space. Brown colors are suitable for a Scandinavian industrial apartment-style because of having a design characteristic.
White Simple Sofa For A Studio Apartment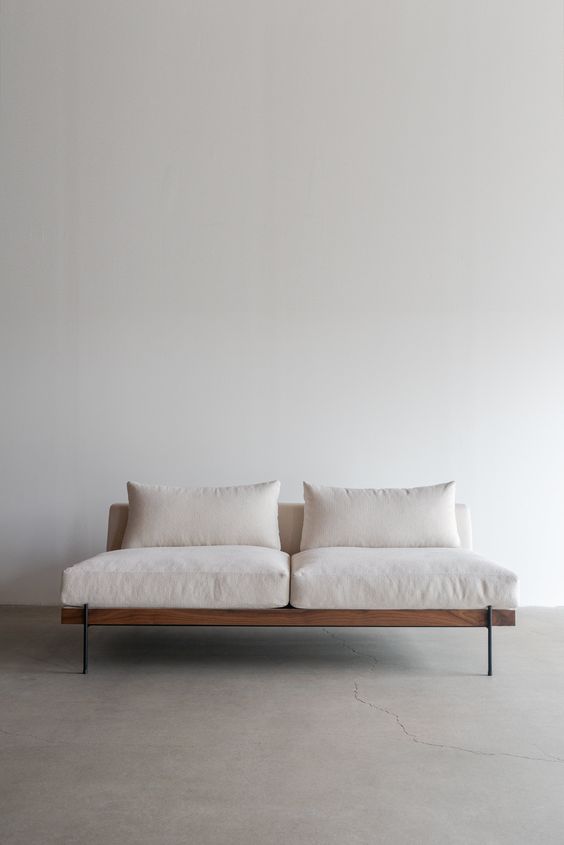 A white simple sofa is preferred for us who want to apply a Scandinavian industrial apartment concept. It has enough size for studio apartment type. Choosing the right colors will create a beautiful design.
Dark Grey Soft Sofa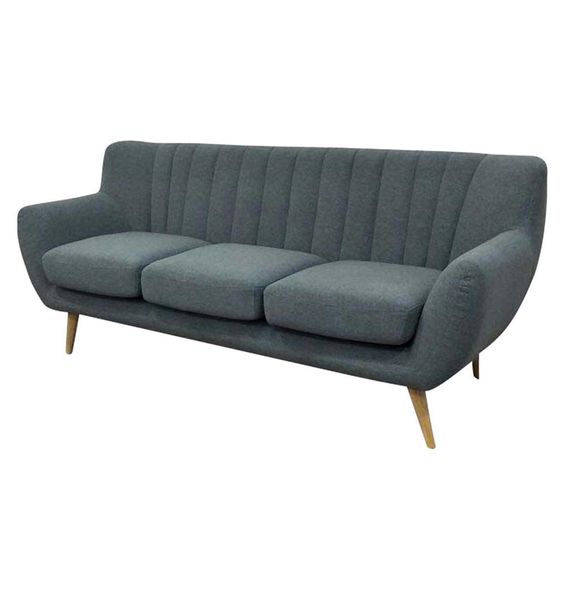 Soft materials are important to choose because we can't feel comfortable if it has a hard texture. We recommend choosing a dark grey sofa because of having an elegant look. A Scandinavian industrial sofa theme is beautiful and has a unique look that makes it is different from others.
There are many coffee table designs, shapes, and colors that we can choose as long as it is suitable for our design. This time we recommend choosing a Scandinavian industrial coffee table in rectangle shape. We will also give some recommendations that will be suitable for an apartment or home.
Black Metal Rectangle Coffee Table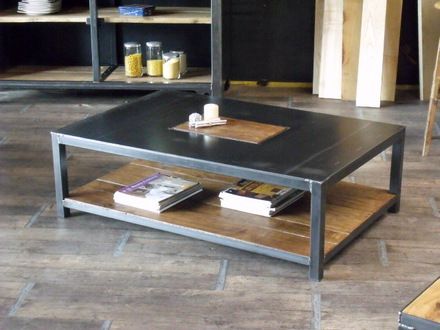 Scandinavian industrial studio apartment theme is preferred if have a black metal rectangle coffee table because if having two designs characteristics. It has enough size to replace anything that we want while spending time or enjoy a cup of tea at the night.
Metal Glass Rectangle Coffee Table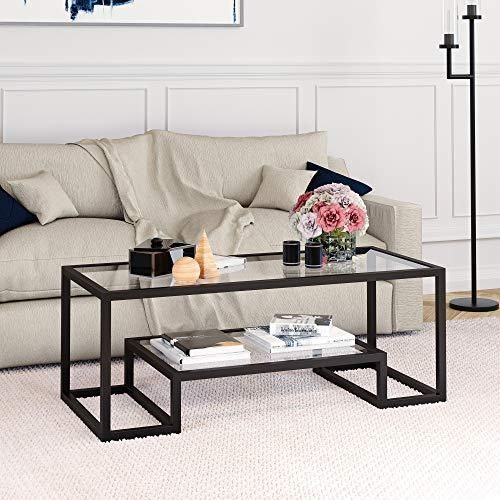 A rectangle coffee table recommendations are necessary to know to make our apartment have the best quality of furniture selection. A glass coffee table gives an elegant accent to our home because of having a pretty impression.
Conclusion
A Scandinavian industrial concept for a studio apartment design is a perfect choice that can be applied. It is easy to be implemented and will have a gorgeous look if we add some sofas and rectangle sofas. We have to pay attention to furniture and decoration selection to prevent making an ugly interior design.