1. A glimpse of the interior bohemian apartment
Living in an apartment with a beautiful design seems to be one of the most popular choices besides the type of landed house. Apartments are a practical solution for comfortable yet effective living in modern urban society. Generally, they want to live in shopping apartments because of their strategic location and number of adequate facilities.
But to get maximum comfort, you can design an apartment with the most preferred interior design style. Personalizing the interior style according to your character and personality can provide many advantages. Then, one of the design styles with a unique and fresh appearance is the bohemian interior style. For that, we will review the bohemian style below.
2. Get to know the bohemian style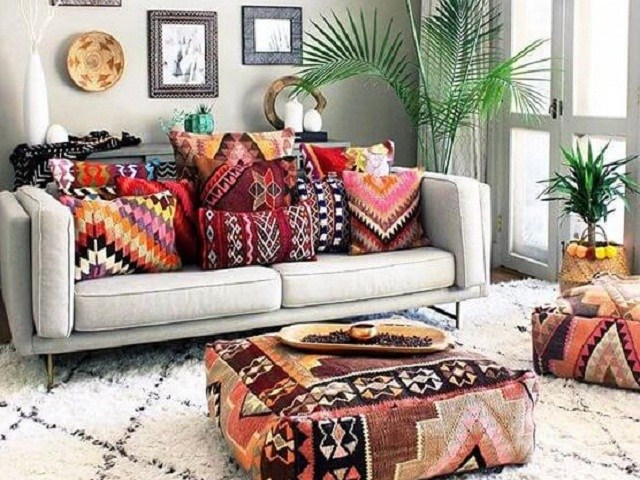 Bohemian, or what is known as boho, is a style that reflects a free personality, with the use of many patterns, colors, and motifs. Various motifs and patterns in this style are deliberately combined to appear to be bumping into each other, random and irregularly.
Even though it looks messy, bohemian still looks distinctive in its appearance, which is unique and eccentric. The uniqueness that is lively and lively bohemian turns out to be tinkered with to make it feel more minimalist. The trick is to present an eccentric accent.
As you know, there are some interesting and unique touches to this interior style so that it can attract a lot of attention for anyone who sees it. Here you can see some of the characteristics of the bohemian interior style. For that, let's follow our review below!
Minimalist bohemian apartment living room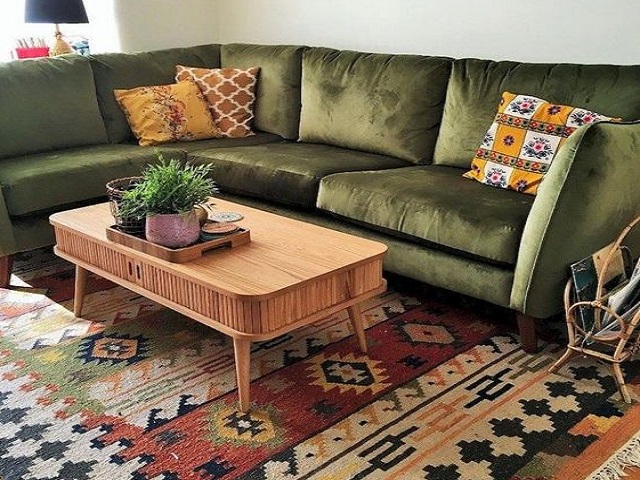 As you know, using of wood as a material and floor color can be an option for a minimalist bohemian apartment living room. The presence of a plain gray, green, or brown sofa is also the right choice. Therefore, use white or a neutral color for the walls, or use wallpaper or cloth motifs that are stretched over one part. In this way, you can get a typical boho accent in the living room of your tiny apartment.
Minimalist bohemian apartment dining room
Having a comfortable dining room can make your appetite increase. The easiest and most effective way to display a bohemian style in the living room is to present a patterned rug. Carpets can have magical powers to bring out the character of a room.
The boho motif carpet as the basis for the chairs and dining table is very interesting and unique. This thing can represent your eccentric personality as a fan of the boho style. In addition, present a wall decoration in the form of a painting or photo with a gold-colored wooden frame that looks vintage. Then, complete it with an old wooden dining table and wooden benches. That way your dining room design looks aesthetic.
Minimalist bohemian apartment kitchen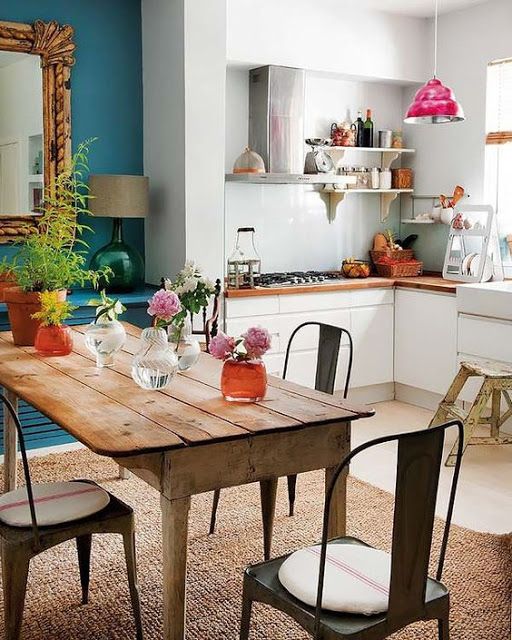 As previously discussed, the boho style is a design style that is very rich in the use of patterns, colors, and motifs but this needs to be a concern if you want to display a more minimalist bohemian impression, especially for kitchen spaces. To make it look thick with a bohemian design, this room has equipped with vintage wood tables, old-fashioned chairs, makeup mirrors, antique knick-knacks, and patterned rugs.
Then, to make it look attractive, you can choose vintage-style cooking utensils that have bright and vibrant colors. Even though it only displays colors on the furniture, this method is able to give a strong boho impression. If you don't want to use a variety of colors in your kitchen equipment, you can play with tiles. The use of patterned tiles or tiles can create a unique, bohemian, vintage impression.
Minimalist bohemian apartment bedroom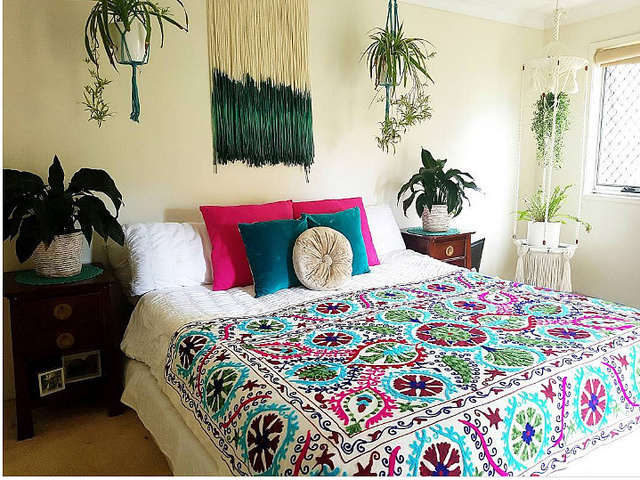 If you want to arrange a comfortable bed, choose white as the wall color for your bohemian apartment, then decorate it with various motifs on sheets or carpets. Boho-style motifs can also be presented on blankets, pillows, and motifs that you use as wall hangings.
It is important for you to remember, to avoid combinations of no more than three colors and motifs that are not too complicated. This is done so the boho impression that will be presented is not too dominant and is still able to display a minimalist atmosphere. With this arrangement, your bedroom design will feel comfortable. Then, make your sleep sound.
Artistic design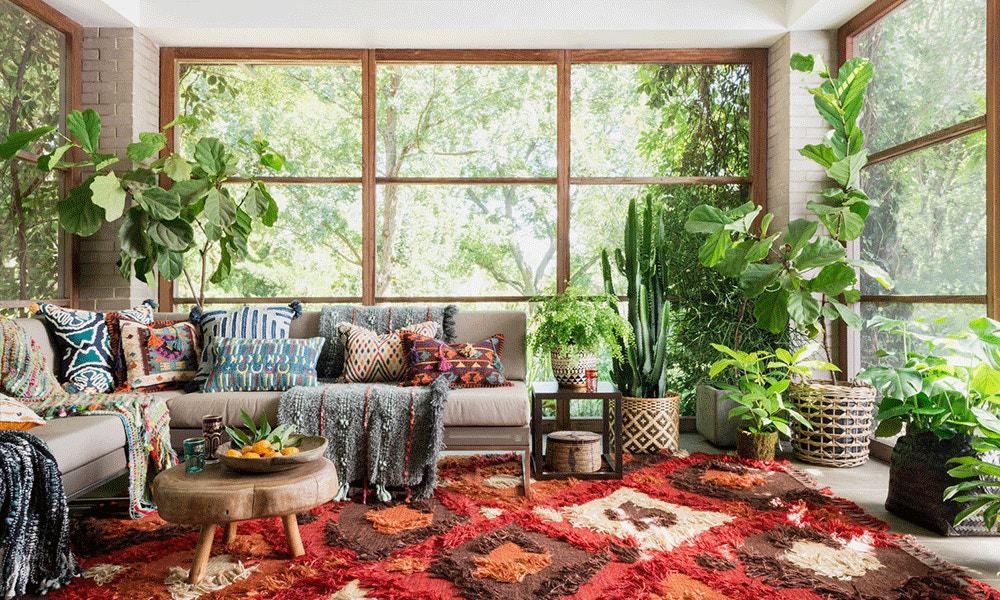 You still remember the antique and unique bohemian interior style. This style is still very rarely known by most people. Especially for those of you who don't really follow the development of home interior design. This interior style makes the house look more unique and attractive. So, the house will have characteristics when compared to other interior styles.
If you want to use a bohemian interior style to be applied to your home. It is important for you to know more about this interior style because in its application it is not done just like that. You need to know what characterizes this interior style. So it can be combined with the concept of the house more easily. In addition, for those of you who are happy with colorful patterns, you can design your apartment living room in this style. Then, to look more attractive, you can combine it with a sofa set, sofa cushion, decorative plant, and patterned carpet. That way, your living room design will look aesthetic and artistic.
Lots of use of vintage items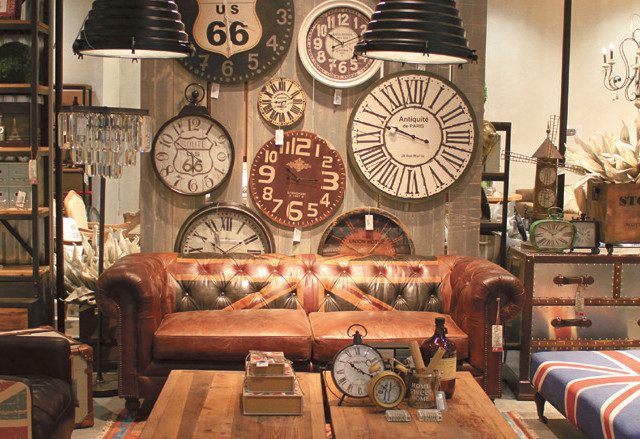 Bohemian furniture usually looks old or hasn't been used for a long time. This is what characterizes the use of furniture in the bohemian interior style. The furniture design that is more often used is the vintage style. Besides that, also the use of ethnic-style furniture, such as wall clocks, old wooden tables, old sofas, and antique knick-knacks is also often used to strengthen the atmosphere of a bohemian interior. One of them that is suitable for use is gothic furniture.
The use of vintage furniture also gives a unique and attractive appearance. From here the homeowner will feel the freedom to do various touches to the home concept with this interior style. Usually, this design uses lots of additional accents to provide a variety of colors and motifs so that the living room design looks prettier.
Design with printed and patterned fabrics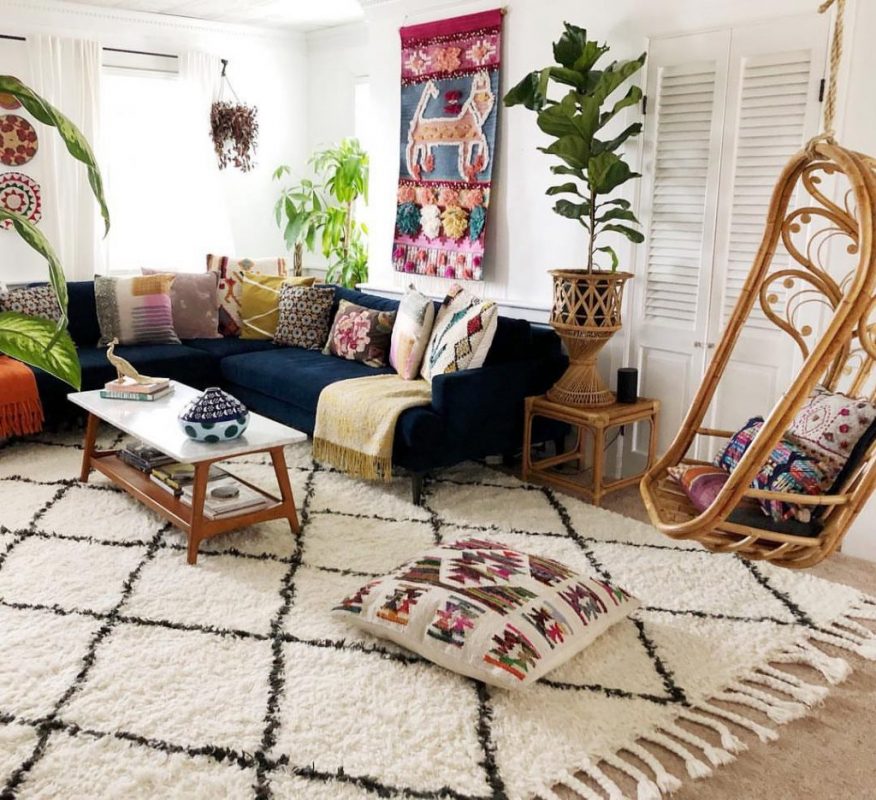 One characteristic that makes the bohemian interior style very different from other types of interior styles. Examine the use of furniture or other elements using patterned motifs. Usually often applied to pillows, carpets, curtains, chairs, and as an upholstery (cover). The motifs and patterns used usually have similarities, and what distinguishes them is only in the use of complementary accessories.
Even though this interior style is based on freedom, harmony or alignment is still considered because neatness is one of the important things to pay attention to. This is what makes the appearance of this interior style still look unique and attractive. In addition, the element of freedom in applying this interior style is not used carelessly. In this way, the living room design will look aesthetic.
Set good lighting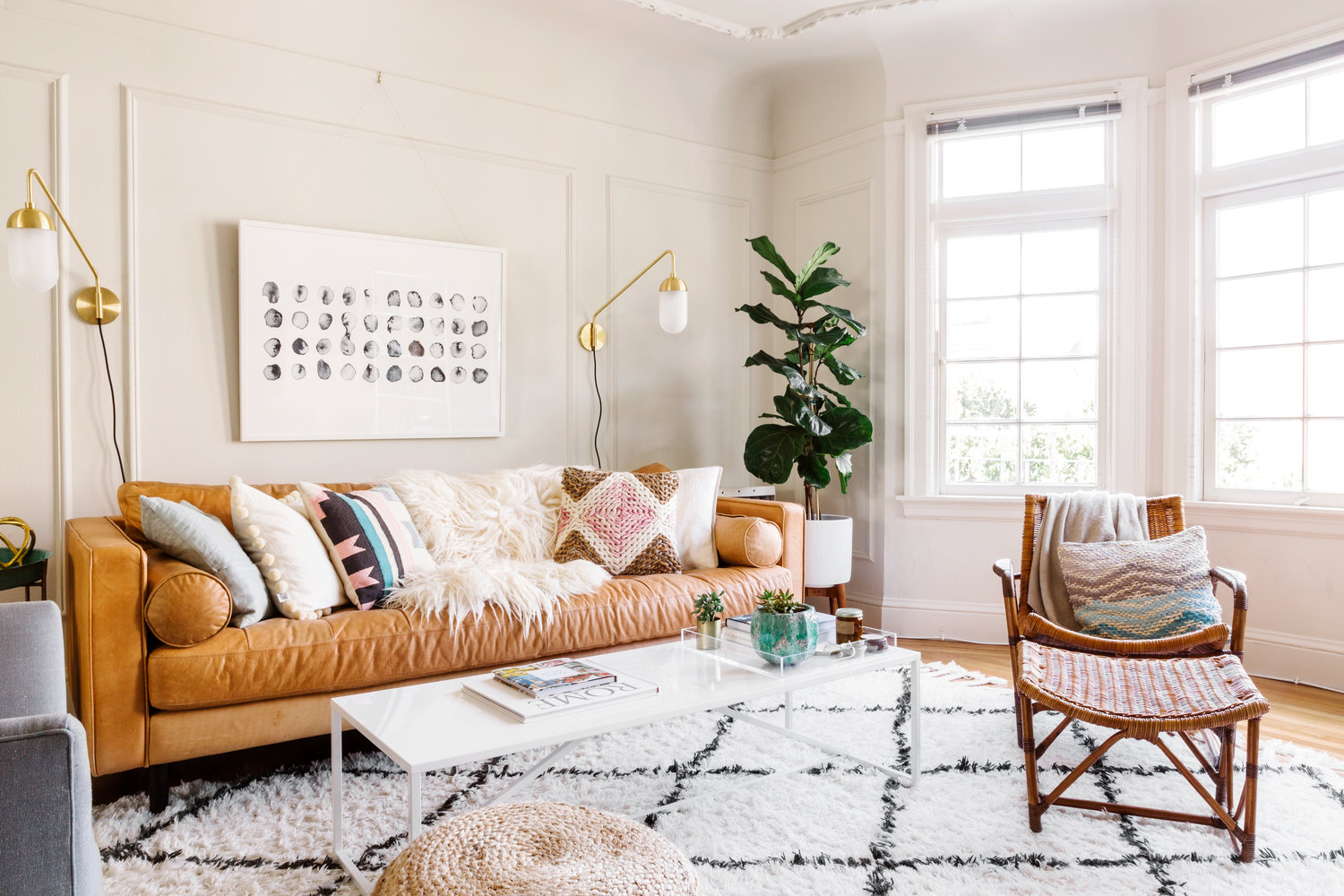 A beautiful living room is one that has sufficient lighting. The large window design is a means for sunlight to enter. As we know, the light in the bohemian-style interior is also well calculated to be able to provide a more unified atmosphere in the room. Light settings both coming from the sun and lamps are arranged in such a way as to be able to provide balanced and not excessive lighting.
The light that comes from outside can provide a more comfortable and healthy atmosphere. Because the contrast of the light has been set so that it's not too bright or dim so, the light in the house can blend well. In addition, the eyes will not feel sick quickly because the balance of light has been adjusted. Thus the design of your apartment living room will look beautiful and radiant.
Many use accessories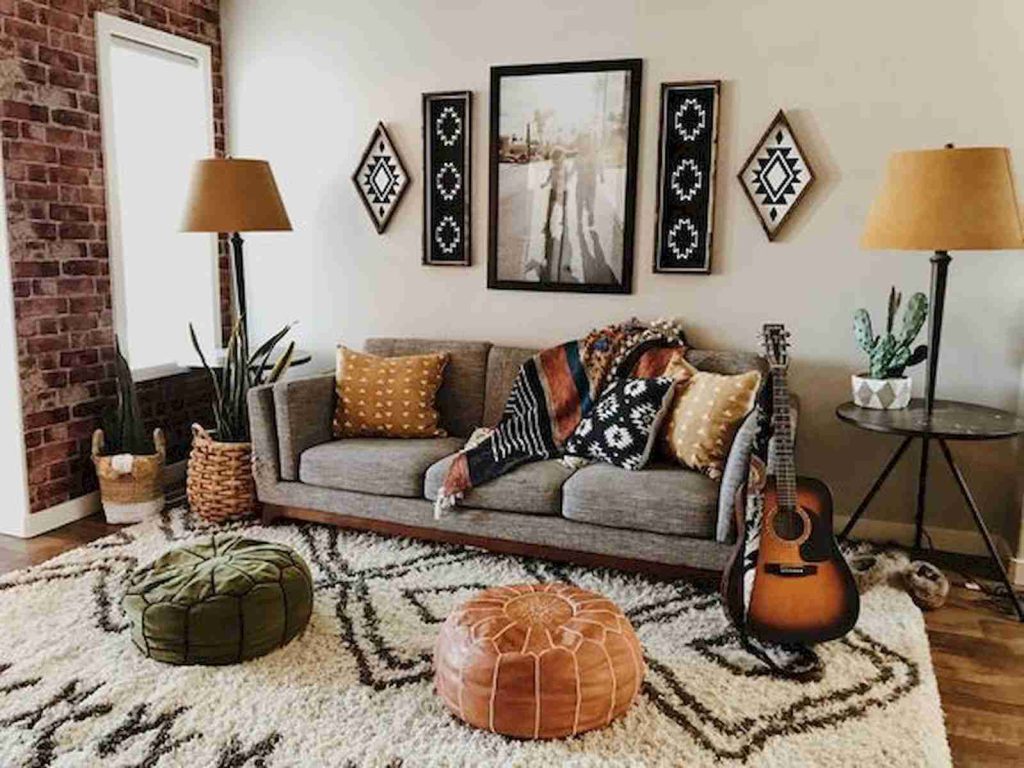 If you look at the bohemian interior style, it uses a lot of accessories as a complement to its characteristics. This is why this interior style is unique and attractive because of the many added touches. The use of accessories used is usually ethnic or ancient style. Accessories that are often used include wall hangings, plants, hanging wood, patterned carpets, jars, paintings, and so on.
The use of accessories is also not just used without consideration and adjustment to the concept of the house. So many useful accessories. But it can still look neat and there are no messy elements.
Design with green plants in the room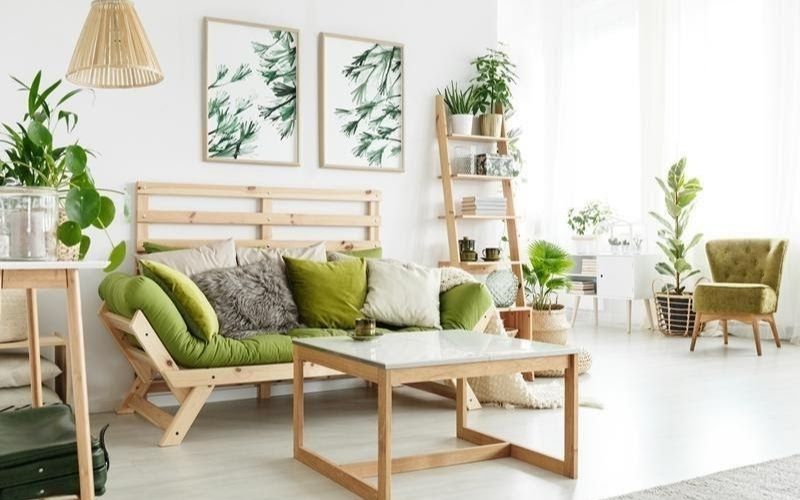 The hallmark of this bohemian design is the use of green plants indoors. The bohemian interior style is also famous for its touch of natural nuances. So this interior style uses green plants to bring a touch of nature. The number and size of green plants are also adjusted. So they remain proportional and blend with the design concept of the house.
With a design like the one above, a unique and attractive bohemian interior style can be used as the best interior choice for those of you who like the freedom to be creative. In addition, behind the element of freedom, there is also neatness that is also considered. To make your apartment look more attractive, mix it with a classic model wooden sofa and table. That way, your living room design will look more attractive and unique.
3. Conclusion
Those are some bohemian apartment interior design looks that we can recommend. Hopefully, various explanations of the information that has been submitted can be useful and useful for you. Then, make your home interior design look aesthetic, beautiful, attractive, and comfortable. Then make you and your family more cheerful. Happy decorating