Tired of the sweltering summer months and can't wait to jump head-first into the crisp cool air of fall? When the autumn season is right around the corner, get your house prepared and welcome in this leaf-peeping season. Just like the leaves turn, so should the decor and feeling of home. Not sure how to transform your space into a hibernation chamber as the nights get chilly? We've got you covered! Here are some design tips for getting your house cozy for fall.
Light Fall Scented Candles
Every season has its own unique scents, bringing back memories and more. So as you prepare a cozy house this fall, be sure to add a few candles here and there. Whether it's on the coffee table or the bathroom vanity, ignite a fall scented candle to bring the seasonal fragrances inside. Ignite an Apple candle to create the smell of hot apple cider and apple pie fresh from the oven. Prefer a scent that keeps on lasting throughout the day and welcomes you home? Try a fall-scented reed diffuser instead. Check out the Pumpkin diffuser, infused with spicy nutmeg and cinnamon, smoky tonka bean and, of course, pumpkin. It smells just like taking a meander through a pumpkin patch.
Besides their scent, candles also offer a warm glow when the days become shorter and nights grow longer. When daylight saving kicks in, light a candle on the coffee table and enjoy the ambiance in your living room as you curl up with a book or movie. 
Bring Out the Richer Treats and Drinks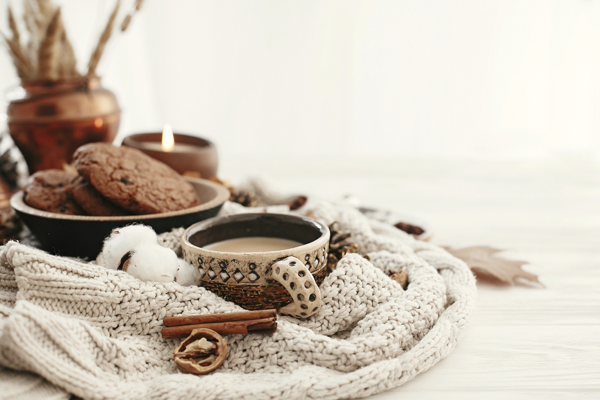 Instead of having a bowl of summertime stone fruits on the table or the white wine or rose to chill in the fridge, bring out the more decadent treats instead. Dark chocolate is a perfect example. You don't have to be a kid to enjoy treats around the Halloween season, after all. So in place of citrus oranges and fruit candies in the candy jar, swap them out with a box of chocolates. The same goes with drinks, too. While a chilled bottle of white wine or rose or some refreshing sweet tea was perfect for hotter months, break out the deeper reds like a good Cab Sav or Zinfandel or even the hot apple cider once fall rolls in. It's sure to warm the cockles of the heart.
Layer Up the Throws and Add Heavier Textiles
One of the easiest ways to get your home ready for fall is to bring in heavier textiles. Think boucle throw pillows and faux fur duvet covers. Keep a throw or two on your sofas and chairs to provide a way to keep warm and curl up with a good book or that aforementioned glass of red wine or hot apple cider. This way, when the temperatures begin to drop and the nights become chillier, you'll be ready to bundle up.
A straightforward way to transform your space for the autumnal season is to swap out the pillow cases. Instead of buying all new pillows with inserts that will take up your entire closet when not in use, buy just the cases. Another thing you can swap out is the bed sheets. Instead of covering the mattress in crisp white linen, make it something more like fleece or flannel to give you a good night's sleep.
Play with Fall Patterns
In textiles like the bed sheets and even the linen tablecloth, play with fall-inspired patterns. Leaves are an easy pattern to tie in for the fall season, but also consider more subtle things like large buffalo checks and plaids. Herringbone patterns never go out of style and add sophistication to pillows and more. Then, of course, there are always cheeky patterns you can play with if you love to go all out on Halloween. Think of moons, stars and even bats, cats or other creatures that come out at night.
Incorporate the Fall Colors
Take inspiration from nature and incorporate fall colors. Invite in rich, vibrant hues such as oranges and yellows, like the autumnal leaves you soon find on the ground. You can even add in a few deep plums and cheerful pinks, similar to the baskets of mums you begin to see about town and at the pumpkin patches. These rich fall colors are sure to get your home feeling nice and cozy as the season sets in, bringing the same color palette as the changing leaves.
Bring in the Fall Florals
Speaking of baskets of mums, don't forget to add a few around the front porch to make your home more inviting — especially for those Trick or Treaters at Halloween! When it comes to fall florals, look to nature a bit and think of crisp, dried leaves and stems. Consider adding a bouquet of dried flowers to a pitcher on your kitchen table or a front door wreath. There are all kinds of dried flowers that are perfect for fall decorating, such as yarrow, seed pods and pampas grass. Low-maintenance and easy to use year after year, bring them out each fall as the leaves begin to drop.
Add the Pumpkins and Gourds
Botanicals aren't the only thing you can add to your fall decor. Pumpkins and gourds deserve their own spotlight this season. Whether you have a family tradition of carving a jack-o'-lantern or not, a giant orange pumpkin makes a beautiful addition to your home's front door. Sprinkle in some white mini pumpkins or fairy pumpkins to change up the color palette, too.
There's more to fall gourds than just front-stoop pumpkins, too. Create a tablescape on your dining table, coffee table or even fireplace mantel with a few different shaped gourds. Think mini pumpkins again, along with butternut squash and acorn squash with its dark emerald green tops. You can even pepper in some seasonal fruits like deep red pears and bright green Granny Smith apples. Incorporate the fall florals throughout the tablescape, too, tying together the fall look.