Nexthomegeneration.com – Combining bohemian and industrial design in an apartment is good for people who want to make their space doesn't look monotonous. Bohemian style has a unique impression with a beautiful color combination that will create a different look. However, an industrial concept has many textures and a stunning color palette that has a rare accent so it is complicated to be found in others. Both have their own uniqueness that will create a stunning combination if we apply it to our apartment.
Generally, besides choosing furniture, we have to decorate our walls to prevent making them look monotonous. Even though we can beautify it by applying a color painting, we have to attach or create something that will make it have a plus point. That's why this time we will give you some wall decorating ideas for bohemian industrial apartment style.
What Is Bohemian Design?
Bohemian designs are defined by lack of structure opting instead for care fare layers pattern, texture, and colors. It is easy to be applied because it doesn't have hard and complicated rules like other designs. The main point that should be our attention is it has a personal and relaxed accent. This style doesn't for other people but is special for you so you have to decorate it as you want that is related to your taste.
Bohemian Design Characteristics
Before applying something to beautify our apartment, we have to know its characteristics in order to make a mistake while applying it. Layering eclectic patterns, different types of lighting, and saturated colors will help you to liven up the atmosphere. Now, we will give you some information about bohemian design characteristics that might help you to apply the style.
Colors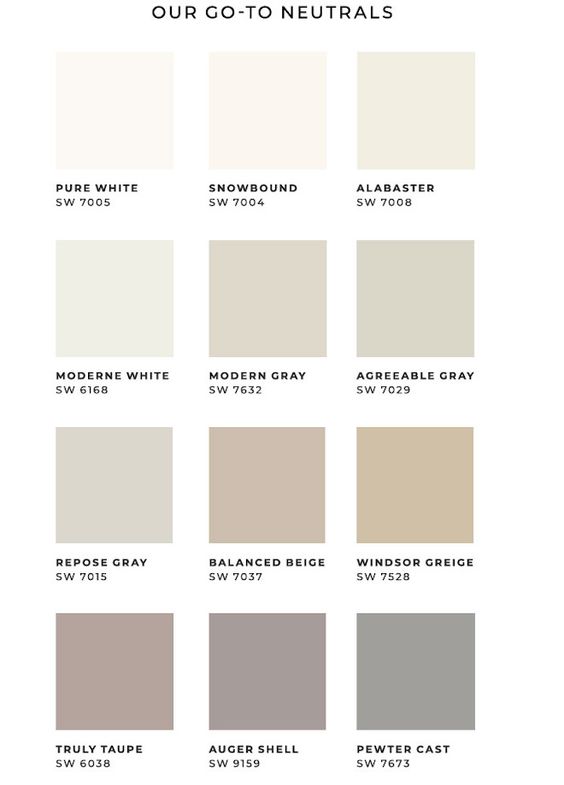 Neutral colors are the right type for a bohemian style. Beige, pure white, light brown, and others can create a beautiful and simple impression. A mixture of vibrant jewels is also preferred to beautify our bohemian room. It is preferred to be applied in the small living room design to liven up the atmosphere.
Shapes
This style is about creating shapes and choosing to layer then creating patterns that we choose. There are many pattern styles that we can choose but we should more pay attention to rugs, tablecloths, bedcovers, pillowcases, and etc.
Fixture Finishes
Metallics such as gold, silver, brass, and chrome are popular. If we don't want to use them, we recommend choosing iron because it is also preferred to be used in the bohemian theme.
Having An Aesthetic Accent
To mix and match colors, patterns, and decor that will show your personality, we should choose elements as we want as long as it is suitable for our concept.
Decor/Art Style
Original or handmade pieces of art, flea market finds, or travel souvenirs are perfect to create a fascinating look. Rattan, wicker, wood, or plush furniture also will make your apartment has a unique accent.
Bohemian Industrial Apartment Design Ideas
Are you ready for our bohemian industrial design ideas for your apartment? We will give you a simple style that is easy to be applied and won't bother you while applying it. However, applying it after knowing industrial design characteristics will help you to prevent making a mistake or an ugly result.
Bohemian Industrial Apartment Room Design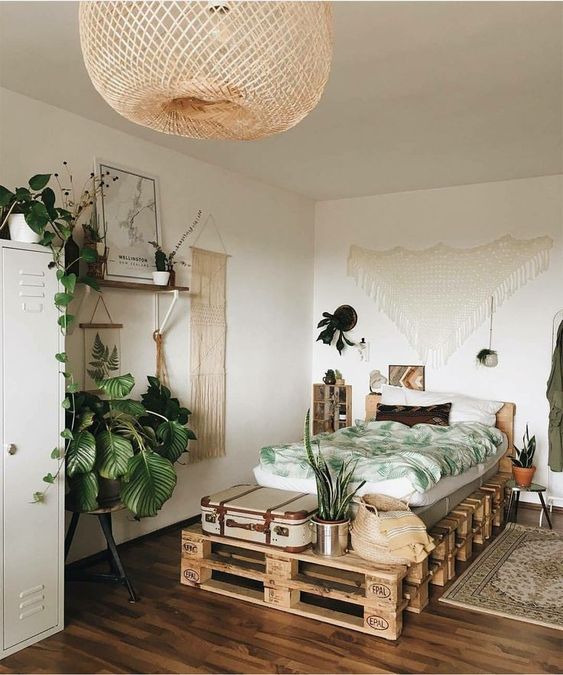 Who feels confused while choosing a pedestal for our bed? If you are one of them, we recommend using wooden materials like in the picture above. It will create a strong industrial design. To add a bohemian accent, we should add a rug that has a traditional style and light brown pattern. Wooden flooring tiles should be applied to create a harmonious look. Some beige fabric that has a beautiful cut can be attached to the wall to make it won't look monotonous. To liven up the atmosphere, we can add some plants that also can be used as decorations in the industrial-chic bedroom design. A white cupboard can be used to add our clothes.
Bohemian Industrial Kitchen Dining Room Design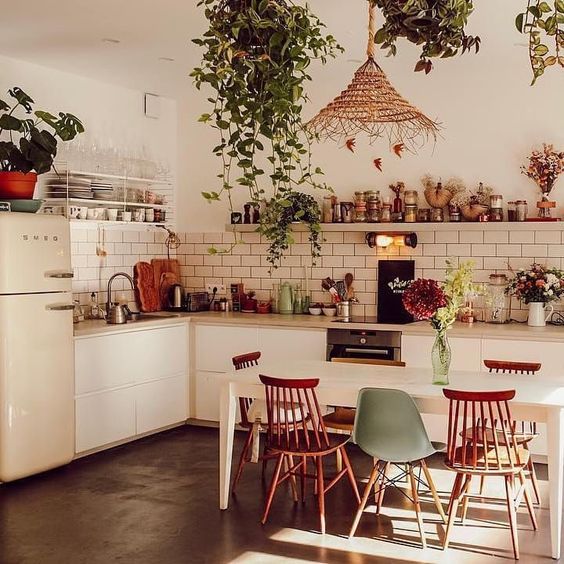 Applying white wall tiles to our kitchen with installing a white kitchen cabinet will create a simple accent. Choosing dark brown flooring can make it has a harmonious look in color selection. Add a rectangle dining table and chairs will make two rooms in one space and also save your apartment space. It also creates an industrial dining room at the same time without making it in a different space.
Bohemian Industrial Bathroom Apartment Design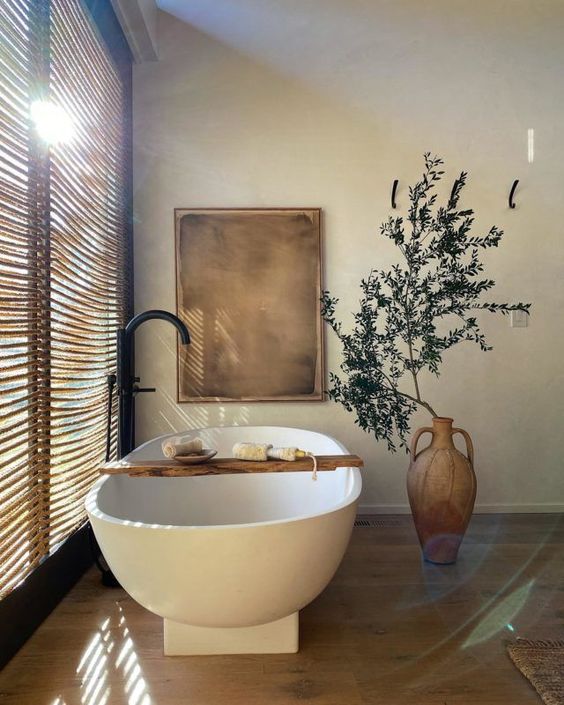 If you have a small space in your apartment to create a luxurious bathroom, we recommend applying a bohemian industrial concept. By applying brown flooring and add a beige bathtub, it will create a cozy impression. To make it won't look monotonous, we have to add some plants that will create a fresh impression.
Simple Bohemian Industrial Apartment Living Room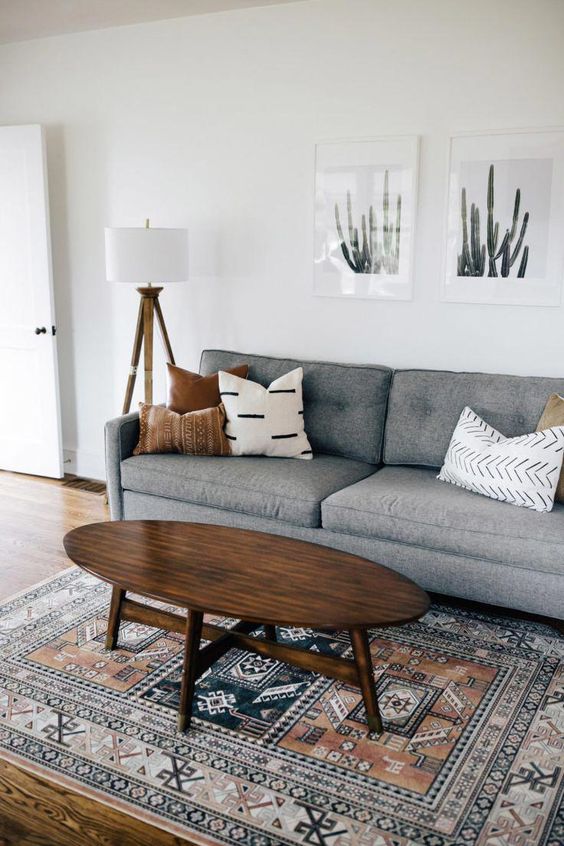 Adding a unique pattern rug as a pedestal under a light sofa will create a comfortable atmosphere. It also has a strong bohemian accent. We have to add a wooden table to create an industrial concept. White walls might look simple and aesthetic at the same time but we have to attach some pictures to make it won't look monotonous. This concept is preferred to be applied in the Scandinavian industrial studio apartment.
Bohemian Industrial Working Room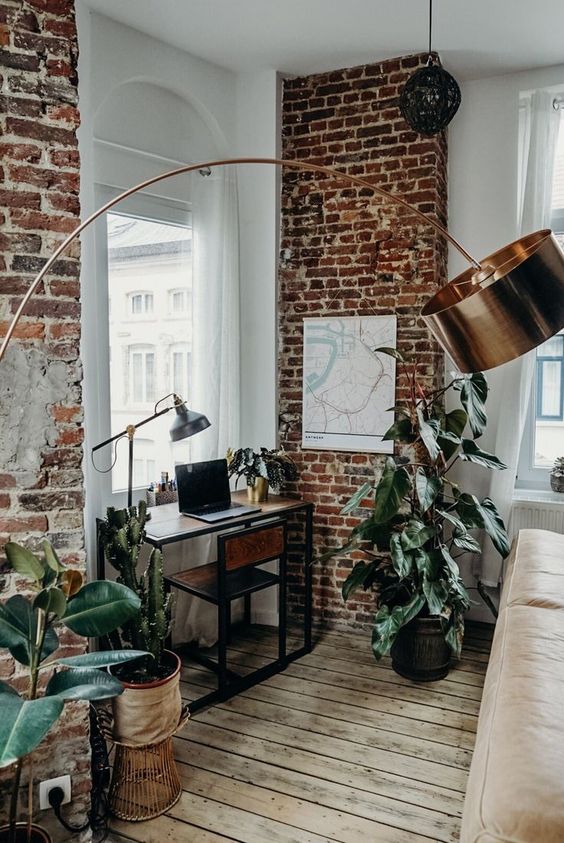 By applying solid wooden flooring and creating unfinished brick walls, we can have a bohemian industrial design in our apartment. Choosing a wooden chair and table can create a working space. We have to add it near the window to make us can feel fresh while doing something.
Bohemian Industrial Apartment Wall Decorating Ideas
Wall decorating ideas for a bohemian industrial apartment should have a neutral, simple, but beautiful impression at the same time. Beautifying it will make us feel comfortable and confident to live in our apartment even it has a small size. That's why we will give you some ideas that certainly look stunning.
Attaching Some Plants To The Wall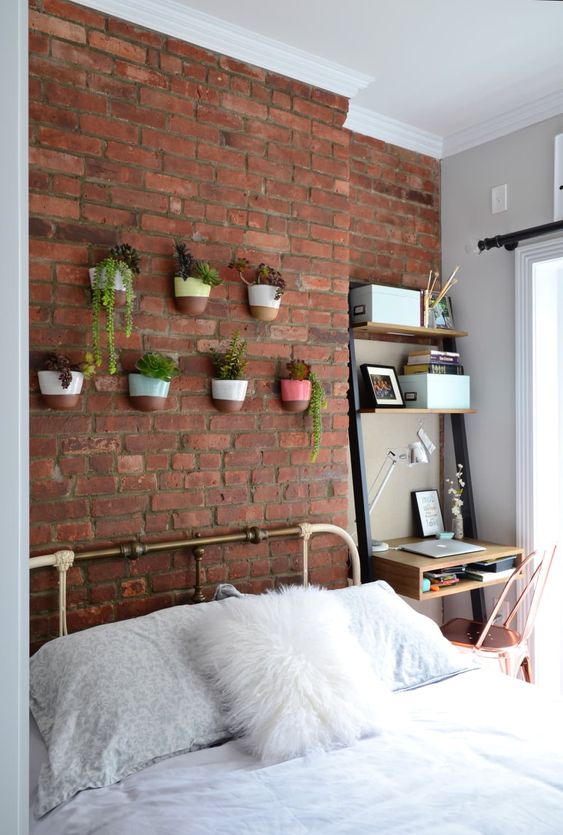 There are many people who attach some pictures on the wall but we will give you different ideas this time. Instead of attaching them, we have to hang some plants on the wall that will create a stunning impression and make the air fresh at the same time. For people who want to apply a small industrial kitchen, it is also preferred because it doesn't tend to one design.
Unique Mirro Shape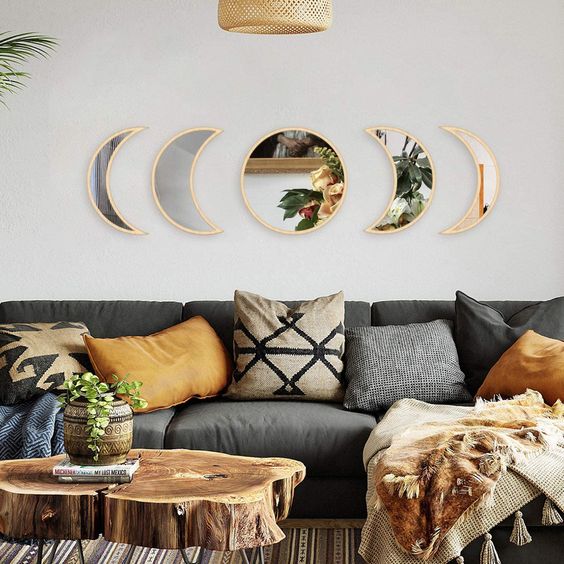 Do you want to have unique wall decorations? It means this concept is suitable for you! We have to choose a stunning mirror shape like in the picture above then attaching it to the wall. Make sure to choose suitable shapes, colors, and designs to prevent making an unharmonious look.
Wall shelf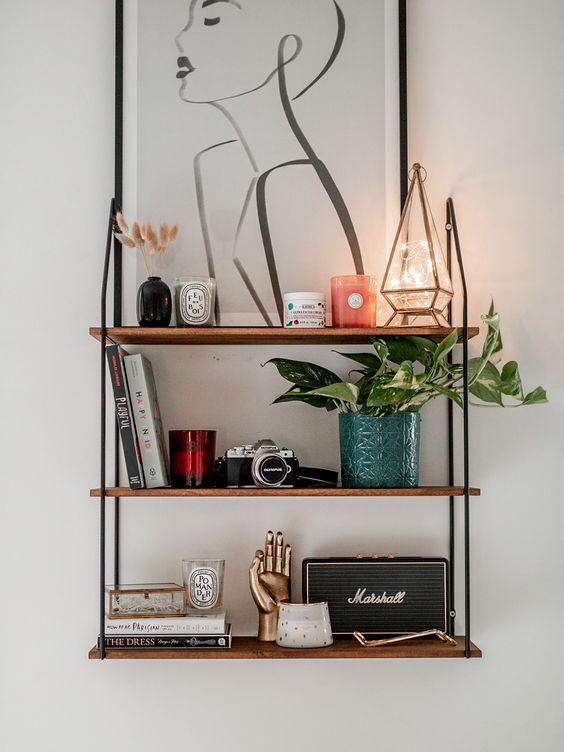 Do you feel worried because you think can't make a beautiful impression in your small room? You can relax now because we will give you a solution. Attaching a wooden wall shelf then adding some decorations to it can make it look beautiful. Besides, make it look stunning, we can also save our space.
Conclusion
Mixing bohemian industrial design should pay attention to wall decorations to prevent making a monotonous impression. We have to choose stunning rugs with unique patterns to liven up the atmosphere.