Nexthomegeneration.com – Just because we don't have a wide place then it doesn't mean we can't create a beautiful room. Decorating room activities is fun to do because it can also relieve our stress after work. We can adjust colors and designs according to our taste. Moreover, for people who have a small space, they're certainly want to make it look pretty and won't look cramped. One of the rooms that should be our attention is a kitchen because of having necessary uses. A comfortable room is important to be created to make us feel enjoy while cooking something.
Generally, the important thing that should be installed in our kitchen is lighting. We can't feel cozy if it doesn't feel bright. It will be complicated for cooking and making something in the dark space. An industrial kitchen theme should have a pendant lamp to make a comfortable atmosphere. There are some decorating ideas with lamp recommendations that we can choose but it is better to use from us. We guarantee you will be amazed by your kitchen interior design.
How To Decorate Our Small Space?
Decorating a small space, just like decorating a large one so a simple design is the best choice to choose. It can create an eye-catching look because of having a natural impression that is suitable to be applied in a small room. If we decorate it by applying industrial decorating ideas, it will create a cozy and unique impression.
Having Suitable Lamps
A small kitchen will feel wide if we install the right lighting that makes it feel bright. Installing windows can create natural light and making it look prettier than only have a lamp. We can also have good air circulation and makes our kitchen doesn't have a bad smell. If we don't have a room that has enough space for a floor lamp, we can install some pendant lamps.
Adding Some Big Things On Around The Room
For those of you who have big furniture, we can add it around the room to create a wide impression. If we want to decorate our kitchen, A big cabinet or dining table is the best recommendation to be added. An industrial kitchen theme will make it feel wide because of having a little bit of decoration with important furniture. It will make it have more space for other things that we want to add.
Using Multi-Purpose Furniture
Furniture that has many functions that will save our kitchen space. Generally, there are many people who are looking for it to make their room feel wide and beautiful. For example, we can add a dining table that can be made as a table to replace many kitchen utensils at the same time. It will save our expenses and make a wide impression on our kitchen.
Attaching A Mirror
Mirrors adding traditional light and creating a room reflection that will make it look wide. Adding one large mirror or arranging a few smaller ones throughout a room. We can also create a wall full of it to make it look beautiful.
Getting Rid Of Unnecessary Items
A small space can't save many things in one room so that's why we should get rid of them. Choosing suitable and useful items can make it look large.
Using A Storage
Choosing storage can save our space and create a neat impression. There are many storage designs, colors, and shapes that we can choose as long as it is related to the concept. However, it is important to adjust the size that will be enough to add many things.
Should We Decorate Our Kitchen
Designing a kitchen is something that will be fun because we can discuss with our family to create a comfortable room that can be used together. So planning it in great detail from the outset is a must and we have to choose the best style that we will be applied. Industrial kitchen ideas are the best choice to be implemented. It will create a stunning and unique impression at the same time.
Decorating Ideas For Small Industrial Kitchen
A kitchen is necessary to decorate because it can prevent making an uncomfortable atmosphere. We should pay attention to furniture and decoration selection to apply a design that we will choose. Wrong things will make it have an ugly impression and won't feel cozy. This time we will give you industrial decorating ideas for a small kitchen.
Simple Industrial Kitchen Style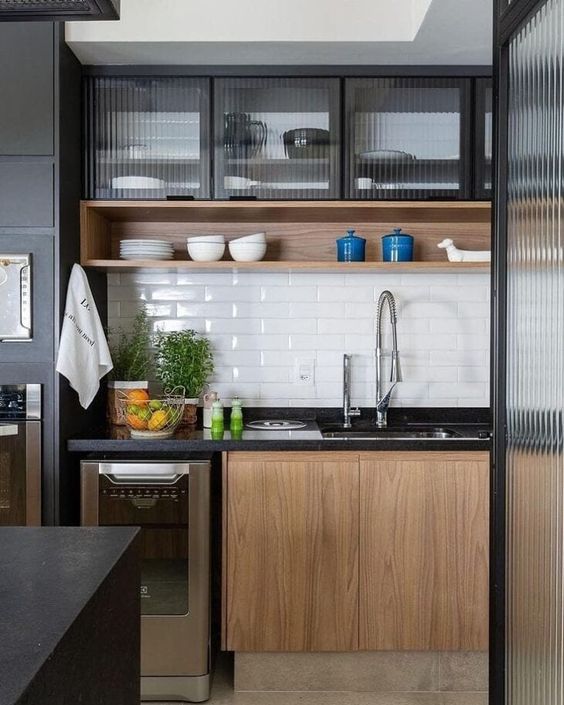 Adding a wooden kitchen cabinet and installing a black sink can create an industrial accent to our kitchen. We have to combine it with white wall tiles because of having materials textured that is easy to clean. Making a wooden shelf on the wall can make us feel convenient and comfortable at the same time because it can be made as a place to save our kitchen utensils. A black glass kitchen cabinet is our recommendation to be attached to the wall.
Fresh Industrial Small Kitchen Ideas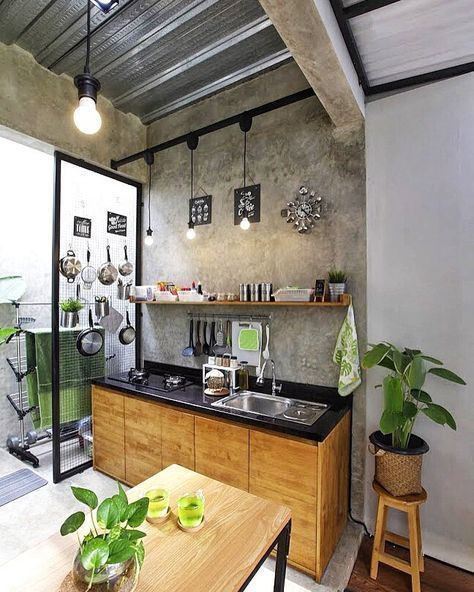 Plants can be added to the kitchen to create a fresh atmosphere and clear air circulation. We can combine them with a wooden kitchen cabinet and table to create a natural impression from the industrial kitchen concept. We have to apply a light grey wallpaper on the wall so it will create a neutral impression.
Dark Industrial Small Kitchen Concept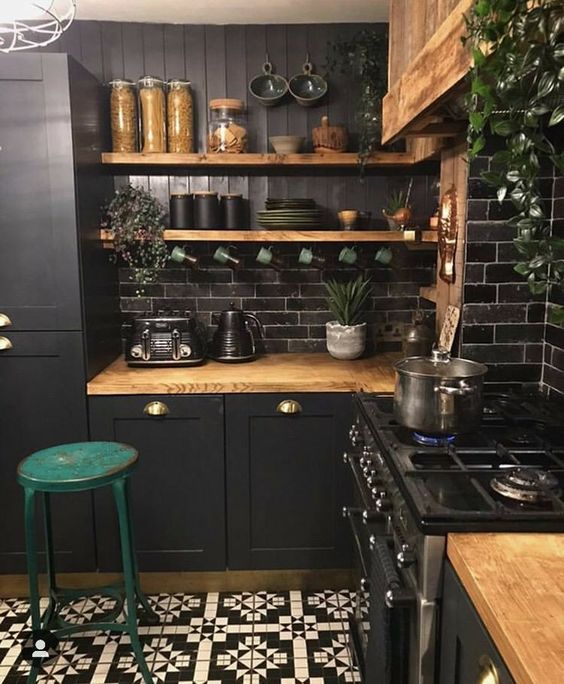 Small kitchen decorating ideas should be implemented for those of you who won't feel complicated while applying them. We can use black and white tiles as flooring to create an elegant accent. Don't forget to choose a black kitchen cabinet because of having industrial characteristics that will create a strong design accent. We have to choose black as the main color for our furniture, decorations, and wall. Wooden material can be added to give a bright color touch to our kitchen.
Warm Industrial Kitchen Design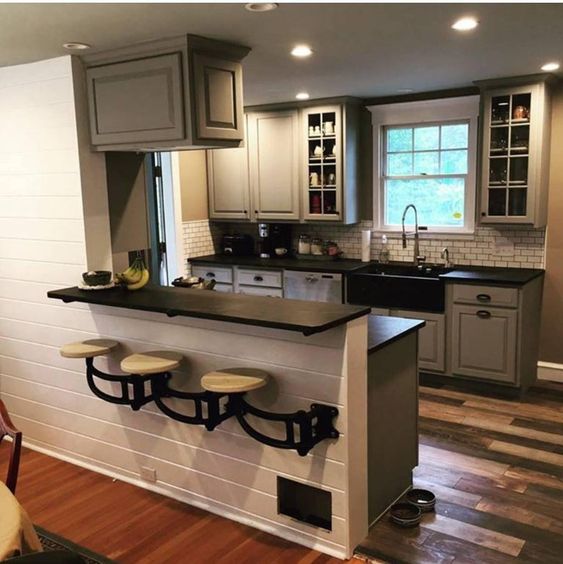 Combining natural colors from wooden laminated flooring with beige or white colors is suitable because of having a warm character that will make our kitchen looks beautiful. It will make us feel comfortable while cooking or enjoy our delicious food. If we make an industrial living room near the kitchen, it will create a cooking process view that will be unique and cozy at the same time. Some ceiling lamps can be installed to create beautiful lighting.
Industrial Kitchen Pendant Lamps Recommendations
One of the necessary things is lightings because it can liven up the atmosphere and create a bright kitchen. We can't feel comfortable if there is no lamp or only use natural light from a window or air circulation. There are many lamp designs and types but we will give you pendant lamp recommendations for an industrial kitchen.
Wooden Industrial Pendant Lamps For A Small Kitchen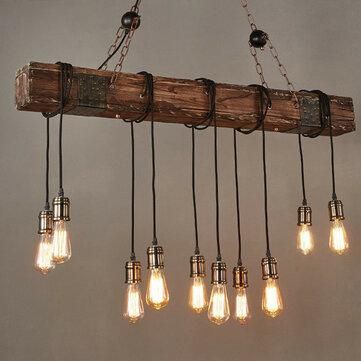 It has a wooden material that is combined with black cables and yellow lights. The design looks suitable for an industrial small kitchen. If we install it, we can feel warm from its light and create a cozy impression.
Black Industrial Small Kitchen Lamps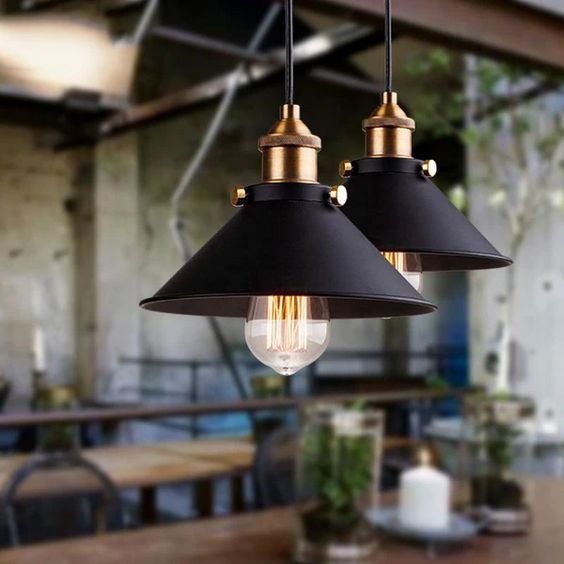 For those of you who love dark concepts, you will be suitable to apply industrial kitchen decorating ideas. We can install above a kitchen cabinet or a dining room to create beautiful lighting. It looks beautiful because has a simple design and shape that won't make our kitchen look monotonous.
Gold Industrial Kitchen Pendant Lamp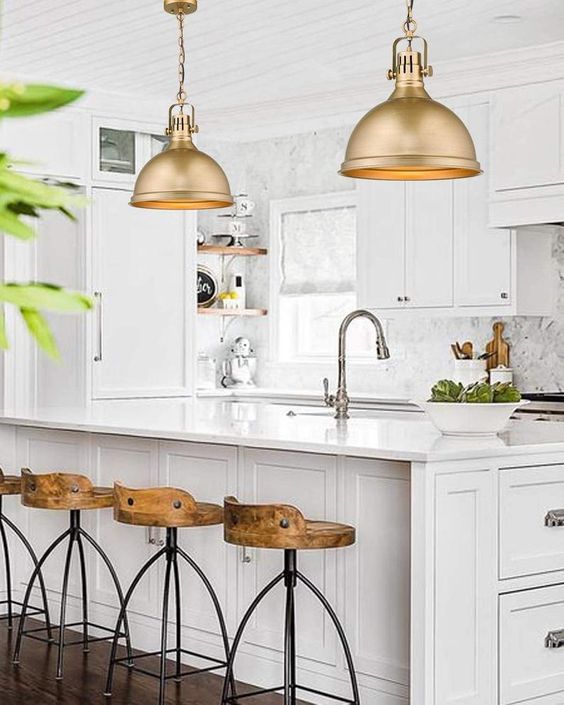 Although gold is one of the bright colors, we can still add it to the industrial kitchen decoration. It looks beautiful to be combined with white or dark colors to create a perfect combination.
Conclusion
Industrial kitchen ideas are preferred for people who love a simple, elegant, and comfortable design. We have to pay attention to kitchen cabinet selection and how to decorate a small space. If you have some ideas about home design, interior and exterior, and others, you can write for us so it will help many people to create a cozy home.