Nexthomegeneration.com – We might often see home exterior designs that look have a beautiful style. For those of you who have a small house, it will be complicated to beautify it. However, a modern and minimalist industrial home exterior design is the best choice to create a fascinating impression. It is easy to be combined and applied. Moreover, we will give you some designs that might help you while applying them.
What is a necessary thing that should be added to our exterior? If you ask us, we will say lighting is important to be added. We can't make a beautiful house if it doesn't have a bright impression. There are many lighting types and designs that we can choose as long as it is related to the exterior style. However, for an industrial home concept, we recommend using a wall light to make it feel aesthetic. Today, we will give you some recommendations that will help people who feel confused to choose them.
Minimalist Design Characteristic
Before discussing home exterior design, we will give you some minimalist characteristics that will help you to prevent making a mistake while applying it. It is different from an industrial design. Minimalist looks simple but tends to have an aesthetic accent than a natural look.
A minimalist design is used an open-up flooring or ceiling to create a relaxing accent. It doesn't have many decorations and only adds a simple style such as pictures, flowers, etc. It is used uncomplicated and blends harmoniously details into the setting. To create it, we have to add artwork adorning a living room wall, or a beautiful vase on top of the dining table.
Minimalist furniture and decorations focus on functionality and practicality. It should have flat, smooth surfaces, and strong designs. It will create bold statements that emphasize the essential nature of each item. We won't find highly patterned things or highly detailed ornamentation in this style. It focuses on the purity and simplicity of the shape. Clear and clean benchtops and surfaces, white or beige walls, minimal decorations, is a character in the minimalist look.
Monochrome colors are often used in the minimalist home style because of having a simple look and are suitable to be combined with other colors.
Modern Design Characteristic
To apply modern design, we have to know the characteristic to prevent creating an ugly result after applying. Moreover, if we want to combine it with other styles so it is important to know. This time we will give you some information that might help you to create a stunning home exterior.
It is simple and doesn't have many decorations to create a beautiful look. The modern style is being functional and convenient.
Natural Materials And Earthy Tones
It always uses natural materials and neutral or earthy colors. An unpainted wood, brick walls, metals, leather, and monochromatic accent are used in a modern design.
Modern interior and exterior styles always use fewer curves including clean horizontal or vertical lines. It also has structural elements like concrete or beams that are often left exposed.
For those of you who love neat space, a modern style is suitable for you. It doesn't have uncluttered spaces because it will prioritize the room function.
Natural Lighting From Windows
Natural lighting is necessary for a modern style. We have to install some windows without many decorations except a curtain. It will create beautiful light and make our room feel bright.
Furniture in a modern design tends to attach importance to simplicity and function. It has low and horizontal furnishings with clean lines. Furniture materials from nature such as unpainted wood, leathers, steel, chrome, and glass.
Black and white with some primary colors such as yellow, blue, and red can complement the monochrome palette. A unique combination of black and brown can be enhanced with a touch of cowhide.
Small Modern And Minimalist Industrial Home Exterior Design
Applying a modern and minimalist industrial exterior style for a small home is easy because it doesn't have tricky look. If we know the characteristic we can prevent making a mistake while applying the design.
White Wooden Exterior Cladding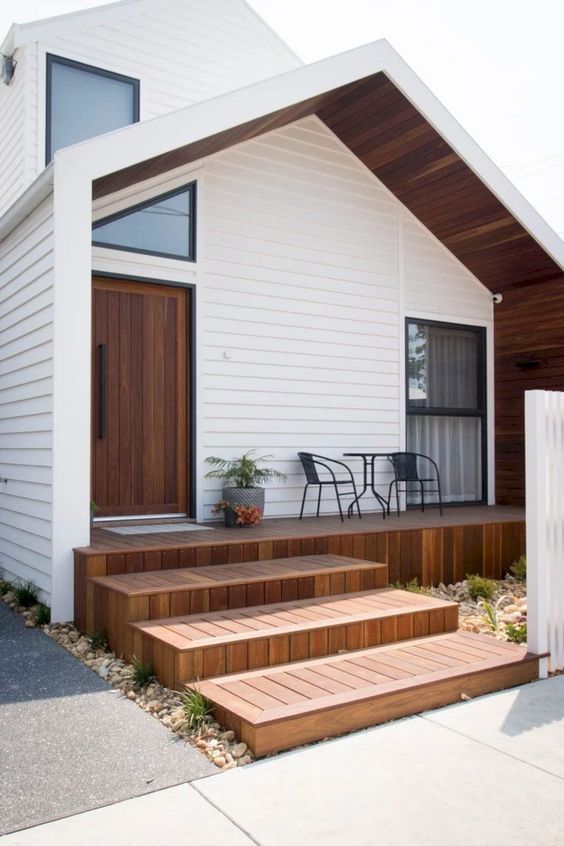 White is one of the characteristics of an industrial, modern, and minimalist design because it is a neutral color. By applying white wooden cladding to our home building, it will create a unique texture. A wooden door is should be chosen to create a natural impression of the exterior look. If we want to have a strong style, we have to make wooden stairs so it will be prettier than doesn't make anything. Some beige pebbles can be spread on the ground to add some colors to our home exterior. An elegant industrial living room can be made as an interior design.
Grey Wall Texture Modern And Minimalist Industrial Exterior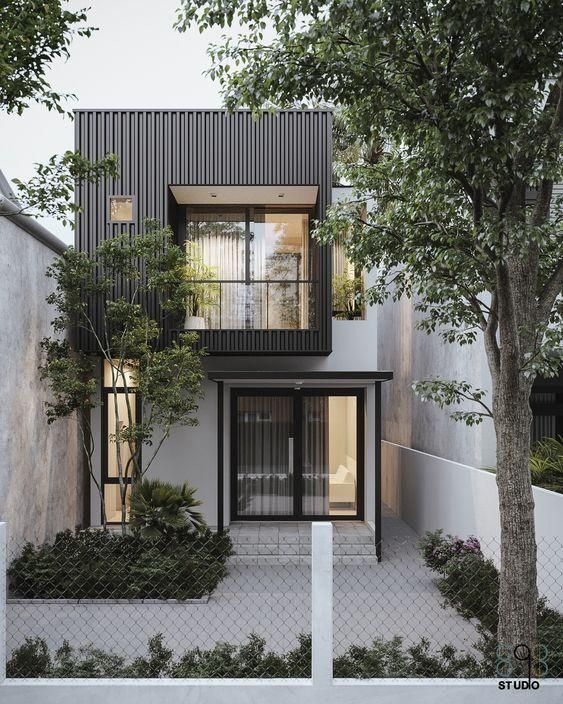 Grey and white is a perfect color combination because it creates a natural accent so is suitable for modern and minimalist industrial home exterior concept. Applying a wall texture is a must to do to apply the design. It will make our home looks simple but elegant at the same time. Growing some plants in our front yard can create a fresh impression so it makes our home won't look monotonous. Installing some windows will create natural light and don't forget to beautify it by using a curtain.
Square Modern And Minimalist Industrial Home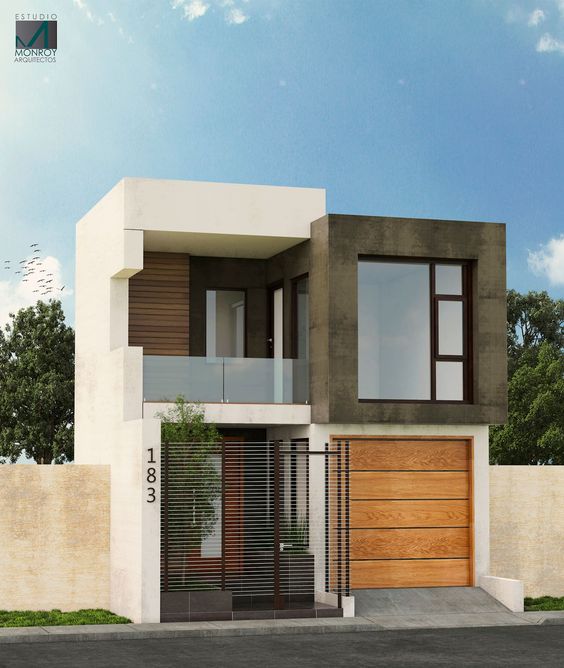 Square building might look small but with the right exterior style, we will have a fascinating and unique impression. By combining white and dark brown color with installing a wide window, a modern and minimalist industrial home exterior style will be created. We can use wooden materials to make a garage door. If we have a Scandinavian industrial dining room or bedroom near the window, it will create an amazing view and lighting. A black fence should be installed to complete our design.
Gable Roof In Modern And Minimalist Industrial Home Exterior Theme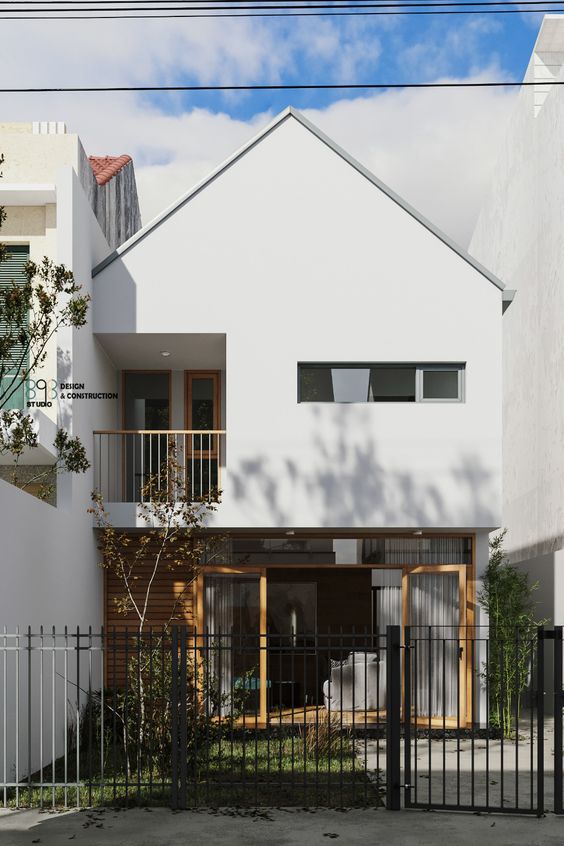 A gable roof makes our home looks high than before because of having pointed style. A light grey is suitable for it and applying white color to the exterior wall to create a beautiful combination. A glass door is preferred to be installed to create natural lighting and look harmonious with our industrial theme. Modern and minimalist are also have an open space concept characteristic so that's why it should be installed. For those of you who want to have a beautiful interior and exterior look, we recommend choosing an industrial sofa and rectangle table.
Dark Home Exterior Concept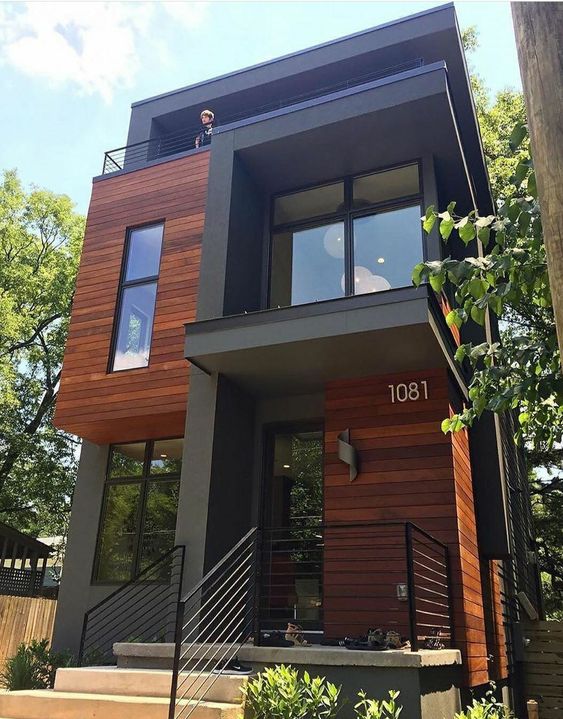 A dark concept can be applied in the modern and minimalist industrial exterior design to create a stunning elegant look. We have to apply wooden cladding and install a black metal fence. Dark grey is suitable to beautify our home because of having a strong design accent. After having a beautiful outdoor look, we can choose and add a stunning desk and bookshelf design as our interior furniture.
Modern Industrial Exterior Wall Light Recommendations
Modern industrial exterior wall lights are necessary to be installed to make our house doesn't feel dark and crowded. There are many designs, shapes, and colors that we can choose as long as it is suitable to our concept. This time we will give you some recommendations.
Black Elegant Industrial Exterior Wall Light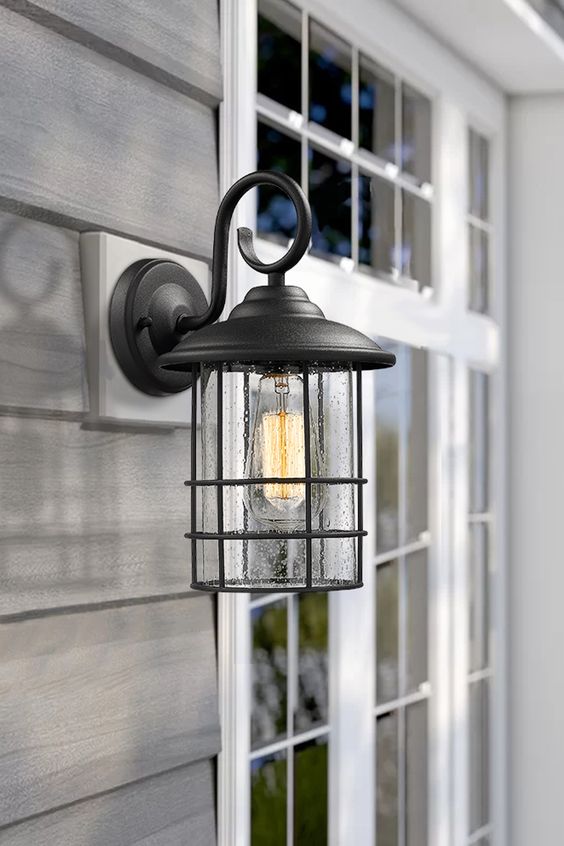 A black industrial wall light design looks beautiful to be attached to our home exterior. It is made from metal and glass materials that look elegant and beautiful at the same time. However, yellow lighting from it will make a warm impression on our exterior look and makes it doesn't feel dark. It is the best choice to be chosen for people who are looking for a modern wall light design for your industrial home exterior.
Black Pentagon Industrial Exterior Wall Light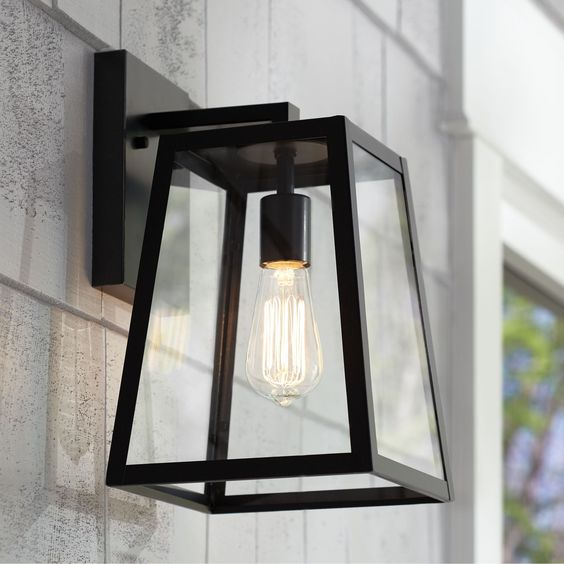 A pentagon shape looks elegant because it has a unique accent. We have to attach it to the wall to create a bright home exterior. It also has yellow lighting because it is more suitable than white light. Modern industrial wall light recommendations from us will make your exterior design looks beautiful.
Rectangle Industrial Exterior Wall Light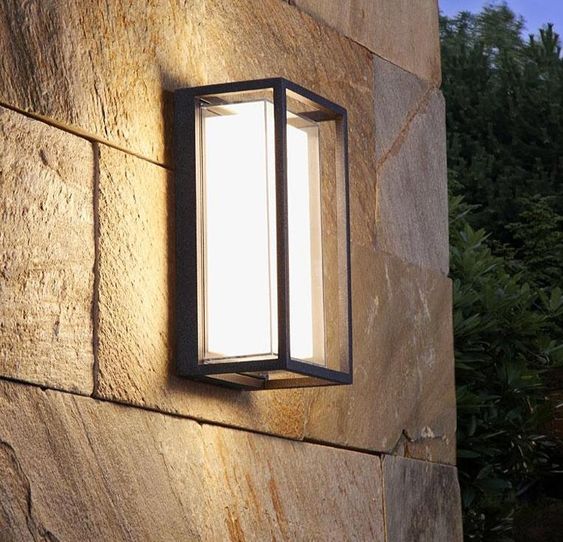 Besides a pentagon shape, a rectangle also looks beautiful for some people who want to have a minimalist accent. A brick wall is the best place to attach it because of having a natural accent.
Conclusion
An industrial exterior is easy to be applied but we should pay attention to wall texture, colors, and design characteristics. It will help us to prevent making a mistake while applying the style.