1. Overview of the open kitchen
The open kitchen design looks so unique that it seems spacious and suitable for a minimalist model house. Usually, this kitchen arrangement is found in a spacious house. Then the kitchen is also positioned close to the dining room or family room.
There are even some kitchens that are designed without a partition. If such a design generally occurs in every minimalist interior. A different impression is displayed when the kitchen is placed in the back area of ​​the house. Cooking must be a fun activity. Moreover, the back of the house has a garden and terrace. That way, the intimacy of each family member is getting stronger.
2. Ideas and designs
Minimalist open kitchens tend to present an uplifting atmosphere. Before looking at some of the best designs, we must understand that bringing a feeling of pleasure to yourself or the family in the house is a must. When we are pleased, we can also present a pleasant kitchen design. Therefore, there is nothing wrong with us making it happen with the concept of an open kitchen.
So why is an open kitchen so much more fun? As we know, an open kitchen design can provide an open-air atmosphere for gathering with family as you wish. So use good ideas to make your family gets closer.
3. Some designs that can be your inspiration
The kitchen does not always have to be in the house. Currently, the concept of a modern minimalist house gives more freedom to homeowners to tinker with the interior to make it look aesthetic and attractive. One part that can be done is modifying the kitchen. For that, homeowners can use kitchen design inspiration with a concept close to nature. For that, let's review some open kitchen designs below. Hopefully, one of the designs can be an inspiration for you. Welcome to our review!
Back of the house open kitchen design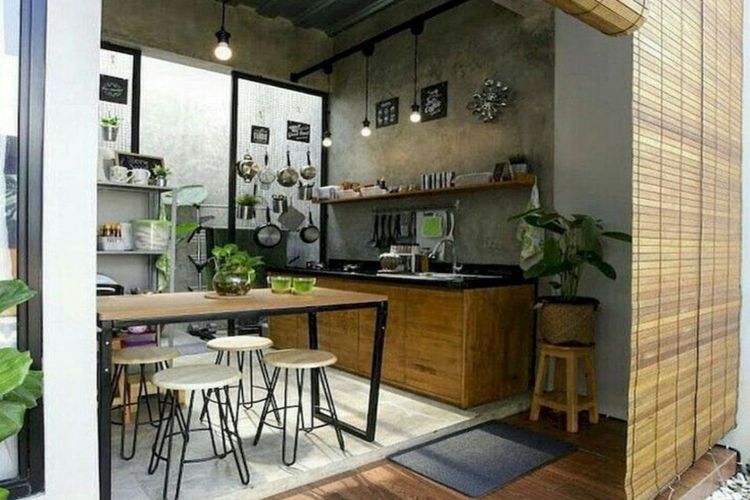 Sometimes we feel bored with the smoke of cooking in the house because the smoke of cooking makes us stuffy. Therefore, another option for this solution is to design an open kitchen. To make this you should entrust the matter to the interior design because they can arrange it perfectly. For example, the kitchen area is designed at the back end of your house. Then, the position of the kitchen is directly facing an open garden.
So, the kitchen has placed so integrated with the garden. Then to look brighter, white accents can be an option when designing a kitchen. Even white has been made to dominate other decoration colors. Then, starting from the kitchen walls, kitchen floors, kitchen plates such as gas stoves, and others all in pure white.
The color contrasts even more with the green synthetic grass and various plants hanging from a pot. So you can imagine the freshness of the kitchen, so it looks natural. In addition, the size of the kitchen is not too big. The L-shaped letter, at first glance, looks so minimalist and blends perfectly on the outskirts of the garden behind the house.
The use of a canopy for an open kitchen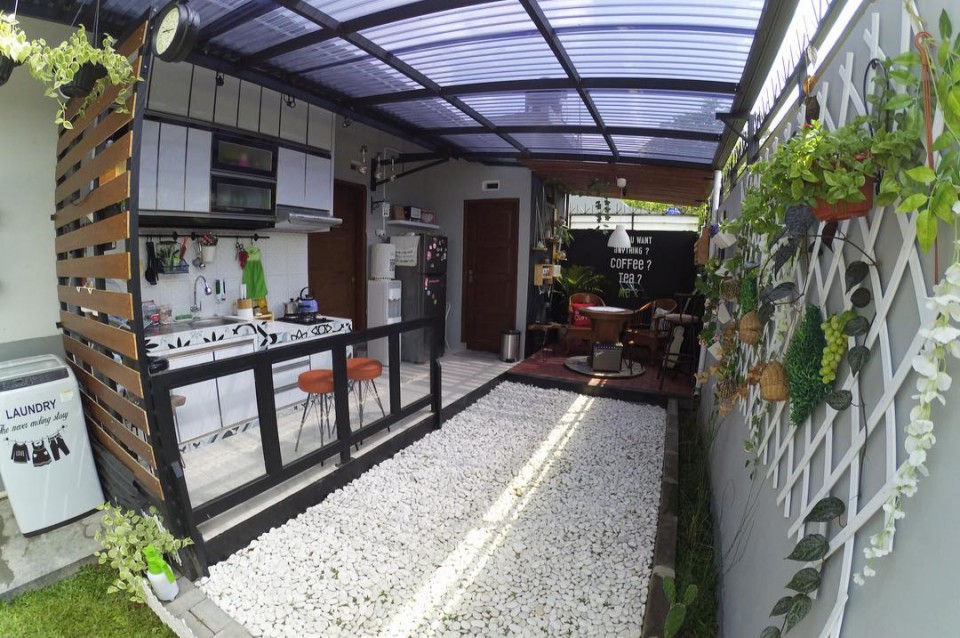 Canopy is usually used for mobile parking designs. But it is not always used for car parking, clothesline areas, and open gardens. Then now presented as a sweetener in the open kitchen behind the house. Canopy models like this, are generally designed in open areas.
So the green area of the garden behind the house is fully used for kitchen decoration. The shape of the kitchen is in the form of a U letter, with wood accents used for all types of kitchen furniture. For example, the concept of a mini bar for the dining area blends with the kitchen. The position of this area can be in the middle of the kitchen.
The unified form of the dining room is the basis for the use of the canopy as the roof. In the morning, the family house will feel the sensation of the entry of sunlight in this area. Meanwhile, when night falls, the twinkling stars in the sky can be seen thanks to the idea of ​​​​a canopy roof. Then, to make it look more attractive, this kitchen is equipped with a kitchen set, gas stove set, bright color kitchen table, wall hangings, decorative lights, dining table, and chairs. That way, you will enjoy the kitchen like the atmosphere in a bar.
Industrial concept open kitchen creations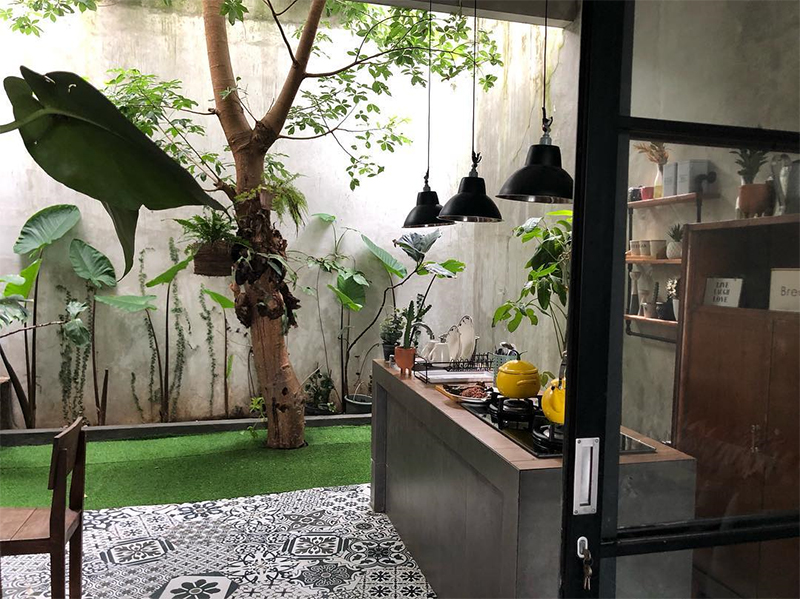 The next creation is the type 36 open kitchen design. A medium-sized house like this must be able to present the suitability of the space in it. The arrangement of spaces with each other must be considered, especially for air circulation. Don't let it feel stuffy. Therefore, for you to feel an open atmosphere, you can make an open kitchen design the area behind the house. Then, create a position directly opposite the garden.
So that the impression of comfort is more pronounced, you can add curtains and minimalist sliding glass doors. So when it rains, water does not enter the kitchen. To display an industrial impression, you can put some industrial design furniture and natural stones. Then, more wood accents are used with the brown. Then, add a black hanging kitchen lamp accent, and a kitchen spice storage area attached to the kitchen wall in black.
Kitchens like this are definitely pleasing to the eye. Moreover, the dining table is placed in the garden area, so the sweetener accent is more complete. In addition, this design is able to familiarize the family atmosphere. That way, each individual resident of the house is guaranteed to feel at home spending time in this area. Happy decorating!
Minimalist open kitchen design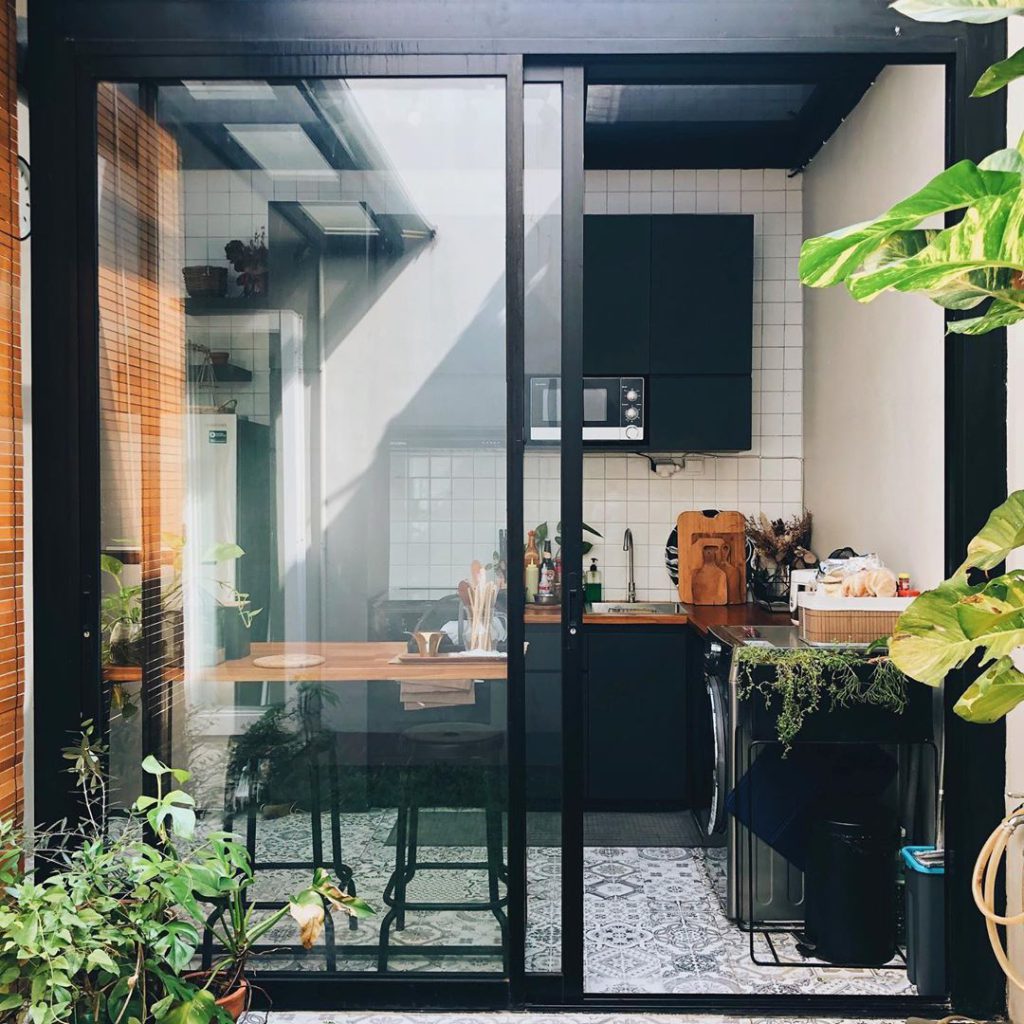 The minimalist kitchen design is not only based on the ideal room with little furniture. But more emphasis on the suitability of this area which can present a different atmosphere. There is no more air with the smell of cooking coming from the kitchen because it is located together in a closed room.
If you want smoke not to enter the house, you can design an open kitchen behind the house. Kitchen designs like this must also pay attention to proper air circulation. Then, to make it look more attractive, this kitchen is equipped with a kitchen set, kitchen table, dining table and chairs, ornamental plants, and sliding doors. That way, you will feel more comfortable cooking.
Luxurious minimalist kitchen design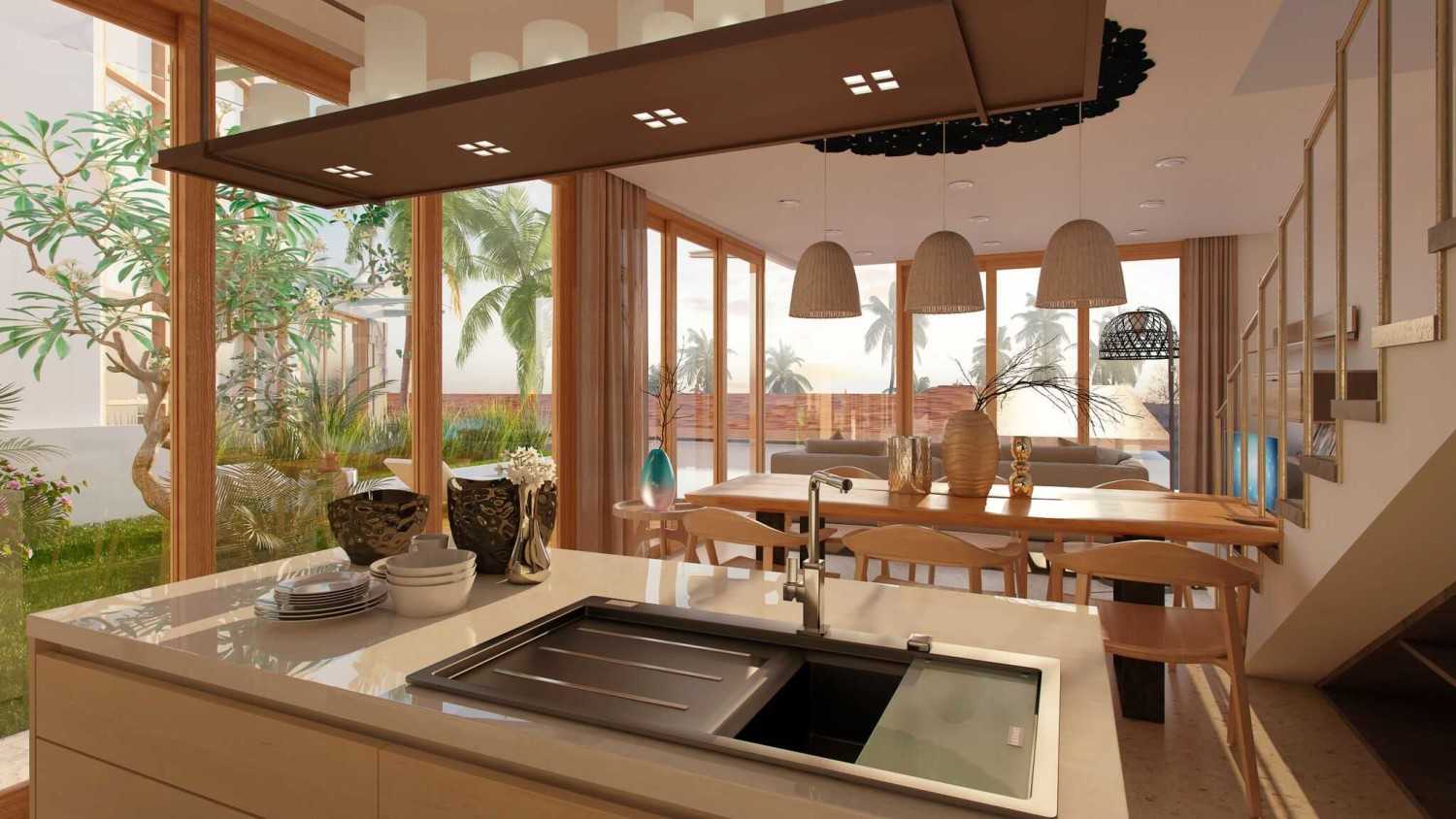 The next design that we will explain is a minimalist luxury kitchen. This open kitchen design is indeed suitable for large houses. However, if you arrange it properly, even this kitchen is suitable for a small minimalist home. This open kitchen with a monochrome, rustic, industrial, or other design is in great demand by millennials. This kitchen emits a different aura or energy. But if you choose rustic, a warm element will envelop the room.
This kitchen is more dominant with wood materials. Some of the furniture still has an impressive wood motif. Then to make the kitchen look more attractive, this kitchen is equipped with antique hanging lamps, dining tables and chairs, wall hangings, and a beautiful island table. Therefore. This kitchen interior design feels more comfortable.
Modern minimalist open kitchen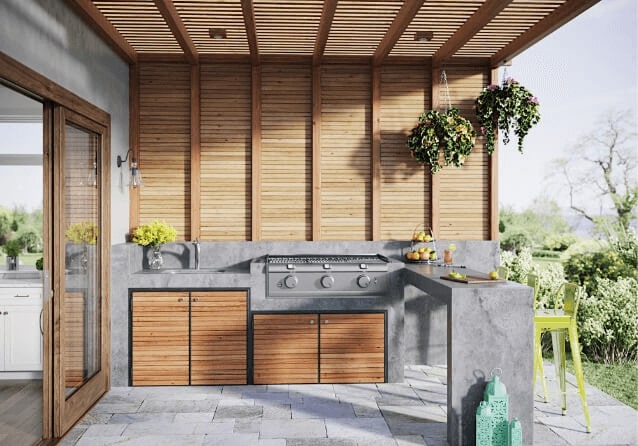 This industrial open kitchen concept has a unique and attractive impression. The design of a semi-outdoor kitchen with a view of a garden behind the house will make the room much more beautiful. Anyone who uses it will find cooking a fun activity. Beautiful design will make this cooking room more comfortable.
Then, to look more attractive, this kitchen is decorated with gray kitchen utensils in combination with wood color and a bar table and chairs in a matching color. Then, to add to the impression of greenery, this kitchen is decorated with hanging ornamental plants. That way, you will be happier cooking in this place.
Minimalist open kitchen blends with dining table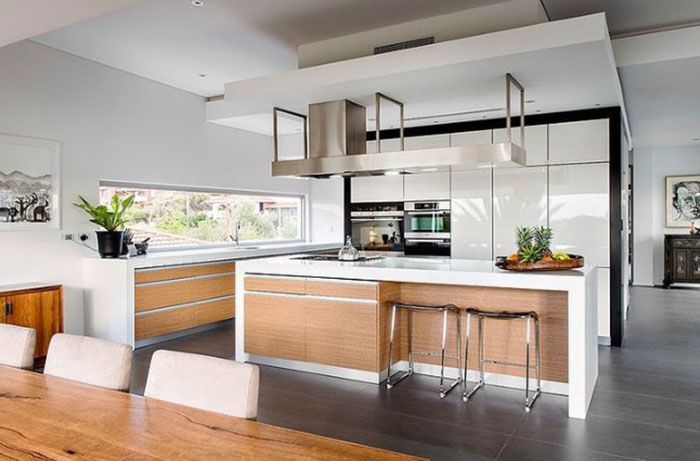 The concept of open space living in a kitchen has a wider impression. Having a more open kitchen and being one with other spaces will make the family more familiar with this kitchen. You can still cook while watching your child play or while chatting with other families. Then, to look complete, this open kitchen is equipped with a kitchen set and bright color kitchen table, kitchen utensils, and ornamental plants. Then, to look more beautiful, the kitchen adds a dining table and chairs. That way, the design of the open kitchen looks elegant.
Open or semi-outdoor kitchen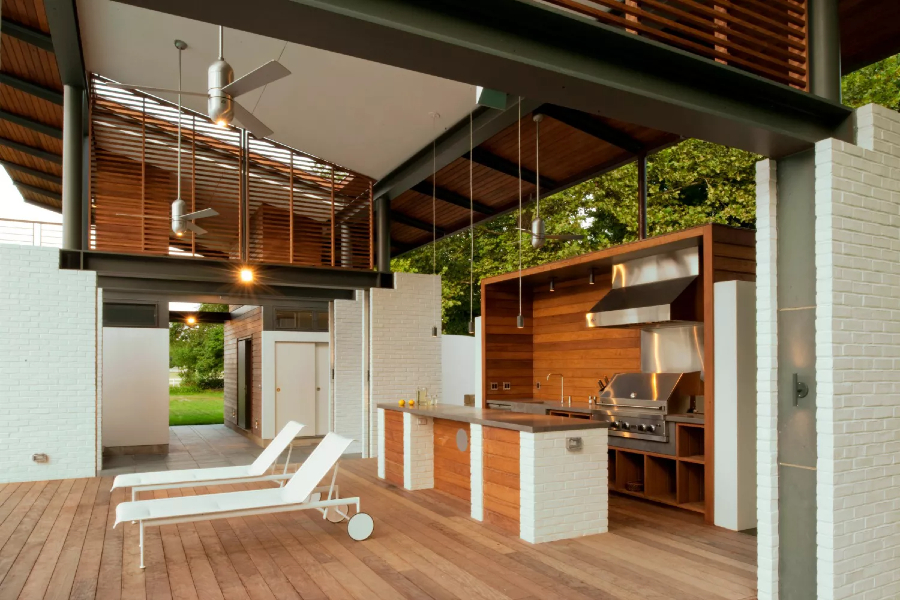 The concept of an open kitchen with a beautiful impression makes the display much more attractive. This kitchen design with lounge chairs by the pool can give a pleasant impression while cooking.
If you understand then you should consider some appropriate interiors. The best interior will make a kitchen much more enjoyable. You can add some supporting minimalist ornaments. For example, you can add a flower vase with fresh flowers, hanging decorative lights, a bar table, a fan, and a small minimalist frame. To look beautiful, design the floor with wood. That way, your kitchen design will look aesthetic.
The kitchen blends with the garden

Type 36 open kitchen designs are often sought after by homeowners who have a minimalist home. Type 36 house is a house that has a building area of ​​only 36 square meters. Meanwhile, the land area can be between 60-70 square meters.
Usually, people who own a type 36 house make an open kitchen by utilizing the land behind the house. That way, making a kitchen does not reduce the area of ​​​​the core room in the house because the open kitchen will blend with the back garden.
Then, to look more attractive, they always add a kitchen set, kitchen table, ceramic wall motifs, spotlights, and a smoker. To appear more comfortable, they designed a garden with green grass, ornamental plants, and garden chairs. With this arrangement, the open kitchen design looks more beautiful and charming.
Mini bar concept kitchen design
For the next, we will review the design of type 36 open kitchen with the concept of a mini bar which is an idol for homeowners. By placing a mini bar, you can use it as a dining table so that the room looks wider. So that when it rains the kitchen doesn't get wet, you can install a sliding door partition made of glass or wood.
If your mini bar table is not enough for dining gathers with your family, you can use the garden. By applying the type 36 open kitchen design, you can move freshly cooked food to the garden. Then, to look more attractive, add iron shelves for ornamental plants, ornamental plants, and beautiful accessories. That way, you will be more relaxed in your kitchen garden while waiting for the food to cook.
Aesthetic kitchen design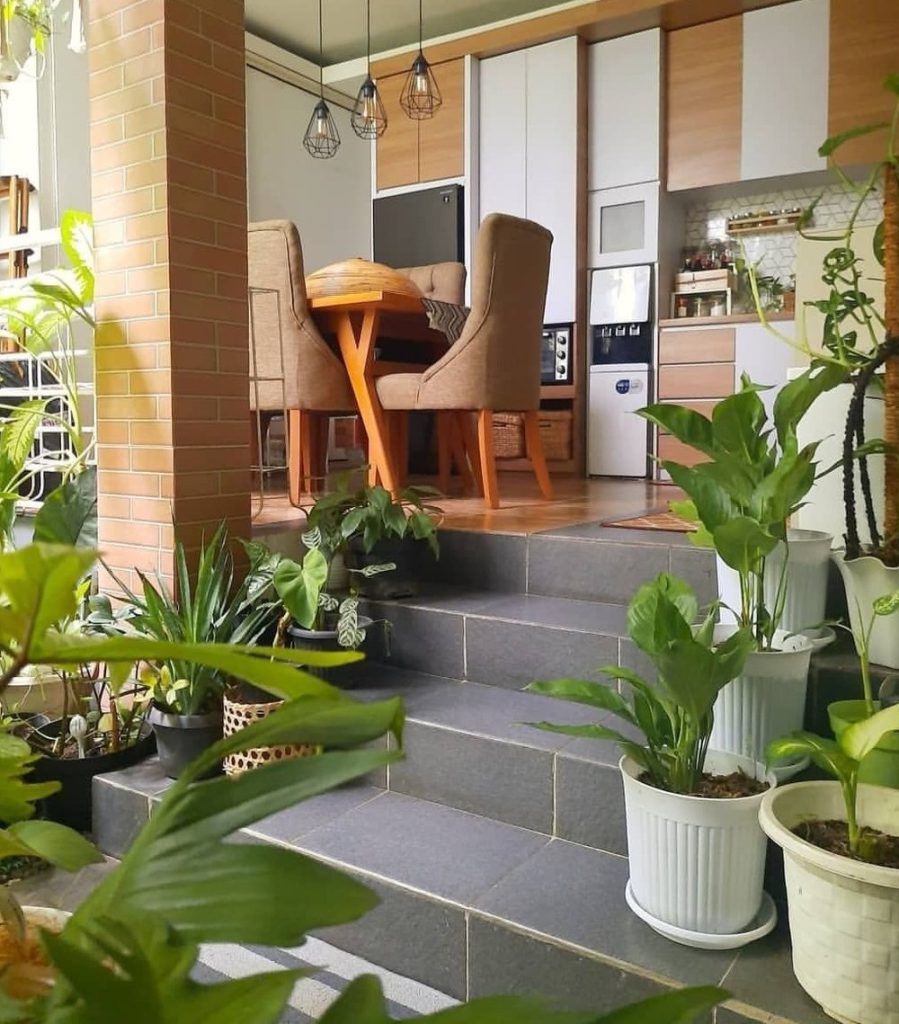 The last open kitchen design is an aesthetic open kitchen design that blends with the dining room. This kitchen design makes you don't have to bother going back and forth when preparing food in the kitchen and serving it at the dining table.
As a separator between the kitchen and other rooms, most people will install a partition. But if you don't want to use a partition, you can install a ladder. So the kitchen can be made higher than the other rooms. Of course, laying a dining table in an open area can also make the dining atmosphere more comfortable and different. To appear more dancing, add antique hanging decorative lights, dining tables and chairs, and ornamental plants in the staircase area. That way, your kitchen design will look aesthetic.
4. Conclusion
Those are some open kitchen design ideas that are suitable for your home. By the designs described above, we hope you are interested in our review. Then, to make it, of course, you must prepare the best design and enough budget so that your open kitchen looks aesthetic, attractive, beautiful, and elegant. Hopefully, this design can be an inspiration for you. Happy decorating!