1. Overview of traditional living room
Recently, the traditional living room design has become a modern residential design trend. That way it adds options for people in choosing a place to live, including in choosing a living room design concept.
In addition, this type of residential design seems to answer the problems of many people who have narrow land. Therefore, the arrangement of furniture inside the house can give a traditional impression on the interior appearance of a room because wood is synonymous with natural designs that are still thick with nature.
2. Traditional living room inspiration
Building a beautiful house is not an easy matter. Then, designing it to be a dream house, of course, also requires sufficient costs and the right design. Especially for newlyweds who are planning to build a house always experience problems with narrow land.
Therefore, the concept of a traditional house with a touch of the ethnic living room can be the right choice. The interior style given by traditional design can give a warm and simple impression to the living room.
3. Some attractive design
Everyone certainly wants a comfortable home. Traditional house designs are generally preferred by some people who like art to show their identity. Therefore, we provide some traditional design reviews as a reference for you. We hope the design below can suit your taste. Then, make you and your family look more cheerful. For that, let's follow our review below.
Proper furniture arrangement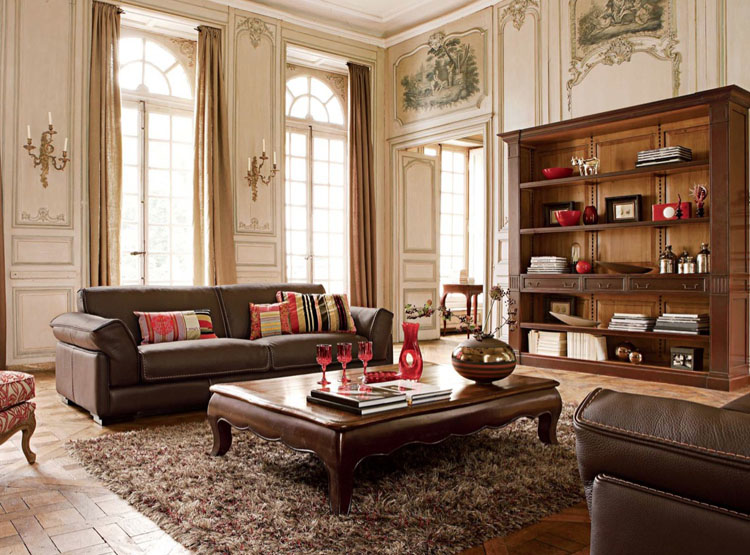 Arranging furniture in a traditional living room can give you pride because this room has usually styled in an old-fashioned way. In addition, pouring an ethnic nuance into the style of the house does not always have to follow a standard arrangement pattern like an old Javanese house.
With makeshift land conditions, houses can be built in such a way as to present various characteristics of ethnic-style houses. One of them is the addition of a traditional guest room. Then, the application of spatial patterns in a home with a traditional style can be adapted to the needs of family members. This living room looks modern with minimalist furniture such as a sofa set, wooden table, and a buffet that is attached to the wall. Then, to make it look more attractive, it is decorated with decorative wall lights, motif floor carpets, and antique knick-knacks. With this arrangement, the living room looks aesthetic.
Selection of wall paint
The atmosphere of an ethnic living room will generally be much more natural. Therefore, you need to use the right paint color, such as using brown and white. The entire wall can be painted using brown and white or added a certain color to present a thick and cheerful Javanese ethnic living room. The purpose of choosing a paint color is to match the color of the furniture in the living room. Besides that, it can display a natural impression. With the selection of colors as above, you will feel like living in a rural area.
Proper use of carpet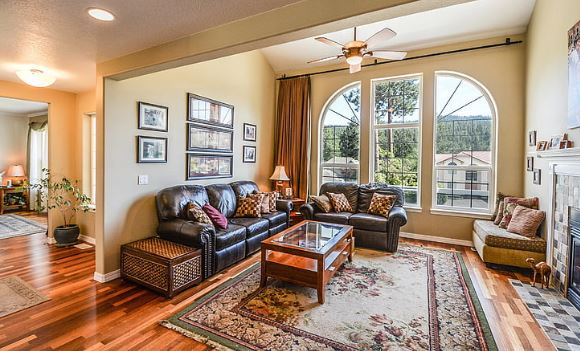 Carpets with large sizes can also be used as an alternative to beautify your living room. To create an older impression, choose a carpet motif that matches natural colors such as brown motifs. Then, you mix your carpet with wooden floors, sofa sets, wall paintings, and antique knick-knacks. Thus, a warm impression can be created. Not only that, but this can also give the impression of a much wider and more spacious room.
Use of wood elements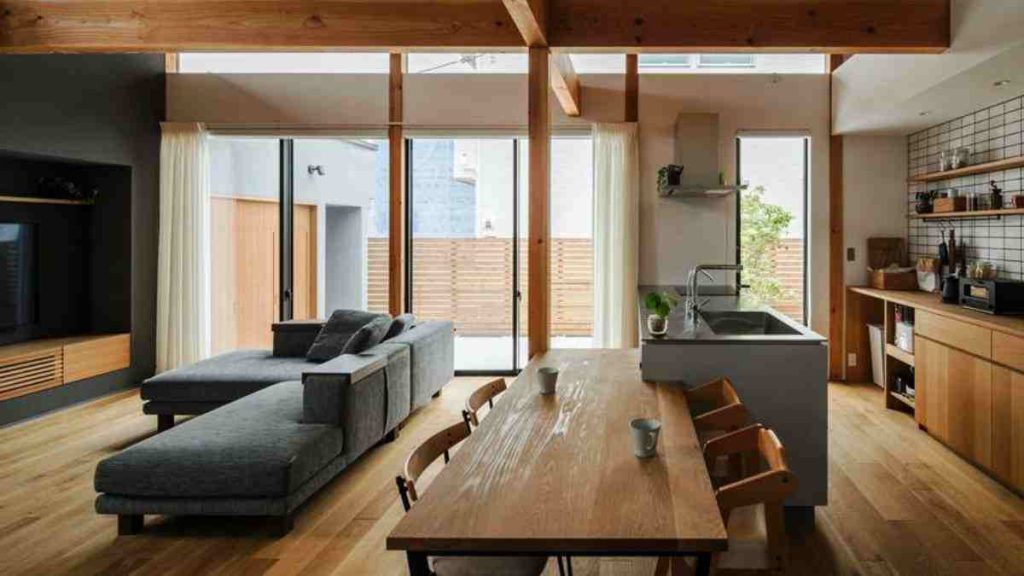 Traditional houses always use wood materials in various parts such house ceilings, floors, doors, buffets, and tables. Then, we know the living room is one part of a classic design house, so you have to pay attention to using the wood elements, such as the color of the wood, its arrangement, and the design.
Generally, if you use a natural color typical of wood will be able to give a warm impression on home decor. However, if you want to look complete, you can combine it with a gray sofa set and a white interior. That way, the design will look more inviting to the attention of guests who come.
Modern rattan elements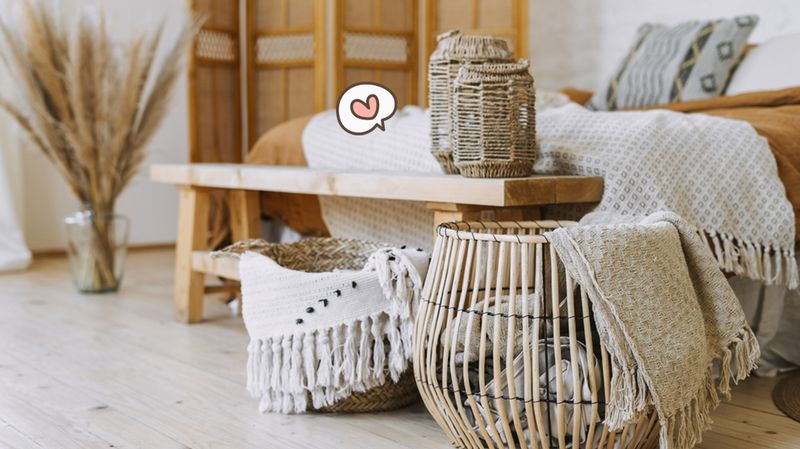 Apart from using wood elements, another natural materials that you can use as home furniture are rattan. This material is often applied to traditional living room designs, such as chairs, tables, or other types of decoration.
The goal is to create a traditional impression. Therefore, if you are interested in this furniture, you can use rattan elements by using monochrome colors such as black or brown. As far as we know, using black and brown colors on rattan can give an elegant and stylish impression. Applying traditional modern and traditional living rooms can make your home more unique and characterful
Elements of the ceiling and pillars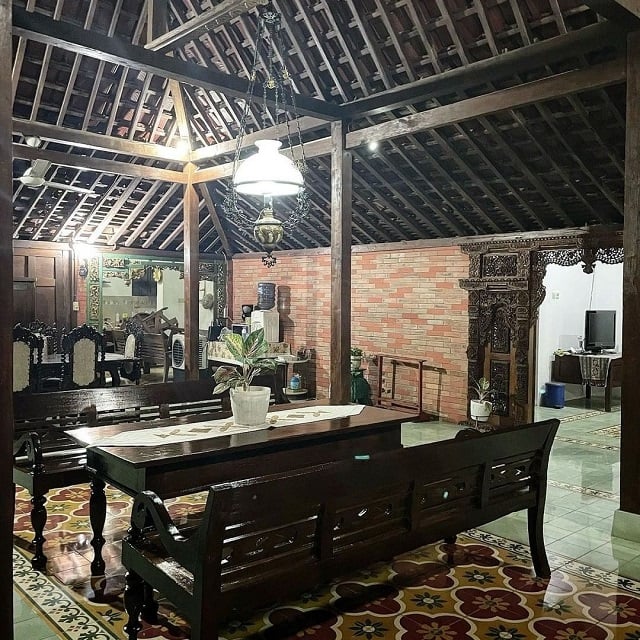 If you want to make a old past traditional living room, you can use this design. As you can see, this room has equipped with wooden chairs typical of ancient chairs made around a long table. That way, you can feel the feel of the old days. Then, the design of the ceiling and pillars in the living room is clearly visible, the characteristics of the traditional designs of the past. However, the combination of patterned ceramic floors, exposed brick walls makes this look like a vintage design.
Apart from that, the presence of antique chandeliers, classic model furniture, decorative plant pots, and antique knick-knacks, makes this living room look aesthetically pleasing. That way, your guests will surely be amazed and fascinated.
A mix of old and modern furniture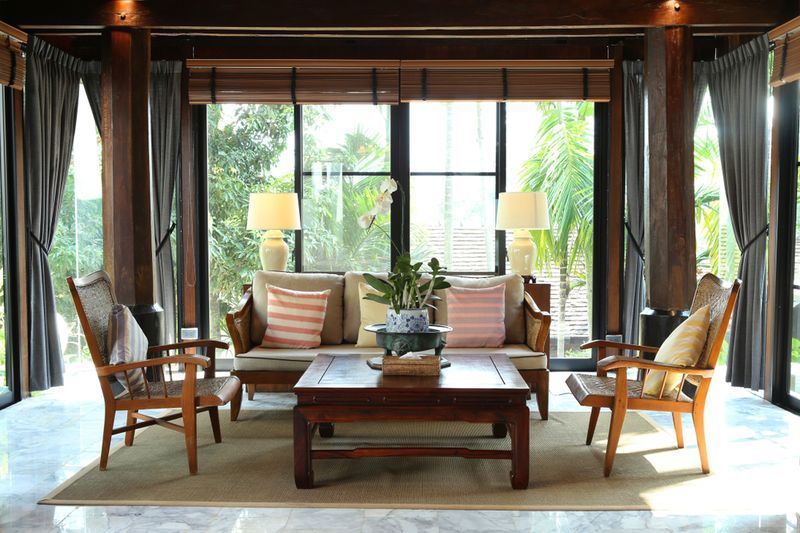 Of the many simple living room designs in the village, this one living room is the most common and popular. The accent features a traditional side that reflects Indonesian culture. The living room with a combination of classic and modern furniture has the characteristics of Indonesian traditional modern design.
The walls are made of glass, the pillars of the building, and the tables and the chairs also use similar materials. Then the type of wood used is teak because it tends to be more durable and long-lasting. To appear more attractive, this living room is equipped with antique portable decorative lamps, beautiful curtains, modern sofa cushions, and decorative plant pots. That way, the living room design will feel cozy.
Arrange with natural nuances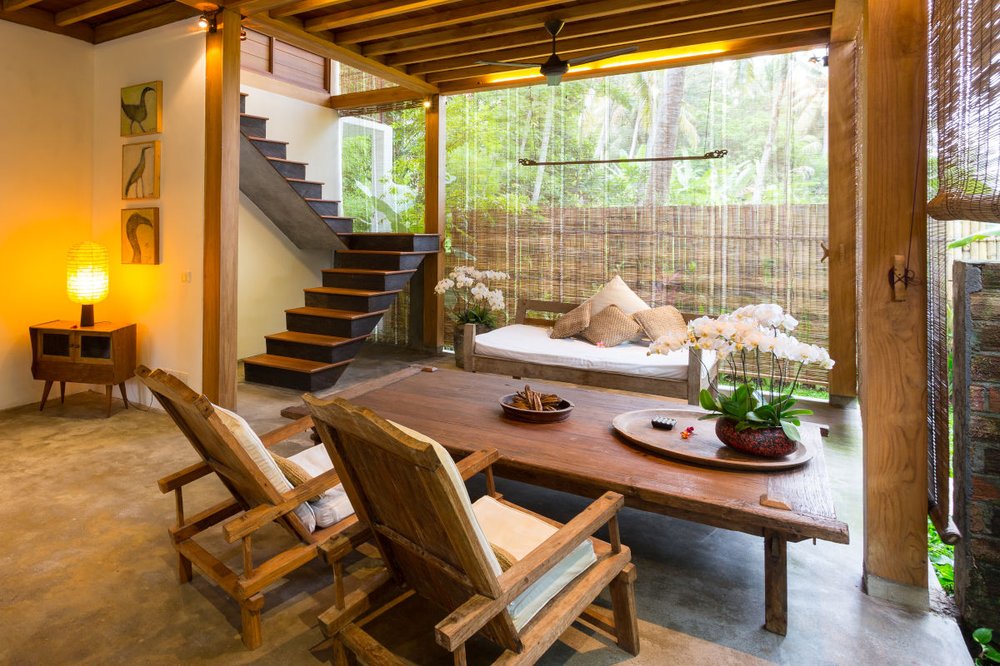 To feel one with a rural atmosphere, you can arrange a beautiful living room with wood material that has not been varnished. Wood accents that appear semi-finished will create a very natural look.
Use a long bench, two chairs, and a large table to be placed in the living room. Another distinctive feature of the simple living room in the village is that the floor doesn't need to be tiled, so you can feel the rustic feel.
Simple living room with bamboo shades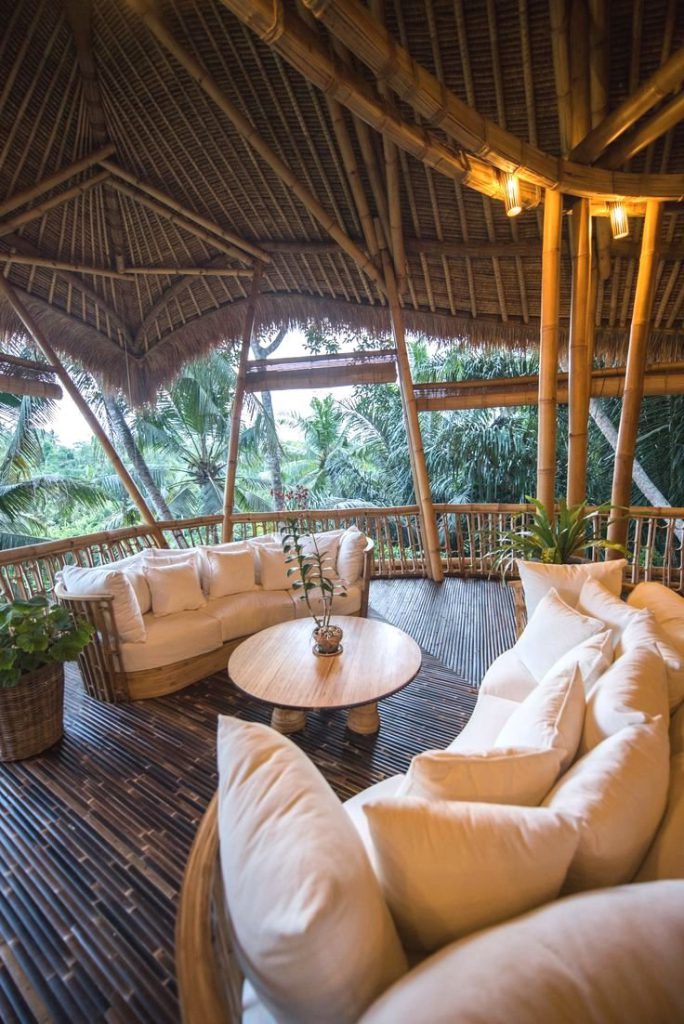 This traditional country-style design feels very pleasant. In this place, you can enjoy a relaxed atmosphere with your family. This design looks simple with bamboo material but looks elegant. To make this room look more attractive, arrange it with bamboo chairs covered with white foam, round tables for placing drinks, and ornamental plants that make your eyes feel fresh.
In addition, the ceiling and pillars have made of bamboo which makes the room atmosphere warm. To make the atmosphere brighter on the ceiling-mounted spotlights. With an arrangement like this, you and your family will feel more at home and comfortable.
Set with beautiful colors
Many people maximize traditional designs to make their living room look aesthetic and appear different from the others, especially since this space is a reflection of the owner of the house. A minimalist living room could be an option for this design. But the decoration will be more interesting if you make it in a traditional design. With a choice like this, all the guests who see it will be amazed.
Then, to look more artistic, you can add teak chairs and tables to chat with your guests. Therefore, this traditional living room still inspires many people. Hopefully, this design can be an inspiration for you and your family.
4. Conclusion
Those are some ways to organize a traditional living room that we can recommend. Hopefully, some of our review examples above will suit your taste. We hope that our review above can make your home interior look aesthetically, pleasing, beautiful, and comfortable. We also hope that our review above can be an inspiration to you. Then, it is beneficial for you and your family. Happy decorating!