1. Overview of wooden benches
Minimalist wooden guest chairs design are often chosen as furniture in the living room because they can give a comfortable and homey impression. The living room is the first room which is the area where the design and selection of the right and impressive furniture for the living room is needed.
One of them is the use of chairs in the living room. Chairs are one of the most important pieces of furniture. Apart from being a seat, its presence also can add value to the room. If you are interested in using wooden chairs for the living room, let's look at some of the models below!
2. Cozy living room design
Having a comfortable living room is a dream for homeowners because the living room is the first place guests see. Therefore, you have to be good at arranging the model or design of the living room to make it look more attractive. One way is to organize the living room with guest chairs made of teak wood. For homeowners who like classic vintage style, you can combine it with a modern style to make it look attractive. Teak guest chairs are also produced in various models and types. If you are interested in it, you can see some examples below! Welcome to our review!
Simple wooden guest chair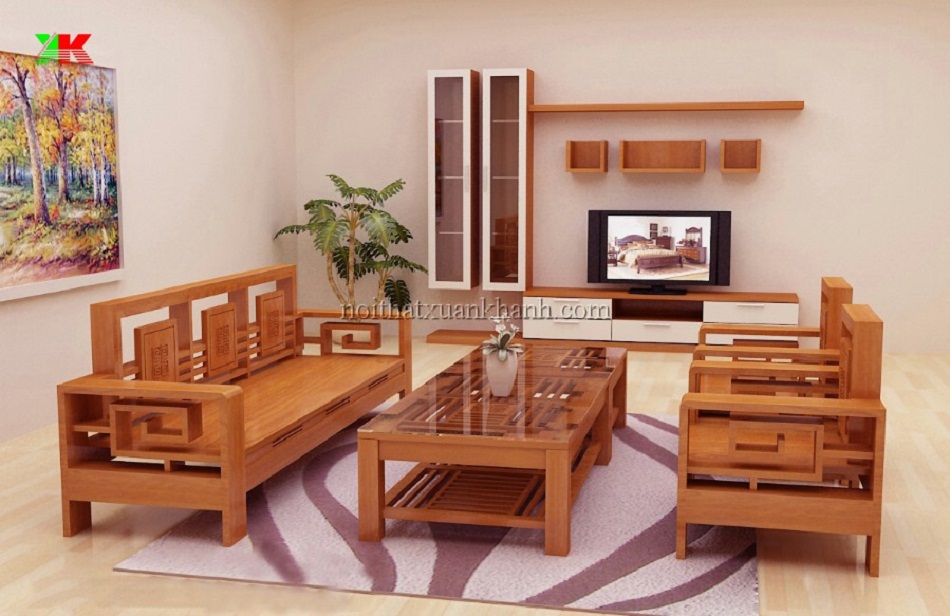 The first model is a set of guest chairs consisting of two single chairs, a long chair, and a wooden table. The design of the chairs has gaps for the back and armrests. Each chair is equipped with cushions so that visitors who come and sit will feel comfortable although the design is quite simple. To make it look more attractive, you can combine this chair with wall paintings, ornamental plants, and bright patterned floor rugs. With this arrangement, your living room design looks aesthetic.
Rustic wood guest chair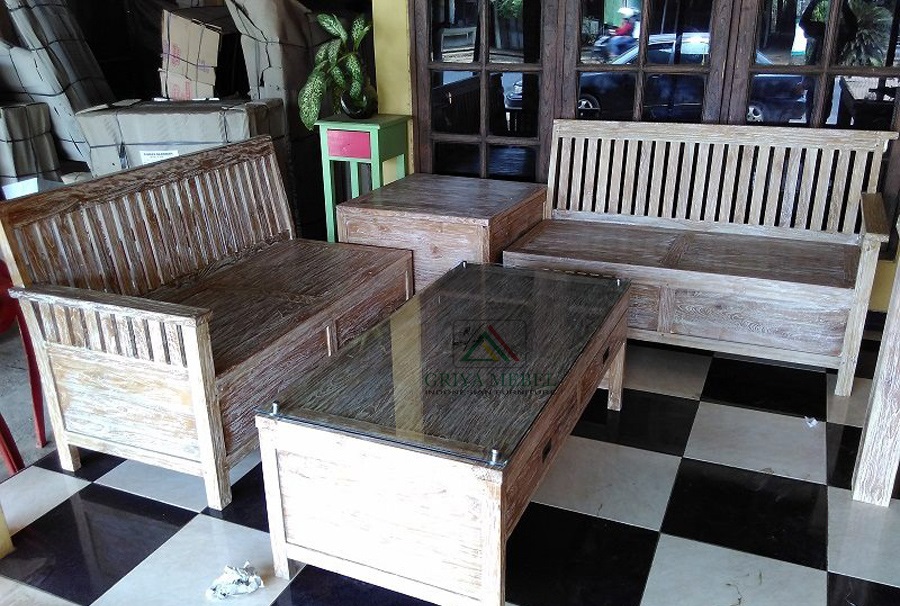 The design of this wooden guest chair looks like a rustic guest chair design. If you are a fan of rustic style, you can choose this wooden chair design. This wood chair model is designed to be very natural with a touch of color and wood grain. As a complement to comfort, you can also add some sofa cushions to the chair. Then add a table in front of the chair to place the drink. Apart from that, you can also place this guest chair in the garden for you to relax with your family.
Minimalist chair design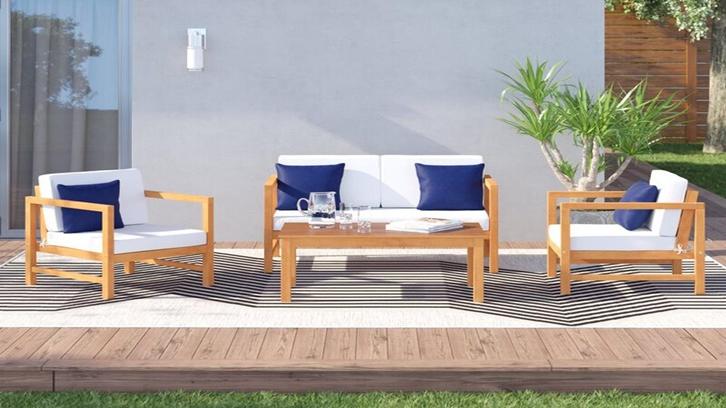 This minimalist wooden guest chair design is known for its varied appearance. But there is also a more minimalist wooden chair design. One example is the design of this chair. This minimalist wooden chair model looks more attractive with the addition of elegant blue cushions. Then, to look more attractive, you can combine this chair with antique carpets, ornamental plants, and knick-knacks. That way, your living room design will look elegant.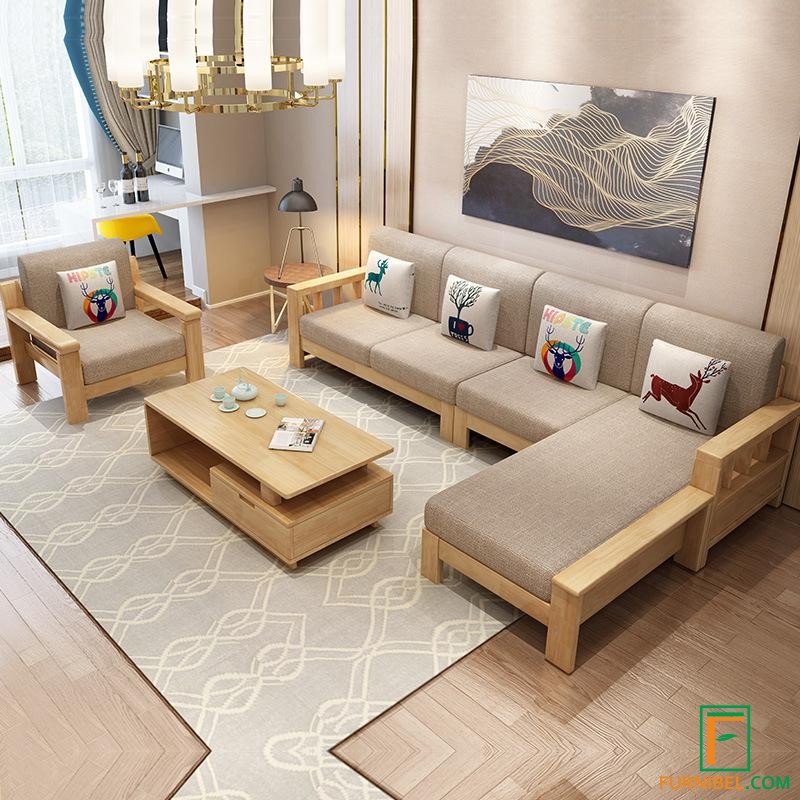 Scandinavian design is known for being bright, clean, and functional. But if you want to design your living room, you can use Scandinavian-model wooden chairs. Then, you can choose a light brown color with additional white or gray motif sofa cushions. Since Scandinavian furniture is all things functional, you can design a wooden table with additional drawers and storage underneath. Then, to look more attractive, this wooden chair can be combined with floor carpets, wall paintings, portable decorative lights, and antique knick-knacks. With this arrangement, your living room design looks fashionable.
Elegant model teak chair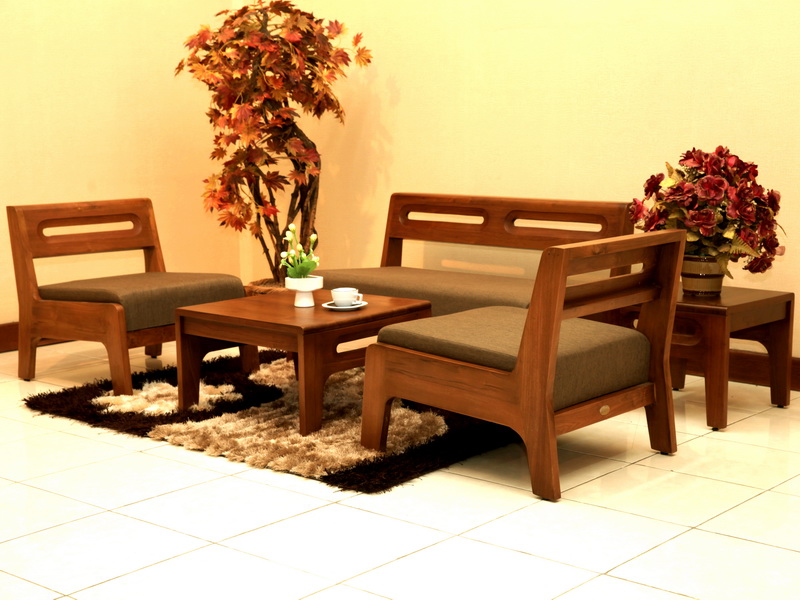 Who is not familiar with teak wood? The wood is strong, weather-resistant, and can last a long time. Therefore many people want furniture from teak wood. This furniture is the product that is most in demand because of its quality, resistance to weather conditions, termite resistance, and attractive fibers. Teak wood is a first-class wood that is widely processed into classy furniture.
This type of Teak wood furniture is in great demand by both Indonesians and foreigners so demand always increases from year to year. Then, guest chairs made of teak wood are made in various models to attract the attention of buyers. One of the interesting models is the elegant model. This model looks sweet and is suitable for a minimalist home model. If you are happy with teak wood guest chairs, this model can be an inspiration for you.
American-style teak chair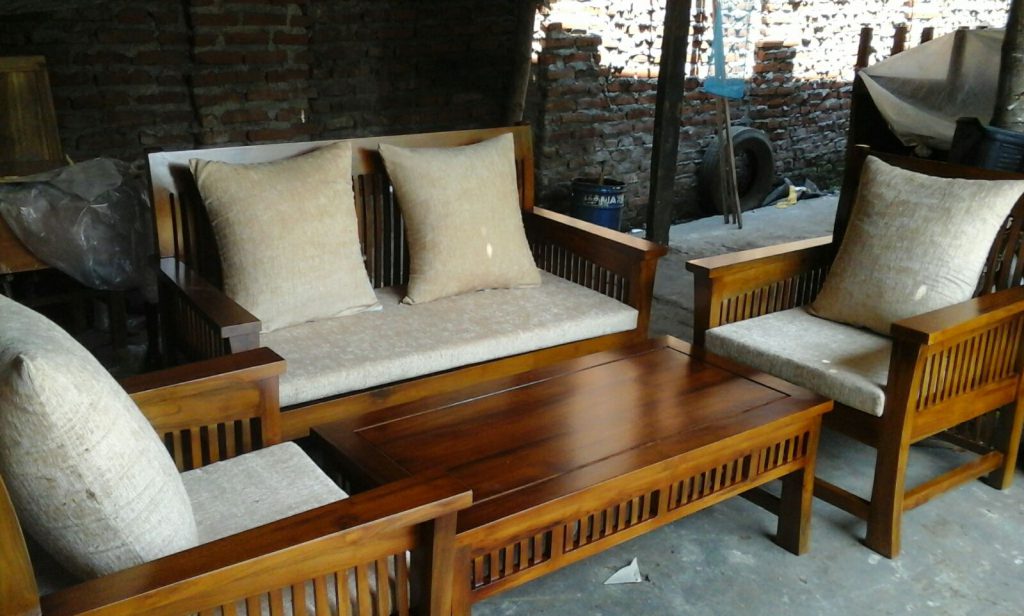 American-style teak wood guest chair is a furniture product with a luxurious design and an attractive. Then, this chair is ideal for beautifying your family room or home interior. So it looks elegant and beautiful.
In addition, this furniture product is produced using the raw material Solid teak wood with the design and quality of typical Jepara carving and is done by experts who have decades of experience in the furniture sector. For a more attractive appearance, you can combine it with bright-colored sofa cushions, a pedestal made of bright-colored foam, and a coffee table made of teak wood to place drinks. That way, your living room will look magnificent and aesthetic.
Modern teak wood chair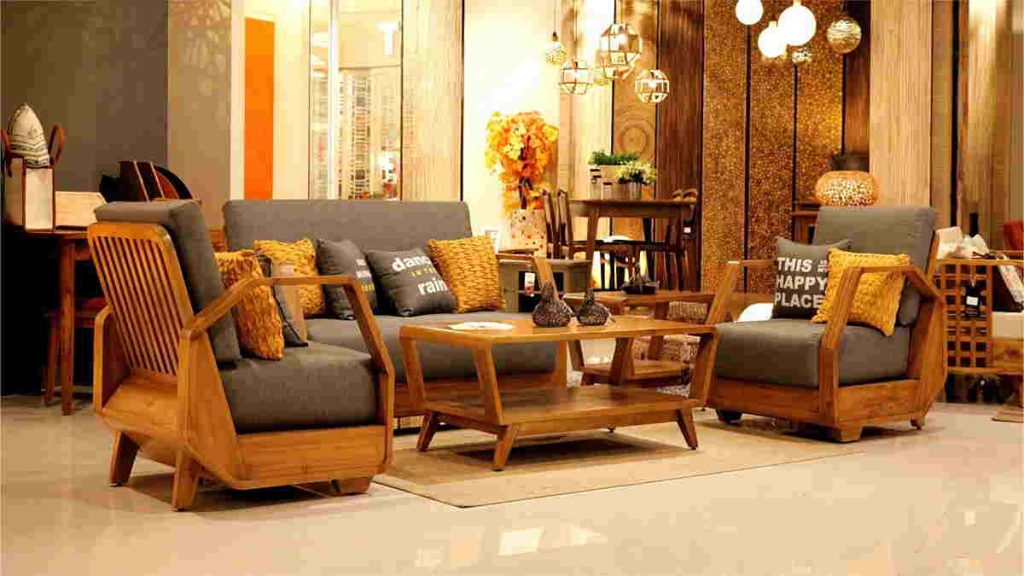 As you can see, at first glance the existence of this chair model in the living room looks similar to the interior designs of old British and European houses and looks elegant. Then, this chair has made with the best wood and interesting carvings. The color can also support the vintage impression you expect.
We suggest before buying a guest chair or a minimalist wooden chair, keep in mind whether the item is suitable for your living room or not. The goal is not to let you choose the wrong size because it will make your room seem unattractive. However, if you choose a guest chair with the right size, your living room design will feel more comfortable.
Minimalist teak guest chair carved model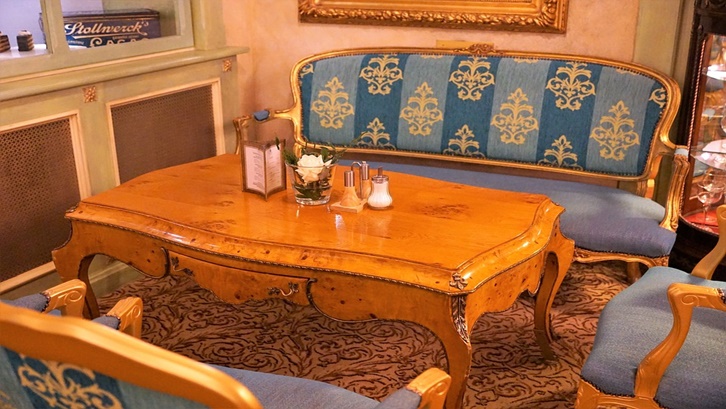 Arrange and decorate the interior of the house, you have to adjust to the area of ​​the room. As you can see in the picture, this minimalist guest chair made of teak wood is the best material for making furniture. Teak wood has many advantages compared to other types of wood. One of them has a straight stem, strong against weather changes, resistant to termites, and easy to process. That is why teak is the right choice for furniture makers.
To make it look more attractive, you can combine this teak chair model with floor rugs with matching colors, wall paintings, teak tables, and knick-knacks made of wood. With this arrangement, your living room design will look more aesthetic.
Traditional teak wood guest chair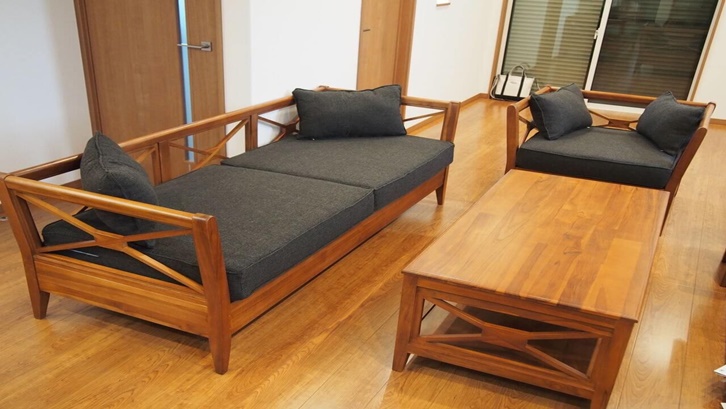 Many think that a dream house with a traditional feel seems old or old-fashioned. In our opinion, this is not true. As we know, the design of the house interior depends on perspective and how you apply the elements. One of the most important elements in the living room. The living room is the main highlight. Therefore, you must arrange the furniture to make your living room look antique and attractive. Choosing a traditional style can attract the attention of the guests who come.
In addition, adding traditional minimalist guest chairs can attract the attention of your arriving guests. As you can see, this teak chair model looks simple. The body and handrest have been made parallel. Then, next to the chair, an attractive variation is made, plus a seat made of soft foam covered with a dark cloth. Then, to complement it, this chair is equipped with a coffee table for placing drinks. Don't forget to design your floor with wood motifs. With this arrangement, your living room design will look artistic.
Modern Minimalist Jepara Teak Chair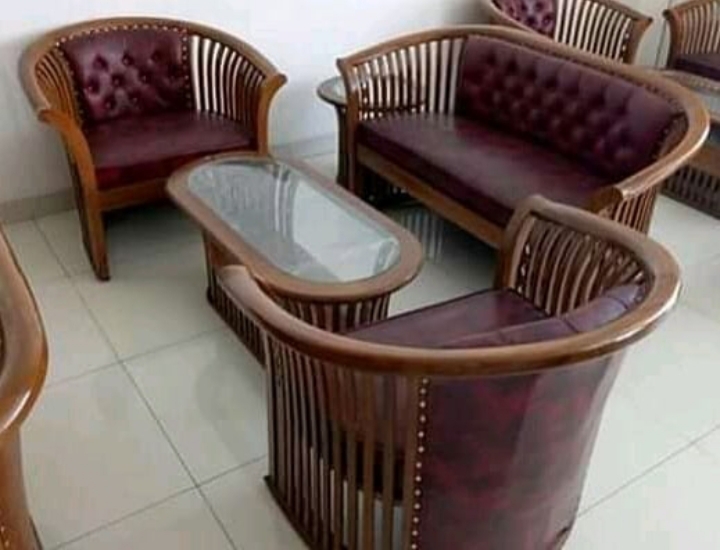 The city of Jepara, Java, is known as the producer of the best teak wood carvings. This city is known as the most famous teak furniture and wooden furniture product in Indonesia. Therefore, wood products from Jepara are one of the products that you need to pay attention to. One of the products that you can consider is a set of terrace chairs and a modern minimalist Jepara teak table in the basket model.
Then, the material used is also high-quality teak wood that has been oven-dried so that it is more sturdy and termite-resistant, as well as weather-resistant. If you see, the design of this chair is so attractive. The finishing. Then, the natural color makes many people like to choose this product. If you are happy with luxurious furniture products, you can get these products through the website in this article.
Modern teak elegant teak wood guest chair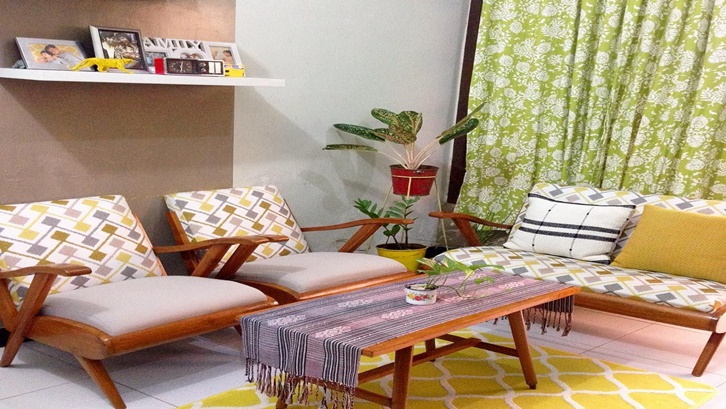 In this modern era, the role of teak as the main material for making furniture is increasingly popular and cannot be replaced by artificial wood materials. Especially to hook the millennial market, many teak wood craftsmen design minimalist teak guest chairs with a modern concept. As you can see, this chair is perfect if you mix it in a minimalist living room with wallpaper decorations, ornamental plants, and cloth tablecloths. With a concept like this, your living room design will look elegant.
3. Conclusion
Those are some examples of teak guest chairs that we can explain to you. We hope some of the models above can suit your taste. The advantages of this chair are its strong material, easily profiled, and termite-resistant. Then this furniture is made with various models by experienced personnel. If you are interested, you can choose from a simple model to a luxurious model. But the choice depends on the budget you have. Hopefully, your choice can make your home interior look aesthetic, beautiful, unique, and attractive. Then, it is beneficial for you and your family. Happy decorating!