1. Choosing industrial design
Our house looks old and outdated. When we saw several shows on television Especially, programs showing Korean films. We are amazed by the design. After we traced it, it turned out that the design was industrial. Therefore, we are very interested in renovating our home into an industrial design.
The design of the house usually describes the character of its inhabitants. If you carry the Scandinavian style, the homeowners are certainly a group of people who are minimalist and don't like home decorating knick-knacks. But if you carry the Shabby Chic style, the residents like the sweet colors.
After we considered, we prefer industrial design. The reason is that this design looks antique, unique, and fun. In addition, industrial design requires residents to make more effort when building and always maintain it regularly. Even though it's difficult, we are ready to carry out the industrial design concept.
We hope that by implementing an industrial home, a warm atmosphere will naturally be created in our home. This warmth can be present through materials that are usually always present in industrial homes, namely wood, iron, and walls without finishing paint. Therefore, we review an interesting industrial design.
2. Attractive and distinctive design
The hallmark of an industrial house is that the walls have made of exposed brick that has not been plastered. This concept often frightens homeowners because it can make the interior house dirty. However, if properly designed, there are no problems.
Industrial house design is perfect for men. The dark color design with rough materials is a favorite of men. Concepts like this give a masculine impression to a house. For that, let's review the ideas and inspiration below.
3. Ideas and inspiration
We understand that industrial design is one of the unique designs that are currently in trend. But in Indonesia, this design is widely applied to restaurants, cafes, and bars. This is because this design has been designed with an artistic and unique model. Then, to create it, we get ideas and inspiration from several sources in home decor and the internet.
As far as we know, Industrial desain for the living room, family room, bedroom, kitchen, dining room, and bathroom. All use exposed brick, iron, and wood. Then, for exposed bricks, there is also no need for finishing like cement mortar. Therefore, we have considered designing the interior of our house with an industrial design to make it look more attractive. In this review, we want to explain the advantages of industrial design. Hopefully, this design is to your taste. Welcome to our review!
Two-floor model industrial living room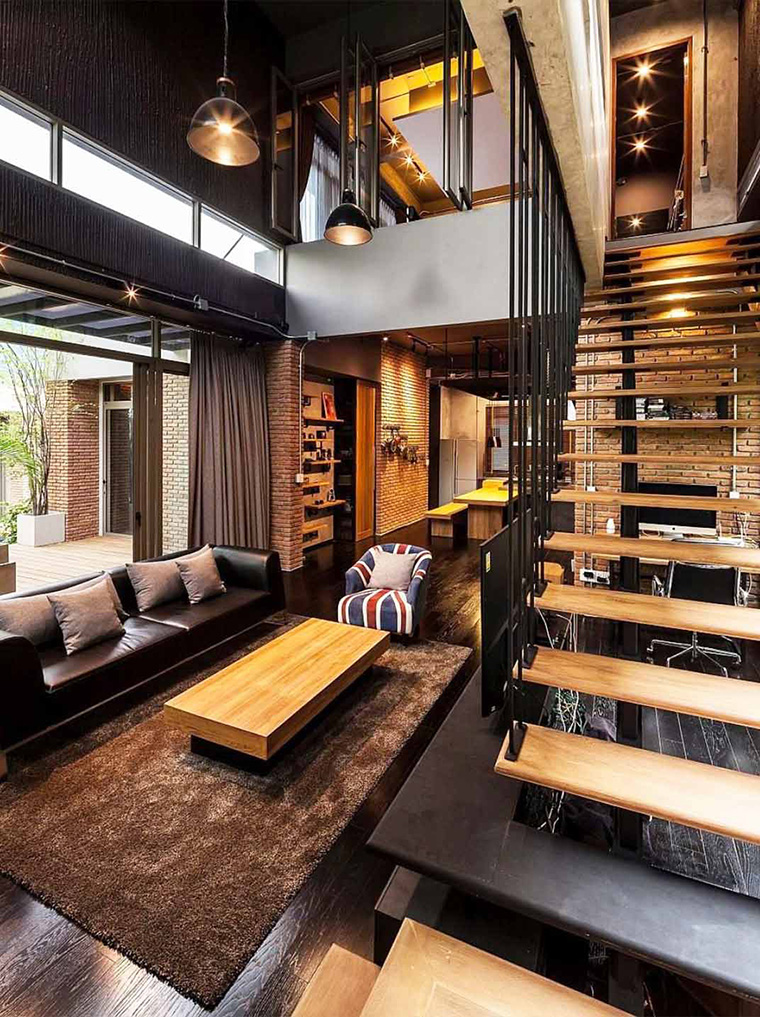 The industrial-themed interior is quite synonymous with large windows, complete with black iron sills. If possible, you can also install large industrial-style windows in your living room. Large windows are optimal for installation in the living room because usually, the position of the living room is in the front area of ​​the house. So that natural lighting can be put to good use. To make it look more attractive, use simple window curtains so they don't disturb the shape of the large windows which are characteristic of industrial design.
Another characteristic that is owned by the industrial interior style is the walls that are left raw, without using the living room paint color or wall finishing. You can also apply this to your living room. The cement and bricks on the walls are left exposed so that they bring out their own color and texture in the living room. To make your living room look attractive, add a black sofa set, wooden table, antique chair, floor rug, and antique decorative lamp hanging on the wall.
Artistic living room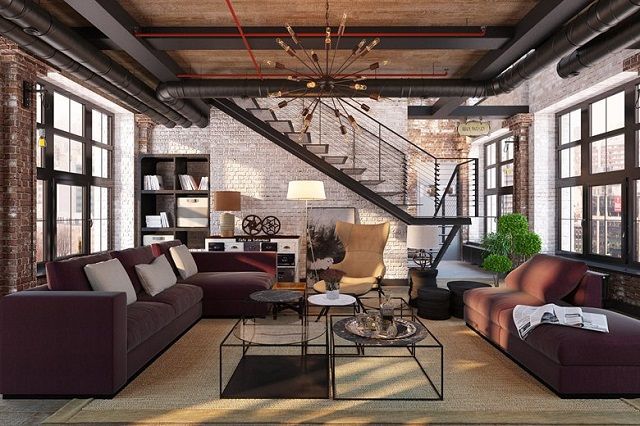 Your living room will be efficient if it has an industrial theme like this picture. If you pay attention, the furniture and decorations used to build an industrial atmosphere are quite synonymous with exposed materials and uncomplicated finishing. That means you can make it at home too!
Then, to make it look more attractive, this living room is equipped with a large sofa, sofa cushions, a glass table with iron frames, antique hanging lamps, portable decorative lamps, and antique knick-knacks. That way, the design of this living room looks aesthetic and unique.
Unique living room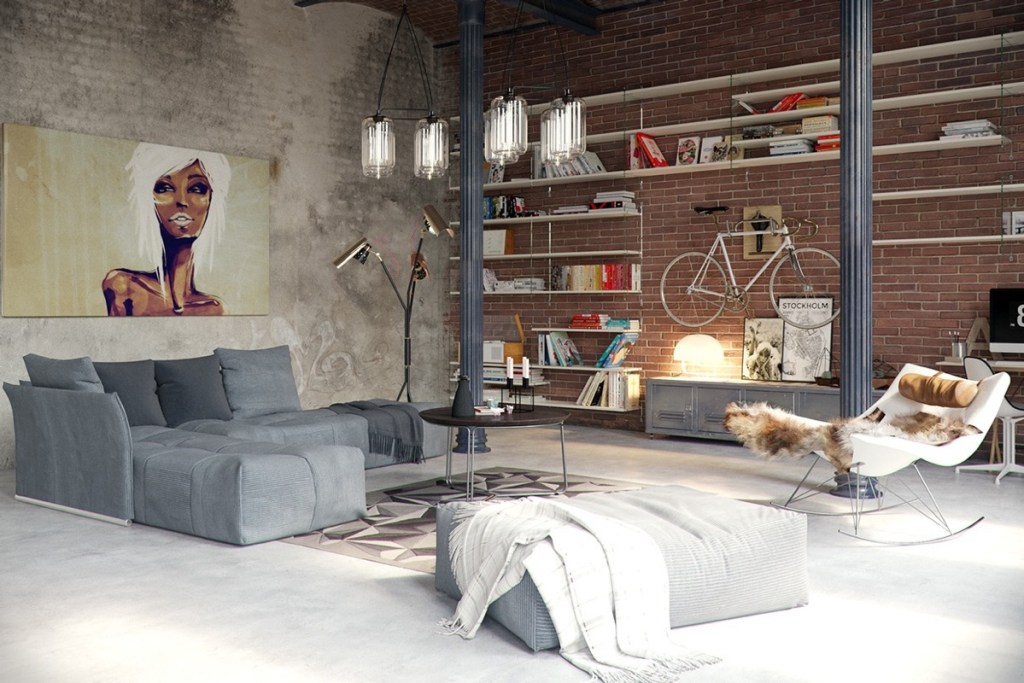 Your living room also can be transformed into an industrial style by changing the furniture. Exposed brick and unfinished wood, black hollow iron, and the shape which is a constructive look masculine. But if you want to use a shelf that is the right size for your living room and not too big because it takes up a lot of space.
To complete your living room, you can add a gray sofa set, an antique chandelier, bicycles displayed on exposed brick walls, and antique knick-knacks placed on wooden shelves. In this way, your living room design looks antique and unique.
Family room design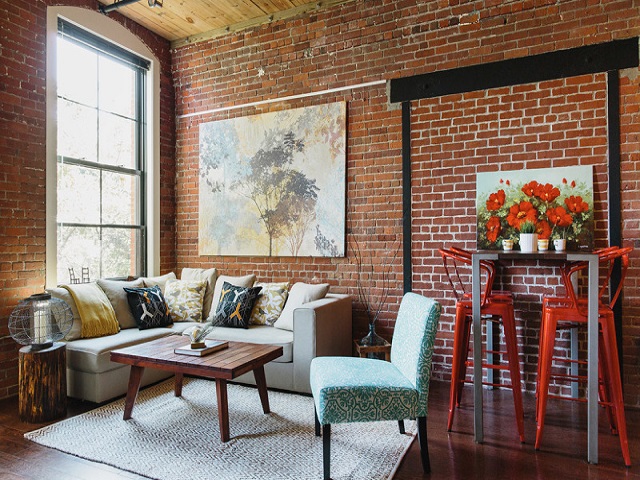 Industrial interior style is one of the design concepts that you can make an idea for arranging the interior of a family room. Applying this style makes people more interested in industrial design. By using the warm brown wood material. Then minimalist sofas, bright colored carpets, beautiful wall paintings, iron tables, and iron shelves. Make this room look aesthetic and artistic. By playing with colors like the picture above, the design of the family room will be even more attractive.
To provide a cheerful atmosphere, present accents in the form of colored chandeliers in several parts. Or you can also use some materials that tend to be rough like metal and steel beams that are deliberately exposed to show the character of an industrial-style room. Hopefully, this design can be an inspiration for you.
Industrial bedroom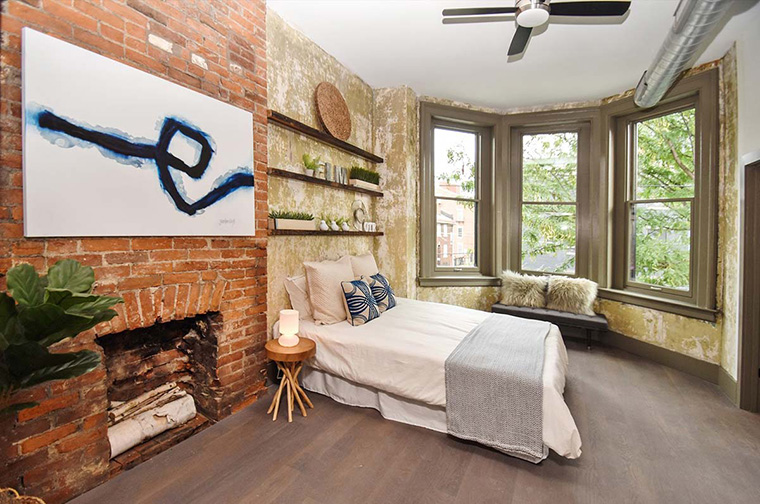 If you want to give an industrial touch to your bedroom, you can take a peek at this inspiration. The back wall of the headboard uses uncoated cement and exposed brick. This is what reinforces the concept of an industrial bedroom. Not to forget, the display is a wall shelf to place knick-knacks. Then, a minimalist bed with soft pillows. Then, to make it look unique, you can put wall hangings like the picture above. Then, don't forget to design the floor with a wood motif. That way, your bedroom design looks aesthetic.
Main bedroom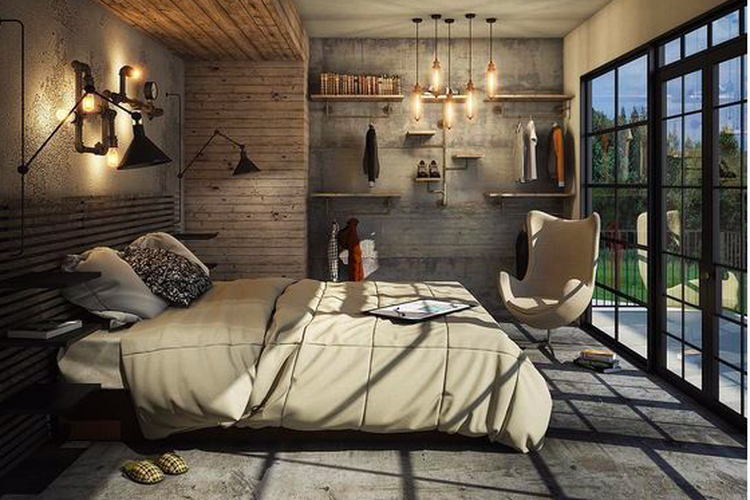 Having a beautiful and comfortable bedroom is everyone's dream. In this way, you can rest to the fullest. But to provide comfort, you can give a little touch to the bed, namely by adding lots of pillows and choosing an attractive color for the sheets, according to your favorite color.
In addition, place a small table and lounge chair next to the bed for a sweet treat. To decorate a room, you can place decorative lights attached to the walls, hanging decorative lights, wooden shelves on the walls, and attractive carpets. That way, your bedroom design will feel comfortable.
Bar-style industrial dining room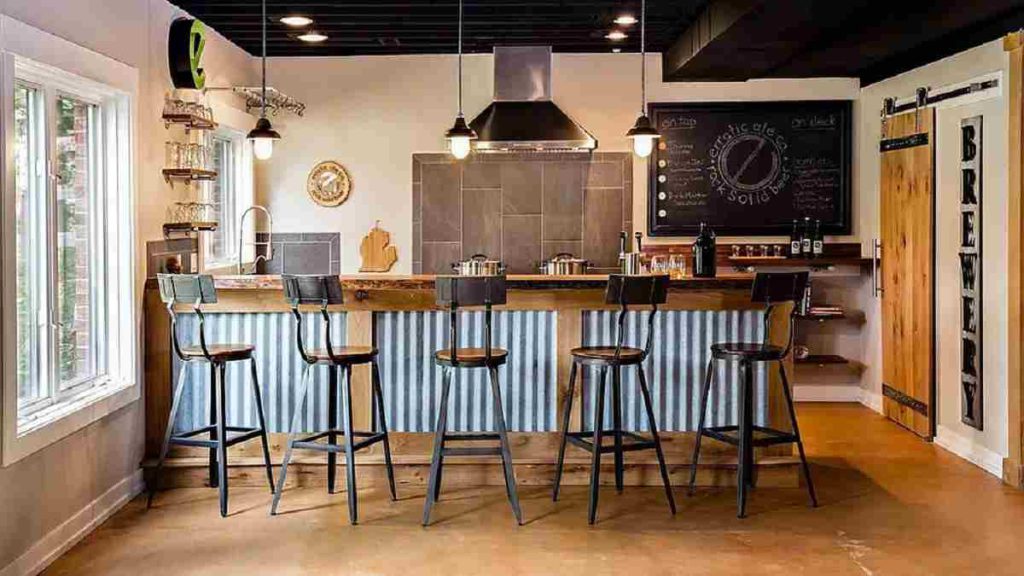 As previously mentioned, many people have the view that the Industrial style has a gloomy impression. But the reality is not like that. The solution you can minimize this impression by placing some furniture that has a more modern appearance. In this way, you will get beautiful and comfortable.
As you can see in the picture above, the dining table has been made with a bar table design. Then, the chairs also adjusted to the bar table. To make those present at this place feel comfortable, on the bar table mounted antique hanging lamps, spotlights, and unique knick-knacks. In this desain, the industrial design will look more attractive.
Main dining room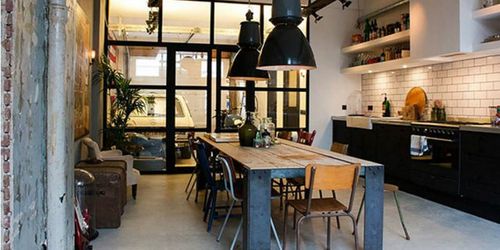 Many things that you can do in the dining room. But in particular, when you eat with your family. Moreover, if the number of family members tends to be large, eating together in the dining room will present a warm atmosphere.
To make all of that happen, you can present a dining room with an industrial style. Moreover, the impression given to this interior style may seem gloomy, but it is very comfortable. To look more attractive, you can add a long dining table in blue and some chairs. Then, add two antique chandeliers to illuminate your dining table. In addition, you can decorate the kitchen with a kitchen set. So it makes the atmosphere warmer. That way, your dining room design will look aesthetic and attractive.
Industrial kitchen design
Industrial kitchen design is currently a trend. Many people make their kitchen designs in an industrial style. As you can see in the picture above, a beautiful kitchen design with a unique chandelier, then tables and chairs using iron frames. Then, to make it look more attractive, the kitchen table and kitchen set are made in a color that matches the room interior. In addition, the kitchen iron frame is left exposed. With an appearance like this, your kitchen will look aesthetic and unique.
Industrial bathroom design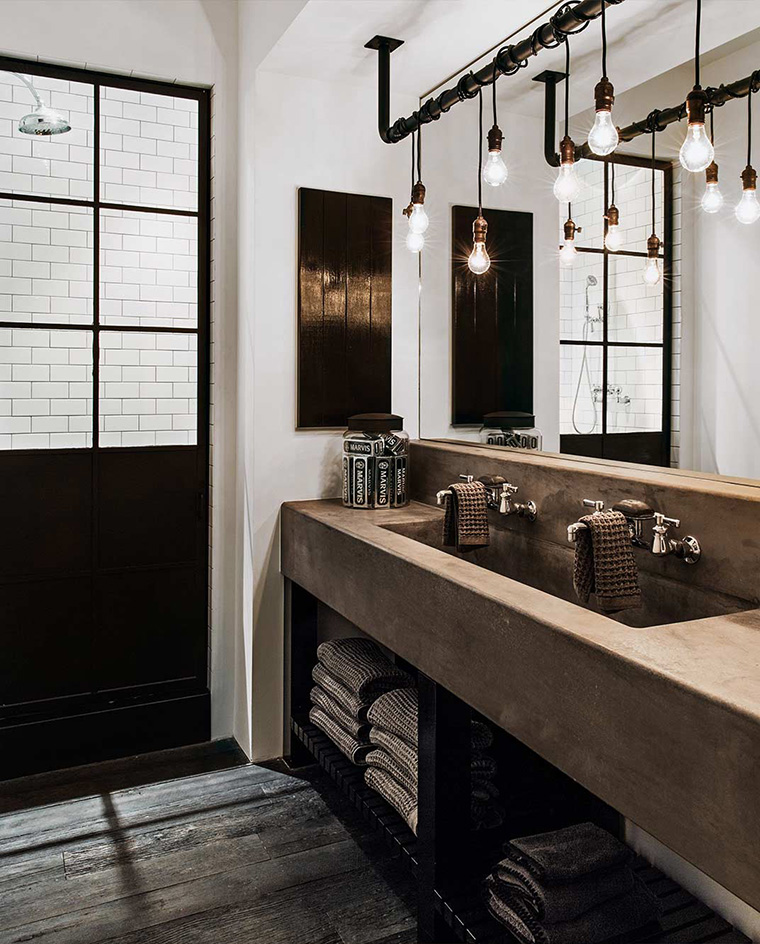 Another characteristic of industrial houses is the many installations of neon lights. These lights has made to hang with lots of wires. Like the inspiration above, a neon lamp is hung on a pipe. This concept is increasingly similar to the interior of industrial factories.
However, for this one design, the lamp is hung on a bathroom pipe, so it looks antique and unique. Then, to make it look brighter, you can hung some lights above the sink. Then, attach a mirror to the wall to reflect the light. That way, the bathroom interior will be bright.
4. Conclusion
That's the industrial-style interior design that we describe. To make it, of course, you need the right design in accordance with the model of your home so that the results are satisfying and according to your taste. But if you want to make a comfortable and aesthetic home like the picture above, you can submit your industrial interior design to the home decorator.
We hope this industrial interior design can make your home design look aesthetic, beautiful, attractive, comfortable, and luxurious. Hopefully, this design can make you and your family feel more at home and cheerful.