1. Futuristic house interior
Everyone has dreams of what their dream home will look like. Many people choose a minimalist home, along with land prices that are increasingly expensive and it's easier to do decorations. They also chose a futuristic house with the advantage of its quirky style.
Futuristics in architecture and design means planning and building with the concept of looking to the future. Originally this type of architecture and design appeared in Italy in the 20th century. The futuristic concept then attracted more attention and was developed by architects to this day. If you are interested in unique futuristic designs, follow the futuristic design reviews below.
2. Futuristic design idea
The appearance of a house that is just like that sometimes makes us bored. Therefore, you can try a beautiful and unique futuristic home design style. Maybe this is the right time to move on from the current design style and try a futuristic design style that is more popular with future design styles.
As far as we know, the futuristic design style offers a new look that is different from other designs, both in the home structure and the shape of the furniture. This design is different from the style of interior design in general. Even though the futuristic design style is the result of a high-level modification of several design styles that are popular today. Let's look at some interesting examples.
3. Some interesting examples
Everyone must have their own dream house. Some are happy with a classic style house, and some prefer a minimalist modern. Currently, there are many home designs that you can select according to the taste and character of the house owner.
If you are happy with a modern home but not monotonous, you can try a futuristic-themed home design. This futuristic design is a residential design with the concept of the future. Therefore, we want to share ideas with you for this design. Hopefully, the designs we review below suit your taste. Welcome to our review!
The room divider with curved texture and crystal chandelier looks elegant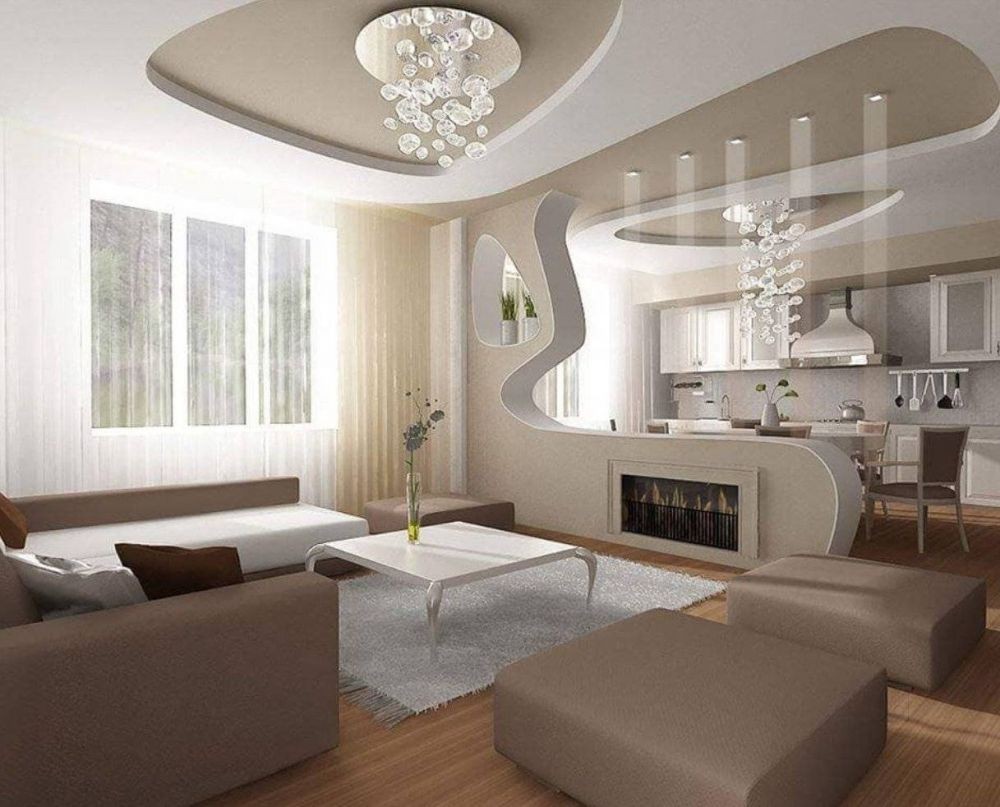 The living room interior design is not always black and white. You can still create a futuristic impression with other color themes. Like a house with a super cozy pastel brown concept like this picture. The futuristic element has emphasized in the curved part of the living room and kitchen area.
In addition, the use of a hanging lamp with a floating impression also adds a unique accent to the room. Then, to look more attractive, add a pastel brown sofa, coffee table, patterned floor rug, and antique chandelier. Then, don't forget to design a floor with a wood pattern floor.
Arch pattern
Arch-shaped and modular designs in furniture and interior houses Create a modern, unique, and futuristic impression. To create a futuristic impression, you can form circular patterns of windows, doors, room dividers, and another arch motif.
Change the rigid and monotonous walls. You can apply a room with a high ceiling with a unique arch shape to make the atmosphere more spacious. This method can be use by those of you who have limited land. To look more beautiful, add some furniture with bright colors. Then, mix the bright ceramic floor with black ceramic. That way, the interior appearance of your living room will look aesthetic.
Built-in furniture and all-white interior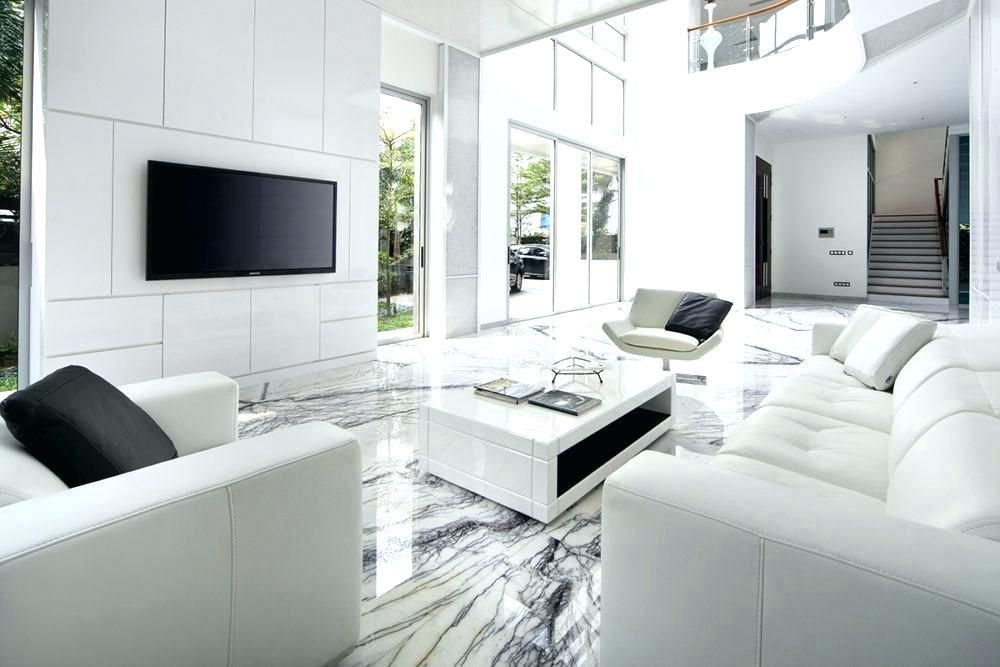 One of the hallmarks of futuristic design is using of furniture with unique shapes. You can see a bench with a curved shape to a hexagonal coffee table. Then, give texture to the walls to make the room look unique. On the floor, you can combine marble and wood elements. So the room doesn't seem monotonous.
The concept of built-in furniture is often found in modern, minimalist, and futuristic homes. The use of furniture like this can save space and bring a modern impression to the house. Apart from that, you can create futuristic modern dwellings like this. By setting up a chair for reading in the corner of the room, you can relax in this place.
Classy minimalism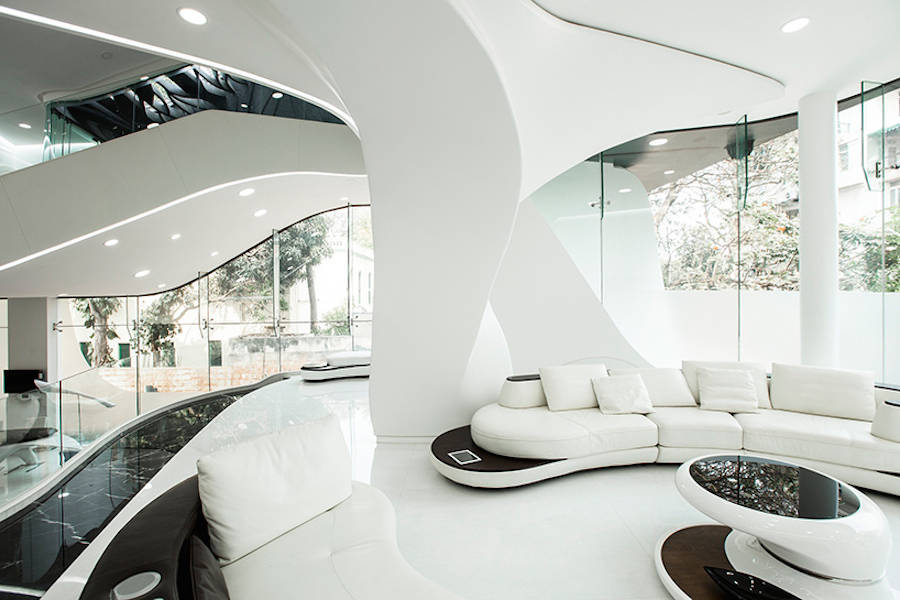 Many futuristic designs still adopt the minimalist design. In filling the space, a room with a futuristic design style does not use many decorative objects. Then, use white and black in the living room furniture to look beautiful.
The form of the selected furniture in this picture is simple design and uses only essential furniture. Futuristic interior design also doesn't use a lot of decorative accents and ornaments. Then, the curved shape of the design makes the interior of this room look attractive and artistic.
Dominant arch shape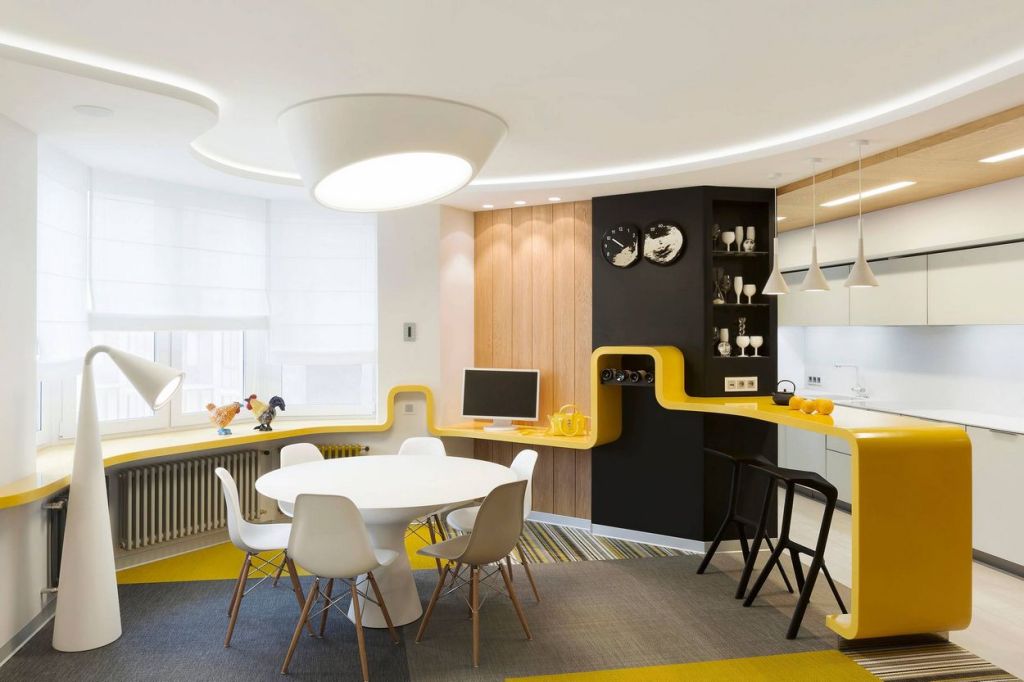 In a futuristic design, the forms that can be found are very varied. Although, geometric patterns and shapes can still be found. But overall, the shape that dominates the futuristic design is curved or modular forms.
It can be seen from the shape of the furniture, like computer desks, bar stools, and building structures in the room with a futuristic design concept. Then, to look perfect, add a round table and some chairs in the middle of the room to discuss existing problems. Then, place a unique decorative lamp to make a difference.
The combination of two colors produces contrast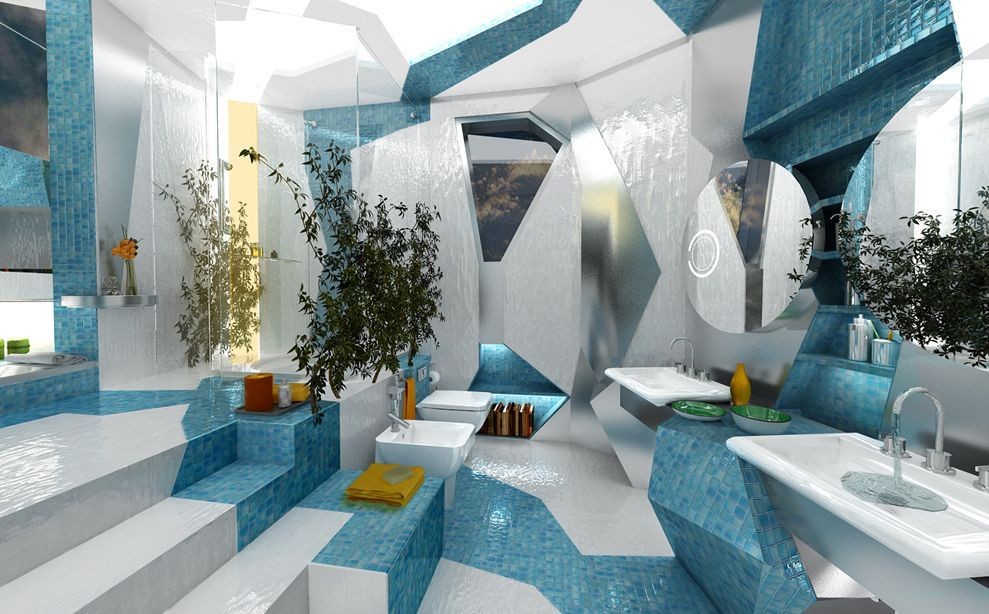 We know that futuristic designs feature designs that are unique and appropriate for future home designs. Then, to make it look unique, you can arrange ceramics with two colors into an irregular shape. Then, in the wall, you can also choose a window with art. Then, this color combination and blend are done to create a contrasting impression of the futuristic design. Therefore, white dominance and bright colors can appear more solid and feel alive.
Then, to look beautiful-style, you can add the colors used in the futuristic design concept like in the picture. Usually, a combination of two colors, with neutral colors and silver as the main color, such as a combination of white with striking bright colors. Then, the blue color makes the appearance of this living room design look elegant. If you like design like it, this design can be an inspiration for you.
Aesthetic decoration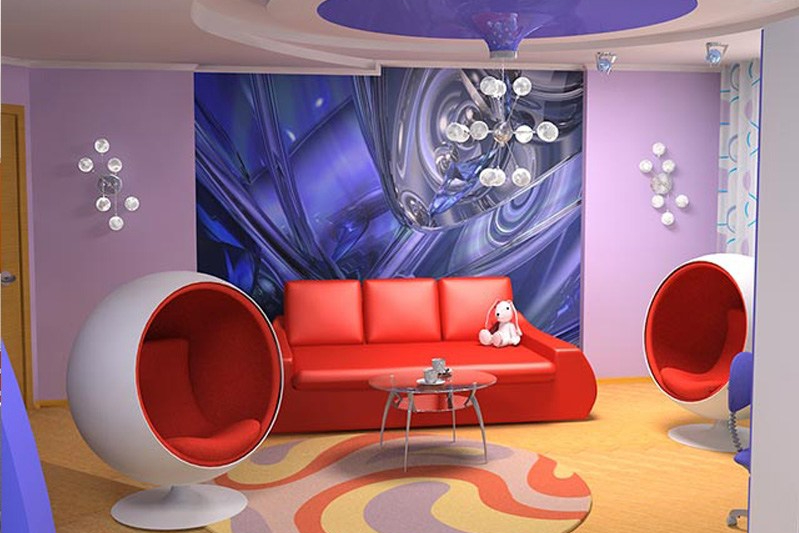 When you're trying to arrange a room in a futuristic design style. One thing you can't miss is the artwork. You can put up an abstract painting or a surreal style to get the maximum futuristic impression.
Then, to look beautiful, you can decorate with bright colors. Add a sofa in red color and a round guest chair with a red design inside. Then, add artistic wall hangings, yellow carpets with red motifs, and decorative wall lights, unique hanging lamps. That way, your living room design will look aesthetic and retro-style.
Romantic futuristic living room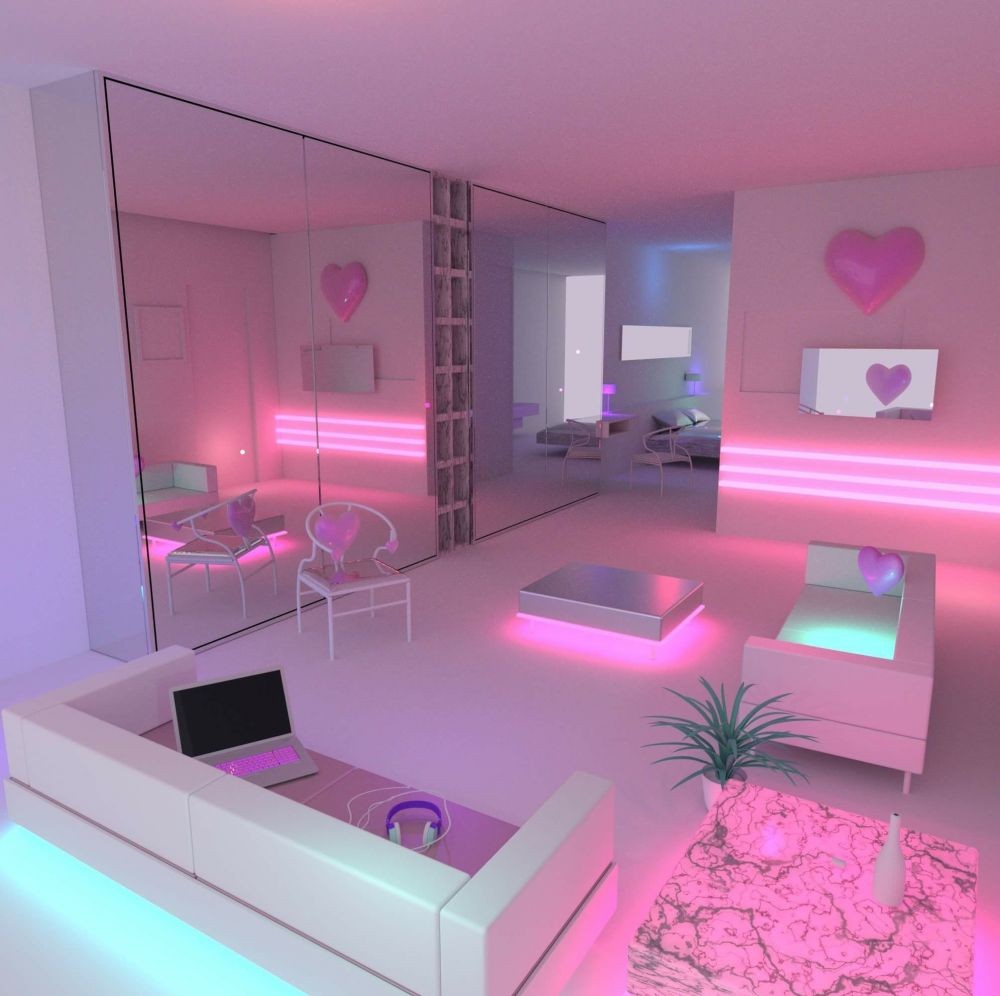 This living room design looks romantic. With a combination of pink and white, this room looks romantic. This design is perfect for those of you who just have a partner. The presence of lights of love and affection makes this room pleasing to the eye.
Then, to make it look beautiful, you also can combine futuristic elements with a cool retro style. You can do this by simply adding pink neon lights in several corners of the room, and under the table and walls. As a complement, you can also fill the room with a box-shaped sofa set to emphasize a modern futuristic impression. If you want to create a romantic atmosphere in your home, this living room design can be an inspiration for you.
The use of LED lights for futuristic design lighting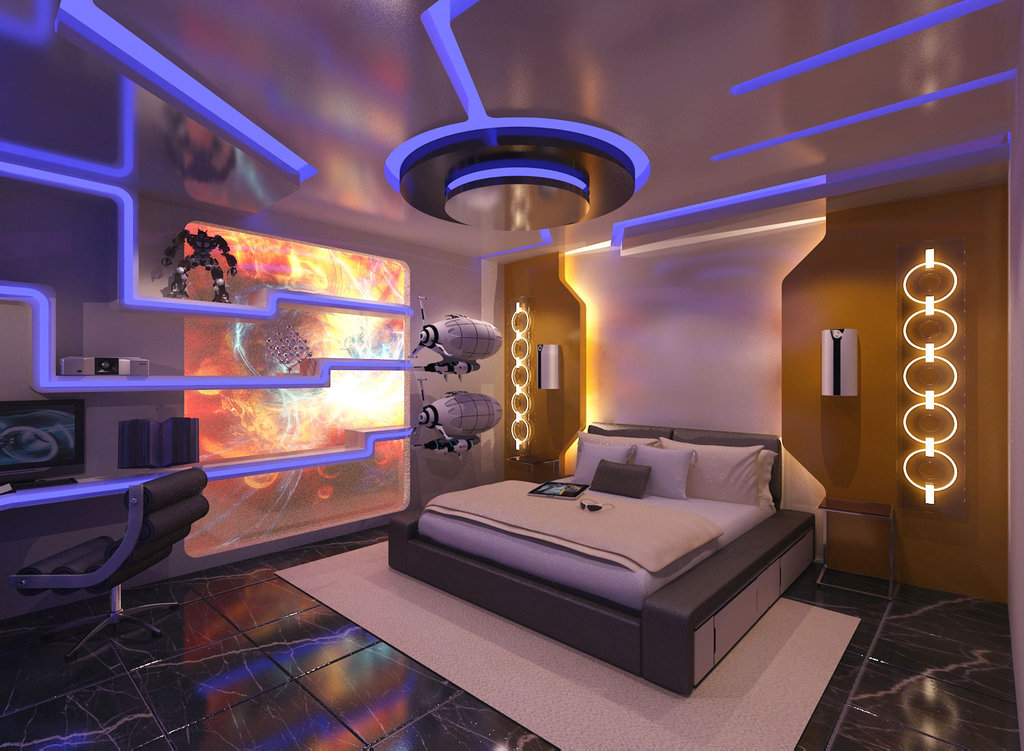 Lighting is an important factor in the futuristic design concept for your room. Unlike lighting in other design concepts. Lighting on a distinctive futuristic design with LED lights. The LED lights also produce colorful light and can be adjusted in intensity.
To make it look more attractive, you can place LED lights in a room with a futuristic design concept and be installed hidden. Then, install the lights behind the bed, on the edges of the furniture, and on the bedroom ceiling. That way, the light effect that appears can be seen radiating according to your taste. Then, add a minimalist bed, a floor rug in the same color as the bed, and wall hangings. With this arrangement, your futuristic bedroom design looks harmonious.
Create a bed with a floating impression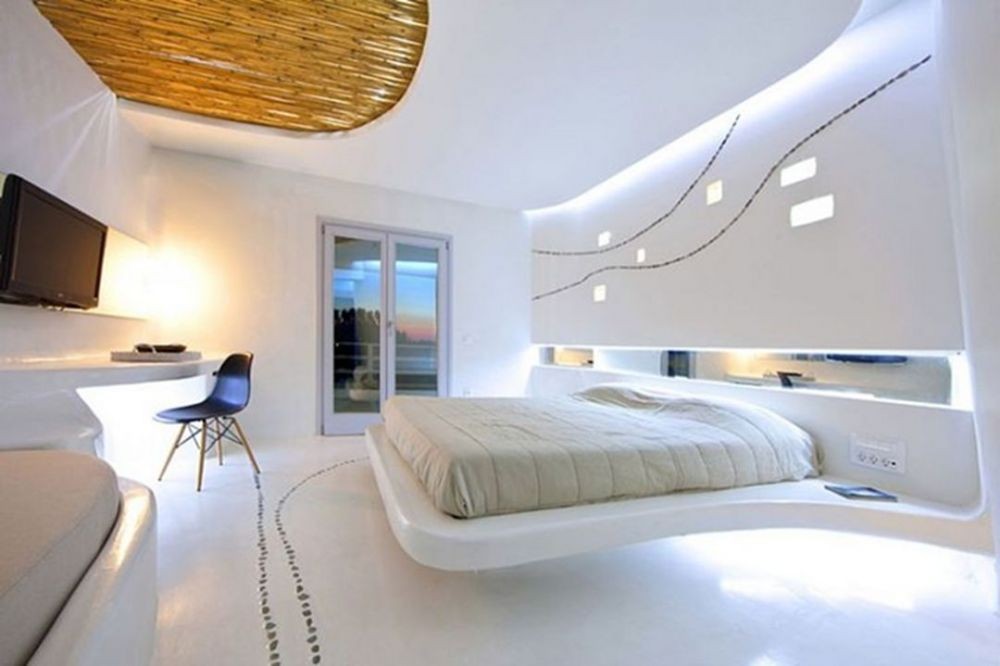 Levitating bed like a floating bed can give your room a different atmosphere. Then, bright colors with modern elements typical of the future make your room look really fun. Apart from that, you can also add hidden led lights at the bottom of the mattress and walls to highlight the modern side with a curved design. Then, to appear cozier, you can place decorative wall lights, work desks that are curved against the wall, and work chairs. The presence of wooden accessories on the ceiling makes this bedroom design look beautiful and attractive.
Furniture with aerodynamic design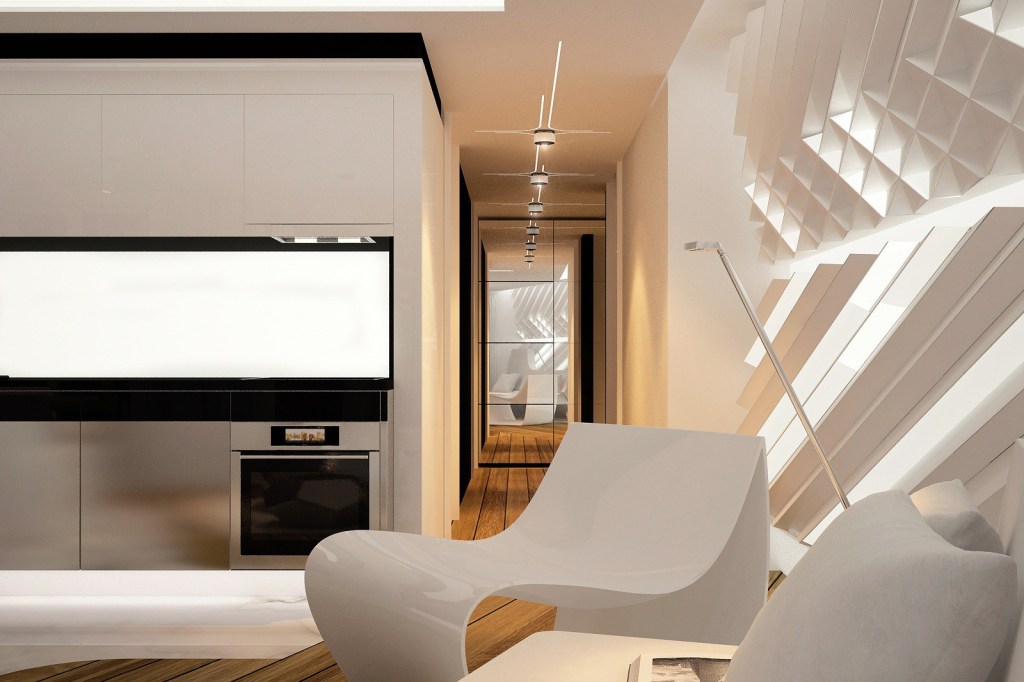 The futuristic design does not only carry minimalist and ergonomic furniture designs. This design has an elongated and curved shape. Then, furniture in a futuristic design is also aerodynamic. With a design like this, the appearance of your bedroom will look aerodynamic like in the picture above.
For more completeness, you can add furniture that is multifunctional and movable is also used. In addition, the use of furniture like this goes hand in hand with the character of a futuristic design style that is practical and flexible. To make your bedroom design look harmonious, you can choose the color furniture in a color that matches the interior of the room. Hopefully, this design can be an inspiration for your future home.
Design the attic of the house into a futuristic work area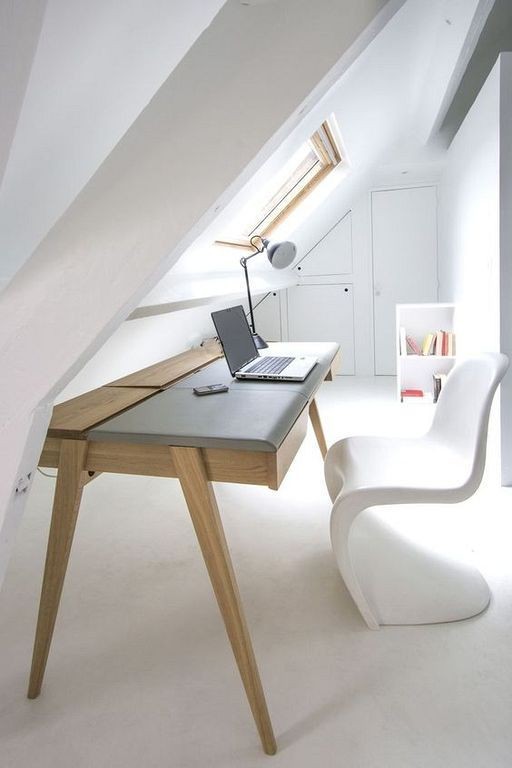 Having a beautiful workspace can make you more comfortable doing your work. Then, to feel more comfortable, you can choose colors with an all-white theme. Don't forget to provide openings such as sliding windows as ventilation and light sources.
This method can make a narrow room more comfortable and not feel crowded. Then, use a wooden table with a modern design to give it a rustic impression. Add a white work chair with a curved design and decorative lights. With this arrangement, the workspace will look aesthetic and unique.
A workspace with an aesthetic, futuristic theme.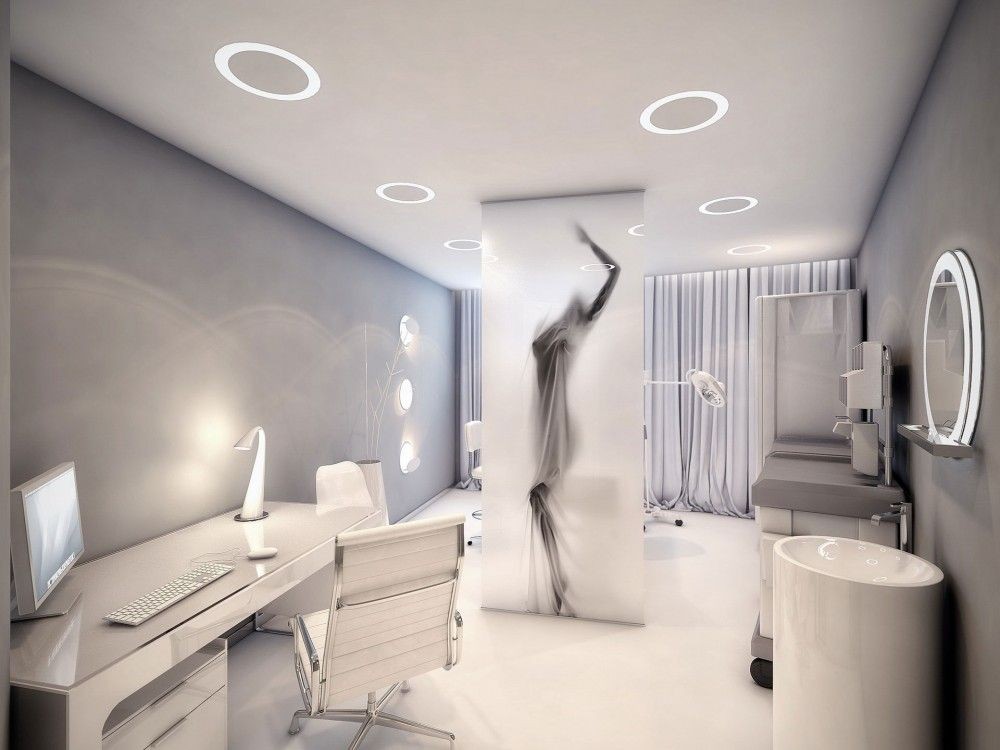 An attractive workspace can make you more excited to work. The comfort of the room must be made as good as possible. So that everyone who sees it will praise you. As you know, you can paint the walls gray on the ceiling by installing LED lights in a circle shape. That way, your workspace will look artistic and unique.
Then, to make it look more beautiful, you can arrange furniture with colors that match the interior of the room. Then, add a desk, a beautiful work chair, an ex-banner, a mirror on the wall, and pretty knick-knacks. That way, your futuristic workspace design in the form of a silhouette will display a retro and romantic impression.
Sleek and Shiny futuristic kitchen design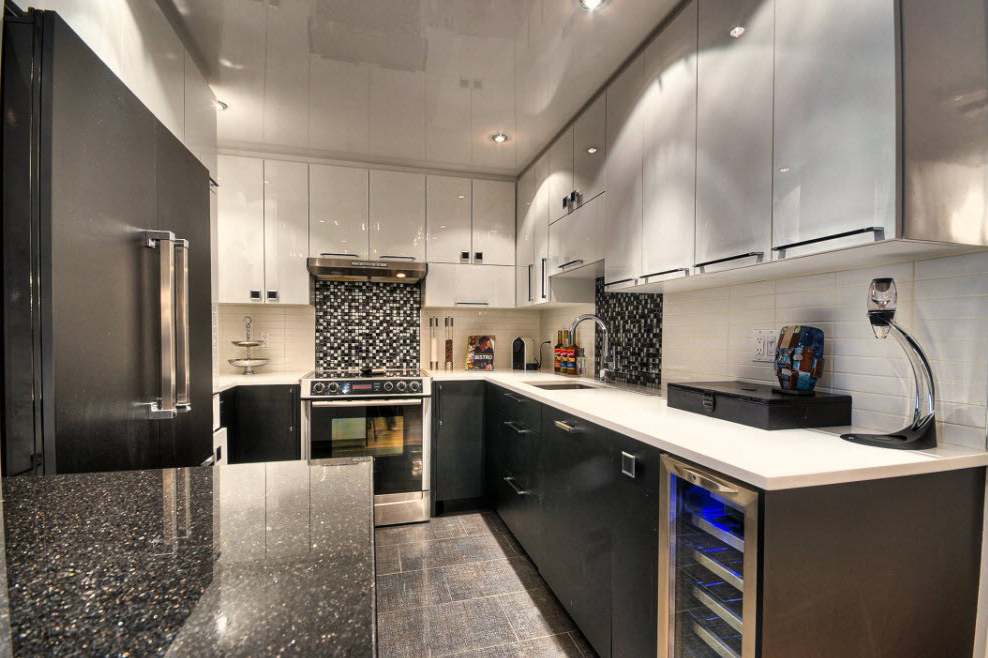 In a futuristic design concept, selecting of material used is more important. The elegant impression that appears on the futuristic design comes from the use of smooth and shiny textured materials. In addition, these materials include stainless steel, types of glass, granite, and marble. The reflection of light from this material can produce a different atmosphere in the room.
To make your future kitchen design look more beautiful, you can add a white kitchen set, a kitchen table with a bright color surface, and a brown kitchen table door cover. Don't forget, you can present designs with marble on the walls and floors. With an appearance like this, your kitchen design will look elegant and luxurious.
Family room design with hi-tech technology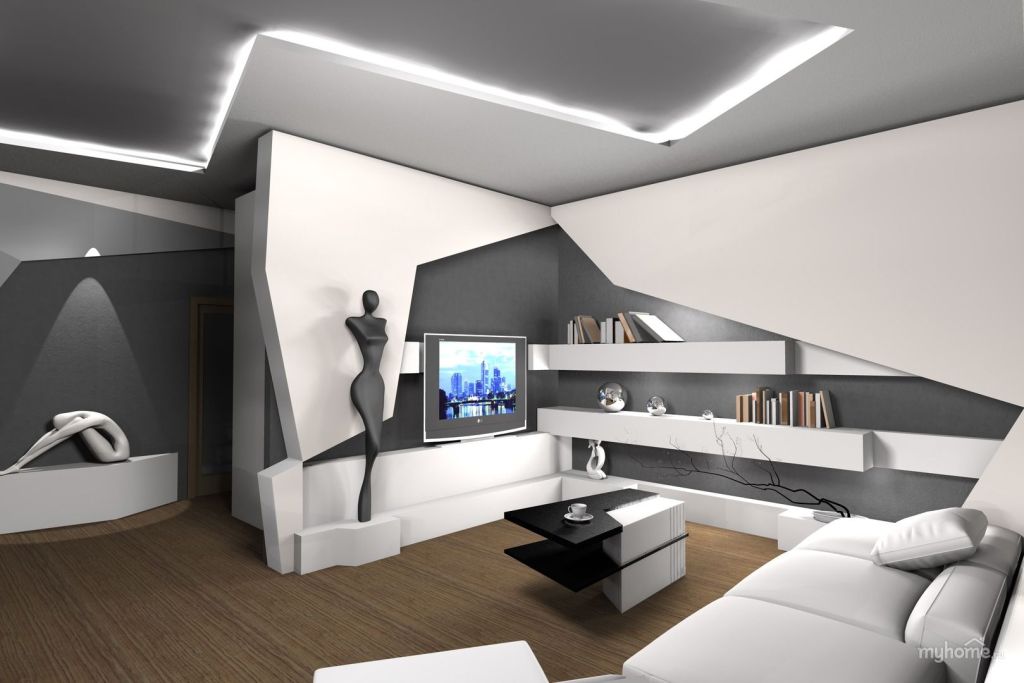 It's not a futuristic design if not equipped with a unified and sophisticated technological system. We hope this design can make one proud of the future interior. In homes that apply futuristic design, lighting systems and household electronic equipment can control that directly from a mobile phone. With this wireless system, the lighting intensity and color change of the LED lights can be easily adjusted.
To appear more beautiful, you can place a bright sofa and table. Then design a wall with a distinctive futuristic style, put a television on the wall for family entertainment, and antique knick-knacks. Don't forget to make the living room floor with a wooden motif floor and a checkered ceiling with lighting. With this concept, your living room design will look aesthetic and artistic.
4. Conclusion
Those are some futuristic designs that are believed to be future design trends. The design with a beautiful aesthetic theme looks very pleasant. But if you want to apply the futuristic design style in your home. You can transform the appearance of the room in your home to a high class. We hope you like our review. We hope your home design will look more elegant, luxurious, and attractive. Hopefully, this design can be useful for you and your family. Happy decorating!