1. Overview of exposed bricks
At first, bricks were only used for building structures. But now bricks are not only seen in terms of strength. Now brick is also seen from an artistic point of view. Houses with exposed brick walls are increasingly favored by many people because of their warm impression and unique shape.
The color of the exposed brick wall is not always brick red, it can be yellow, white, orange, gray, or black, and can be adapted to each home style such as rustic, Scandinavian, traditional, and even modern. Here we will give you the technique of installing exposed bricks on the walls of the house.
2. Blending exposed brick design
The exposed brick technique is currently quite widely applied in various home designs. The use of this exposed brick technique, in addition to showing a natural impression, the use of exposed brick on several sides of the room can add its own aesthetic for homeowners. Therefore, the installation technique can be applied to one side of the wall or the entire wall, depending on the desire. The use of exposed brick for the interior of your home.
Meanwhile, for exterior use, it can be used to beautify the facade of the house or the outer walls. In addition to its exotic, natural, and unique appearance, it makes many people apply exposed brick to their homes. Therefore, the design and inspiration of exposed bricks are needed so that the appearance of the design of their home looks aesthetic and attractive.
3. Idea and attractive design
Exposed brick interior ideas and designs usually give an antique and rustic impression. But you don't have to stick with these two styles when decorating your home. Today's home design trends offer many variations to create attractive interiors with brick walls in various styles. If you have a house with an exposed brick design and want to make it look more attractive, let's discuss the reviews below. Hopefully, one of the designs will suit your taste. Welcome to our review!
Brick Wall for rustic interior style
One of the dominant characteristics given by the exposed brick wall is an industrial and also rustic impression. So, the choice of exposed brick walls is definitely the right choice for those of you who want to apply an industrial design style and rustic.
To strengthen the rustic style of applying exposed brick walls to the living room design, you can combine it with wood materials with a rough and contrasting texture. In addition, iron and metal materials are also suitable for bringing an industrial impression to a room. Next, all you have to do is add beautiful sofa sets, tables, antique decorative lamps, spotlights, wall paintings, and antique knick-knacks. That way, your living room design will look aesthetic.
Exotic living room with black exposed brick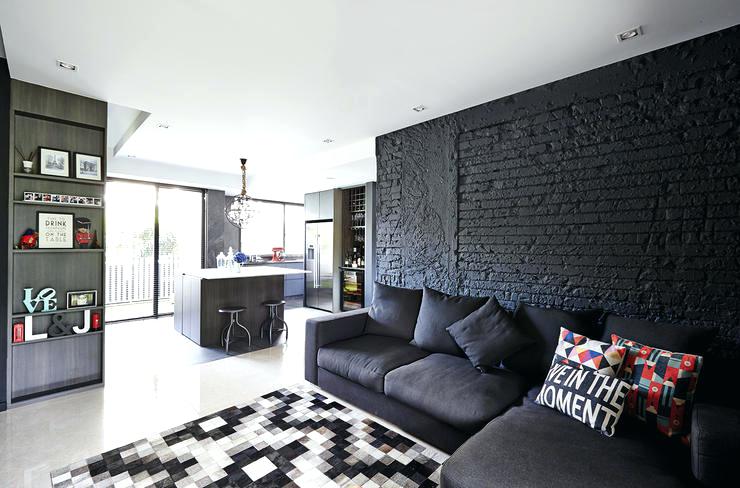 If you want to design an exotic industrial living room, you can use exposed brick walls in a modern residence like in the picture. By giving color to the finishing of exposed bricks, your living room will look artistic and attractive, like the living room walls with black exposed bricks. The black color on the exposed brick helps give the room a more elegant and luxurious impression. Therefore, this design is widely used by those who like artistic style.
Then, to make the living room look more elegant, you can add a black sofa set to match the color of the walls. Next, you can add decorative pillows with colorful motifs, black and white floor rugs, dark color buffets, and antique knick-knacks. With this arrangement, your living room design looks harmonious.
Maroon exposed brick in the bar room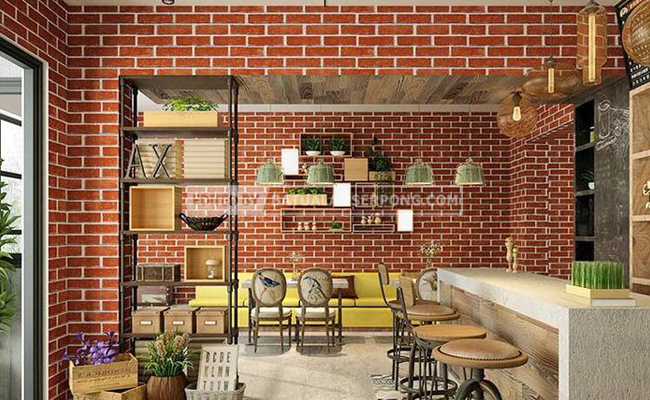 You can see the design of the living room with exposed red brick walls. This design is suitable as an accent for relaxing rooms and bars. Especially if the space is quite large. Then you can combine it with a light color marble floor. Then, use this exposed brick wall as your room.
Then, to make it look more harmonious, you can add a bright color bar table, bar stools, iron shelves to place accessories, elongated sofas, and wooden shelves mounted on exposed brick walls. That way, your lounge design will look aesthetically pleasing and attractive.
Brick wall for a modern gallery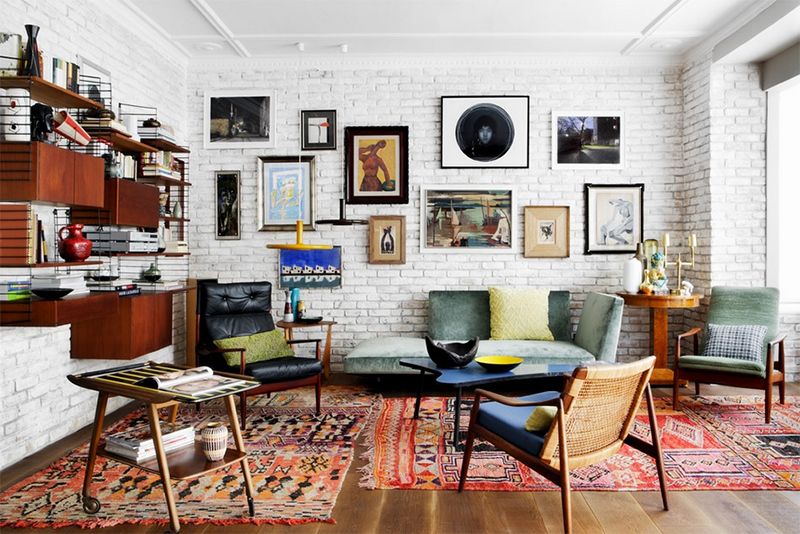 If you want to change the interior of the living room into a mini gallery, you can design your walls with white exposed bricks. This design is perfect for a variety of artwork. Installing abstract paintings, black-and-white art photography, and colorful modern art can bring the walls to life. To make it look more attractive, install a chandelier or spotlight towards the wall. That way, your painting will look more beautiful.
To make the gallery-like impression even stronger, you can use as little furniture as possible. Use a minimalist style core piece of furniture for the room, so the artwork on the walls is unrivaled. Then, add classic-style guest chairs, colorfully patterned floor rugs, wall shelves to place accessories, and antique knick-knacks. That way, the interior of your interior room design will look aesthetic and artistic.
Brick-walled trendy reading room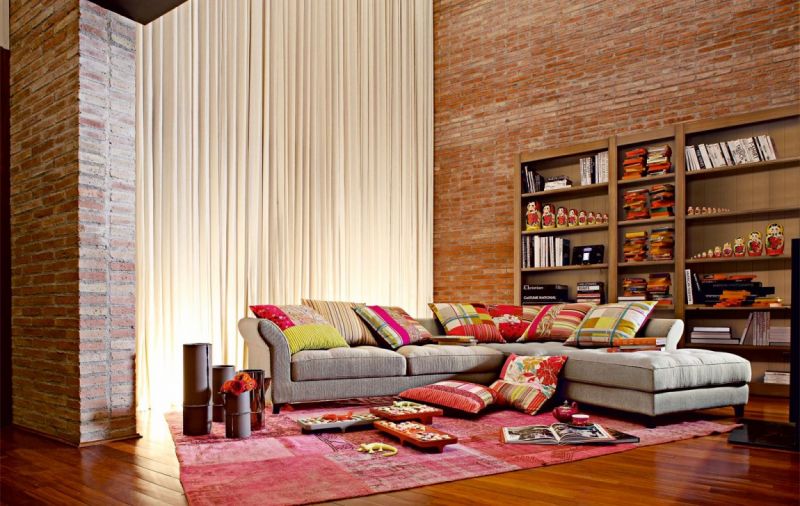 Having a special room such as a beautiful reading room can make reading interest even higher. Therefore, you can design this room with exposed bricks to make it look more attractive. If necessary, you can combine the workspace with your mini library. If you are interested, you can take advantage of exposed brick walls to create a trendy interior. Then, choose a modern bookshelf that doesn't have a back panel, so your brick wall can simultaneously serve as a backdrop for your collection of books.
Then to make it look more attractive and attract family reading interest, you can add a soft sofa set, sofa cushions, wall shelves to place books, and floor rugs that match the exposed brick. Then, to look your room a more beautiful interior, you can design the floor with a wooden floor motif. With a design like this, your reading room can make you and your family comfortable and at home reading books. Hopefully, this design can be an inspiration for you and your family.
Industrial style bedroom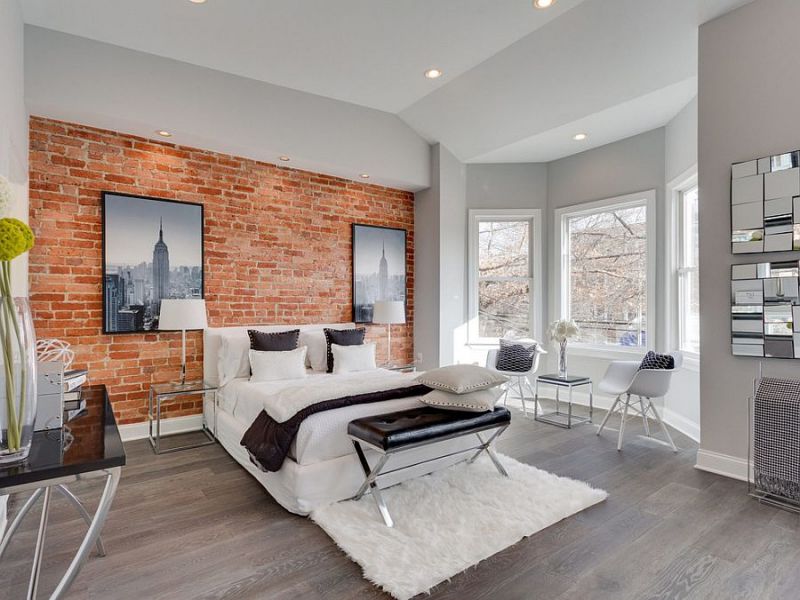 Industrial style is now increasingly penetrating urban home design trends. This style even makes the bedroom synonymous with a soft theme. Therefore, you can make the room design more dashing with orange exposed brick accents. In this way, the impression of the bedroom looks artistic as if it is not finished. We know that wall designs with exposed brick do not require cement plaster.
To make it look more attractive, you can add wall paintings, minimalist beds, floor mats in the same color as the bed, decorative lights on either side of the bed, chairs and tables for relaxing, tables for you to work on, and your favorite knick-knacks. With this arrangement, your bedroom interior will look elegant and comfortable.
Room interior with exposed gray brick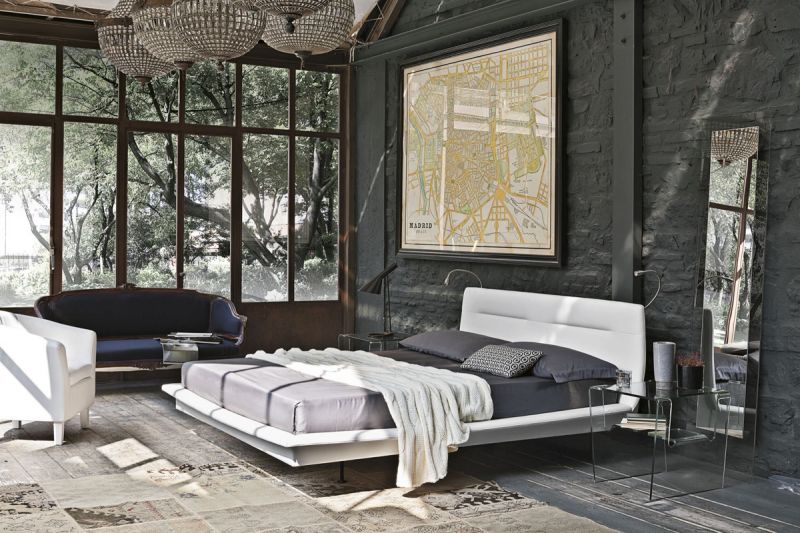 If you want to make the exposed brick interior look more modern, try painting the brick walls in a slightly darker gray. Furthermore, you can combine this color with all-white furniture and light wood floors or stone tiles. That way, your bedroom will look modern style. Then, it's more elegant than retro.
Painting exposed brick walls requires special attention because you have to clean the surface thoroughly. If unsure, use the services of a professional painter or contractor to coat the brick wall with the color of your choice. Then, to look cooler, you can add a minimalist white bed, guest chairs, mirrors, bright-colored floor rugs, and beautiful wall paintings. That way your bedroom design will feel comfortable.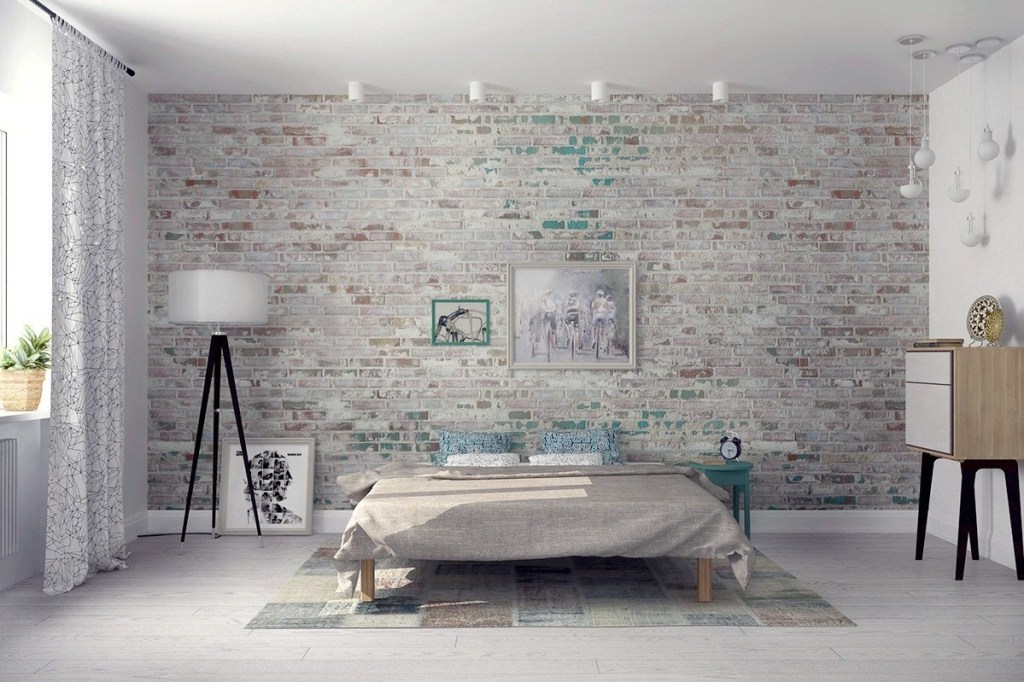 Exposed brick walls do not always have a reddish tone. Several types of exposed bricks often have a grayscale tone of color as a result of limescale or the use of white cement in the installation process. A wall like this is perfect for a room with a Scandinavian interior style that has a minimal color palette.
Then. Bricks can also be arranged to give a back-and-forth texture to the wall so that the wall has a more dynamic and not monotonous profile. To make it look more beautiful, mix it with gray bedding, wall paintings, small wooden buffets, white decorative lights, and floor rugs in the same color as the walls. That way, the bedroom design looks more attractive.
Appear clean and spacious with white exposed bricks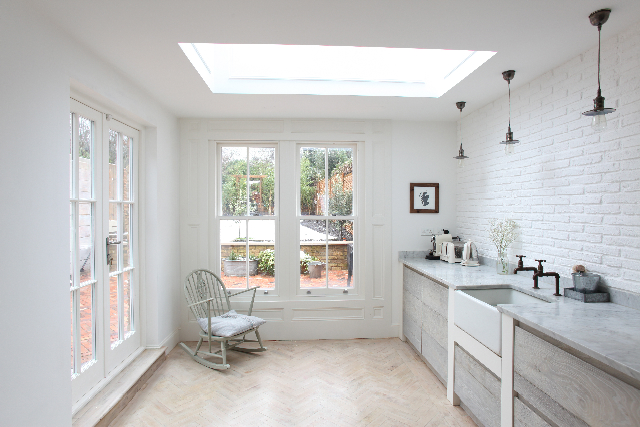 Having a beautiful and neat kitchen design is the dream of all housewives. Therefore, if you want the kitchen to look cleaner and more spacious, you can design a wall with white exposed bricks. In this way, the design you apply will look beautiful and spacious.
An exposed brick wall with a clean white color not only gives a clean and spacious impression to the kitchen but also makes it more flexible to be implemented with various other design styles. For example, you mix it with classic, modern, to Scandinavian interior styles. To look more beautiful, add color spotlights on your ceiling, then design a kitchen table with a color that matches the wall. That way, your kitchen design will look aesthetic.
Bathroom walls with exposed bricks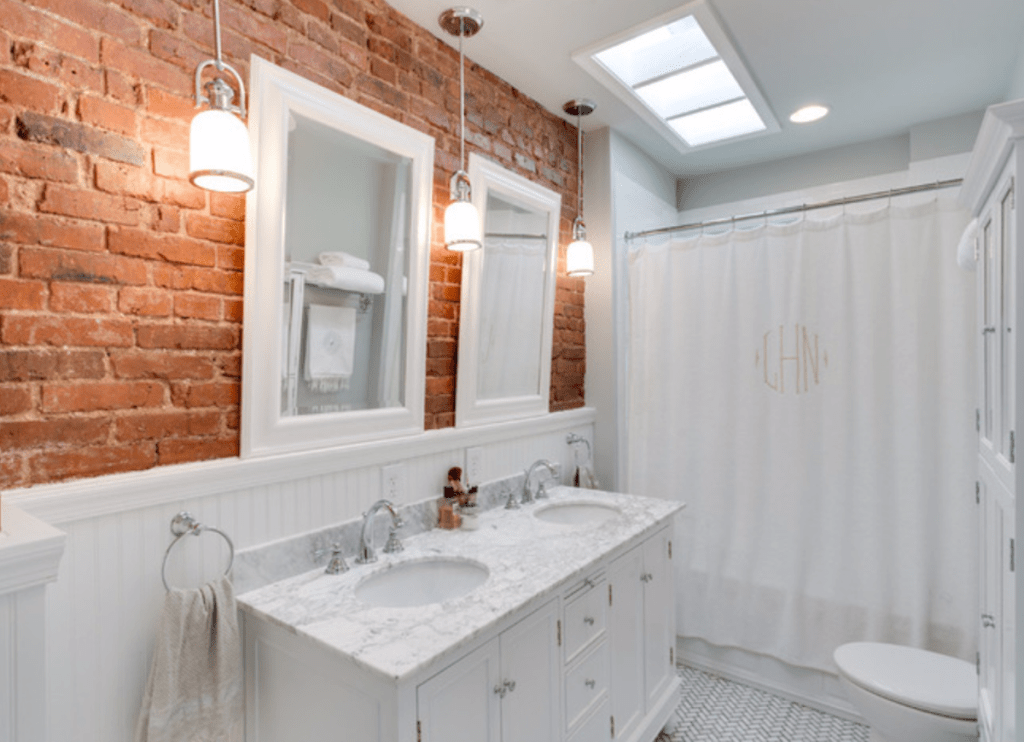 The bathroom is a room that must be designed comfortably. Therefore, do not be afraid to implement an exposed brick wall in this place. You can overcome this by designing it in a minimalist style on only part of the wall like in the picture above.
This design, Provides a more solid finish at the bottom of the wall, and it also provides better durability for exposed brick walls. That way, the interior of your bathroom will look aesthetic and comfortable. To make it look more attractive, add a decorative lamp hanging above the white sink. That way, your bathroom design will feel comfortable.
4. Conclusion
Regardless of the design style, you want to apply to your home's interior, walls with exposed brick material remain an attraction as a decorative element of the room. Therefore, many people are attracted to the exposed brick design. Thus, we hope that the interior of your home will look aesthetically pleasing, attractive, and comfortable. Hope this design is useful for you. Happy decorating!