1. Overview of the industrial modern open kitchen
Industrial kitchen designs are still rarely used. However, there's nothing wrong if you apply it at home to give a unique, artsy, and contemporary impression. Industrial is a modern and unique design style with its trademark the use of monochrome colors. Then, this design also tends to use rough materials and elements with an unfinished impression. This design style in buildings features exposed brick or pipes and wires.
Therefore, industrial design is widely used for commercial buildings such as cafes, restaurants, offices, and others because this design also has its fans. Therefore, many people apply this design style to their homes to make them look artistic and unique. One of the rooms that we expose here is a kitchen with an industrial style. If you are looking for inspiration to design your dream industrial kitchen design, let's discuss the industrial design inspiration ideas below.
2. Open kitchen ideas and inspiration
Ideas and inspiration make an open kitchen behind the house a trend that is increasingly preferred. Usually, the kitchen is made together with the dining room and garden. However, an open kitchen is made in front of the house as a family gathering place. Usually, a kitchen like this is integrated with the front garden and the terrace. Therefore, if you plan to make it, please consider the example of an open kitchen design below. Hopefully, one of the designs fits your dreams. Welcome to our review.
Open Kitchen with exposed bricks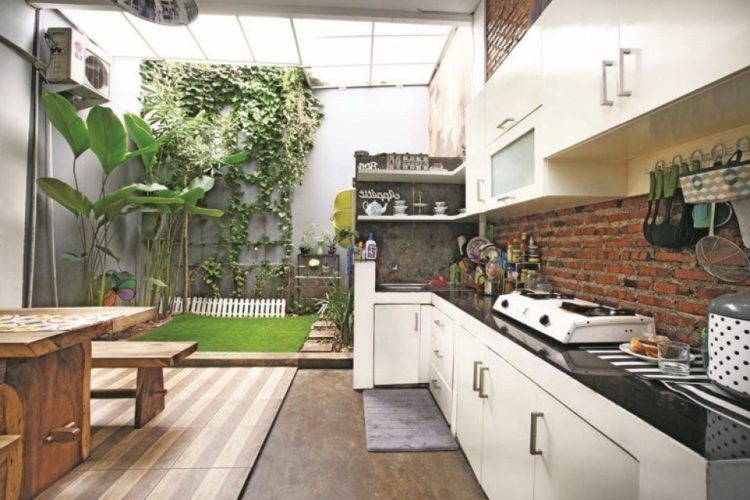 This open kitchen design looks natural and comfortable combined with a monochrome theme. The kitchen set and equipment are dominated by white and black, but the backsplash wall is made of exposed brick and left without finishing.
On the front side, there is a long wooden table and bench as a place to eat together. Then, on one side of the kitchen, there is a small garden with a lawn, trees, and vines. In addition, the roof of the kitchen has completely covered with a semi-transparent canopy. In this way, the sun will easily enter to illuminate the kitchen. With lighting like this, you can save electricity consumption.
Semi-outdoor kitchen with folding doors
This kitchen design is not open because it is still located in the main area of ​​the house. It's just that, there are folding doors on the kitchen side that can be opened wide so that the kitchen, dining room, and garden behind the house seem to unite in one area.
The glass door that separates the kitchen and dining room from the garden requires security. Then, the advantage of this outdoor kitchen is, When the door is wide open, fresh air and the garden view will be presented to your eyes. Then, to look more attractive, you can add this kitchen with luxurious furniture, a dining table, chairs, spotlights, and fans hanging from the ceiling. With a design like this, cooking and eating together will feel more enjoyable.
Open kitchen with natural wood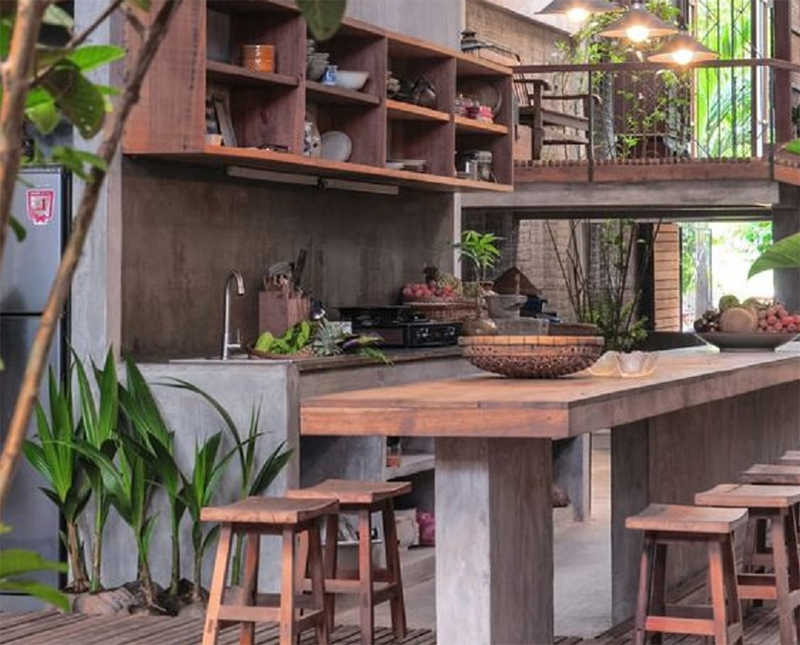 The design of the kitchen in the house always makes us stuffy when we cook. This is because cooking fumes are still in the kitchen. One way to make your cooking fresher is to make the kitchen in an open area. As you can see in this picture, the kitchen wall is decorated with exposed brick so it looks natural. Then the furniture used is made of natural wood such as teak. To make it look more attractive, the kitchen wall is decorated with wooden shelves so you don't have to bother putting furniture and picking it up.
This open kitchen looks attractive with an antique chandelier decoration, a wooden dining table, a long wooden bench, and several ornamental plants placed in the corner of the kitchen. With this arrangement, your open kitchen design will look aesthetic and artistic.
Cozy all-blue open kitchen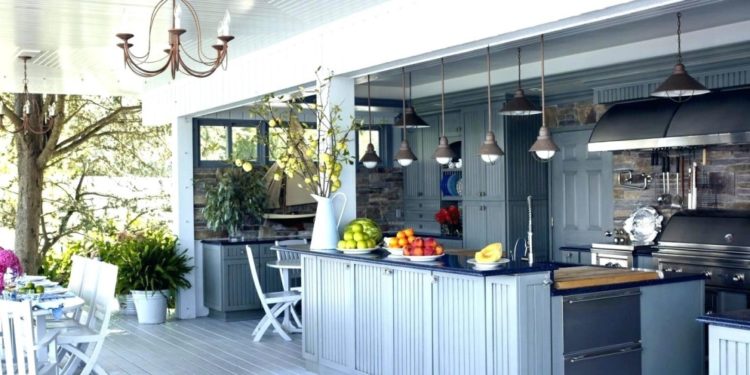 If you like blue, you will definitely fall in love with this kitchen. By utilizing a fairly large rear area, this kitchen is suitable for large families. The large size of the kitchen table allows you to freely work on preparing dishes, especially with complete cooking equipment.
Although lighting during the day is sufficient, lamps are still needed at dinner events. In addition, the selection of a chandelier as well as a decoration to sweeten the kitchen. With the blue color that dominates almost the entire room, it will make the atmosphere feel pleasant. But to look cooler, you can add a dining table and chairs, cooking utensils, and hanging decorative lights, and don't forget to put ornamental plants so that you have a green atmosphere in your kitchen.
Minimalist industrial kitchen design in the style of a cafe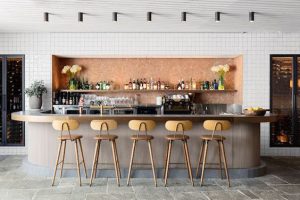 This industrial-style open kitchen design inspiration is quite interesting and up-to-date. The industrial kitchen in the style of a cafe or bar is most liked by young people. As you can see in the picture above, its characteristics are on the chairs used, bar tables, and drink racks.
This open kitchen design is suitable for those of you who want a cafe-style industrial kitchen with an elegant appearance. Apart from that, an industrial impression is also presented from the selection of lights, ceilings and white and orange exposed brick walls, and the kitchen floor, making the appearance of this open kitchen even more comfortable. That way, you don't need to look for a coffee shop to relax outside the house.
Black-pink industrial open kitchen design
The next industrial kitchen inspiration that comes with an industrial impression can be created with a kitchen wall painted in black. To add a fun impression, you can present images in small sizes with white paint. Then, you can draw types of food such as cakes, ice cream, and fried eggs. That way, your kitchen design will look attractive.
Then, to make the kitchen feel complete, you can add dining tables and chairs, antique chandeliers, and unique knick-knacks. As for kitchen furniture, choose soft colors like pink and white. That way, your kitchen will look sweet.
All open kitchen designs with wood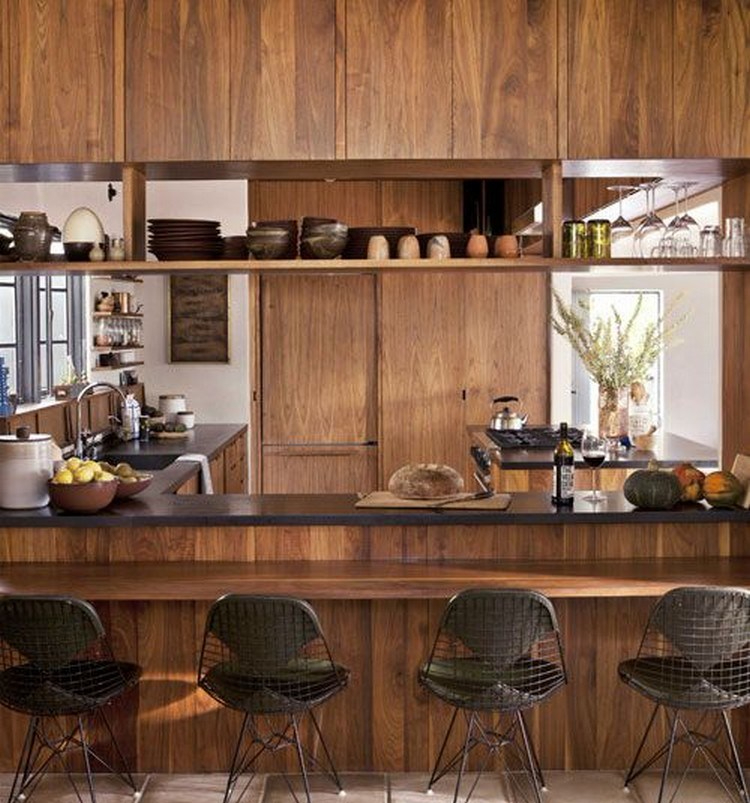 The next inspiration for industrial kitchen design comes from wood material. As you can see in this kitchen manufacture, this open kitchen is processed and tidied up with wood, then used as a kitchen set and a long bar table. Next, you just varnish it.
Then, to look more attractive, you can put some bar stools in front of the table. Then neatly arrange the cutlery on a shelf that blends in with the bar table. Add wall hangings and pretty flower pots so they don't look monotonous. With this arrangement, your open kitchen looks elegant.
Industrial open kitchen combination with natural stone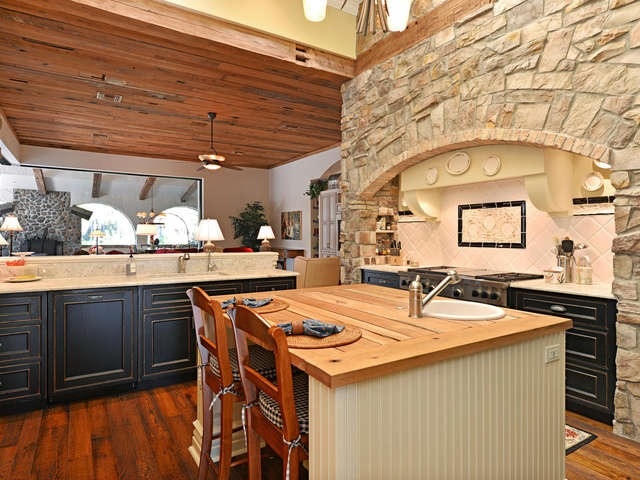 This open kitchen design looks luxurious. The color combination of furniture and natural stone makes this kitchen look cool. Therefore, this kitchen decoration is neatly arranged. To be more optimal, the selection of furniture and knick-knacks is also a priority to make it look more attractive.
Industrial kitchen elements with a combination of black and decorative wood produce a minimalist impression and look elegant from various angles. Then, to make it look more natural, the kitchen walls are decorated with natural stones arranged randomly. Then it is equipped with a dining table and chairs, a kitchen table, a ceiling fan, and decorative lights. With a design like this, this open kitchen is not only elegant, but this kitchen design looks more aesthetic.
Industrial open kitchen with a contemporary touch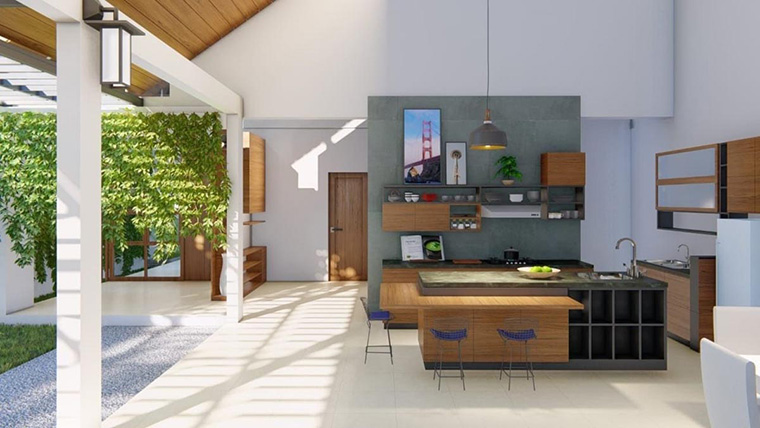 The next minimalist industrial kitchen design that is no less interesting is the selection of unique contemporary touches. The contemporary touch looks unique with the light green color combination that seems to flow from various angles. In addition, this design not only prioritizes aesthetic aspects, but this kitchen also looks functional, making it easier for you to cook.
To make it look beautiful, this kitchen has been decorated with a kitchen set, wall shelves for placing equipment, wall paintings, island tables, chairs, and unique hanging lamps. In order to appear in a green atmosphere, the corner of the kitchen has been designed with natural stone and ornamental vines. That way, your kitchen design will feel comfortable and enjoyable.
Functional industrial open kitchen design in tight spaces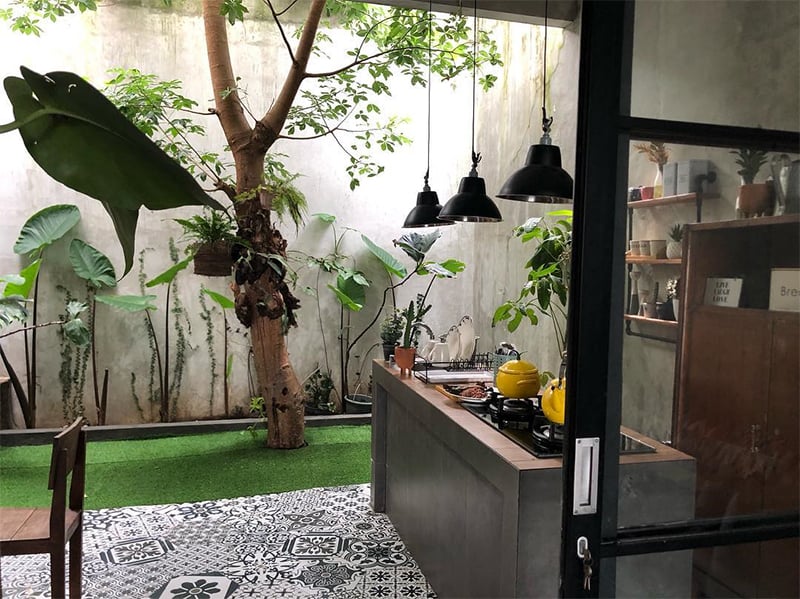 Kitchen design is not just a clean kitchen and a dirty kitchen. In addition, you can also design a minimalist industrial kitchen design in a narrow space that is multifunctional. This multifunctional element combines the kitchen and garden with an industrial touch. This method can make you very comfortable when cooking because the smoke doesn't settle in the kitchen space.
To add an industrial open kitchen accent, you can decorate it with a black chandelier to add a unique impression. Then, you can add a wooden buffet for furniture storage and wall shelves. So that the view feels fresher you can place ornamental plants. With this arrangement, your kitchen design will look artistic and spacious.
Neat brick wall open kitchen design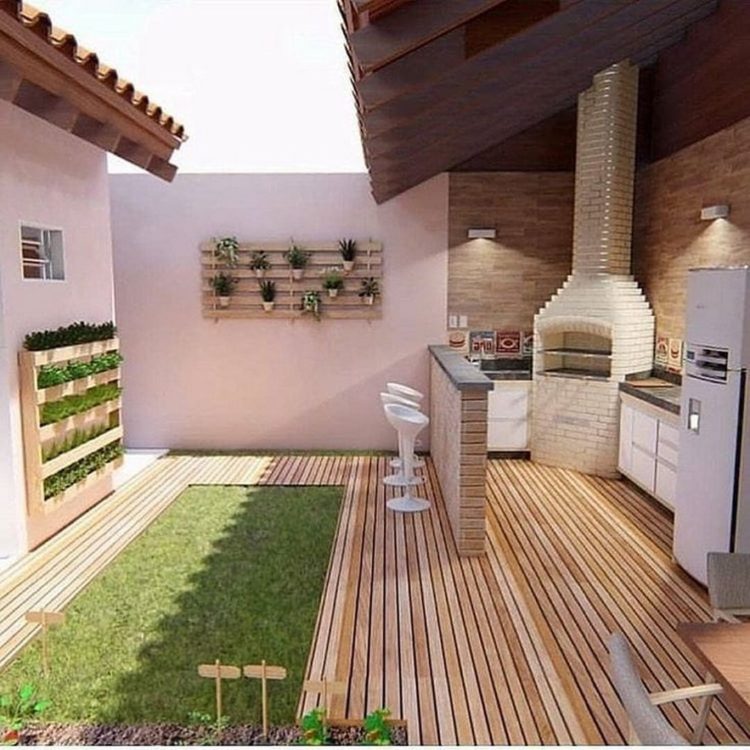 Using a kitchen design with neatly arranged exposed bricks, it is perfect for industrial designs. A kitchen with an exposed brick wall design can give an artistic appearance because the exposed brick design does not require cement plaster.
In addition, the use of this brick wall can also maximize the appearance of the kitchen to be more varied. To make it look more attractive, you can add antique chairs, wall shelves for ornamental plants, and a brightly colored kitchen table. That way, you will feel comfortable cooking in the kitchen.
Artistic industrial minimalist open kitchen design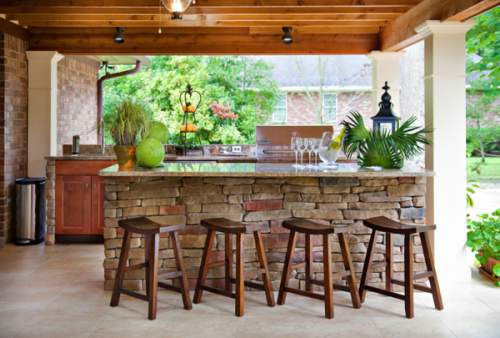 If you want to make your kitchen doesn't feel boring, you can choose an artistic industrial theme. Especially for millennials. The artistic industrial theme is designed with a combination of three colors namely, white, black and gray with a contemporary atmosphere. Apart from these color combinations, a touch of wood in some parts of the kitchen can look more natural.
To look beautiful, you can add exposed brick, and spotlights to the kitchen ceiling for lighting at night. Then, place bar stools for you to relax while enjoying warm coffee. Don't forget to add ornamental plants so that the atmosphere is not monotonous. With this arrangement, you can relax with your family.
Industrial open kitchen design angled back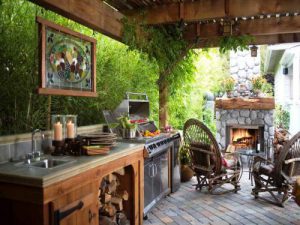 If space limitations are a consideration, the following industrial minimalist kitchen design in a narrow space is very feasible to apply. The choice of a kitchen theme that angles inward produces an excellent functional accent and looks practical.
Not only does it combine a kitchen with a minimalist minibar, you can also design this kitchen to make it look more attractive. For that, you can add lounge chairs, kitchen tables, gas stove sets, and decorative lights. To make it feel fresher, add ornamental plants in the corner of the buffer. With a design like this, you will feel comfortable and feel at home in this place.
3. Conclusion
Those are some open industrial kitchen designs that you can use as inspiration. To design it you can see some of the design examples we provide. However, if you don't want to be complicated, you can use home decor. In this way, the result will be according to your taste. Hopefully, our review can be useful. Then, make your home design look aesthetic, attractive, beautiful, and comfortable. Happy decorating!