Nexthomegeneration.com – If you are looking for a stunning home exterior design, we recommend choosing a modern bohemian style that will be suitable for you. It has a warm atmosphere because of using neutral colors and creates a natural impression. The design tends to have a simple look but is unique at the same time. It is easy to be applied because doesn't have complicated rules that will make us feel tricky while applying it. For those of you who love to enjoy your time outside, you certainly need a beautiful or replacing place. To make it, we have to choose suitable outdoor furniture and also a rug is necessary to be added to prevent making us feel cold while staying. Today, besides give you some home exterior designs, we will also give you bohemian outdoor furniture and rug styles.
Modern Bohemian Home Exterior Design
Sometimes we feel easier to decorate our interior than the exterior because it doesn't need complicated things and color selection. Actually, a home exterior design in a modern bohemian style is easy to be applied as long as we pay attention to the color combination that we will be used. However, we can also make some natural textures to create an unmonotonous look. This time, we will give you some designs that probably might will inspire you.
White Bohemian Gable Roofs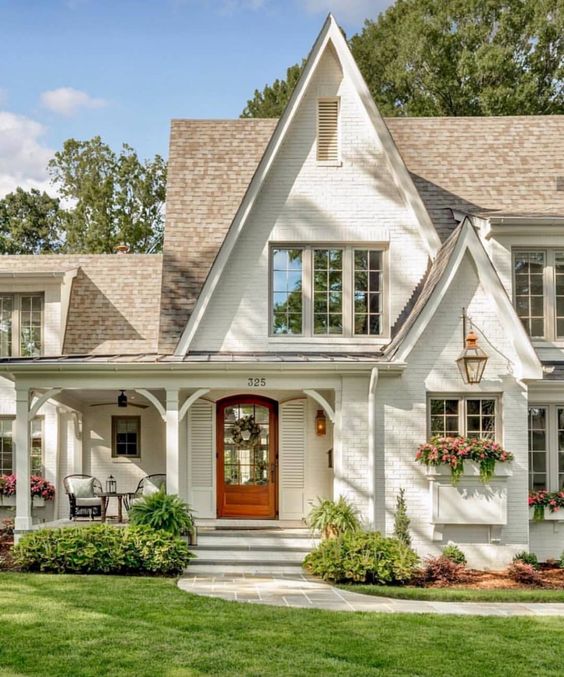 Building white gable roofs and cover them by using brown roof tiles will create a perfect color combination. We can apply our walls with white painting colors to make them look harmonious to each other. For people who want to have a natural and simple design, we recommend installing a brown door. A path can be made in our front yard by installing white and beige stone tiles to create a beautiful accent. Don't forget to take care of your lawn to make a beautiful green view.
Dark Blue Bohemian Home Exterior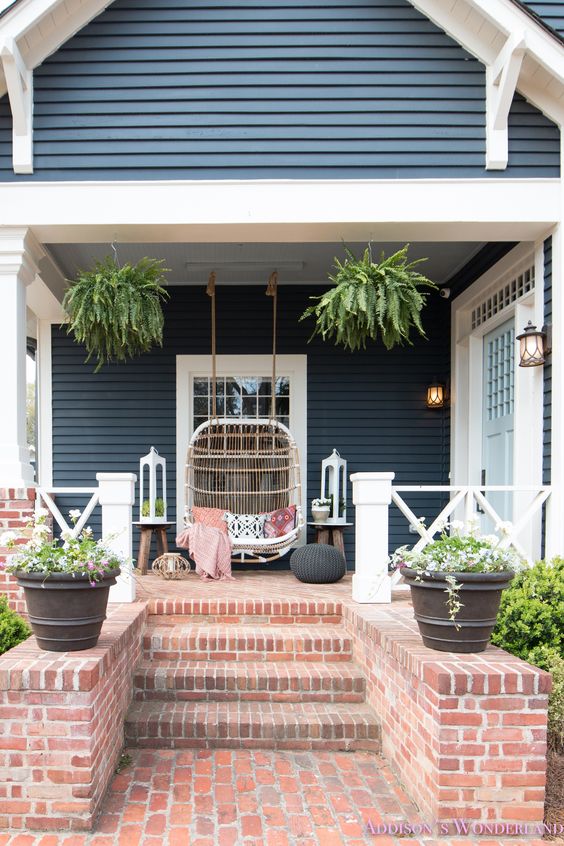 Exterior design for a modern bohemian home exterior can use any color that we want as long as we make it look harmonious to each other. If we want to have a dark concept, we suggest applying dark blue painting colors on the wall. We have to apply brick tiles on the terrace or path and stairs in our home like in the picture above. A white bench can be installed to give an elegant impression. Low-budget living room decoration will be suitable to be added because our exterior already gives an elegant look.
Bohemian Home Exterior Without A Terrace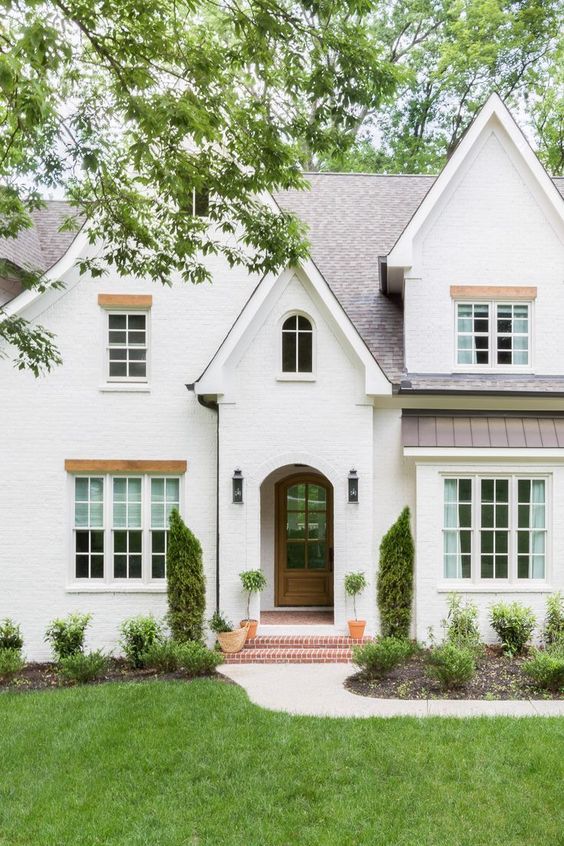 All about bohemian design should know before applying the style to our home exterior. However, for people who don't have a terrace in their home, don't worry about it because it still looks stunning. We have to choose neutral colors such as beige, white, brown, and others. It will prevent us make a mistake while applying or try to combine them. To make an impression like in the picture above, we have to paint our walls by using white and combine it with light brown roof tiles.
White And Dark Grey Bohemian Exterior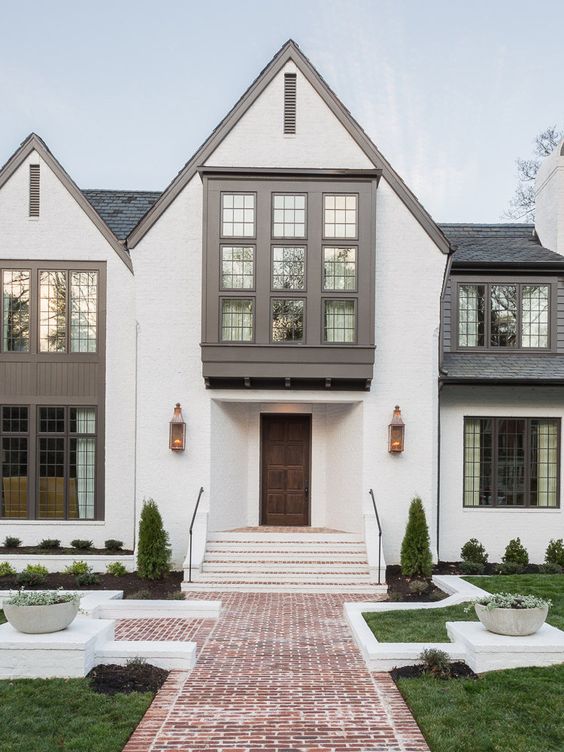 Sometimes, if we apply modern bohemian design for a home exterior it will create a vintage look like in the European castle especially for you who have a big and wide house. By making a gable roof style and applying white painting colors, it will make us have an elegant impression. Combining it with dark grey in the window frame part and roof tiles. Dark and colorful bohemian also can be applied in this concept if you interest to change this look.
How To Choose Outdoor Furniture?
A great exterior design brings comfort and function to your outdoor spaces. A spacious table and comfortable chair, a basic terrace, or a patio can be transformed into a beautiful space. Sofa, classic rock chair, with some cushions will make your home feel more comfortable than doesn't anything. However, we can have a beautiful outdoor space if we know how to choose outdoor furniture. This time, we will give you some designs that will help you while choosing it.
Making a list before buying furniture. Thinking about how you would like to buy an outdoor space is necessary to do. It will avoid us to buy wrong things and ruin the concept that we already have. We have to consider the function of it to choose the suitable furniture. If we want to use it for a garden party, it means we need some fancy furniture colors that will create a fun impression.
Trying outdoor seating before you buy. While shopping for your outdoor furniture, we should try it to customize what we want. It also prevents us to buy wrong things that will make us feel disappointed later.
Choosing furniture that is easy to maintain. For people who in the first time having a patio or terrace in their home, we have to choose materials that are easy to maintain. It avoids us to feel complicated while cleaning or take care of it.
Suitable colors are a must. If we apply beige or white as the main color, we should choose some furniture that has the same colors. It makes our home exterior look beautiful and harmonious to each other. It also makes the exterior impression won't look tacky.
Adding outdoor rugs for color and comfortable impression. Sometimes, we certainly feel cold while staying outdoor but it will be warm if we apply an outdoor rug. It also makes the exterior look prettier than doesn't add it.
Bohemian Outdoor Furniture Design
Outdoor furniture for a bohemian exterior design is similar to others but it tends to have a unique pattern with a colorful concept. Generally, it also uses natural materials so it will be suitable for people who love a natural accent. However, for those of you who still feel confused, we will give you some designs that can be chosen to suit your taste.
Wooden Furniture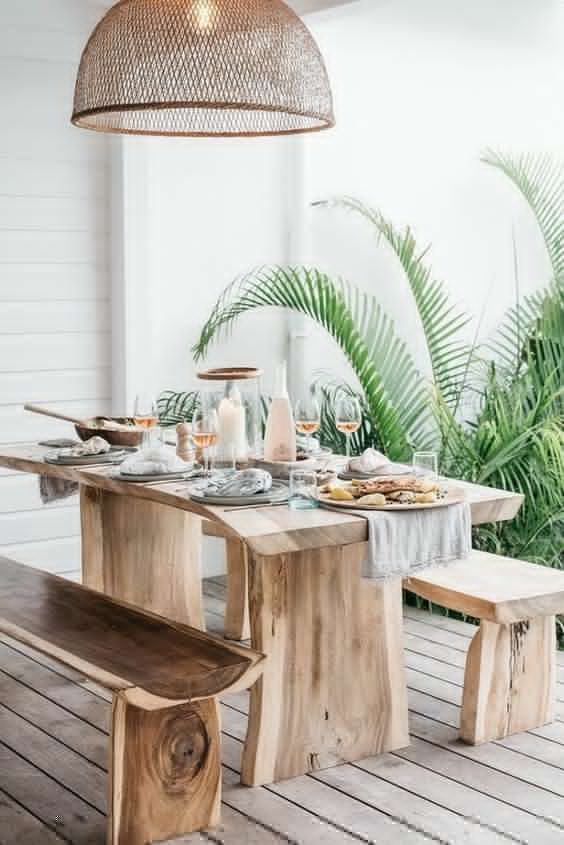 Actually, wooden materials are not can be used only in a bohemian design. We can use them in other styles as long as it has a related concept. However, the reason that we recommend this furniture is, it has a natural color and pattern that will be preferred for the design. It can be used to create a bohemian dining room or anything that we want so it will create a stunning impression in our home exterior look.
Dark Blue Bohemian Sofa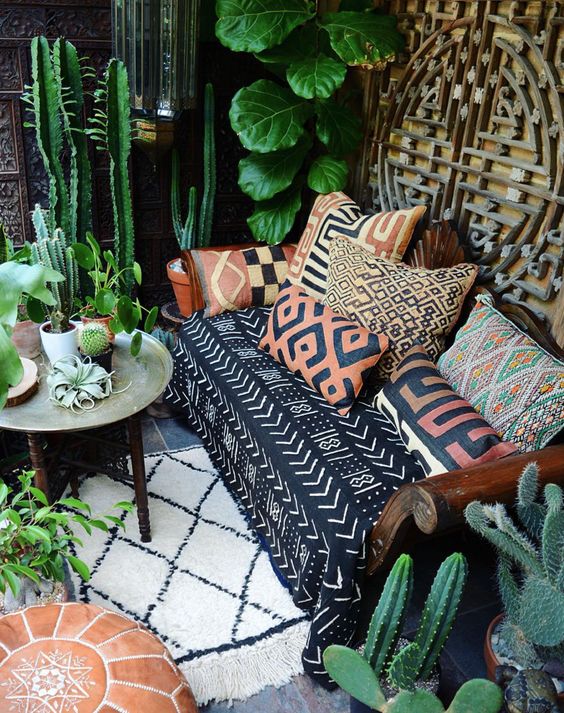 Bohemian outdoor furniture theme tends to have unique patterns in dark or bright colors. It makes our patio or terrace have a beautiful impression and look different from others. We have to choose this type and add some pillows that also have a stunning pattern to make it have a fascinating concept.
Rattan Outdoor Chairs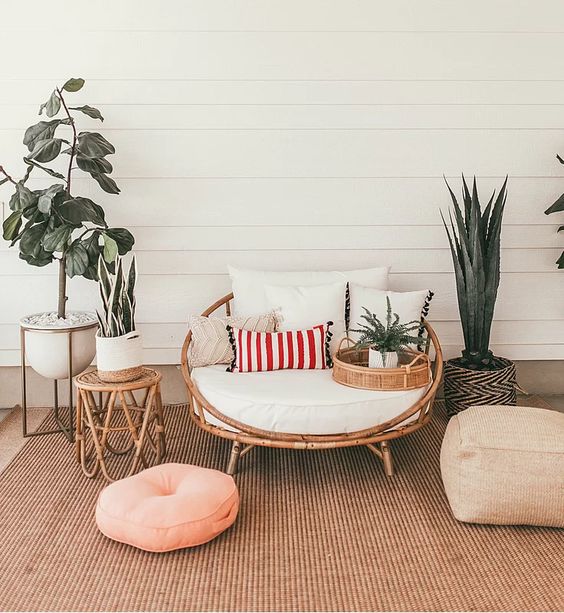 Adding a rattan chair to our home exterior will make our bohemian design look prettier because of having a natural impression. However, we can combine it with some colorful cushions and add a suitable rug.
Bohemian Outdoor Rug Design
Besides an interior, rugs also can be added outdoor to beautify our home. If we add it to the exterior, we can make it feel warm and also give a plus value that will create a stunning impression. Now, we will give you some outdoor rugs for a bohemian exterior.
Colorful Bright Outdoor Rug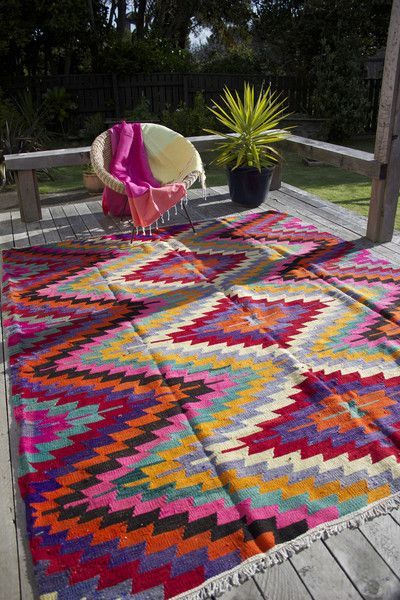 A bohemian outdoor rug for a home exterior design should have an attractive look to make the exterior won't have a monotonous impression. The pattern like in the picture above will give you a strong bohemian accent. It has a zigzag pattern shape that looks beautiful because of having different colors in each pattern.
White Shabby Bohemian Rug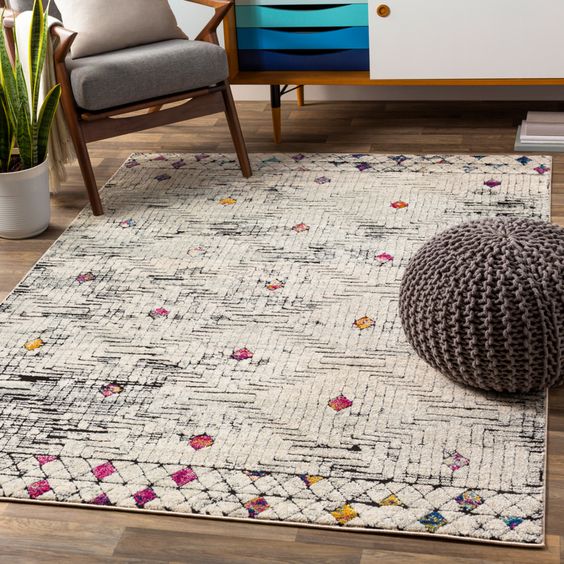 A shabby white rug will be suitable to be added to our bohemian exterior. A unique accent from a shabby look and a stunning impression from its bright colors will create a perfect combination. For people who are on a budget, reading some simple ways to decorate a bohemian room will help you. It also can be used if you want to have a beautiful home exterior.
Complex Bohemian Rug Pattern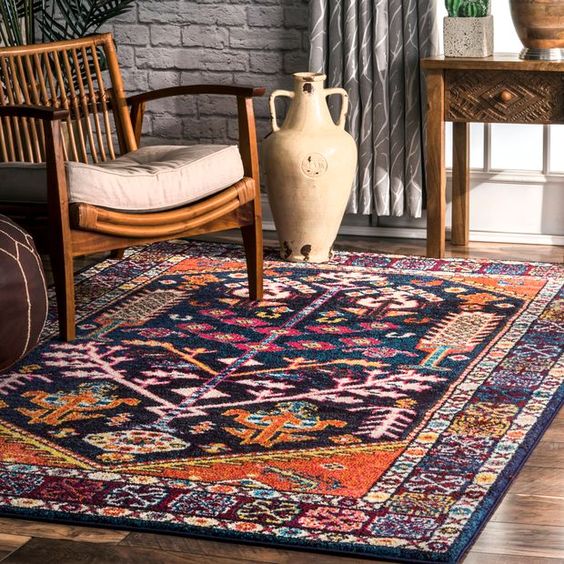 A strong bohemian design often uses a complex pattern with many colors like in the picture above. It will be preferred to be added on the wooden floor even outdoor. However, if we want to have a stunning impression, we should combine it with rattan or wooden furniture.
Conclusion
Bohemian home exterior designs are easy to be applied as long as we pay attention to the color and building design that we want to be applied. However, we guarantee your home will be stunning if you add ou recommendation and apply some designs from us. If you have other ideas about home design, interior, and exterior, bathroom, living room even a garden you can write for us.