Nexthomegeneration.com – Dark and colorful bohemian certainly will create a beautiful impression if we apply one of them in our bedroom. For people who want to have a bright atmosphere while sleeping, we recommend choosing a colorful concept. A dark atmosphere is suitable for you who love a calm impression but are still beautiful. Don't forget to add some bohemian decorations to beautify it and prevent making it look monotonous.
Generally, a bedroom is an important room because we will spend most of our time. It also makes us don't feel confident to show our bedroom if we don't apply a stunning interior design. A bohemian style has unique characteristics with a beautiful color palette that will be suitable for men or girls. Today, we will give you dark and colorful bohemian bedroom ideas that might help you to create a comfortable room.
What To Choose Between Dark And Colorful?
Color has everything to do with the ambiance in a room, and light determines its perception of it. Choosing interior paint based on the mood that we want to experience in a room and how lighting supports the illusion. Conventional wisdom influences the creation of light walls as well as visually expands the space so what to choose between dark and colorful?
Generally, a room without windows or only have a small size, has multiple arches, low alcoves, beamed ceilings, exterior light barriers, will receive a little bit of natural lighting. When a room is shadowed, the light will look dull and dingy. Don't use pastel colors that have a bright impression. This room type is not suitable for them because it will create an ugly and unharmonious look. However, if you apply a colorful theme without pastel colors, it will be stunning and make the room feel bright. A dark concept is suitable in a room that has big windows, good air circulation, and also wide space.
Dark Bohemian Bedroom Ideas
A dark bohemian theme is easy to be applied because we just need something that has similar colors to each other. For example, if we will add black as the main point, it means we can apply light grey, dark or light brown as a decoration. Applying this concept will little bit complicated if we don't know how to combine some colors. That's why bohemian bedroom ideas from us will help you to apply them.
Monochrome Bohemian Bedroom Concept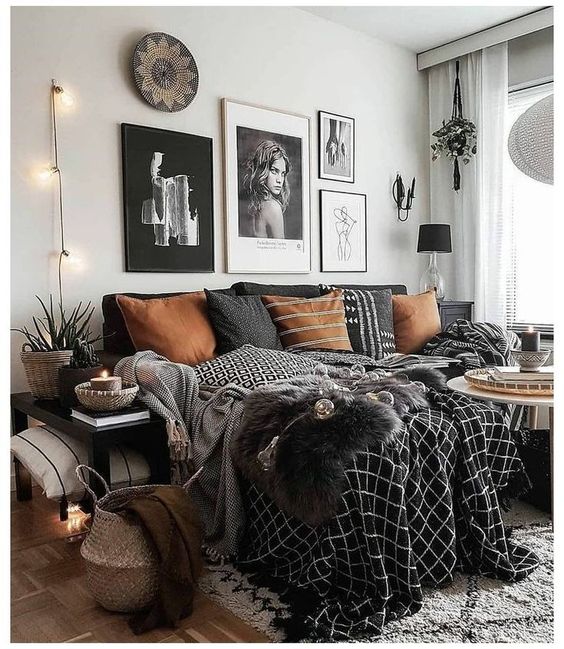 Applying white to the wall and add a black bedcover on the bed will create a monochrome concept. We can apply a white with a little bit of black color accent carpet on the floor as a pedestal. If we want to add some pillows, we recommend combining brown with other dark colors to create a harmonious look. Some pictures in the light grey concept can be attached to the wall as decorations. For the lighting, we can install a light bulb to make an aesthetic accent because of having yellow lights.
Dark Ideas with Bright Look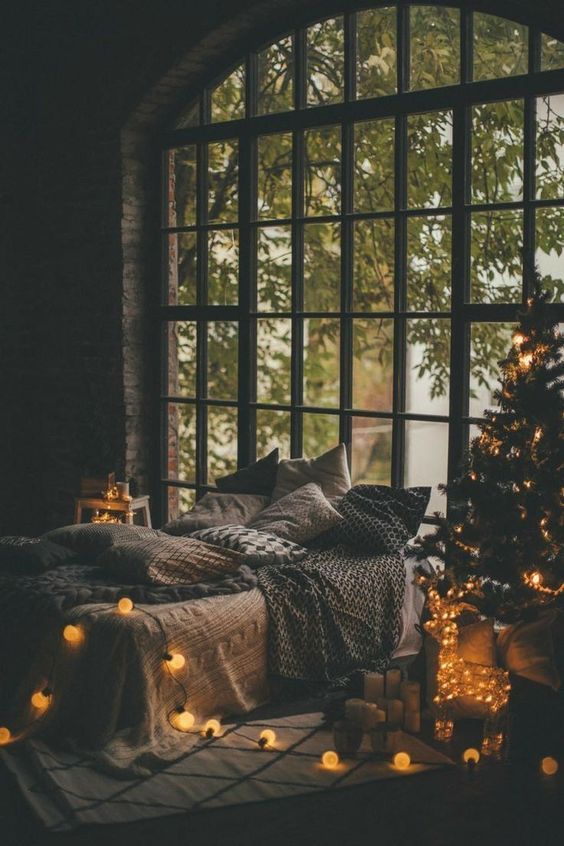 Sometimes we feel worried to apply a dark concept because it makes the room feel too dark or crowded. However, we can apply it by installing a big window to make sunlight come into the bedroom. Besides it, we have to install some bohemian interior lighting that will make it still bright even at the night. Using dark grey bedcover should be done because it will give a strong dark bohemian accent as long as it has a unique pattern. A bohemian bedroom in a dark concept is beautiful and elegant at the same time especially for you who love a calm atmosphere.
Dark Bohemian Bedroom Apartment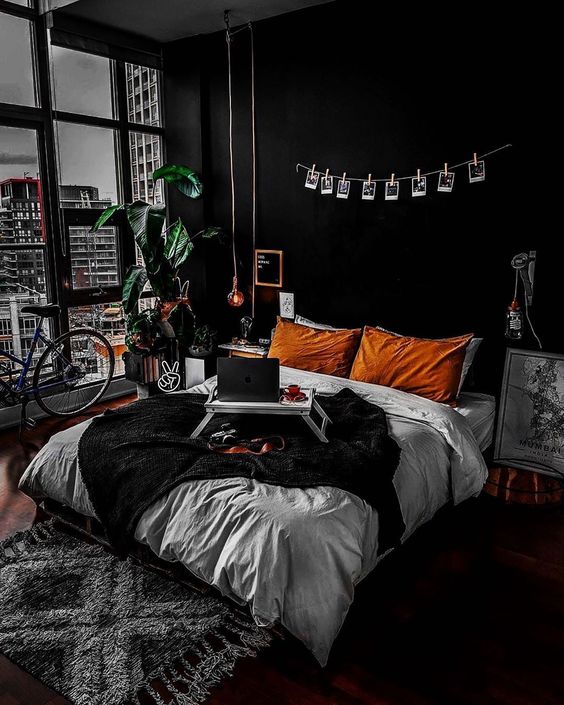 If we live in an apartment, we can still apply this idea because it is suitable as long as we have enough space. Applying a black wall painting to our apartment is the best choice to create strong dark bohemian bedroom design ideas. It does not make the room feel murky because it certainly has a big window. Natural lighting from it will make our bedroom feel bright at the noon. However, we still need to install some lamps to avoid feeling crowded and dark at the night. A white bedcover and black blanket should be added to cover our bed and create a harmonious impression in color selection.
Dark Blue Bohemian Bedroom Ideas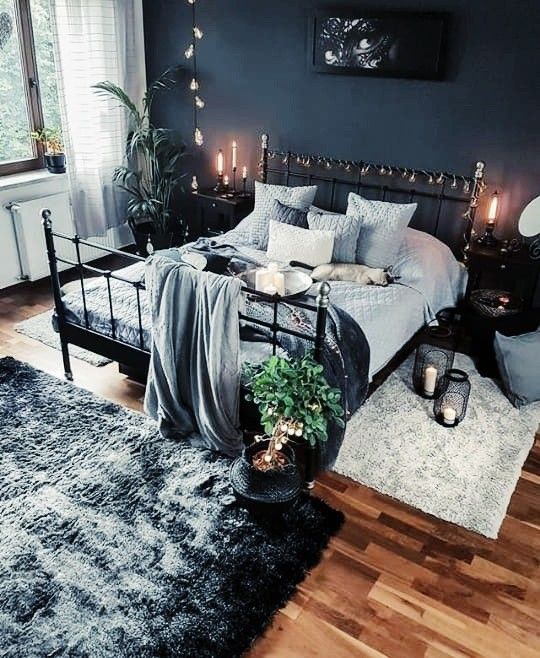 Applying dark blue and combine it with dark grey can create a stunning dark color combination. We can apply it and mix it with a bohemian style by adding fluffy rugs and yellow lighting. Choosing wooden flooring tiles are also creates a natural impression that will make our bedroom feel comfortable at the same time.
Dark Elegant Bohemian Bedroom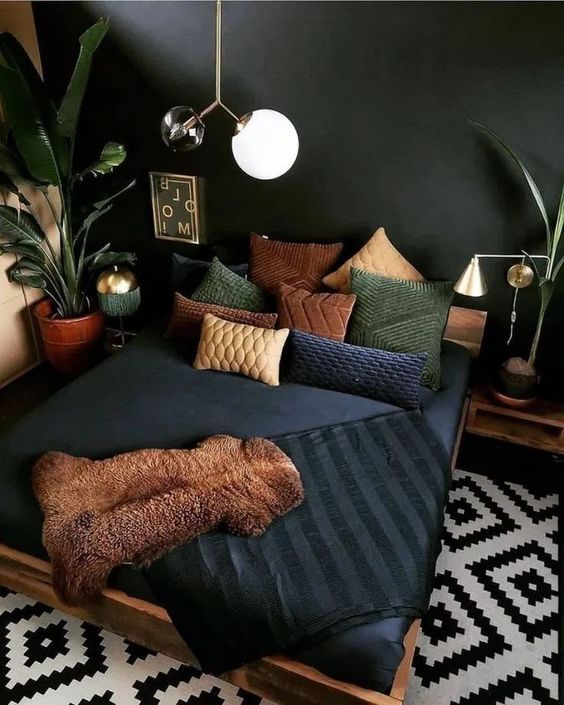 Black walls certainly will be the main character for people who apply dark bohemian bedroom style ideas in their room. However, we can't add many things in one color because it can create a monotonous impression and also make the bedroom feels too dark. That's why we have to combine it with some bright colors like white or beige to make it look stable. It will be beautiful even we add low-budget bohemian furniture because the important things are it should have a suitable design.
Colorful Bohemian Bedroom Ideas
A colorful bohemian bedroom gives us an attractive impression and makes a comfortable atmosphere with a different impression that won't look monotonous. We have to choose bright colors and combine them into one concept. However, if you feel confused about how to make beautiful bedroom ideas, we will give you some inspiration that might help you.
Colorful Bohemian Bedroom Concept: Pink, Blue, And Green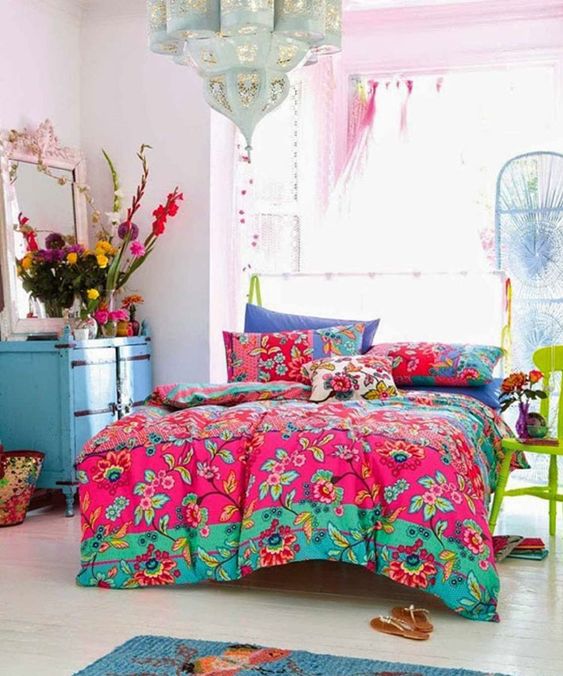 The first time that we have to do to apply this concept is we have to install beige flooring tiles. Adding bright pink and green bedcover can support our room concept and give strong bohemian design ideas. Adding a blue drawer and a pink mirror on it will make a stunning impression on the design. It also fills the empty space in our bedroom so we can prevent making a monotonous look. Covering our window with a thin pink curtain and installing a pastel green chandelier to make it feel bright.
Colorful Bohemian Bedroom Design Ideas: Peach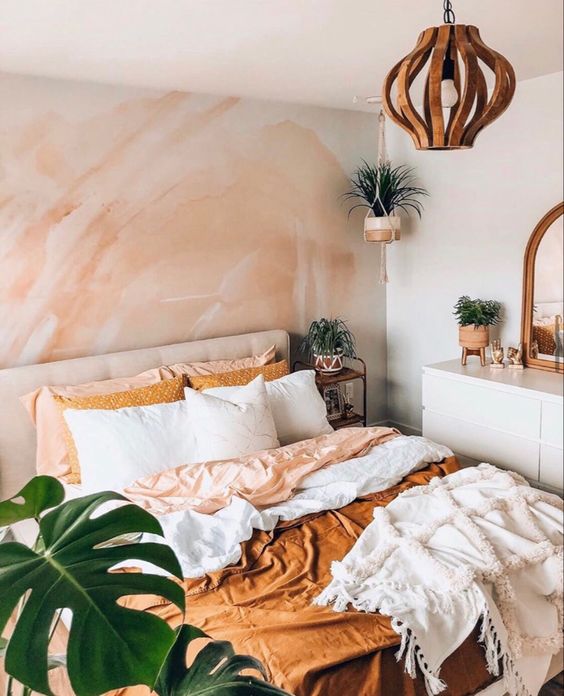 Peach color can be applied to this theme because of having a warm and calm impression. We can combine it with light brown caramel blanket to create a beautiful combination for our Bohemian bedroom. Adding some white and peach pillows will make it look harmonious in color selection and doesn't ruin our concept. However, to create a wall decor like in the picture above, we can apply wallpaper or paint it uneven by using white and peach colors.
Colorful Pattern Bedroom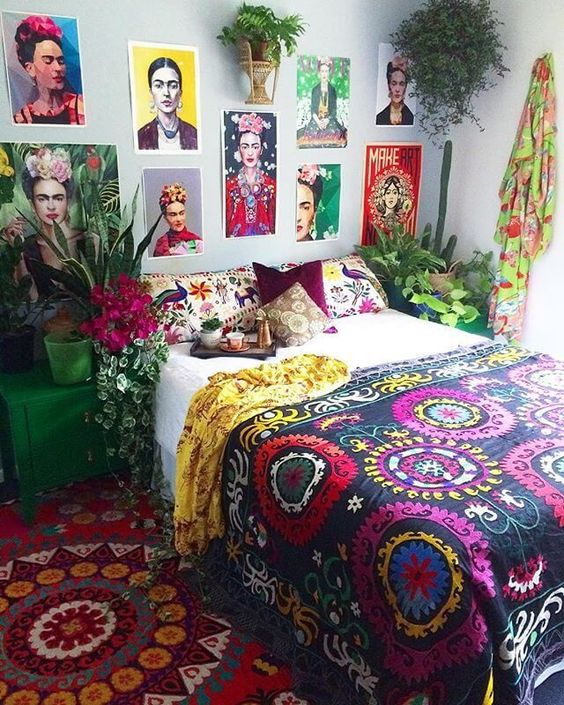 Choosing unique bedcover and carpet patterns for our bedroom will create a unique colorful bohemian bedroom style. It looks prettier if we attach some pictures to the wall because will give a plus value that will improve our bedroom display. Don't forget to add some plants as decorations because it will create a fresh atmosphere. Coloring our walls by applying white to make them look balanced with other things that we will add.
Colorful Bohemian Style: Orange And Dark Green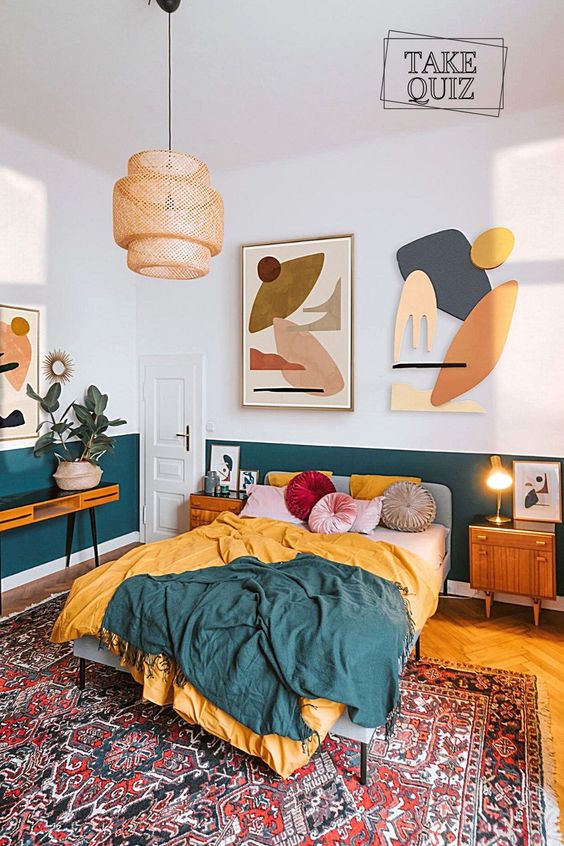 Combining dark with bright colors is something that can be done to apply colorful bedroom ideas. However, we have to choose suitable dark colors that can be combined with others. We recommend choosing dark green and orange to make a stunning impression. We have to add other things too such as a red carpet, pictures, and a wooden side table.
Feminine Colorful Bohemian Bedroom Concept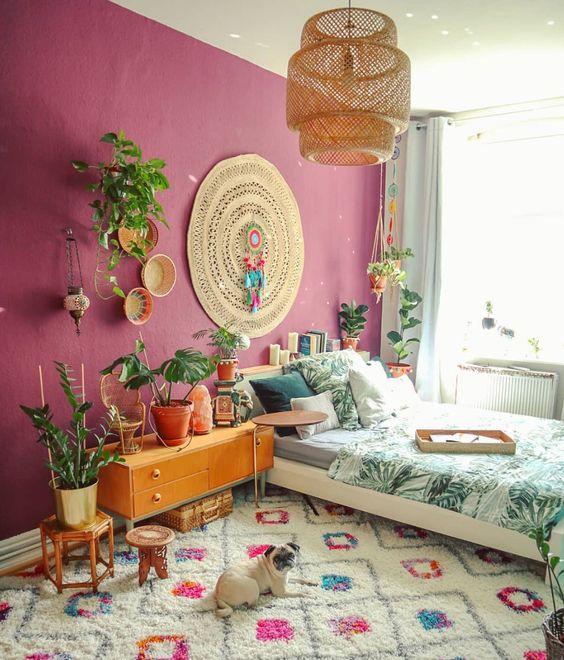 By applying a colorful carpet on the floor as a pedestal can create a colorful look. Coloring our walls Fuschia has a bright impression that will make a strong bohemian style. A green floral bedcover can make it look neutral because of having natural colors with patterns. Decorating the room can be done by applying a round beige rug that can be attached to the wall as decorations. We have to use rattan materials to be made a bowl or anything that we want to make. We should choose a rattan pendant lamp to make it feel bright at the night.
Tips To Apply Bohemian In The Bedroom
Homes filled with houseplants, wicker chair reading nooks, brightly patterned area rugs, it's all been there applying boho just out of reach. To get a beauty of the style, we will give you some tips to apply a bohemian in the bedroom that might help you to prevent making a mistake while decorating the bedroom.
Wall Color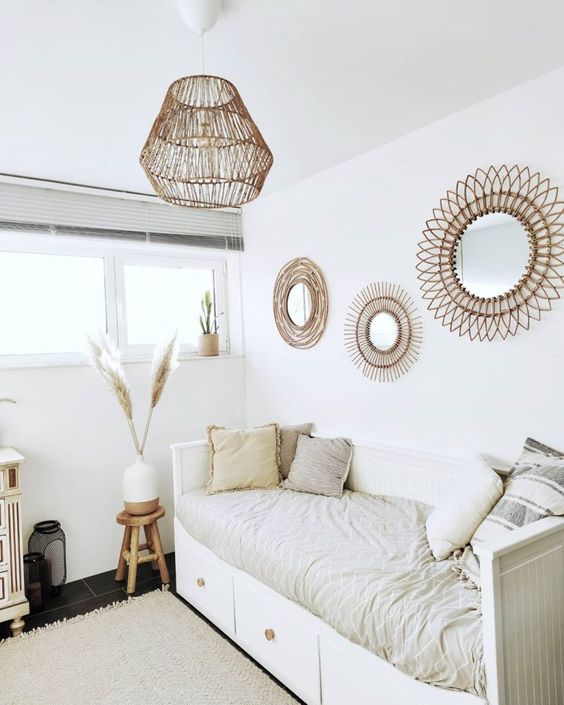 We can paint our walls with any color that we want because it doesn't have rules that require us to use certain colors. However, for you who want to have a modern accent, we recommend applying white as the main character in your bedroom.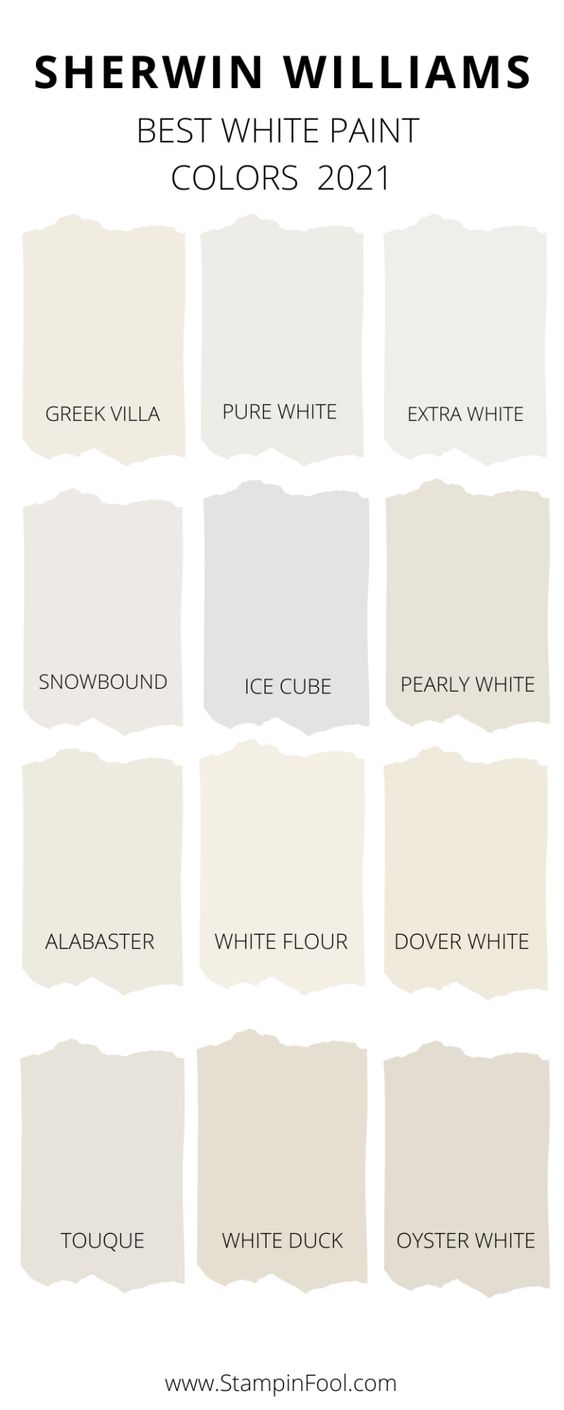 We can apply one of this white color palette from the picture above if we feel confused about what white types will be suitable for our bohemian bedroom theme ideas.
Bohemian Beds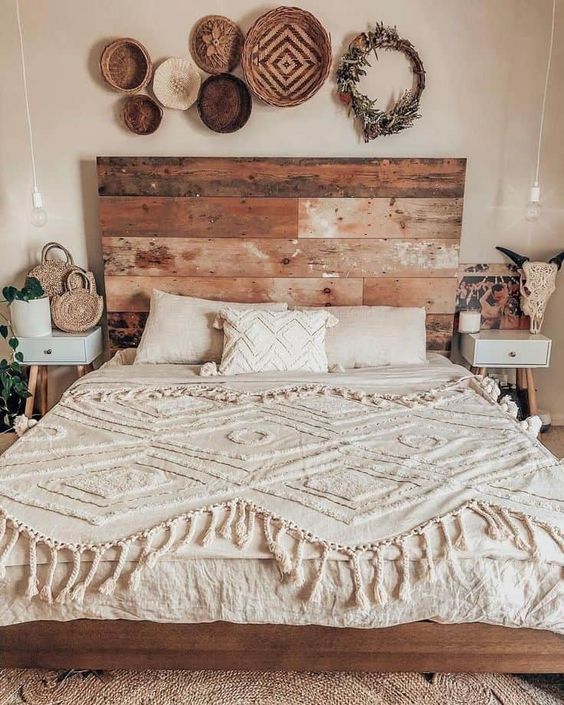 Covering a bed by using a beige knitted fabric is the best choice to create a beautiful room with a cozy impression at the same time. Choosing a wooden bed frame is preferred to make it have strong a bohemian accent. Moreover, brown and beige is the best combination that can be applied. Natural materials made of wood and rattan are prominent in bohemian decor ideas. We have to find organic shapes, such as rattan or carved wood, and light-colored solid wood frames.
Pillows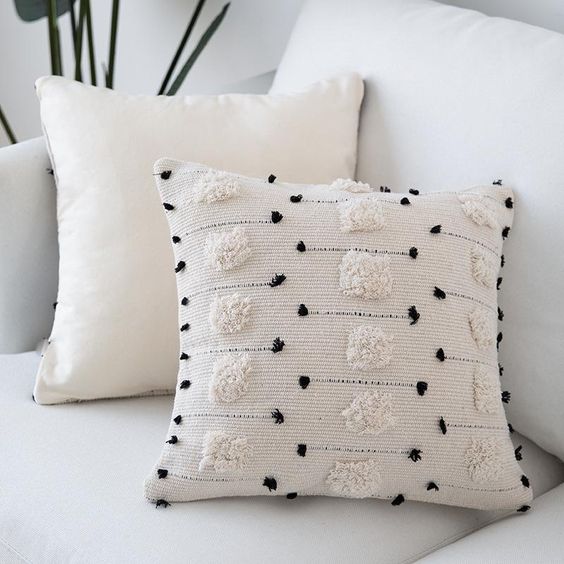 White pillows might be stunning if we add them to the bohemian bedroom. This tip is preferred for you who want to add some pillows in a different size. We can combine a little and big types to create a comfortable impression. Introducing more of your accent colors by adding different pillow design patterns.
Rugs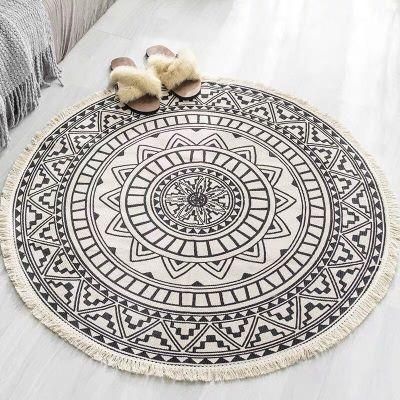 If we want to apply a bohemian style, a rug is a must thing that should be added to our bedroom. There are many patterns, designs, and shapes that we can choose as long as it is related to the concept. However, if we apply a monochrome concept, we should add white and black round rugs. We can also layer it by using other designs to create a strong bohemian accent.
Bohemian Bedroom Decoration Recommendations
Bohemian bedroom decorations are important to be chosen because we can't make a beautiful bedroom if it doesn't have beautiful things. Besides furniture, we have to beautify it by using lighting fixtures or decorations. This time, we will give you some recommendations that can be used in the dark or colorful concept.
Artificial Flowers With A Round Mirror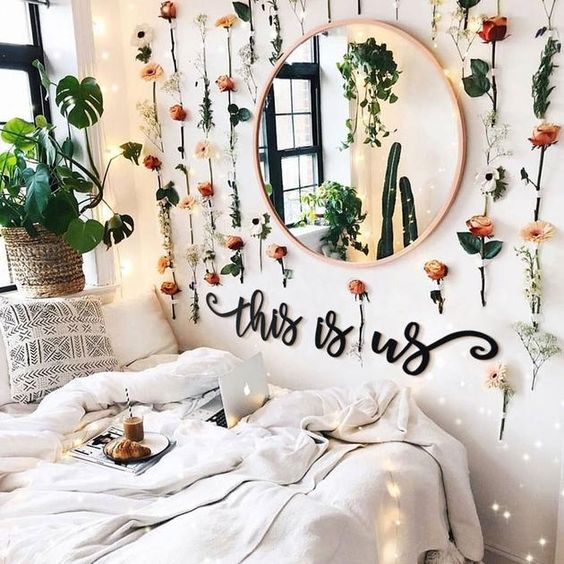 Attaching a round mirror with artificial flowers to the wall will create an aesthetic accent to our bedroom. Moreover, if we install fairy lights it will make the room look simple but beautiful at the same time. Bedroom decorations for bohemian bedroom ideas should look unique but beautiful at the same time. It also tends to have a natural accent so this type is preferred for it.
Long Mirror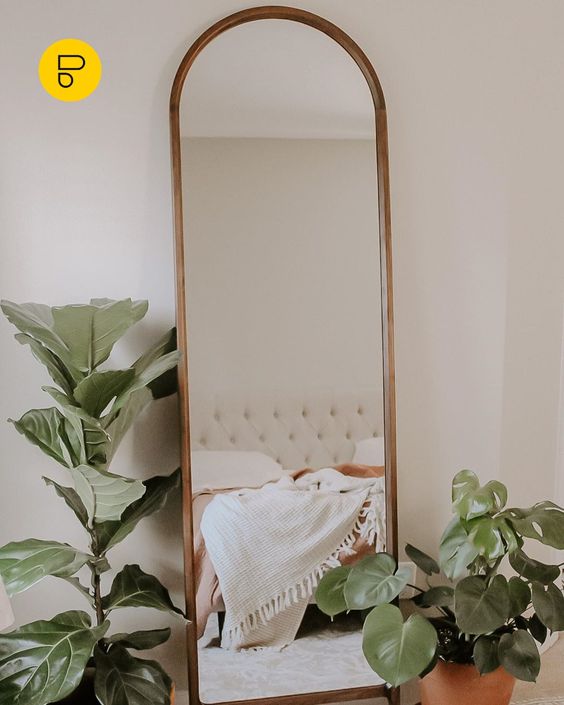 For those of you who don't want to add a round and little mirror, we can choose a long shape with a gold color accent. This type makes our bedroom looks wider than before because of creating room reflections. Bohemian decorations for a colorful and dark bedroom shouldn't have a complicated design then this mirror will be preferred to be added.
Unique Pictures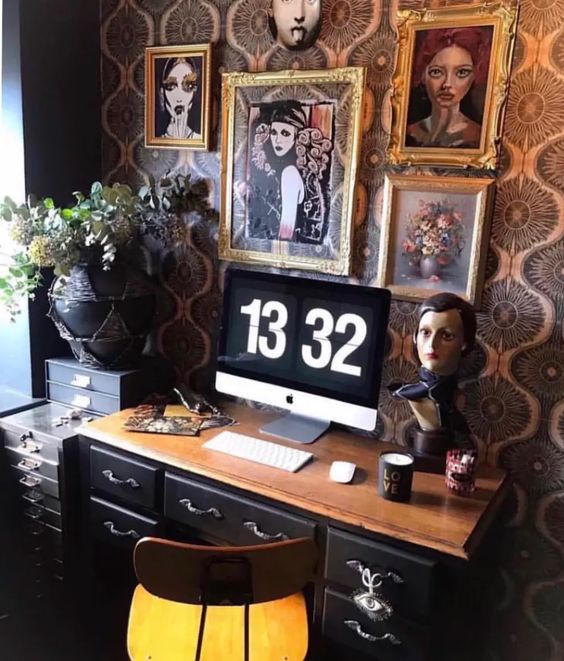 Unique pictures can be attached to the wall if we want to create a beautiful impression. If we are looking for suitable pictures, we have to choose a vintage or unique style to make it won't look monotonous.
Conclusion
Applying colorful and bohemian style for bedroom ideas should pay attention to decorations and furniture selection. We can't have a stunning impression if they don't have a suitable design for the style. Hopefully, our bedroom decoration recommendations might help you to get the best result while applying the bohemian design. If you have other recommendations, room ideas, and everything about home design, you can write for us to share your brilliant ideas.