Nexthomegeneration.com – Creating a beautiful exterior by applying bohemian decorating ideas in a small patio is a perfect choice. The design is easy to be applied because doesn't need complicated decoration styles. There are many decorations that we can choose but we recommend adding many plants to create a fresh atmosphere. A small patio will be stunning if we add them as decorations then we will be comfortable to stay in a long time. However, some people might feel confused about how to choose various plant types and apply the idea. That's why today we will give you decorating ideas and recommendations.
Small Bohemian Patio Decorating Ideas
Actually, decorating a small patio is not tricky as long as we pay attention to what exterior design that we will apply. Choosing it is important to consider what decorations that we want to be added. A bohemian style has a natural accent with unique color and pattern selection that will make our patio won't look monotonous. However, to apply it for the first time, you should apply our decorating ideas because of having a simple impression that will be easy to be implemented.
Suitable Lighting In The Bohemian Patio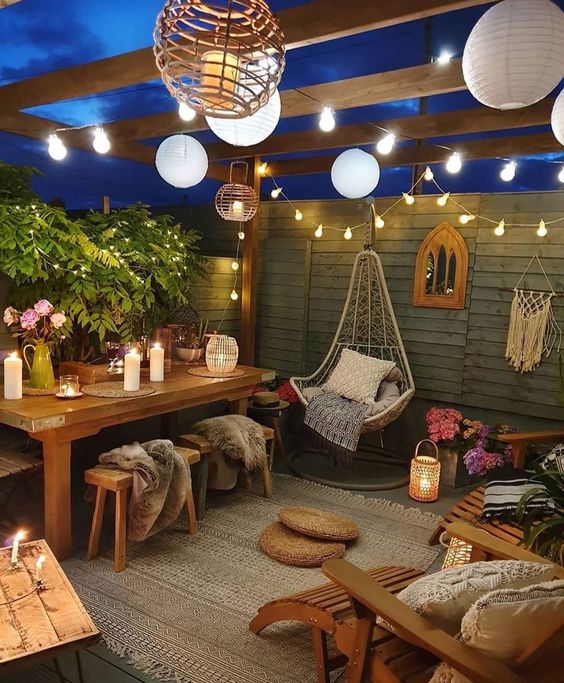 Applying bohemian decorating ideas for a small patio should pay attention to lighting selection because it will give many effects on our design. We have to add various kinds that will beautify our patio. Installing a light bulb and some pendant lamps will create a warm atmosphere because of having yellow lighting. Furniture types that will be suitable for this concept are wooden materials. Choosing solid wooden flooring tiles also can make a strong bohemian accent. It can be covered by using a light brown rug to make them look harmonious to each other.
Aesthetic Bohemian Patio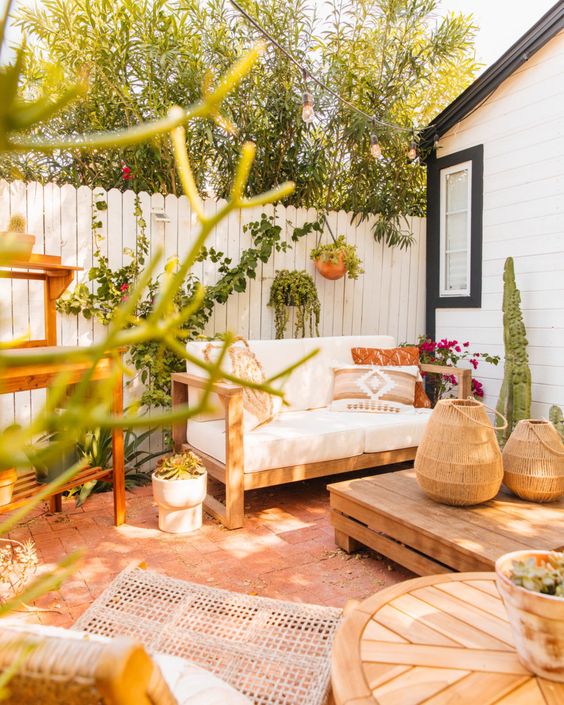 Orange ceramic tiles can be applied to create a warm atmosphere in our patio then we have to combine it with wooden furniture that has a white soft cushion. Some rattan decorations can be added to the rectangle table to create an aesthetic look. Don't forget to make a wall by using wooden materials that should be painted white. It will feel fresh if we grow some vines to the wall. They also can beautify our patio because they are one of the natural decorations. For you who are on a budget, we suggest you buy low-budget furniture that still has a beautiful design and shape.
Wooden Wall And Roof In The Bohemian Patio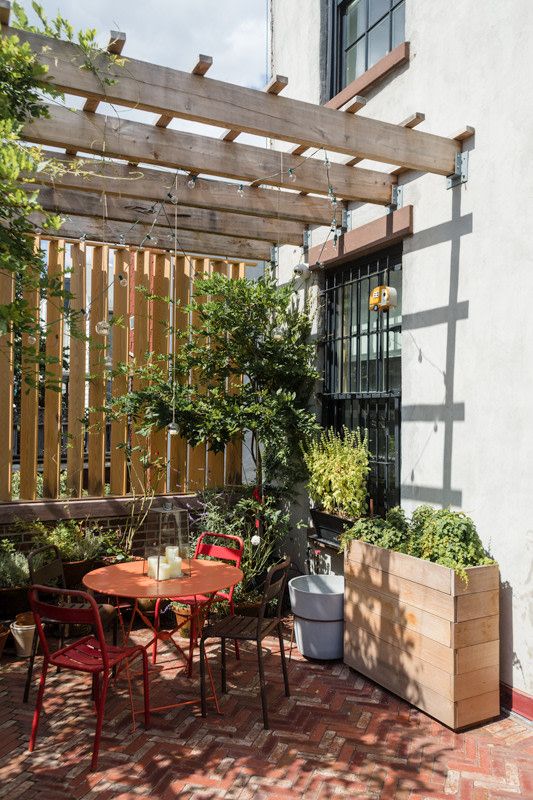 Making wooden materials into walls and roofs in our patio is one of the easy tips to make it look natural. Beautifying it by applying orange ceramic flooring tiles will help you to create a strong bohemian design. If we want to have a harmonious concept, we have to choose an orange table and chair that will create a stunning impression. For those of you who are complicated to make the patio look fascinating, we recommend finding some bohemian wall decor ideas.
White Cozy Bohemian Patio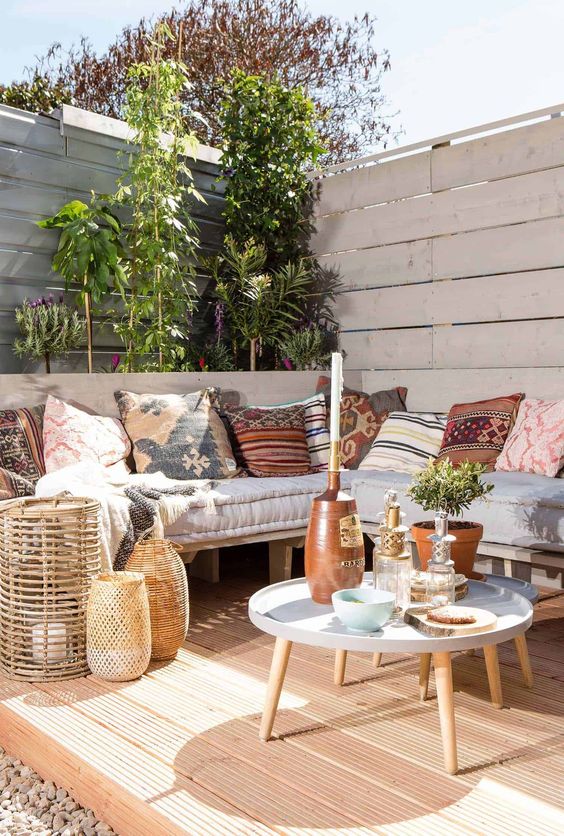 If you have a wide backyard, we can make a small patio by making a floor using some wooden materials. We can have a strong pedestal if we add them and also create an aesthetic look. We recommend adding a white round table to the small patio and don't forget to add some sofas with little pillows. Rattan floor lamps can be added on the floor to make it still look bright even at the night. Small bohemian patio decoration doesn't have complicated shapes and designs but tends to have natural materials. complicated pattern, and bright or warm colors.
Maroon Sofa With Hanging Plants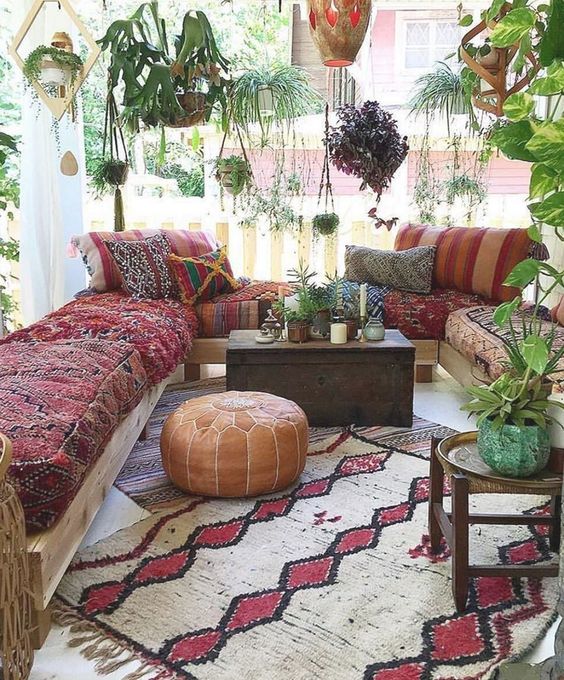 Maroon sofas with unique patterns have a strong bohemian accent because it will be pretty to be added to our patio. It has soft materials that can be added together with some pillows which have a related pattern to each other. However, to make it prettier, we should hang some plants because it will create a fresh impression. A white with a little bit of red color pattern is suitable to be added as a pedestal. If you want to try some concepts, we recommend applying a dark and colorful bohemian style.
Tips To Decorate A Small Patio
Bohemian patio for a small exterior is suitable for people who love natural, simple, and aesthetic impressions at the same time. However, we should pay attention to decoration selection. For those of you who want to apply it easier, we will give you some tips to decorate our small patio.
Hanging curtains. Installing curtains is not only can be done in a home interior but it can be installed in the exterior. If we have a patio, some people might make a wall by using wooden materials then to beautify they installing curtains.
Installing some beautiful lighting. A patio is not fascinating if we don't install some lighting to make it look bright. We can choose some pendant lamps or floor lamps to create a stunning look even at the night. We recommend choosing fairy lights, pendants, chandeliers, or ceiling lamps if you have a roof on your patio.
Provide extra sitting. It is not enough to add one chair or sofa even it has a big size. To make us feel comfortable, we have to add one to three chairs or sofas to add extra space for people who want to enjoy their time with many people.
Choosing multifunctional furniture. Before buying furniture for our patio, we should consider its function than design or shape. It will be better if we have multifunctional furniture because we can save our space and also make the patio looks wider than adding many things.
Adding suitable plants. Decorations are necessary to be added to our patio so plants are the best recommendation from us because of making the atmosphere feel fresh.
Bohemian Plant Recommendations
Bohemian or boho style is the interior design that looks aesthetic. It uses natural materials, bright or neutral colors, unique patterns, warm textures, and unconventional decor. The style is inspired by those who lead an individualistic and out-of-the-ordinary life such as globe-trotters, writers, artists, and other free-spirited creatives alike. However, because of it, this style also adds some plants as decorations.
Pothos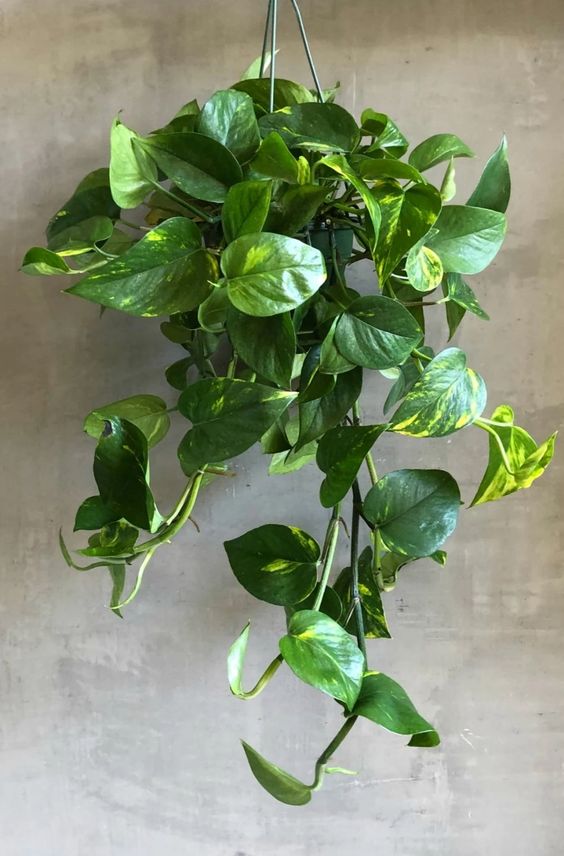 Pothos plants are a favorite decoration for some people especially for those of you who want to have something that can be hung. It is easy to maintain so it will be preferred to be added to your bohemian patio. It will be preferred to be added to the patio because this plant loves a wide space with good air circulation. It will grow better if exposed to sunlight or indoor that has a little bit of it. Don't worry about your small space because this plant can be grown with enough soil and fertilizer.
Ferns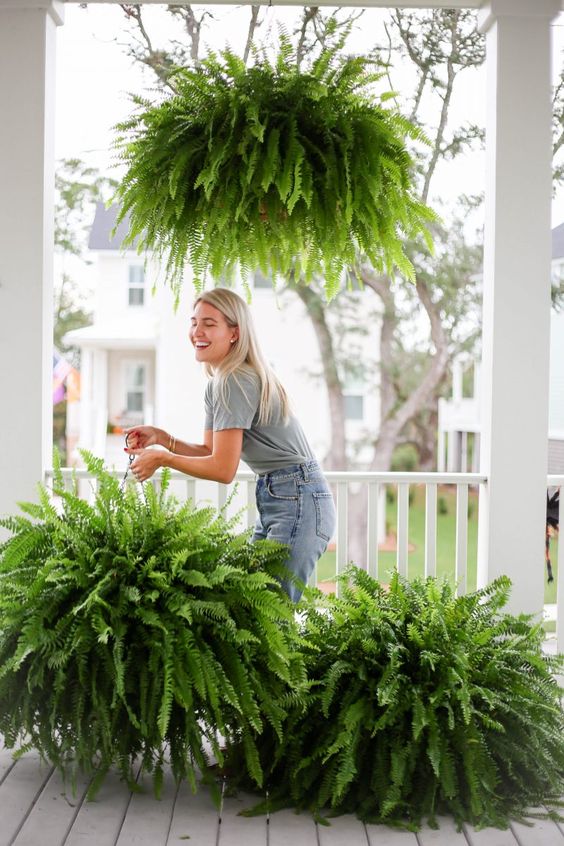 Fern is part of the Adiantum genus that includes over 200 varieties of ferns grown around the world from New Zealand to the Andes. The genus name is derived from the Greek word 'Adiantos' which means 'unwetted' and it is suitable for the ferns that its leaves repel water. We recommend choosing Maidenhair fern because of having beautiful green leaves. It requires a bit more attention than others but if you don't have a problem with it this plant is suitable for you. It will be the best plant recommendation for a bohemian patio.
Succulents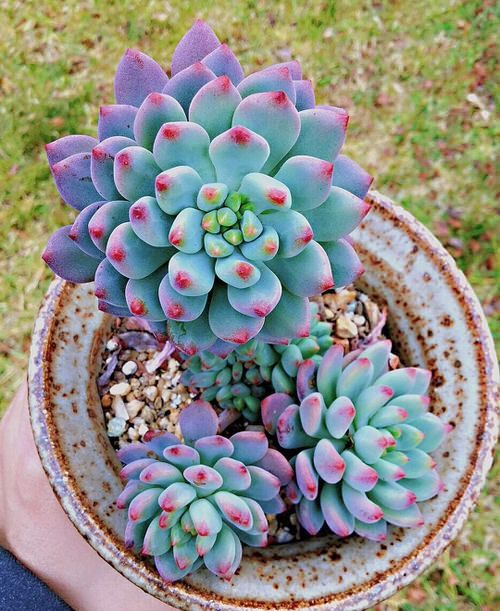 For those of you who love gardens and flowers, it will be the best recommendation for you. Succulents come in all shapes and sizes. It has a big and mini size that is preferred to be added to every place as decorations. However, it is also popular because it is often used in a plant magazine cover because of having a beautiful look. That's why we recommend adding it to our bohemian patio.
Monstera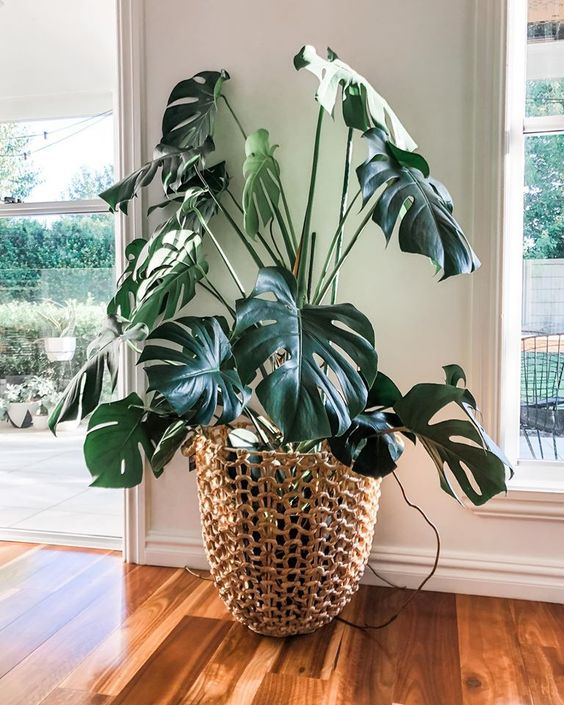 Who doesn't love a Monstera? It is so popular until we will often find it on Instagram or Pinterest pictures. It is not surprising because it has beautiful leaves with bright or dark green leaves. The Monstera is also known as the 'Swiss Cheese Plant' because of having unique leave shapes. It also creates a forest accent in our patio with shiny green color. To have a perfect look for our small patio, we could use the Bohemian plant as we have recommended before.
Cactus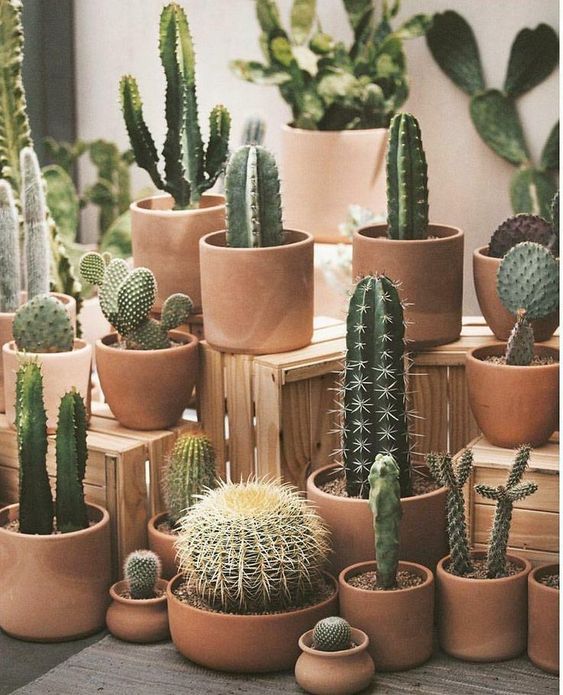 How to choose a bohemian plant for a small patio? If you are still confused, we will give you a perfect recommendation. Cactus is one of the best plant types to beautify your home exterior, especially the patio. Even though it has many thorns but it still looks stunning and prefers to be added to our bohemian exterior design. It is easy to maintain because we only need to give it water once in two weeks.
Conclusion
Small bohemian patio exterior decorating ideas will be preferred for those of you who love a stunning look with a warm atmosphere. We should pay attention to decorations and one of them is plants. Hopefully, our plant recommendations will help you to choose a suitable type.