Nexthomegeneration.com – For people who want to have a calm and cozy dining room impression in their houses, we recommend applying a bohemian dining room design. It creates a beautiful look with a comfortable feeling that is suitable for dark or bright colors. It is often to used natural furniture and decorations materials that will liven up the atmosphere. We have to pay attention to a round dining table set that has a suitable shape and style to prevent making a mistake while applying the theme. Tips to apply a bohemian design from us will be suitable for you and easy to be applied so we will not feel confused about how to choose it.
Tips To Apply A Bohemian Dining Room Design
Changing up our dining room vibe is part of the fun for you who want to have a different impression. Touch of formality lends a sense to a space that makes it feels complete. For those of you who want to decorate a dining room, we recommend applying a bohemian design in a dining room because of having a simple but beautiful impression. It won't be complicated to be applied because it doesn't need complicated furniture or decorations. This time we will give you some tips to apply the design that might help you to create a stunning dining room.
Customizing Your Space Size
Before buying furniture such as a dining table set, decorations, and other important things, we have to adjust the room size to prevent making a crowded room. It will help us to create a comfortable atmosphere and save our budget because we don't need to buy other things again later. Bohemian dining room design tips don't have complicated things that will make us feel confused.
Choosing A Suitable Color
Do you want to have a fascinating impression? If you do, we have to choose suitable colors to create a harmonious look in our dining room. For those of you who want to apply a bohemian design, neutral colors such as white, beige, light brown, green and others are the best recommendation for it. We can also apply dark or colorful bohemian concepts if we want to combine them.
Adding Furniture And Decorations
Have you ever heard of a room without furniture and decorations? It sounds impossible, right? That's why we have to add them to our room but they should have suitable designs. shapes, colors, and sizes to create a stunning look.
Installing Lighting And Curtains
For people who have windows in their dining rooms, we should cover them by installing a curtain. We can choose white with floral patterns or beige colors that is suitable for a bohemian design. Lighting is also important to be installed to prevent make the dining room feel crowded and dark at the same time.
Rugs Will Create A Fascinating Look
Besides flooring, we have to add rugs to our room as a pedestal and prevent feeling cold while staying or eating. We can choose neutral colors with unique patterns that will beautify our dining room.
Bohemian Dining Room Design
Decorating a dining room for the first time in your first home sometimes makes us feel confused. We can make some mistakes if we don't know how to do them properly. To prevent it, we recommend applying some bohemian designs from us. It will make it looks beautiful and comfortable at the same time.
Wooden Dining Table Set With A Drawer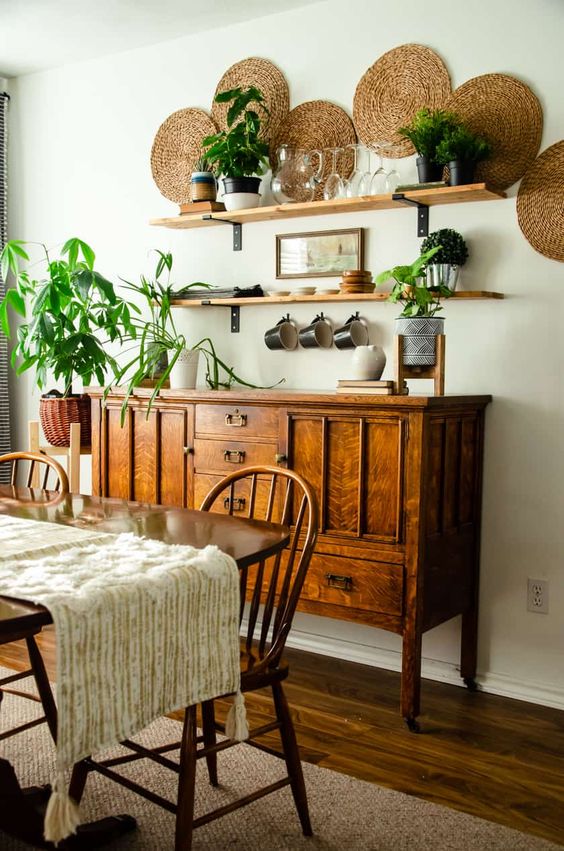 The best material that we can choose for beautifying our bohemian dining room concept is wooden. It has a natural impression with a dark and light brown that will make the room looks stunning. We can add a wooden dining table set and cover it by using a beige tablecloth. Applying dark brown flooring tiles and light brown carpet as a pedestal can create a warm atmosphere. A wooden drawer can be added as a place to add many things that we want to save. A bohemian design concept look beautiful because of having a unique characteristic.
Cozy Bohemian Dining Room  Accent
Installing a big window in our dining room will create natural lighting from sunlight and make it feel comfortable. Suitable furniture that can be added is a round dining table with rattan dining chairs. It will make our room look stunning and feel cozy so it can make us or our family can enjoy eating delicious food. A fascinating view from the window will make the dining room won't look monotonous.
Bright Bohemian Dining Room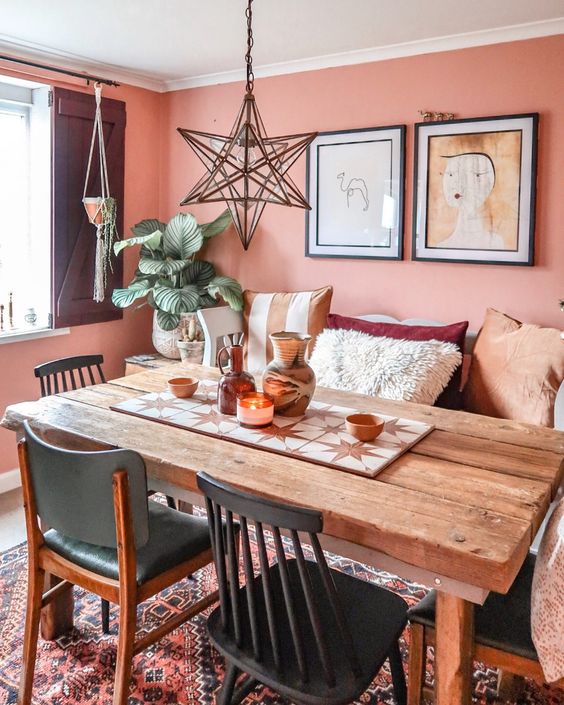 There are many bohemian lighting designs that we can choose as long as it is related to the concept. However, if we choose a unique shape, we will have a beautiful and unmonotonous look in our dining room. Applying red brick carpet and coloring our walls with the same color can create a bright impression. Attaching two pictures to the wall will beautify it and make us feel cozier. Different dining table colors will create innovation to our bohemian room display.
Fresh Bohemian Dining Room Theme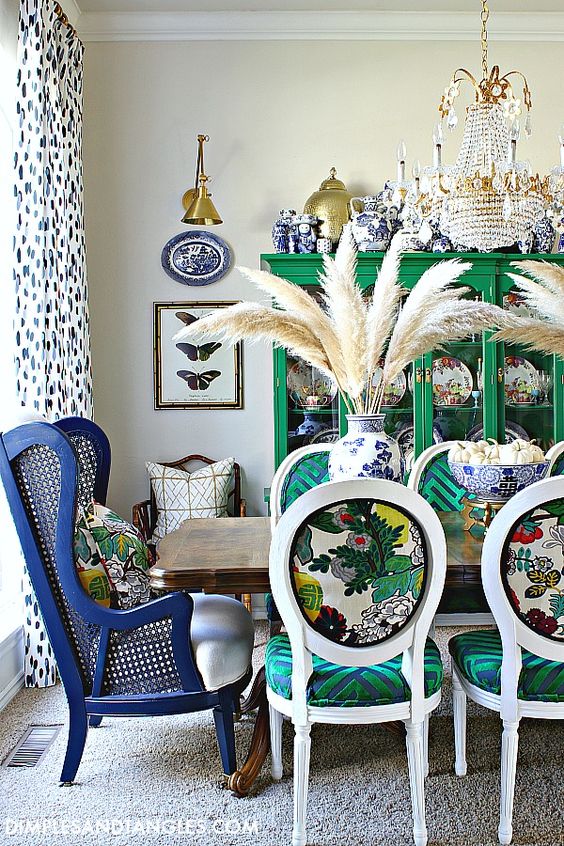 Besides adding some plants to our dining room to make the atmosphere feel fresh, we can also add green furniture. It is suitable for people who don't love many plants in the room. We can choose green floral dining chairs with a wooden dining table to create a harmonious look for each other. Adding a dark green cupboard as a place to displace beautiful plates can give beautiful value to the room.
Natural Bohemian Dining Room Concept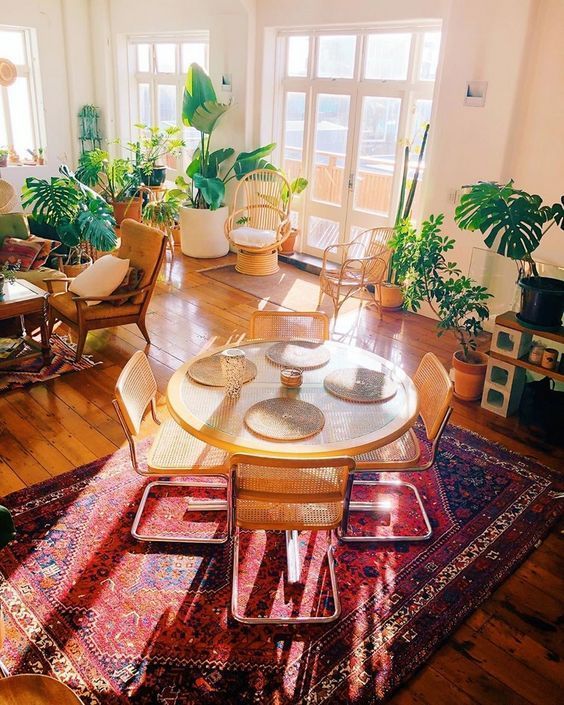 Adding a red carpet with a beautiful pattern under the table can make the dining room feel warm. Choosing a rattan dining table and chair will complete the concept then create a stunning impression that will be different from others. This concept can be applied near a bohemian living room because doesn't need many spaces.
Round Bohemian Dining Table Set Design
There are many dining table shapes that we can choose but we recommend choosing a round type because it looks simple and aesthetic at the same time. Generally, this type doesn't need big space in our home and is suitable for people who want to mix their kitchens with a dining room. This time, we will give you some round dining table set designs that will be preferred to a bohemian style.
Glass Top Round Dining Table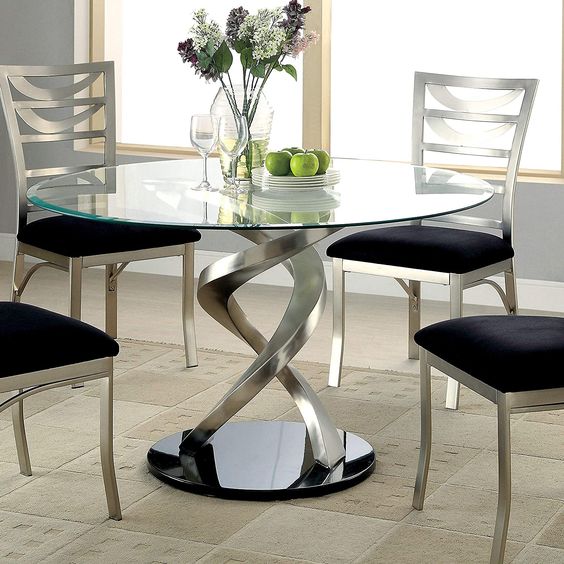 A bohemian style can be combined with other designs and a modern style is one that can be combined. A glass-top dining table has a modern impression with an elegant look that will make the dining room have a luxurious style. We can add it together with black dining chairs with a silver color accent. It is suitable to be added on beige flooring tiles because will look harmonious.
Dark Brown Round Dining Table Set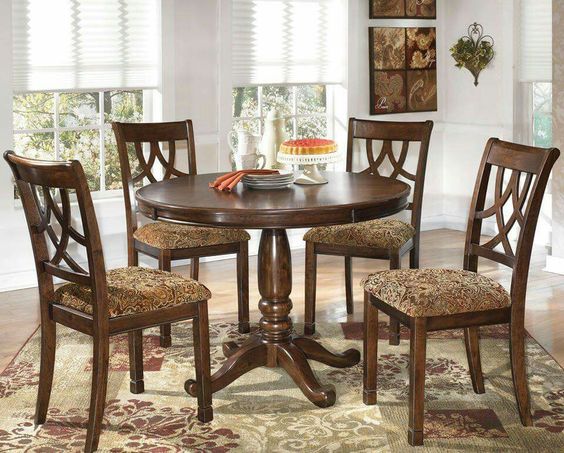 Sometimes we want to have a natural accent in our bohemian dining room but it should have a strong bohemian accent. We recommend choosing a dark brown round dining table set that is made from wooden materials. It looks stunning and elegant at the same time where it is preferred to be added in the bohemian dining room.
White And Pink Bohemian Dining Table Set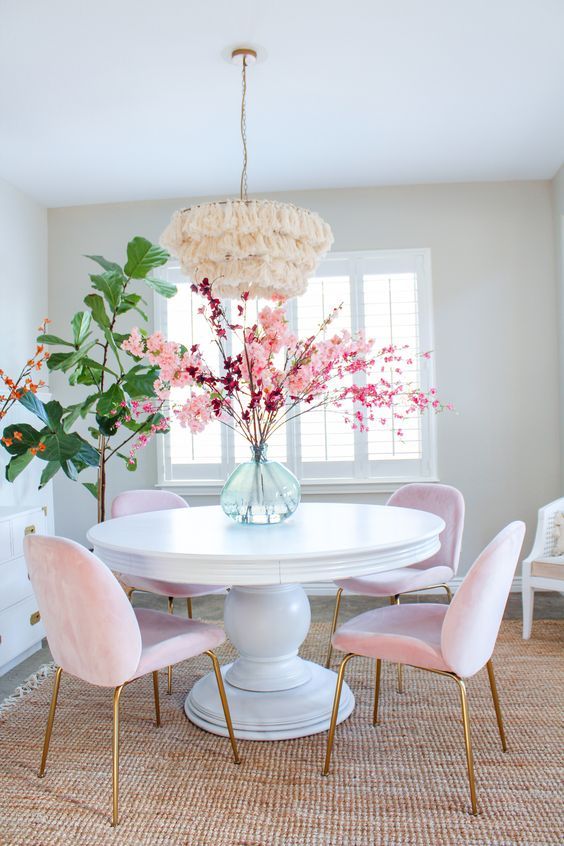 A white round dining table is suitable to be combined with soft pink chairs that will create a feminine impression. We can also apply a beige carpet under the table to support the concept.
Conclusion
Tips to apply a bohemian design for a dining room are easy to be done as long as we pay attention to furniture and decorations. We guarantee by using round dining table designs from us you will have a beautiful bohemian dining room.