Nexthomegeneration.com – Curtains and furniture is a necessary thing to pay attention to because we need them. We use a curtain to cover our window from sunlight or anything at the night. However, do you know if curtains and furniture selection should have beautiful look? If we don't consider choosing a beautiful design, we can't have a beautiful home interior. Some people want to have a unique interior design and make their home look stunning. We recommend you apply a shabby chic design. By applying it, we guarantee you will fascinate with it. Now, to make you more excited to apply it, we will give you curtains and furniture recommendations.
Shabby Chic Bedroom Curtains Recommendations
What do you think about aesthetic and cozy interior design? What do you feel if we have both of them and we combine them with a feminine accent? The result is shabby chic! We can create an aesthetic feminine or cozy impression in our home at the same time. We will also use many furniture and decoration that has a unique characteristic which won't be found in any interior design.
Beige Lacey Flower Curtain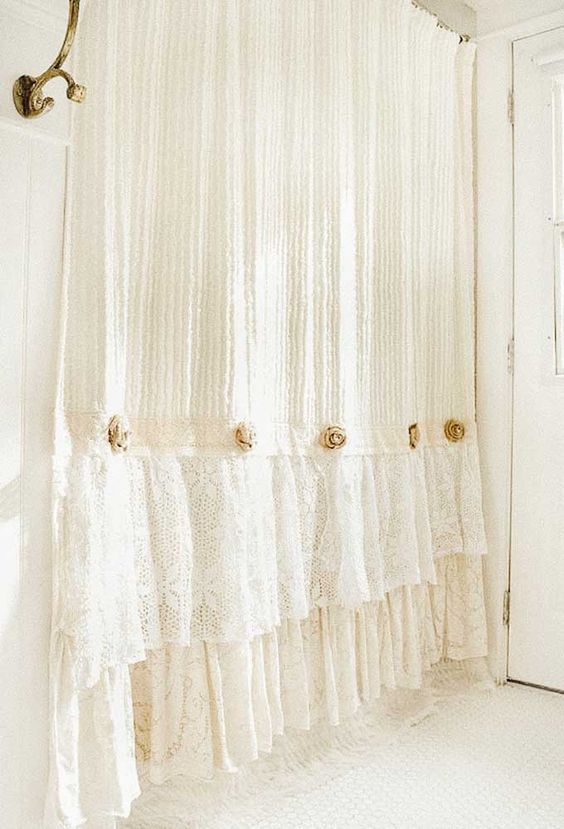 The first curtains recommendations is a beige curtain with beautiful lacey and some flowers. It makes our bedroom look aesthetic and luxurious at the same time from its gold flowers. We can install it on our window or only to cover our bedroom entrance. This curtain has a brocade which creates an elegant concept if we use it. It also makes our bedroom have a warmer impression. Besides suitable for a bedroom, it is preferred to install in our shabby chic kitchen design because can makes it have a stronger design.
Grey And White Curtain For Shabby Chic Home
Shabby chic interior design is a style that tends to have a feminine accent and unique furniture. It looks warm and makes anyone comfortable to stay for a long time in our room. Shabby chic curtains have many designs and colors which we can choose as long as it is related to our concept. If you don't want to create a too feminine concept, we recommend you choose a grey and white color combination. It still has lacey and a ribbon that can be made by tying its rope.
Transparent Curtain Fabric With Pink Color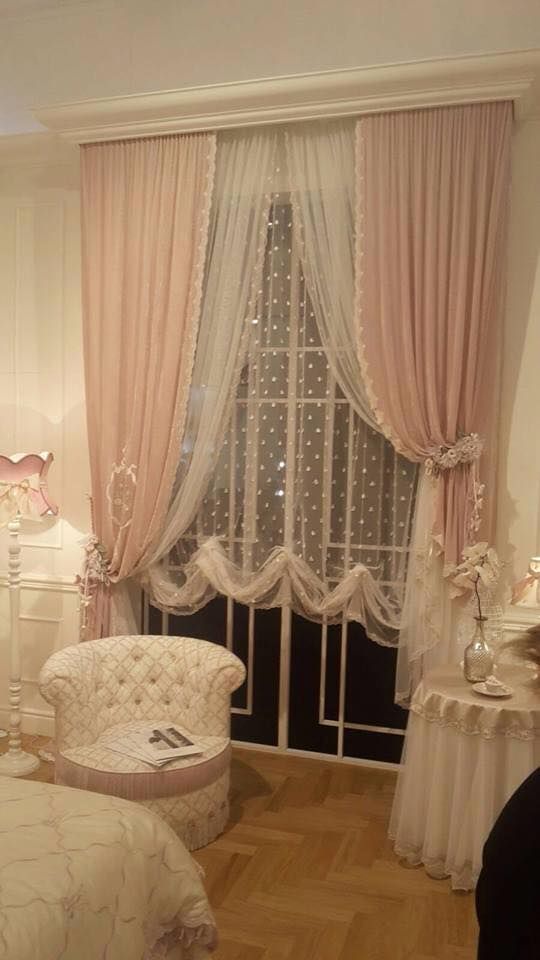 What do you first think while looking at the picture above? It looks like a curtain in the barbie room or a castle, right? Do you wanna have it? If you want, we should apply a shabby chic design to our home. We can combine it with a sofa and table which has a lacey tablecloth on it. Shabby chic accessories also can be added to our room to make a harmonious concept in decoration selection.
Beige Curtain With Beautiful Lacey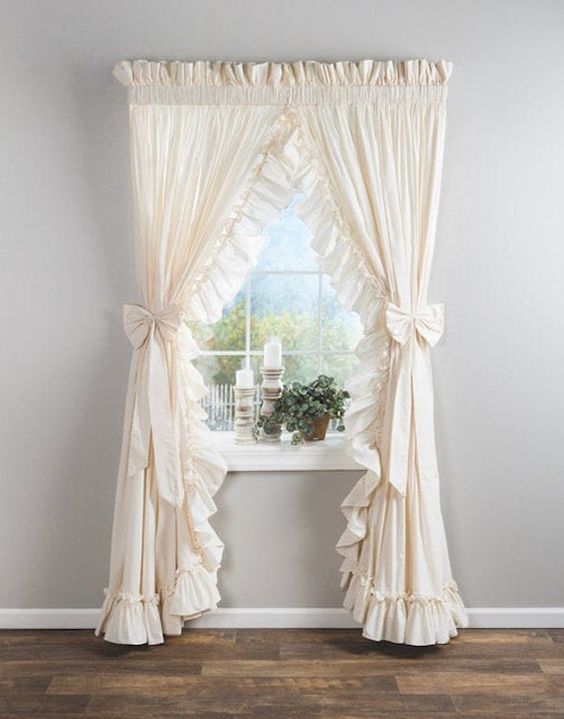 Beige curtains for the window in an amazing idea to add because we can have a warm atmosphere with a beautiful look at the same time. We recommend adding it to the shabby chic dining room if we don't want it in the bedroom. Sometimes, we want to have a photo zone in our bedroom. An aesthetic photo zone can be established if we install the curtain there.
Basic Curtain With Flower Patterns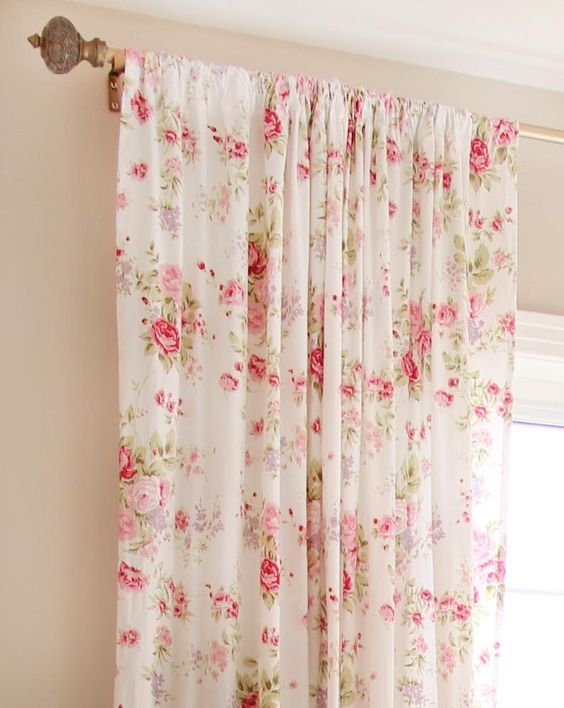 A basic curtain without lacey looks beautiful if it has a beautiful pattern like flowers. We can install it to cover our window to make it look prettier. It is easy to find and has a low price than a lacey curtain. It is also preferred for people who are on a budget. That's why we should add it if we want to create an aesthetic accent in our room. A flower pattern on it can make us have a stronger feminine accent and gives us a sweet impression.
Shabby Chic Bedroom Furniture Recommendations
After talking about curtains, this time we will talk about furniture which is important to choose and add. Without it, we can't create a beautiful interior design in our home and it will be like a dream for us to make it. We should add the best furniture to make a perfect design in our home. We can't carelessly choose it because it will damage our concept. To avoid it, we will give you some shabby chic bedroom furniture recommendations.
White Shabby Chic Bed With Flower Pattern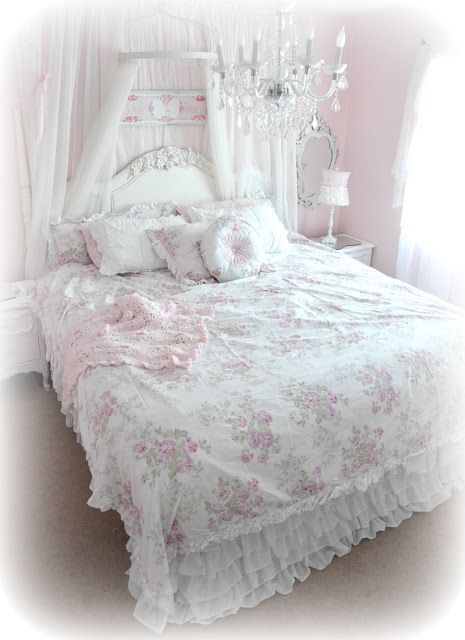 A white bed with lace underneath is a beautiful combination to choose for our bedroom. We can choose a flower pattern bedsheet to make it prettier and have a stronger shabby chic design. It is suitable for people who want to have luxurious and feminine concepts at the same time. It is also preferred if you want to make it like a princess bedroom in the castle. We can combine it with a chandelier and paint our wall with soft pink color to make it look stunning.
Shabby Chic Drawer And Tv Frame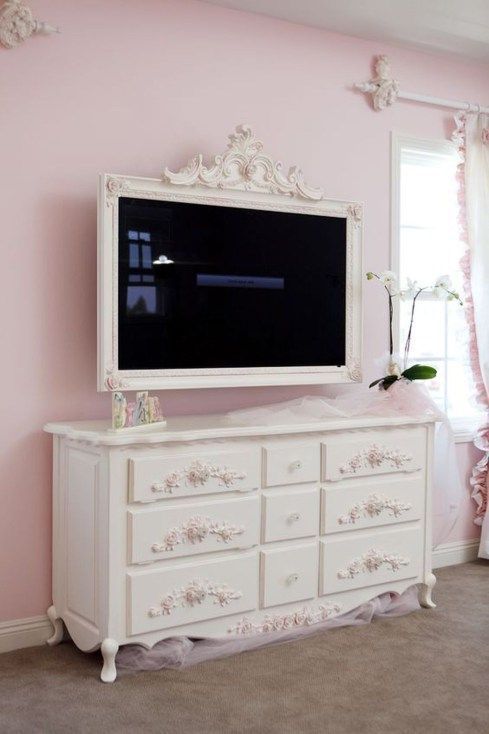 Some people want to have unique furniture in their room but still confused about how to choose it. We recommend you choose a shabby chic drawer with a tv frame to create a unique impression in our house. It has a beautiful carving that is very related to a shabby chic design and suitable to add to our bedroom. We can add anything that we want and watch television in a good atmosphere. We also make it look neater and don't have scattered items.
Luxurious Dressing Table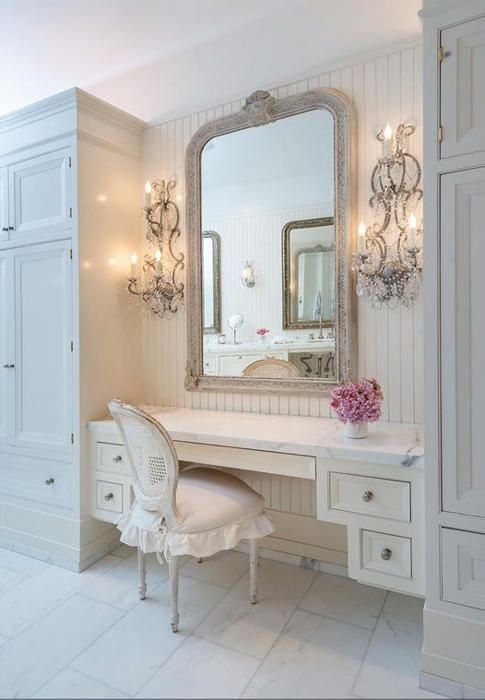 Please imagine that we have a princess bedroom like in the castle with pretty interior decoration and a beautiful luxurious dressing table. It is gonna be amazing, right? However, it is only a dream if we don't know how to make it become reality. Don't worry, we will help you to create it. We recommend you add a dressing table which has a shabby chic style and combine it with other shabby chic furniture. To make it prettier, we should add a big window and two vintage lamp walls.
Classic Round Mirror To The Cupboard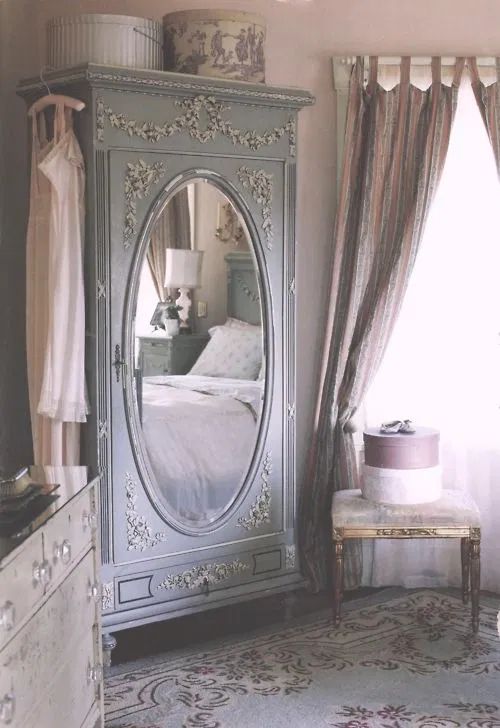 Sometimes we want to have classic or vintage furniture in our home to have a plus value and look rare. It has a rare design and complicated to find because generally classic and vintage furniture has an old age. We recommend you to choose it and add it to our bedroom because it can make us have a characteristic of shabby chic interior design. We recommend choosing a cupboard that has a beautiful carving and round mirror-like the picture above because it is prettier and suitable if we add it to our bedroom.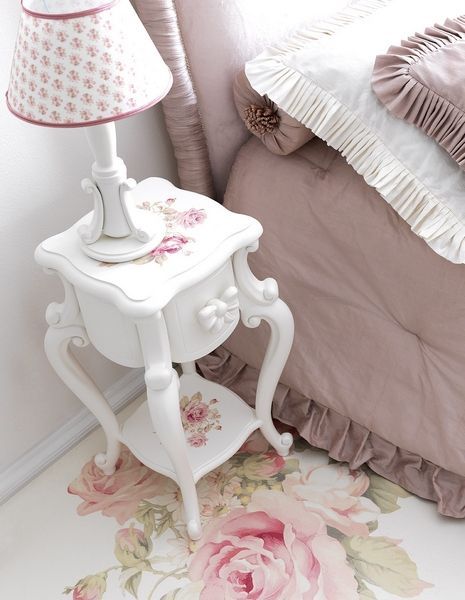 A white side table like the picture above have a simple design and only one flower pattern which decorates. However, it looks cute because it has a little ribbon in the drawer. We can also add a lamp table to make our bedroom prettier and brighter at the night. To make a harmonious concept in the furniture selection, we should add a rose pattern carpet as a pedestal.
Conclusion
Shabby chic interior design is more like princess style in the castle and tends to have a pretty concept by using feminine furniture, decoration, and accessories. We should apply it if we want to create a unique and luxurious look at the same time. We recommend you to pay attention to furniture selection to make a perfect design. Hopefully, by using our recommendations, we might help you to create it.