Nexthomegeneration.com – Japanese exterior in great demand across the globe because it has a unique characteristic that won't be found in any exterior design. Every time we talk about Japanese style, we certainly know about its simple and natural concept. It gives you a modern accent but also has a unique characteristic from its traditional style. If we think about its furniture and decoration, we certainly think about natural materials such as bamboo, wood, rattan and etc. Do you know if we use them, we should know how to maintain them? Japanese exterior is also famous for its typical doors. It always uses a wooden material and we recommend you to give the best treatment of it. We can have long durability of our wooden doors if we do it. Don't feel confused because we will give you some Japanese exterior doors design and wood treatments to create long durability.
Japanese Exterior Doors Design And Wood Treatment For Long Durability
Long with the times, there are many Japanese home-style is influenced with a modern touch. If we want to have an exterior style that has two design combinations at the same time, we should apply Japanese exterior design. We can create a natural and simple design of our exterior. The combination of modern touch in the Japanese exterior creates an incredible look! This time, we want to guide you to have a look at modern Japanese exterior doors. We guarantee you will fall in love with our door design recommendations.
Wooden Door With Some Little Windows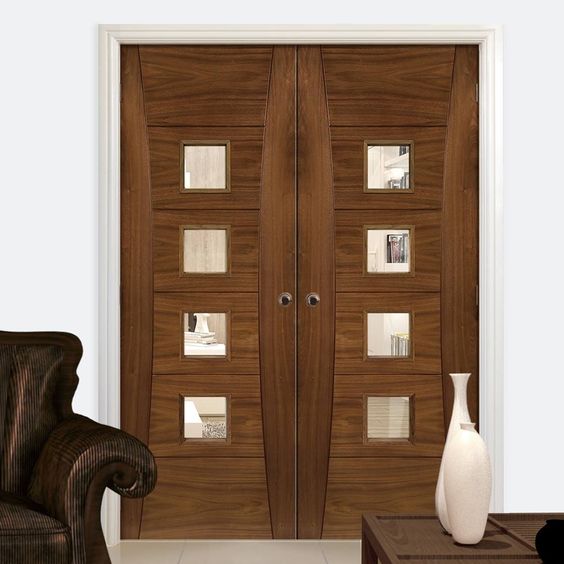 Creating a wider look for our homes is necessary to do because it can give improvement to our home. If we want to create it, we should start by changing our home exterior because that is the first thing that many people see. Some people don't pay attention to door selections because we can use and choose anything that we want. Actually, it is necessary to consider door selections because Japanese design has a unique characteristic. If we want to make our home interior look wider, we should choose a door with many windows like the picture above. It can give us a wider impression from a little view that created by its small window.
Beige doors with a modern accent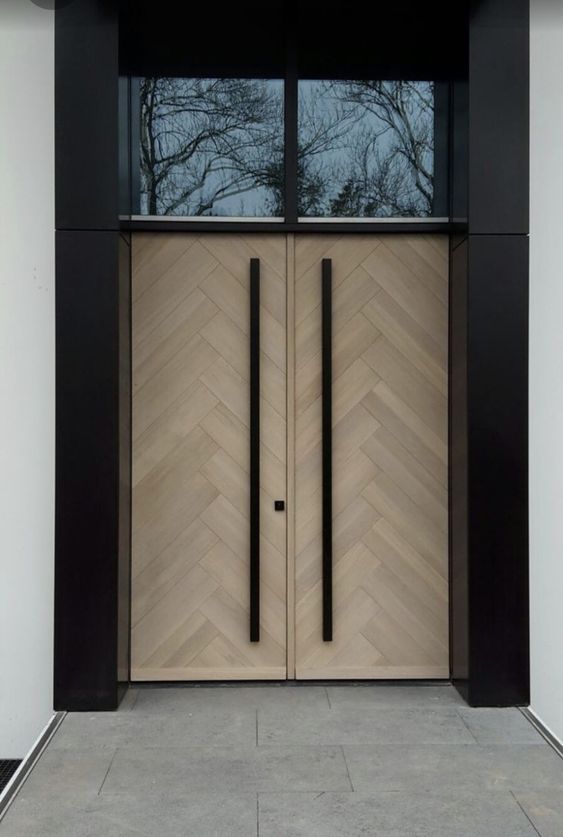 For some people that want to give a modern touch to their house, we should use a beige door that can make our home aesthetic and luxurious at the same time. It doesn't have a window and tends to make our home completely closed. By using it, we can make our guests or anyone curious about what it looks like in our house. We can also make our home have a characteristic of Japanese interior inspiration. It is important to have because we can create a stronger design.
Japanese Exterior Doors Design And Wood Treatment
To make our wooden doors have long durability, we should give the best treatment to it. However, there are many people who still don't know how to treat their wooden doors and let them have bad look. Before we tell you about it, we recommend you create a wooden gate and door to your house like the picture above. It has a unique design and has a stronger design of Japanese style.
Simple Japanese Doors Design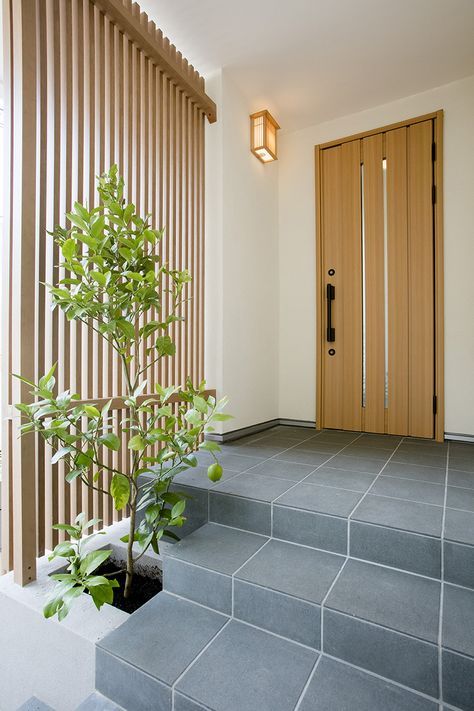 Last but not least, if we don't want to make a complicated design of a Japanese door, we should add a simple design like the picture above. We can install a door with light brown color with a big striped pattern. Grey tiles can be installed on our exterior to make it have beautiful looking and have a stronger Japanese style look. We can also add a plant as decoration to make it look fresh and doesn't look monotonous.
Aesthetic Wooden Exterior Doors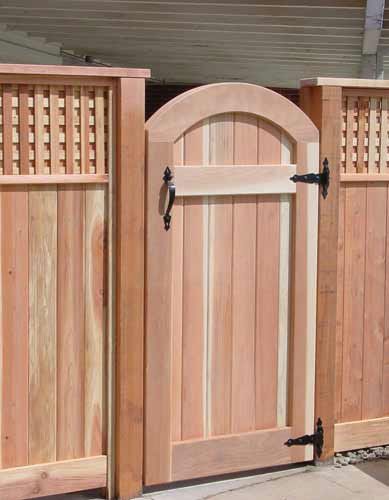 Some people want to have an aesthetic accent on their exterior and if we want to create it, we should make wooden exterior doors to make our home look beautiful. It has a simple design and looks beautiful with light brown color with a natural pattern of wooden materials. Generally, Japanese people usually create this door in their exterior because it can make us know who's coming. If we want to make our home like them, we recommend you to create this design.
Wooden Treatment For Japanese Doors Design
Based on the title of this article, we will give you some information about wooden treatment. It is important to know because without knowing it, we can make our doors have bad look and it would not good to use in a long time. Let's get to the list for making you know about it.
Weathered Door
If we have a weathered door because of the weather change effect, we should dry and clean it as much as possible. We can use a lubricant that has water repellant properties. We should apply it all over the surface of your wooden door and wait for it to dry. By using it, our wooden door is guaranteed to be free from rotting. That's why a wooden door is not used in the tiny Japanese bathroom.
Wooden Doors Must Be Varnished To Be Free From Damage
Don't let our door without varnish usage. It can damage quickly and for example, a termite can eat our wooden door. A solution for it is we should varnish to make it doesn't damage and have long durability. It can make our wooden doors have better-looking and have a natural impression. We should varnish all of the room's doors such as in the Japanese bedroom design or in the traditional Japanese living room. It will make us have the best home design and concept also makes our door can be used in a long time.
Conclusion
Japanese exterior door design and wood treatment are important to pay attention to because we can make beautiful home concepts by using and knowing them. You certainly make your home have better looking if you use our recommendations and tips. Probably, we might help you to create a perfect Japanese home exterior.