Nexthomegeneration.com – Do you ever go to Japan or your favorite country is Japan? Some people want to have a different atmosphere from their country and want to change their interior design that is related to it. We recommend you apply a Japanese interior design that will make our home have a different atmosphere. It is popular by having beautiful and natural scenery that will make us remember the country. Moreover, it can be applied in the small space because it is still beautiful although we use a little bit of decoration. It also makes our home look fascinating which can make our stress relieved. Today, we will give you all about Japanese interior inspiration and ideas for a small space.
The Reason Why Should We Apply This Design?
We should apply it if we want to have a natural design and use wooden materials for furniture, flooring, wall, even decorations.
Don't you want your guest's slippers or shoes lost in front of your house? If you don't want, we should apply a Japanese interior design. It has a Genkai or space for people who come to your house can add their footwear to it.
This interior design has a minimalist impression and makes our home look wider than before. That's why it is suitable for people that have a small space.
If we want to have a fresh room by using a little bit of furniture we should apply it because it can make us save our expenses.
Even though this is a modern era, the Japanese interior design keeps its traditional accent in its concept. So, we should not worry because we can have a Japanese characteristic by applying it.
The Characteristic About Japanese Interior Design
Before applying it, we should know first the characteristics of this design. This time, we will give you some information about it that might help you to apply a Japanese interior design.
Minimalist And Practical
It has a minimalist and simple design that doesn't need too much furniture or decoration. We should apply it if we want to make a modern, minimalist, and simple impression at the same time. If we want to make our home feel more modern, we should add a sofa and floor lamp. By applying a natural design like the Japanese interior, we can feel relaxed while staying in it. Moreover, if we have a Japanese bedroom design it can make us more comfortable while sleeping.
Having A Genkan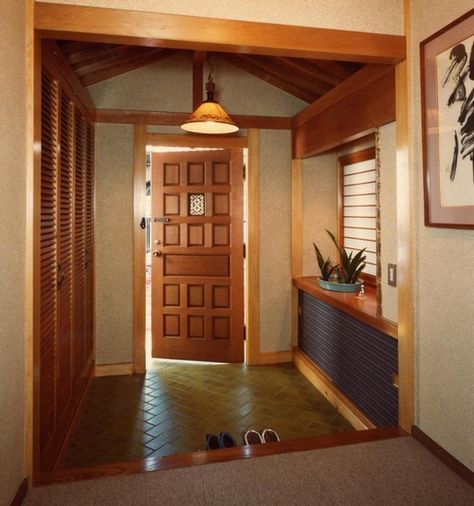 Genkan is a corridor of the house or hallway before entering it from the entrance. We can add our sandals to it before we enter. If we apply this design to our home, the guest that comes to us must take off their footwear and replace them with house slippers.
Using Sliding Doors
The next characteristic of Japanese interior design is the usage of a sliding door in their house. In this design, there are many homes that use sliding doors because it is a characteristic of this style. It has several advantages, one of which makes the room more spacious and dynamic.
Tends To Have A Wooden Material
Japanese concept contains traditional elements and close to nature. Therefore, most homes that applied this style where it can be combined with using wood elements in their interior and exterior designs. In addition, to make it look charming and beautiful, it can be used wood elements.
Room Without Partition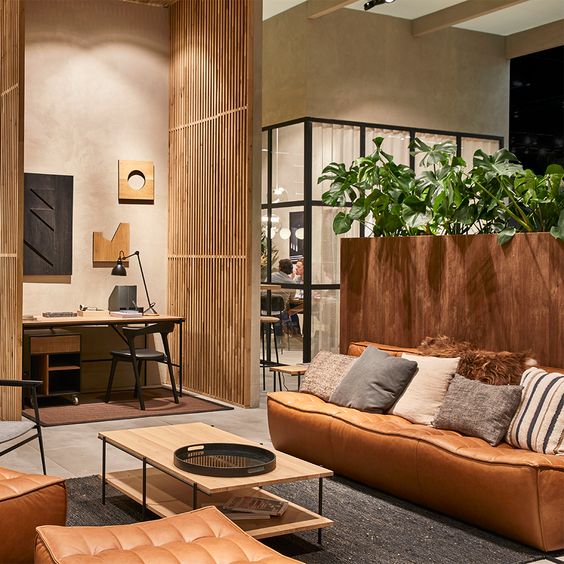 Flexibility is one of the characteristics of this design. Therefore, apart from the private room like a bedroom and bathroom, another room doesn't use something to cover it. We should apply this design if we want to make our home feel wider. For example, we can combine the Japanese kitchen style, dining room, and living room in one space without using a room divider.
Wabi-Sabi Element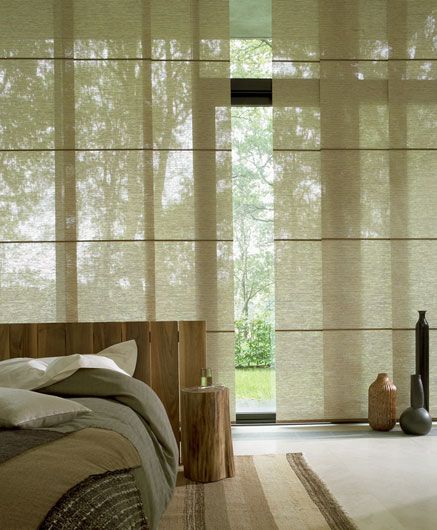 Have you ever heard the term wabi-sabi philosophy from Japan? Perfect and happy even in imperfection is the meaning of the term. Generally, it is a philosophy of life for Japanese people and is already known by many people. Although the design looks minimalist and simple, it still feels comfortable. It can make us feel like living in our parent's place even we live alone in the apartment or our home. It is preferred to apply in any room especially in the Japanese bedroom style.
Japanese Interior Inspiration Ideas
Some people might confuse about what to do at first. Especially, to whom who want to apply a Japanese interior design? We recommend you find the ideas that make it easy to apply them. Don't worry because we will give you some ideas about them and probably, we might help you to create the perfect home interior that you want.
Kitchen, Living Room, And Dining Room At One Space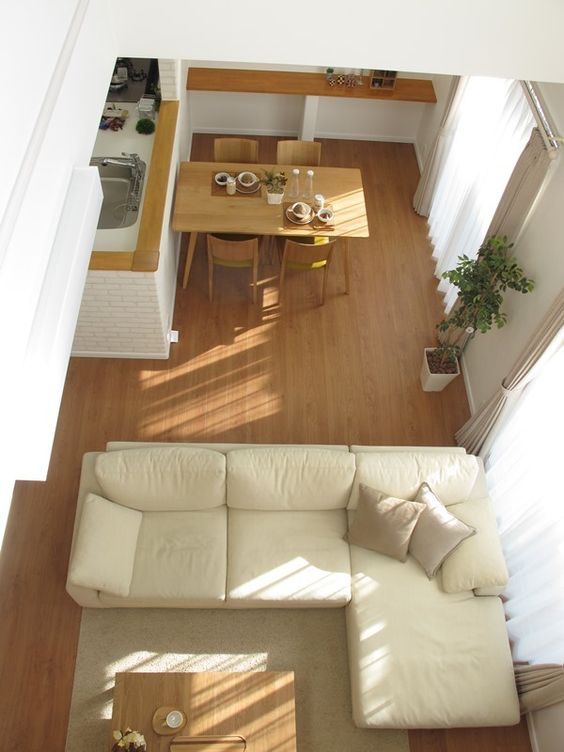 We can make many rooms in one space like the picture above for people who have a small space in their home. A wooden dining table set and sofa can be added to our room and we should create a room divider between the dining room and kitchen. We can apply wooden vinyl tiles and a white fluffy carpet as a pedestal under the sofa for flooring.
Big Window With Green Backyard View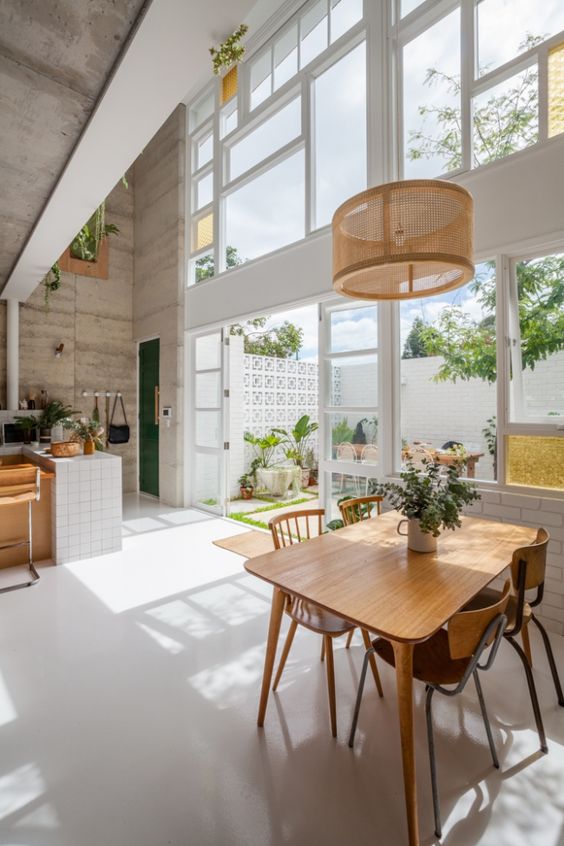 If you see the picture above, sometimes we see it as an interior design that is only suitable for people who have a big space in their home. Actually, it doesn't true because we can make this concept for those who are on a budget and have a small space. We recommend you to make a dining room and kitchen near the backyard to make it have a beautiful view.
Doesn't Have A Room Divider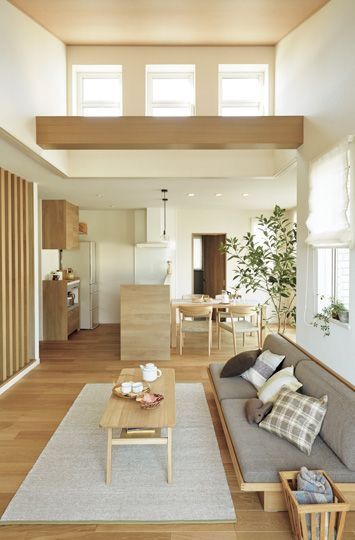 A wider accent in the small space can be created by applying a Japanese interior design. Don't make a room divider in our Japanese-home style because it can make us have a narrow space. Without making it, we can have a wider room because it looks like our home has more space. To make it more feel natural and have a stronger concept, we should add wooden furniture and use wooden vinyl tiles for flooring.
Using A Wooden Shelf For Decoration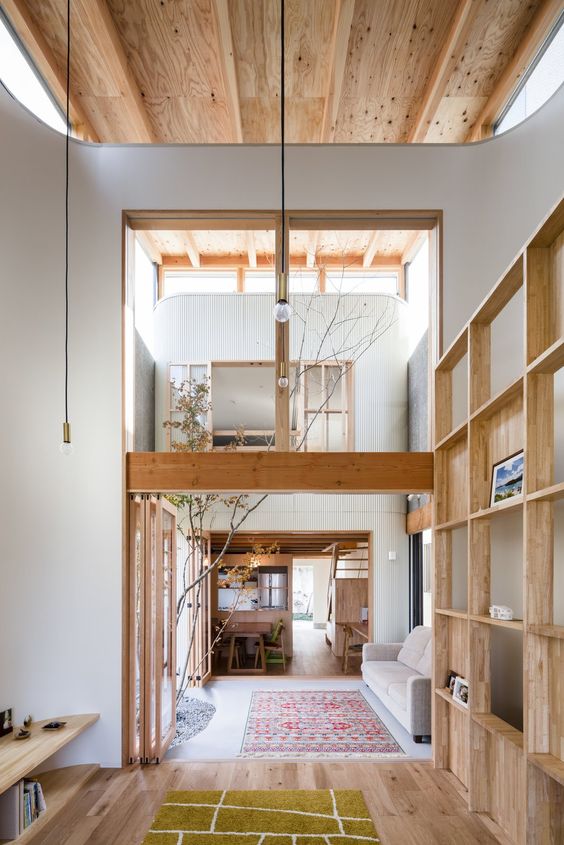 Simple but looks beautiful is a main character in the Japanese home style and to create it, we should utilize our furniture as decorations. We can add a wooden shelf as a decoration in our room and we should add something to it to make it prettier.
Conclusion
Beautiful design is essential to be applied in our house to make us have a pretty home. To apply a Japanese interior design, we should pay attention to characteristic and an idea that might help us to apply it.