1. Overview Exposed brick design
Industrial style design is considered one of the interior styles that represent the tastes of young people. Even though it adopts the interior style of an old industrial factory that sounds complicated, this design ultimately presents a unique and eccentric industrial impression. The design which is characterized by using exposed brick looks aesthetically pleasing to people's homes.
If you are interested in adopting an industrial style at home, this exposed brick design can be used in your home. Not only economical, but the main material in the form of bricks is also very easy to find on the market. In the following, we provide an interesting review of exposed brick design ideas and inspiration.
2. Ideas and inspiration
Industrial design ideas and inspiration with exposed bricks will display a variety of room designs in the house. Therefore, please follow our review to get interesting and fun industrial design ideas and inspiration. life, when eating is also used for family gatherings.
Therefore, of course, you are no stranger to this unique and artistic industrial design. For that, we want to share ideas with you to review an attractive interior design using exposed brick. We hope that one of the designs below suits your taste, then makes you and your family more comfortable at home. Welcome to our review!
Beautiful kitchen with exposed brick wall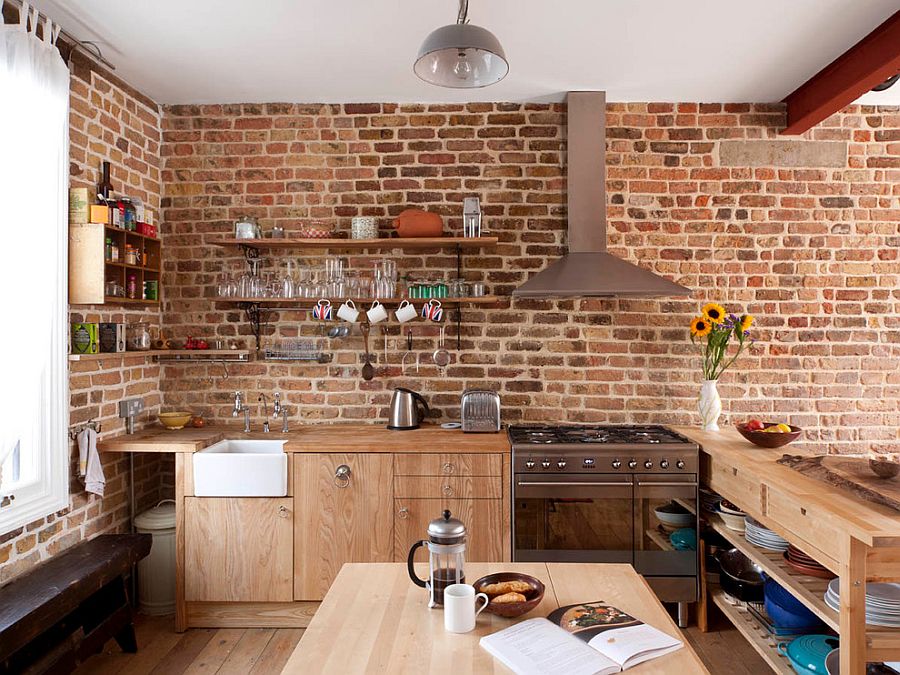 This beautiful kitchen design adopts a dominant industrial style through the use of exposed bricks on all parts of the wall. Not only that, you can really feel the warm impression because of the domination of furniture and kitchen utensils with matching colors from natural materials such as wood and iron.
Even though terracotta colors from exposed stones dominate it, make sure the appearance of the kitchen doesn't look monotonous, where you can work around this through additional elements, such as a flower vase on the table which gives a color dimension and gives a bit of a natural element.
Kitchen and dining room combination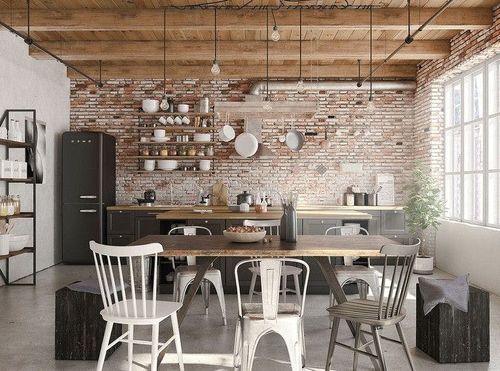 For those of you who have a dining room with a large size, you can present a beautiful and charming kitchen design like an industrial-style restaurant. For that, you can put several iron chairs of various shapes on a big and sturdy table in the middle of the room.
Furthermore, placing a unique decorative lamp on the dining room ceiling can add a unique impression and give it a coffee shop-like atmosphere. Apart from that, you can put pots and cooking utensils on walls, refrigerators, and ornamental plants in pots. With this arrangement, your kitchen design looks attractive.
Look modern, natural, and industrial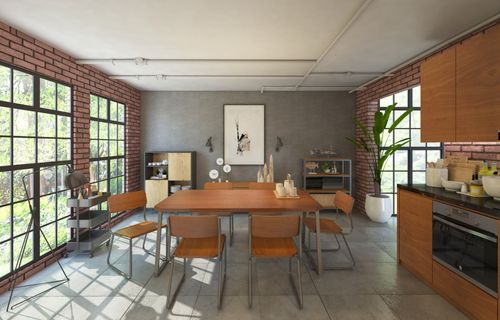 The design of a clean and tidy kitchen and dining room can increase your appetite. In this way, you can display three impressions in one room, namely modern, natural, and industrial impressions. The trick is to put a variety of furniture made of wood and iron and put plants in the corners of the room.
Next, you can put furniture and other furniture that brings a modern impression to your dining room. In order not to look monotonous, you can place beautiful paintings on the walls. Then put some wooden shelves to place your antique knick-knacks. In addition, the design of the kitchen set is made in a color that matches the interior of the room. With this arrangement, your kitchen and dining room design looks attractive.
Living room with white exposed brick walls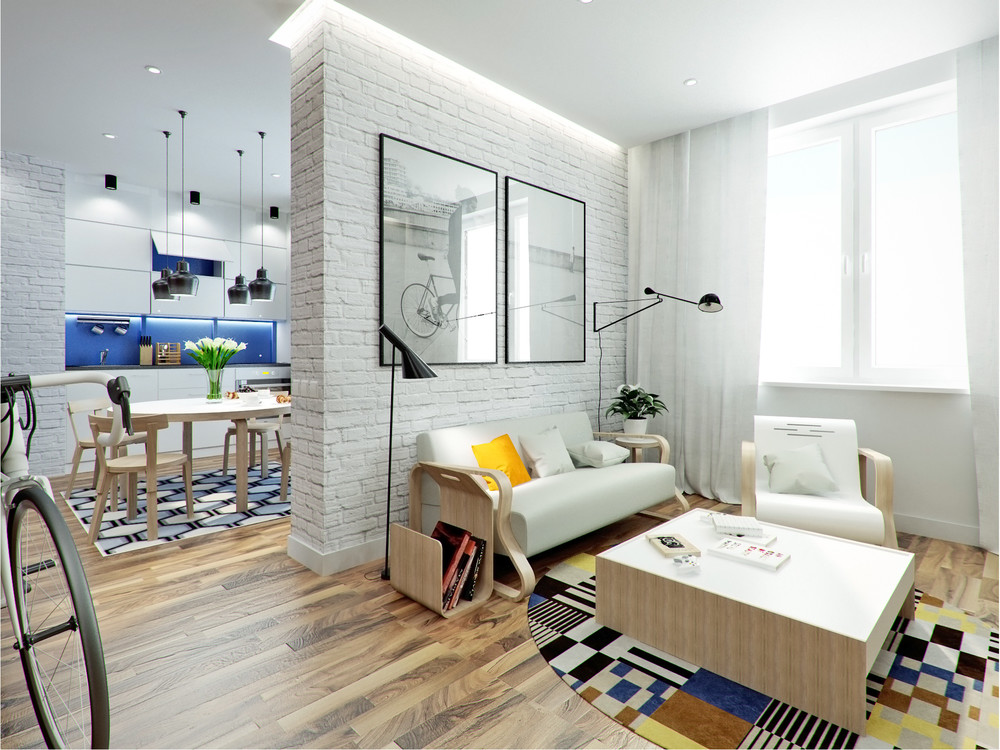 The design of the room which is dominated by white gives a spacious and clean impression. Without eliminating the industrial impression that you want to highlight, you can coat the exposed brick walls with white paint so that the room seems cleaner and more spacious. Meanwhile, for furniture suitable for exposed stone walls, you can choose furniture that applies Scandinavian design principles.
The combination of white with wood material presents a natural Scandinavian element in this open space with a simple industrial theme. Then, to make it look more attractive, you can mix it with black decorative lamps, sofa sets, wall mirrors, tables for placing drinks, and colorful floor rugs. For the dining room behind the living room, you can design it with matching equipment. That way, your living room design will look aesthetic.
Dynamic design in the living room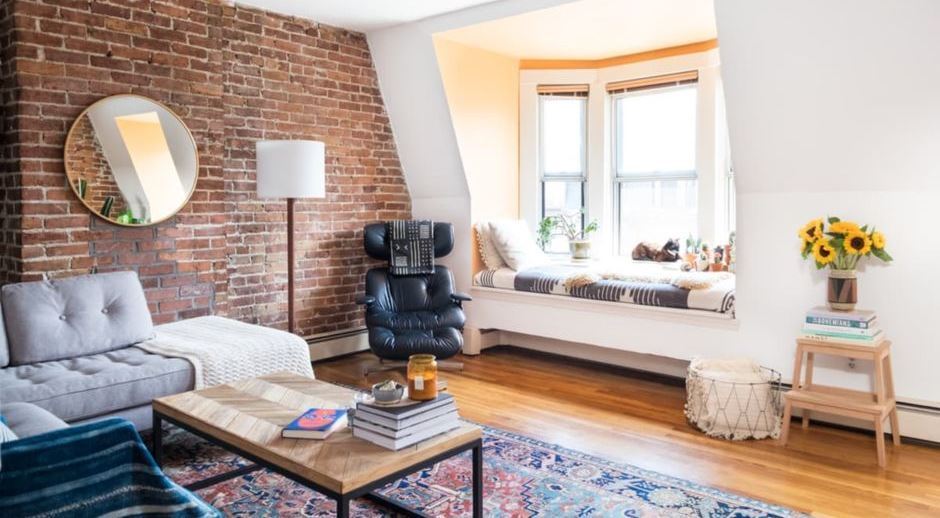 Many people think that the application of exposed brick gives a shabby and dirty impression to the room. This response is incorrect. T get around this, you can apply exposed bricks only on one side of the wall of the house. So it looks artistic.
Based on the inspiration above, this family room adopts exposed brick on one of the walls. While the other side of the wall is left plain white. In addition to eliminating the impression of monotony, this combination also makes the family room appear dynamic to provide maximum comfort to all residents of the house. To appear more artistic, mix it with a round mirror on the wall, white decorative lights, a sofa set, a table for placing drinks, and a colorful floor rug. As for the floor, you can design it with wood motifs. With this arrangement, the interior of the family room design looks aesthetic and elegant.
Masculine look with exposed concrete and brick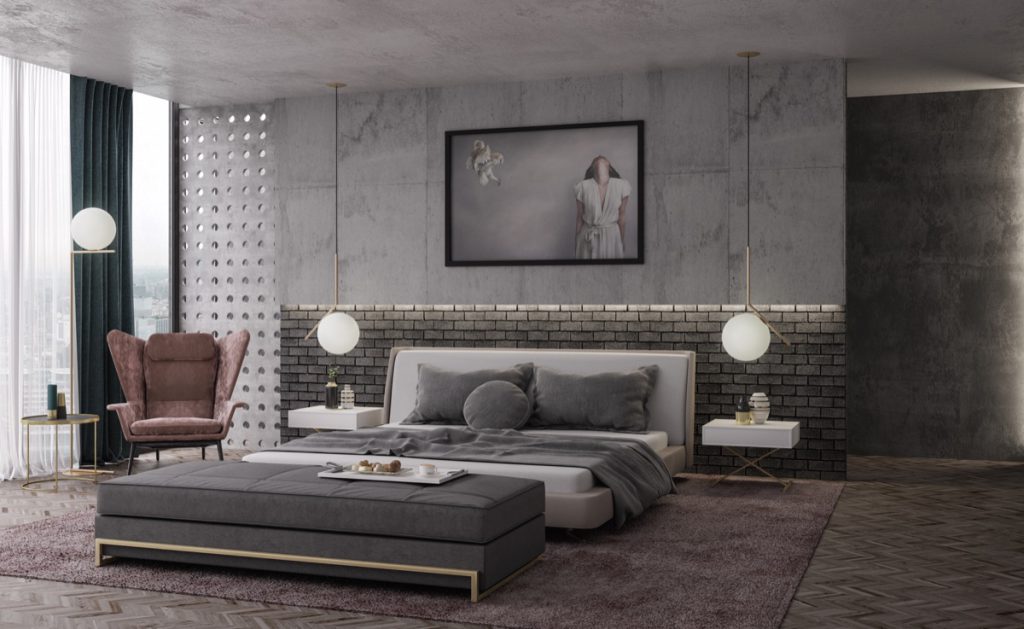 Using exposed bricks can also give a masculine impression to a room. The master bedroom in the inspiration above utilizes a mix of concrete and exposed brick in matching colors to give a cold and tough impression. Even so, the industrial impression is thick because the room was built using the unfinished technique. To make it look more attractive, this room has a minimalist bed, a single sofa, decorative lights, and wall paintings. With this arrangement, the bedroom design looks more attractive.
An aesthetic and comfortable workspace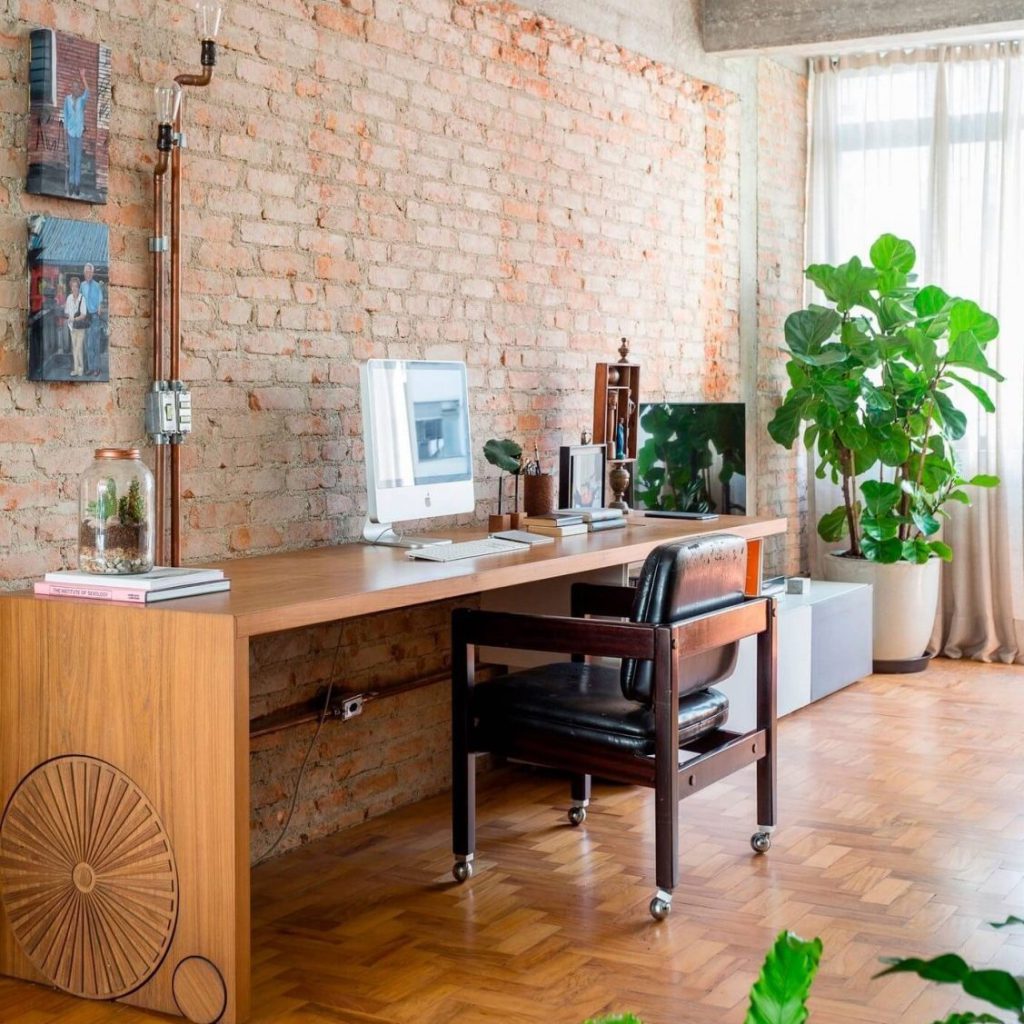 This workspace has a very dynamic impression because it combines exposed bricks on the walls with parquet wood floors. Furniture with a variety of wood colors also provides additional warmth to this room. So that it gives comfort to you when working indoors.
Then, to add a natural impression to this simple industrial-themed room, place a variety of vases filled with ornamental plants that are beneficial for health. Then so as not to look monotonous, the walls are decorated with unique accessories. That way, the interior design of your workspace will feel comfortable and pleasant.
The combination of industrial and rustic styles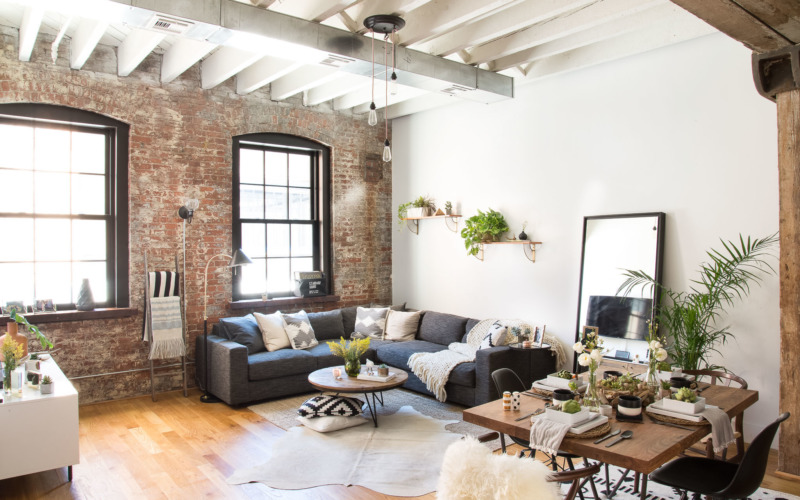 Despite its tiny size, this one room looks charming through a combination of industrial and rustic styles. On one of the walls of this room, the use of exposed brick gives a warm industrial-style impression. Meanwhile, the use of contrasting rough wood material gives a rustic appearance. However, this room still seems simple thanks to the use of simple furniture, such as decorative plants, sofa sets, round tables, and makeup mirrors.
In addition, the use of exposed brick can effectively liven up the industrial style in this residence. If you want to apply exposed stone to your home, you can use the image above as the inspiration for your home. Happy decorating!
Dining room with wooden table and chairs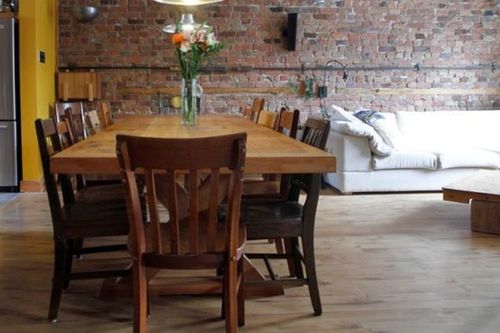 You can do a beautiful and simple home design by placing wooden furniture, such as wooden tables and chairs. For table and chair designs, you don't need to come up with a unique shape, you can let them appear sober like a dining table and chairs in general.
To arrange exposed bricks on the walls, you can vary them in various sizes, such as long and short. The application of brick installation like this makes your exposed brick wall look more attractive and natural. That way, your dining room design will look more artistic.
Elegant dining room design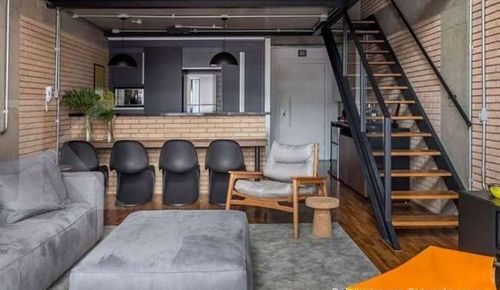 Even if you use an exposed brick wall, your dining room can still look elegant with an unbreakable brick model. So you can organize your bricks and arrange them neatly in one piece so that your dining room looks classier.
Apart from applying it to the walls of the room, you can also apply a neat brick arrangement to the kitchen table in your kitchen set. Even more so when it is supported by various elements and goods with an industrial theme, such as wood and iron furniture. Of course, your dining room looks more classy and elegant.
Utilize exposed brick walls as accents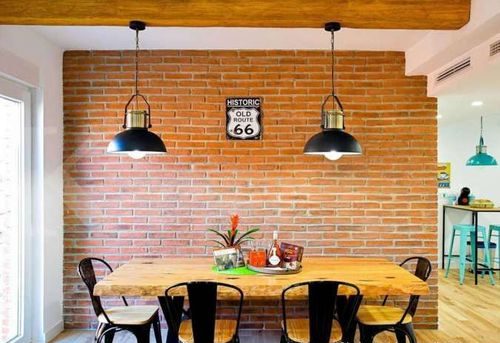 If the application of exposed brick walls is done dominantly so as to produce an industrial impression in the dining room, but this time, you can apply different things. You can apply an exposed brick wall only as an accent in your dining room. You can do this on one of the walls.
For the rest, you can apply a modern or another home style. However, you can add some supporting furniture if you want to apply a special industrial style to the dining room. Such as iron chairs and wooden tables. Plus a pair of black factory lights. So that the industrial impression on your dining room is felt. With this arrangement, your dining room design will look aesthetic.
3. Conclusion
Those are some of the appearances of the interior of the house with exposed brick that we can recommend. We hope our review above can be an inspiration to you. Then, make your home design look aesthetic, attractive, comfortable, and fun. But if you want to find a different design, you can find our other article. Hopefully, our review is useful for you and your family. Happy decorating!