1. Overview of children's play area in the house
For those of you who have children, you must be thinking that it is necessary to provide a beautiful room design in the house as a place for your little one to play. The answer is necessary. Children need to be given a special place or arena in the room where they can play, learn and explore. But the room is not a bedroom, because the bedroom is only devoted to a place to rest, not other activities. Therefore, it is necessary to have a special room to accommodate their activities, including play activities, namely a playroom.
The existence of a children's playroom can make children's play activities safer and more comfortable than if they are allowed to play outside the home. Therefore, design a special playroom equipped with safe furniture to prevent your little one from danger. For this reason, a playroom should be prepared in every home, especially in families who currently have or are waiting for the arrival of their little one.
Then, to start organizing a children's playroom, of course we have to adjust the age or gender with the concept of room arrangement. So, the needs of your children to play can be properly accommodated and their safety is guaranteed. Apart from being adjusted to the two things above, there are several other things that must be considered when arranging a children's playroom. For that, let's look at the right and interesting design reviews below.
2. Precise and attractive design
At the age of children, they really want to enjoy and interact with playing with family, friends, or maybe with their toys. If you want to create a special room for them to play in, you can apply it at home.
As we know, playing is important in the process of child growth. Therefore, the presence of a children's playroom is very necessary. Currently, children are having difficulty finding a playroom due to restrictions on outdoor activities during the Covid-19 pandemic. This also makes children's cognitive and motor skills hamper and experience serious problems.
To overcome this, you can present a children's playroom at home to make children more cheerful and active. If you want to know how to arrange it properly, we provide references to make a children's playroom that is attractive and liked by them.
3. Attractive design examples
Creating a perfect children's playroom can make children feel more at home. Therefore, there are several things that you need to pay attention to, starting from the design, layout, safety room, toys, and extra supervision when your little one is playing. Even though it's not easy, in this review we'll show you some tips you can try to make the right children's playroom.
We know that building a playroom in a minimalist home is easy and difficult. Not to mention the added limited area that is owned. To get around this, you can design and utilize residual areas, such as corners of the house, under the stairs, to the attic of the house. Apart from that, you can also divide the playroom into several zones. For that, we share ideas with you to review the design below. Hopefully, according to your taste and make your family happy. Welcome to our review.
Create storage shelves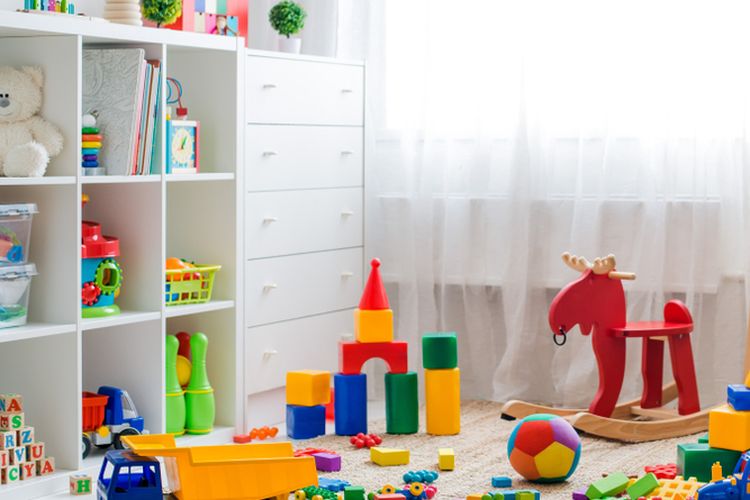 If your child's playroom is large enough, there's nothing wrong with placing a shelf for their games so they can store and retrieve them easily. This method also educates them to be more disciplined in putting down their toys. You can put a game rack in the corner of the room. This can also educate children's habits because they have been introduced to self-discipline since childhood.
In order to make it easier for them, make different colors. That way they will easily recognize him. Then, provide a small chair for them to put the game on the top shelf. In this way, your child will get used to tidiness and self-discipline.
Create an area to be creative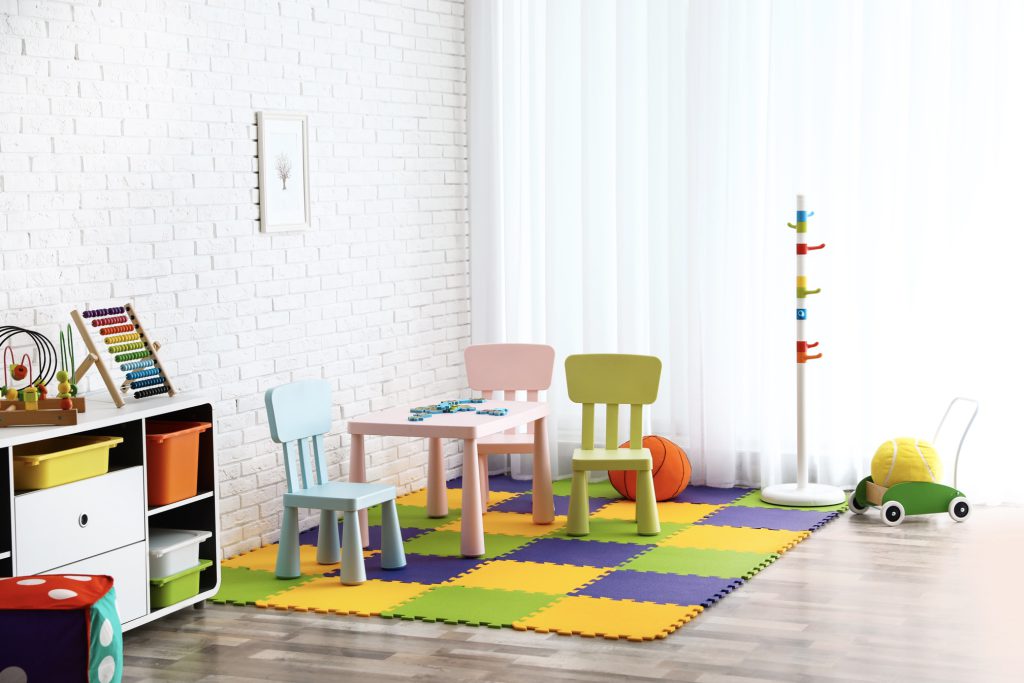 For children who have entered pre-school or school age, it's a good idea to design a special area to cultivate the child's creativity. Provide folding paper, glue, colorful paper, stationery, or drawing and coloring tools. Thus, their playing activities can be accompanied by learning activities that can increase children's creativity. However, you still have to supervise the objects they use such as glue, crayons, and colored pencils. So as not to be written on the walls of the house.
Make sure these objects are safe for your child. Then, to make it look attractive, provide games that they like in their playground. In this way, they will feel more comfortable playing in the room you provide. Do not give games that can harm them, such as games with sharp edges. Hopefully, this review can be an inspiration for you.
Decorate the playroom with the figures he likes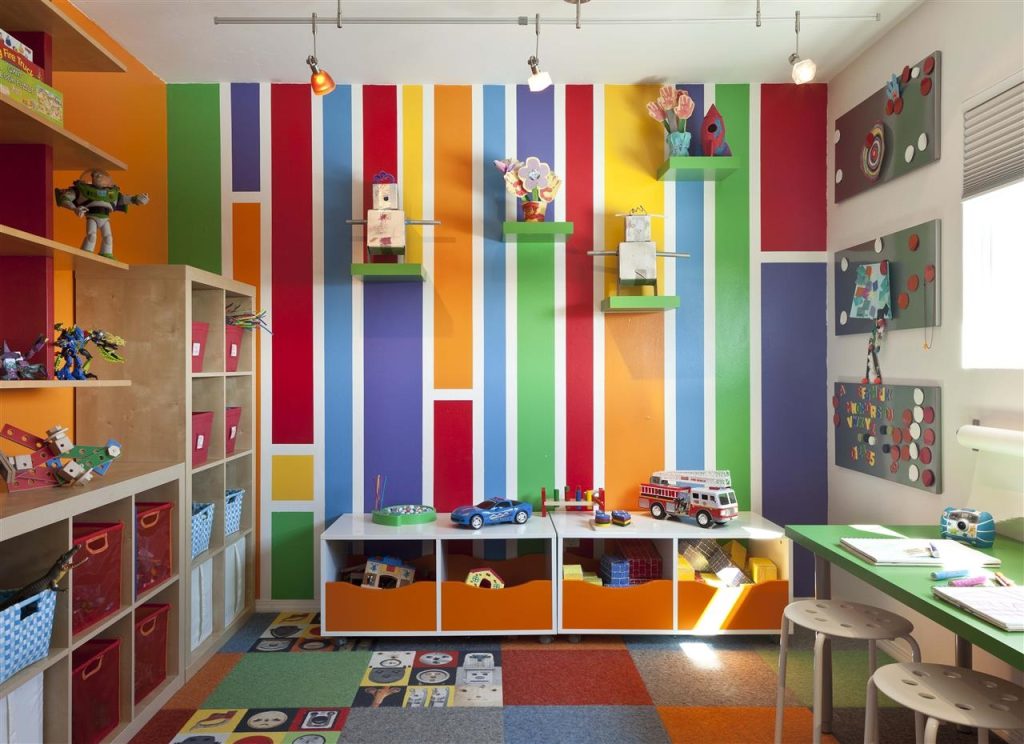 As parents, we must always pay attention to the needs of children to play and develop. So the children feel at home playing in their playroom, you can design their room with beautiful characters that they will like, such as cartoon characters, flowers, or animals. You can use displays in the form of dolls, or decorate the walls of the children's playroom with wallpaper and stickers with designs they like. You can also use origami decorations that are hung above the room.
Then, your child's work in the form of paintings or origami can also be displayed in this space to motivate them to be proud of their work. Thus, they can believe that their work is recognized and displayed. Give praise to your child's work that has been displayed. In this way, your child will develop and become an independent child.
Vertical design children's play area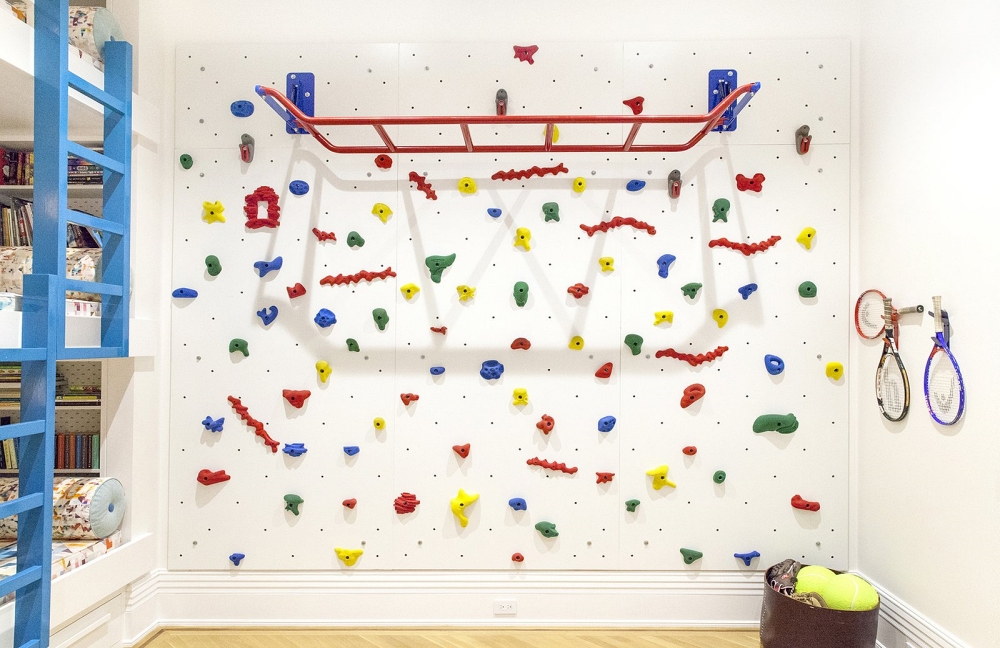 To support children's interests and hobbies, you can take advantage of the wall area by adding wallpaper or climbing walls. The use of vertical areas will not interfere with the activities of the floors and other rooms. In addition, choosing multifunctional furniture can be a solution for those of you who don't like messy rooms. Moreover, vertical zones or walls can be applied anywhere, even for narrow houses. That way, they will play on the floor with the games they have.
Play area on the floor
The floor zone is usually used for children aged 6 months – 2 years. This play area must use a soft playmat material and does not irritate your little one's skin due to friction on the exposed floor. The floor is one of the zones with a wider size for the children's playroom. But unfortunately, it is often neglected.
The floor area involves toddler activities such as crawling, standing, and walking. To zone the floor well, avoid large furniture and toys that don't have storage space. In addition to limiting the space for movement, scattered toys will make children injured while playing.
Play area in the corner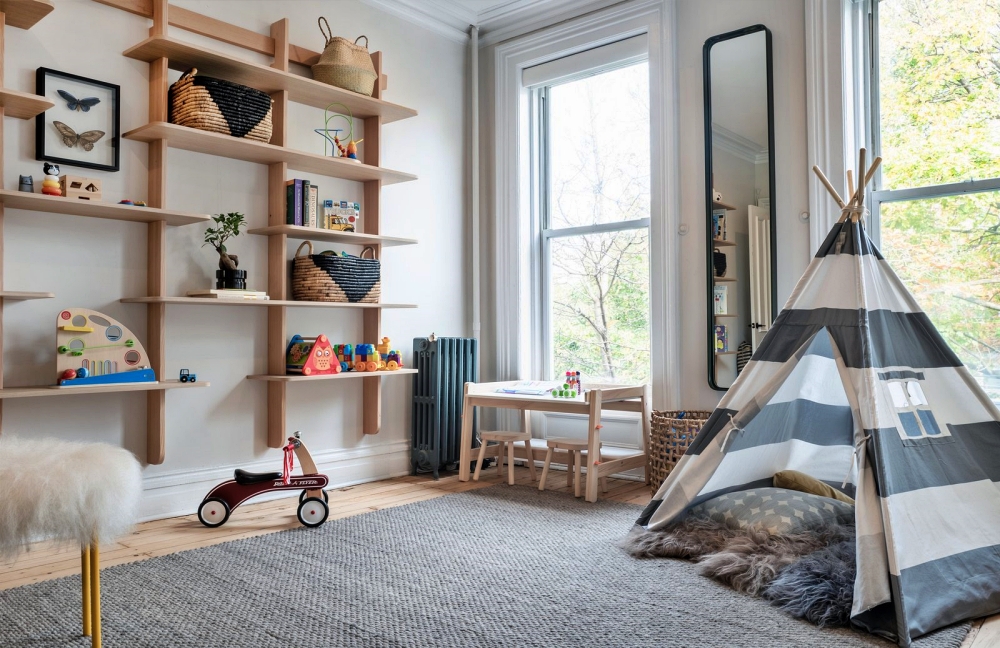 If you have enough space, you can design an attractive children's playroom. We know corner areas are usually just left blank. Even though it would be nice if the corner room was used for a children's play area. Even though it looks small, you can make it with the addition of a play tent, a feather mat, a floor rug, and a toy shelf. Apart from saving space, you can also supervise children's activities from anywhere because of the connected open space system.
Then, to make it look even more attractive, you can add a wall shelf to put their games on. Then, add makeup mirrors, and furniture according to their needs. Don't forget to add games they like, like bicycles and tents. That way, your home interior design will look aesthetic.
Choose age-appropriate children's toys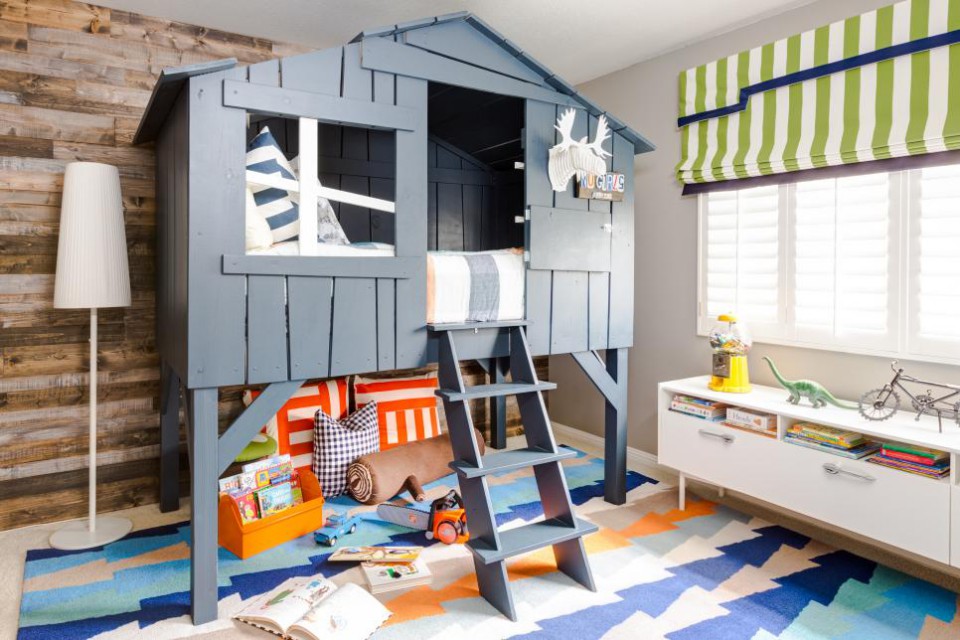 As a parent, you will definitely give the best for your baby. But, without you realizing it, this could be a disaster in the future because the type of game you give them is not considered beforehand. One of them is when choosing children's toys that use sharp objects. Don't overwhelm your child with lots of toys. It can make them confused to use it.
In addition, you should design a game model that can make their growth more developed and independent. Games like the one above can make them develop because they are taught to always be tidy and to achieve this goal, they have to climb the ladder. But don't forget to put on a rather thick carpet so that when they fall they are not dangerous. With this arrangement, your home interior design will look luxurious.
Choose a neutral color palette for a minimalist design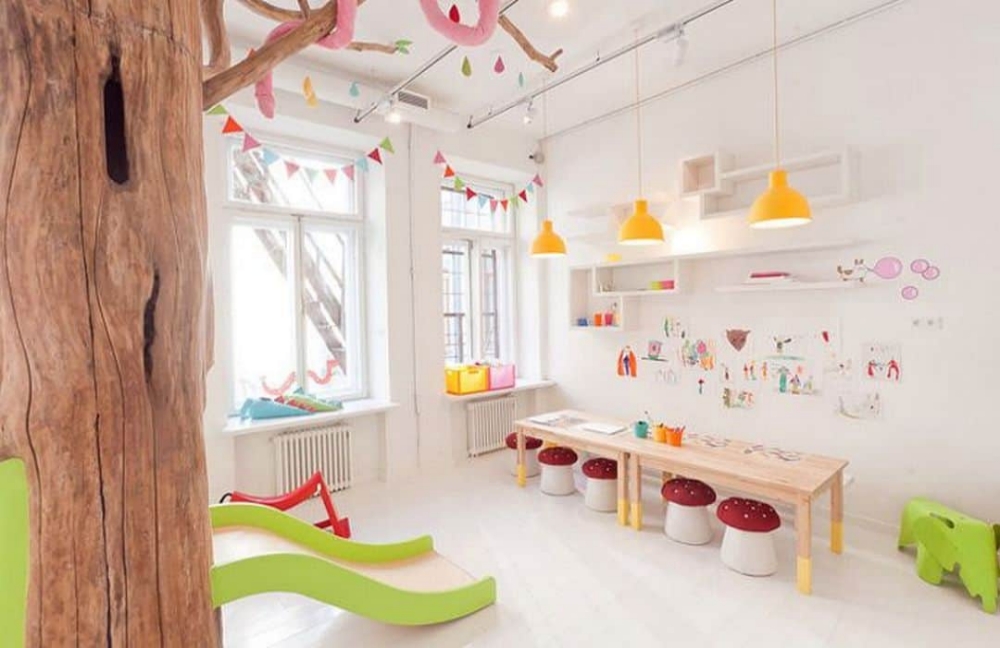 After you've chosen the layout and what toys to prepare, it's time to start choosing a children's playroom theme. For a minimalist home, you can add wall paint or a busy color pattern. In order to make the room look pleasing to them.
Neutral colors and simple designs are the right choices for rooms that don't have a partition. Moreover, the minimalist playroom trend is preferred for all ages. But if you want to add color, you can match different colors and patterns through pillowcases, blankets, rugs, and toys. To look beautiful, design a chandelier with the colors they like, like yellow, red, and blue. Then add a unique study table and chair to make them more creative. That way, their playroom will make them comfortable to play.
Attractive wallpapers design
Designing a children's playroom is not easy. You should be able to match the color to their taste. However, if you are tired of choosing a color theme for a children's playroom, you can use a children's wallpaper as a solution. You also don't need to bother anymore to make additional space, just use the wall area as a divider. Even how to install the wallpaper is quite easy.
You just attach the sticker to the wall with adhesive. When the child is getting bored with the look of the room, you just need to remove the adhesive. Apart from wallpaper, a mural can also be a creative way you can try for visual appeal.
Use multifunctional furniture



If you have a minimalist home, you should use multifunctional furniture for the playroom. Minimalist furniture can save space. So you don't have to buy big furniture. You can use multifunctional furniture as a large table for your child as well as a place to store their games. So if you don't use it you can hide it on the sidelines of the room. Apart from that, you can also use it as a coffee table. That way, the minimalist home design still looks spacious.
Imagination playground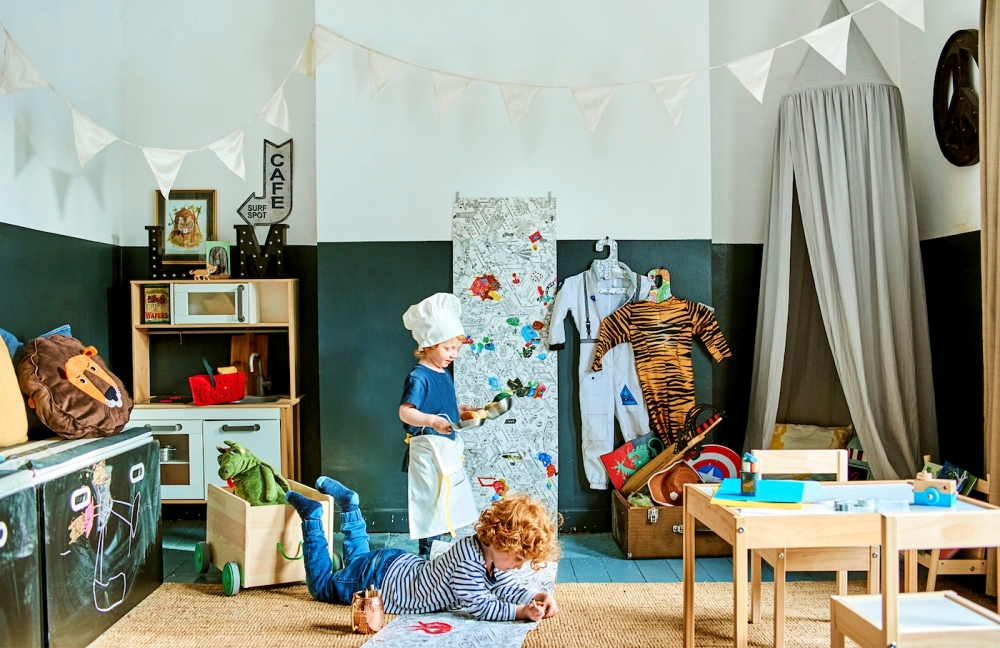 The children's playroom design above is suitable for children who are still confused about their goals. You can create rooms with various themes that they like or are just learning. But, keep limiting the number of toys so they don't get bored quickly. If necessary, schedule games every 2 weeks. Then, to motivate them, you can equip their play area with a small table and chairs, a soft floor rug, kitchen cabinets, and a small kitchen design. They seem to be a cooking chef. Then, adjust the color to what they like. So they don't get bored. That way, the interior design of their playground will make them comfortable.
Girls playroom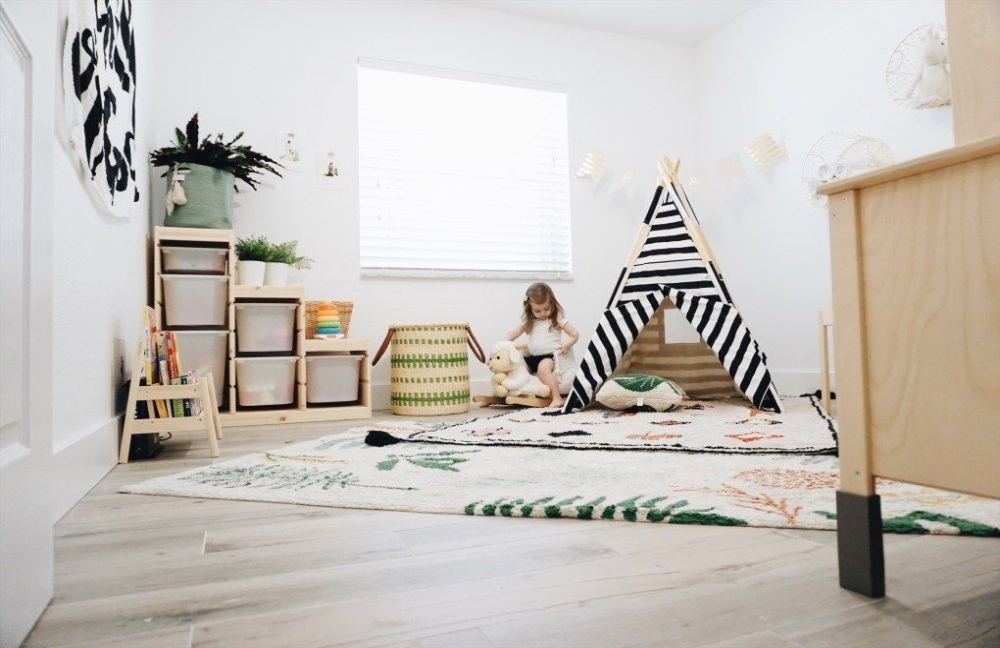 Having a young daughter makes us happy. They are always spoiled and want to be close to their parents. Therefore, you must pay attention to their need to play so that they are always happy around you. Girls prefer color and soft play. Therefore, for those who don't want to bother with choosing colors or patterns, you can apply a minimalist children's playroom that is simple but still chic. The use of simpler white paint colors and additional accessories is enough to make children more comfortable. Then, complete their play area with a home, beautiful carpet, and ornamental plants which are their idols. With this arrangement, your child will feel comfortable and cheerful.
A set of indoor playgrounds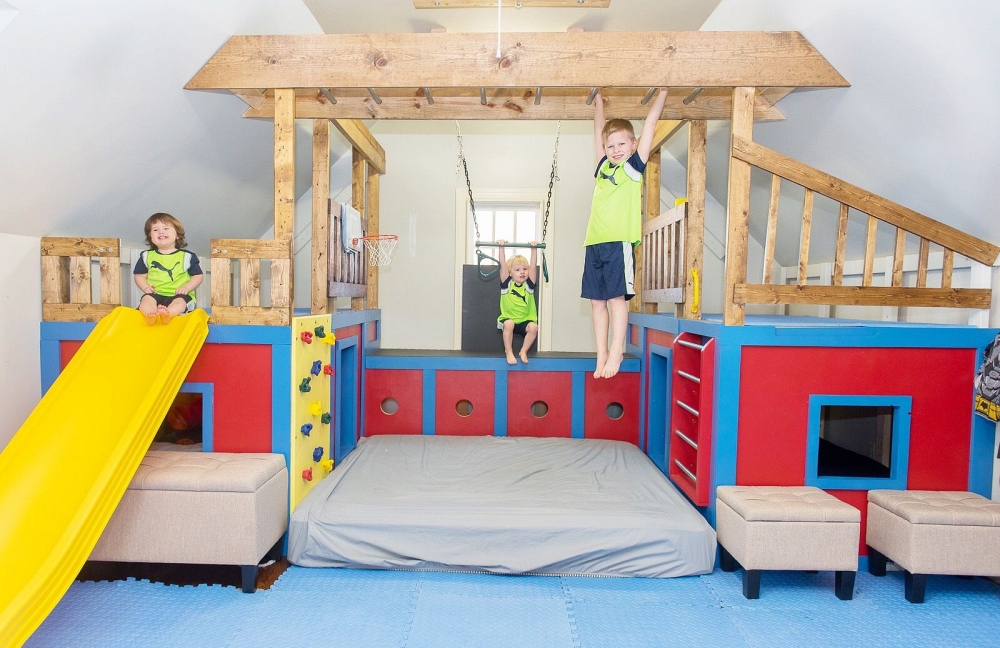 Having a creative child is great fun. But you are made a little bothered by children who are too active. Therefore, you can copy and apply the design inspiration above at home. Apart from having fun, the mini playground above can train children's dexterity. But it should be noted to add a mattress underneath to prevent children from falling or slipping. To keep them interested, design their play area in bold colors. This is because children prefer these colors. With an arrangement like this, their playroom design will feel comfortable and enjoyable.
Take advantage of the ceiling of the house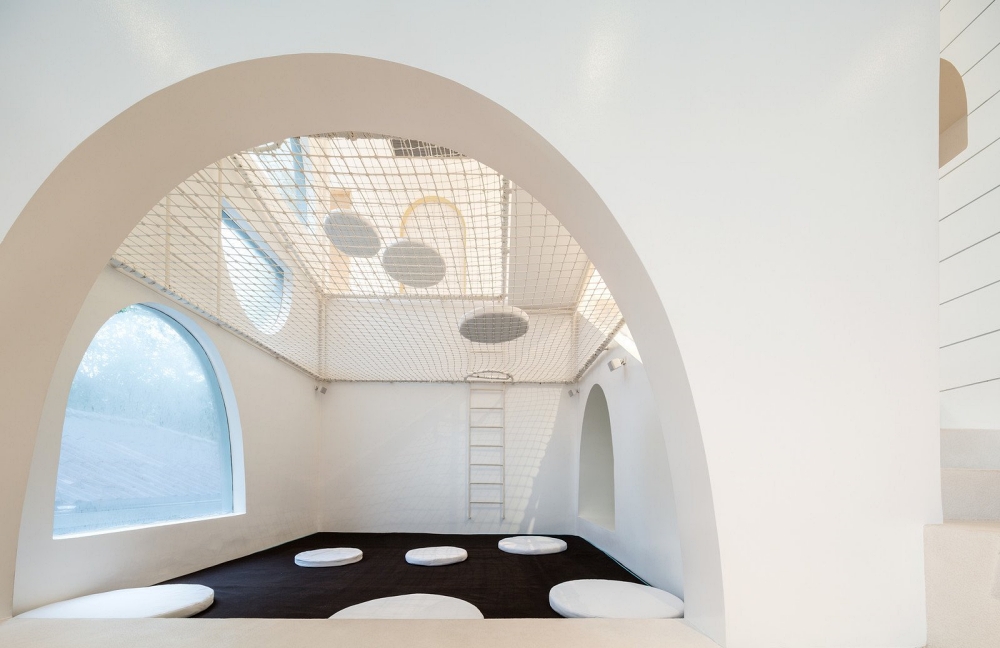 The children's playroom does not have to be made below. If you have a house with a limited area, you can add nets to the sky for a children's play area. Not only for children, but you can also try it to relax or just accompany your child to play. It's easy enough to organize a children's playroom. So you don't have to pay too much. Only with paint, wallpaper or you can also use used goods, a simple children's playroom can be made.
Then, to make it look more attractive, design attractive colors to make them happy. Then bring your child to play in this place while accompanied by you. That way, the atmosphere in your home will feel pleasant.
How to arrange the color of the children's playroom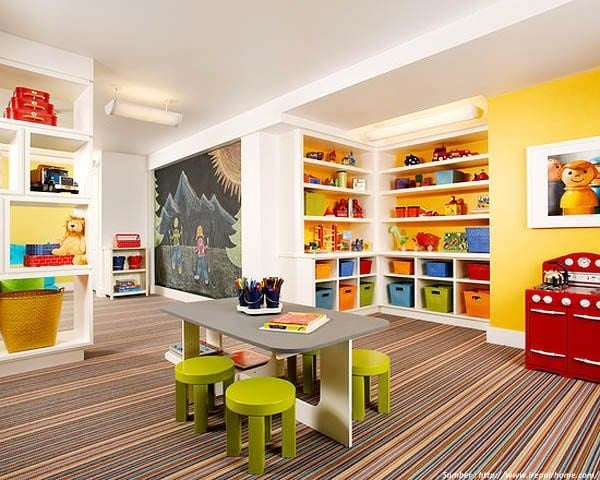 As we know, children prefer bright colors. So if you want to design a playroom for them, choose paint and furniture in bright colors that can give a cheerful impression. Then, also add shelves with containers to store various children's toys. In addition, to add to their attractiveness, you can also use floor material from carpets. So that children don't get hurt when they fall. When playing, children often develop their imagination and don't want to be disturbed by their parents or siblings.
For that, you can build a small private room for them or build a small tent. to motivate them to write and read, you can equip their playroom with tables and chairs. Then design the color of the stacking shelves according to their taste. In this way, their playground design will look aesthetically pleasing.
Placing sports facilities in the children's playroom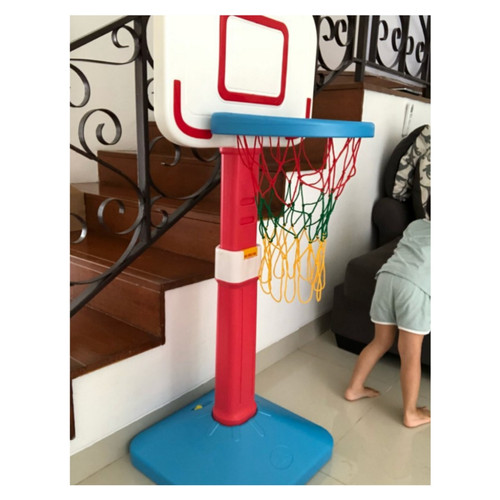 Placing sports facilities that can train children's strength can also be an interesting idea for a children's playroom. This room will be very useful during winter or rain for children to continue to play freely.
Uniting the bedroom with the playroom is the most frequently applied in homes. To make the playroom more spacious, build an attic or a small room under your child's bed. To maintain their safety, cover the floor in the children's playroom using a soft mat or carpet.
Attractive children's playroom design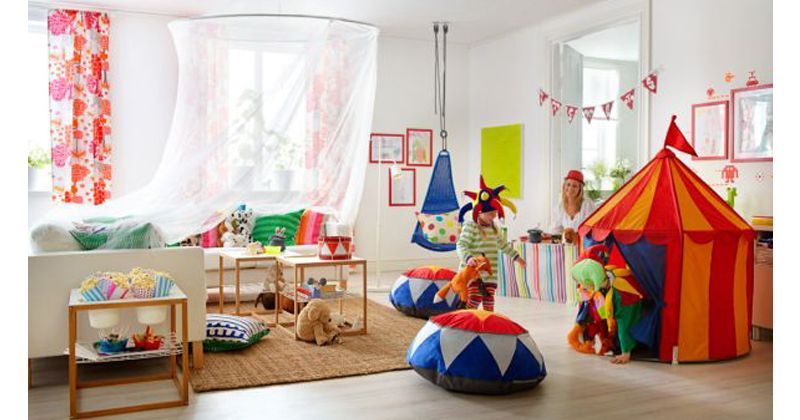 Having a baby at home, of course, you must be ready to provide various supporting activities so that your baby can learn and also play. You can prepare a special room for children's play so that children are safer and also comfortable when playing. The most important thing is that security for them must be considered. So as not to get injured while playing.
The design of a children's playroom is very important because this will affect the comfort of your child in playing and doing activities in that room. You pay attention to designing a playroom for children. So that they are interested in playing at home, make an attractive and fun design for their playroom. That way you can control your child's activities.
Fun children's playroom design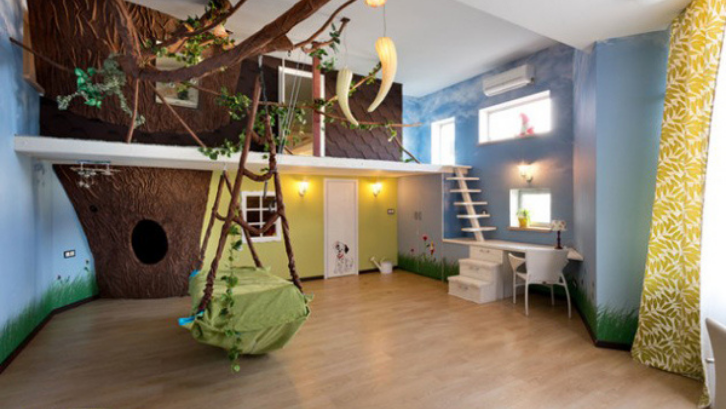 Having a large playroom can make your child move more creatively. When a child is playing, of course, he actively moves here and there. Sometimes they run around without paying attention to their surroundings. Therefore, you should use tables that have obtuse angles so as not to harm your child. You can also choose a table material that is not hard so your child doesn't hit and get hurt. If necessary, you can also cover the floor with a soft carpet so that your child is also more comfortable playing in the playroom. You should put the table in the corner of the room so as not to harm your child when running.
To make the playroom look more playful and fun, you can also add attractive decorative ornaments to them. Placing beautiful pictures on the wall can also be an option to make your child's playroom more cheerful and comfortable. Then, installing swings and stairs leading to the upper room can give them courage. But don't forget to keep an eye on them so they don't get hurt.
Adequate ventilation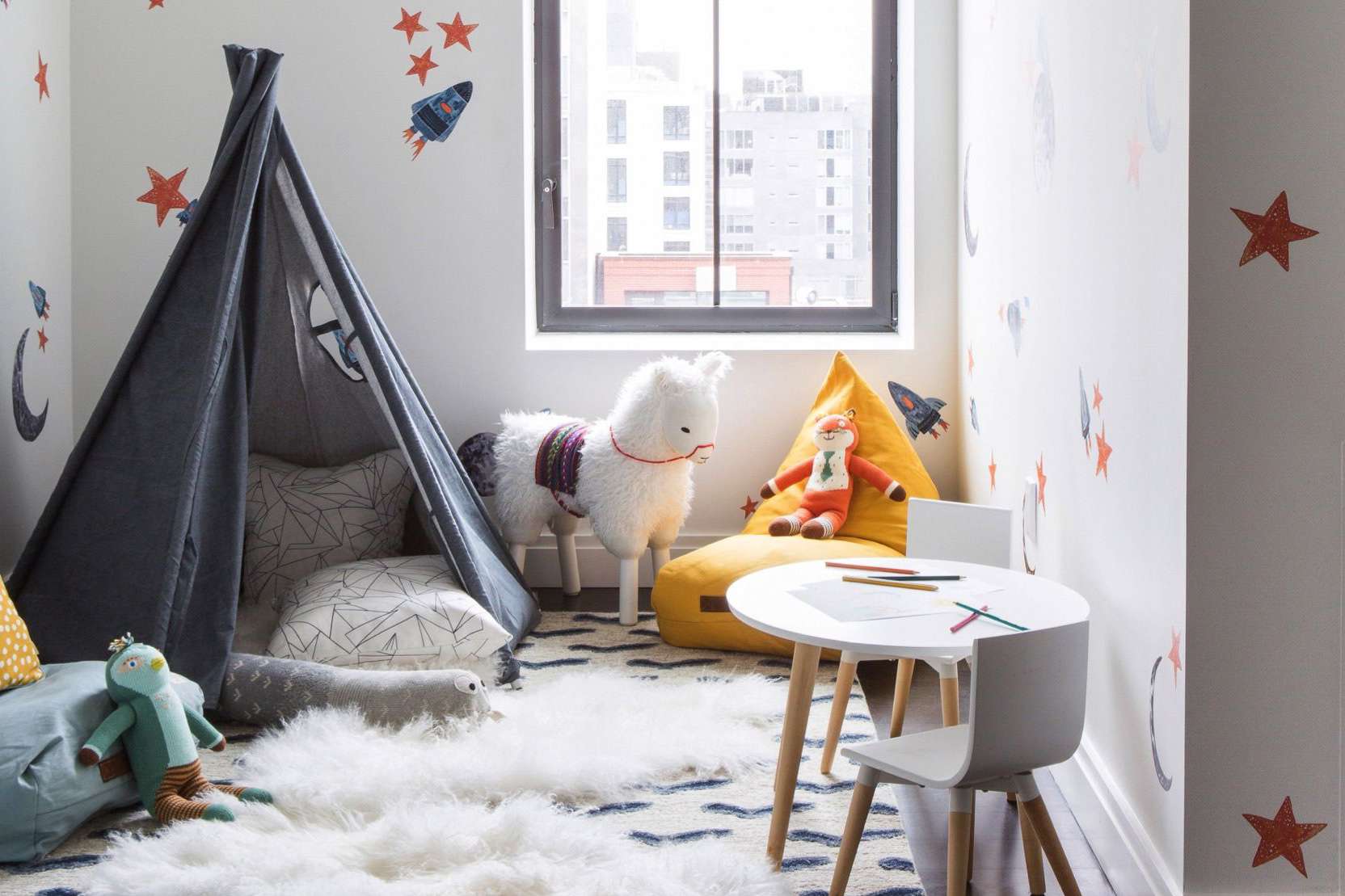 Even if you have a minimalist home design, that doesn't mean you can't design a playroom for your child. There are many ways to design their playroom. But the most important thing is to make enough ventilation for sunlight to enter their room. That way, your room, and your child will be healthy.
Having a window will help children feel more at home because it is bright where to play and the air is cool in the room. A room with sufficient ventilation will also make the interior look more spacious and clean. In addition, cool air is very important for your little one's health. So, make sure you as their parents choose a room with enough windows before setting up a children's playroom.
Designs that make them feel at home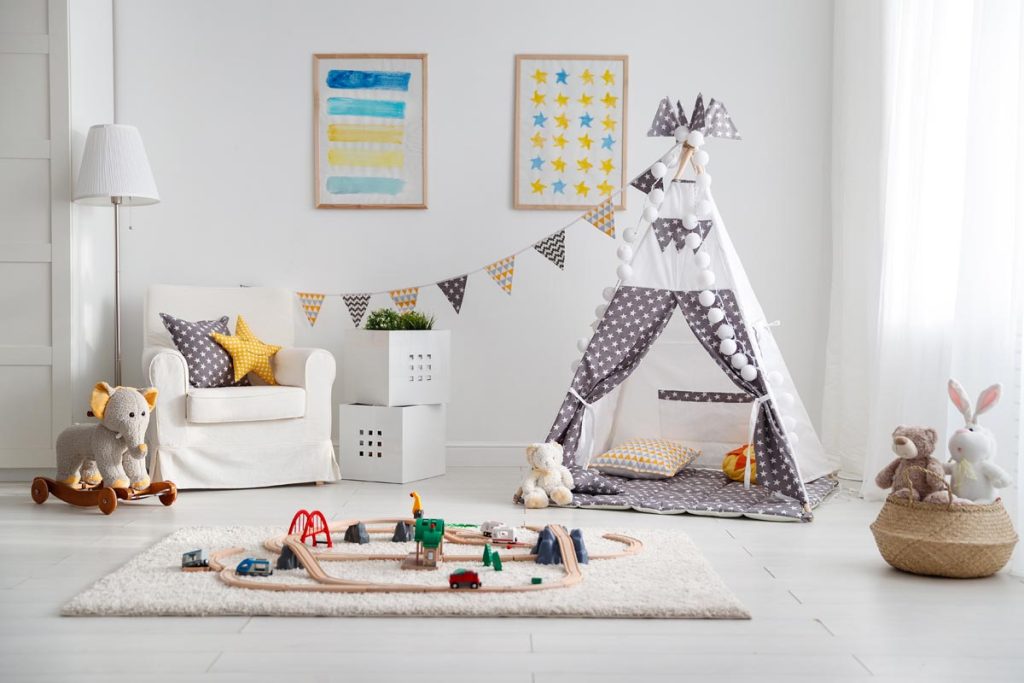 Early childhood children need a good stimulus in their growth process by playing. Today, many parents make children's playrooms not only outside the room but also inside their homes. The children's playroom is also a place to practice their cognitive and motor skills at home.
Every parent would want their children to be more cheerful and active. Even so, setting up a children's playground is not as easy as it sounds. For this reason, tips are needed so that your little one's playroom is always comfortable and safe. Therefore, here are a number of inspirations and ideas that we provide for building a playroom that can be used as a reference.
In order to make them interested in playing inside the house, complete their playground with tents, small flags, thick floor carpets to avoid falling hazards, and doll games. The playroom must also look beautiful, for that, you can complete it with decorative lights standing, picture frames on the walls, and small sofas. That way, they will feel at home playing at home.
White playroom design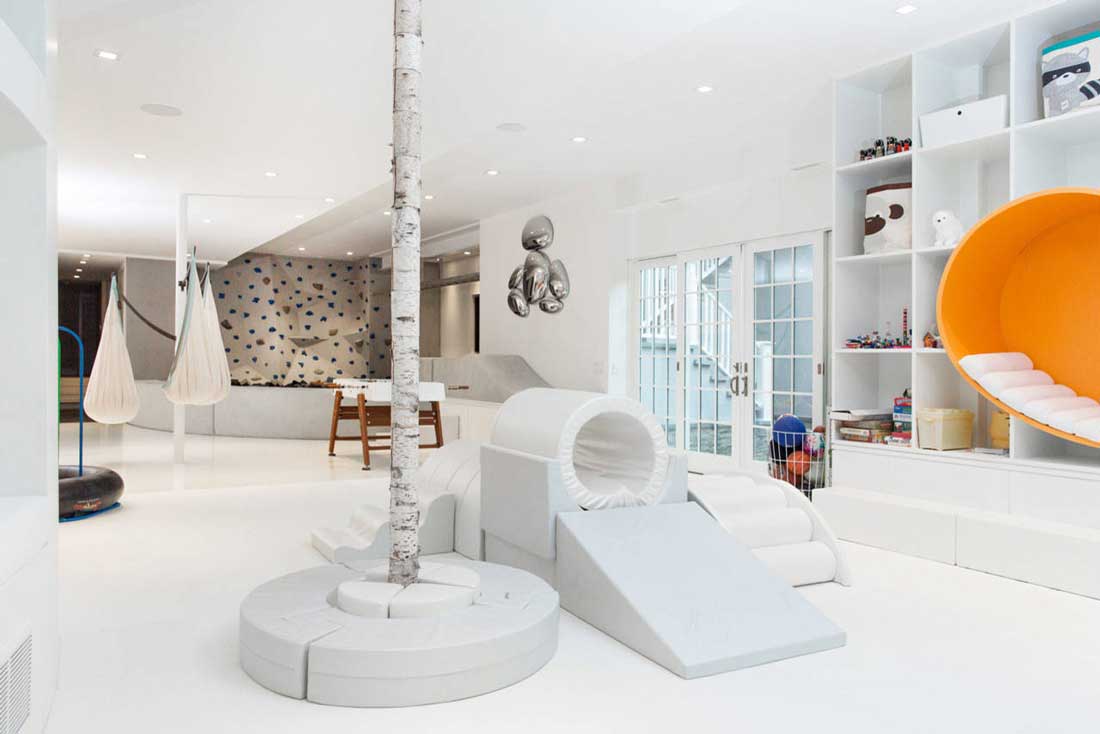 This children's playroom design is perfect for those of you who like a clean and minimalist playroom. Dominated by white, the center of this room has a set like a children's playground. To store children's toys, there is a built-in shelf complete with an orange chair that can be used for reading.
This playroom also can be combined with the living room, to make it easier to supervise children when guests come. The design above is very suitable to be applied to a 2-story minimalist house. Therefore, we share ideas with you to review children's agility in playing. Then make the child's growth better. Hopefully, our review can be useful for you and your family.
Treehouse style playroom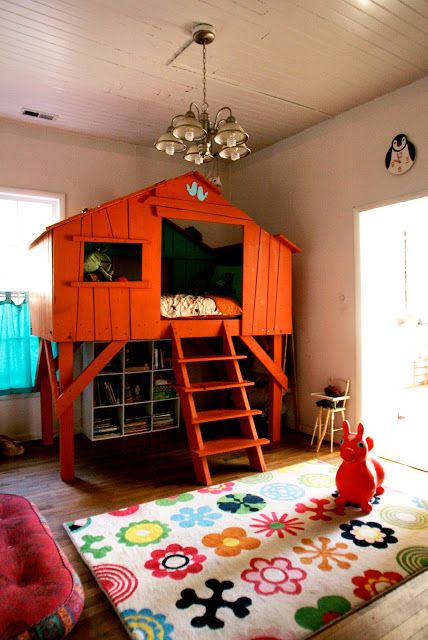 If the kids at home like natural nuances, you can apply this one design. Inspired by a tree house, this indoor play space features a staging area with built-in floor storage shelves.
There are also artificial houses to add a natural impression to their playroom. You can also add stairs, colorful floor rugs, and floor cushions as additional decorations. That way a natural and elegant impression can be seen in their playing area.
Ruang Bermain Anak di Loteng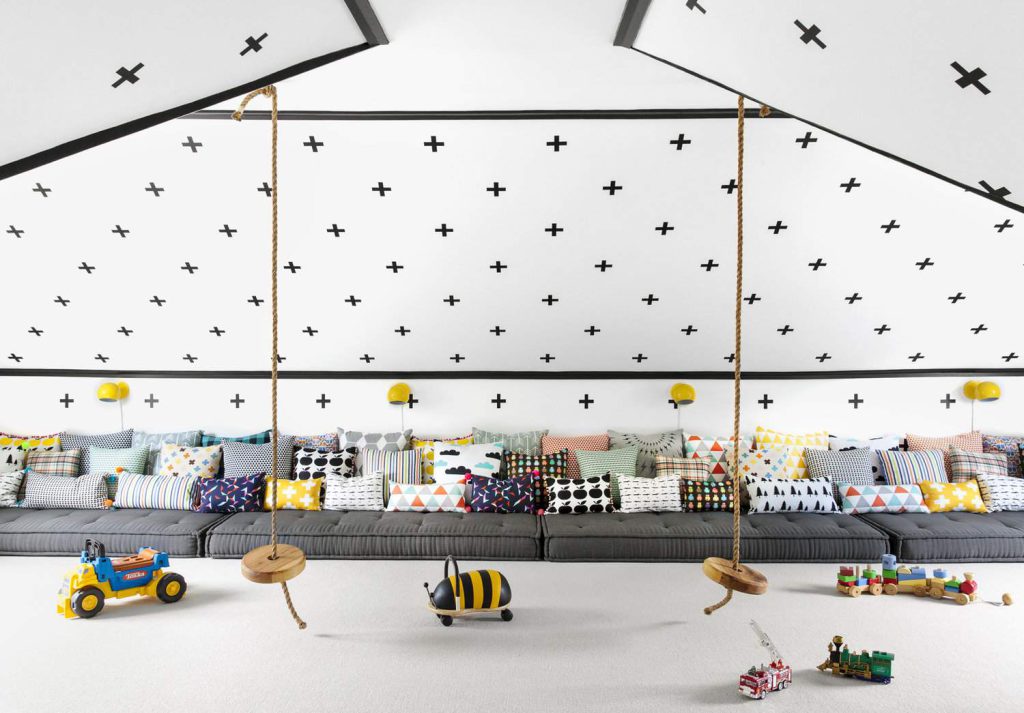 Running out of room for a children's play area? Don't worry, you can turn the attic area into a minimalist playroom. Use the right minimalist home paint colors to give a more cheerful impression. Then, add colorful floor pillows to make the room look more colorful. Carpeted floors can be a safe decoration for children when playing, especially if you want to install a swing inside. For them to rest complete with a long sofa and sofa cushions. That way, your child will enjoy their rest time.
Children's playroom under the stairs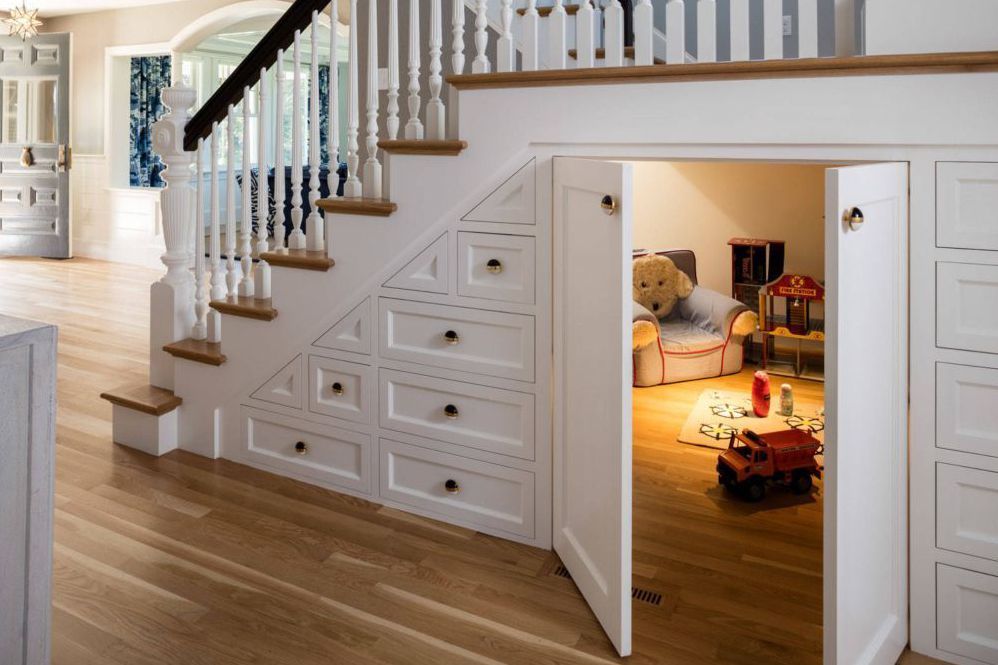 Having a minimalist home makes you have to be creative to design it. So not only the attic you can design for their playroom. Therefore, you can also turn the area under the stairs into a comfortable children's playroom. After all, kids love a secret clubhouse. Apart from being child-friendly, you can arrange this room in such a way as to make it look more spacious and comfortable to play in. So changing the stairs as a children's playground is indeed something interesting. This way, you can save space to create their playroom.
4. Conclusion
Those are some beautiful and comfortable playroom designs for you and your family to gather. We hope that our review above will suit your taste. But if it doesn't suit you, you can order it from a home decor company. So that the results are satisfying and according to your taste. Hopefully, our review above can make your home's interior design look aesthetically pleasing, attractive, beautiful, and comfortable. Then, make you and your family more intimate and cheerful. Happy decorating!