1. Overview of wooden house interior design
Having a minimalist home interior design that is aesthetically pleasing and comfortable is everyone's dream. There are various ways has done by people make their homes look beautiful and charming. One way is to design the interior of the house with wood. They believe this material gives a warm feel and can create comfort. Then, many people dream of owning a residence that presents the beauty of this natural material. Especially now that there are many types of wood or termite-resistant wood finishing. Therefore this material is most widely used to decorate the interior of their homes.
Apart from the original wood, there are several types of processed wood are always used as a substitute for solid wood. All of that aims to save costs. As a substitute for solid wood, owners always use processed wood such as multiplex, blockboard, and parquet to decorate their homes. However, the interior of this simple wooden house still shows the charm of processed wood which is no less attractive than the wood strokes shown by solid wood.
2. Wooden house interior design
Today, there are more and more models of various home designs and to attract some are made in color. This processed wooden house design with various colors does not need to be varnished or repainted. This model is in great demand by people in urban areas.
However, the appearance of solid wood still looks better than processed wood. In addition, the strength and maintenance are better than processed wood. Even today, there are more and more wooden house interior designs on the market and are loved because they have a natural but still special impression. If you are interested in building a wooden house, you should think carefully about its design. Of course, this will save more costs. Therefore, let's review simple and minimalist wooden house interior ideas that are suitable for your home.
3. Ideas and inspiration
The interior design of a wooden house starts with ideas and inspiration from designers. They argue that wooden house designs are easy to develop and model. Then, the wood itself makes the interior of the house look beautiful and natural. Then, it can be easily changed to colorful using varnish or paint. Another feature is that even wooden models can be made in the knockdown form. Therefore, we would like to share ideas with you to review some of the design appearances of the living room, dining room, and bedroom in the form of wood material below. Hopefully, one of the designs can suit your taste. Welcome to our review!
Large fur rug design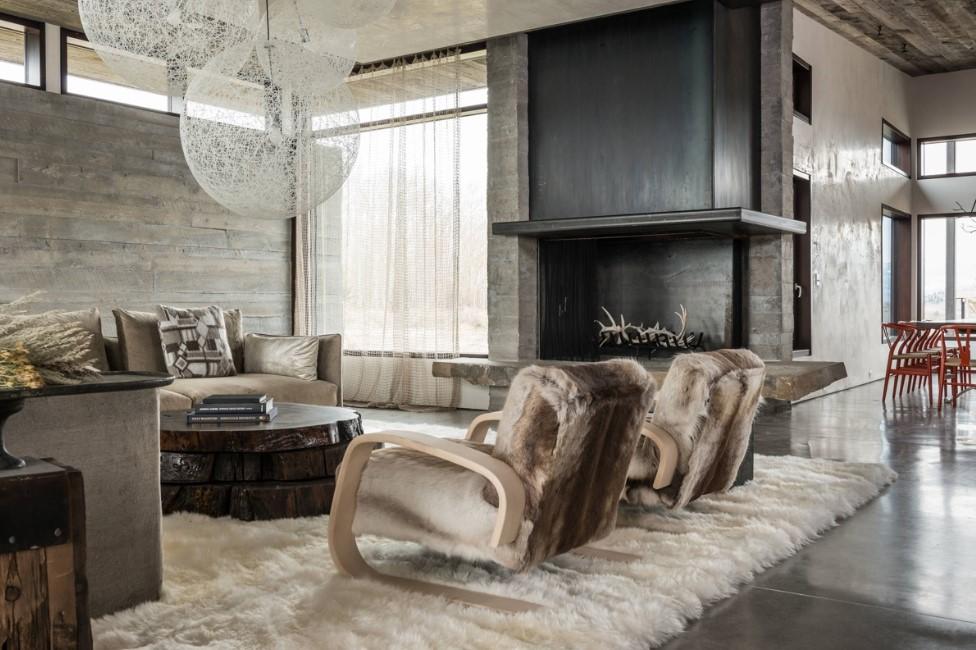 The idea of ​​decorating a fluffy carpet can give a wooden house a lively impression as well as a warm feel in the room. In addition to sweetening the house, large fur rugs can make a simple wooden house display the impression of a classic and aesthetically pleasing home model.
Before applying the carpet, you must first confirm the size of the motif needed. You can also choose various colors of fluffy carpet according to the concept you want, such as earth tone colors for a natural impression or minimalist natural colors such as white, gray, beige, lilac, and brown. To appear more attractive, choose a carpet color that matches the sofa and the room's interior. To sweeten the living room, add antique hanging lamps and sofa cushions. With this arrangement, you will feel at home.
Luxury wooden house with curtains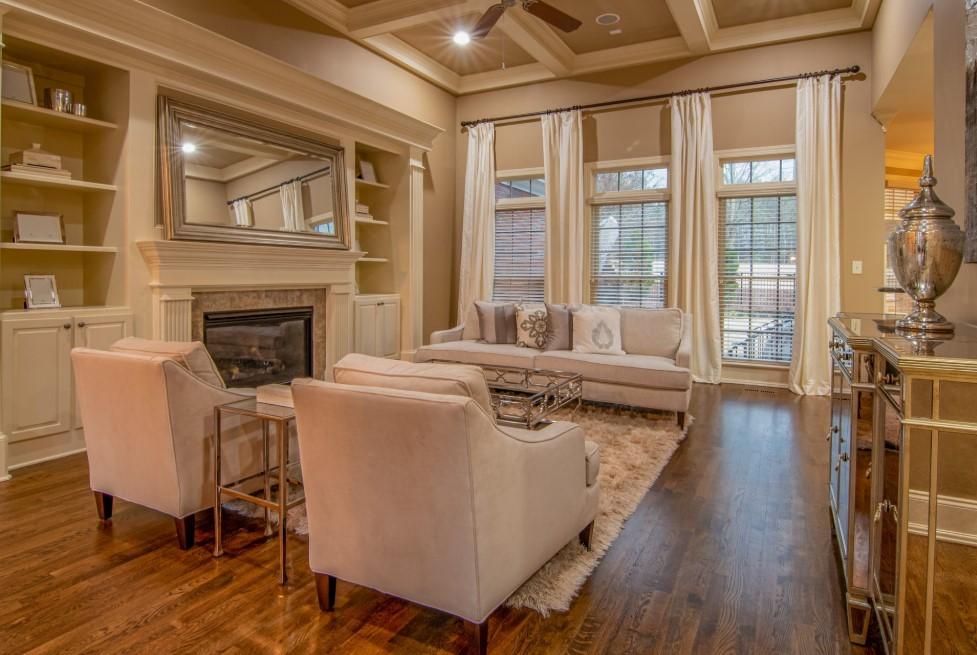 Window curtains are installed to protect the sunlight from entering the house, and to cover the windows at night. Not infrequently, curtains are a mandatory item to be used as room decoration ideas so that the room looks beautiful.
But if you want to make the room look more decorated, neutral-colored curtains can be the right interior choice. You can choose the type of curtain that extends upwards for the appearance of a luxurious wooden house as well as a minimalist wooden house model.
In addition, the curtains also can give the impression of spacious and more flexible space. To make it look more attractive, you can add a sofa set, wall mirrors, spotlights for lighting, and a minimalist buffet shelf with the same color as the sofa. That way, the appearance of your living room will look elegant and luxurious.
Aesthetic wooden living room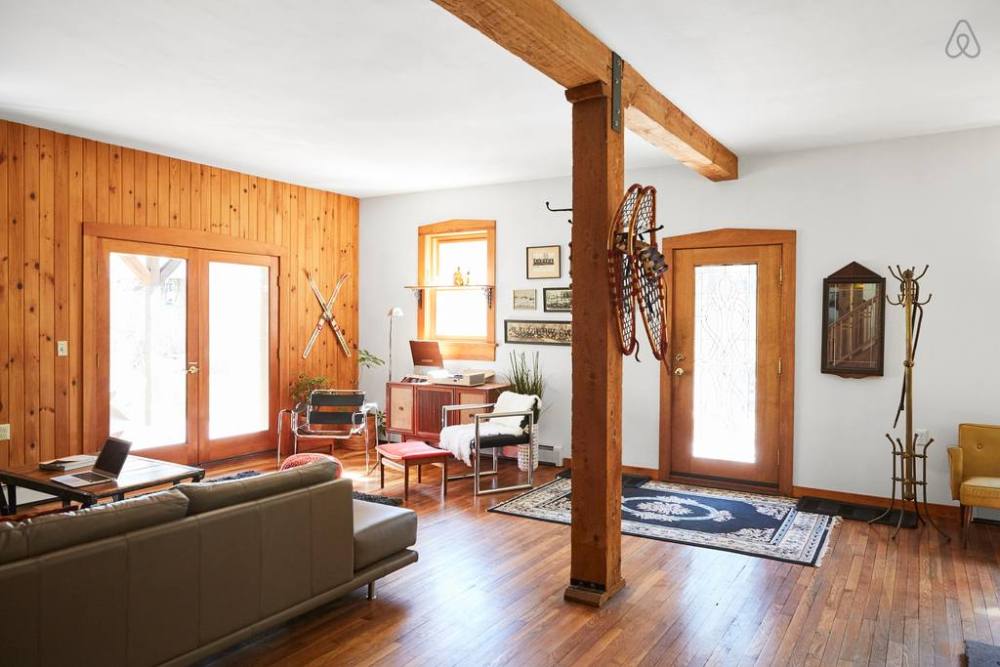 You can make the interior design of a wooden living room with an open floor concept for a family gathering place. You don't let the ground floor of this simple house appear exposed to create the illusion of perspective. Thus making the room appear empty. Therefore, arrange the room neatly so that it looks more attractive. For a perfect look, add rugs, sofas, wall paintings, wall mirrors, and interesting knick-knacks. With this arrangement, your wooden living room design will make the atmosphere feel warmer.
Multifunctional wooden living room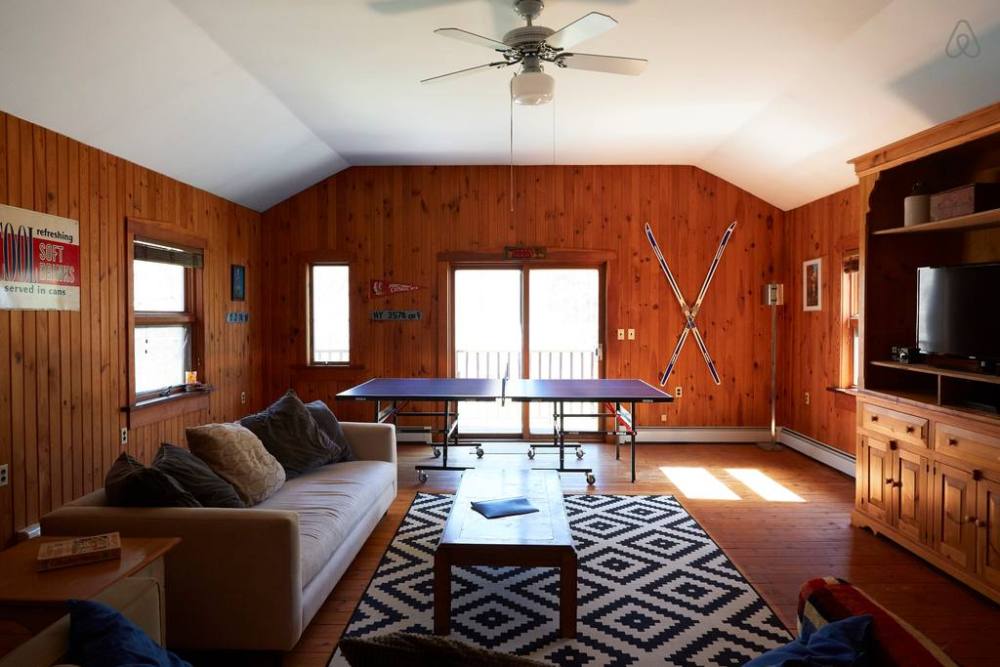 This living room design is even more perfect with the presence of unique decorative items, starting from wall installations in the form of hockey sticks, unique wall clocks, and antique floor lamps. Some contemporary decoration objects are also presented, such as a geometric patterned carpet which adds a playful motif in the living room.
Then, to make it look complete, this simple wooden living room is also equipped with various family entertainment facilities that guarantee guests will feel at home spending time there, such as an elongated model sofa, a coffee table for placing drinks, a ping pong table, a minimalist TV shelf complete with television and its devices, and so on.
Vintage-style wooden living room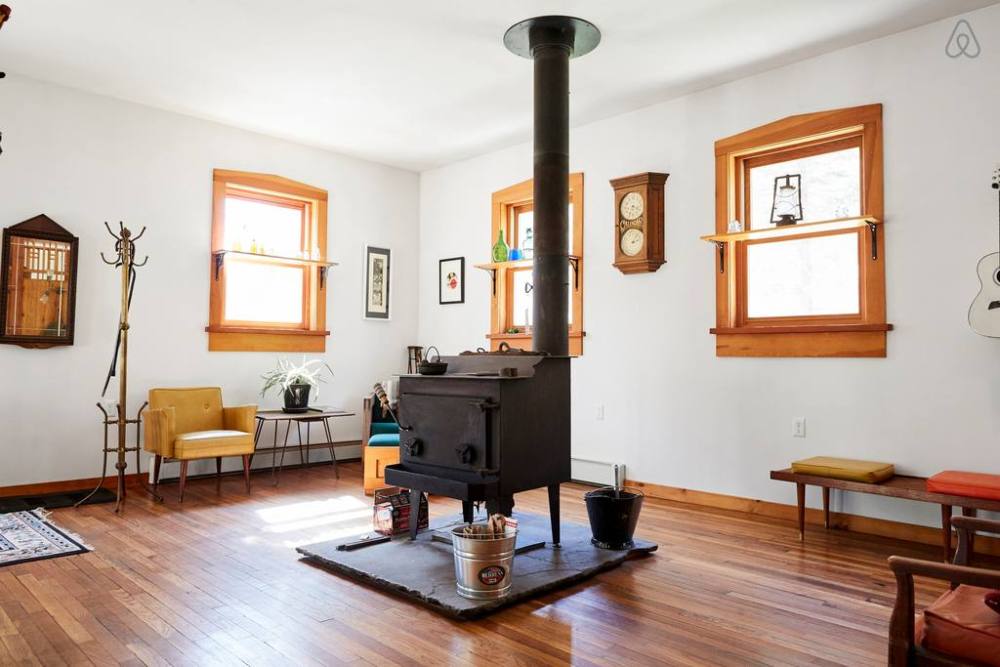 The interior design applied to this simple wooden house is also adapted to the original architecture of the building. The choice of mid-century style furniture blends harmoniously with the warmth of a simple wooden house interior. Some relics representing the memory past, such as bottles, glass vases, wall clocks, and traditional heaters, are used as decorations to reinforce the vintage impression. To make it look neater, this wooden lounge is equipped with several windows and guest chairs, and classic knick-knacks. With this arrangement, the interior of the living room looks like a vintage design.
Two-level design wooden living room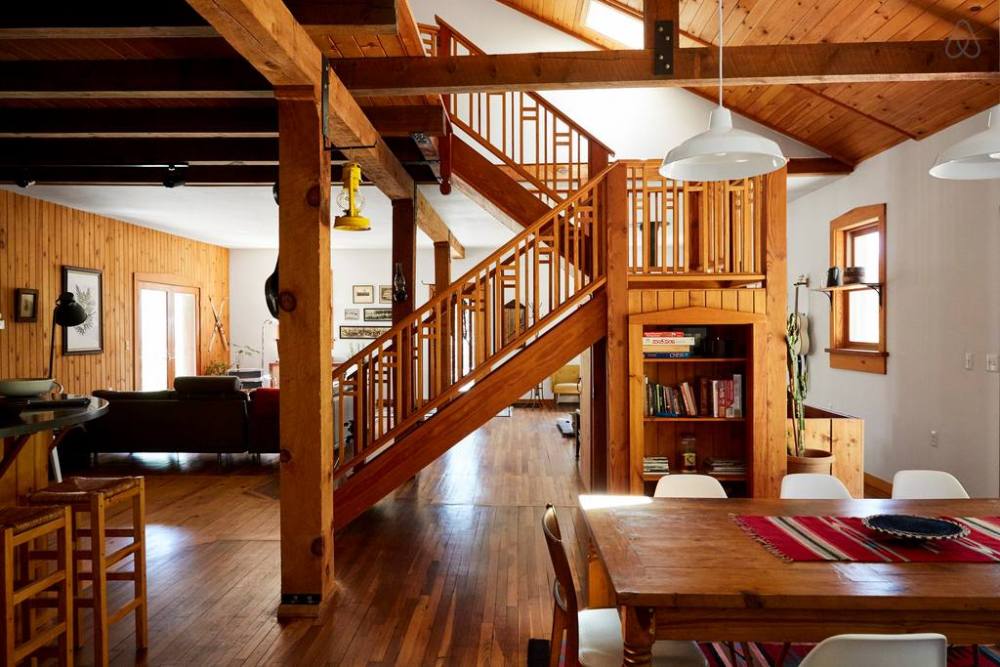 This simple wooden living room looks filled with some wooden furniture. This living room is located on the first floor next to the wooden stairs. In addition, to save space, equipment such as a dining table and bar are integrated into the living room. To add to the beauty, this living room has equipped with hanging decorative lights, and portable decorative lights. sofa set, and some wall paintings. Then, the wooden floors and walls were varnished in a rather dark and shiny color. In addition, several pillars in the room, make this room look solid. With this arrangement, you can save space in your home.
Bright color master bedroom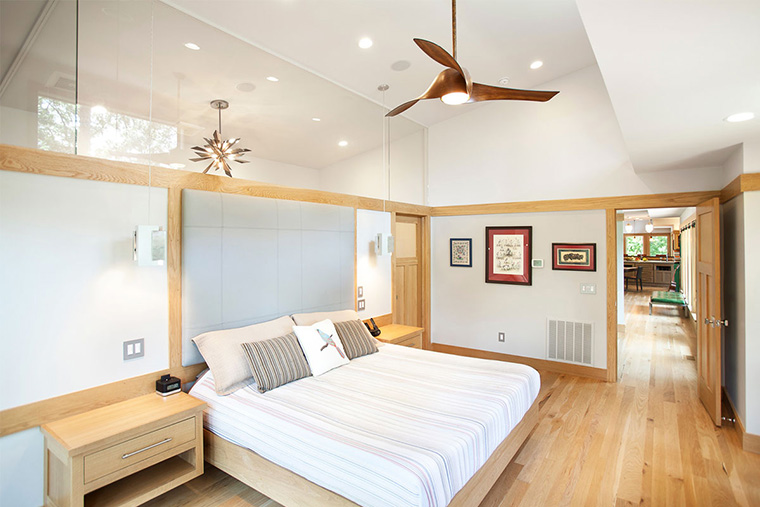 Until now, wooden interior design is one of the designs that are much favored by the world's population. Not surprisingly, wooden interior design can bring a different impression into your bedroom. Warm, familiar nuance but still looks elegant.
As in the picture above, this wooden bedroom with a bright design feels very comfortable. Setting high ceilings, fans, and spotlights make this bedroom feel cool. Then, make attractive the bedroom interior, this bedroom is equipped with a wooden bed and spring bed, wall paintings, wooden nightstands, and mirrors mounted on wooden walls. This arrangement makes your bedroom design look more aesthetic.
Luxurious master bedroom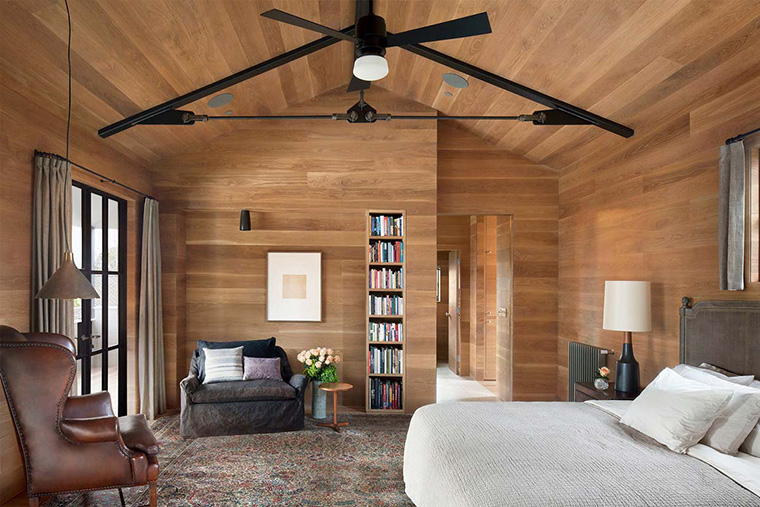 Having a beautiful and comfortable bedroom will make you sleep soundly. With an arrangement like this picture, you will feel comfortable. Unfortunately, many people are misguided in applying this wooden interior design because there are many types of processed wood materials that cannot be used in areas. Then, susceptible to water, weather, or chemical substances.
Therefore, you have to design it according to the character of the wood used in the bedroom interior. Do not let you place furniture with weathered wood in areas that are prone to water. So that your bedroom looks luxurious, you can decorate it with a large spring bed, place carpets on the floor, and put some sofas to relax while reading books. Then, place bookcases, antique hanging lamps, portable decorative lamps, wall paintings, and ceiling fans. With this arrangement, your bedroom will look luxurious and comfortable.
Minimalist bedroom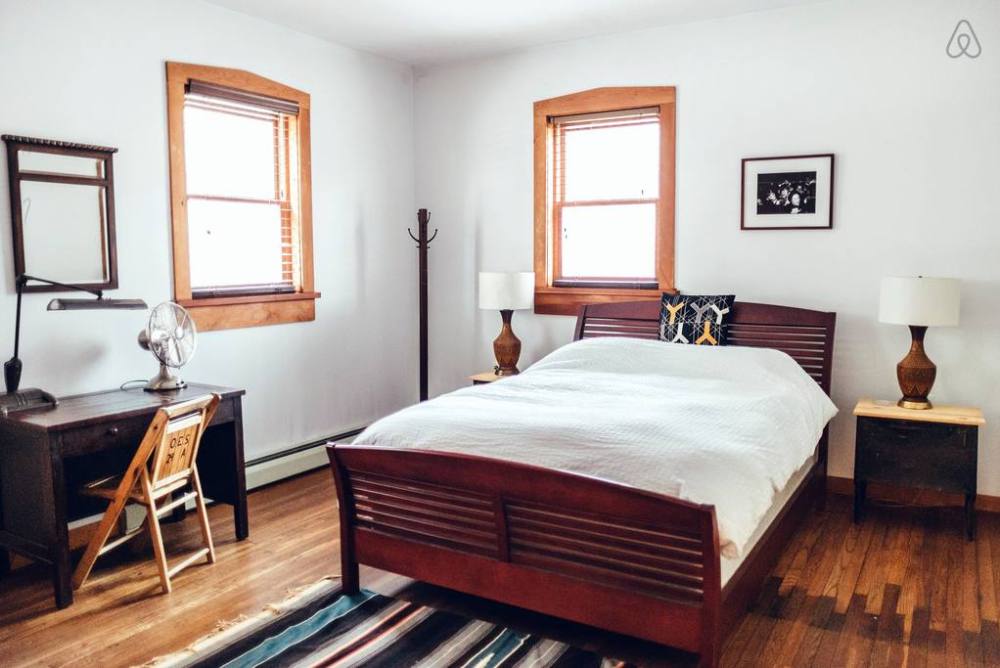 This wooden bedroom design is not much different from the previous bedroom. The bedroom in this simple wooden house is still attached to the typical village nuance. The limited size of the bedroom is circumvented by limiting furniture and applying more white as the main display.
What is unique about this simple wooden house, actually comes from a classic style bed model. To look more attractive, this bedroom design has equipped with a study table and wooden chairs, wall mirrors to reflect light, patterned floor rugs, wall paintings, portable decorative lights on either side of the bed, and a wooden nightstand. As for lighting during the day, has been designed two-window so that sunlight can easily enter and illuminate the bedroom. Then, make you healthy. With this arrangement, you will be calm and comfortable inside.
Special dining room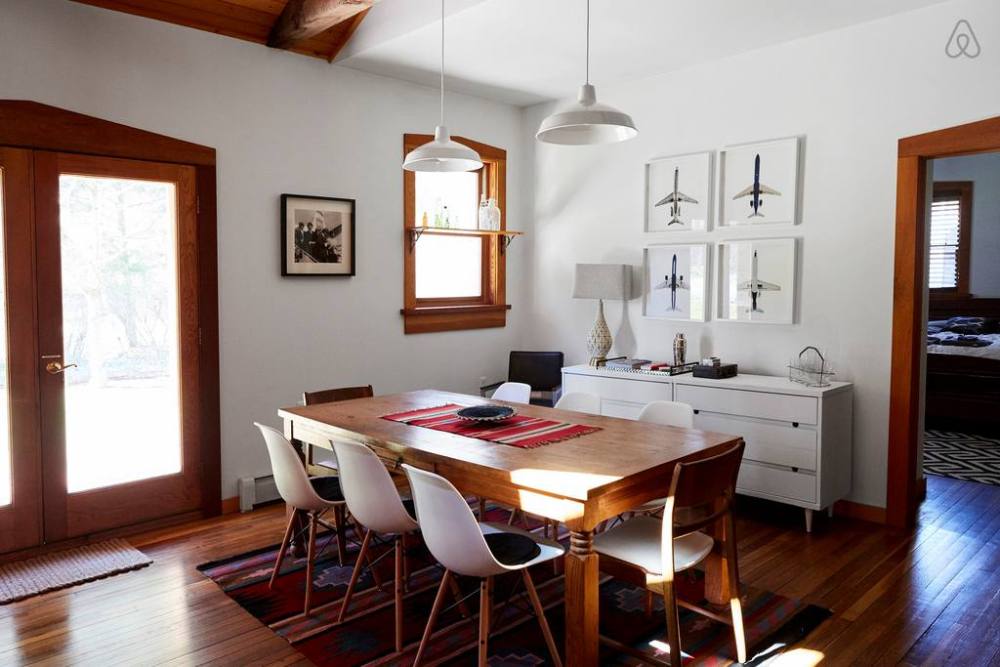 This dining room design looks attractive and fun. The choice of color for the dining table matches the white chairs. Then, the presence of a unique hanging decorative lamp makes this dining room look beautiful. With this arrangement, surely your appetite will increase.
So that it doesn't look monotonous, this dining room has decorated with wall paintings, beautiful knick-knacks, patterned floor carpets, and portable decorative lights placed on a minimalist buffet. As for lighting during the day, this dining room has been designed with glass windows. That way, sunlight will easily enter the room and make the room bright. With this arrangement, your dining room will look aesthetic.
The wooden dining room blend with the kitchen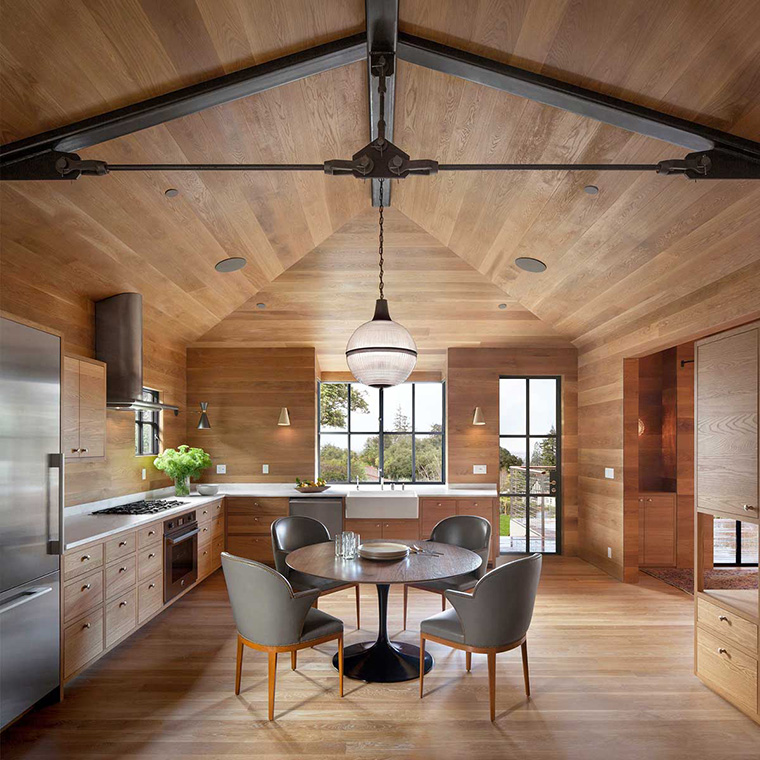 Minimalist design and Scandinavian design have quite similar and identical As far as we know, the two styles of this space carry a similar concept, namely prioritizing simple forms, minimal profiles, or not excessive decoration. Then, the appearance also saves the use of space and seems spacious.
However, not all rooms with a minimalist design look like Scandinavian designs. The use of wood colors in a modern and minimalist design is more varied. As shown above, the use of dark colors or bright colors as a focal point accent plays a very important role in the appearance of this dining room and kitchen.
To make it look more attractive, this dining room and the kitchen have been decorated with a wooden kitchen table with a bright white surface. Then, the presence of a hanging decorative lamp above the set dining table makes the interior of this room look more luxurious. Meanwhile, during the day, this room is equipped with large glass windows that make it easier for sunlight to enter the room. With this arrangement, your dining room and kitchen design look beautiful and charming.
Bar-style dining table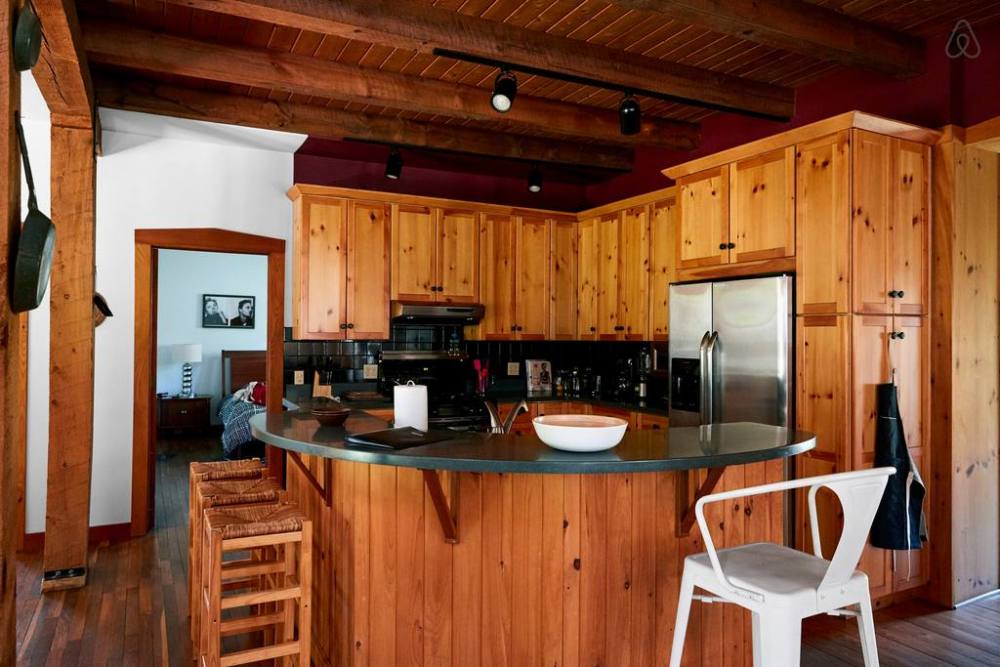 This dining room design has designed with a bar table model. So it looks aesthetic and attractive. This simple wooden dining room design looks like a drinking bar. Then, this room is mostly designed using glossy lacquered wood, especially on the walls of the dining table, ceiling, and furniture around it.
However, the charm of the wood grain is revealed again with the right wood finishing, making the interior of this room look more aesthetic. So that the appearance of this minimalist dining room looks spacious, a large mirror is mounted on the wall. With this arrangement, your dining room interior design will look artistic and unique.
Classic design wooden dining room and kitchen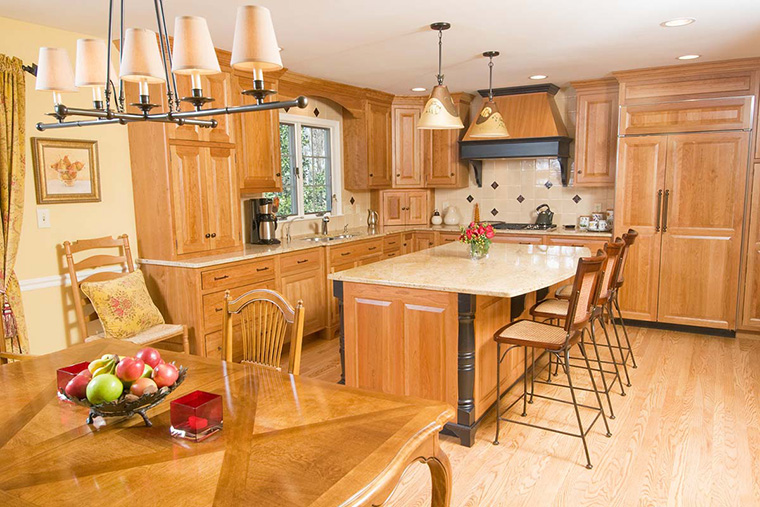 Having a kitchen with a unique design makes you proud. Kitchen designs using solid wood are not only synonymous with modern styling and Scandinavian models. As you know, classic wood interior design is a design concept that has survived for centuries. This classic impression can be a source of pride for those of you who love it.
To make it look more modern, you can add solid wood motifs such as kitchen sets, kitchen tables, kitchen cabinets, dining tables, tables and bar stools, unique hanging decorative lights, and wall paintings. Then, to make it look classic, you can design the color of the furniture in this kitchen with a color that matches the wood. Then glossy varnished. That way, your wooden kitchen design will look aesthetic and artistic.
Classic-style wooden kitchen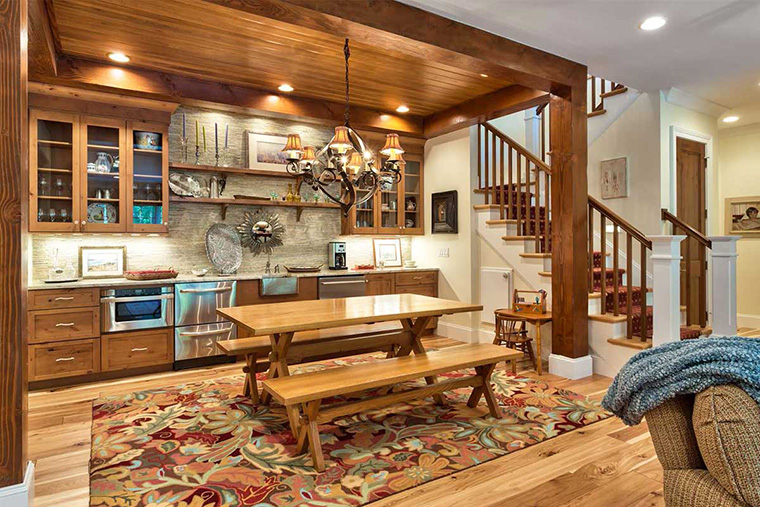 You can design a level wooden house with various models. Having a second floor means you can design the room underneath. However, to make the design, you must prepare a design that fits the model of your room.
One of the timeless designs for you to apply is a classic design. The classic design with wood does not only look beautiful from its appearance. But this design also can appear more attractive with the use of wood furniture that makes with full of profiles. An example is the wooden interior design in the kitchen room inspiration above.
The classic impression can be seen from a chandelier-type chandelier right above the chairs and dining table with a simple design. Then, the decoration of the kitchen set model of wood and glass and this wooden kitchen table can add to the appearance of a classic impression of the room. In addition, the carpet decoration with floral motifs typical of this classic American style also emphasizes the old impression that the room has on this inspiration. Hopefully, this design can be an inspiration for you.
4. Conclusion
Wooden interior design is a design that is easy to apply to various room themes. This design can be made according to your needs and tastes. Therefore, we provide several reviews as above. Hopefully, the tips above are useful for you. Then, make your home interior design look luxurious, aesthetic, beautiful, and attractive. Happy decorating!