1. Overview of wooden houses
Home design continues to evolve in several methods and styles. The need for land for building houses is increasingly difficult, so many developers are starting to look at developments in mountainous areas and on the outskirts of cities. But the weakness of this area is that sometimes it has to face earthquakes caused by mountain plates. But solutions must still be sought so that the need for housing can be met.
Wood is one of the right solutions to overcome the earthquake problem. In general, houses located in earthquake-prone areas are always built using wood. This material is lighter than concrete. Based on our experiences, when we lived at the foot of Mount Gede Pangrango, the shaking from the earthquake really made us feel stressed because houses made of brick and cement were easier to collapse. At the same time, the material from wood is safe. Therefore, the developers are now starting to prepare wooden house designs. In addition, wooden house construction is more durable and also versatile. Then, Wooden houses can be built much faster than concrete houses. Let's look at the unique and aesthetic minimalist wooden house design.
2. Wooden house building design
Beautiful minimalist home designs continue to evolve from time to time. Therefore, many people are starting to look to design their homes from wood or combine the designs of their homes with natural stone and wood. As far as we know, many buildings take inspiration from wood because building a wooden house can be much faster than a concrete house.
Then, they believe wooden houses are safer in the event of an earthquake. In addition, maintaining a wooden house is also easier because you don't need to design walls using ceramic or marble. The most important thing is when you build a house out of wood, you have to protect the wood against termites. So that it is not accessible to porous.
3. Some examples of wooden house designs
The minimalist wooden house design is still a favorite today because wooden houses have a natural impression. In this place, you will really feel a natural atmosphere. So it's not surprising that even though various types of house models have emerged, wooden houses are still in great demand.
As far as we know, minimalist wooden house designs are most in demand. The advantages of the design can be combined with natural stone, exposed brick, and concrete. You must have seen several types of wooden houses built with simple, luxurious, and minimalist concepts. Generally, the design looks artistic, unique, and pleasant. Therefore, let's review some of the wooden house designs below. Welcome to our review.
Simple classic house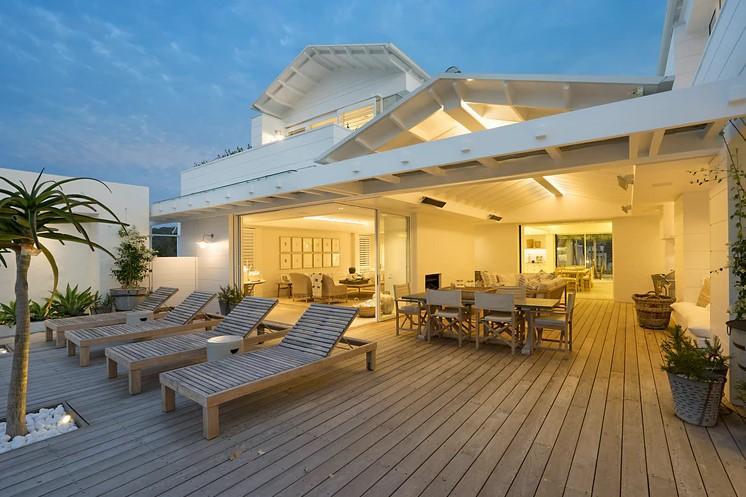 If you like the design of a classic house, the picture of the wooden house above can be used as a reference. The plan of the wooden house above depicts a house with an area of ​​about 120 square meters with less complicated partitions.
Then, the house above also offers an elegant classic style with natural white wood color, in line with the interior design. In addition, this wooden house has equipped with a garden behind which is decorated with various plants. Then, it is equipped with lighting that gives a warm impression when night falls. The classic minimalist home model as above can present a warm and comfortable atmosphere. With a classic wooden house design with white nuances, you will feel more at home and comfortable in the house.
High-roof house inspiration
A high house roof design will look more spacious. In addition, with the slope as above, it is easier for water to fall when it rains and at the same time wash away dust or fallen leaves. Therefore, in the future, this luxury house can be a recommendation for a wooden house design for large families because it has a number of bedrooms and living rooms. If you miss the natural atmosphere, you can follow the model of the house above. The house model above reminds us of houses in the mountains.
To make it look more beautiful, you also can add lights on the terrace as decorations and also as a source of lighting at night. Then add lights to the garden so that the exterior atmosphere of the house is even brighter. Then, modern house fences like this are very suitable to be combined with natural stone. That way, the exterior design of the house will look aesthetic.
Bright wooden house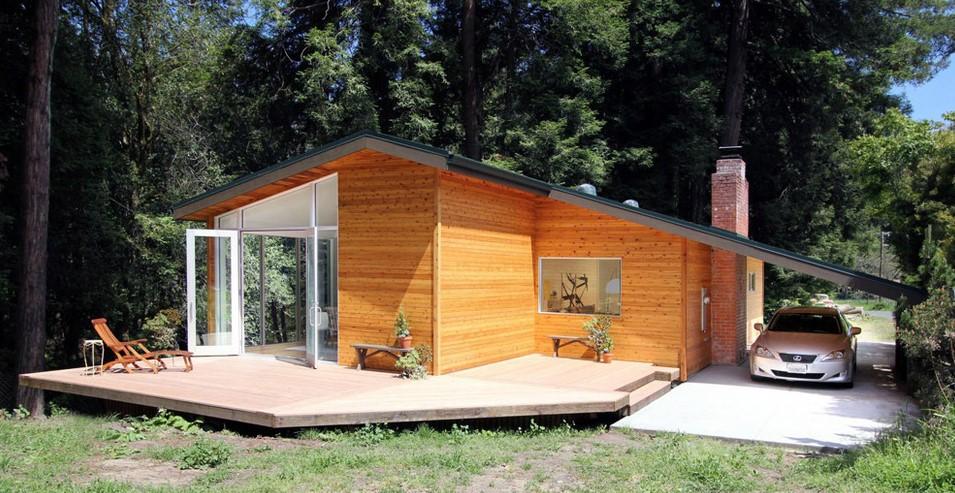 The advantage of a wooden house is that you can design it according to your taste. Then, the manufacturing process is also faster. Moreover, you can make it with a knockdown model. But If you want a modern home look, the wooden house above can be a reference. The spacious and light color of the wood can give a natural and pleasant feel. To make it look more attractive, you can equip a wooden house with windows and doors with large frames and give the effect of a big and cool house.
In addition, you also can design a terrace according to your needs. Then, for a relaxing place, add patio chairs. So you can breathe free air while enjoying the natural scenery. Then, if you have land next to your house, you can design a car garage. That way, the exterior house design looks elegant.
Elegant wooden house design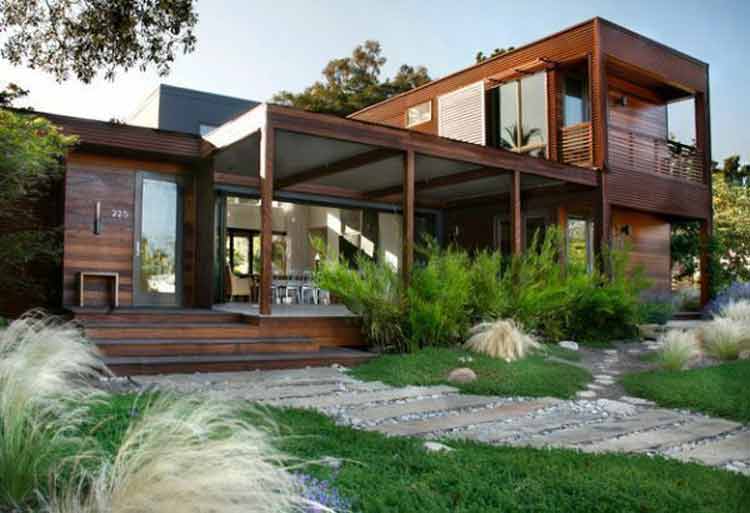 A beautiful wooden house design can make you feel at home and comfortable inside. Therefore, you can paint the appearance of your front house with a dark varnish color. The dark varnish color gives the impression of an elegant and luxurious wooden house.
To make it look perfect, you can add a terrace in front of the house so you can chat with guests and family in a different atmosphere. Then match the color of the furniture with the color of your home, so that it looks beautiful and charming. Then, add window and glass door designs. Don't forget to design a beautiful garden with natural stone decorations, green grass, and ornamental plants. With this arrangement, the exterior of your home will amaze your guests.
Minimalist wooden house with glass windows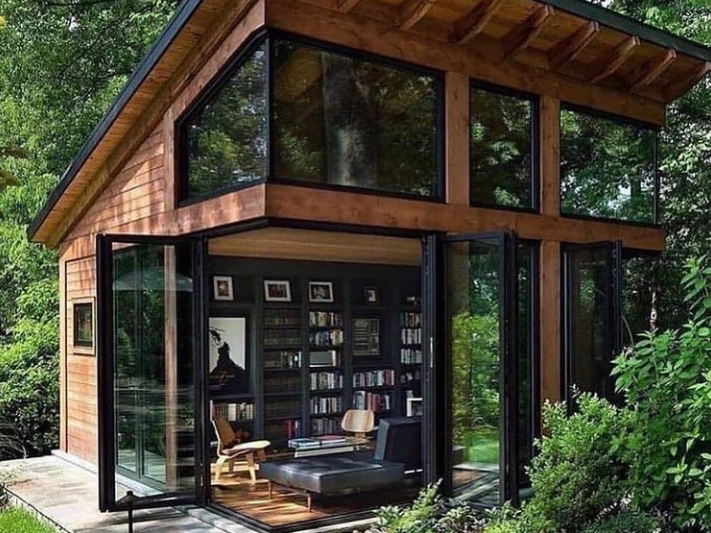 The design of the house with large glass windows can make the house look spacious. To make the appearance of a wooden house more attractive, you can design glass windows with a model that can be opened and closed. That way, for good air circulation, sunlight can illuminate the entire room, thereby saving electricity consumption. Then, make you healthier.
Then, to make it look more attractive, you can design a terrace and garden in front of the house. Then, put some chairs, and tables for you to relax while enjoying warm coffee. Don't forget to arrange ornamental plants neatly so that the exterior of your house feels comfortable. With this arrangement, you will feel more relaxed. Then, your stress will disappear.
Simple wooden house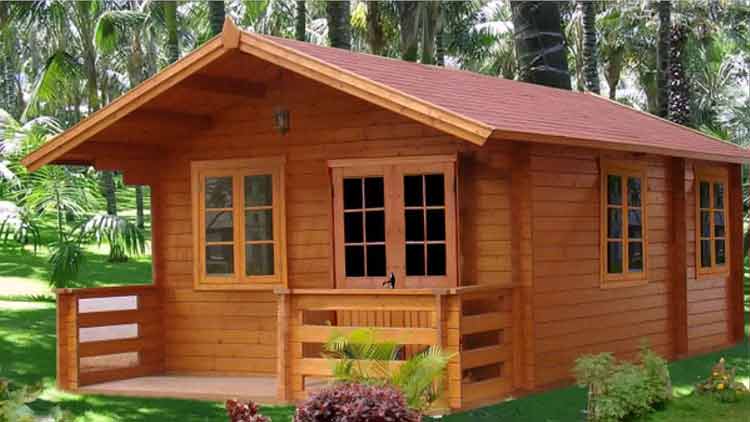 If you are interested in a simple model house, you can imitate the house model above. Although the design is simple, the design has reminded us of country house designs abroad. The earthy brown color makes the atmosphere of the house cheerful and playful.
To make the atmosphere more relaxed, you can add a wooden terrace in front of the house. Then, design the terrace fence with wood. Add patio chairs. So you can talk with your partner while breathing free air. Don't forget to make a garden and decorate it with green plants. With this arrangement, the atmosphere in front of your house will feel warmer. The advantage of this house is, you will feel safe if there is an earthquake.
Unique wooden house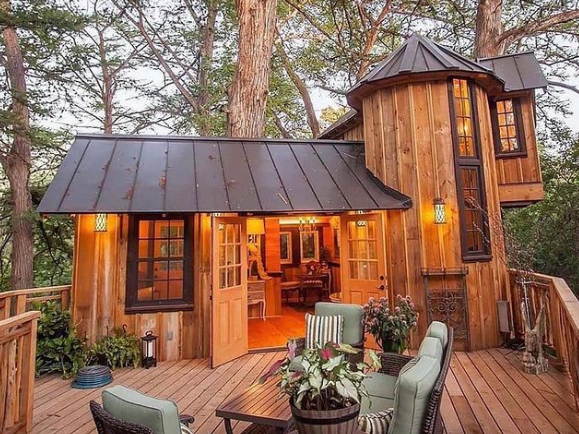 The design of this wooden house looks beautiful and enchanting. But if you are bored with a box-shaped, you can imitate the house design above. Then to look unique, you can design your house in a tower-like shape which usually contains a winding staircase leading to the second floor. Then, make an artistic and unique glass window model.
To make it look more attractive, you can design the doors and front windows of your house with a classic glass model. Then, make a terrace with a wooden floor complete with a fence. To make you relax, add comfortable patio chairs, a wooden table for placing drinks, decorative lights, and flower pots on the table. Don't forget to decorate the area in the corner of the terrace with nice plants so that fresh eyes look at it. With this arrangement, the exterior design of your home feels comfortable. Then, make you and your family cheerful.
Minimalist house in white and gray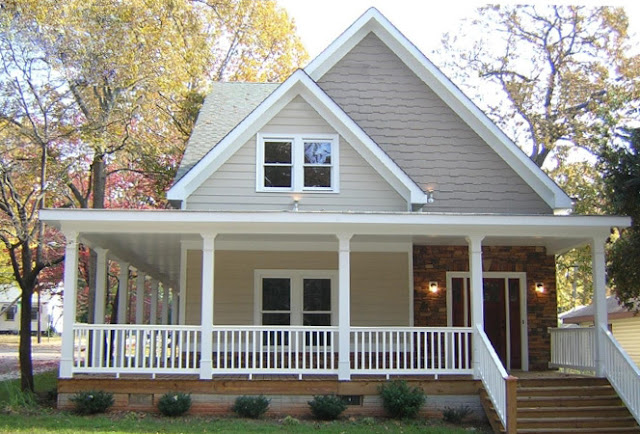 Having a beautiful minimalist home design with bright colors is everyone's dream. To make it look more attractive and not boring, you can paint a wooden house in other colors, such as white and gray. This can make your house stand out compared to other wooden houses.
Then, add yellow lights that illuminate the wood so that the house looks luxurious and aesthetic. To make it look beautiful from afar, you can add a minimalist wooden fence and stairs leading to the terrace. With this arrangement, the exterior of your home will look elegant and luxurious.
Rustic wooden house design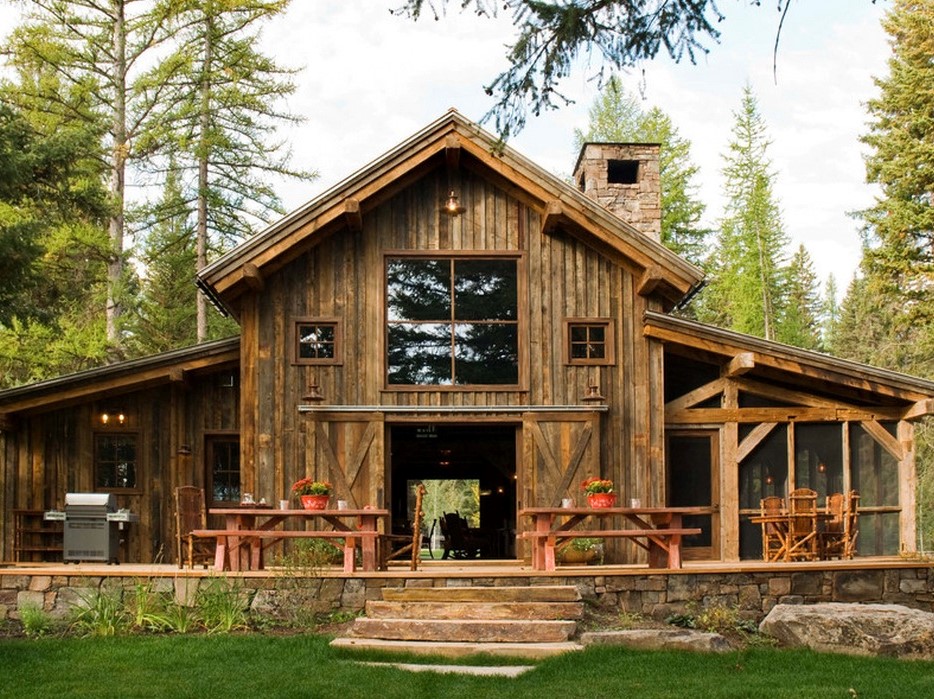 The rustic-style house above looks natural and fun. You can make the exterior design of this house an inspiration for your home. Even though it is styled like a country house. However, the house still has an attractive and charming appearance.
Then, to make it look more attractive, you can design the front of the house and decorate it with real wood, glass windows, and natural stone decorations. But if you want to make a relaxing place, you can add a terrace in front of the house, then add long wooden benches and tables, and place some flower pots. So it doesn't look monotonous. Apart from that, you can also add trees for a more beautiful and shady. With this arrangement, you and your family will feel at home together.
Minimalist box model house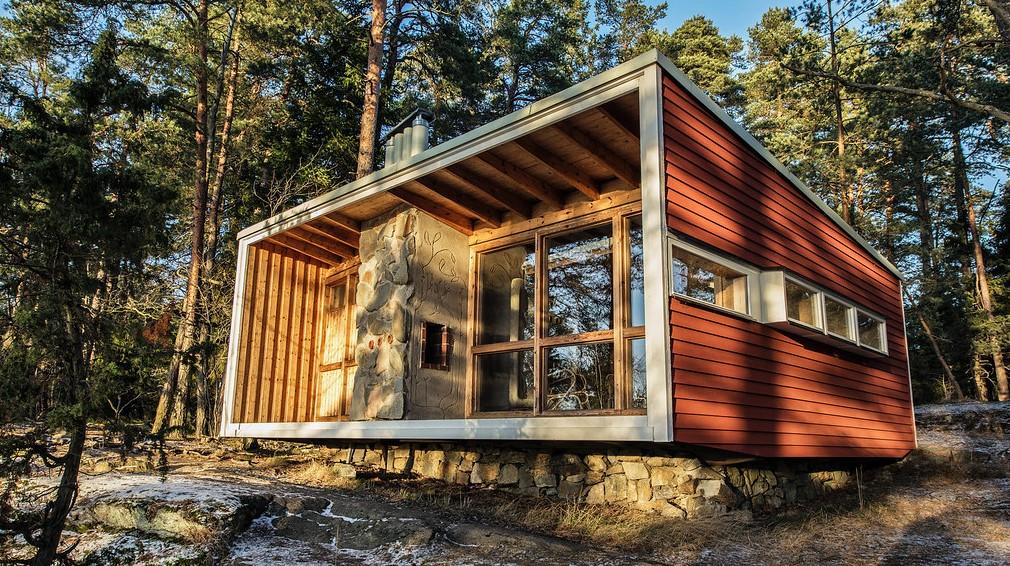 The modern home design ensures that the room inside gets fantastic lighting. Large windows with beautiful glass can expedite fresh air and sunlight throughout the day. In addition, windows are also an excellent form of decoration. To make it looks attractive, you also can add trees to make the terrace atmosphere more beautiful and shady.
As we know, shady trees can make a wooden house feel cool. The advantage of this wooden house looks unique and has a foundation of natural stone. Then, design doors and windows using transparent glass. Design, the house mentioned above resembles a box house like a container, so this house seems artistic and unique. If you want a wooden house that is unique but still minimalist, you can use the design above as your inspiration.
Wooden house with green paint and big glass windows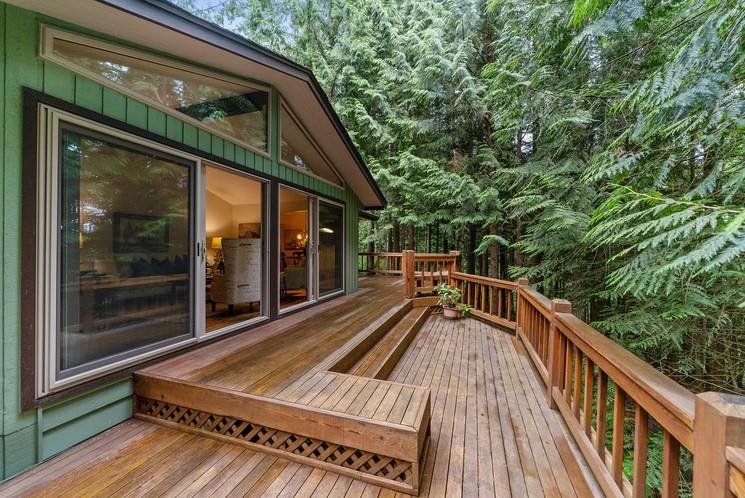 If you want to make the house exterior in the mountains to look magnificent. You can apply it with green wooden house paint So that it matches the color of the surrounding leaves. This classic house features a house facade that gives a luxurious impression.
Using large and transparent glass can display modern minimalist elements that blend with classic concepts. Then, the design of this wooden house is very suitable and blends with nature. So that it looks even more stunning with a minimalist wooden fence in the same color as the tree trunks. This wooden house will be ideal for those of you who want a warm and calm atmosphere. For you to relax with your family, add a long wooden bench. With this arrangement, you and your family can relax and enjoy the view of the forest with its shady leaves.
Japanese wooden house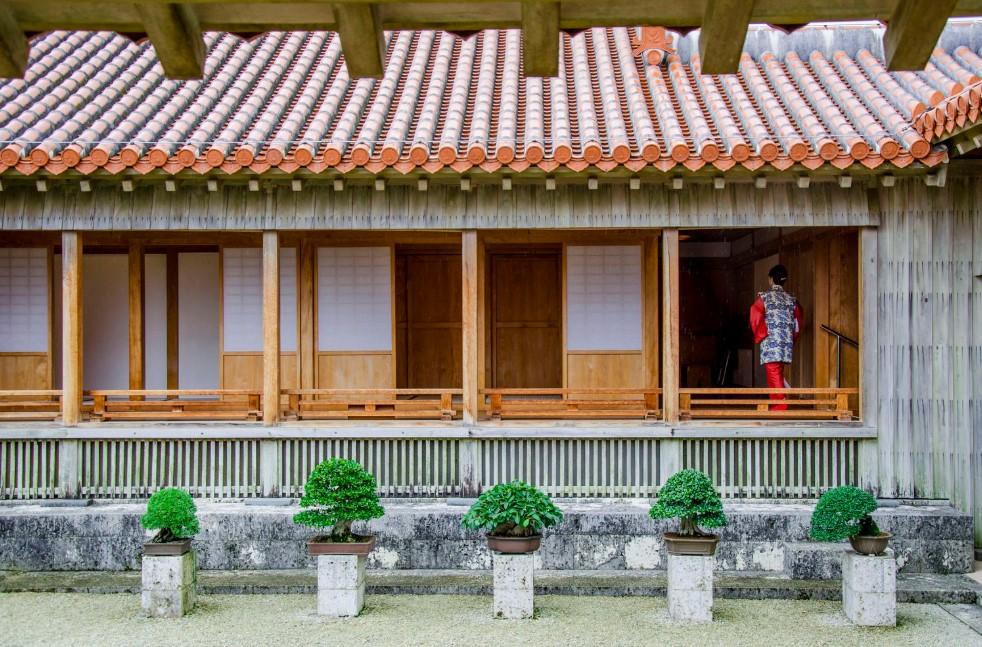 As far as we know, Japanese houses cannot be separated from nature because it uses ornamental plants around the home area. Ornamental plants have been placed in the garden in front and back of the house. Then, the house design can be seen from the grass planted in the garden area, cobbled paths, and around the trees which are soothing. As we know, Japanese houses have many parts that use wood as walls, such as the front, sides, and back of the home.
If you like Japanese home designs with simplicity, you can apply a home design like the picture above. In addition, the characteristics of Japanese houses are usually partitions and large glass windows. It can use for comfort through natural lighting that enters the house optimally. In addition, windows can make air circulation better. So the house is healthier.
Triangular model wooden house with high roof design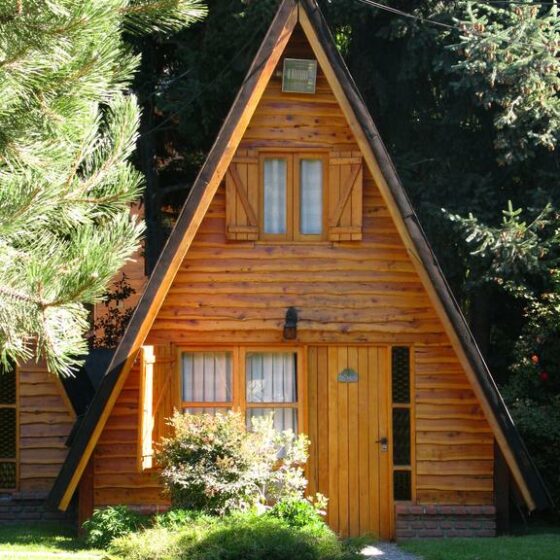 The last wooden house design is a wooden house with a triangular roof shape. The design of this house has a high roof made of wood. This design is a unique design for a minimalist wooden house. Then, small windows built on top and pores between wood can provide a cool and comfortable atmosphere, especially during the day.
To make it look cooler, a large window model is made below. Its unique shape makes many people amazed by it. Then, to make it look beautiful, you can make a garden in front of the house and plant some ornamental and flower plants. With this arrangement, the exterior design of the house looks aesthetic.
4. Conclusion
Those are some wooden house designs that you can emulate. Then, we hope that this design will be earthquake-safe design. In addition, to make it look more attractive, you can complement your home's exterior with a beautiful garden, attractive accessories, ornamental plants, and shady trees.
We hope the design of the wooden house we are reviewing can suit your tastes and make the exterior design of your home look more aesthetic, beautiful, attractive, comfortable, and luxurious. Hopefully, this design can use for you and your family.