1. Overview of comfortable work facilities
Advances in technology make many people not have to finish work in the office. It can save time from home to work. Therefore, many companies do not oblige someone to travel tens of kilometers just to sit at a desk every day. But the worker still requires to complete the work according to the target.
The advantage of this system is that you can freely set your working time. So your work productivity will increase. Therefore, you need a comfortable and pleasant work area atmosphere for you to complete work at home. The solution is that you design workspaces and work facilities comfortably and neatly rather than having to rent an office that costs a lot. That way, you can make savings and at the same time get the work facilities that suit you. For that, let's review ideas and inspire comfortable work facilities.
2. Ideas and inspiration
You must have felt that working for hours every day makes us feel bored to the point of being demotivated at work. However, this is not only influenced by work factors but also the conditions around our work environment. Small things like the room interior can affect everyone's work productivity. Therefore, ideas and inspiration for the right workspace design that suits your personality are needed. The goal is that morale does not decrease.
Therefore, we design a workspace with a beautiful and comfortable design that suits your creativity. This is very important to support your work performance. Stylish solutions for a productive workspace can be found and created in a variety of ways. For that, let's review some models of work desk sets that are your facilities to work comfortably.
3. Some attractive workbench models
As we know, work facilities are very influential in providing support to workers. Complete and comfortable work facilities can motivate someone to work better. That way, work productivity will increase. Therefore, we want to share ideas to provide work facilities such as beautiful and comfortable work desk sets. We hope that our review below will suit your taste. Then make your work motivation increase. Welcome to our review!
Minimalist desk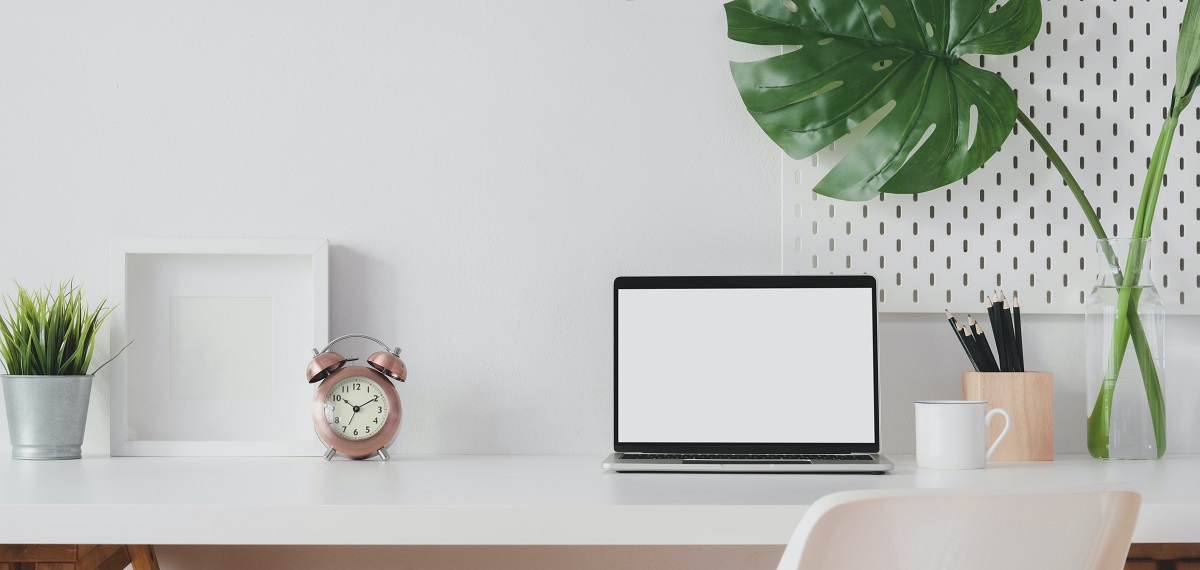 The first step that you can take to create an office at home is to choose a beautiful desk design.
A comfortable workspace design
can make you feel at home in completing work. One of the designs that you can use as a reference is the minimalist design. But not only minimalist housing but minimalist design tables are also in great demand by the public.
Selecting a comfortable office desk during WFH cannot be separated from health factors. Therefore, choose a table that fits your body size. By selecting the right office desk, productivity will also increase.
Then, a minimalist design has its advantages, especially in terms of the arrangement of a workroom that looks neat and clean. In addition, the minimalist design looks aesthetic and pleasing to the eye. With a minimalist design, you avoid the impression of being cramped and boring when working. That way, you can adjust the type of table to your needs. Make a neater and more organized design to make it look more aesthetic. That way, you will feel comfortable while working.
The best work desk for work productivity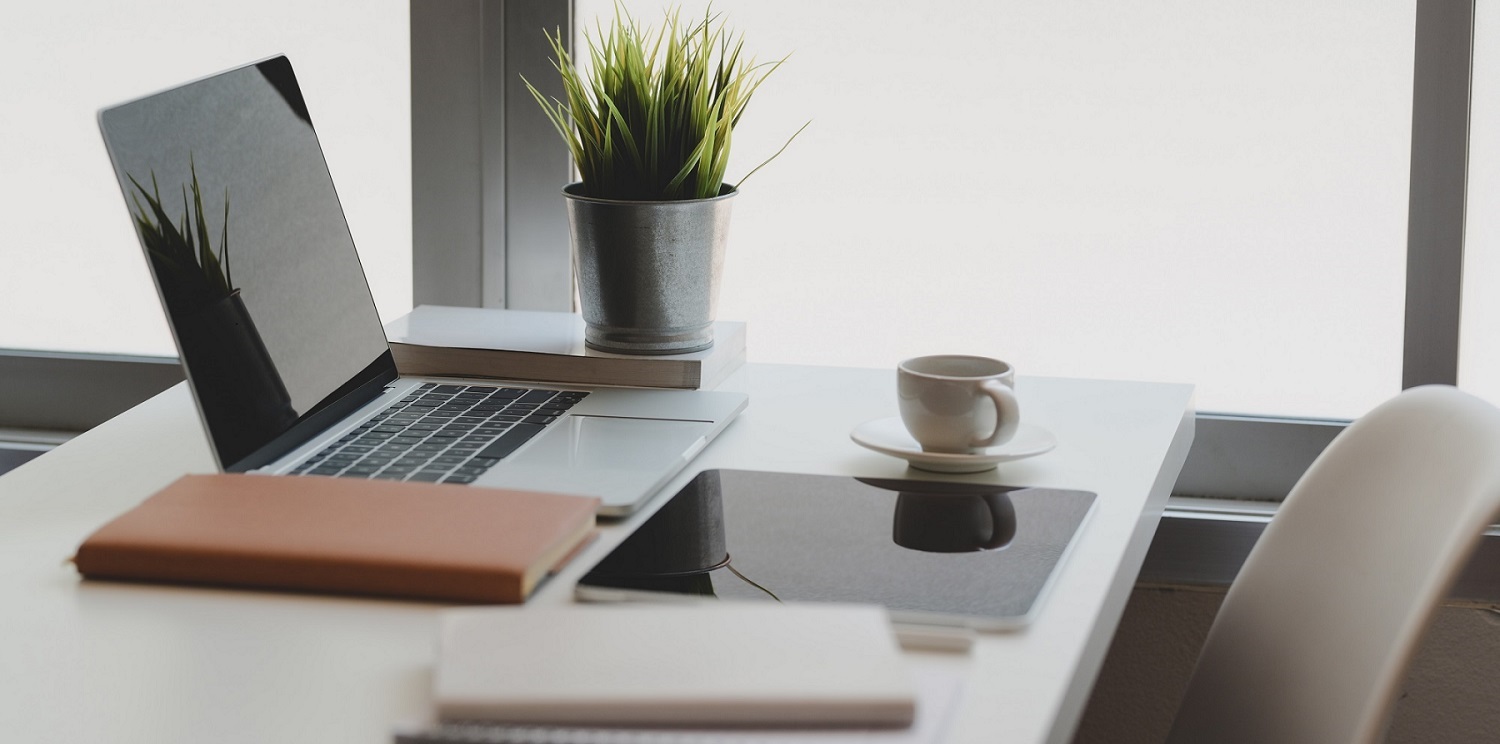 The comfort you work with greatly affects your productivity at work. So if you don't have work facilities such as the right work desk, you should immediately look for a work desk that suits your tastes and needs. Look for an attractive design, but don't forget the health factor in choosing a minimalist work desk.
If you want to support your productivity and health, please choose a healthy minimalist desk with a height of about 72-75 cm from the floor. Also, use an appropriate work chair. So you can sit at a 90-100 degree angle. By choosing the best office desk, productivity will also increase. In addition, the selection of a work desk design must be adjusted to the area of ​​the room so that your workspace does not become cramped. Then, the workspace design will look aesthetic. That way, you can work quietly and comfortably.
Console table model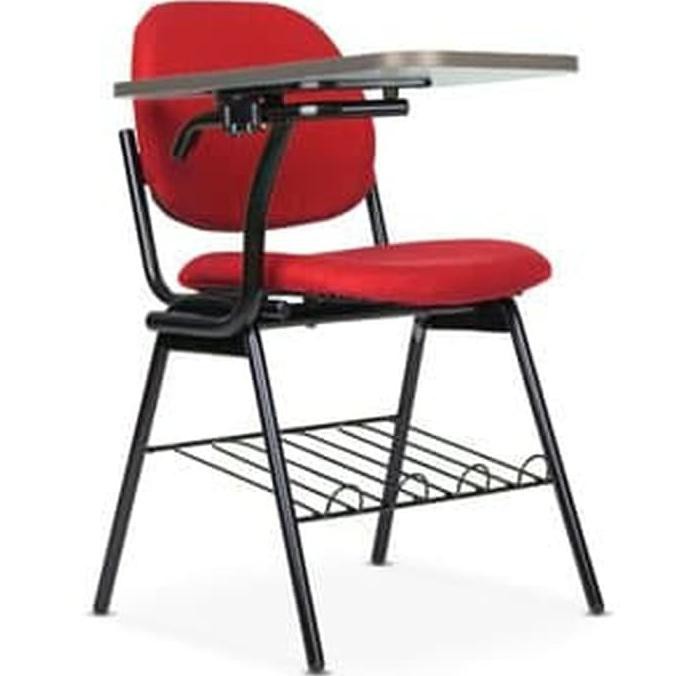 If you don't have a dedicated workspace at home, don't worry. You can use a laptop to complete your work. You only need a minimalist table with a console table model. Its compact shape and slender legs make it easy to place anywhere.
Next, you can place a small drawer to store the necessary equipment. If you have work-supporting equipment, including tiny speakers to transmit sound from gadgets, you can use a shelf with a minimalist shape on the side of the table. So this minimalist style table model does not require a lot of equipment. In this way, we hope you can work with enthusiasm.
The elongated table model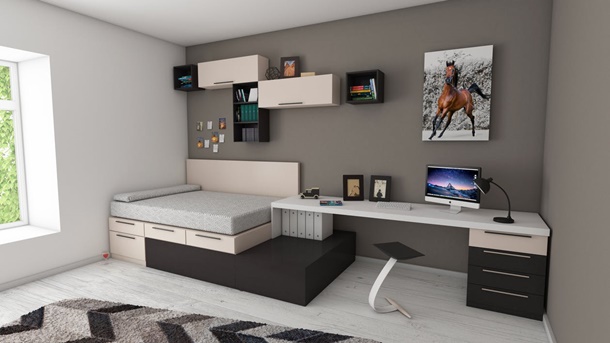 Having
an elegant and luxurious home interior design
is everyone's dream. Moreover, your home has equipped with a beautiful and comfortable workspace design, it makes you feel at home to finish your pending work. The modern minimalist work desk design is perfect for those of you who want a minimalist but not boring workspace.
The elongated table model makes the work area more spacious, while the files and documents needed, can still be stored in drawers. When tired of staring at the computer, you can study files, read a book, or rest on the sofa bed in the corner of the room. Then, to make it look more attractive, you can arrange the wall color to match the furniture and carpet. So that makes this workspace more tidy and elegant. So, with this arrangement, you will feel at home working in your office.
Corner minimalist work desk design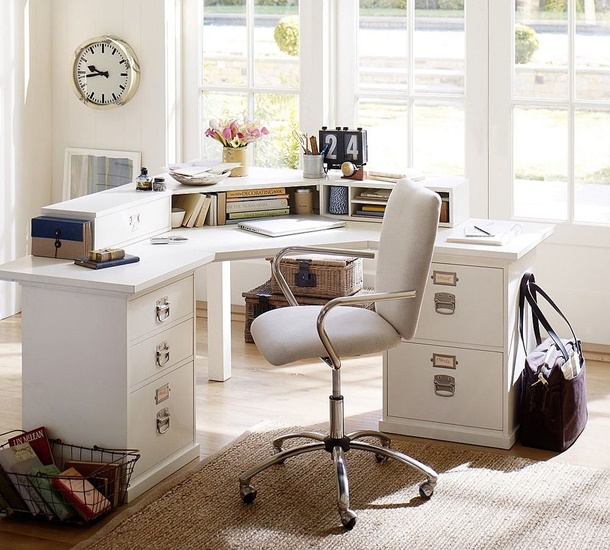 A minimalist table design can be made in various models, one of which is a table designed with a curved model. This design is perfect for those of you who choose to use the corner of a room as a work area. This table model allows you to take advantage of a corner of a room that is usually difficult to fill with furniture. The width of the table and table legs are made very simple and don't take up much space.
If you want to look more attractive and neat, avoid putting too many things on the table. So it doesn't look messy. Instead, place a wooden cabinet that has lots of drawers to complement your work area. If you want to display some motivational posts and beautiful knick-knacks to increase your enthusiasm for work, choose one that looks simple and beautiful. With this arrangement, your workspace design feels cozy.
Minimalist staff work desk near the window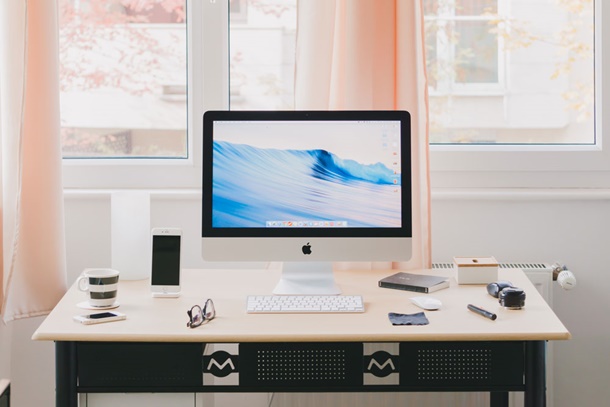 Almost everyone designs large glass windows in their homes. Therefore, for those of you who already have large windows, you can place a staff model work desk for the work area. Sunlight streaming through the window makes you more aware of time.
In addition, the tired mind and tired eyes looking at the monitor screen all day will disappear. For that, you can take a break of 10 minutes every hour to rest your eyes. Then, look outside the room or open a window to feel the breeze for a moment. After that, you will feel refreshed. Then you can continue the work.
Luxurious work table in glass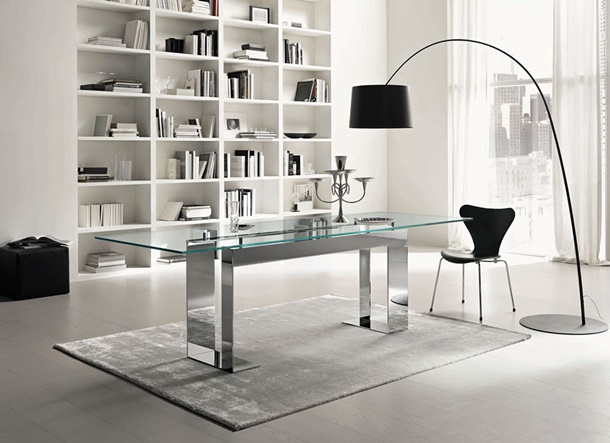 This one glass work table looks luxurious and elegant. This table is very suitable to be placed in your home. That way, you pamper yourself with a luxurious workspace design. This desk looks luxurious but is still minimalist. Your work motivation will increase with the use of this model of a glass desk.
Then, to look more attractive, you can combine gray furniture and wall paint, and metal materials. So this table looks luxurious. To make it look more beautiful, you can design a wall-mounted document rack, standing decorative lights, and a carpet with a color that matches the room. That way, your workspace will look stylish.
Combination desk with ornamental plants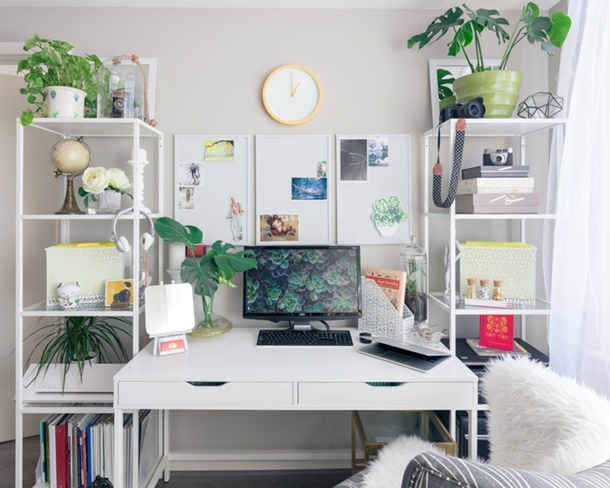 If you work surrounded by green plants, many people said, it can make your mood calmer and more comfortable, refresh your eyes, and reduce stress. But you can only do this method in your home workspace. To be more flexible, you can put a pillow for your favorite cat near your desk. Pets can also reduce fatigue and reduce stress.
To balance knick-knacks in the workspace, use tables and chairs with a simple design. White is never wrong for a work desk. Utilizing natural sunlight to illuminate work areas can energize indoor greenery. That way, you become healthy, and your ornamental plants thrive. By creating a beautiful atmosphere, your inspiration and creativity will emerge like the sun shining in a tropical country. Happy decorating!
Round minimalist Work table in the style of a coffee shop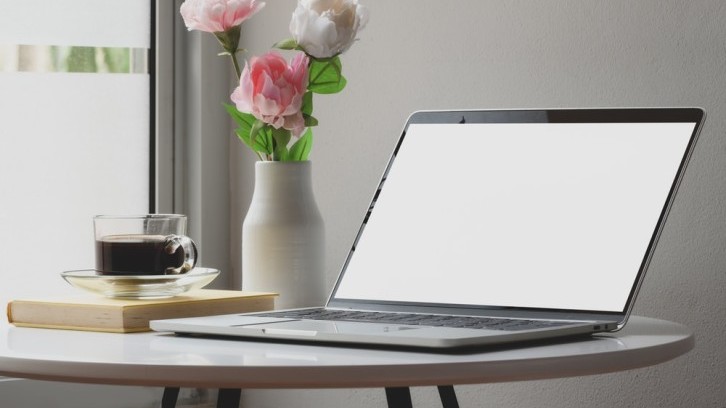 A minimalist work desk in the shape of a round coffee table is an option for those of you who have minimal space to work. Its small shape and lightweight can make it easier for you to move it to another room. Nowadays, many people are doing their job from home, so you don't need to come to the office to sit at your desk. With you working at home, you are more flexible to enjoy warm coffee made by your partner.
In addition, having this round table, you can create a coffee shop atmosphere at home while getting your work done. Brew your favorite coffee, then brilliant ideas will emerge. A round table that can be easily moved also allows you to work in your yard or garden. It's so much fun!
Minimalist work desk in masculine style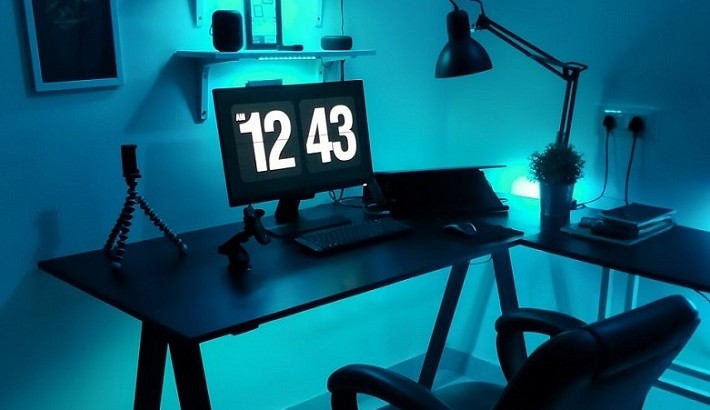 The selection of a work desk also can be adjusted to your personality. As you can see, this masculine-style table looks more attractive. With a dark table color, you don't need to worry that the table will look worn out quickly. You can also add various kinds of accessories that you need such as lights and shelves with the appropriate design. Apart from that, it becomes more comfortable. Then, to make it look beautiful, you can add wall paintings, lep tops, work lamps, wall shelves, and work chairs. With settings like this, you will work quietly and comfortably.
Minimalist work desk standing desk model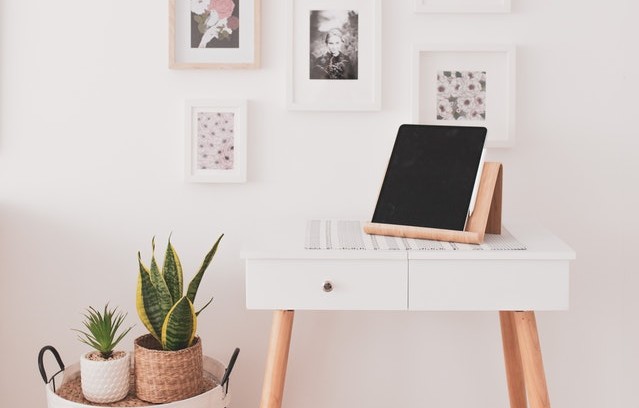 There are several models of work desks, one of which is a work desk that suits your choice. As you know, the activity of sitting for hours at work can interfere with your health. Therefore, it is recommended to get rest for a moment.
You can use this table while standing is a solution for those of you who don't like sitting for long. This type of table is very comfortable because you no longer need to feel sore from sitting for too long. However, if you want to sit down, you can prepare a high chair. So that even sitting activities feel more comfortable. So that the atmosphere in the workspace is not monotonous, you can put decorative plants, wall hangings, and beautiful photo frames.
Minimalist work table with wood elements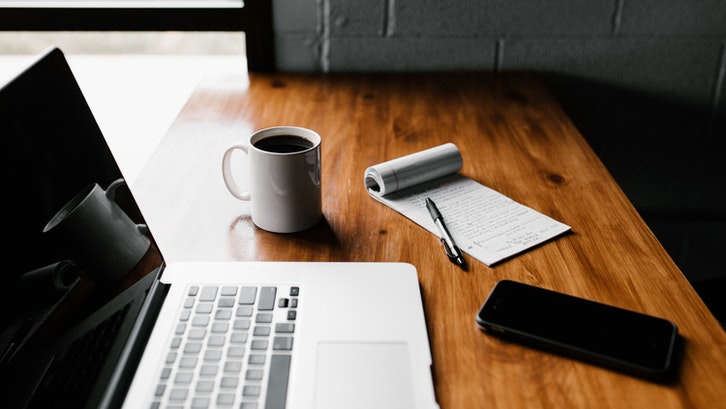 If you want a desk that can make your workspace seem warm, a wood-style table like the one above can be an option. You will get comfort in the room from the warm impression of this wooden-style table. To not seem monotonous, you can add a few indoor plants both above and around the table to add a cool impression. In addition, you can also enjoy a cup of hot coffee at any time. That way, you can work quietly and enthusiastically.
Workbench for shared use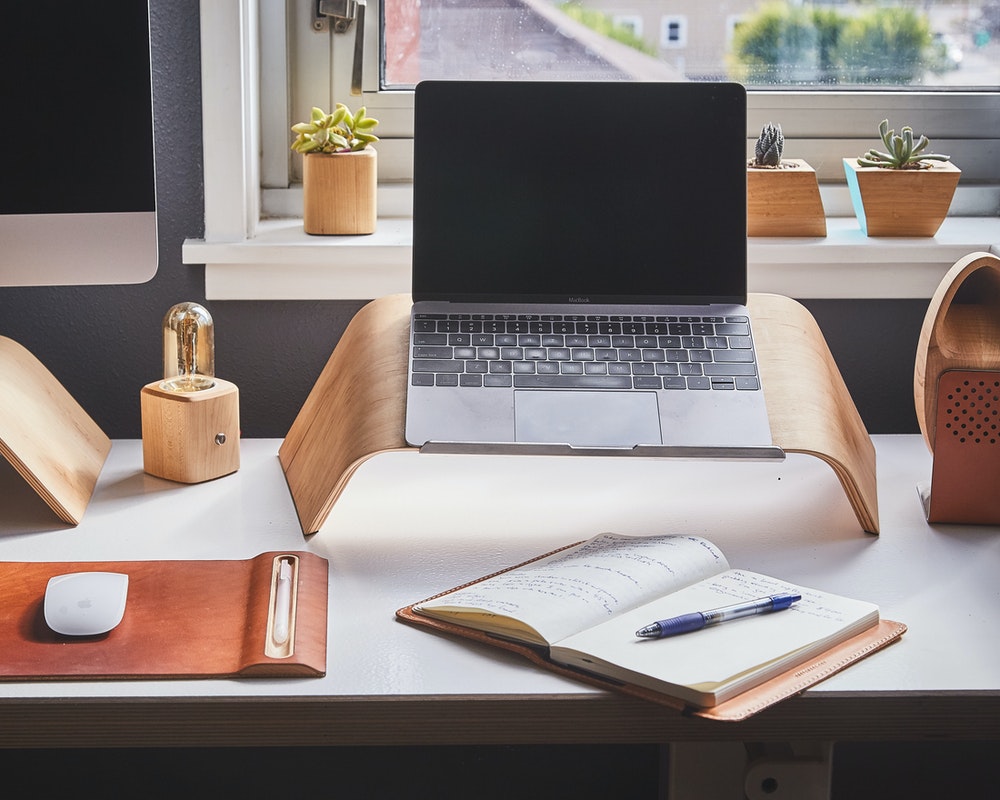 Working alone can lead to boredom. To reduce boredom, you can share a table with your family members, and choose a desk that can be used by at least two people. Sharing a workspace has many advantages such as saving space in the house as well as the budget for buying a desk.
For the settings, you can divide the work area to maintain the privacy of each table user. In order not to look monotonous, you can add ornamental plants and interesting knick-knacks. In this way, your work atmosphere is not boring.
Table with additional wall shelves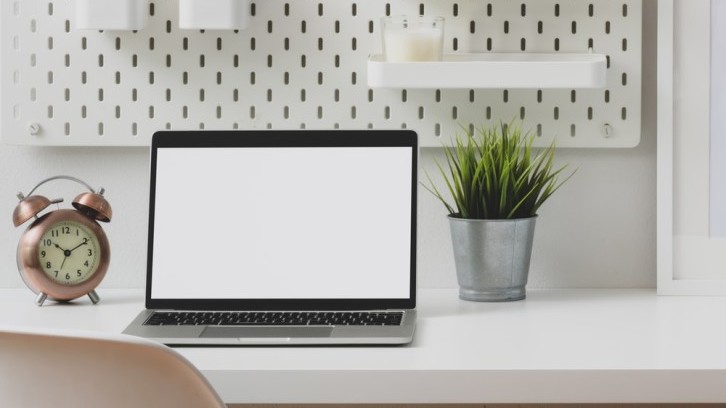 Everyone has their own ideas and inspiration for organizing their workspace. A minimalist desk with additional shelves and storage boxes can help organize your things. The key to a minimalist look is neat and clean. So if your stuff is scattered on the table and looks messy so it doesn't look good to look at, You can store it on the shelf.
The number of items on the table will also interfere with your comfort at work. Then, make your work area narrow. Then, to help with your belongings, additional space is needed, such as shelves and storage boxes. For your desk to remain roomy, the best solution is to attach it to the wall. Don't forget to choose a strong material. So the shelf doesn't fall. That way, your home interior design looks beautiful.
Minimalist work desk desktop mode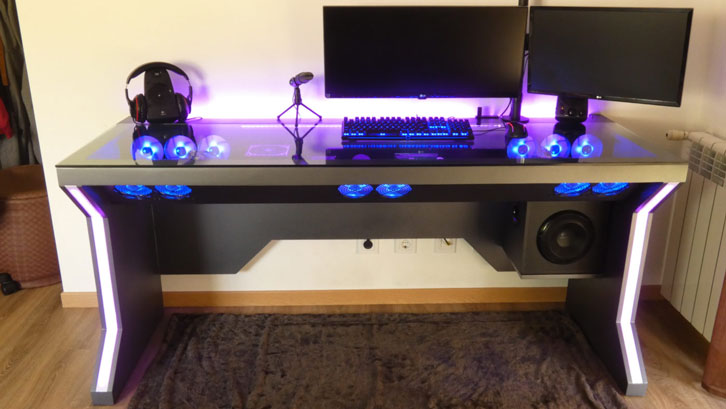 The last desk design is a minimalist desk with a mod desktop design. This table has a large space at the bottom without additional drawers. This type of minimalist desk allows your feet to move freely and set a comfortable position while working. This minimalist work desk is suitable to be placed in any part of the house, such as a bed, living room, and more. This minimalist desk also doesn't take up much space because it's usually not too big. By placing a desk like this, your room looks more attractive.
4. Conclusion
Those are the desk models we can recommend to make you more enthusiastic about organizing your workspace in your home. We hope one of the designs we reviewed above will suit your taste. Then, make your work enthusiasm and productivity increase. Hopefully, our review can make your home interior design look aesthetic, beautiful, comfortable, and attractive. Then, make you successful. Happy decorating!