1. Overview of Scandinavian home interiors
Now many people apply Scandinavian home designs to their homes. Scandinavian homes generally promote interior designs that are minimalist and neat, with lots of roomy space, and have lots of natural light. This building or architectural style can be found in Northern European countries, such as Sweden, Norway, and Denmark. If you are interested in adopting the Scandinavian house style for your residence in Indonesia, you can use our review as your inspiration.
Many people like the Scandinavian design because it has the characteristics of the typical Nordic building design. This design combines the structure with the surrounding environment. Then, in Scandinavian interior design, you can find lots of decorations using wood materials. Therefore, let's review the ideas and designs below!
2. Idea and design
The idea and design of a Scandinavian-style house are popular with a concept that blends with nature and is very suitable for a home environment where the climate changes and also seems modern. So it is in great demand by many people to be used as a comfortable and safe future residence.
This Scandinavian design looks very simple and minimalist and has characteristics. This house is usually combined with colors that are simpler, neutral, and not so flashy. The colors are white, light brown, and gray. Therefore, this home style is suitable for residents who have minimalist tastes but are multi-functional so that residents will feel comfortable in the house.
In addition, every design in this house concept is more dominantly simple and roomy because it takes into account the comfort of the occupants, especially families who have children who like to play. Therefore, the Scandinavian home concept pays close attention to natural resources and uses them for other functions. So this type of house is perfect for those of you who have a family.
3. Some interesting design examples
In this review, we want to share ideas to provide some examples of beautiful Scandinavian home interior designs. We hope that our reviews below are to your taste and can be useful for you and your family. Then, make the interior design of your home look aesthetic and attractive. Therefore, we will review from the front to the back of the house. Welcome to our review!
Simple building facade
Lena B. Keilegavlen, the architect from Cubus, said the facade of the Nordic house building is made simple. As far as we know, most Scandinavian homes have located near mountains, the climate is humid, and there is not much exposure to sunlight.
As a result, the front of the building becomes vulnerable to the growth of moss and fungus. Therefore, the facade of a Scandinavian house must be smooth and hard so that it does not grow mold and is easy to clean.
For that, you can use a typical Nordic building facade for occupancy that is not too large. It makes it easy to clean parts of the building and accentuates the Scandinavian characteristics of the dwelling.
Scandinavian style terrace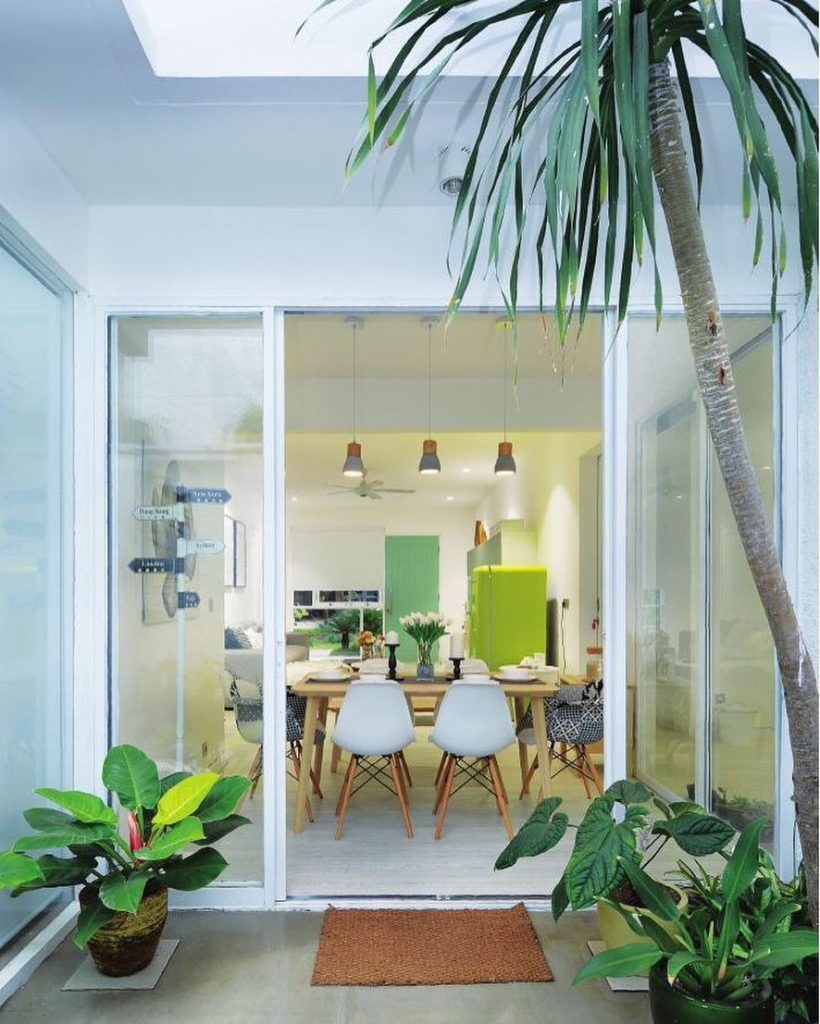 The garden is an important part of the house whose design will affect the overall appearance of the house. An attractive garden design will leave a positive impression on anyone who sees it.
The garden model reflects the character of the homeowner. Therefore, as a homeowner, you must be able to decorate and arrange the terrace properly. So it looks beautiful and charming. To appear more attractive, you can put ornamental plants, palm trees, and decorative lights. That way, your garden design will make everyone who looks happy.
Scandinavian design terrace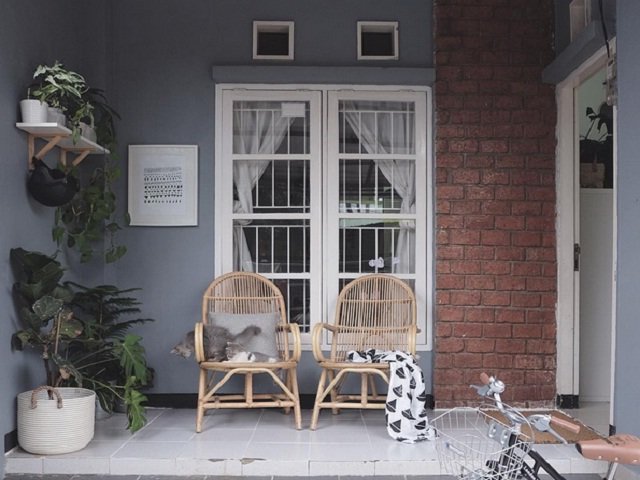 One of the attractions of Scandinavian design is the use of dark and natural colors. The combination of gray wall paint with a combination of wood elements will give a statement on the terrace of the house. To beautify the terrace, you can also take advantage of the concise and beautiful Scandinavian-style furniture.
A house terrace that has a Scandinavian design style is perfect for those of you who want to have a house with a simple look. One of the hallmarks of a Scandinavian-style terrace is simple, minimalist, and neat. Therefore, if you want to arrange furniture in a Scandinavian style, it is better if it is adjusted to the design concept of the house to make it more beautiful. That way, your terrace design will look more fashionable. Then, you can sit comfortably on the terrace while chatting with your family.
Living room with large windows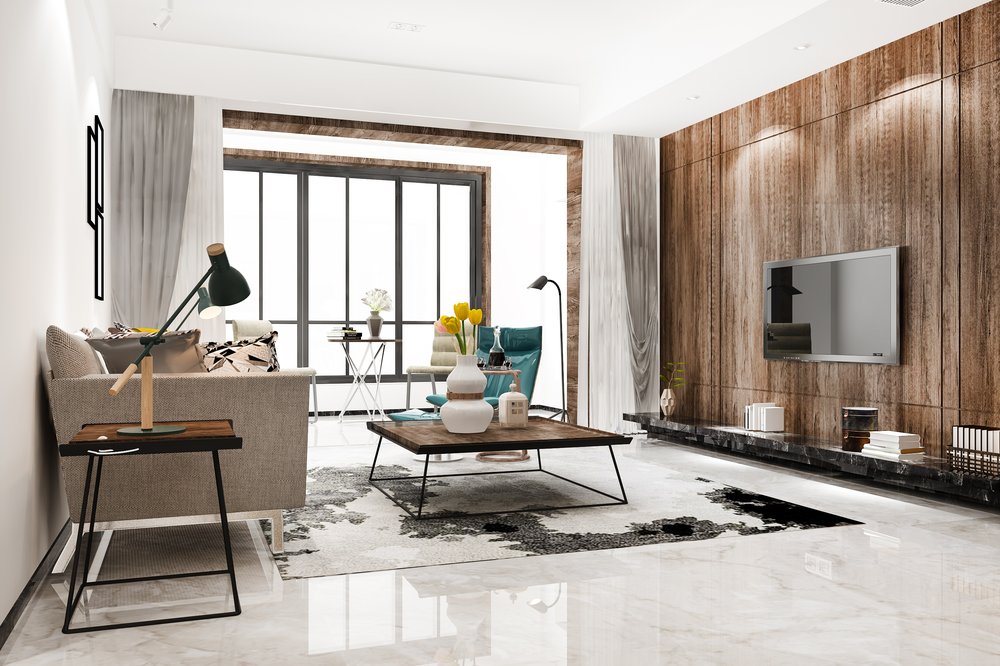 Many people choose Scandinavian designs because they are not complicated. If you see the Nordic house buildings have big, tall, and spacious windows. The purpose of large windows is to allow sunlight easily enter the room. Then, you can enjoy views of nature, plants, or trees from inside the house.
To make your living room look more attractive, you can decorate it with a beautiful sofa set in bright colors, a coffee table for drinks, decorative lamps, a television, a wooden corner table, and antique knick-knacks. With this arrangement, the living room design will look aesthetic.
The furniture is made of comfortable materials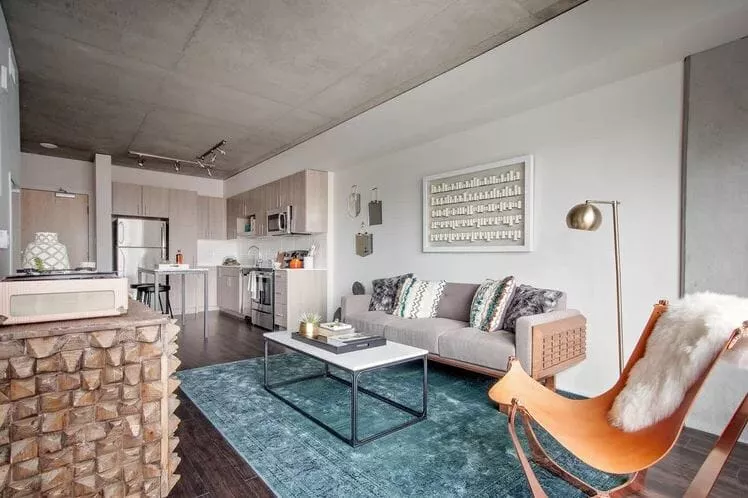 Nordic countries generally have low to freezing temperatures. Therefore, the furniture there uses comfortable materials or textiles, such as blankets made of wool. However, to adjust to the hot temperatures in Indonesia, use pillowcases or cotton blankets that can absorb sweat.
Do not forget, so that the Scandinavian design remains visible, use functional home furnishings and have a high artistic taste. Then, you can combine this design with decorative lamps, wall paintings, motif sofa cushions, and antique knick-knacks. That way, your living room design will look beautiful and fun.
Decoration in a simple style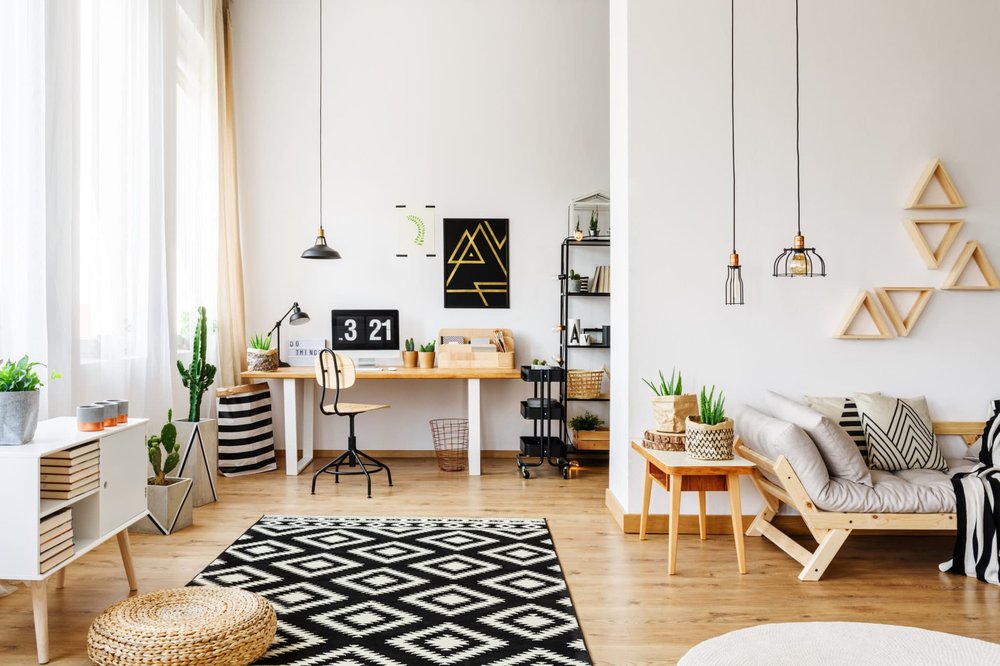 This Scandinavian living room design is more inclined to use Nordic-style motifs or home decoration patterns, which still carry a simple style. Straight-line motifs and simple geometric patterns are suitable for accentuating the impression of a comfortable and artsy home to your home. T
Then, to make it look more attractive, this living room is equipped with unique hanging lamps, mini buffets, black and white patterned carpets, wooden knick-knacks, and wall hangings. To not look monotonous, in the corner of the room is given a cactus plant. With this arrangement, the living room design looks exotic.
Multifunctional kitchen furniture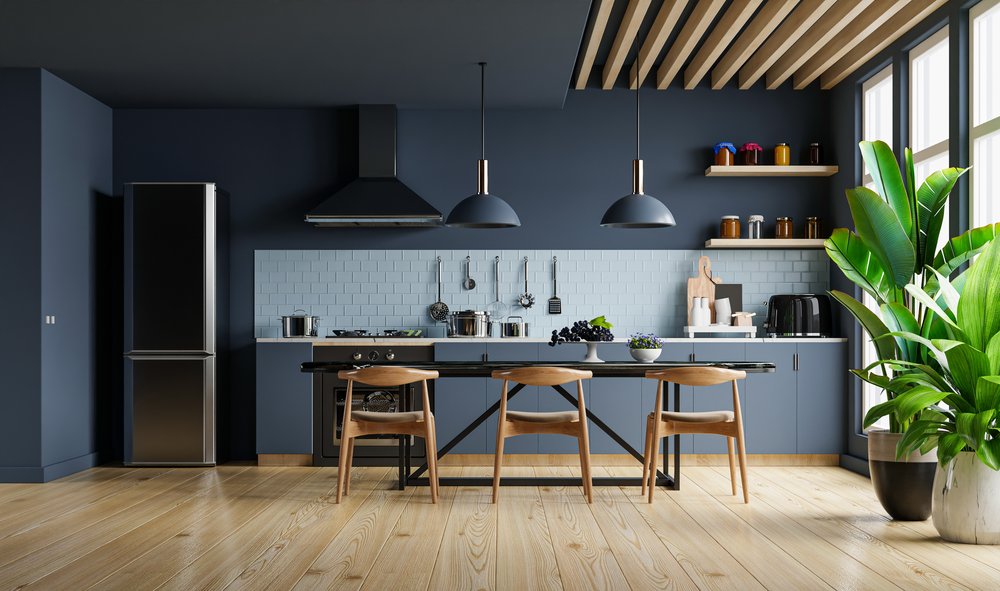 This multifunctional kitchen design doesn't have too many decorations or furniture. However, this Scandinavian-style kitchen design has multifunctional furniture. The furniture aims to minimize piles of items that can make a room feel cramped. Besides that, it can save space, such as uniting a set dining table with the kitchen.
Then, in this place, you can highlight furniture that is simple and modern but functional, such as for lighting decorations. In addition, you can use a chandelier made of dope-colored ceramic, paper, or woven. Besides illuminating the house, this type of lamp is a display or artwork displayed in the house. For the design of the kitchen set, you should make it in a color that matches the wall. Don't forget to add ornamental plants. So the room feels fresher. That way, the kitchen design, and dining room design will feel more comfortable.
Organize a relaxing room with natural materials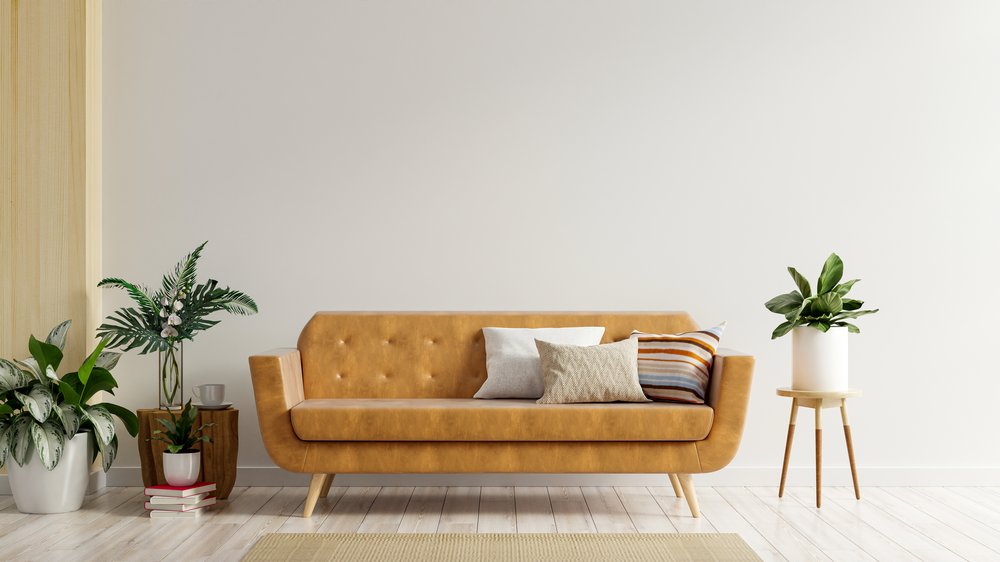 Although the design of this lounge room emphasizes a minimalist concept, it doesn't mean that the interior or furniture in a Scandinavian-style house has to be stiff. You can use furniture, such as tables and chairs. Not only that, but you can also use a sofa made of leather.
Natural materials such as wood and leather go hand in hand with the Scandinavian home decor style. The rustic look of wood grain on the dining table or the texture of the leather on the sofa make the décor of the relaxing room even more attractive. To make it look more harmonious, you can combine it with ornamental plants placed in pretty pots and small round benches and add a patterned floor rug with a color that matches the sofa. With this arrangement, your relaxing room will fee
Design with white color and wooden floor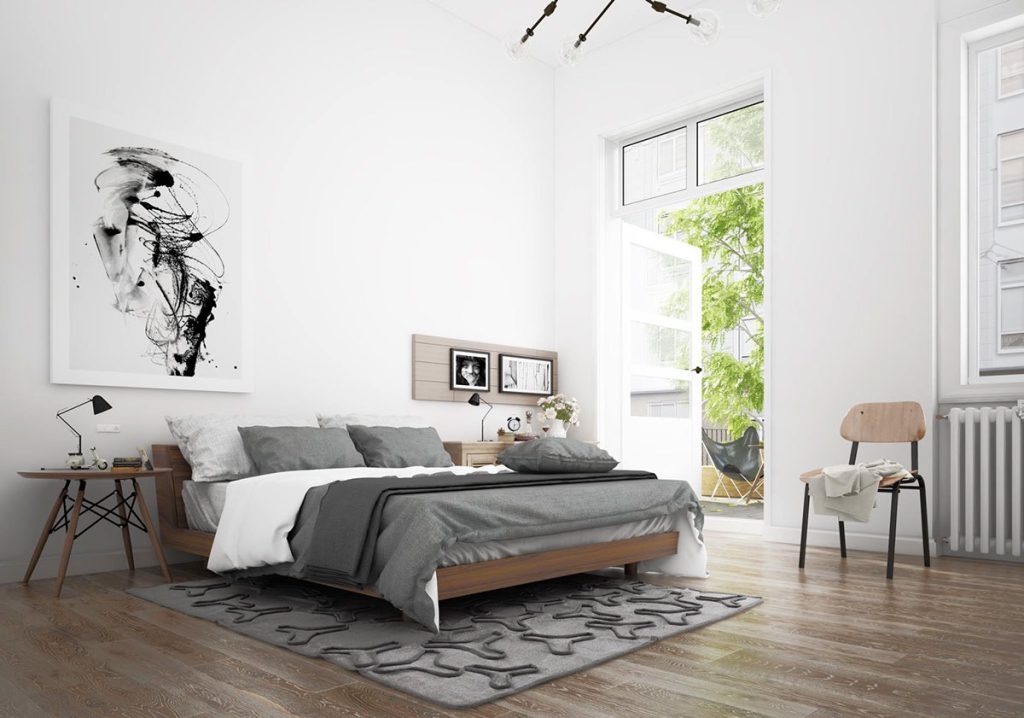 Scandinavian design is not just about something simple and elegant. The Scandinavian concept is the ability to make something simple look extraordinary and beautiful. Therefore, many people are interested in this design. Until now, Scandinavian minimalist homes have become one of the styles that are in great demand in the property business.
One of the most frequently styled rooms in Scandinavian style is the bedroom. As you can see, this bedroom is dominated by white and wooden floors. So it looks beautiful. This completely simple design can make a tiny bedroom look fashionable. As you can see in the picture above, this design is perfect for those of you who are minimalist in spirit. To feel more comfortable, choose a wooden bed with soft foam, and soft pillows. So that it doesn't look monotonous, add decorations such as wall paintings, decorative lights, floor rugs, round tables, and chairs. That way, the bedroom design will look elegant.
Artistic Scandinavian-style children's bedroom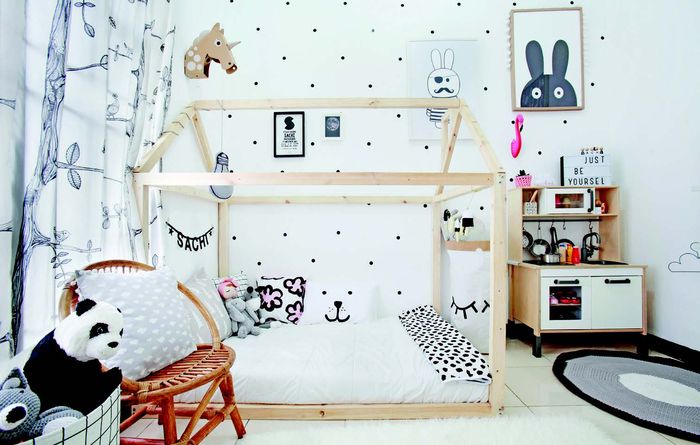 This interior appearance of the Scandinavian style is able to make the room seem spacious and clean. Even though it only applies neutral colors, Scandinavian is able to make a space look beautiful and trendy, and playful. What's more, the presence of qualified natural lighting makes this style suitable for occupancy with a limited size.
Not only applied to public spaces, but the Scandinavian style also adorns private areas, say bedrooms, both master's and children's bedrooms. This room design uses a wooden frame as the bed. Not only as a bedroom, but this children's room is also present as a space for them to play.
This room is not very large. However, with that size, the owner can design a playroom and study room for them. The bed frame is made of Dutch teak wood which is finished in natural colors and looks beautiful and elegant. So that it doesn't look monotonous, don't forget to add decorative elements to the wall area, such as placing children's themed artwork or stickers in the form of certain patterns. That way, this bedroom design looks artistic.
Arrangement with wood and round mirror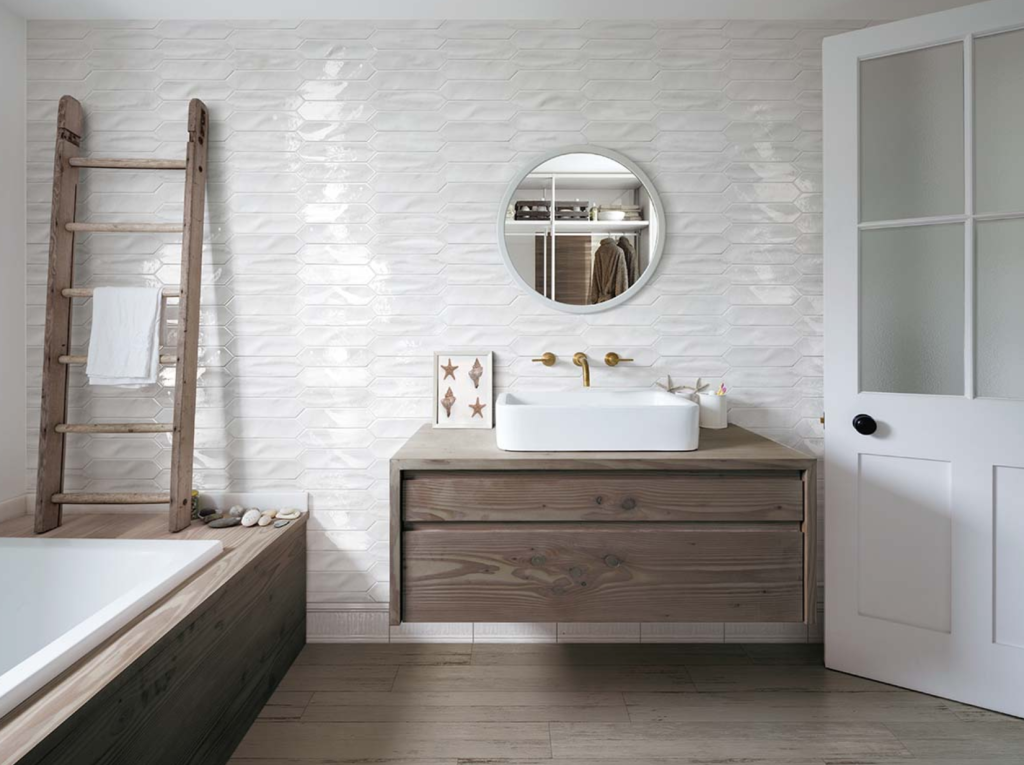 The concept of a Scandinavian-style bathroom fits perfectly with wood materials. This design is widely used in eastern European countries. The appearance of the wood looks more natural and seems friendly. So you make it look comfortable and relaxed. To make it look more fashionable, combine a wooden theme with white wall paint, a round mirror, and a white sink. The results can be seen in the example image above.
As we know, mirrors in the bathroom really help dress up. But don't use a regular mirror. You can use a round oval mirror in the Scandinavian bathroom style to make it look more aesthetic. Try to choose the right mirror model so that your Scandinavian-style bathroom feels comfortable. Then, you will feel at home in your bathroom.
4. Conclusion
Those are some of the Scandinavian-style interior designs that we can refer to. If you are interested, you can select one of the sample designs we reviewed. However, if you don't want to bother, you can order the design from the home decorator so that the results are according to your taste. We hope our reviews can make your home interior design look aesthetically, pleasing, beautiful, attractive, and comfortable. Then, make you and your family even happier. Happy decorating!