1. Overview of the workspace
Working from home will be very enjoyable if you have a comfortable workspace. By creating a comfortable workspace, routine tasks that are delayed can be done from home. According to research, working from home can increase productivity because you can work comfortably and relax.
Therefore, the role of the workspace at home is very much needed. However, what if the availability of space is not sufficient? Especially for those of you who live in a small comfortable house or a minimalist rented house, this article will help you create and organize a comfortable workspace design in your home. For that, let's review tips on arranging a comfortable workspace.
2. Tips for arranging the right workspace
Houses with limited sizes often pose a dilemma, especially when you want to create a workspace. Sometimes, you have to change the look of a living room filled with a large sofa into a sleek minimalist sofa.
Therefore you can take advantage of the corner of the house for a workspace. The trick is to add a folding table that is flexible and multipurpose. Then, don't place the workspace between the dining room and the family room because This can interfere with your concentration while doing work. The best way is to be in a strategic place and away from the noise. The solution is you can place a workspace in a safe place. That way, your concentration while doing work will not be disturbed because you can close your bedroom door.
3. Some examples of interesting designs
A comfortable workspace design can make you more focused on doing your pending office work. But to design it, you must adjust to the situation in your home. Therefore, we would like to provide a review of how to create a workspace that can support your daily activities. For that, let's discuss some examples of workspace designs below. Hopefully, one of the designs below fits your ideas and inspiration. Welcome to our review!
Simple design
The design of this workspace looks simple but comfortable. Arranging a workspace in a small house with a beautiful appearance turns out to be effective in raising mood and creativity at work. Therefore, you can decorate the room with warm and harmonious colors using wall paint, knick-knacks, and other ornaments.
Then, to look attractive, complete your workspace with tables, chairs, ornamental plants, and mirrors. To make the atmosphere warmer, add floor rugs and round corner tables. We hope this design can make you cheerful and increase your enthusiasm for work. Happy designing!
Pay attention to the lighting
A healthy workspace can motivate you to do better. Therefore, you can take advantage of the best lighting to make a positive impact on your eye health. Therefore, when arranging a workspace in a small house, avoid the type of lights that are too bright because they can tire your eyes quickly. But do not also use lighting that is too dim, because it will make you sleepy quickly.
Then, if you use a computer for work, you should use a white light because the yellow light will sting the eyes when facing the computer screen for too long. Therefore, access to sunlight is also more important but choose a work desk position that does not direct the sun. That way, the design of your work desk feels more comfortable. Don't forget to add ornamental plants in pots to make your eyes feel fresh.
Choose versatile furniture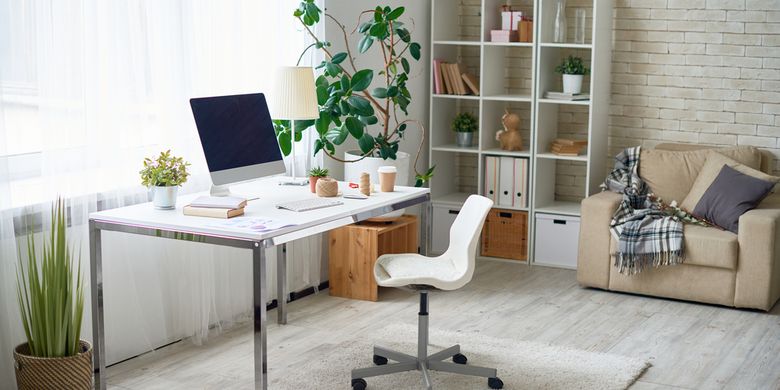 An aesthetic home design is everyone's dream. Therefore, complete your home with an attractive workspace. That way, you can spend a long time in your workspace. To make you feel at home, choose furniture that makes you feel comfortable. Then, use a chair that supports your back well. For the table, also make sure the height is following your posture. If necessary, you can add a single sofa for you to rest when you feel tired.
Don't put too many cabinets under the table, leaving enough room for your legs to stretch out. If you want to use a storage cupboard, place it in the corner of the room to save space. Then, add some ornamental plants to make your workspace feel comfortable and fresh. By designing the right workspace, working at home will be fun without being disturbed by other family members.
Creative storage on the table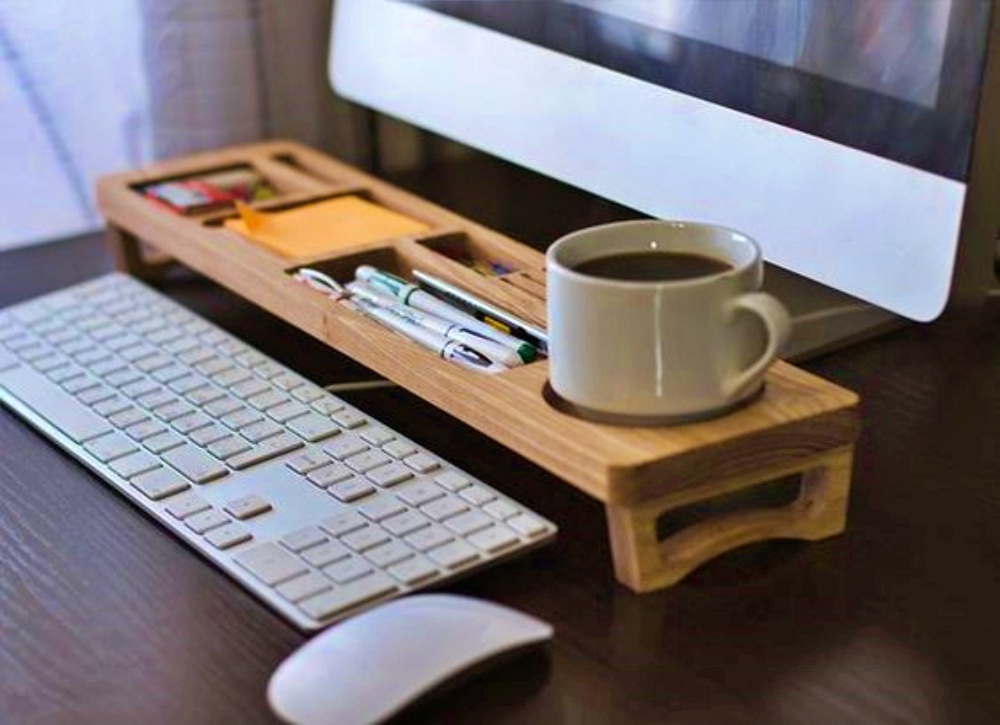 A neatly arranged work desk can provide a good work spirit. Therefore, a well-organized workspace will help you stay focused. You must know, there are many creative ways that you can do your job with passion. The trick, you can use jars as pencil and pen containers and wine racks as extra storage space.
In addition, you can also prepare facilities to put the glass on the table so when you need a drink, you don't have to leave your desk. Then, arrange it neatly so as not to interfere with your activities on the table. That way, your workspace looks more attractive.
Utilizing the corner of the room for a workspace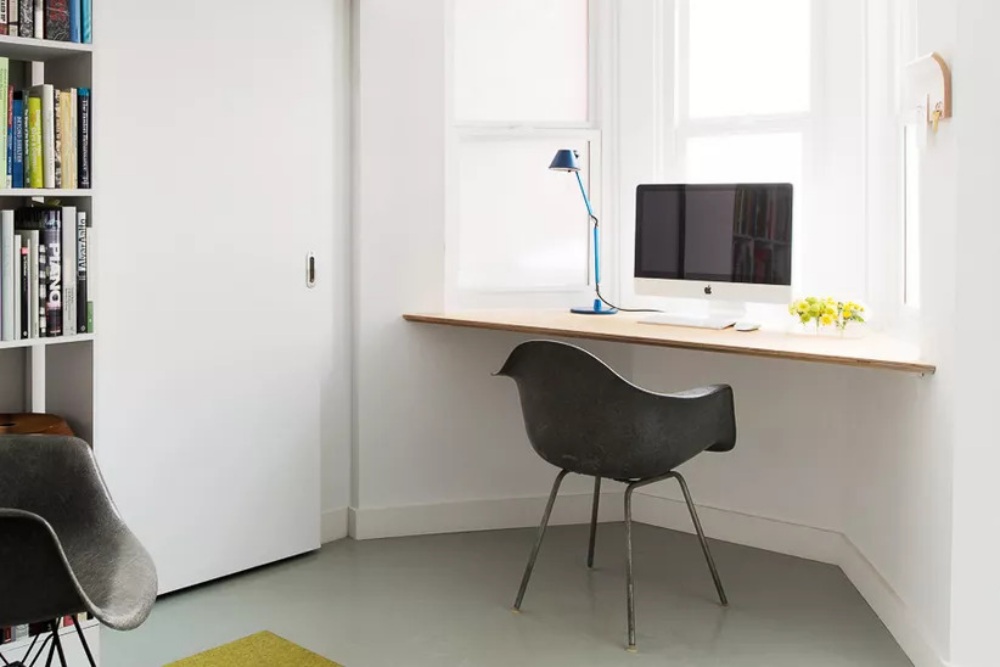 Having a minimalist home design is indeed a favorite among young people. However, a minimalist design house has a limited size. Therefore, to design a workspace you must consider a strategic location so that your work concentration is not disturbed.
In addition, many people ignore the corner of the room, for example, the area near the window. If you want to create a workspace in a small house, you can use this area as a safe place. This way, you don't have to renovate it. You can take advantage of this kind of corner of the house to be the right choice.
Then, to make it, you only need to add a sticky table or folding table in the corner of the room. Then, choose a comfortable slim chair so it can be used for a long time. To keep it looking neat, arrange the cables in such a way that they are not messy and interfere with the view. That way, your home interior design will look aesthetic.
Use a wardrobe to become a work desk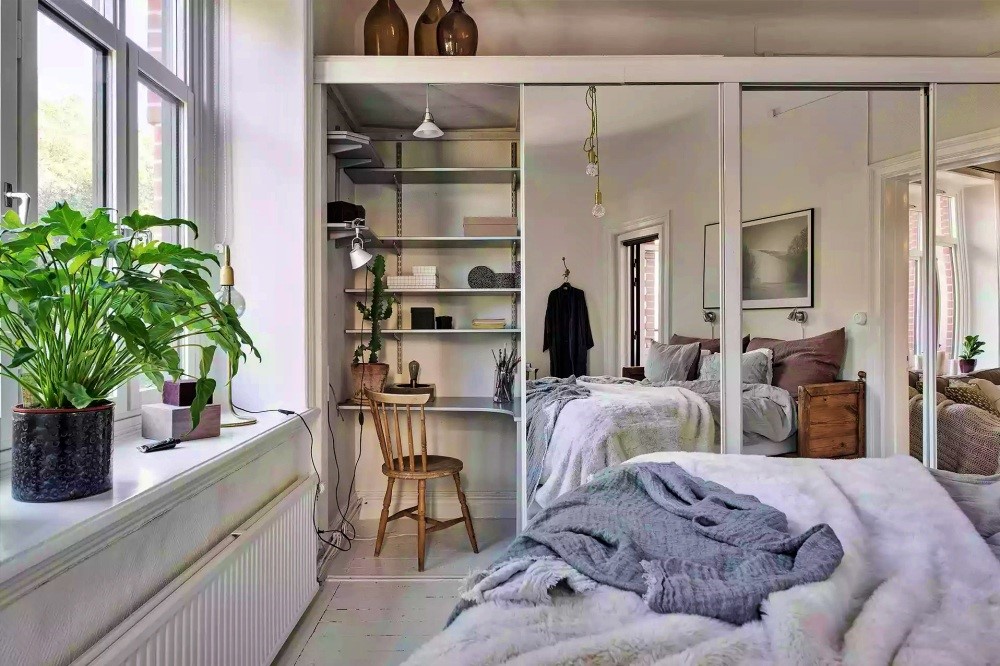 If you have wooden shelving equipment, you don't need to bother creating a work desk. Therefore, you can use the wardrobe rack as a functional work area. The trick you can modify the wardrobe by removing the shelf, then arranging a multilevel work table that can function as a storage shelf. Then, put a minimalist wooden chair and chandelier to make it look perfect. Also, cover this area with a sliding door when not in use. That way, your bedroom design will look aesthetic and attractive.
Workspace ideas in the bedroom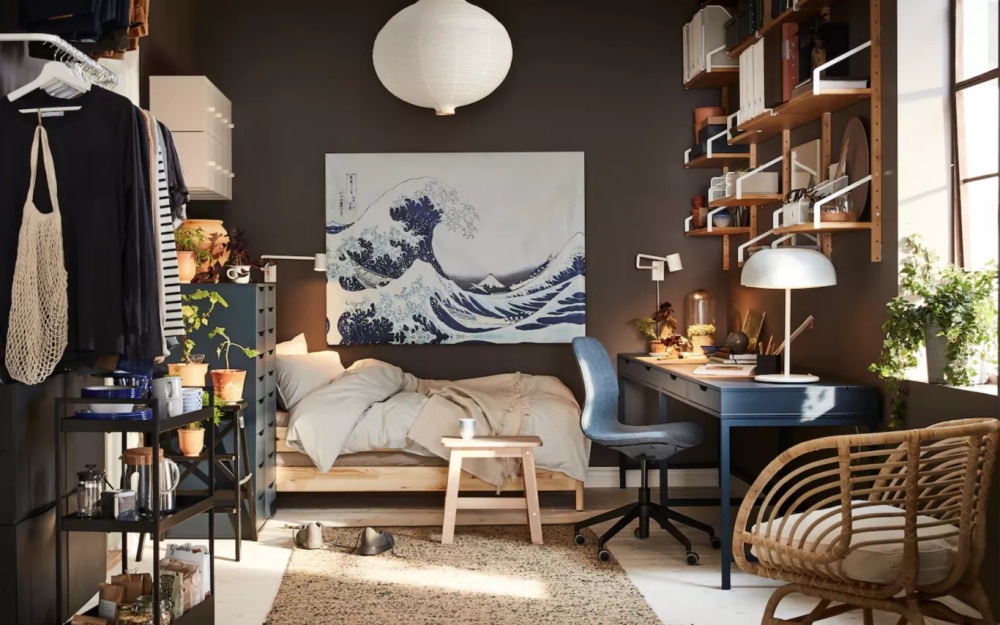 If you want to work quietly, you can decorate your minimalist bedroom into a comfortable and quiet work area. If the bed position takes up too much space, replace or change its position to the corner of the wall so that the room looks more spacious, neat, and comfortable.
Then, to look more attractive, you should choose a type of work desk with a slim, so that the bedroom still looks more spacious and not messy. Then, also pay attention to the color of the wall paint with the furniture. To make your bedroom design feel more comfortable, add decorative lights above the work table, hanging decorative lights, wooden wall shelves to place knick-knacks, floor rugs, wooden racks to store documents, wall hangings, rattan chairs for you to relax, and some ornamental plant pots.
Small work area in the dining room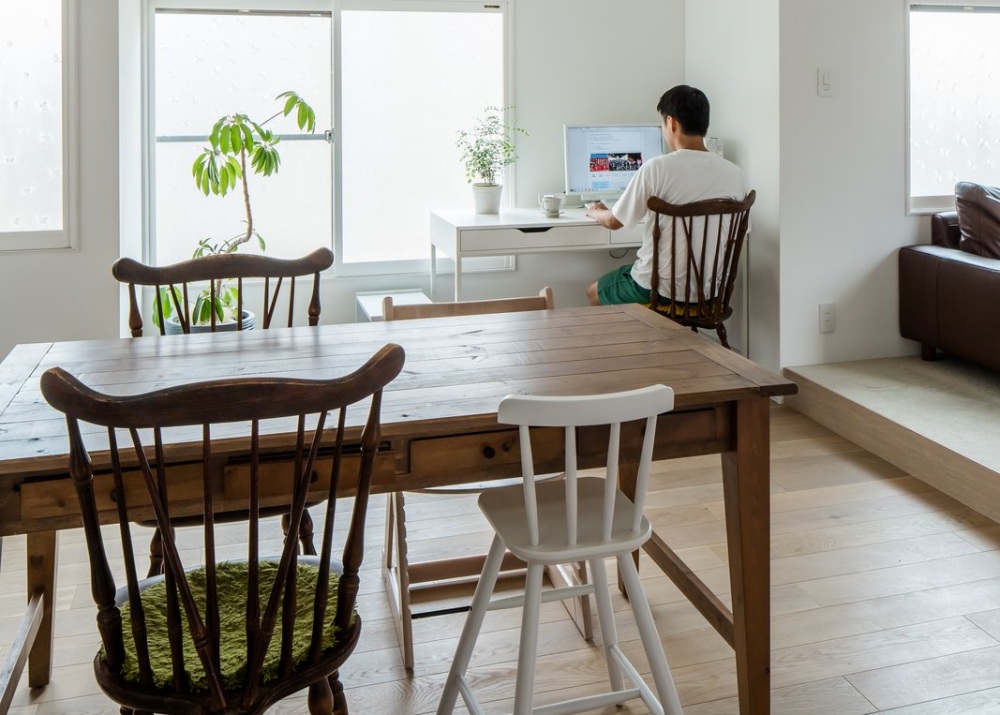 The interior of a luxurious minimalist house that is complete, is usually supported by all the facilities for activities. Although it has a limited size, with a touch of decoration and supporting equipment, it will make the area look comfortable as a workspace.
Then, to look more attractive, you can place a work desk in the corner of the dining room. Then, face your desk against the wall near the window. With the entry of sunlight, your work desk will be bright so you don't need a lamp during the day. Then, don't forget to place ornamental plants so that your eyes feel fresh looking at them.
Decorating the workspace under the stairs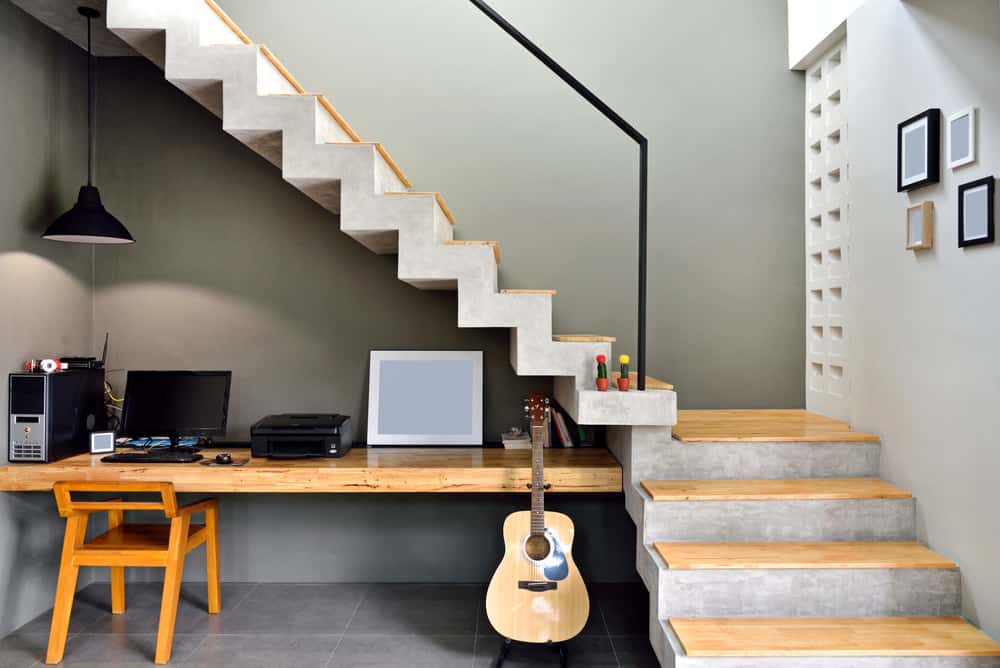 As you know, many minimalist luxury homes are equipped with special areas to support all activities, one of which is under the stairs. Although its size is limited, with a touch of decoration and supporting equipment, it can make the area look comfortable as a workspace.
To create a comfortable workspace, you can choose a wall-mounted table and a functional desk to be used as a work desk. Then, add a comfortable chair so you can work longer hours. For lighting, install decorative lights hanging on the ceiling under the stairs. In this way, the design of the space under your stairs will look more attractive. Happy decorating!
Turning a warehouse into a workspace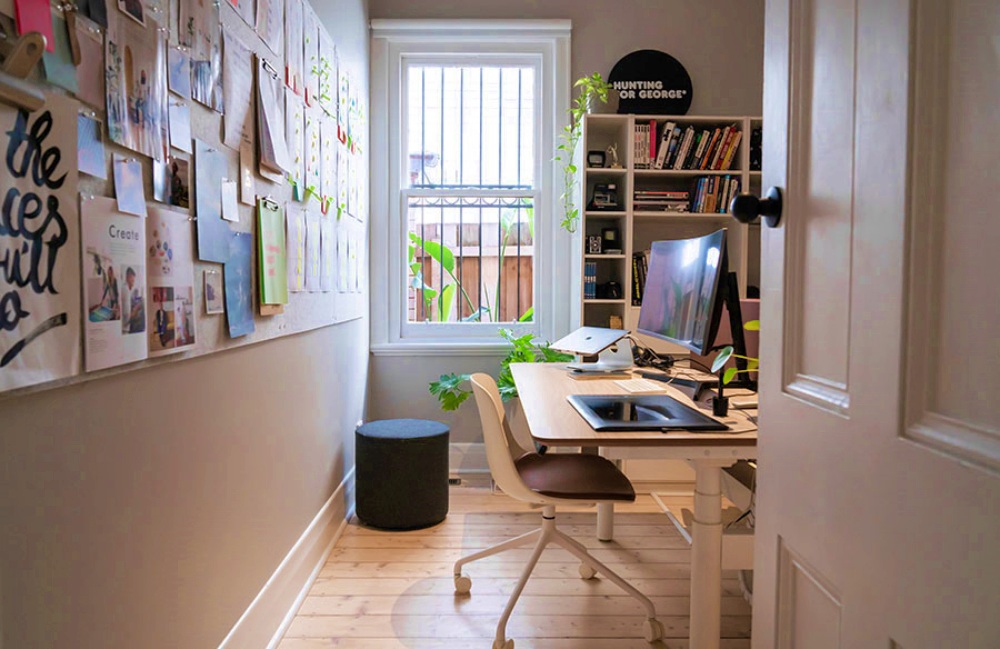 If you have a minimalist home warehouse design, you can turn it into an aesthetically beautiful workspace. If you want to organize it into a beautiful and comfortable workspace, you don't need to spend a budget to renovate it. To design it to look like a workspace, you can put a work desk, chairs, wall hangings, and shelves to put documents. With this arrangement, your warehouse turns into a beautiful and charming workspace interior. Hopefully, this design can be an inspiration for you.
Choose a safe and convenient location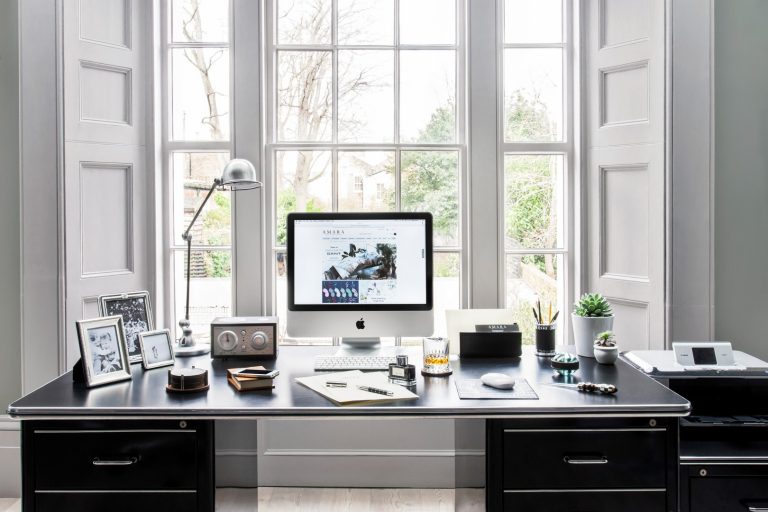 Workspaces at home can come in various shapes and sizes, including placement in different locations. The best way to choose the most ideal location for your home workspace is to adjust it to your personal needs.
A strategic workspace at home will not be too far from the window. or if you have to receive guests, try the position of the workspace that is not in the living room. On the other hand, for those who need peace, the home office is more suitable to face the scenery so that you don't get bored and comfortable. That way, your morale will increase.
Choosing the right furniture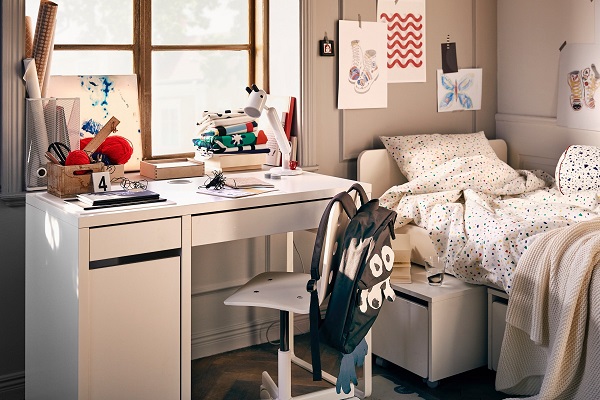 Choosing workspace furniture at home is very important. Therefore, you can choose a table that is enough to accommodate all work equipment and also leave enough area for writing activities.
The minimum ideal size for a work desk is 120 -150 cm, while the height for a workbench can be set at around 70-75 cm, according to needs. In addition, for the workspace at home, use an ergonomic office chair for the comfort and health of the neck and backbones. With this arrangement, your workspace can motivate you to work. Happy decorating!
Use of multifunctional workbench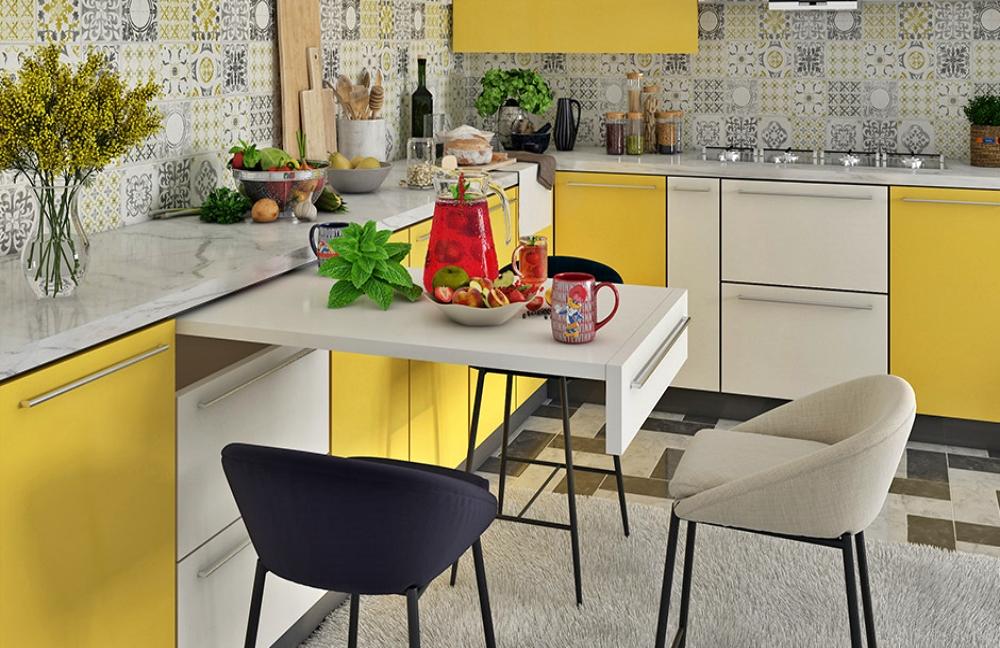 The design of this work desk does look unique. As you can see, this work table utilizes the storage side on the kitchen shelf. In general, this kind of workspace is in great demand by women. However, it will still require adequate storage area and wall shelves without many people knowing.
To feel more comfortable at work, you can place a comfortable chair so you can sit for a long time. Then design the placement according to the flow of work, the location of the workbench, and the most practical work access. In addition, make sure you can do your work with a concentration in a workspace like this. Good luck!
Take advantage of the sun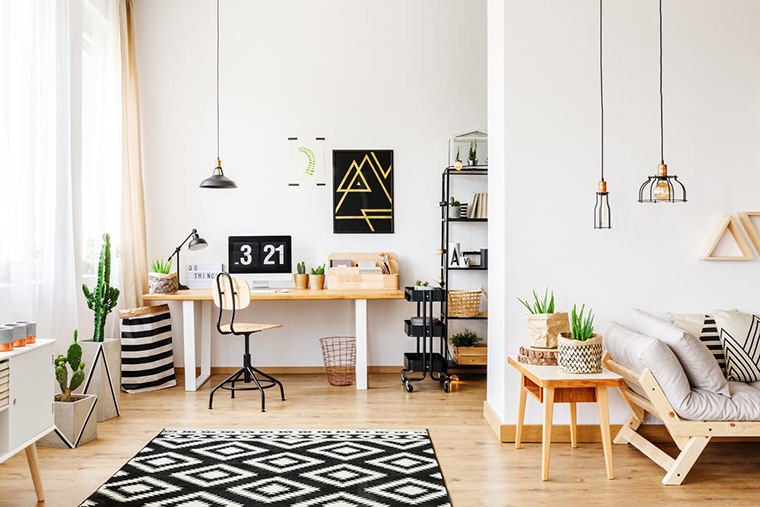 A healthy workspace should be able to receive sunlight during the day. Therefore, try to choose a workspace at home with natural lighting. So your productivity becomes highest. Then, This work desk and computer desk can be facing a window or in a location where the computer screen feels right without light reflections.
In addition, also use curtains or blinds to reduce the light that is too bright so that the atmosphere of the workspace at home is more comfortable. Then, try placing decorative lights, floor carpets, and paint color choices for your home office. This arrangement is expected to have an effect on your work productivity. Hopefully, this arrangement can make you more enthusiastic to complete your tasks.
Personalization and decoration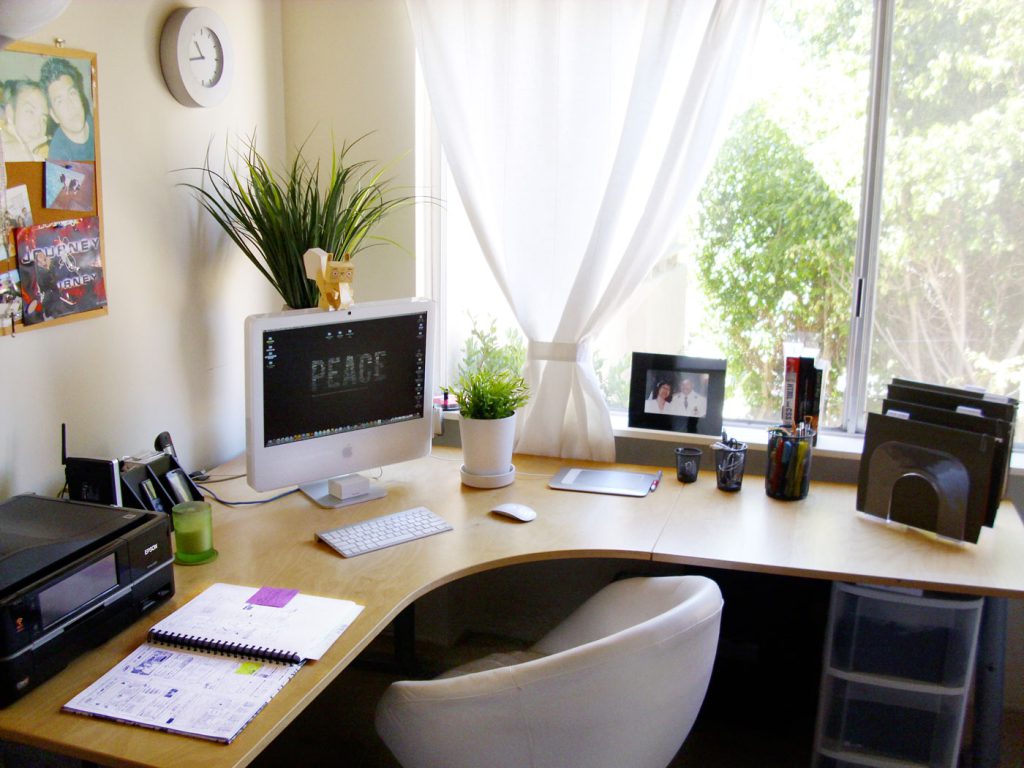 The last attractive workspace design is, adding personal elements to the workspace at home. This method is different from offices that you can't design according to your taste. Therefore, the opportunity to create a workspace at home that best reflects your personality and character is freer.
To look more attractive, make sure the decoration of the workspace you design can motivate you to work hard. Then, use a comfortable work desk, chair, and adequate work equipment. That way, personalizing and decorating your workspace can amaze everyone who sees it.
4. Conclusion
Those are some minimalist home workspace designs that we can explain. If you want to make it, you can choose a design that suits your taste. But to organize a workspace in a small house without renovation, you can take advantage of several areas in the house like in the above. We hope our review can make your home interior look elegant, aesthetic, beautiful, and comfortable. Hopefully, our article can use for you and can motivate your work. Happy decorating!