1. Overview of bohemian sofas
The bohemian model sofa is generally almost the same as the minimalist model. The most striking difference is that the bohemian sofa prefers bold color variations. such as materials from colorful fabrics and challenging models such as vintage models. This bohemian model is generally not bound by rules such as having to use bright colors and simple models. The bohemian style tends to be more free-flowing. Therefore many people like this style.
Besides that, your living room will also be the center of attention of many people when they enter your living room. With freedom of expression, you can mix colors as you wish. That way, the appearance of your living room design will look antique and unique.
2. The living room design is important to you
As we know, the living room is very important because this room is where you talk with your guests. Therefore, this place must be designed perfectly so that your guests feel at home and comfortable when talking with you. Comfort is something that must be obtained when applying a decoration style in a room. However, achieving this comfort cannot be separated from the results of the style that is applied, whether it looks luxurious, minimalist, classic, or simple. Therefore, we would like to recommend a sofa style for the living room that matches your home decor.
3. Choose a bohemian-style design
If you like the style of freedom, openness, and challenge, you can apply a sofa design with a boho style to your living room. Boho style doesn't make you dizzy because you can adjust it according to your taste. Then, even this style prioritizes colorful colors on your sofa. With a bohemian-style sofa, your living room will feel warmer. To appear more attractive, you can add antique knick-knacks to make your sofa look cooler. Then, you can add plants so it doesn't look monotonous. In addition, a variety of motifs and bright colors make your boho sofa look different. For that, let's discuss some boho sofa designs that you can emulate. Welcome to our review!
The "boho-chic" bohemian couch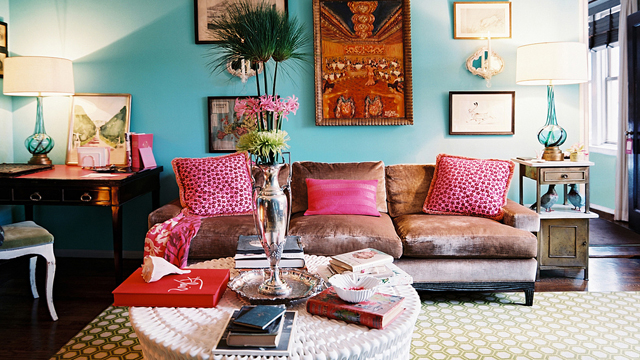 The use of bold colors and various patterns and textures only exists in a bohemian-style room. A pleasant mix of warm and cool colors is always a good thing to form a welcoming and friendly room.
To make it look more interesting, use unconventional decorating strategies such as arranging a bohemian-style sofa. so that the interior of your living room looks aesthetic. Then, use gallery wall wallpapers which can help create a lively bohemian room. To not look monotonous, you can add wall paintings, interesting knick-knacks, and ornamental plants. That way, your bohemian sofa design will feel more alive.
A bohemian sofa in a minimalist room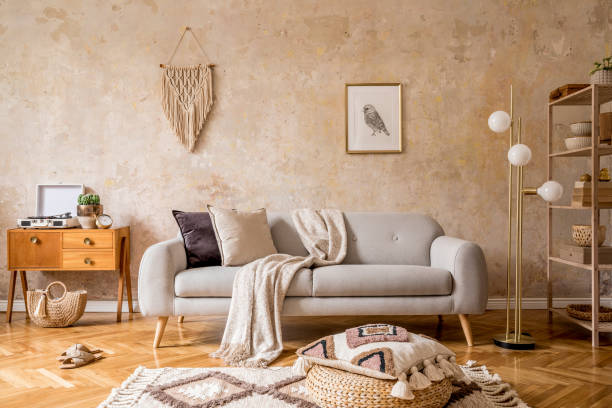 Minimalist living room interiors have indeed become fashionable in recent years. But, aren't you bored with this design? Therefore, for those of you who are thinking about changing the look of your home, you can put a bohemian-style sofa. so that way, your room looks different.
Bohemian style is a style that is close to nature. Bohemian style often incorporates natural elements into room decor. We can find this from the use of live plants placed in pots and presented indoors. In addition, the combination of colors and various kinds of ornamental elements that are put together can add to the artistic value of the living room arrangement. By combining all the elements above, the bohemian-style sofa in a minimalist living room will be even more alive. You only add decorative lights, vintage furniture, and bohemian-style knick-knacks. That way, your living room design will look elegant.
Beautiful and soft sofa set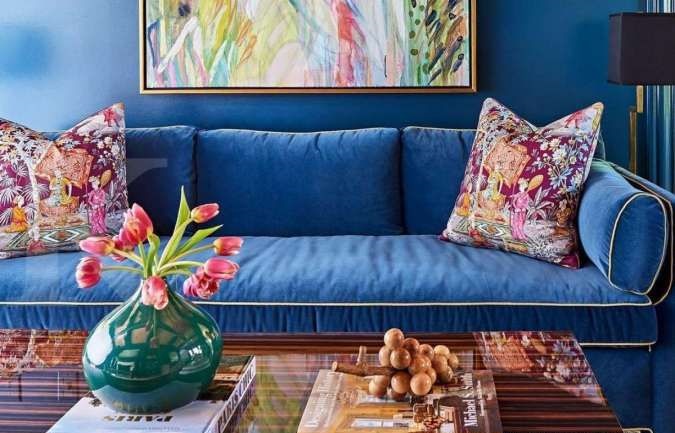 As far as we know, sofas can be used for 10-25 years but it all depends on the material used. Then, sitting relaxed on the sofa set is fun. Moreover, this one seat has equipped with soft cushions with attractive colors.
As we know, several habits cause sofa seats to be unsightly and boring and must replace immediately. In order not to happen like that, avoid using a sofa that is not in its function. Then, choose the color of the sofa set with a bohemian style that suits your taste. That way, you will feel comfortable and feel at home sitting on your favorite sofa. In addition, there are other ways, you can add antique knick-knacks, abstract paintings on the walls, and colorful bohemian-style rugs. In this way, your living room will be more attractive.
Sofa with vintage design
Bohemian Style Design Indeed, not many people know the details. Many people don't know how this design is applied to make the house look attractive and comfortable. However, the bohemian style is a style that is not bound by any rules and is free. But if you have a minimalist living room, placing a sofa in a bohemian style is the right choice.
Over time, the Bohemian style has developed into an attractive home decoration style. This concept is also very rich in the use of color and texture. Then, to create a relaxed and cheerful impression. If you want to find a definite character from the bohemian style, certainly, you will not be able to find it because this style is free to implement by anyone. Therefore, this style is more impressive with hippies and vintage styles.
Sofa set with motif exploration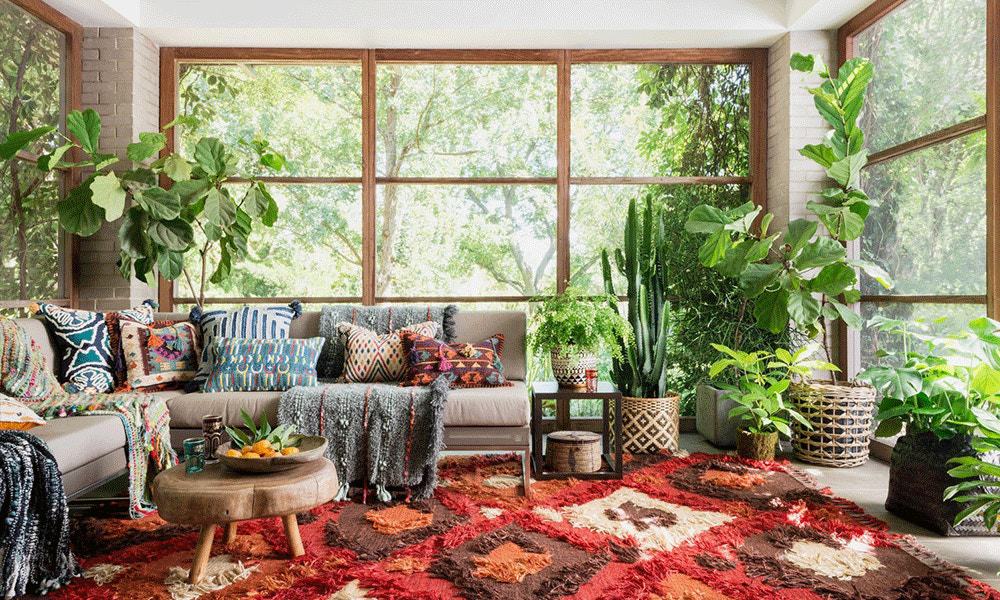 One of the main characteristics of the boho style is the textiles that are bold and colorful. Because they look very cultural. This material is usually applied to pillows, carpets, curtains, and upholstery. To make your sofa look more aesthetic and attractive, you can combine it with sofa cushions with colorful motifs.
The image above shows how the fabric looks contrasted and does not match the other fabrics. Usually, bohemian-style fabrics besides being colorful also have many different motifs. Therefore, to create a bohemian-style sofa set, you can combine it with these materials.
In addition, you can hang one of these fabrics on your wall as an unconventional work of art and signify the freedom to explore this design. Then, you can also see how the textures and bold colors are reflected in other interiors in the living room, such as decorative plant pots and vintage-style knick-knacks. That way, your living room design will feel comfortable with a bohemian-style sofa set.
Maximize the sofa set layout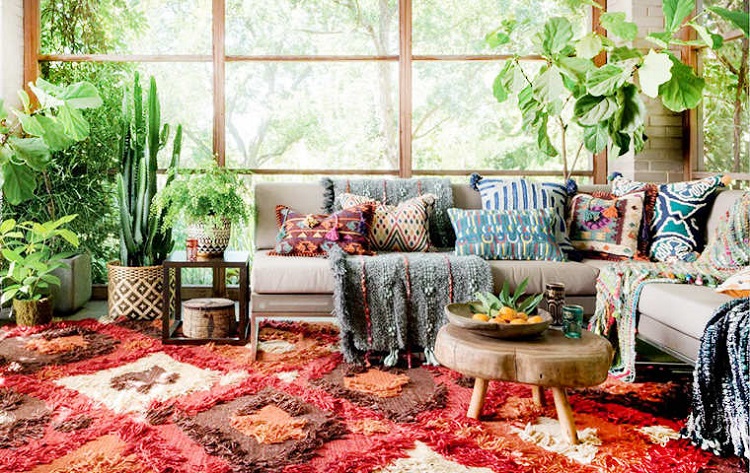 For you to know, the layout of the sofa set plays an important role in the bohemian-style living room. Then, use the carpet as a sweetener as well as a reinforcing accent to create an even stronger impression of a boho sofa set. Even though it gives the impression of being free and disorganized, it doesn't mean that the boho style is not neat but instead displays a different design.
A bright vintage sofa set is a type of furniture that is reasonable to use, utilizing several ornamental plants for living room decoration can create a fresh atmosphere. In addition, you can combine the sofa set with colorful materials attached to the sofa cushions. That way, a living room design like this further enlivens a natural atmosphere. Don't forget to add vintage-style knick-knacks and a classic wooden table.
Bohemian-style wooden sofa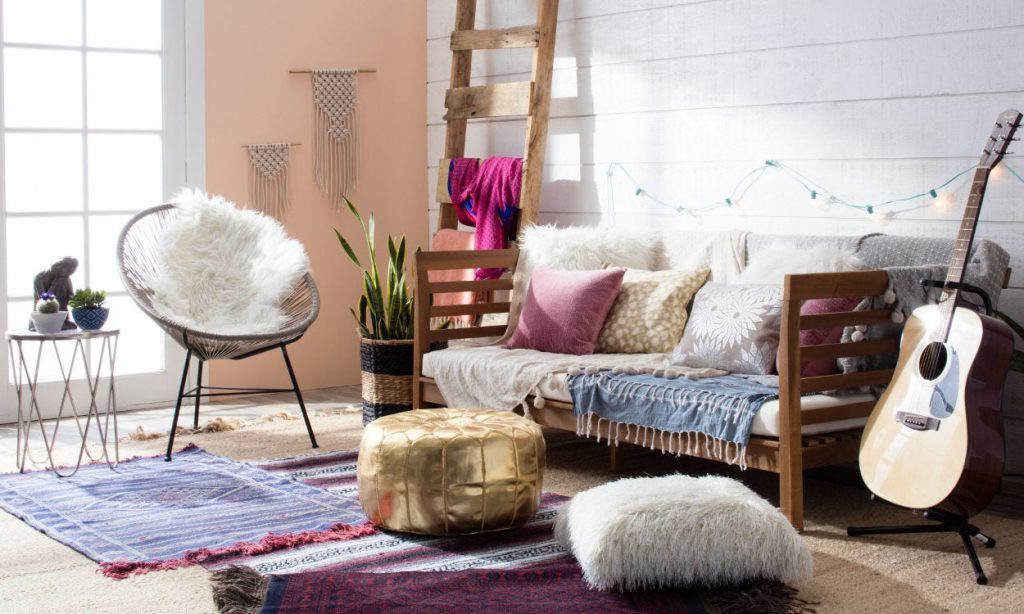 The bohemian-style wooden sofa itself has been around since ancient times. The wooden sofa originates from the lifestyle of the nomads or gypsies who live on a nomadic basis. At the time, they did not recognize soft sofas made of foam. For this reason, they made a sofa out of wood as a place for them to sit together. To make this wooden sofa more attractive, they use irregular colorful fabrics to decorate their wooden sofas,
The lifestyle of those who travel constantly is an important aspect of the bohemian lifestyle. Their life is very synonymous with a spontaneous lifestyle that utilizes existing objects. In addition, the bohemian style is also attached to irregular conditions, but they are identical to nomads, having a distinctive vintage or ethnic concept. If you want, complement the wooden sofa in your home, and add colorful fabrics to make your sofa a boho-style sofa. Add a patterned floor rug, ornamental plants, and antique knick-knacks. That way, your living room design will look stunning and unique.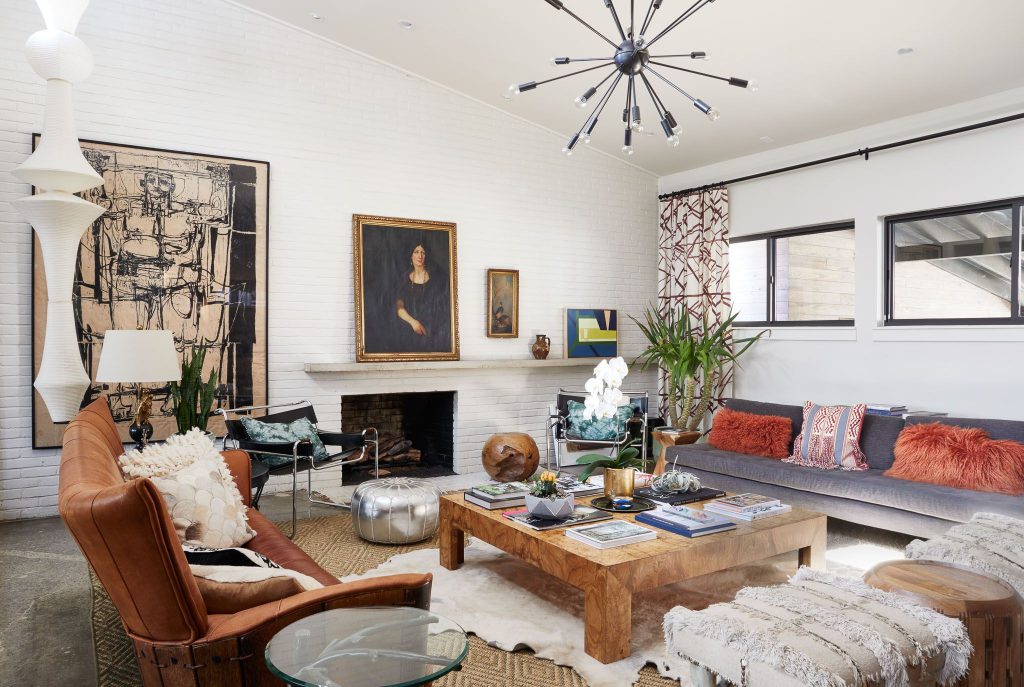 This sofa design in the living room looks plain. As explained above, this sofa can be made into a bohemian style with irregular conditions. In contrast to the minimalist interior style which has a clean and empty impression. However, this design style often combines colors and patterns that collide.
With the characteristics of a bohemian design, this sofa set can be made into a bohemian design. That way, the condition of the room that looks irregular eventually becomes the quirky, bohemian appeal. Then, to make the living room look beautiful and charming, you can add decorative pillows with a variety of unique ethnic patterns, abstract wall paintings, large photo frames, unique chandeliers, patterned floor rugs, wooden tables, and antique knick-knacks, and then ornamental plants. That way, your living room design will look contrasting impression.
Sofa design with a colliding color scheme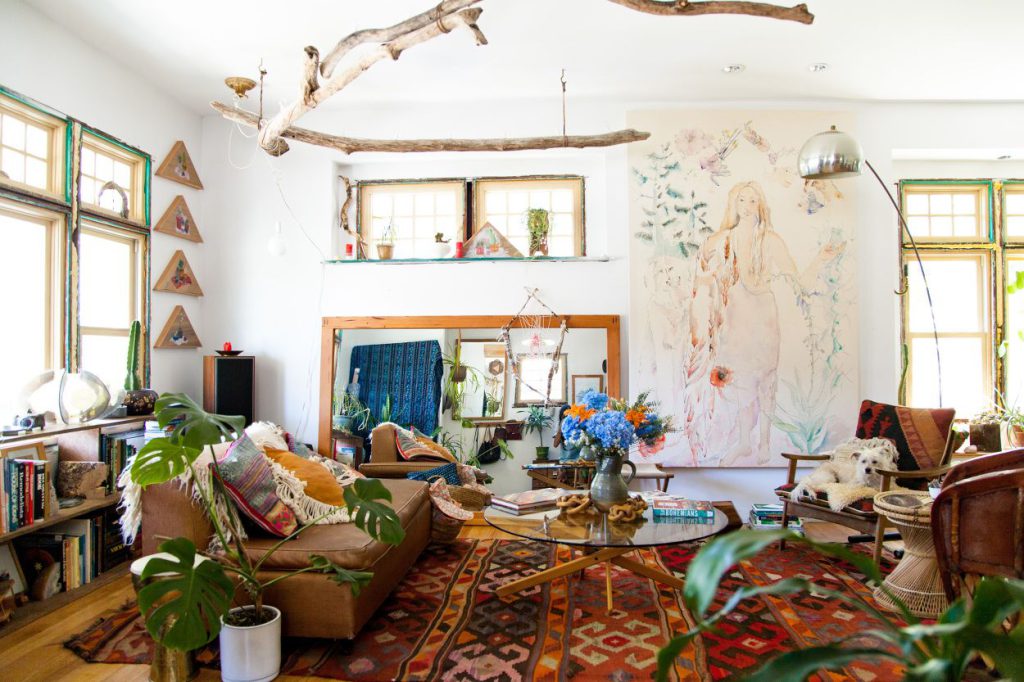 This sofa model in the living room is brown. With models like this, sofa sets cannot be classified as bohemian sofas. But with a bohemian style that is very thick with the use of color, the texture of this sofa becomes a bohemian style. So for those of you who have a sofa with bright colors, you can design your sofa to be a bohemian design. That way, the design of your living room that has a bright base color will carry over into a bohemian design.
Then, to make it look more attractive, don't forget to add vintage-style knick-knacks, decorative standing lamps, unique hanging decorative lamps, sofa cushions with colorful motifs, colorfully patterned floor rugs, wall paintings, decorative mirrors, and some useful ornamental plants for health. The bustling impression made by typical bohemians can make your living room design look different.
Sofa Design with artwork
We know, you always see art accessories exhibitions. This artwork is also one of the signature elements of a unique bohemian style. Artwork can be in the form of abstract paintings or framed photographs. As you can see, the sofa under the photo frame looks normal. Still, after being decorated with colorful sofa cushions and some vintage-style knick-knacks, this sofa becomes a bohemian style.
In addition, the bohemian style is often synonymous with natural elements in room decoration. We can find this from the use of ornamental plants placed in pots that are presented indoors. Then, to appear more attractive, you can add wall hangings, antique decorative lamps, wooden tables with iron frames, small round marble tables, and attractive floor rugs. With this arrangement, the sofa in the living room will turn into a bohemian style.
4. Conclusion
Those are some ways to make the sofa in your living room a bohemian style. After reading our review above, we hope you are interested in redecorating the sofa set in your living room in a bohemian style. Hopefully, our review above can make the interior of your home look aesthetic, beautiful, and comfortable. Then, our review can be useful for you and your family. Happy decorating!