1. Overview of teak buffet for living room
Having a beautiful home interior design is everyone's dream. There are many ways to change the house atmosphere to be more attractive. By decorating the interior and even replacing furniture with a more modern model. To make the room in your home look even more beautiful, we provide several models of wooden sideboards that you can consider.
By choosing furniture, of course, you can't just choose anything. You should not only look at it from the visual side, but also from its function or use. Because no matter how beautiful a piece of furniture is, it will still be redundant if it doesn't match what you need.
As we know, in the process of decorating a room, you have to pay attention to the balance between the interior and what wooden buffet furniture is suitable to be placed in the room. Do not let the two not have harmony, so the room's appearance will seem unsightly.
2. Definition of teak sideboard
The sideboard is one of the pieces of furniture that is usually used to complement the interior in several rooms of the house. Generally, the material that is often used to make a sideboard is wood. The basic form consists of a rectangular structure with a size that can be adjusted to the needs of each room.
A sideboard or what is also commonly called a sideboard can be beautified in various ways, for example, painted to match the interior color of the room or carved so that it gives its own characteristics. In this review, we provide an explanation of the teak sideboard which can be combined with glass doors so that the objects inside can be seen. But even teak buffets can be modeled for television spots. By using teak wood, the buffet will be strong and durable.
3. Some examples of buffets and their functions
If you want to redecorate a room in your house, we will give you a recommendation. A sideboard model can be your consideration. There are a variety of sideboard designs and sizes that can make any room in your home look like a new one of them is the buffet. Therefore, we want to share ideas to discuss a buffet model according to your needs. As far as we know, a buffet can be used as a living room decoration, clothes storage, and a television stand. We hope that the buffet model that we review below can be an inspiration for you. Welcome to our review!
Buffet for home decoration
A sideboard made of teak wood is very suitable for storing objects such as home decorations such as small jars, and decorative plates, and can also be used to place televisions. Usually, this sideboard is placed in a room that is often used, such as a room for receiving guests and a family gathering room.
As we know, the use of a sideboard is very useful so that the room is not filled with small objects that have the potential to fall and break easily. Then, it can cause the house to fall apart. When stored in a sideboard, decorative and display items will be more neatly arranged and can be protected from dust and other debris. Hopefully, this buffet model can be an inspiration for you.
Teak wood as TV rack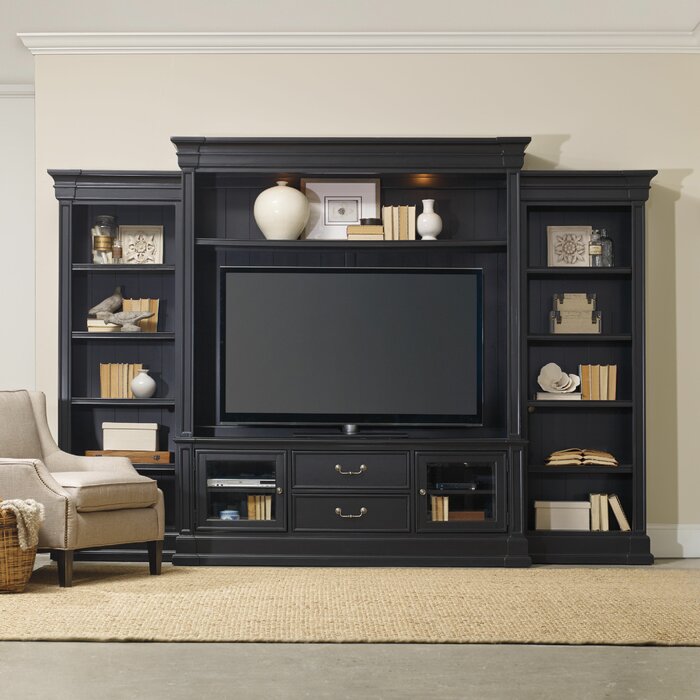 Everyone knows that teak wood can design as a TV rack in the living room. Therefore, some people prefer to place the TV on the teak rack rather than having to mount the bracket on the wall.
Everyone knows that TV has quite a heavy mass, so you should choose a teak rack with the best model. By using a teak rack, its durability can be guaranteed. Not only in terms of durability but this teak rack also can be modified according to your wishes as shown above. Currently, there are many types of teak buffets with various choices, such as racks made of black teak. That way, the color matches the television. To appear more attractive, add a beige floor rug and lounge chairs in the same color as the carpet. That way, your living room design will look aesthetic.
Minimalist teak wood sideboard
For those of you who want a minimalist but still elegant design, you can choose a minimalist type of sideboard made from teak wood. This type of wood is indeed the first choice because of its above-average quality. The advantages of teak wood include that it is not easily infested by fungus, its shape does not change or shrink easily, and its strong durability.
This elongated model display cabinet, aka a decorative cupboard that is slim in size, has a contemporary design. You can put this latest decorative wardrobe model in the corner of the room or side by side with a beautiful wooden guest chair. To appear more attractive, you can add a floor rug. With this arrangement, you will feel more relaxed.
Vintage Style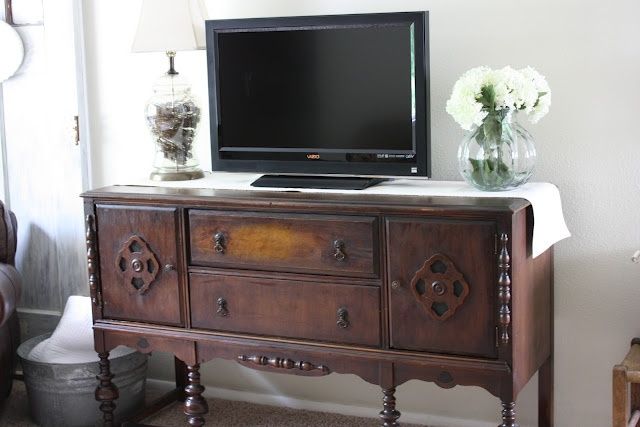 Vintage style is still one of the favorites for many people. There are many types of wooden sideboards designed in a vintage style to give your home a homey and classic impression. Furniture with a vintage style like the picture above is very suitable to be placed in your family room or living room.
These buffets are also usually decorated with carvings and older paint colors. So that it doesn't look boring, a vintage wooden sideboard can be combined with doors made of teak wood, so it looks more magnificent and attractive. Then, to make it look more attractive, you can add televisions, antique knick-knacks, and flower pots. That way, your living room looks old fashion.
Industrial style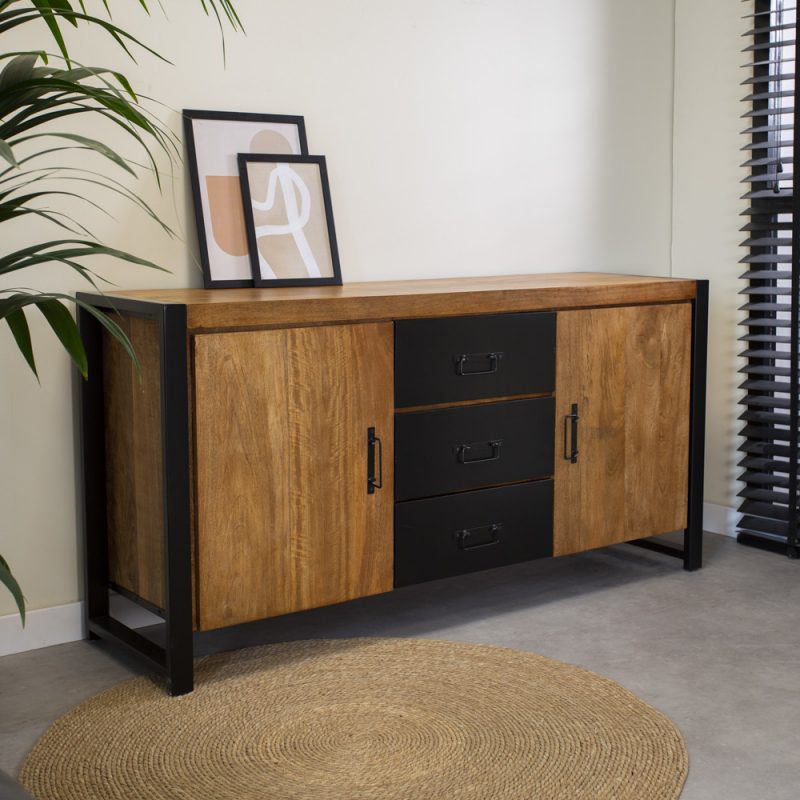 One of the modern designs that are loved by many people today is the design with an industrial style. It turns out that this style is also applied to the sideboard using teak wood. Industrial style is more synonymous with paint colors that tend to be dark and combines with iron material as the frame or legs of the sideboard itself.
A teak sideboard model like this will be very suitable to be placed in a simple family room. Furthermore, you can decorate it by placing ornamental plants on its surface. Then, you can also function as a place to store TV. With this arrangement, your living room design will look attractive.
TV sideboard with lots of shelves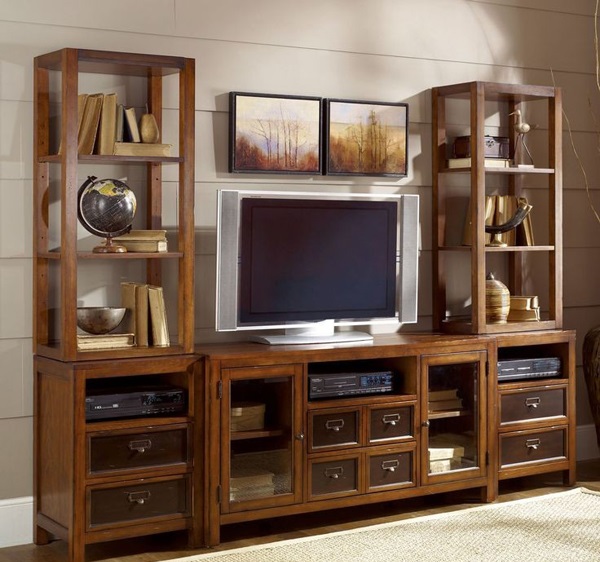 If you have a living room that is large enough, you can use a TV cabinet like this picture as a living room decoration and also to place the TV. We know that the TV stand is the most important supporting property for the family living room. Therefore, this buffet is a living room interior with a drawer model to store your antiques. This table is perfect when combined with a free room. The simple and minimalist design makes this buffet different from the others.
Then, to look cool, you can put knick-knacks on the shelves, a sound system on the shelf under the TV, and beautiful wall paintings. The advantage of this buffet from natural teak wood is that it has more resistance. That way, your living room design will feel more comfortable and spacious.
Luxurious white carved TV sideboard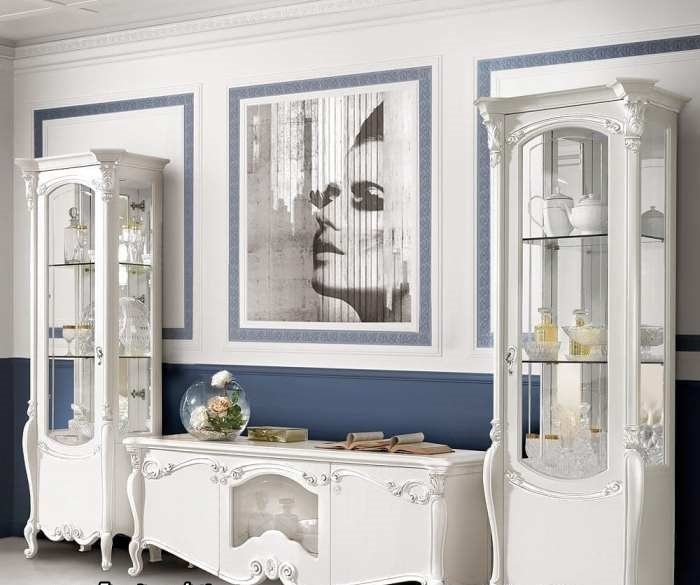 This White Carved Luxurious TV Sideboard is perfect for a minimalist living room. This beautiful buffet has been made by skilled and experienced personnel. Therefore, the quality of the carving is no doubt. Apart from that, this teak buffet for decorating the living room can also function as a TV stand. The advantage is that you can use this buffet for a long time. Then the wood is not easily damaged.
Therefore, if you like designs with luxurious classic carvings, this buffet is the right choice. Besides its luxurious, modern, and attractive model, this buffet can be the center of guest attention in your living room. Hopefully, this buffet model can make you more confident with your guests. Happy decorating!
Minimalist TV cabinet with two color combinations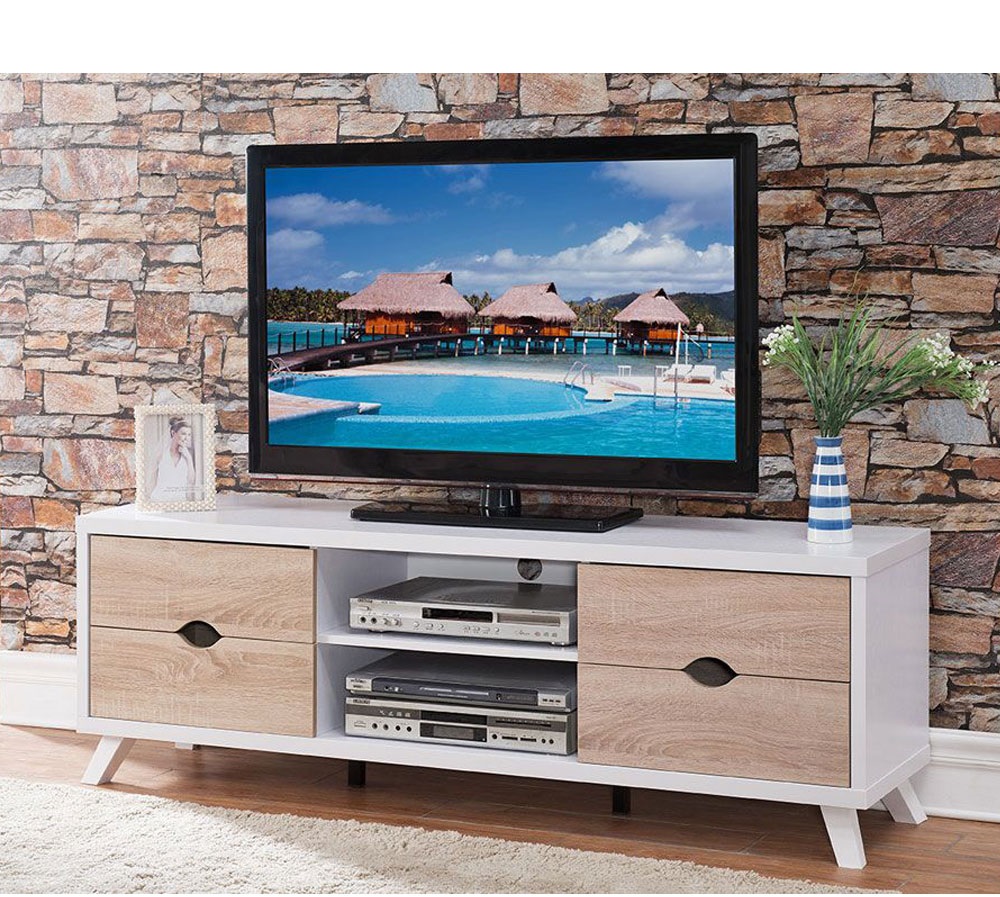 This TV cabinet looks like it's not made of teak wood because of its smooth finish and two-tone design. Its attractive design makes many people happy with it. With a white surface color combined with wood color, this buffet looks more aesthetic and beautiful. Then, to make it look more attractive, you can use a glass-covered shelf to put a sound system, VCD, or DVD. Then, to make you relax with your family, you can add a bright carpet. That way, the atmosphere of your living room will be warmer.
Wardrobe for storing clothes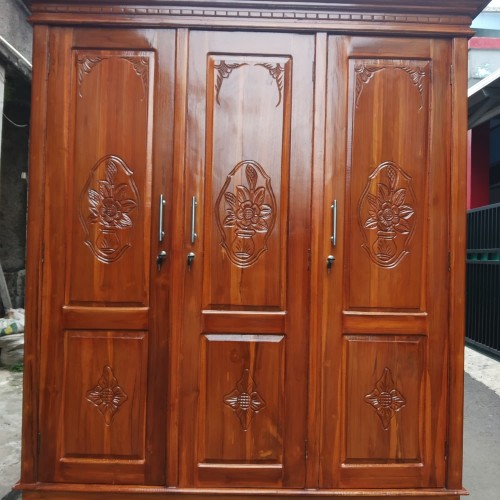 Cabinets made of teak wood can not only be placed in public spaces but teak cabinets can also be used as wardrobes and placed in rooms. Even though the area is not as big and wide as a wardrobe in general, this cabinet can still be used to store types of clothing and other equipment.
Then not to look monotonous, you can make the surface of the sideboard to given carvings and variations. This wardrobe can also be used to store your other items. As for size, you can adjust the size of the cabinet to the bedroom you have so that it still seems spacious and doesn't overwhelm the bedroom. The specialty of this teak cabinet is that it is durable and can be carved according to your wishes.
4. Conclusion
Those are some of the buffet models that we can recommend. We hope the buffet model above can be an inspiration for you. Then, it can make your living room, family room, and bedroom look more aesthetic and attractive. However, to make this happen, you must prepare a sufficient budget because buffets made of teak wood are not cheap. However, the specialty is that you can use it for the long term, and it is not easily damaged.