1. Overview of exposed brick kitchen walls
As far as we know, minimalist home kitchen designs are in great demand by homeowners. One of the developing minimalist home kitchen designs is a minimalist kitchen design with exposed bricks. This design can give a natural and aesthetic impression. Therefore, for those of you who are interested in designing a modern minimalist kitchen with exposed bricks, we provide a review below. For that, just look at the following exposed brick kitchen designs!
2. Exact exposed brick kitchen design
If you are interested in a natural kitchen design, you can design it with exposed bricks. However, there are several things that you should pay attention to. Make an effort You choose pressed bricks compared to ordinary bricks because this type of brick can affect the beauty of your kitchen. You can choose and look for pressed bricks in various places. Then, the price is affordable even though you can say it's a bit difficult for you to get it. As for the color, you can adjust it to your taste. For that, let's look at the explanation of the quality of exposed bricks below!
3. Exposure brick quality
If you want to choose exposed bricks, try to choose pressed bricks that have a thickness of less than 2 cm because pressed bricks with a thickness of less than 2 cm will produce better results when compared to thin pressed bricks. Then, the impression generated is more exotic. In addition, try to use a water pass to get the same height later. Water passes also can give the impression of a flat surface. By using this equipment, You will get the best quality exposed brick. Then, your wall will look more beautiful and neat.
4. How to install exposed bricks in stages
You also have to pay attention to how to install export bricks so that they look beautiful. Try also to follow the standard maximum height. The recommended standard is 1 to 1.5 meters. Then, so that the risk of failure is not too high, it's a good idea to ask to be paired with those who are experienced so that the results are to your liking. Therefore, we want to share ideas with you to give sample designs like the one below. Hopefully, one of the designs will suit your taste. For that, let's look at the reviews below. Welcome to our review!
Exposed brick kitchen with a luxurious design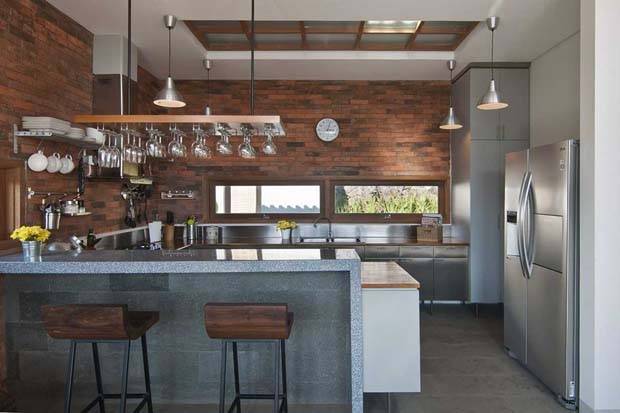 Exposed brick is a technique in the world of architecture. This design leaves the brick look unfinished. However, exposed bricks are still covered with a coating to prevent the growth of moss and fungus. Then, exposed brick also has many variations as red brick and white brick.
In addition, an exposed brick wall offers the architectural aesthetic value that makes your kitchen look unique and artistic. The exposed brick technique can be applied to many home interior designs like industrial designs, traditional designs, and Scandinavian designs. Like the picture above, a kitchen with an exposed brick design looks more artistic and attractive. Moreover, combined with a bar table and chairs, antique chandeliers, and luxurious kitchen equipment. That way, your kitchen design looks aesthetic.
Beautiful kitchen with exposed brick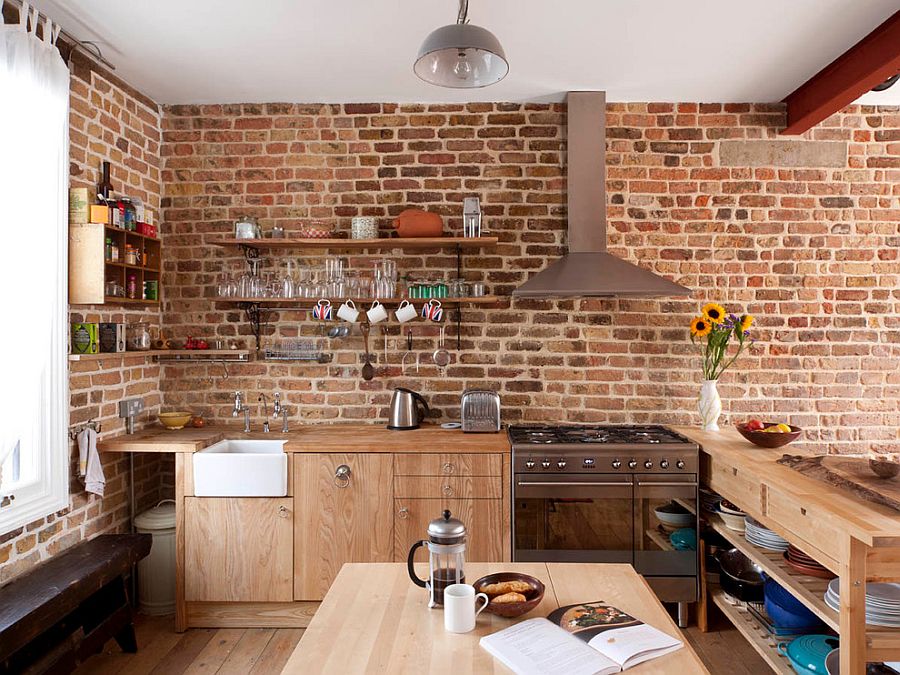 This kitchen adopts a dominant industrial style through the use of exposed bricks on all parts of the wall. Not only that, you can feel the warm impression because of the domination of furniture and kitchen utensils with matching colors from natural materials such as wood and iron.
Even though has dominated by terracotta colors from exposed stones, make sure that the kitchen doesn't look monotonous. For that, you can work around this through additional elements, such as a flower vase on the table which gives a color dimension and provides a bit of a natural material, and a wooden wall shelf to place kitchen spices. With this arrangement, your kitchen will look antique and aesthetic.
Elegant minimalist kitchen design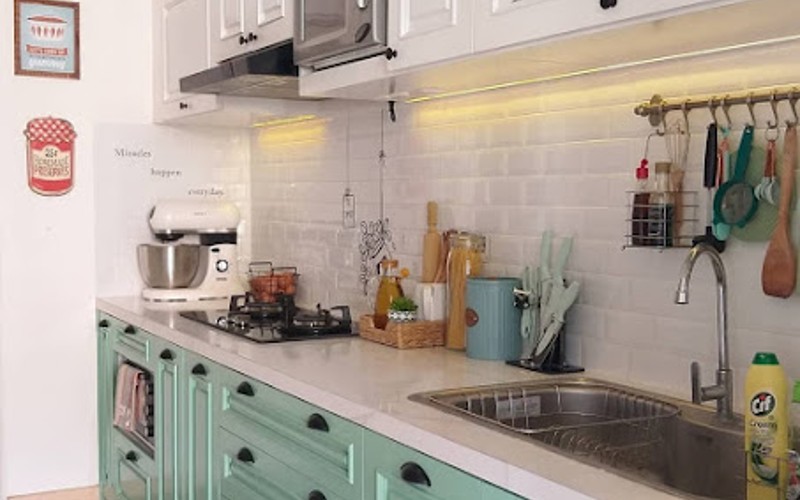 Having a beautiful and elegant kitchen design is everyone's dream. As far as we know, many homeowners are trying to make their kitchen design look attractive. They trust the modern minimalist kitchen can be made charming with exposed white brick walls.
In addition, the brick kitchen wall looks harmonious with the white marble kitchen table. Then, to look beautiful, the kitchen table is designed in turquoise green, a white kitchen set, and kitchen equipment. This arrangement can make your wife will feel at home cooking in the kitchen.
Kitchen ideas using wall shelves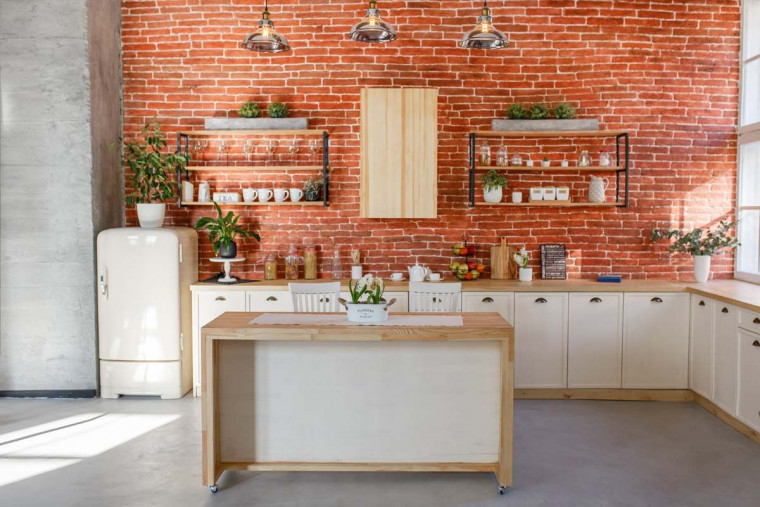 If you want to design a simple kitchen with exposed brick, you must prepare the best design for it first so that the results suit your taste. But if you install exposed bricks haphazardly. Then, your kitchen design is not attractive. You can see in the picture the kitchen wall has been designed with exposed brick. So it looks unique and artistic.
Next, make your kitchen design look simple and functional. Then, to make it look more attractive, you can install wooden shelves on the wall, kitchen tables, hanging lamps, and dining tables with matching colors. That way, you can more easily put your glass collection in your small kitchen. Then, add flower pots, knick-knacks, and kitchen equipment to make it look less monotonous.
White exposed brick kitchen ideas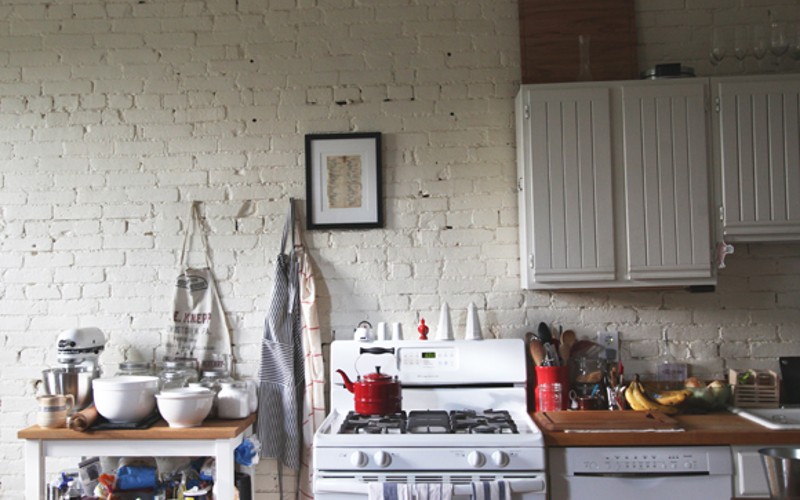 The kitchen design with exposed brick not only be red. For those of you who like white, this design is good enough to apply to your kitchen. Then, to make minimalist simple kitchen decorations look more flexible, spacious, and luxurious, you can use white tones so the kitchen looks clean. In addition, the design with white exposed bricks on the walls is easy to match with any furniture. With this arrangement, your kitchen design will look attractive.
Red brick kitchen wall motif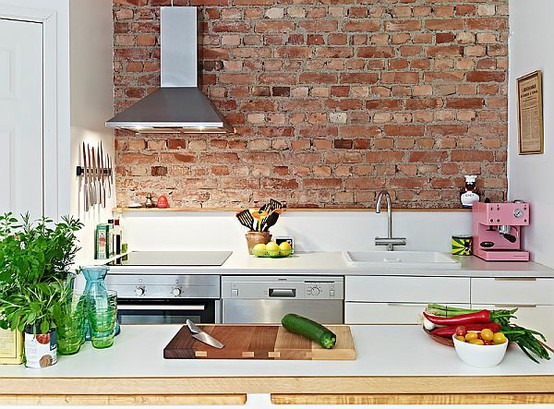 The next kitchen wall design used a red brick motif. If you use the concept of a red brick wall motif, your kitchen wall no longer needs a lot of decorations because this design is the same as the application of a simple house building using red bricks. The advantage of this material is, you just install it without being coated with cement and without polishing it. That way your kitchen design will seem vintage.
Then, to make it look prettier, you can add an additional kitchen table with a white surface that can be used for cutting vegetables. In addition, you can put a kitchen table with a color that matches the additional kitchen table and add decorative flower pots. That way, it doesn't look monotonous.
Polished brick kitchen wall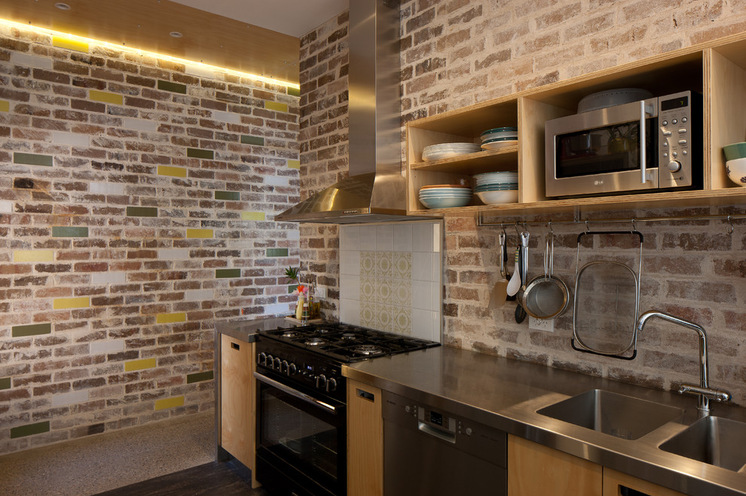 This kitchen design is the same concept as an ordinary red brick wall. But this one brick design is polished with a smoother texture. To make it look more attractive, you can give it a touch of off-white paint. Or you can also use various colors of bricks so that they are not monotonous.
So that the model looks sweeter, you can add a kitchen set and a wooden kitchen table. Then, design a gas stove set on the kitchen table and place some interesting knick-knacks. With this arrangement, your kitchen design will look natural.
Simple kitchen wall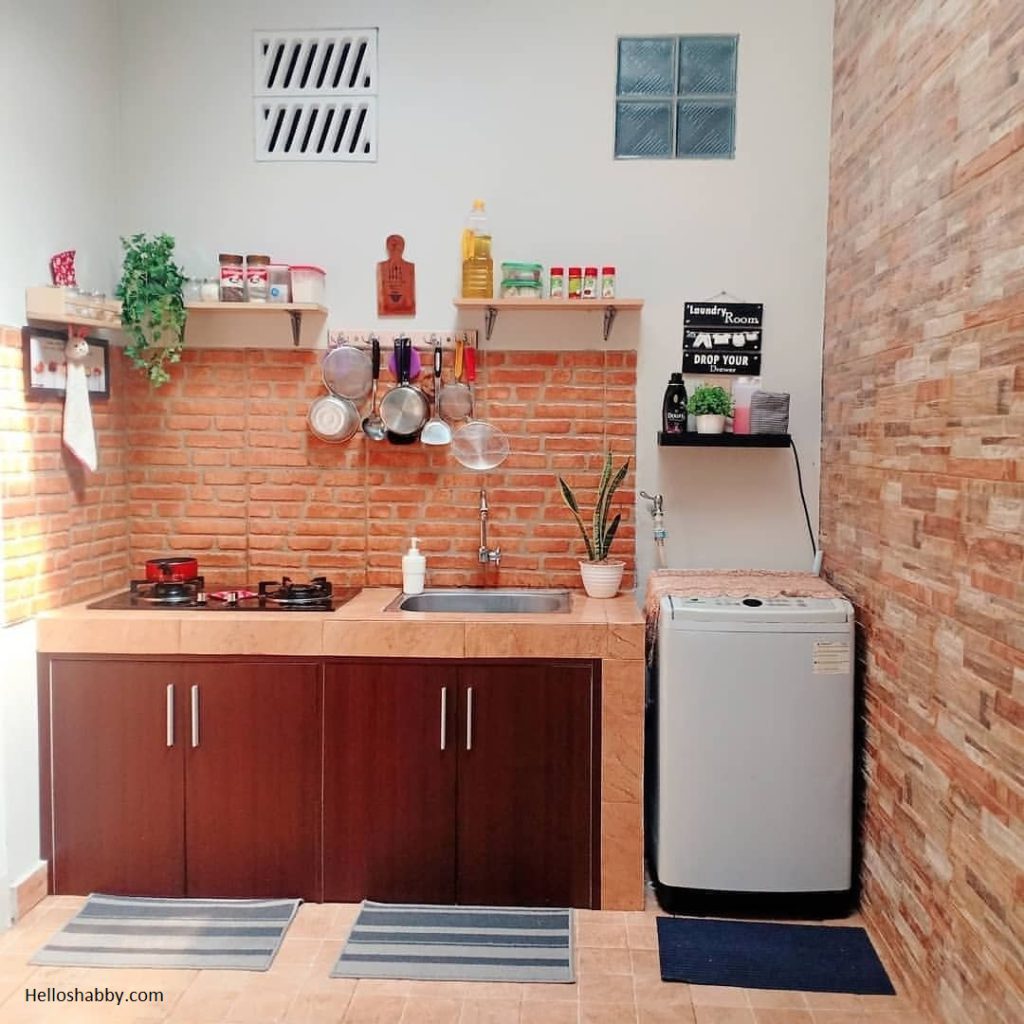 This kitchen wall design uses ordinary bricks and is roughly installed. However, for brick joints refined with cement. Then, For a kitchen wall model like this, you can follow the example of a hospital wall from the Dutch era. This design is very thick with a vintage or old-school impression, but still cool to look at. To make it look more attractive, you can add a brown kitchen table with a bright surface. Then, add wall shelves to place kitchen equipment. That way, your kitchen design looks simple but impressive.
White brick wall rough surface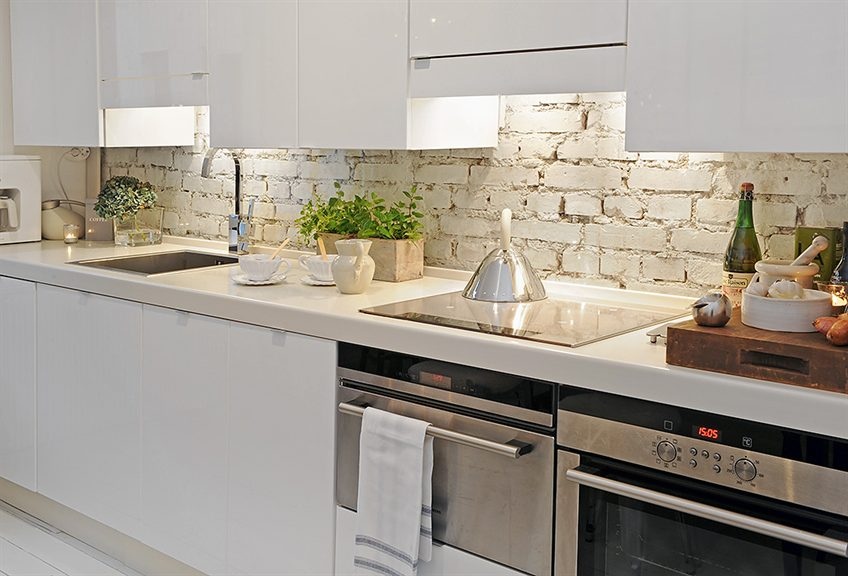 This one kitchen design looks artistic and attractive. The concept is still the same as on the walls using rough red bricks. Only this time we use white bricks. Use adobe bricks or white bricks as the base material. Then you can polish the cement with white paint. Then, to make it look more attractive, you can add a kitchen and worktop with the same color as the white exposed brick wall. Add knick-knacks so that your kitchen design doesn't look monotonous.
Smooth white brick wall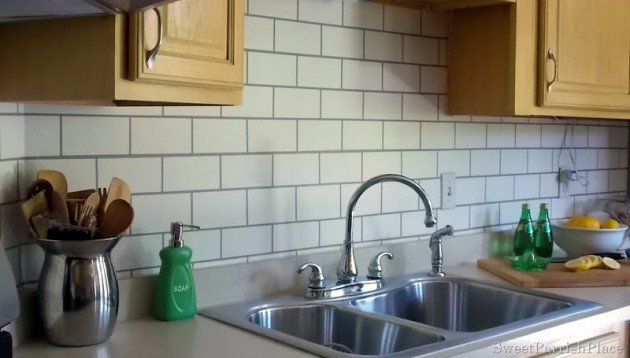 The next kitchen design is a white brick marble model. You can use these smoother and neater bricks for your kitchen designs. Another way is that you can polish the walls with white ceramic and shape them like bricks. Then, To complete your kitchen, add a separate model wooden kitchen set, kitchen table, and kitchen equipment.
Smooth red brick wall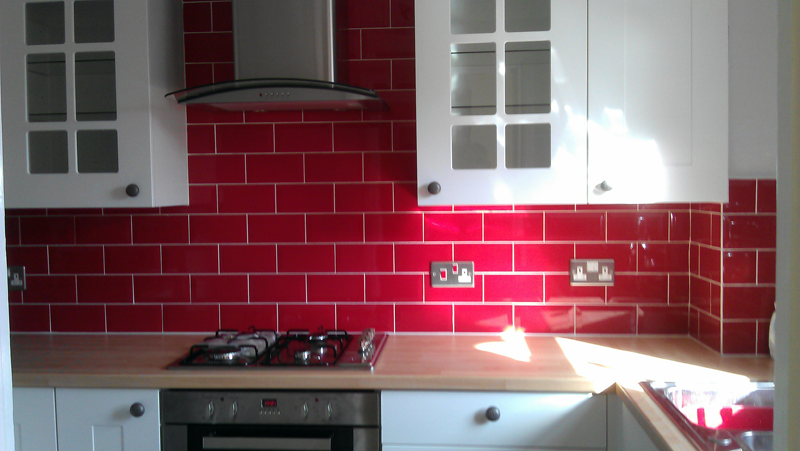 Having a beautiful minimalist kitchen design is the dream of all mothers. This kitchen design looks neat using smooth red exposed brick. This design is almost the same as a smooth white brick wall. Then, to make complete your kitchen design, add a separate white kitchen set. Then, design a turquoise green kitchen table with a wooden surface. Add a gas stove set to the kitchen table. With this arrangement, your kitchen design will look aesthetic and attractive.
Black brick wall

The last kitchen design is a kitchen with smooth black exposed brick walls. You can use these black bricks for your kitchen walls. This design is almost the same as above. The difference lies in the color and finishes which are like ceramic. The beauty of this smooth black brick design is that it pairs easily with white kitchen countertops, wooden chairs, and tables. In addition, black can make your kitchen design look magnificent. If you like black brick walls, this design can be your inspiration.
5. Conclusion
Those are some kitchen wall designs using exposed bricks. If you want to give a special impression to your kitchen, design your kitchen wall with exposed bricks. This design can make your home interior look more beautiful and artistic.
However, if you are already designing with ordinary wall construction, you can still work around this by using patch bricks. This paste brick model is like how we install wall tiles or natural stone. Hopefully, our review above can make your home interior design look aesthetic, attractive, and comfortable. Happy decorating!