1. Overview of bohemian room designs
If you want to make changes in the house, it's not uncommon for the bedroom to be one of the prioritized rooms. This area is, of course, a private space that not everyone can enter.
Therefore, if you are bored with the same room feel, you can apply a relaxed and unique design such as the bohemian style. This style is known as boho. In addition, this style is defined as an interior style that is a combination of several elements, such as the selection of accessories in the shabby chic style, eclectic blends with works of art, and idealistic theatrics. For more details, let's review the ideas and designs below!
2. Bohemian ideas and designs
As far as we know, boho designs are also usually a reflection of the lifestyle of someone who appreciates art, contrasting colors, creativity, adventure, and a free spirit. No wonder this style often represents the lifestyle of the current millennial generation.
It should be known that the boho style is also not limited to one person's opinion because there are no particular trends in bohemian bedroom design. Therefore, it all depends on the taste of the owner. If you are interested in copying the bohemian style into the bedroom interior, you can get some tips for decorating the bohemian-style bedroom below.
3. Some examples of bohemian bedroom designs
The bedroom is one of the most important rooms in the house. So this place should always look tidy. More than just a bed, this room often functions as a place of work and a place of worship.
Therefore, we need the right bedroom interior design to support our daily activities. However, how to organize a bedroom. So that it looks beautiful and functional at the same time. Therefore, let's follow the review below. Hopefully, one of the examples will suit your taste. Welcome to our review!
Enrich your bedroom with art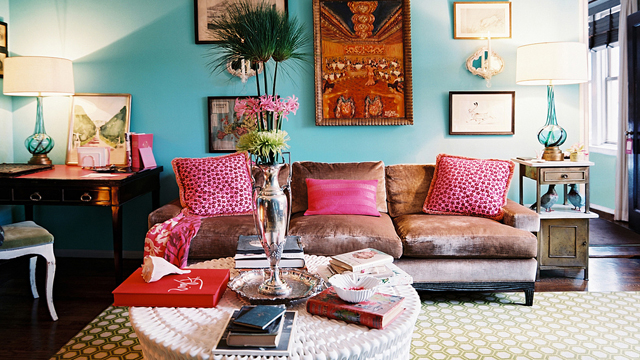 Plain walls do not portray a bohemian impression. Therefore, you should start collecting some accessories to decorate the room, such as paintings or pillowcases with screen printing motifs. Because bohemian is always associated with artists, musicians, writers, and designers. So you can easily find inspiration on the internet.
Eclectic bedroom design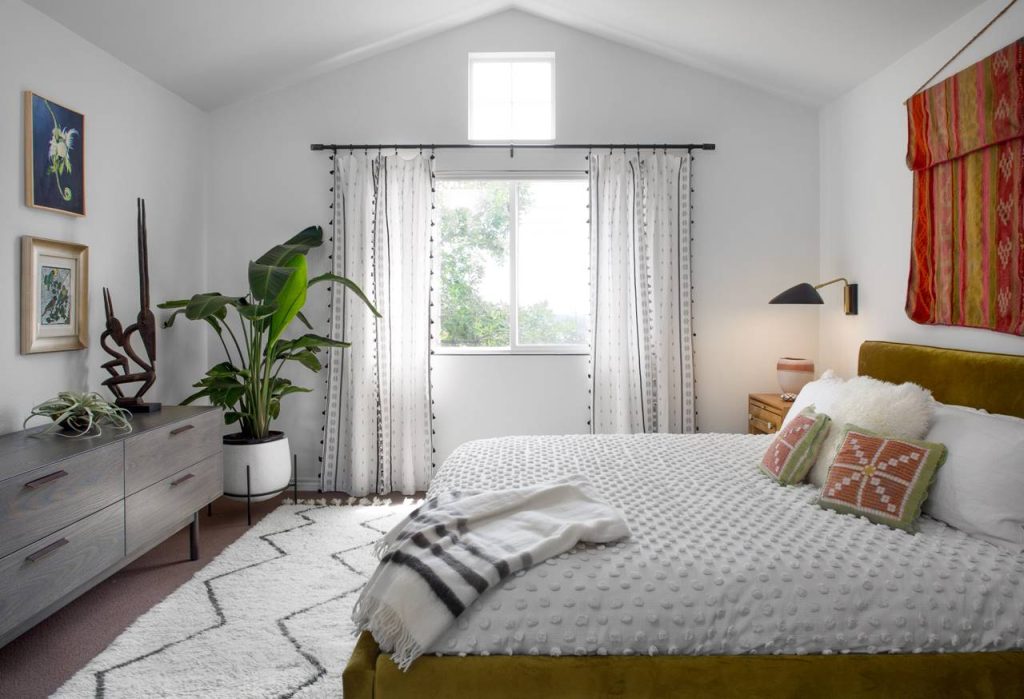 For those who don't know, eclectic designs were a style that was quite popular in the 19th century. The small bedroom interior design with an eclectic style is perfect for those of you who crave freedom of expression. As you can see, this style is capable of highlighting the right colors, textures, and patterns. Thus, the design can unite a variety of different elements in the room. To make it look more attractive, you can add a minimalist buffet, patterned floor rugs, wall paintings, and decorative plant pots. Then, add decorative wall lights and sofa cushions to make it look cuter.
Dare to play with patterns and textures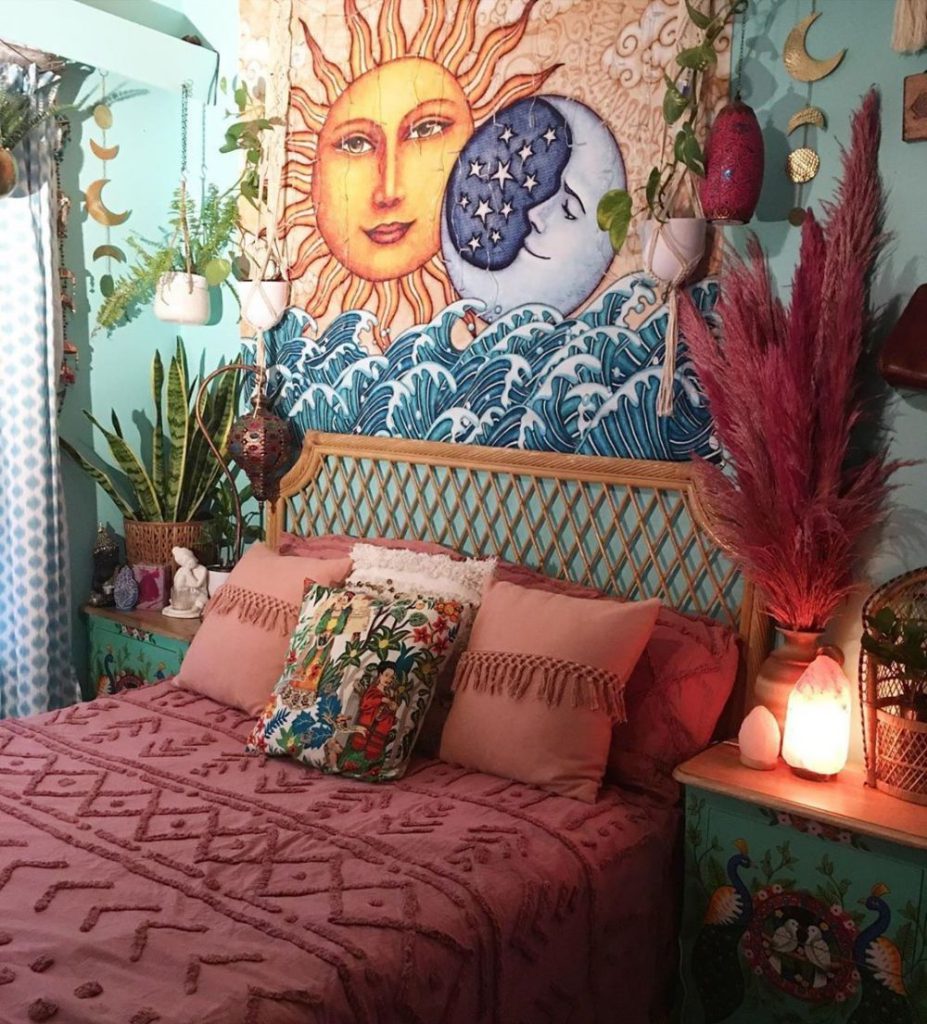 A room filled with busy textures and patterns can reflect a bold bohemian personality, such as exposed bricks, thick patterned carpets, satin sheets, antique bed lamps, and interesting wallpaper images. In addition, a bedroom with a high foundation can also make the room seem spacious even though it is filled with a variety of patterns and textures. Then, to look perfect, add ornamental plants that can change the oxygen clean. Then, add a patterned sofa pillow and complete it with a bright color bed cover. With this arrangement, your bedroom design will look aesthetic and attractive.
Create a creative area in the bedroom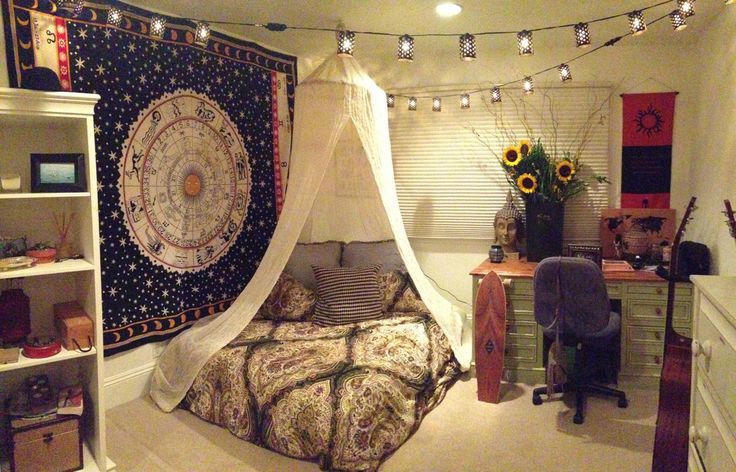 This bedroom design looks thick with a bohemian design. The lamp decoration hanging above the bed looks antique and unique. Then, the presence of knick-knacks, furniture, bed covers, wall hangings, and ornamental plants makes this room look like an Indian tribal design. Then, to provide comfort for you to work, you can add a table and chairs in the corner of the bed. With this arrangement, your bedroom design will look antique and unique.
Create a soft and comfortable bedroom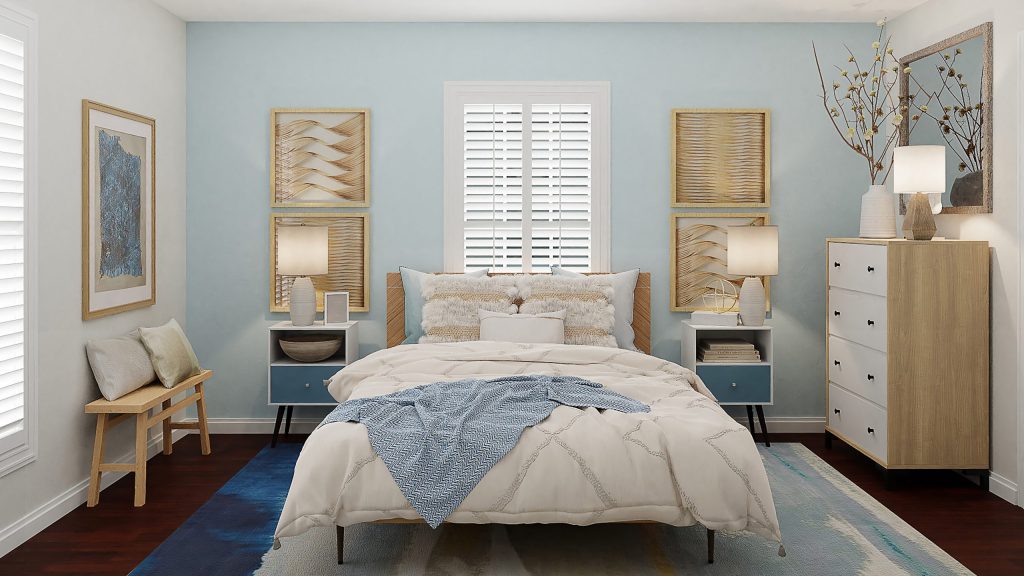 A beautiful bedroom design is everyone's dream. But if you want to make your dream come true, choose a design that suits your taste. This one-bedroom design is boho style. But the interior feels cool and soft with a turquoise color. The combination of white makes the bedroom feel comfortable.
Then, to make it look more attractive, this bedroom is equipped with a buffet for storing clothes, a bed for placing decorative lights on either side of the bed, portable decorative lights, wall paintings, and floor rugs in colors that match the bedroom interior. A bedroom arrangement like this looks like a work of art that you make yourself. Don't forget, make sure there is a touch of color and pattern that makes you happy to see it. Then, also pay attention to the design of the headboard or back of the bed that can be added as a backdrop or curtain to make it look more
Provide dim lighting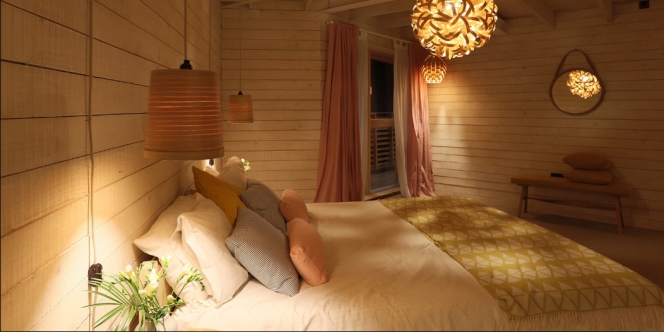 Bohemian is synonymous with soft light. You can bring a night light that emits romantic reflections throughout the room. Or it could be with decorative lights mounted on the bedroom walls.
With this dim lighting, of course, you want a good night's sleep. It will help meet energy needs, and we can return to our activities fresh tomorrow. Then, the comfortable atmosphere in the bedroom can be influenced by many factors, such as attractive furniture, room painting, and knick-knack. With the right light arrangement, your bedroom will feel more comfortable.
Antique accessories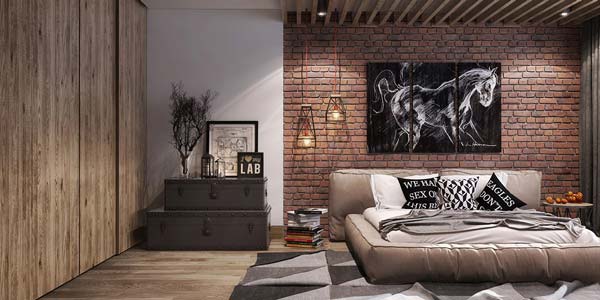 A room filled with vibrant textures and patterns can reflect a bold bohemian personality such as exposed brick, thick patterned rugs, satin sheets, antique bed lamps, and so on. A bedroom with a low foundation can also make a room seem spacious even though it is filled with a variety of patterns and textures.
If you have trouble finding antique shabby chic style furniture, you can go to the flea market to get some of the collections you want. If necessary, polish it with paint to make it look new. Then for a unique impression, add wall paintings, knick-knacks, and ornamental plants. By arranging it like this, your bedroom design will feel comfortable.
Design with white exposed brick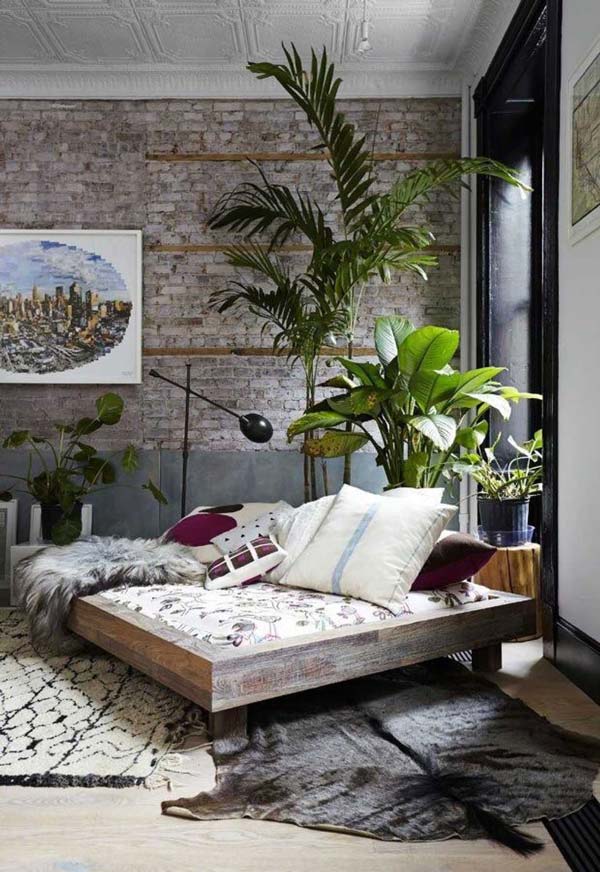 This whitewashed brick bedroom from Cate St Hill employs a minimalist and modern design. We love the contemporary furnishings paired with the white, industrial-inspired walls. the brick wall looks chic and modern without a lot of accessories. For a fancier look antique, you can add a low wooden bed, some modern lamps, and a side table for an elegant look.
If contemporary isn't your style, give it a try. This gorgeous-looking room looks natural and fun. This design looks attractive with antique knick-knacks. With this eclectic bohemian look, you can create different textures and colors. Then, mix the frames and artwork against the exposed brick walls. That way, your bedroom design will look hippy and attractive.
Decorate with string lights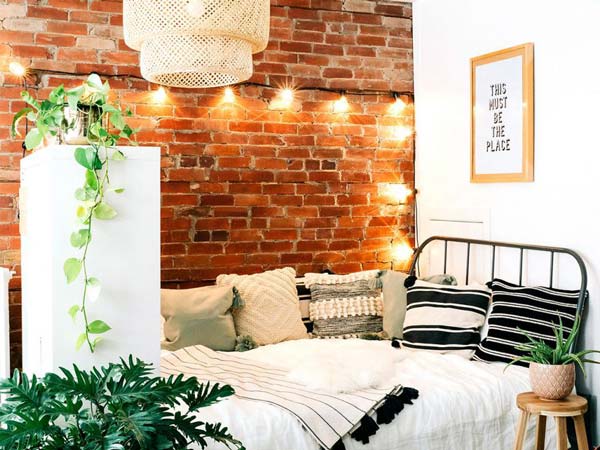 The bohemian design doesn't have to be bound by rules. As far as we know, this design is free from all rules. Then, you can express it according to your taste. Therefore, one thing that makes this bedroom design unique is the decoration using string lights that make you feel warm and comfortable inside.
To make it look more harmonious, you can add a wall design with red exposed brick. Then add colorful motif pillows, ornamental plants, hanging decorative lights, antique knick-knacks, and wall paintings. That way, your bedroom design looks beautiful and charming.
Design with floor rugs and bed covers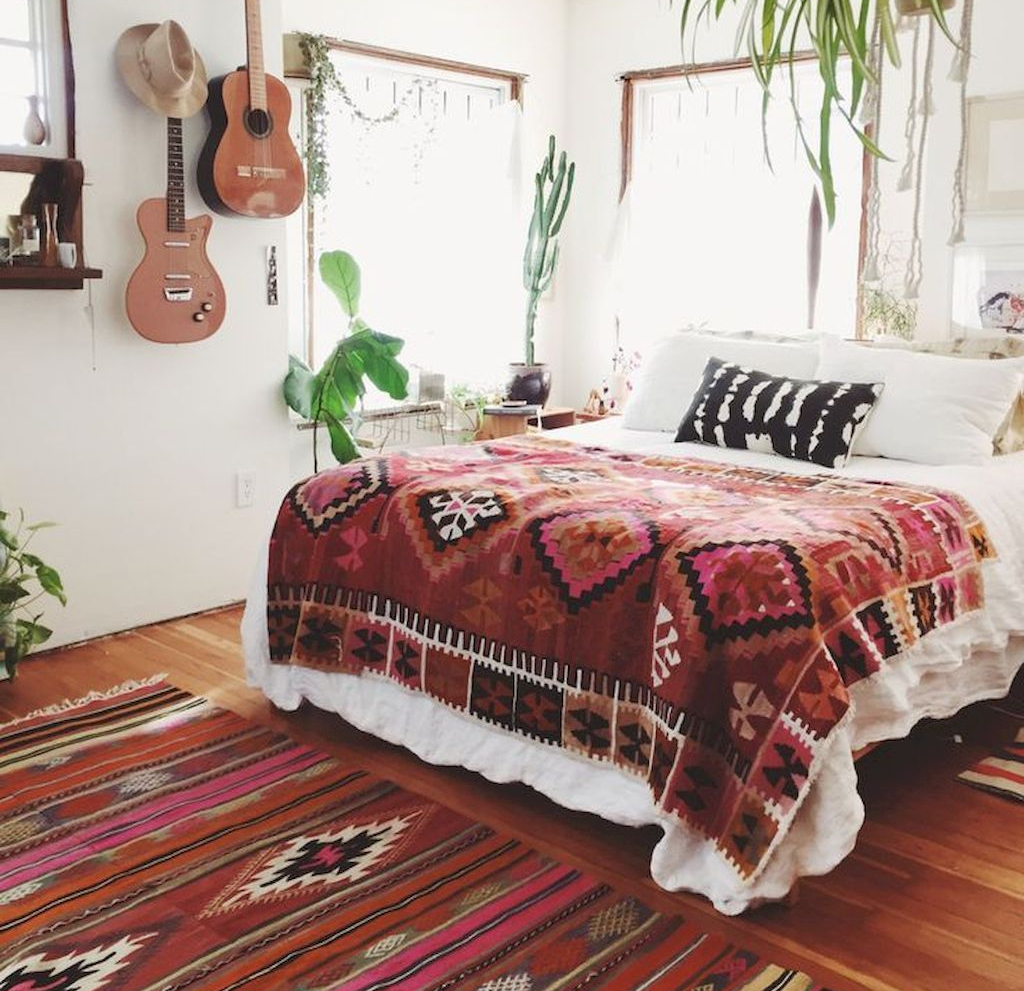 Implementing a bohemian-style bedroom interior design means you have to be brave in playing with motifs and colors. There are no special rules for decorating the interior design of this room. Combining tribal motifs with circles will make your bedroom look unique. Then, you can use five colors at once in the room.
In addition, another important element in the interior design of bohemian rooms is the use of fabrics with tassels at the ends. This cloth can be a sheet, pillowcase, or throw. Then, add a floor rug with a color that matches the bed cover, and decorate the walls with accessories such as guitars, and hats. Don't forget to add ornamental plants so it doesn't look monotonous.
Colorful design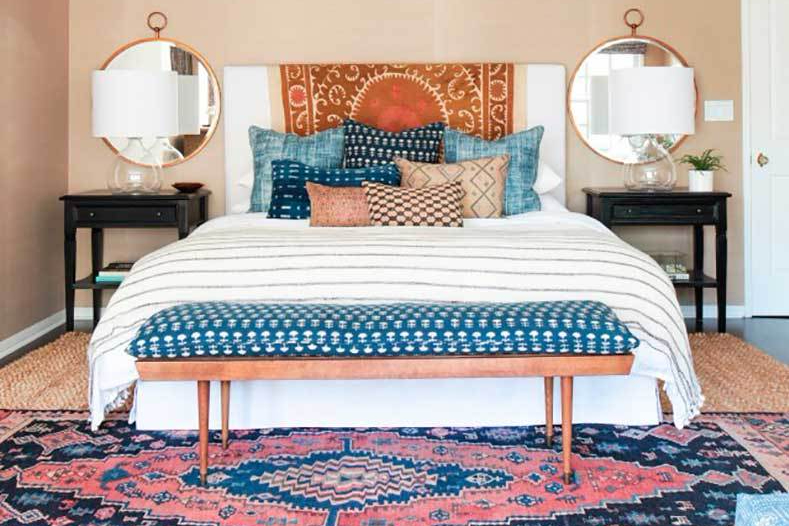 The interior design of this room is quite challenging because the colors used are striking colors such as red, blue, and yellow. The main key to eclectic room interior design is the use of fabric elements. This fabric element can be combination with carpets, large curtains, and cloth wall decorations, such as using geometric motifs on furniture or wallpaper.
Then, the geometric motifs that are often used are zig-zag, vertical, lines, and circles. The furniture usually has curved legs or is made of wrought iron. Then, to make it look more attractive, this bedroom is equipped with round mirrors, wall hangings, and tables on either side of the bed. That way, your bedroom design will look aesthetic.
4. Conclusion
Those are some examples of antique and unique bohemian bedroom designs. You can organize your bedroom like the picture above. However, if you don't want to bother, you can look for home decor to arrange your bedroom to make it look aesthetically pleasing, antique, and unique. Hopefully, our review above can be useful for you and your family. Happy decorating!