1. Overview of bohemian design
The word Bohemian has been known for a long time ago. Originally the term has used to describe the non-traditional lifestyle of people living a nomadic or homeless life in the mid-1800s. Later, the term became synonymous with the word "gypsy", the term applied to those who left Bohemia in Central Europe to escape the rigid rule. They are nomads who do not like to stay in one place. Bohemian tends to refer to a free personality. Traveling is important to the bohemian lifestyle.
If we are looking for a definite character of the bohemian style, the answer is none. The bohemian style exists because of disorder and uncertainty. Everything is made spontaneously and makes use of whatever objects are available. However, there are distinctive features of the bohemian style. After we understand, it turns out that the bohemian style is a style that is colorful and mixed between ethnic, hippies, and vintage styles. Well, for those of you who want to design your home in this style, it is sure to be the center of attention who sees it.
2. Bohemian is a unique design
Bohemian style is one type of unique home design. This design combines ethnic, vintage, and hippie elements. This design is more inclined to play color as an icon which is an advantage over other designs. Creativity and a high artistic spirit are needed to create something valuable. With this design, you can process items that are no longer used and perfect this design. So it looks unique and artistic.
Then, this design has been made in homes that hose owners love the soul of art. They feel proud and satisfied with the design that they created themselves so that it invites the eyes of guests who come to ask questions and want to know. The mix of modern and vintage creates a bohemian vibe. For those of you who are happy with the arrangement of objects, you can design them into a bohemian design. Happy decorating!
3. Materials used
The materials used in bohemian designs are inexpensive. Used materials that still look good usually don't need to be thrown away. You can use this material to make an attractive decoration with a bohemian design. The arrangement of guest chairs, cabinets, beds, dining tables, and ancient chairs is the hallmark of this design. So you don't have to throw away the relics of the past and our parents. You can refine it again and design it into a more vintage and unique design. However, organizing a bohemian design is not easy because this design is different from a minimalist and Scandinavian design.
Designing a bohemian design must be a person who is creative and has an artistic soul. To create something new and unique, you have to be good at designing it. Moreover, you will design items that are considered not to be used anymore. Of course, it requires a strong imagination and inspiration so that the results are according to the bohemian style. For that, let's look at a review of some examples below.
4. Some examples of bohemian designs
In this article, we provide some examples of attractive bohemian designs. This design, of course, adapted to the times. We hope this design can use for your inspiration. Then, starting from the front of the house to the back is like building a house. For that, let's discuss one by one examples of this design. We hope this review can use for all of you.
Bohemian living room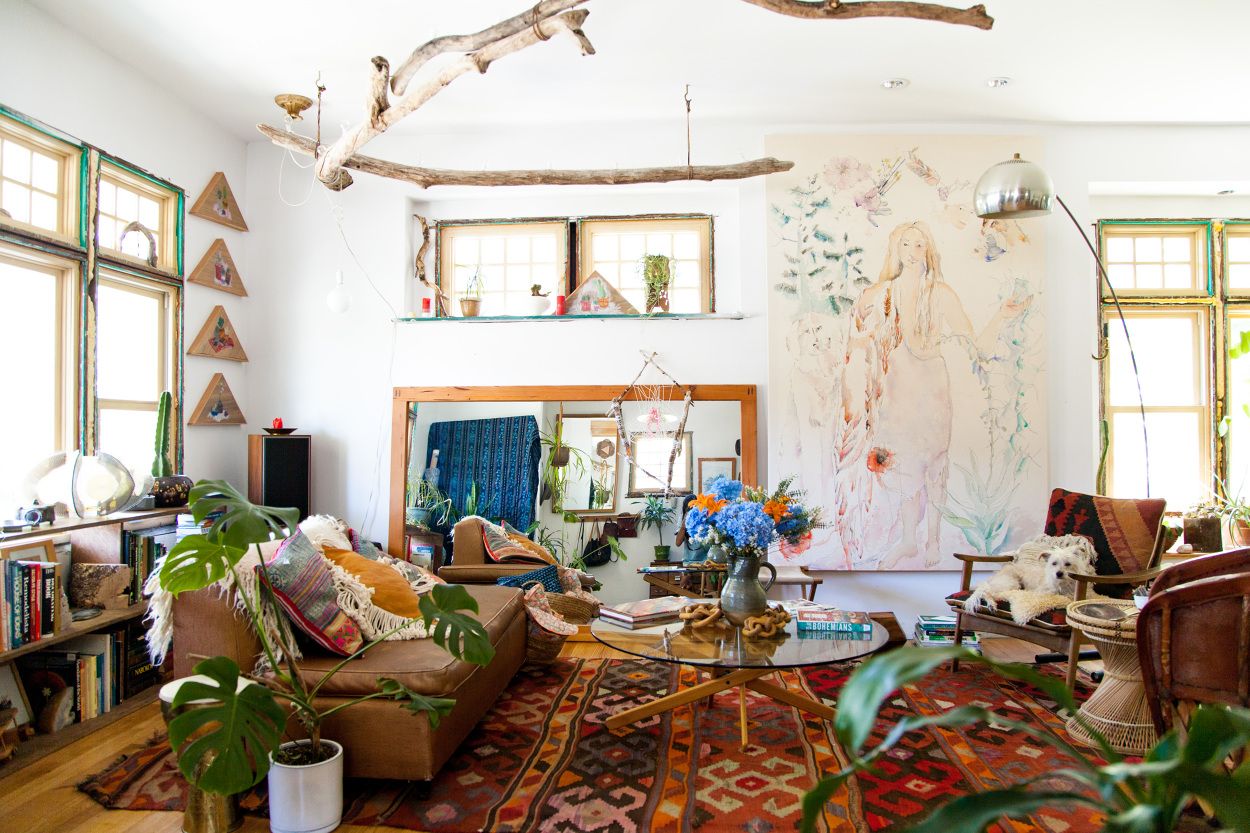 As we explained above, the bohemian style is synonymous with irregular designs. It is different from the minimalist interior style, with a clean and empty impression. But bohemian design style often combines colors and patterns that collide.
The condition of the room that looks disorganized has finally become a quirky bohemian attraction and is worth a try. For example, for the living room, you can add sofa cushions for decoration with a variety of unique ethnic patterns. You don't need to match the pillows to create a contrasting impression.
Then, layered textures and accents are the original colors for the room interior. Not to forget, the selected knick-knacks or decorations have unique color patterns. So that they give a bohemian and unique bustling impression. In this design, you can use 20 different color choices or maybe only three or just one color with different combinations of materials.
Combinations of different textile materials
Fabrics or textile materials are the hallmarks of the elements in bohemian designs. Of course, this element is always used for carpets, bed covers, pillows, or blankets. Fabrics with various textures and patterns are always seen in a bohemian interior room. Then, make sure not too much in this room because it can make the carpet in this living room.
Then, to add to the beauty of the room, add unique furniture, wall hangings, paintings, carpets, decorative lights, and unique accessories. With this arrangement, the living room looks different from other designs. If you like busy designs and patterns, you can use this design as your idea and inspiration.
Vintage-style furniture from different ages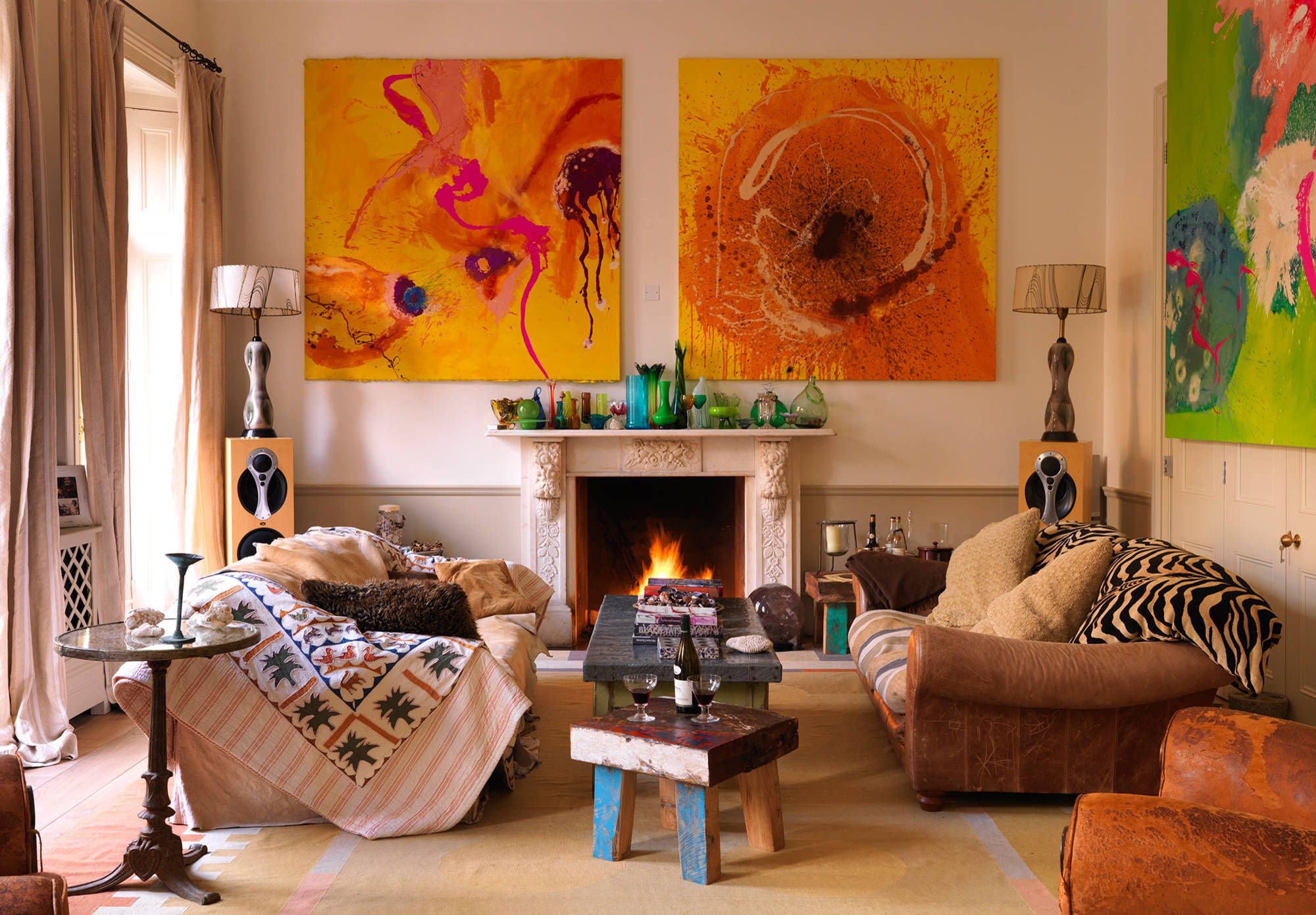 Antique furniture with a vintage style is the furniture that is most often used when decorating the bohemian style. Although usually, it will display the impression of being ancient, antique, or old, the spontaneous element of this bohemian style is strongly influenced by the furniture.
Then, to make it look more attractive, take advantage of makeshift furniture, generally, furniture will be collected from various different ages so that it can form an irregular condition which is the hallmark of the bohemian design style. As a sweetener, incorporate lots of textures and colorful accents on patterned blankets, pillows, and fabrics.
Accessories and ornamental plant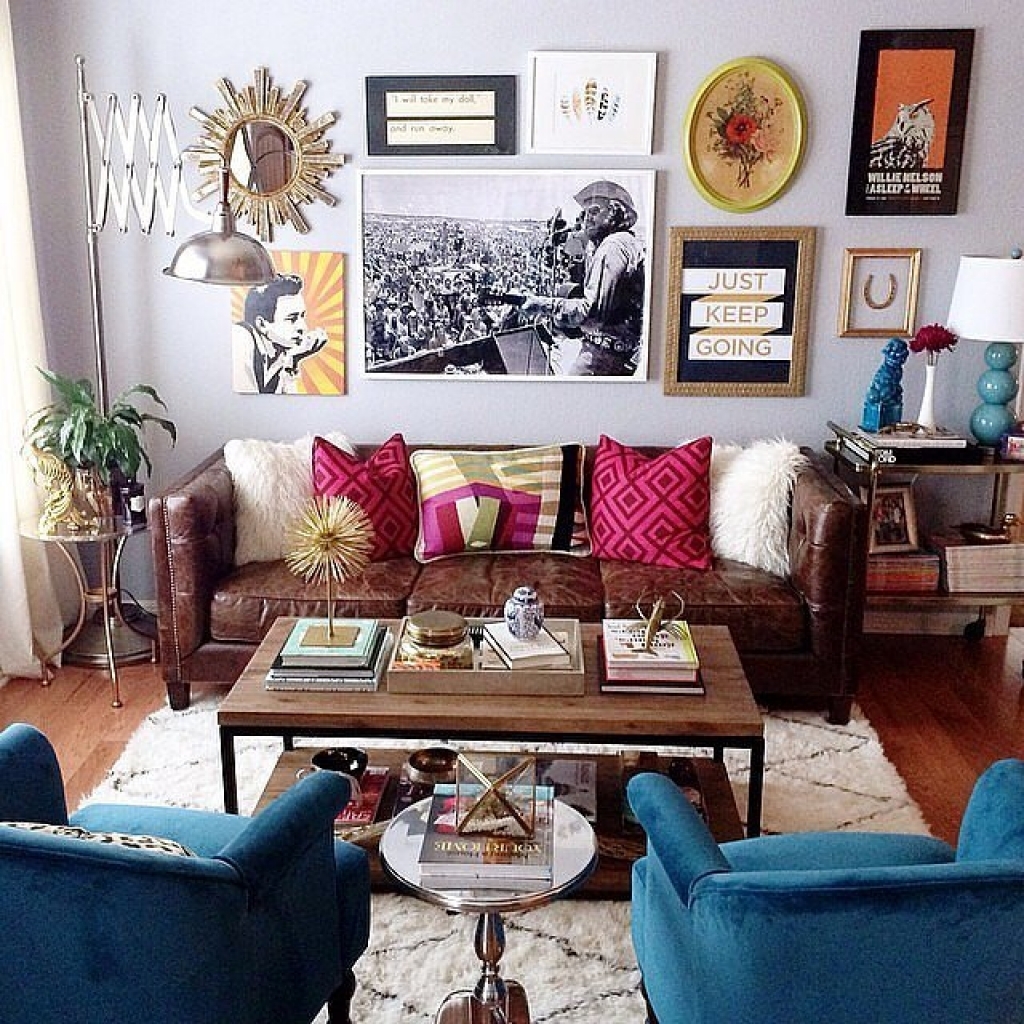 Accessories in the form of works of art are also one of the distinctive elements of a unique bohemian style. Artwork can be an abstract painting or a framed photo. In addition, the bohemian style is often synonymous with natural elements in room decorations. We can find this from the use of ornamental plants placed in pots that are presented in the room.
Then, to look more stunning, please decorate it with various types of furniture to complement the bohemian design in your homes as sofa sets, unique tables, shelves, tv racks, cabinets, decorative mirrors, decorative light, painting, and other furniture of various sizes and models.
Not only that, but the bohemian design also provides a variety of unique cooking utensils such as pots, cutting boards, pans, molds, and others. For that, complete your design with bohemian.
Bohemian bedroom style wall decor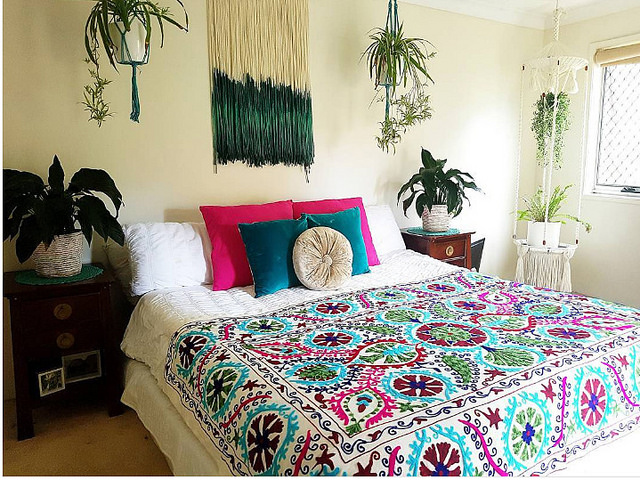 If you want to be creative with this unique interior style, you can apply it to the bedroom area. As a very personal space, the interior of the bedroom is a reflection of its occupants. Choosing a bohemian interior style for this room is one of the best ways to show your charm, personality, and unique character.
You don't need to worry if you have to replace all the furniture in the room. All you need to complete and beautify the room area with decorations and various bohemian-style decorative elements.
We know that bohemian is known for its vibrant look and striking use of color. Therefore, you can choose bright colors such as pink, red, or turquoise. These colors are the most successful options and are suitable for boho-style interiors. While on the walls, use white as the main color as well as the base color. Then, try to explore with bohemian decorations and knick-knacks.
Bohemian style carpet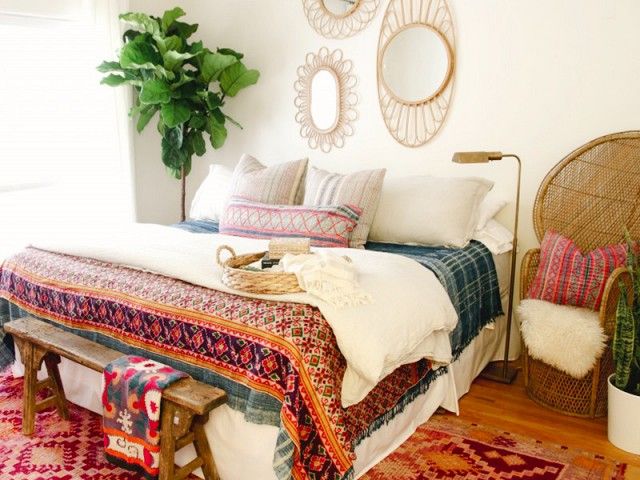 If you want to design your room to look cool, please decorate the bedroom floor using a rug with bohemian motifs and color combinations. You can use geometric, striated, or carved rugs. Then, match the color of the carpet to your room's color palette or color. Although the bohemian style is known to be free and breaking the rules to get beauty, you should choose colors that are not eye-catching.
If your room has plain walls, you are free to use various motifs and colors for your carpet. But if you have put a lot of ornaments such as wallpaper, bright wall paint, or decorations, avoid carpets with different colors or motifs. Then, to look more striking, choose a rug with motifs of no more than three colors and a pattern that is not too complicated.
The bohemian pillows and bed covers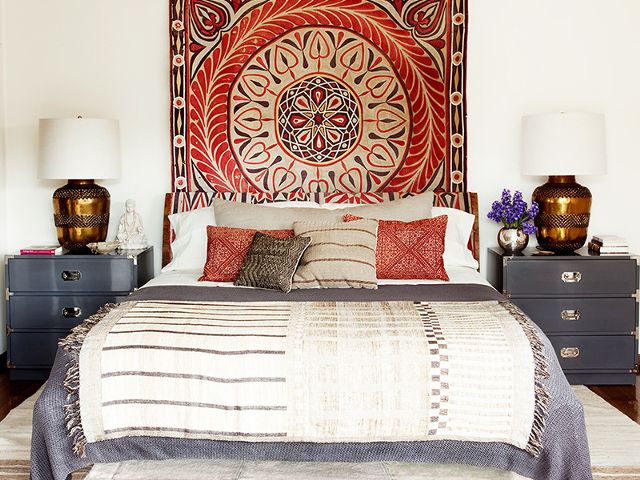 Sometimes we forget our bedding. You have to know that pillows and bed covers can influence the appearance of the bedroom. So you should use a pillowcase and bed cover with a unique abstract geometric pattern.
But for the mattress area, of course, you can be creative with random and irregular models. Therefore, play with motifs, patterns, and colors such as your pillowcases and bed covers. But if you are already using a bohemian style rug, you are expected to use a bed cover without a motif. Vice versa, use a bed cover with various colors and motifs if you use a carpet without a motif or plain.
Curtains and accessories and plants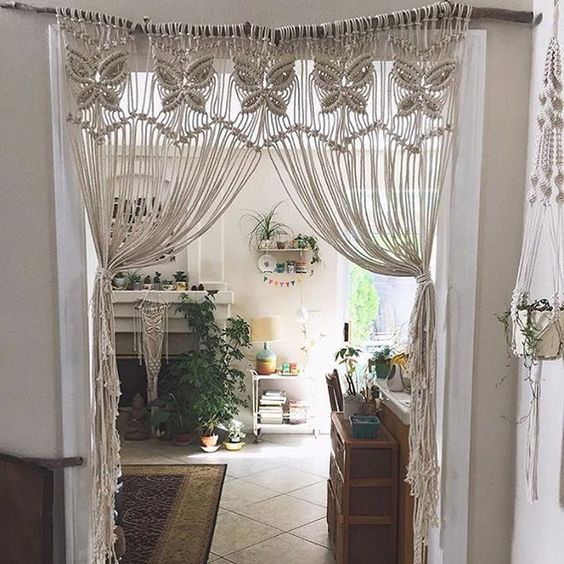 The bohemian-style bedroom is always equipped with curtains on the bed, commonly called mosquito nets. But if you don't want to place the curtain as a mosquito net on the bed, you can put it on the door or window.
Boho-style curtains are generally bone white. So the design is not only made of cloth because apart from curtains in the form of spun or crochet ropes, or strands of stone necklaces, they can be the right choice.
Bohemian is also known for its characteristics that show traditional, slightly ethnic, and natural elements. Then, use these three design elements in a bohemian style in your bedroom. Then, to look more beautiful, choose attractive details such as fringe, tassel, and hanging accessories, and combine them with other elements. Then you can combine it with elements of wood, copper, and or stones so that the bohemian design looks more viscous.
Bohemian style dining room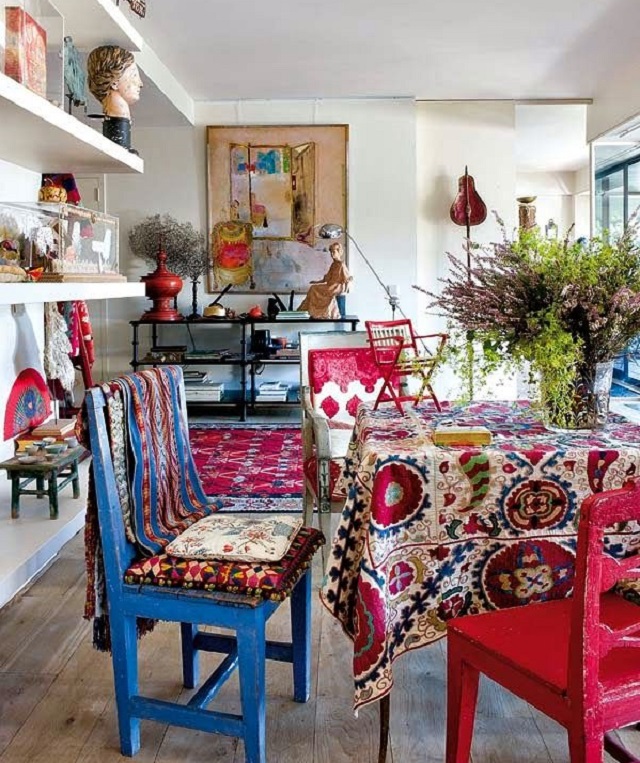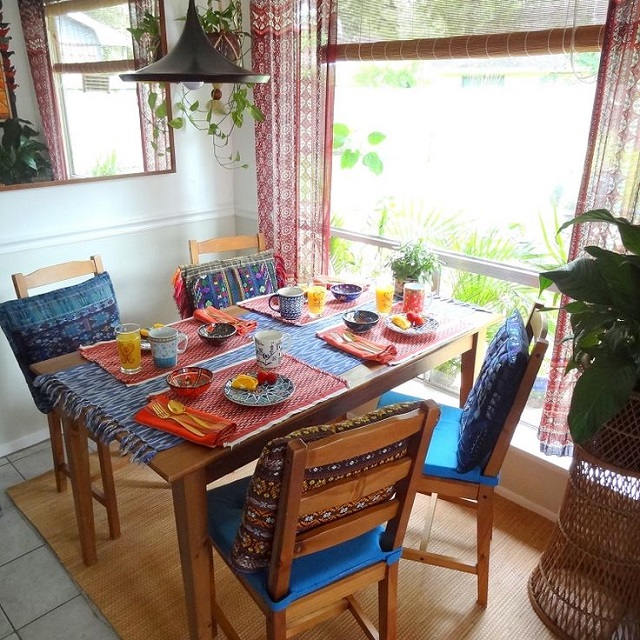 This article will explain how to add a touch of unique decor elements into a small dining room at home. Then, what kind of interior style can offer calm and comfort to make it look attractive and impressive. Therefore, the bohemian style is perfect if you like a unique appearance, with a few charming vintage and classic accents.
Then, the bohemian interior concept is more attractive with colors, decorative elements, and a variety of furniture used. Therefore, many interior designers recommend designing a total dining room design in a bohemian style.
Then, changing the dining room into a beautiful place is one way to bring happiness and beauty to your home. Therefore, the interior of a small bohemian-style dining room is the best choice to get the freshness of a space. Decorating it can make a small dining room look more lively with a choice of cheerful colors.
Bohemian kitchen design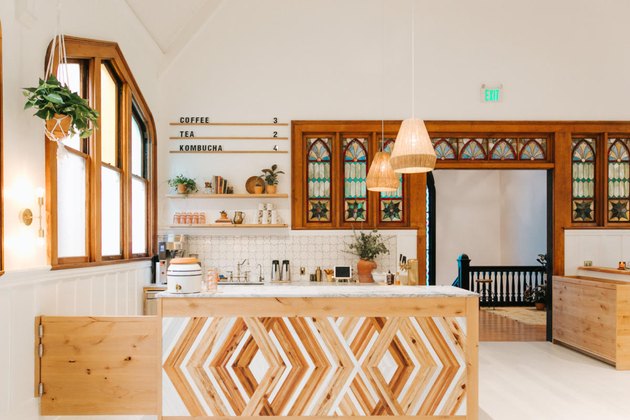 The kitchen is one of the corners of the house that is a favorite place for the family. For this reason, it is not surprising that the design of a kitchen is made as beautiful as possible so that anyone who uses it can feel at home and comfortable. In addition to an attractive concept, the variety of kitchen interiors is also a concern for the homeowner.
Then, to design a beautiful bohemian kitchen, one of the kitchen space designs that you can apply is a bohemian design. Therefore, this bohemian concept gives a unique and different feel from the others. Then, to look more attractive, you can complete it with decorative lights, old-fashioned kitchen sets, and colorful kitchen tables.
Beautiful bohamian style kitchen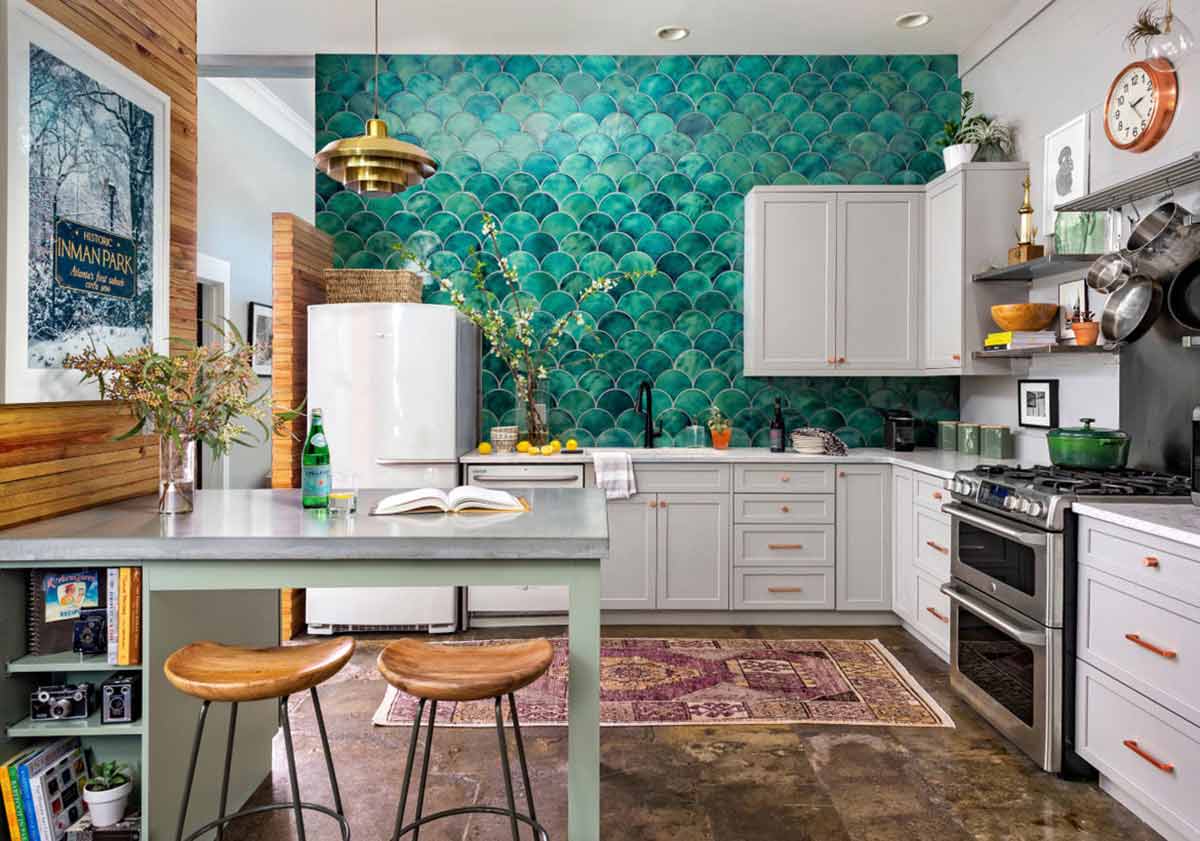 When arranging a kitchen design, usually only some people dare to express a different style. Most kitchens have been designed in a minimalist style which tends to be easy to arrange and timeless. But who would have thought the bohemian design concept was no less stunning to be applied to your beautiful kitchen.
You can design bohemian designs in many forms. It can be gray and blue walls with fish insert motifs, chairs made of solid wood or rattan, middle eastern rugs, wall paintings, and antique hanging lamps. Then, the bohemian style is suitable to be combined with other designs such as rustic, minimalist, or Scandinavian. Its easy integration makes it easy to mix and match with your existing kitchen. But if you want to change the interior of a small kitchen, you can design it with a bohemian touch.
5. Conclusion
If you want to design your home to look beautiful, we present the best house designs. Then, to make it should choose the best bohemian style to look your interior room attractive, beautiful, luxurious, elegant, and aesthetic.
In this article, we explained some pictures of modern bohemian design. Then to design it, of course, you will have to spend the money if your living room has to be decorated by a home decoration company. But if you don't have enough money, you can design it according to the picture we explained. Hopefully, you can make it like this picture. Hopefully, this article can help you to organize your home. Happy decorating!