1. Overview of bohemian design
We know many bohemian kitchen designs has written in the article. Even so, there are still some who do not know what bohemian design really is. But most of us already know that this design is already familiar with the publish. The word Bohemian has been known for a long time. The term has originally used to describe the non-traditional lifestyle of gypsies. They are nomads and do not like to stay in one place for a long time.
Then, history makes the bohemian style refer to a personality that is free to express and doesn't want to be bound by rules. In interior design style, bohemian is a style that is free, irregular, and utilizes any colors and motifs. Then, use objects to be designed into attractive designs. But if you like quirky and eye-catching styles, you can bring this bohemian interior design and decoration into your home. Then, you can apply to the living room, family room, dining room, and kitchen area. For that, let's review designs that are unique and amaze people.
2. Unique design
Bohemian Style is not yet known to many people in detail. They don't know what they do and how this design is applied to make the house look attractive and unique. This bohemian style, known as the 'boho style', is a unique style of the Hippies who present this design as a result of and after the Vietnam war that did not end. Besides that, what makes this design attractive and unique is that these people also have a distinctive appearance with loose clothes and show their identity that is close to nature.
Over time, the bohemian style has developed into a unique and beloved home decor style. This concept is also very rich in the use of colors, textures, and layers so that the three basic accents create a relaxed and cheerful impression.
If you are looking for a definite character of the bohemian style, surely you can not be able to find it because this style is present as a result of irregularity and uncertainty. Then to arrange it, it must be done by someone who has an artistic spirit so that this colorful style mixed with ethnic, hippies, and vintage styles makes many people amazed. Therefore, we will share ideas to provide some unique examples of bohemian kitchens.
3. Motive exploration
One of the main characteristics of the boho style is its colorful design because they look very cultural. Then, usually applied to the pillows, carpets, curtains, and upholstery. But gradually, this design penetrated the kitchen wall ceramic motif.
This picture shows how the color of the kitchen walls is contrasting and does not match the other colors. Then, usually, bohemian colors have many different motifs. In addition, you can hang one of these ceramic colors on the wall as an unconventional work of art and signify freedom. You can also see how these bold textures and colors are reflected in the kitchen interior below. For that, let's discuss one by one the images below. Welcome to our review!
Design with the colorful furniture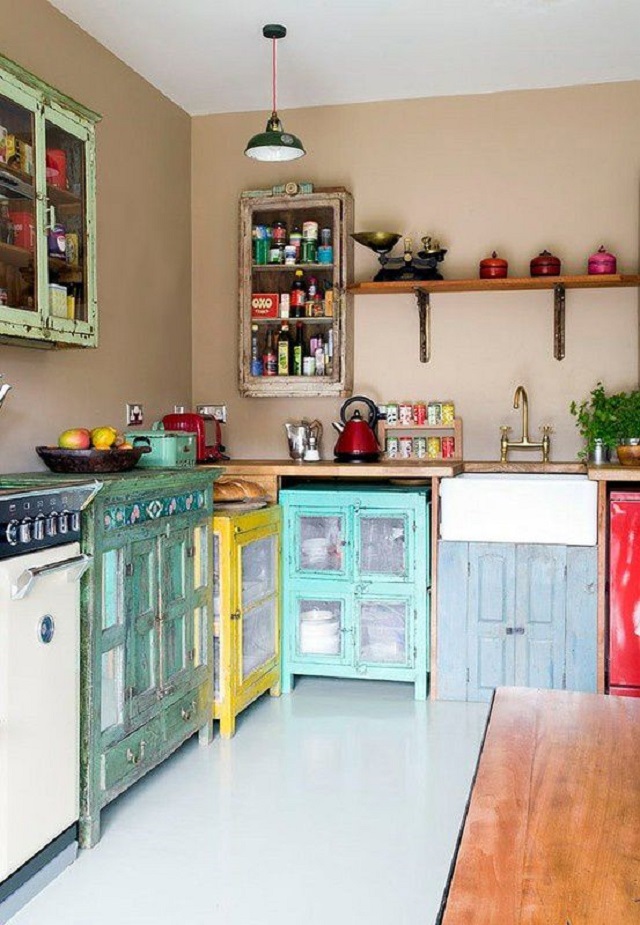 Boho style is a design style that is very rich in the use of colors, textures, and accents that are unique and vibrant. The use of bright colors such as yellow, blue, red, and green is the hallmark of the bohemian interior style. That way, the use of vintage furniture with bright and vibrant colors will give a strong boho impression and characterize this kitchen area.
Then, to look more artistic, you can design kitchen cabinets with several colors, wooden shelves, decorative lights, and attractive kitchen accessories. In this way, your kitchen will become an antique and artistic room. If you have several short kitchen cabinets, you can design them in several colors to make them appear more bohemian in style.
Wall design with ceramic motifs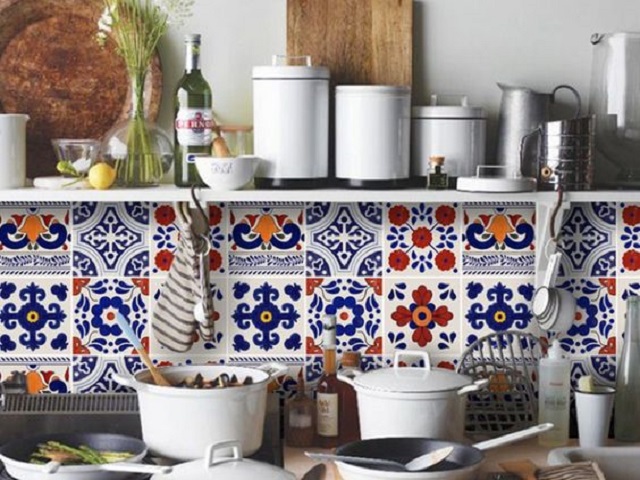 The use of patterned wall tiles can give a unique vintage bohemian appearance. However, even this ceramic can use for floors, backsplashes, or other areas in the kitchen. You can even use these colorful ceramic motifs on the stairs in the kitchen area and show a unique festive atmosphere.
Then, to arrange it to make it look unique and attractive, you can design this ceramic motif on the wall and install it irregularly which is the hallmark of the bohemian style. Make sure your wall shelf is designed in white and looks more contrasting with the wall color. Don't forget to arrange the kitchen utensils in a color that matches the color of the walls to make them look more festive. If you like the kitchen with colorful motifs, of course, this design is suitable for you.
Bohemian kitchen design with carpet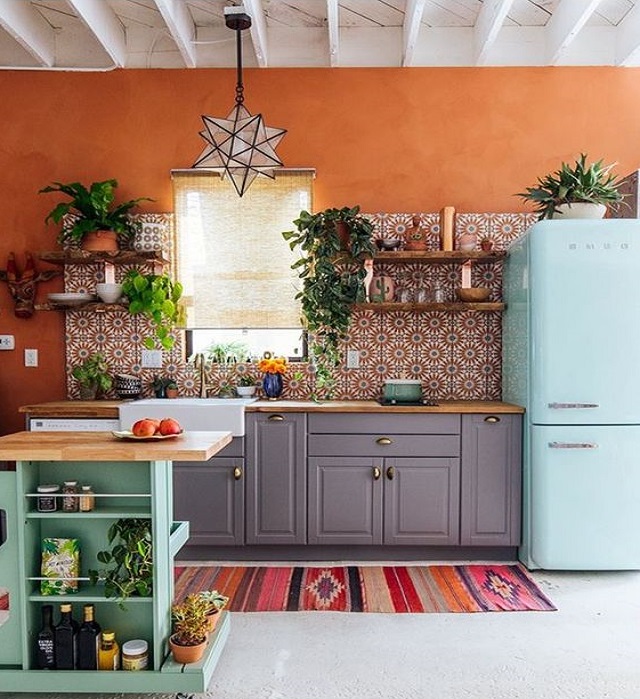 If you are a person who likes the nuances of unique art. You can place a rug on the kitchen floor, and that way, you can display a distinctive bohemian-style space. Then, the easiest way is to use a boho patterned rug. In this design, you can present a patterned and brightly colored rug around the kitchen area as desired. Avoid using too much carpet. Then, choose a type of carpet that is not thick, considering the kitchen area is prone to stains and dirt.
Then, to look more classy, ​​make sure all the colors in this room are on the carpet. With a design like this, your kitchen will look beautiful and unique. Don't forget to design a kitchen table, a large refrigerator, a kitchen utensil shelf, and a kitchen wall with different light colors. To not seem monotonous, add flower pots and kitchen accessories. With an arrangement like this, it will look antique and cool.
Kitchen in soft colors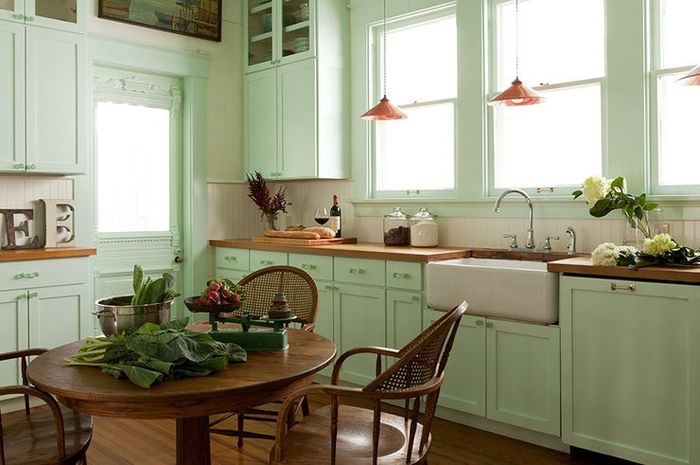 Having a bohemian kitchen is the most attractive. Making designs with colorful elements in the room makes us feel comfortable. Then a mini kitchen set with a mix of textures or a vintage touch on this decoration makes the interior thicker with a bohemian design.
Then, to look more elegant, you can combine a soft color with the color of the wooden floor and hanging decorative lights. This bohemian style kitchen design inspiration makes the kitchen atmosphere look comfortable and relaxed while on the move. Then add a fashionable wooden chair with a round table for you to chat with your family. We hope you are interested in applying it to your kitchen.
Design in yellow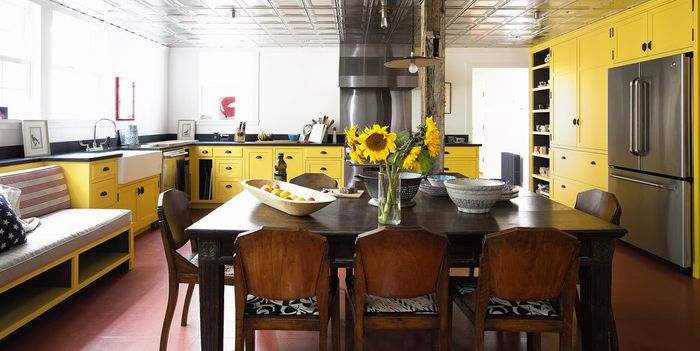 The bohemian kitchen design in yellow gives a fun impression. Moreover, this color is suitable if combined with gray and brown wood. Of course, It looks like you will feel at home for a long time in a room like this.
Then, to look more attractive, complete the kitchen with a gray refrigerator, brown wooden dining table and chairs, yellow kitchen table drawers, a long sofa for conversation, and yellow kitchen cabinets. With this arrangement, your kitchen will look complete and festive.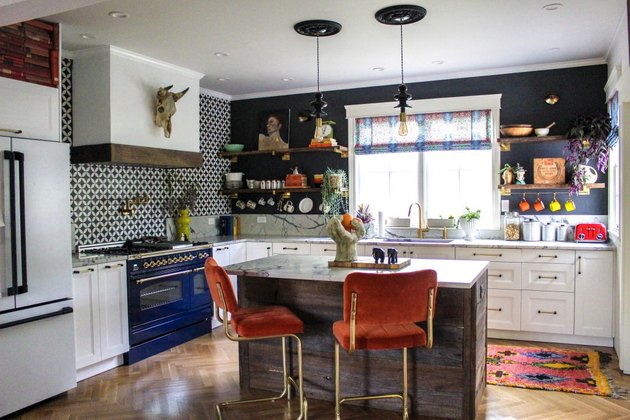 Choosing a bold backsplash is the first step in creating a bohemian style. For starters, you can give a bohemian touch by boldly selecting a backsplash. You can choose bright colors with unique patterns. The Kate Pearce Vintage kitchen design above, for example, combines a blue stove unit and a unique rustic island style.
Then, to look thick with a bohemian design, this stove is combined with a bright white kitchen table, dining table, brown bar stools, and pink carpet. Then, to look more lively, the kitchen walls are designed with black and white ceramic motifs and black ceramics. Don't forget to add wooden wall shelves to place kitchen utensils. With an arrangement like this, your kitchen will be able to amaze your guests who see it. Happy decorating!
Looking for a southwestern touch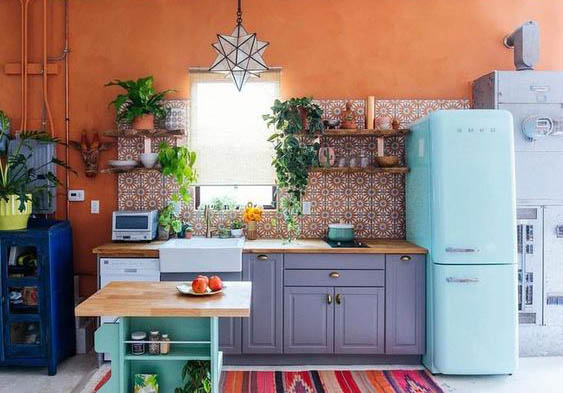 This kitchen looks beautiful with the perfect blend of bohemian and southwestern. Southwestern bohemian style is perfect for this kitchen. So that this kitchen above looks so good with the bohemian style you crave.
The floor plays with bright colors and bold patterns. Meanwhile, the teal and island refrigerators have the same color as the keys. Then make interesting all the elements in this room. Then, the presence of flower motif ceramic walls, gray kitchen tables, blue equipment shelves, wall shelves, and flower decorations on pots will add to the liveliness of this kitchen.
Use natural elements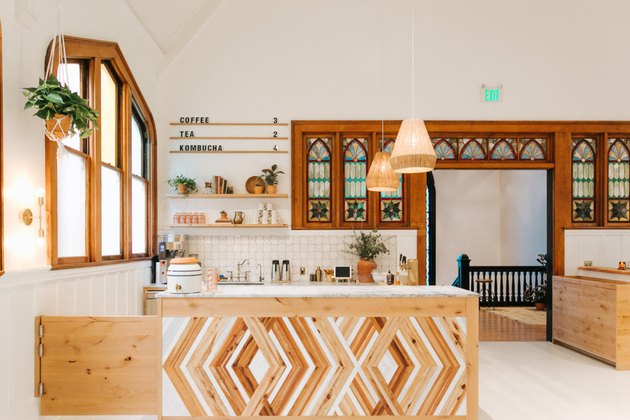 We all know that wood is a natural element that can be an eye-catcher in a bohemian kitchen. Then, using natural components such as wood, you can give a different impression in your bohemian kitchen. You see, the kitchen above is full of warm wood. The uniqueness emerges from the wood patterns applied at various angles. So the perfect combination of every part of this kitchen makes it feel very bohemian.
Then, to make it look more beautiful, add antique hanging decorative lights, a kitchen table with a brown and white motif, wall shelves, and ornamental plants. Then, all the elements in this kitchen are designed with bright colors. With a bright color arrangement like this, your kitchen will feel spacious.
Put lots of plants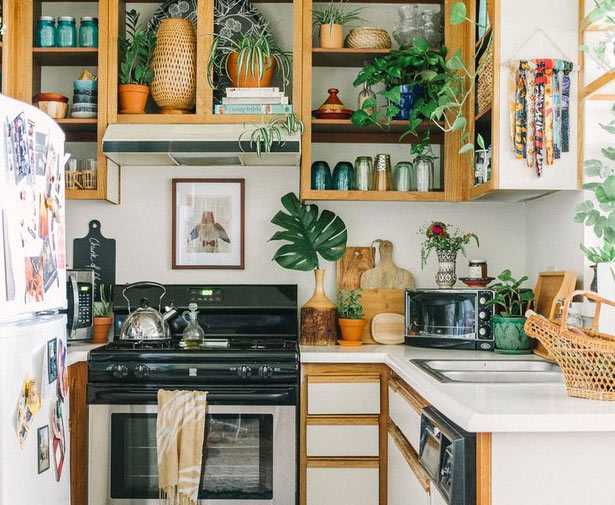 The ornamental plants can make our souls calm and peaceful. For that, make ornamental plants as decorative to the kitchen for the bohemian touch of your dreams. The classic bohemian style turns out to be very close to natural materials. Natural, of course, is not only limited to wood material but also in real natural parts such as ornamental plants. Therefore, in the bohemian kitchen design above, this kitchen is decorated with pots filled with green plants as a charming finishing touch.
If you are planning to renovate your kitchen in a bohemian style, you can try the idea of ​​placing plants in various corners. Then you don't miss decorating your kitchen with a kitchen set with a shelf model, a white kitchen table, wall hangings, accessories, and a black gas stove to make it look more harmonious. If you like a lively design, this design is perfect for your kitchen.
Adding a coastal touch to the room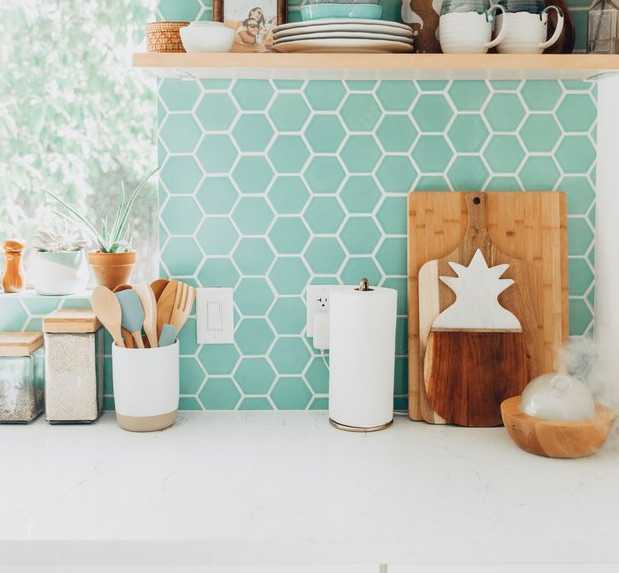 A coastal style that does not eliminate the Bohemian impression is the blue color with a hexagonal pattern. Then, this kitchen design becomes the perfect definition to describe a calming coastal or nautical atmosphere. This design has been made without sacrificing a bohemian touch. The open wooden shelves and the careful selection of accessories make this kitchen feel very pleasing to the eye.
Design with full accessories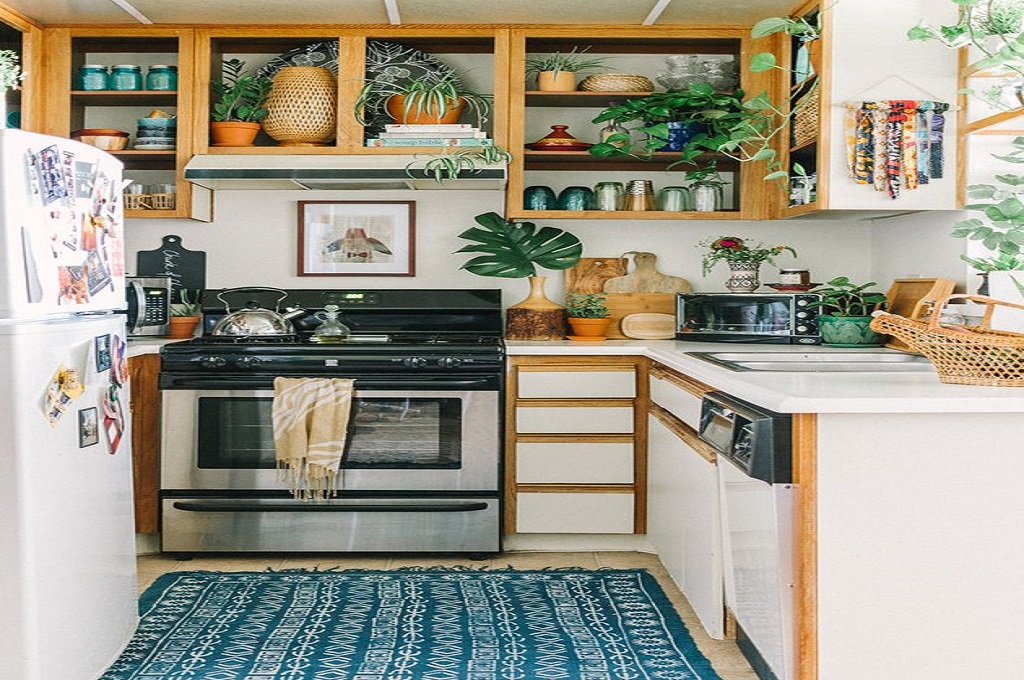 You may often hear the term bohemian when you see designing home interiors. Before using the bohemian style in your home, you must understand this design. In the kitchen pictured above, they are synonymous with the term gypsy. With rigid design rules and play full of color, it looks unique.
Then, to look more harmonious, the kitchen set, gas stove set, kitchen table, refrigerator, and ornamental plants, are neatly arranged so that this kitchen feels comfortable. They use any objects and features to decorate the kitchen. That's how impressive bohemian style can make you feel more at home in cooking.
4. Conclusion
If you want to make your kitchen look beautiful, we present an attractive bohemian kitchen design. So to make it, you should choose a bohemian design model that suits your taste so that the appearance of your living room is more attractive, beautiful, luxurious, and elegant.
In this article, we describe some pictures of bohemian design kitchens. Then to design it, of course, you have to spend money if your kitchen has to be decorated by a home decor company. But if you don't have enough money, you can design it according to the drawings we describe. Hopefully, you can make something like this picture. Hopefully, this article can help you in organizing your home. Happy decorating!